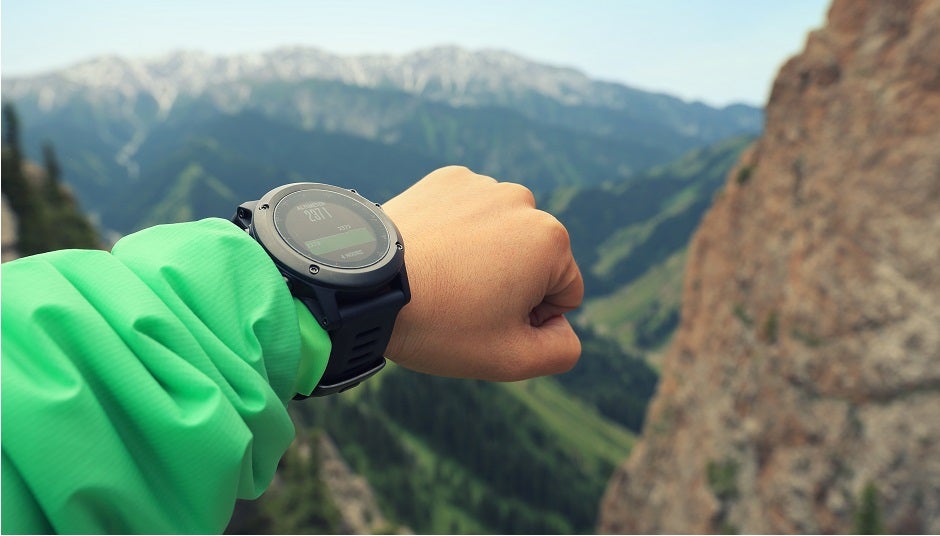 Our Editors independently research, test, and rate what we feel are the best products. We use affiliate links and may receive a small commission on purchases.
I can still remember getting my first outdoor watch in the mail. It was the early days of Amazon and I had found one that I could afford with my summer job pay.
In all reality, it was probably like $60 but that was a big deal for me at the time!
Today's best outdoor watches have evolved on all levels. Aesthetically and functionally superior outdoor watches are hitting the market every day.
Fortunately, the basic functions of an adventure watch revolve around some core principles we can understand. Together we'll take a look at some of the top outdoor watches on the market right now.
Best Outdoor Watches
| | Suunto Traverse Alpha Watch | Garmin Epix Outdoor Watch | Casio Pro Trek Outdoor Watch |
| --- | --- | --- | --- |
| | | | |
| | | | |
| GPS: | Yes | Yes | Yes |
| ABC Functionality: | Yes | Yes | Yes |
| Water Resistance: | Yes, 300ft | Yes, 150ft | Yes, 165ft |
| Screen: | Black & White | Full Color, touchscreen | Full Color |
| | | | |
For more of my hiking gear recommendations, have a look through these popular Outside Pursuits guide links: Solar Chargers, Personal Locator Beacons, Hiking Binoculars.
Quick Answer: The 7 Best Rated Outdoor Watches For 2021
Our reviews of the top rated outdoor watches with our guide and comparison table will help you choose the right one for you.
---
Outdoor Watch Reviews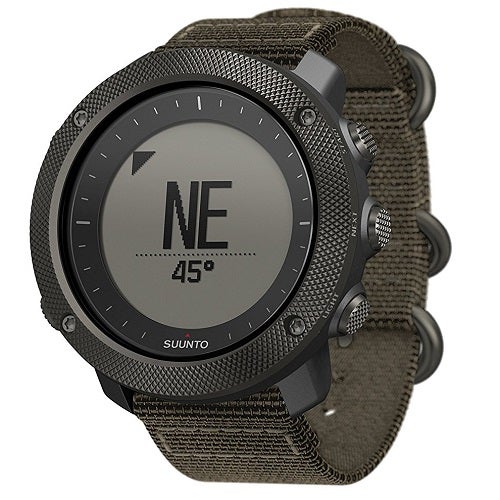 Suunto Traverse Alpha at a Glance
:
---
GPS Mapping Functionality

Scratch resistant sapphire crystal glass

Moon phase calendar
Automatic shot detection for hunters
Weather alarms
Suunto has been making some of the best outdoor watches on the market for a very long time.
Their established brand name is built on a reputation for delivering advanced and accurate features that help extreme outdoor athletes push the envelope.
Among the myriad of features on this watch is the unique shot detection capability. The Traverse Alpha is meant to accompany the outdoor sportsman on their hunting trips.
When you fire your rifle or shotgun the watch drops a pin on the GPS map that you can track later.
One awesome little feature is the built in emergency flashlight. I'm always looking for smart additions to outdoor gear that make sense, and in an emergency this light could help you signal for rescue or see a critical detail to get you out of a pinch.
You can set POI locations, mark trails, and follow the breadcrumb style trail back to wherever you started with this GPS watch.
Of course you can also pre-build a route on your home computer and upload it to the watch so you can follow it later in the field, too!
I love that you can adjust the GPS mode to save power: 10-100 hours of battery life depending on your choices!
Best For: The techy sportsman that spends time in the deep woods bagging game or fishing.

---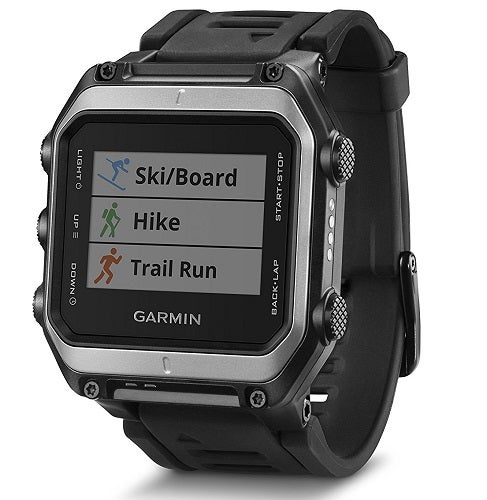 Garmin epix Watch at a Glance
:
---
Altimeter, Barometer and Compass
GPS/GLONASS
Topo 24k maps on board
1.4" color touchscreen
Special modes for hiking, running, mountaineering and more
If you want the best active watch that can balance smart watch, outdoor GPS, and timepiece all in one this might be your top pick.
Garmin is well known for the ingenuity in GPS and their wearables are trusted by the most dedicated athletes.
Remember that 3-axis compass we were talking about? Whether you are moving or standing still, the Epix knows which way you're facing with accuracy thanks to the internal 3-axis compass.
All of the onboard sensors are auto-calibrating which I love. Nothing is more frustrating than having inaccurate elevation or weather alerts because your watch has gotten off calibration.
Thanks to the full color touchscreen this watch definitely lives near the smart watch range of the spectrum.
Honestly it's a fantastic choice if you were thinking about a smart watch but spend a ton of time outdoor running, paddling, skiing or anything else.
I mean, you can get notifications and updates right on the watch as well as share all your stats and data with social media.
That's a smart watch!
Of all the watches on our list the Epix is best for those who want a smartwatch but tend to spend more time outdoors than indoors.

---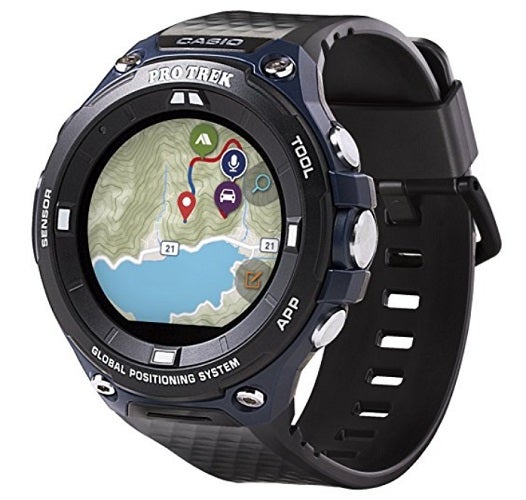 Casio Pro Trek Outdoor GPS Sports Watch at a Glance
:
---
Water resistant to 50m

Android Wear OS
On board GPS

Full color map display

Altimeter, Barometer and Compass
Casio has been making watches forever, but their GPS and smart tech has been a little late to the game.
That doesn't mean this outdoor navigation tool can't keep up, though! It's got a ton of features at a very reasonable price.
Running on Android Wear 2.0, this watch is ready to interface directly with your phone. Android Wear is a surprisingly versatile that works with nearly any device.
It has a handful of features that come in handy like offline data that can be saved to the device. This saves battery life in the field.
Combine that with the integrated GPS, altimeter, and barometer to get accurate routes, location, navigation, and POIs.
Thanks to the Android OS you can also tweak the apps and programs. Fishing, golf, color maps, navigation, and more can be at your fingertips with the best adventure watch on the market!
Best For: A wide variety of outdoor sports with a flexible operating system that can be tailored to you.

---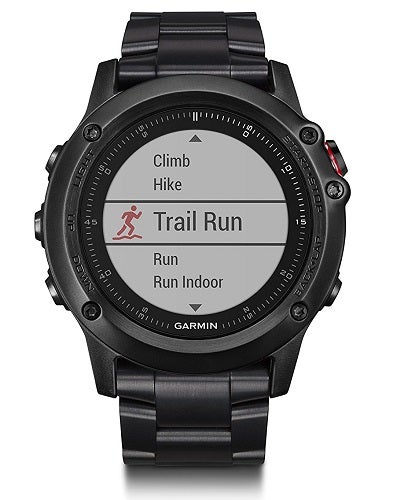 Garmin fenix 3 GPS Watch at a Glance
:
---
GPS/GLONASS

Altimeter, Barometer and Compass
2" round full color display
20 hour battery life in GPS mode
Suitable for swimming & snorkeling
It's not surprising that Garmin is on our list twice, is it? Their outdoor and GPS watches are just too damn good to be ignored.
Let me be clear on the waterproof statement – Garmin rates this watch as suitable for recreational swimming. Many other watches will say things like "occasional" or "short" when disclaiming their "swim rated" watches.
This one is safe and ready to go swimming any time though it's not dive rated.
There are several versions of this watch but they all track altitude, location, speed, GPS route, and more. The fenix HR has a wrist mounted heart rate tracker while the other models of this watch lack that feature.
I suspect this feature is probably most important to runners, but the HR monitor also improves the watch's overall ability to measure things like calories burned.
You can mark locations with this watch on the fly so you can navigate later or pull them up on the map when you get home.
You'll also be able to reverse navigate using the breadcrumb style trail system that this watch tracks as you move.
As a timepiece this watch can last weeks at a time or up to 20 hours in GPS mode.
Best For: A full featured outdoor watch when topographic maps on the wrist aren't needed.

---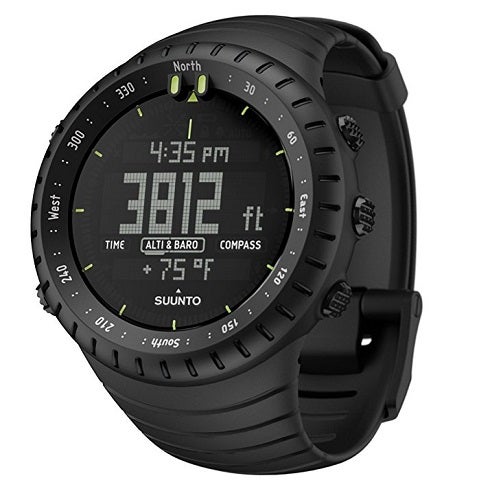 Suunto Core Watch at a Glance
:
---
Water resistant up to 30m

Suitable for swimming & snorkeling
Weather trend graph and alarm
Altimeter, barometer, compass
Several sleek designs and colors
There has been one watch that sits at the top of the list for outdoor watches for years. That's right, it's the Suunto Core.
While it's not a smart watch, it is smart enough to know all the details you need to supplement your adventure in the backcountry.
Okay, I know it doesn't count as a "technical" feature but a good looking watch is important, right? Well, among outdoor watches, I don't think that anyone is doing aesthetics as well as the Suunto Core.
Because this watch doesn't use an onboard GPS or smart computer at all, the battery life is significantly improved over other models.
If you're heading into the backcountry for a remote expedition and can't charge devices – this is probably the best watch for you.
Since there is no on board GPS you'll have to rely on the accurate altimeter and compass combined with a good old map and compass in the field. Many of you prefer to do it this way anyway, so I'm sure it's not a problem!
If you don't like the idea of a smart watch for your outdoor endeavors, you'll be hard pressed to find a better alternative than the Suunto Core.
Best For: Adventurers who want the best compass watch with long battery life and an accurate altimeter and barometer.

---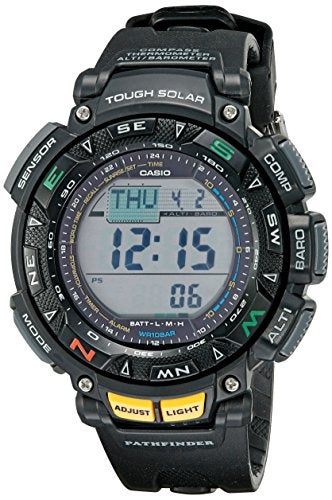 Casio Pathfinder Triple Sensor Multi-Function Watch at a Glance
:
---
Digital compass
Altimeter
Barometer

Water resistant up to 100m

Thermometer
I thought I'd throw a watch on the list that keeps things a little more affordable. We don't all have the budget to drop tons of cash on an outdoor watch so this one is a little simpler and more affordable while maintaining helpful features.
I used a similar watch for several years and I must say I really like the simplicity and reliability. Thanks to the simpler features this watch battery will last up to 6 months on a full charge.
With exposure to sunlight, this watch actually charges itself back up. That's such a perfect feature for an outdoor watch!
On the display, you get a graphical presentation of the thermometer/barometer. You also get to set up bearings and courses on the compass which memorizes directions and displays in a graphic format.
You have to see it to understand how smooth the display features are!
Additionally, there's a built-in sunrise and sunset display. Lastly, I want to point out that the watch also has a light-level detection and automatically turns on the backlight with a tip of the wrist!.
The Pathfinder is the best outdoorsman watch with powerful technical features at a price you can manage.

---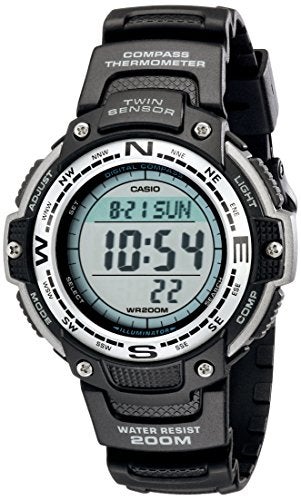 Casio Digital Compass Twin Sensor Watch at a Glance
:
---
14 – 140-degree thermometer
Date and time

Water resistant up to 220m

Digital compass with declination adjustment
Last but not least is this barebones outdoor watch. After years of trying fancy outdoor watches, I've always resorted back to a simple compass watch.
We'll talk about why that is but first, let's examine the goods!
Okay, so, why do I advocate a compass-only watch? Other features on watches tend to be finicky. For instance, barometers tend to get whacked out of calibration often and are hard to reset.
In turn, the altimeter tends to become rapidly inaccurate and hard to adjust. Personally, I get tired of fiddling with these settings.
If you're like me and prefer to keep things simple, this watch will set you back less than the price of going out to eat. In turn, you get date, time, thermometer and compass. That's about all you need in most cases!
With an approximate battery life of 3 years, it's hard to argue with the simple effectiveness of this watch.
Best for low budgets and users with simple needs looking for a hassle-free outdoor watch.

---
Outdoor Watch Comparison Table
How to Choose the Best Outdoor Watch – Buyers Guide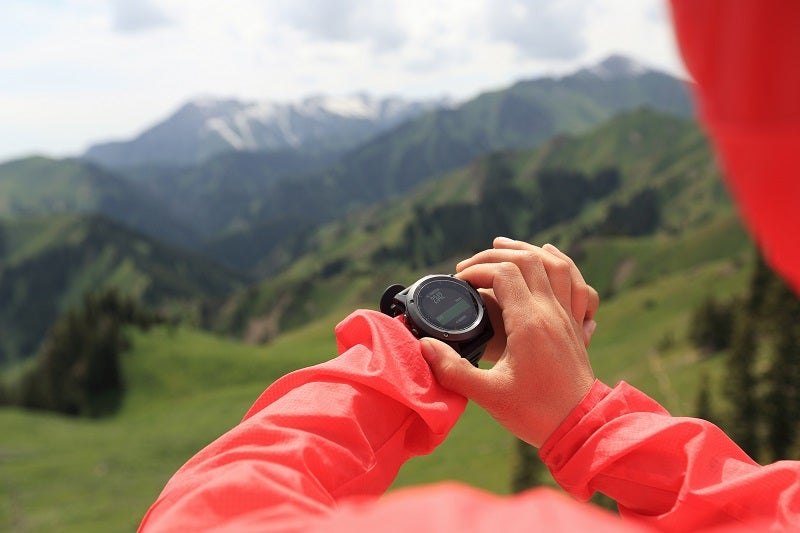 In this guide I'm going to help you understand the good, the bad, and the ugly when it comes to outdoor watches.
When we're finished you'll know which watch is right for you so you can spend more time outside and less time shopping!

Barometer
Most outdoor watches incorporate a barometric pressure sensor. These little sensors detect the changes in atmospheric pressure around you. This data is then used to help predict weather changes when combined with other data from the watch.
Generally speaking, however, I've found that these changes are usually quite obvious. By the time the watch has detected a drop in pressure signifying an incoming front, you can usually see and feel the change in weather coming anyways.
On many low end outdoor watches these sensors lose calibration quickly. If you want a reliable barometer – which leads to a reliable altimeter and weather prediction – you'll want to invest in a watch with accurate sensors.

Altimeter
As we alluded to above, this altitude sensor on many watches is combined with the barometer to detect changes in elevation above sea level. On watches with GPS capabilities, the GPS sensor may be used to gauge the altitude of the user.
When it comes to elevation sensors I would prefer a watch with a GPS sensor. These watches are much more accurate and reliable than those relying on barometric sensors.
If you do use a barometric watch, be sure to calibrate your watch's barometer before making a summit attempt. This will ensure that your watch is as accurate as possible in recording and reporting data to you.
I find that altimeters can be helpful when combined with topographic maps to confirm your location. It can be helpful to use the altimeter on your watch with the contour lines of a map to dial in your location and route.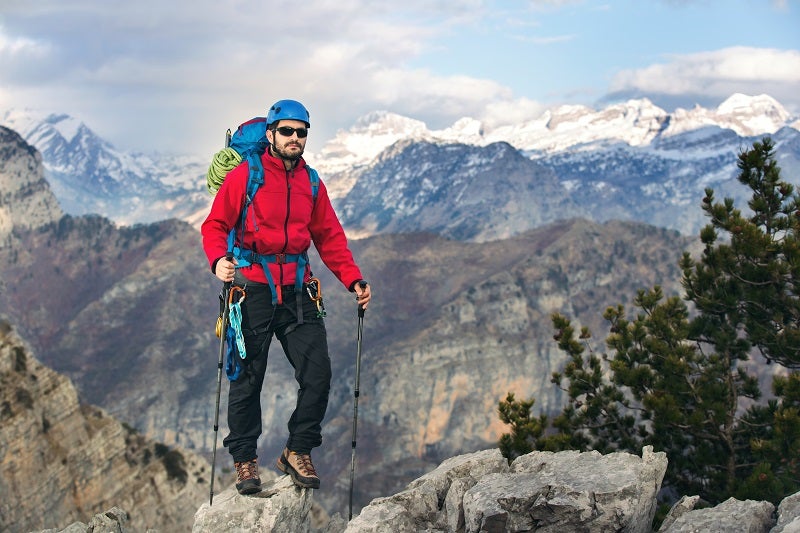 Compass
I learned this one the hard way with outdoor watches and GPS units. When you start looking at digital compasses there's one feature that rules all others: the 3-axis compass.
2 Axis Compasses
On many low end models, manufacturers save money by using a 2-axis compass. With these watches you're forced to hold the watch perfectly flat in order for it to display an accurate orientation.
3 Axis Compasses
With 3-axis compasses, you can hold the watch at any angle or orientation and get an accurate bearing without fiddling around.
I have found that when I use outdoor watches the most helpful feature, by far, is the integrated compass. It just makes navigating and orienting the map so much easier to have a compass on your wrist to quickly reference.
Orienteering Compasses
That said, watch compasses do not replace orienteering compasses in the field. When navigating with a topo map you must still carry a dedicated compass for the purpose.
Watch compasses don't have the ability to be as accurate to the map as a good compass can be and any small errors in orienteering can mean you're off by huge distances when you arrive at your intended destination.
Declination Adjustment
Some watches feature advanced compass features. One such feature to look for is declination adjustment. Because magnetic north doesn't always match the "north" indicated on a map you have to make manual adjustments called declination.
Find a watch that has declination adjustments and you'll be able to much more accurately correct for declination.
Depending on where you are, failing to adjust for declination can mean missing your target by mere feet or several miles. It's an error that can land you in hot water!

Battery Life
If you do end up going with a GPS watch make sure you check the battery life estimates through the manufacturer. You'll want to probably take along a waterproof battery pack such as the FosPower 10200 mAh pack.
For outdoor watches, battery life can be one of the most important factors, or it may not matter. So, what's the reasoning and should you be worried about battery life?
Battery life matters if you're going to be out for more than about 8 hours at a time. You want a battery conservative watch if you're taking it on long backpacking trips and overnights.
Battery life doesn't matter for day trips, skiing, day hikes, etc. You're likely to be able to recharge with a wall plug at night or during a lunch break, so it won't matter if you have a power hungry watch.
That said, a battery life minimum would be about 8 hours in my world. You might have a different opinion, but if my outdoor watch can't even make it through a day at the office, it's definitely not up to the task of summiting a mountain with me.
Keep in mind that outdoor watches used for winter sports like skiing or ice climbing may have much shorter battery life in the field. The cold of winter saps the life out of batteries and will drain your phone or watch much faster than normal.
To combat this you can do one of three things:
Get a watch with a bigger battery
Get a watch that's very power conservative
Carry a portable battery charging pack.
The number of recharges you'll get out a battery pack depends on two things:
Battery size of the watch
Size of the battery pack
If you have a watch with a 500 mAh battery you'll get 20 full charges from a 10,000 mAh pack. Now, do the math based on the expected battery life of your watch and you'll have some idea of how long your watch will last in the field!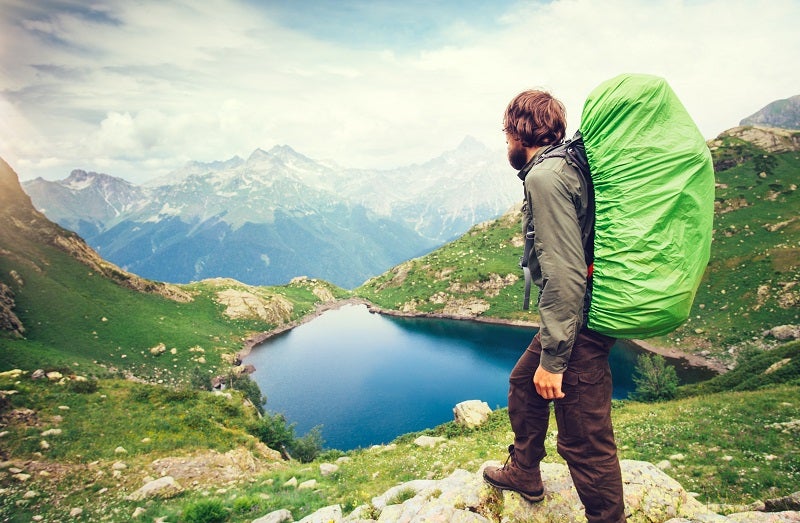 Watch Band
We've all gotten so used to the modern watches with straps that we can interchange that it's hard to imagine a watch with just one wristband. However, I know many of you don't want to hassle with changing bands.
Regardless of which side of this fence you're on, there's some food for thought here. More so, I think, than most watches an outdoor watch needs to be secure. It's a vital piece of tracking and navigation hardware for you in the field. That's why band choice and buckle style matter.
Buckles
I always look for thick, quality metal buckles on my outdoor watches. Now, sometimes we have to compromise, but ideally the buckle should be made from durable, rugged steel.
Sometimes it can be hard to tell so check reviews, unboxing videos, and see if you can try one on in person.
Velcro
Don't go with velcro. It loses grip after a year or so and won't hold or look good in the long run. You need a reliable mechanical connection to your watch so it doesn't fall off at the wrong time!
Materials
Lastly, consider the material of your watch band itself. If you have interchangeable bands this may not be as critical.
In any case I try to opt for durable rubber watch bands. These tend to resist abrasion, cutting, and abuse over time. Quality leather bands can be great too, but often they're cheaply made these days.

Onboard Watch GPS
It's impossible to full summarize GPS capabilities of outdoor watches here. Every year we get new and improved features but the best ones simplify and supplement the bones of a good outdoor watch.
If you need a full featured GPS unit, I'd urge you to get a handheld unit. The battery life is better, power and accuracy are better, and it's easier to switch batteries in the field.
For an outdoor watch, minimal GPS capabilities can be an aid to features like the altimeter, pedometer, or compass. More extensive features are available – in fact full featured wrist GPS units are common today!
But, due to their power hungry nature they're more suited to an afternoon of golf or a long evening run than a grueling outdoor backpacking trip.
Before you commit to a watch with GPS capabilities, make sure that your situation wouldn't be better off with a handheld GPS plus a separate watch each with their own pros and cons.
Waypoints
One feature I love to look for is a trackback feature or a waypoint feature. Setting a waypoint at your car or at the trailhead can be helpful in an emergency.
You can also set a waypoint at a trail intersection or at the point where you left the trail if you go to do some exploring, just to save your butt in an emergency.

FAQs About Outdoor Watches
Q: Can I just use any smartwatch?
A: Today there are more smart watches hitting the market than there are "outdoor" specific watches. So, why not just use one of these for the sports you love outside?
You totally could do that, but you'll want to do some serious research about compatibility. Most normal smartwatches don't have a built in compass, altimeter, or barometer. Many of them don't have GPS onboard either, they instead rely on borrowing information from a paired phone or WiFi connection.
That's not to say you can't find a smartwatch that will work, though! Make sure they either have an onboard altimeter, barometer, and compass, or have app functionality that replicates these features.
Q: What are offline maps?
A: Today's popular navigation apps like Google Maps are offering "offline maps". What this does is download map data onto your phone or watch. Then, when you're in the mountains with no WiFi or cell data you can still navigate based on the downloaded data saved on your device.
Offline maps are most helpful when traveling to areas outside normal cell or WiFi service. If this sounds like you, make sure your watch has offline capabilities.
Q: What makes an outdoor watch different?
A: Compared to simple timepieces, outdoor watches usually offer the ABCs: altimeter, barometer, compass.
Compared to a smartwatch, outdoor watches tend to be purpose made to run accurate maps, customized navigation routes, and wilderness features that a normal smartwatch might not have.
Of course, these lines are quite blurry and watches tend to criss cross all over the place according to these definitions. With more versatile wearable tech in the spotlight recently, who knows what we'll have next year! Wrist mounted computers are becoming better and more affordable every year.
Q: What can I use an outdoor watch for?
A: The sky's the limit with this one! Outdoor watches can be built around many specific activities such as:
Mountaineering
Golf
Swimming
Running
Races and Triathlons
If in doubt, do a little research about the best wearables for your preferred sport. There are watches for nearly every specific type of outdoor activity. We covered a wide variety in our reviews here.
Q: What can outdoor watches connect to?
A: Fortunately outdoor watches are becoming more universally plugged in. I remember my first running watch needed specific cables and apps to connect to the computer. This is not the case with today's watches.
Check with your specific watch for details but look for these types of connectivity:
Wireless social sharing
Wireless updates
Watch to watch communication
Bluetooth connectivity to Apple or Android phones
Most high end models will feature all or most of these types of connectivity to make your life easier.
Pro Tip: If you compete or share your activity data with friends often be sure that your device has wireless uploading abilities. Nothing breaks a good workout routine like having to manually upload your data afterwards!
Conclusion
Whether you're techy and want a customizable Android powered watch like the Casio Pro Trek or something more analog like the Suunto Core, we've got you covered. In between the two extremes are many accurate and helpful outdoor watches with ever-improving GPS features and computing abilities.
Remember for an outdoor watch to perform well at a specific sport you'll need to think about the watch in detail. Determine which features matter the most to you, and then try to keep it within your budget.
If you're an outdoor generalist, you may be happy with something that does it all like the Garmin Epix that can go on any journey with you and track it to share with friends!
Outdoor watches can really hit the wallet hard, so be sure that you really need all those shiny advanced features before you commit the big bucks!
Sometimes you might be happier saving a few bucks and sticking with more basic features.
How We Researched
To come up with the top outdoor smart watches we researched a variety of sources for reviews such as REI, Bass Pro Shops, Cabelas and Backcountry along with our own personal experience.
We also consulted online magazines for product research and reviews to get as much unbiased information as we could. To help weed out fake reviews we used Fakespot.com to make sure we only looked at genuine reviews.
With so much quality gear available, we had to narrow it down based on what we felt were the best options for the price. The author, Casey Fiedler has been leading backpacking trips for over a decade in his native state of Michigan.
To help narrow down the selection he used his personal experience along with recommendations from fellow guides and outfitters.
After extensive research, we came up with our list to help you choose the right one for you.
Sources
---
I hope this guide was helpful for finding the best outdoor smart watch to fit your needs. If you want to comment or recommend a watch I didn't include, please use my contact form to get in touch.
Notice:
OutsidePursuits.com is a participant in the Amazon Services LLC Associates Program, an affiliate advertising program. OutsidePursuits.com earns fees from products sold through qualifying purchases by linking to Amazon.com. Amazon offers a commission on products sold through their affiliate links.