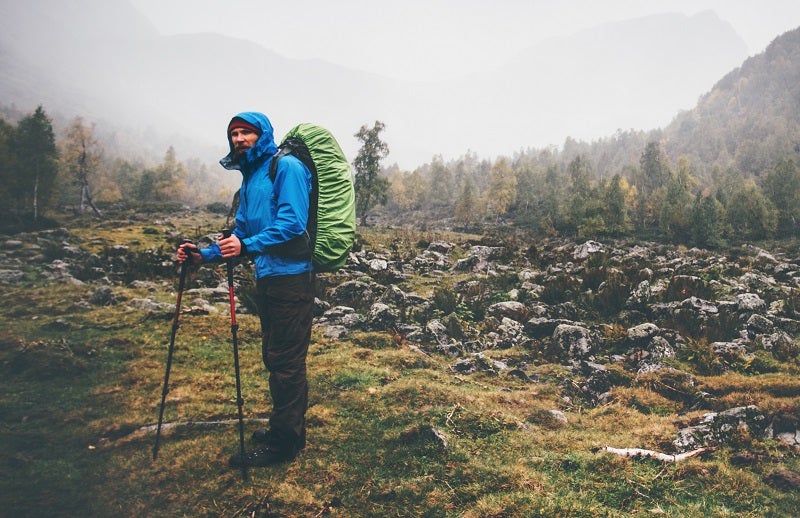 Our Editors independently research, test, and rate what we feel are the best products. We use affiliate links and may receive a small commission on purchases.
I can remember when I first started backpacking – I was totally afraid of surviving a rain storm.
It was a fear based on inexperience and I was just not sure what to expect when I encountered my first rain storm, how I would keep my gear and self dry, would I get too cold?
These days I rarely even check the weather before heading out on a routine hike – it'll rain if it wants to, I figure.
Part of being comfortable hiking and backpacking in the rain is owning and understanding exactly what rain gear to use.
When choosing the best backpacking rain jacket there are several key considerations such as weight, bulk, waterproofing technique, and breathability.
Best Rain Jackets
| | Marmot Precip Rain Jacket | Outdoor Research Helium II Jacket | The North Face Venture II Jacket |
| --- | --- | --- | --- |
| | | | |
| | | | |
| Shell: | 2.5-Layer Polyester | 2.5-Layer Nylon/Pertex | 2.5-Layer Nylon/Polyester |
| Weight: | 11 oz | 6.4 oz | 11.6 oz |
| Features: | PitZips, stuffs into own pocket | Stuffs into own pocket & reflective trim on adjustable hood | PitZips, stuffs into own pocket |
| | | | |
For more of my hiking recommendations, have a look through these popular Outside Pursuits guide links: Hiking Pants, Hiking Shoes, Hiking Poles.
Quick Answer: The 7 Best Rated Rain Jackets For 2021
Our guide and comparison table of the top rated rain jackets will help you choose the right one for you.
Why Trust Our Rain Jacket Reviews?
At Outside Pursuits we get how hard it is to find reviews you can trust. As a backpacking guide with a decade of experience I know how to choose good hiking gear.
We've have hiked thousands of trail miles and led dozens of expeditions.
We have tried and test the majority of the gear reviewed here.
All recommendations are based on a cost/value basis.
We only make recommendations we have complete confidence in and use ourselves.
All guides are updated as new gear becomes available.
---
BEST HIKING RAIN JACKET
---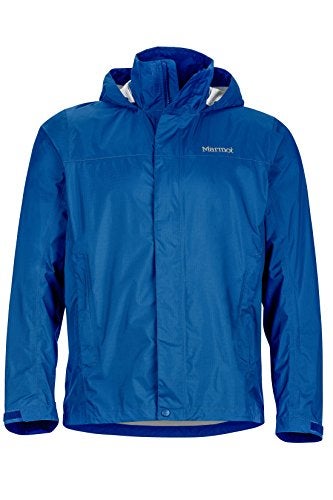 Marmot Precip Rain Jacket at a Glance
:
---
Shell: 100% Rip Stop Nylon

Waterproofing: Polyurethane Coated

Adjustable roll-up storm hood

100% seam-taped
I would be remiss were I to write an article on the best backpacking rain jackets without including the Marmot Precip.
One of the oldest staples of the rain gear genre that I am aware of, this was my very first rain jacket purchase. Non-breathable PU coated nylon construction makes the hiking rain jacket inexpensive and affordable.
If you're looking for a proven packable rain jacket with time tested reliability, this is it.
It's nearly indestructible, too – I've carried the thing with me for years through just about any situation you can imagine.
Be aware that the PU coated nylon construction rain shell is subject to breakdown over use and will eventually fail.
All PU coated garments will do this and you can only reasonably expect them to last a couple seasons' heavy use before you'll need a new garment. The good thing is, they're affordable and replaceable.
With Velcro adjustable cuffs and hood and a drawstring hem round out the Marmot Precip and is in my opinion the best rain jacket for hiking you can buy.

Women's Model: Marmot Women's Precip Jacket.
---
BEST LIGHTWEIGHT RAIN JACKET
---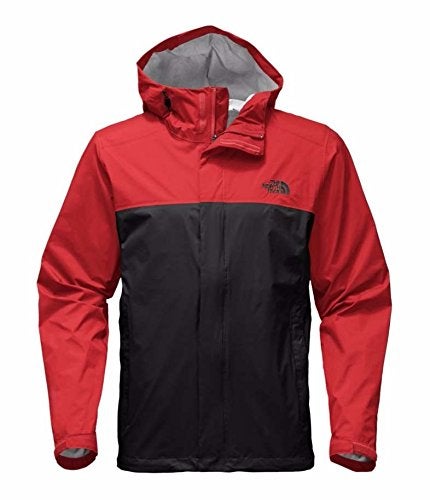 The North Face Venture 2 Rain Jacket at a Glance
:
---
Shell: 100% Rip Stop Nylon
Waterproofing: Seam-sealed DryVent™
Adjustable roll-up storm hood
Pit-zip venting
The North Face has a reputation for making quality outdoor gear, lets see if the Venture Jacket lives up to it's reputation. The Venture jacket is one of the thicker, warmer jackets reviewed here. it weighs in at 14 oz.
Made from a shell of denier ripstop nylon, this PU coated Men's waterproof jacket is, perhaps, the most robust and durable jacket on our list.
Though the Marmot Precip would be quite similar in terms of longevity.
One of the biggest advantages of the The North Face Venture jacket over Marmot's Precip is the inclusion of pit zips. Pit zips, if you haven't used them, are one of the best inventions in waterproof jacket technology ever, in my opinion.
They allow you to shed massive amounts of heat and sweat from the jacket without getting wet in mild rain conditions. If you plan to hike while wearing your rain jacket, then pit zips are a must-have.
They are a major benefit and I would argue they're one of the best features of a good backpacking rain jacket so I'd encourage you to check them out and put it to the test!
The Venture II has adjustable hood with a draw cord, Velcro adjustable cuffs and hem cinch-cord round out a solid choice with robust features that will keep you dry in any weather.
With a lifetime warranty, the Venture is one of the best lightweight rain jackets you can buy.
Women's Model: The North Face Women's Venture 2 Jacket

---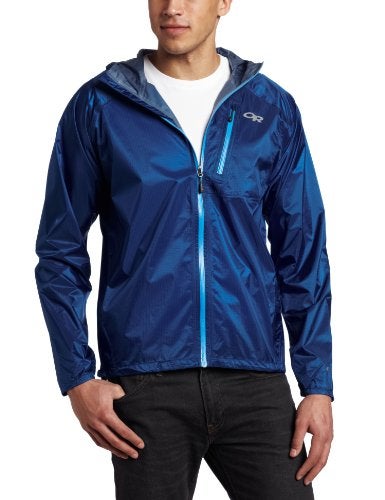 Outdoor Research Helium II Jacket at a Glance
:
---
Shell: 100% 30D Rip Stop Nylon

Waterproofing:

100% seam-taped

Pertex® Shield

Adjustable roll-up storm hood

Compresses to the size of a granola bar
Outdoor Research is a company I have long loved for hats and gloves. I really like their attention to detail, fitment, and styling and the Helium II is one of the best packable rain jackets on the market right now.
Weighing in at just a hair over 6 oz, this jacket is a side-by-side competitor with the Marmot Essence.
Fully seam taped, the jacket features reflective elements for night time or search and rescue situations.
Ultralight Pertex Shield fabric is also waterproof and breathable so if you're looking for lightweight and fully featured, this is definitely a high contender.
Video: Overview of the Outdoor Research Helium Jacket.
Outdoor Research Helium II Jacket™
A Lifetime manufacturer warranty, adjustable hood, elastic cuffs, and napoleon hand pocket make this a contender for the best rain jacket available.

Women's Model: Outdoor Research Helium II Women's Waterproof Jacket.
---
BEST PACKABLE RAIN JACKET
---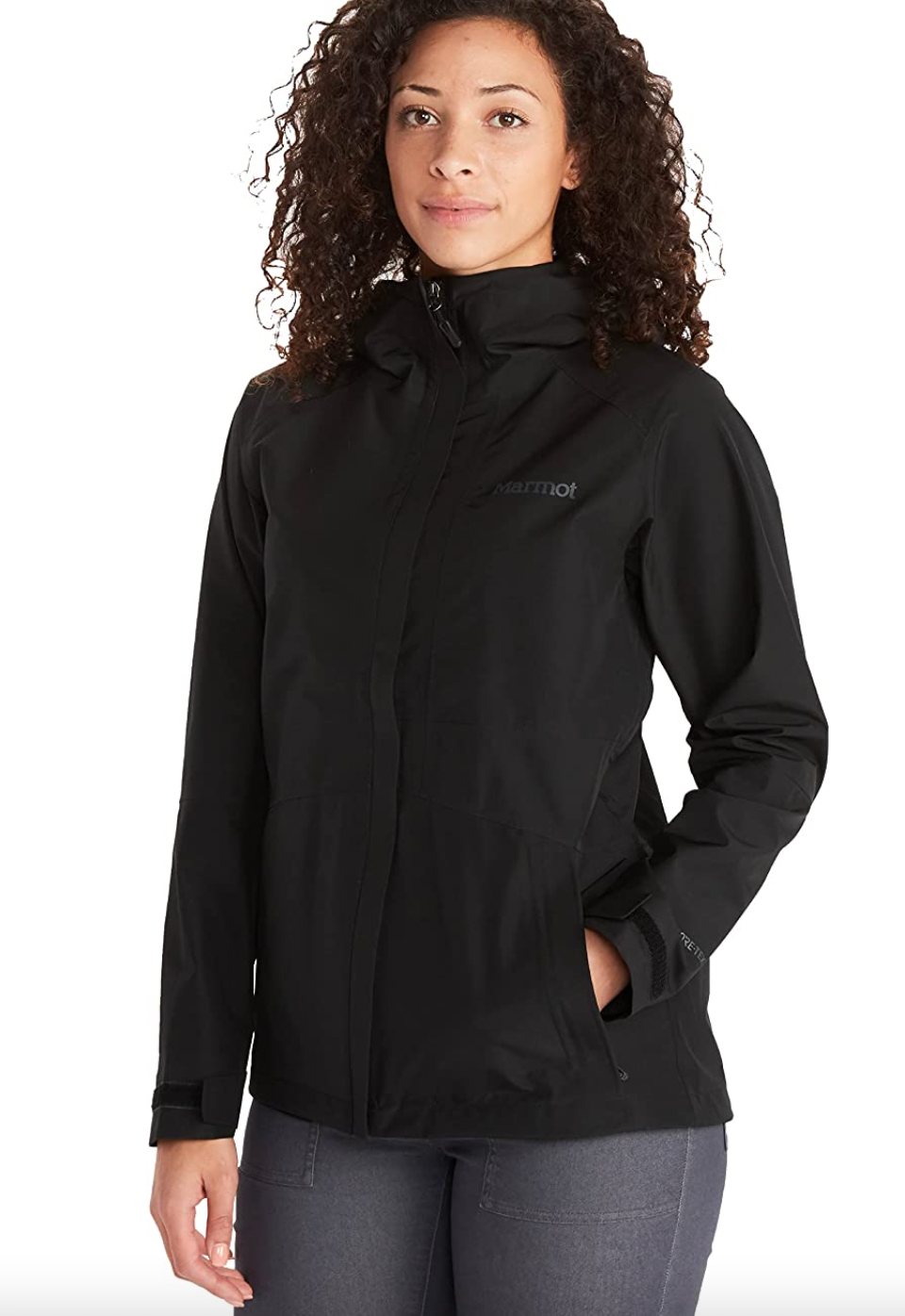 Marmot Women's Minimalist Gortex Waterproof Rain Jacket

 at a Glance
:
---
Shell: 20 denier Stretch Rip Stop Nylon

Waterproofing: 100% Seam Taped

NanoPro™ Membrain

Adjustable roll-up storm hood

Integrated Cooling Vents
This jacket features the best of all worlds in one single package and has been my go-to jacket for several years now.
Let me just say that, were I to purchase a new jacket today, I might choose something different however this lightweight rain jacket has my full endorsement.
Super lightweight fabric is based on 2 oz per yard ripstop nylon with a NanoPro Membrain which is waterproof, breathable, and fully seam taped.
As I've said before, however, WPB fabric is rarely my go-to fabric of choice but in this case, it just happens to make sense.
Integrated cooling vents help shed excess heat and sweat and the jacket as a whole is just well tailored for my long, slender build,
What I truly love about the jacket, however, is the absolutely tiny package it can fold into and the less than 6oz weight.
Clip it on your pack and you won't even notice it. The Marmot Essence is one of the best lightweight rain jackets, hands down!

Women's Model: Marmot Minimalist Women's Packable Rain Jacket
---
BEST BACKPACKING RAIN JACKET
---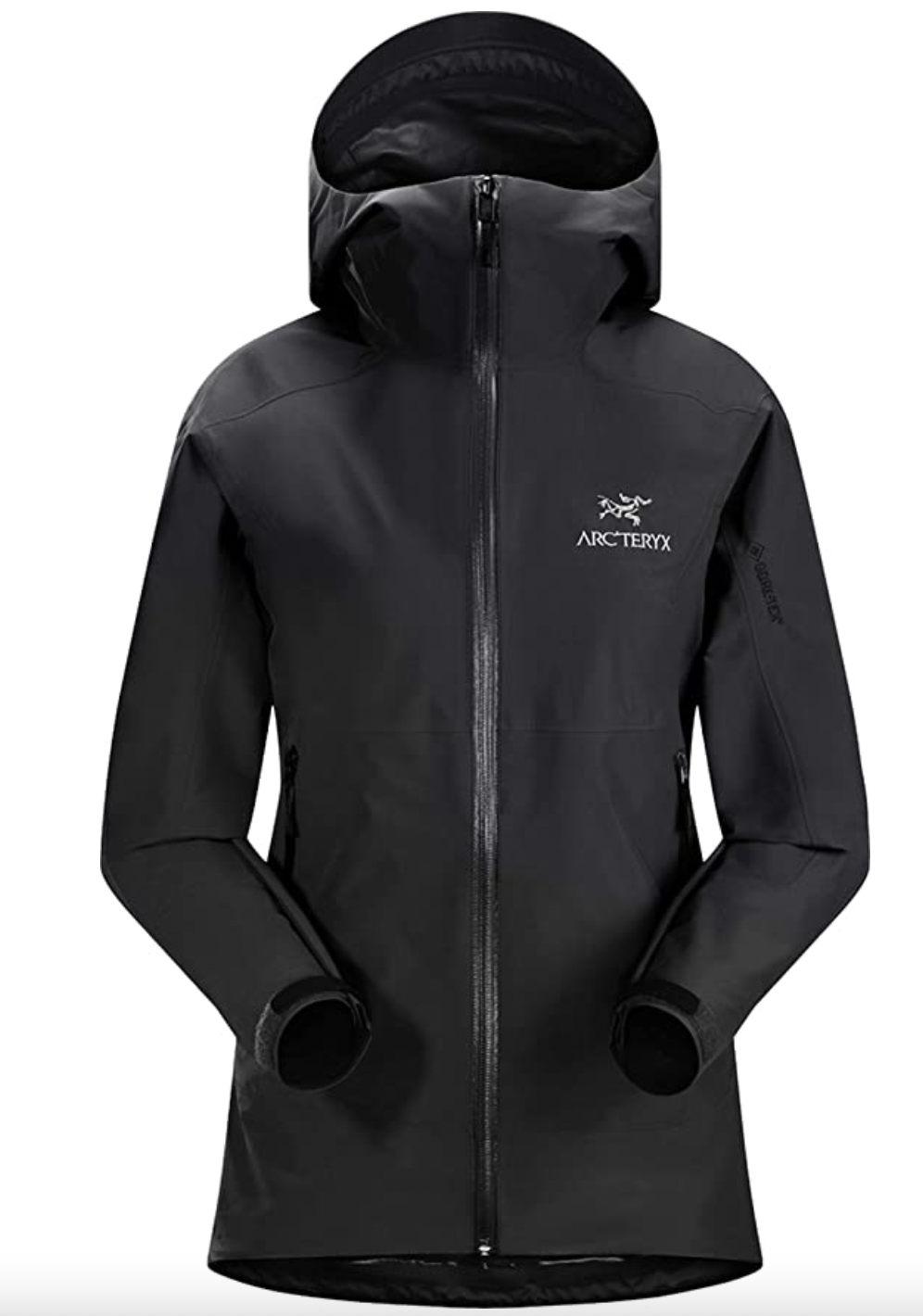 Arc'teryx Zeta ST Jacket at a Glance
:
---
Shell: 3L Gore-Tex C-KNIT

Waterproofing: Arc'teryx Nu water repellent treatment

Articulated elbows & gusseted underarms

Adjustable roll-up storm hood
By far the most expensive rain jacket on our list but if you want the best, the Arc'teryx has no equal. What really sets it apart is the 3 layer design featuring the latest in GORE-TEX  fabric, N40p-X C-KNIT.
The 3 layer design allows the jacket to breathe even when the humidity level is high, perfect for where I live in FL.
The GORE-TEX  is sandwiched in between a rugged outer shell and a soft, comfortable inner liner that is comfortable for all day hiking.
The shell has been treated with Arc'teryx's Nu water repellent and combined with fully taped seams provides 100% waterproofness.
The Zeta has a slim fit design with articulated elbows and gusseted underarms for good mobility. It features a storm hood that fits well around your head for coverage but still allows good visibility.
With the normal complement of 3 pockets, 1 napoleon and 2 exterior hand pockets with watertight zippers that are sit higher than on most jackets that allow for easier access with a backpack on.
The sleeves run a bit longer than most jackets and the Velcro adjustable cuffs and drawcord hem allow for adjustability.
One feature that is highly appreciated in the fleece strip at the chin so when you have the jacket zipped up it doesn't rub and irritate like many other jackets do.
On the negative side, it's not a true packable rain jacket because it doesn't have a stuff sack or pack into one of the hand pockets like the others do on our list.
The Zeta is perfect for most outdoor activities, from hiking & trail running to spring skiing!

Men's Model: N/A
---
BEST RAIN JACKET FOR WOMEN
---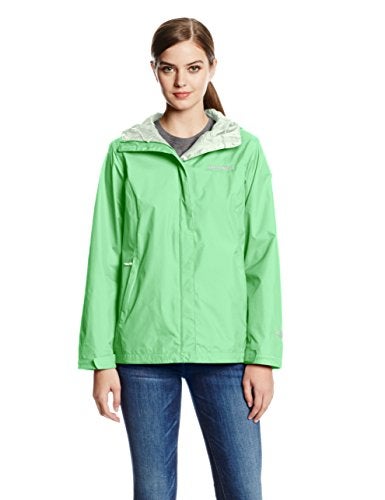 Columbia Arcadia Hooded Rain Jacket at a Glance
:
---
Shell: 100% Nylon

Waterproofing: Micro Porous Omni-Tech

Adjustable roll-up storm hood

Zippered side-entry hip pockets
Anybody who owns any clothing from Columbia know they produce some of the best value products on the market.
The Watertight II is no exception. Here we have a 100% nylon rain shell that is completely waterproof.
This Women's hiking rain jacket is fully taped to keep the water out at the seams and features a micro-porus "Omni-Tech" shell that manages to keep the rain out while allowing body heat and perspiration to evaporate.
It has an attached rain hood that is fully adjustable with a cinch-cord, a drawcord hem and velcro cuffs round out the features.
Coming a wide variety of colors to suite the fashion conscious and packing up small enough to fit in your pocket, the Columbia is the best Women's rain jacket for a great value.
Its biggest drawback is it doesn't have one of my favorite features, pit zips. If you can do without them, it comes at a bargain price for the quality you get.

Men's Model: Columbia Watertight II Jacket – Men's
---
BEST RAIN JACKET FOR MEN
---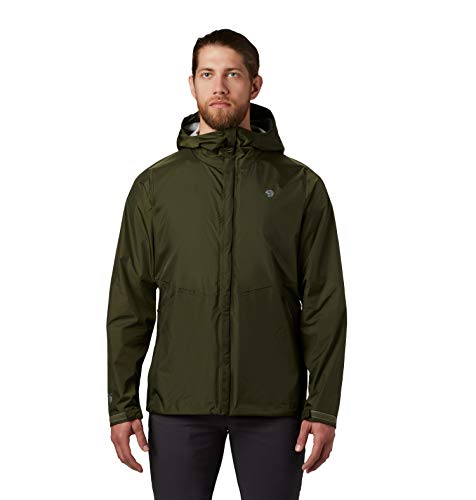 Mountain Hardwear Acadia Jacket at a Glance
:
---
Shell: 100% Rip Stop Nylon

Waterproofing: Polyurethane Coated w/ Gore-Tex

Adjustable roll-up storm hood

Zippered side-entry hip pockets
Mountain Hardware is another great value proposition jacket. It features one of my favorite features in a backpacking rain jacket, 70D ripstop nylon that is incredibly tear resistant.
A nice feature hiking through the wilderness.
This PU coated rain jacket is surprisingly cool even in warm, wet conditions with a DWR shell. The adjustable hood rolls up and tucks away under the collar when you don't need it.
Like all the packable rain jackets reviewed here, it's just a rain shell so there is no insulation but when conditions turn colder, you will appreciate the handwarmer pockets that are zippered for secure storage as well.
Its slighter thicker and heavier than the other jackets reviewed here but it still folds up to a compact package that packs away easily.
Available in a wide variety of colors, it will not only keep you dry but looks good as well. A good choice for a men's lightweight rain jacket.

Women's Model: Mountain Hardwear Exposure Women's Rain Jacket
---
Rain Jacket Comparison Table
How to Choose the Best Rain Jacket – Buyers Guide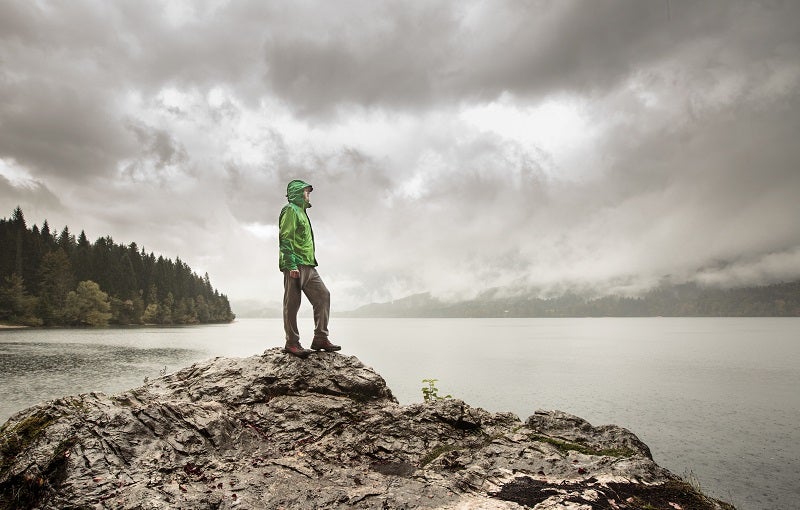 Waterproof Breathable Fabrics
Let me tell you a story: Once upon a time there was only Gore-Tex… now there are tons of Waterproof Breathable fabrics. The end.
I know, it's a great story. Here's the point, people often think that Gore-Tex is the king of WPB fabrics and this is simply not true.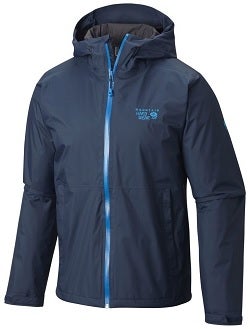 Today there are tons of variations on waterproof breathable membranes and almost all of them are as good or better than Gore-Tex.
Among my favorite is eVent fabric for its exceptional breathability (far more breathable than Gore-Tex).
WPB fabrics come with several major drawbacks and, for that reason, I usually avoid them.
First, WPB fabrics lose their ability to "breathe" if you don't keep the outer layer clean and coated in DWR chemicals.
Once the nylon outer "wets out", your jacket will cease to breathe at all.
I also find that no matter how breathable a fabric is, it never transmits perspiration fast enough to keep me from getting wet anyways.
WPB fabrics and their several constituent layers are also far too heavy for a backpacking rain layer for my personal kit. For these reasons, I do not stand behind WPB fabrics in hiking rain jackets.

Jacket Layers
Rain jackets normally use a 2, 2.5 or a 3 layer construction. The layers may be bonded together so it only looks like one layer.
All waterproof backpacking rain jackets feature a shell or outer face fabric which has a DWR (Durable Water Repellent) so water beads off and is repelled.
2 – Layer
This is your basic, inexpensive rain jacket consisting of a water resistant shell and a mesh liner. While these are fine for wearing for short periods of time, they are not very "breathable" and tend to be heavier than 2.5 or 3 layer packable jackets.
2.5 – Layer
A good compromise is the 2.5 layer jacket. This construction is lighter than a typical 2 or 3 layer jackets. This style eliminates the mesh liner and uses a thin layer of a breathable fabric that is attached to the outer shell. Because of this, it's a lighter, more packable design. The downside is the inner liner can feel a bit clammy when you start sweating.
3 – Layer
A 3 layer jacket will be the heaviest of the 3 styles because you now have a true breathable, waterproof membrane in between a outer shell and an inner liner. While less packable, there is significant improvement in comfort and breathability with a inner layer of Gore-Tex or eVent. The higher end rain jackets like the Arc'terex Zeta have this construction.
Weight and Bulk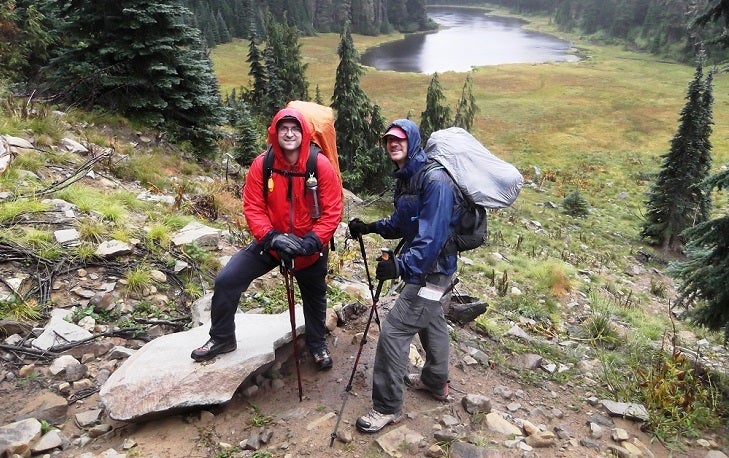 As I alluded to above, I am quite the gram weenie. As an ultralight backpacker myself, weight is an important consideration for my outdoor activities. My hiking rain jacket serves two purposes: keep me dry from the outside, and keep wind from cutting through my under layers.
In these regards, I am usually prone to consider the lightest available options in the smallest package when choosing a rain layer.
Even for those of you who may not be as concerned with weight and bulk as I am, it's a simple truth of backpacking that we only have so much space in our pack and our backs are only capable of carrying a limit of weight.
All things equal, it's important to consider a packable rain jacket option for hiking and backpacking. I, personally, also keep my rain layer in my outer mesh pocket and prefer to have something quite small and compressible.

Packability
Going hand in hand with weight and bulk is packability. There are 2 ways to measure "packability", weight and whether is has a stuff sack or folds into one of the hand pockets.
Most hikers prefer a rain jacket that stuffs into a pocket and zips up. Simple as can be but that doesn't mean it's small and packable however. Compressability or the actual size when its folded up is a more accurate measure.
Consider the Columbia Watertight II and the Marmot Minimalist, both are considered packable but the Columbia is almost 3 times as big in it's compressed state. Be sure to consider weight and compressed size when considering a rain jacket.

Layering
There are several layering considerations to look at before settling on a new rain jacket for backpacking. First, it's important to wear a rain jacket which is sized large enough to fit any warmth layers you may be wearing underneath of it.
For instance, if you're wearing the jacket in camp on a drizzly dark evening, you may also be wearing a t-shirt, fleece, and puffy jacket under it.
If you purchase too small of a rain jacket, it will become impossible to properly layer warm insulation under it.
Secondly, every jacket which is truly waterproof will also be windproof. The reverse, however, is not necessarily true; windproof layers are not always waterproof.
It can be beneficial to consider how your hiking rain jacket might fit into your overall layering system – can you use it as an extra layer of warmth or as a windproof jacket when needed?

Seam Tape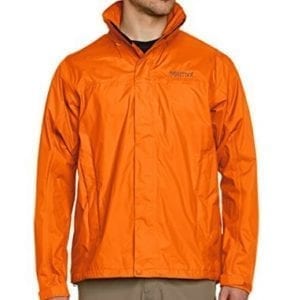 Any backpacking rain jacket worth its salt will be seam taped (unless its Cuben Fiber in which case it may be welded or fused at the seams).
Seam taping is relatively easy to identify once you understand what it is and what to look for. Do not buy a rain jacket that is lacking seam tape as water may leak through the stitching holes.
After a waterproof garment is stitched together, adhesive tape is applied along all of the seams in the garment to ensure no water leaks in.
Some jackets will advertise "critical seam" taping which means they only taped the shoulders, hood, and arms perhaps.
This is a cheap and ineffective way for manufactures to save time and money and should be avoided as the finished product will be of poor quality.
Turn the garment inside out before purchasing to inspect the seams and joints where sewing has been performed on the jacket. You should see a nearly invisible line of clear tape running along the length of all the seams.
It may be nearly invisible and hard to see. Seam taping is a must! If you don't see it, don't buy it!
Seam tape does not last forever, however, and you can expect it to eventually delaminate and then the garment will fail to be waterproof.
Storm Hood
Naturally all rain jackets will include a hood but size and adjustability are the most important factors. When actually need the hood you don't want it fitting like a garbage bag on your head flopping around. The ability if the cinch cord to form the jacket around your head for a snug fit that allows for good visibility is key.
Also having the ability to adjust the hood forward and back with Velcro is a nice to have feature allowing for a better fit. Especially in windy, stormy conditions.
One last thing to consider if you will be using the jacket for climbing and having a helmet compatible hood. These hoods are necessarily larger and you should only go with this size if you plan on climbing.

Polyurethane Coated Fabrics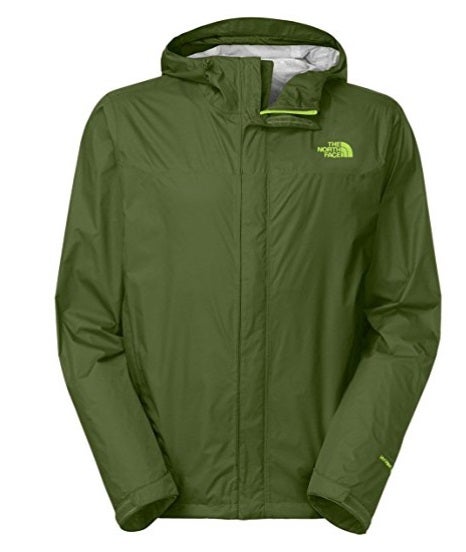 PU coated fabrics can be produced quickly, easily, and inexpensively. This makes them ideal for low end waterproof garments. A layer of polyurethane based waterproof "plastic" is adhered to a nylon jacket shell and creates a fully waterproof garment.
Eventually, the PU coating will begin to delaminate and tear away from the nylon fabric at which point the waterproof hiking jacket will lose all waterproof qualities and fail altogether.
This is usually about 2-3 seasons of heavy use. Despite this fact, PU coated fabrics and their respective garments are relatively affordable and may be an economical choice for many hikers.

FAQs For Rain Jackets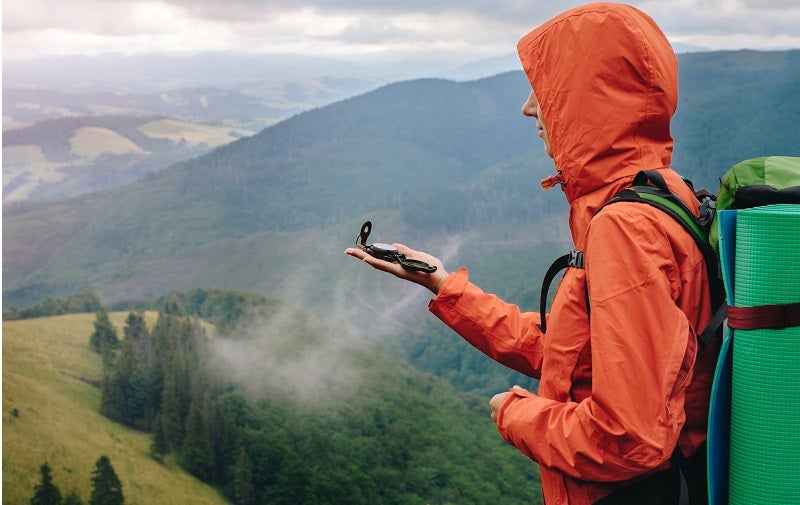 Q: What's the best rain jacket fabric?
A: This question begs the introspection of breathable vs non-breathable. In short it's a personal preference, but there are a few simple concepts.
Waterproof breathable is more expensive. Except for the absolute best WPB fabrics, often the "breathable" effect is not even noticeable. These can be good fabrics for shoulder season and cold season use, though.
Waterproof non-breathable fabrics are generally cheaper (with exceptions). During summer use they're lightweight backups for keeping yourself dry and warm.
The drawbacks of WPB fabrics are the price and relative lack of performance. Even the best ones barely breathe and they require quite a bit of maintenance to keep in top function.
Q: How do you keep rain gear clean?
A: You've got to be really careful with some non-breathable rain jackets. Often they're made with heat bonded layers of waterproof material. If you stuff them in the dryer you can destroy them instantly.
Generally speaking for WPB fabrics you can (and should) clean them with something like Nikwax wash. Keeping the durable water repellent in top shape is critical for breathability. Just make sure to follow the directions on the package. Namely, use a front loading washing machine only.
For non-breathable rain gear you don't technically need to keep it clean in order for it to perform. You could let it get nasty, but I don't recommend it.
I usually wash mine by hand with something gentle like Dr. Bronner's in a large ziploc bag. That's all you need to do.
Don't over-wash your gear though because it can damage the gear over time.
Q: What parts of a rain jacket tend to take damage?
A: Shoulders and hips on rain jackets both get beat up hard in the world of backpacking. For that reason, I like to look for rain gear that has reinforced shoulders. I've very rarely seen hip reinforcement on backpacking jackets, though.
That said, there's often no choice but to go with something that doesn't have reinforcements if you want lightweight or ultralight rain gear.
Those reinforcements are most important for technical backpacking though, like mountaineering or climbing.
One of the benefits of WPB gear is that it's usually made with a durable nylon outer shell. These shells are quite durable compared to lightweight PU coated gear or other ultralight rain jackets. Often it doesn't even need reinforcement.
Q: Do I need a rain jacket in the summer?
A: I always recommend that people carry a rain jacket even in the summer. However, it's sometimes not strictly necessary.
Many hikers choose not to carry a rain jacket during the hot summer months when temperatures, even during rain, don't drop low enough to be dangerous. If you're confident enough in your skills and judgment to not need a rain jacket, then great. But don't tell search and rescue I recommended it.
At the worst, carry a very lightweight rain jacket as an emergency backup in case you really need it. It can be good for breaking wind and keeping you warm in the nastiest situations.
Q: Are rain ponchos as good as rain jackets?
A: Many lightweight hikers are going for ponchos again instead of jackets. Why? Because they can be used for more than one purpose.
Backpack cover
Tarp
Ground Cloth
Rain gear
A good poncho can be used to cover your backpack so you don't need a rain cover for it. That saves you weight.
Some can be used as tarps or emergency shelters, too. This is a bit of a gimmick feature though because it's really not that viable.
Using a rain poncho as a ground cloth, in an emergency, isn't a bad idea. Just be careful that you don't punch holes in it.
Of course as rain gear they're fantastic because they keep you dry when needed and they have large holes so you can dump heat and sweat as you hike. Good rain ponchos really are viable pieces of rain gear if you can get past the ugly fashion statement.

Best Brands of Rain Jackets

There are several very reputable brands of quality rain jackets. Lets take a look at some of them now:
Marmot: Founded in 1974, Marmot has built a great reputation for outdoor clothing. The Precip is one of my top picks.
Outdoor Research: One of my favorite brands of clothing, their Helium rain jacket is one of the best rain jackets for backpacking available.
Mountain Hardwear: Now owned by Columbia Sportswear, one of my favorite value/quality manufacturers.
The North Face: Probably the best known maker of outdoor equipment on our list. Their lineup of jackets are some of the best available.

Conclusion
It's really up to you to determine the best combination of qualities in your next trail running, hiking or backpacking rain jacket.
Perhaps you need a WPB jacket with all the bells and whistles to feel comfortable, safe, and dry in the backcountry. For some, a simple Walmart clearance rack Frogg Togg rain jacket will work great for years.
If you're not quite sure what to get yet, consider going with something tried and true like the Marmot Precip. If you're looking for the most ultralight rain jacket known to man… well, look elsewhere because there are lighter options out there.
So, no matter your needs, make sure to inspect and review your new rain jacket before purchasing because some manufacturers like to deceive us consumers about the true features and reliability of waterproof products.
How We Researched
To come up with the top rain jackets we researched a variety of sources for reviews such as REI, Bass Pro Shops, Cabelas and Backcountry along with our own personal experience.
We also consulted online magazines for product research and reviews to get as much unbiased information as we could. To help weed out fake reviews we used Fakespot.com to make sure we only looked at genuine reviews.
With so much quality gear available, we had to narrow it down based on what we felt were the best options for the price. The author, Casey Fiedler has been leading backpacking trips for over a decade in his native state of Michigan.
To help narrow down the selection he used his personal experience along with recommendations from fellow guides and outfitters.
After extensive research, we came up with our list to help you choose the right one for you.
Sources
---
I hope this guide was helpful for finding a good backpacking rain jacket to fit your needs. If you want to comment or recommend a jacket I didn't include, please use my contact form to get in touch.
Have fun and be safe out there!
Notice:
OutsidePursuits.com is a participant in the Amazon Services LLC Associates Program, an affiliate advertising program. OutsidePursuits.com earns fees from products sold through qualifying purchases by linking to Amazon.com. Amazon offers a commission on products sold through their affiliate links.