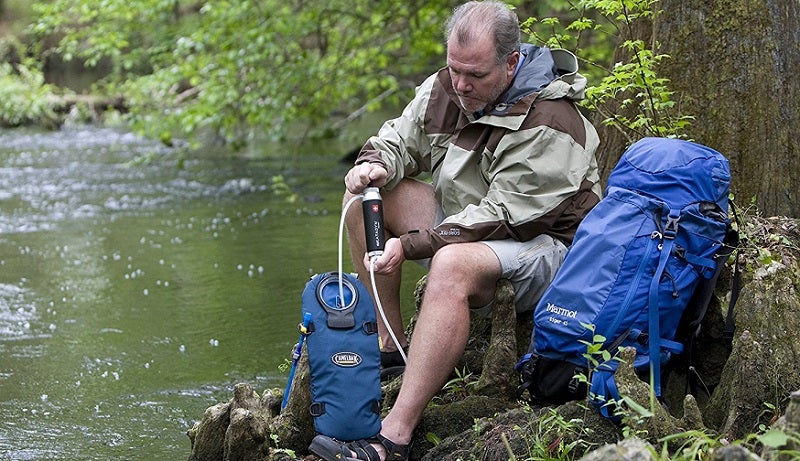 In order to safely and effectively travel in the backcountry it's critical to avoid illness. One potential source of infection is through water borne pathogens and there exist many methods of water purification.
One of these methods is a backpacking water filter – a physical filtration system whereby pathogens are filtered out of water using mechanical water pressure and a filter.
There are many methods of effective water purification such as boiling, chemical, UV, or physical filtration. Which method you ultimately choose is a function of many considerations.
For more of my top gear recommendations, have a look through these popular Outside Pursuits guide links: Backpacking Firestarters, Backpacking Stoves, GPS Hiking Watches.
So what is the best backpacking water filter?
Quick Answer: The 7 Best Backpacking and Hiking Water Filters

Here is a feature overview of my top 3 overall picks. Our guide and comparison table of the top rated backpacking water filters will help you choose the right one for you.
Best Backpacking Water Filters
| | LifeStraw Mission Gravity Purifier | Katadyn Pocket Water Filter | Katadyn Hiker Microfilter |
| --- | --- | --- | --- |
| | | | |
| | | | |
| Membrane: | 0.2 Micron absolute hollow fiber membrane inline filter | 0.2 microns ceramic element filter | 0.2 micron glass fiber filter |
| Method: | Gravity Fed, with 5L and 12L water bag | Hand Pump - 1 quart (1 liter)/minute | Hand Pump - 1 quart (1 liter)/minute |
| Rated For: | Will filter and purify 18,000 liters of water (4,755 gallons) | Replaceable cartridge up to 13,000 gallons (50,000 liters) | Replaceable cartridge up to 750 liters |
| | | | |
Backpacking Water Filter Reviews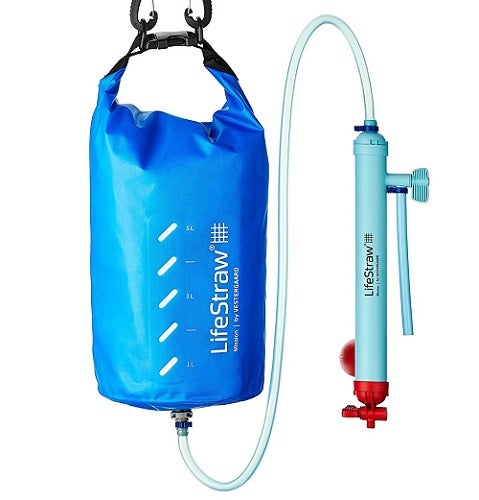 There are so many good things to say about this water filter that it's hard to know where to start…
Lifestraw is probably one of the most recognized name in water filtration and the LifeStraw Mission Water Purifier is one of the best options for backpackers and campers.
Ease of use and simplicity are top selling factors. Simple, fill a bag with water, attach the filter and the hollow membrane water filter gives you water that has 99.9999% of bacteria, protozoa and viruses removed from the water.
Viola! Clean water, no chemicals or anything else needed.
Gravity filters and pressure filters have been around for ages and the Lifestraw Mission takes the technology to a new level.
To clean it out you just use the integrate backwash bulb to clean out particulates and debris so you can use it again.
The filter is rated for up almost 5,000 gallons of filtered water but it is pretty doubtful you're likely to test that – that's a whole lot of water!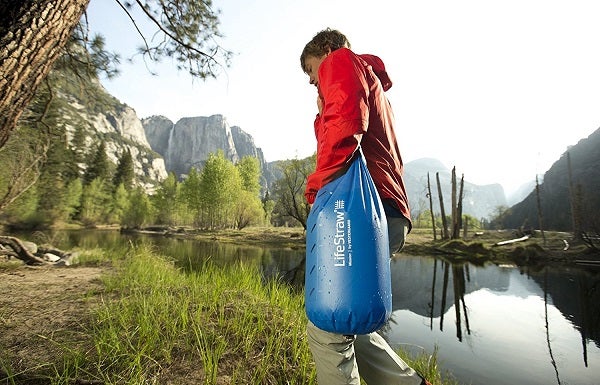 These filters have exploded in popularity and you're guaranteed to find hundreds of rave reviews and other users on the trail the next time you're out backpacking and since it can filter a lot of water it's also one of the best camping water filters.
It's available in two sizes, a 5 liter and a 12 liter for when you have a group of people.
---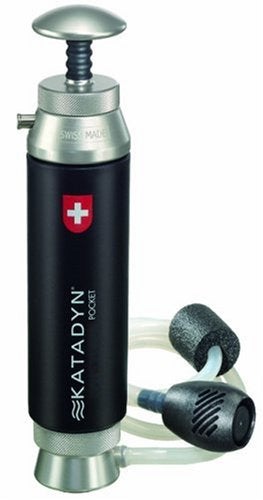 Despite the name, this filter won't be fitting into your pocket readily. It's actually quite a large and relatively heavy filter.
So why is it on the list?
This filter made the list because I have worked with it in various backpacking expedition programs where the filter has seen years of heavy use and still functions well.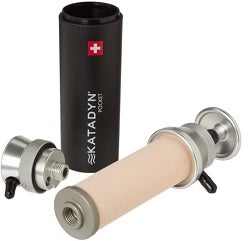 This is a rugged and durable filter which will clean water sources thoroughly and effectively. The filter can be broken down completely into its constituent parts for thorough cleaning and sanitation.
All metal and rugged plastic construction mean that there's virtually zero chance of destroying or breaking anything.
The most common injury I've seen on these filters is a bent pump arm – which can easily be broken down and replaced with a quick call to Katadyn for replacement parts.
What's the biggest drawback?
Replacement filters are well over $100 but the ceramic filter inside this pump is one of the better filter units on the market. The ceramic filter element can be cleaned using a brillo or Scotch Brite pad and will last a very long time.
Eventually, however, the ceramic filter will wear down with successive cleanings and need to be replaced. Definitely not one of the cheapest options but one of the best portable water filters on the market.
---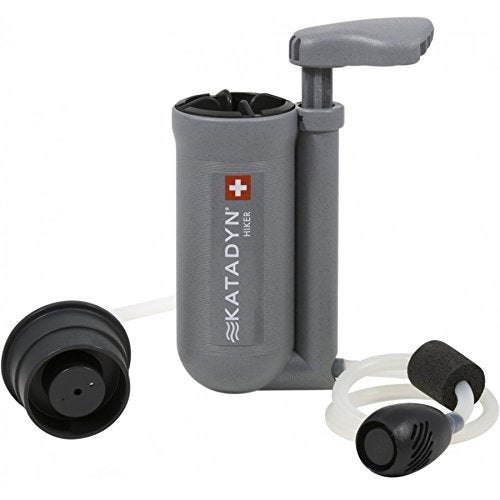 The first water filter I ever purchased and used was a Katadyn Hiker Pro (effectively the same filter) and it lasted a few years before the output nipple broke off when I attempted to remove the hose.
As far as I can tell, this was a one-off incident and the filter by and large is quite reliable.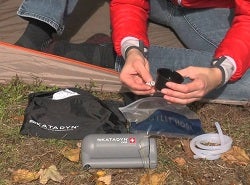 That being said, the filter is entirely plastic and more fragile than, perhaps, other comparable filters.
One major upside is the low initial cost to buy as well as widely available and inexpensive replacement filters.
This portable water purifier does a good job while avoiding excessive clogging and cleans easily.
To clean the filter, you just need to unscrew the filter element, rinse it out, and set it to dry (or bleach it if needed). A single circlip holds the pump arm on to the body of the filter and you'll need to disassemble, clean, and lube it after each trip.
If you can find the filter on sale or at a discount, it's definitely one of the best backpacking water purifiers.
---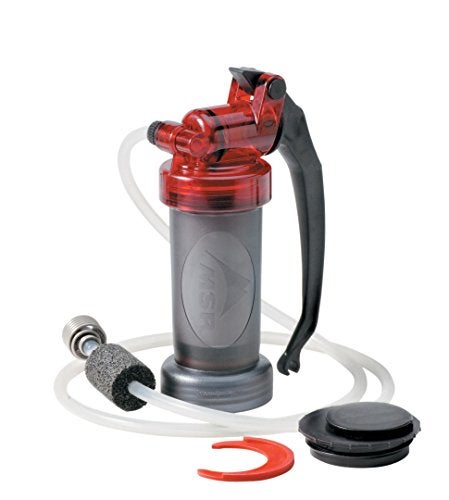 Another ceramic element filter, this time from MSR. I've used this filter before and had mixed results – it's one of the ones that tends to clog quickly.
However, if you're using it correctly and filtering water that's not too full of sediment then it's a great filter. This one operates using a lever arm instead of a direct pump handle in a vertical fashion.
One cool feature is that the filter can screw directly on to a Nalgene wide mouth bottle or a Dromedary (Drom) water bag for easy filling.
Video: Overview of the MSR Miniworks.
This is a feature I fail to use, however, as my water bottle (Platy Plus Bottles) don't fit the adapter. If you're a heavy Nalgene die-hard, then this might be a good feature for you.
It's pretty easy to disassemble and clean and, once again, you'll have to scrub the ceramic filter on occasion to clean off the filtered sediment and debris.
At a much lower price and with more affordable replacement cartridges than the Katadyn Pocket, this filter might be an economical choice. Be aware, however, that it is a less durable all plastic construction but being very lightweight it might be the best hiking water filter.
---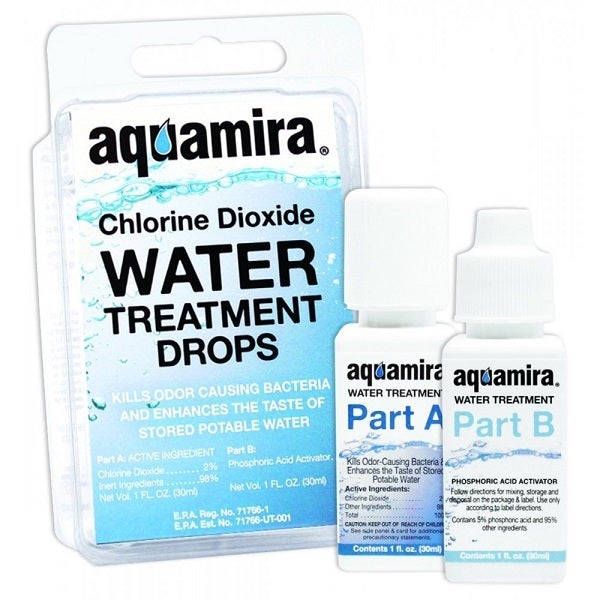 While this article is all about physical filters for water purification, I'm going to take a minute to address chemical purification. Various forms of chemical purification exist from Iodine, AquaMira, and bleach.
Chemical purification does nothing to remove physical sediment so if the water is dirty, you'll be drinking the dirt.
However, chemical purification, when used properly, will kill all pathogens in your water. Advantages include price (for some forms), utility, weight, and bulk.
Chemical purification options can be quite affordable and, while AquaMira will eventually add up to exceed the cost of some filters, the benefits can outweigh. Personally, after much research, I have chosen to migrate to unscented pure bleach for purification and use this method exclusively (for about the last 3 years).
When done properly bleach is safe to drink (due to dilution) and effective at killing pathogens.
My motivation?
I can pay less than $5 for a gallon of bleach which will purify hundreds of thousands of gallons of water, transfer it into a one ounce dropper bottle weighing mere grams, and have enough purification for weeks on the trail at a time.
Iodine tabs and AquaMira are perfectly safe, commercially manufactured and tested, chemical treatment methods and I used AquaMira for years before switching to bleach. Highly recommend them!

---
Backpacking Water Filter Comparison Table
How to Choose the Best Backpacking Water Filter
Size and Weight
For backpacking size and weight definitely matter but they're not always the end of the story. All else being equal, an intelligent backpacker would choose the smallest and lightest of all options when picking a piece of gear.
Some of the lightest and smallest options for purification are not filters at all – chemical purification is one of the most compact forms of water purification and UV pens can be quite compact.

Type of Water Filters
Were going to take a look at the 3 methods of water filtering.
Straw
Just like the name you suck the water through a straw that has a filter. These filters have the advantage of being light and drop dead simple to use.
The drawback?
You cannot filter and large quantity of water to store for later use and as a result are only useable when you are near a water source.
Pump
Here we can now filter large quantities of water use a mechanical pump to force the water through a filter into a storage container. The advantage is they can quickly filter water but they do require some effort to work the pump!
Gravity
Instead of working a pump we take advantage of gravity to direct the water through a filter into your storage container. They have the advantage of ease of use. Just hang the water pouch from a branch and let gravity do the work!
The disadvantage is they are slower since there is no mechanical force pushing the water through the filter. And of course you need somewhere to hang the pouch from!

Replacement Parts
Mechanical filters all have a filtering element which must eventually be replaced. In some cases, the filter and unit are disposable and must be replaced entirely when the filter has met the end of its life span.
In the case of UV purification, batteries must be recharged or replaced. For chemical water treatment, the chemicals themselves will eventually run out.

Filter Pore Size
Pore size, for mechanical water filters, refers to the size of the holes in the filter through which water is squeezed. The idea is to have a pore size smaller than the pathogens you're filtering yet large enough to permit the passage of just water.
Before purchasing a mechanical filter be sure to review the pore size, usually measured in microns, against the size of the pathogen you wish to filter out. Not all filters can filter out every type of pathogen – surprisingly.
Water Considerations
If you're heading in to areas of stagnant and dirty water or areas where suspended sediment is extremely high, you'll have a lot of trouble with mechanical filters.
One of the biggest issue is that the filter its self will quickly get clogged with dirt, sediment, or suspended particles in the water which get filtered out.
I've had filters get clogged so quickly before (in relatively clean water) that I have to clean them after each liter of filtered water. This is a huge pain in the ass and can be a problem even when the filter is used properly. In these cases, pre-filtering the water by straining through a cloth can be helpful.
If all else fails, you may want to consider a purification method which is physically unaffected by sediment such as chemical.

Conclusion
Water purification is a broad category containing filters, chemicals, UV, and boiling among others. All of these methods, when done right, will purify your drinking water.
Filters, however, are a specific category of physical "screens" in various forms which filter out pathogens as water is forced through them.
Which type of purification and, further, which filter you choose is entirely based on your level of knowledge, risk tolerance, budget, and preferences.
Drinking unpurified water is a great way to end up very sick or contracting parasites – not that I haven't done it myself but I advise against it!
---
I hope this guide was helpful for finding the best backpacking water filter to fit your needs. If you want to comment or recommend a filter I didn't include, please use my contact form to get in touch.
Have fun and be safe out there!
Be sure to see my favorite hiking shoes, along with sleeping bags, tents and hiking backpacks.
Notice: Outside Pursuits is a participant in the Amazon Services LLC Associates Program, an affiliate advertising program to provide a means for sites to earn advertising fees sold through by advertising and linking to Amazon.com. Amazon offers a small commission on products sold through their affiliate links. Each of your purchases via our Amazon affiliate links supports our efforts to bring you the best possible product reviews at no additional cost to you. We appreciate your support here at OutsidePursuits.com