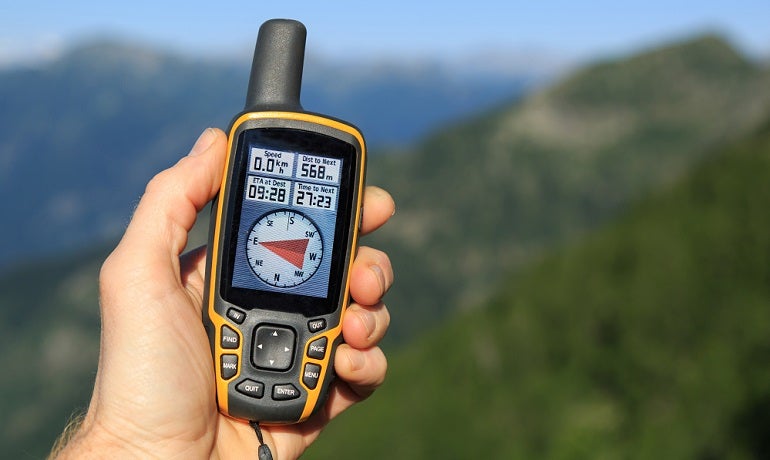 Many hikers refuse to enter the wilderness without a hiking GPS. Some hikers use GPS units as supplements to map and compass.
I bought my first GPS when Geocaching was a brand-new hobby. If you're not familiar, Geocaching is a "sport" where participants hide and seek "treasure" stashes around the world using GPS.
The best handheld hiking GPS units have come a long way since then and become much more affordable. While it's still quite popular, Geocaching is another way to use a handheld GPS.
Others use GPS units exclusively for navigation off trail or following a pre-charted route with great accuracy. Whatever your needs, a GPS is an indispensable modern piece of navigation equipment for the hiker.
For more of my top gear recommendations, have a look through these popular Outside Pursuits guide links: Hiking Compasses, GPS Hiking Watches, Hiking Backpacks.
Quick Answer: The 5 Best Handheld GPS For Hiking
Let's take a look at the top rated handheld GPS, then we'll talk about how to choose the best one for you in our guide. Here is a feature overview for my top 3 overall picks.
Best Hiking GPS
Garmin Montana 680t
Garmin GPSMAP 64st
Garmin Foretrex 401
Features:
- High-sensitivity GPS and GLONASS
- Pre Loaded Geocaches
- 8 megapixel digital camera
- High-sensitivity GPS and GLONASS
- Includes worldwide basemaps
- With ANT+Bluetooth
- High-sensitivity GPS receiver
- TracBack feature to retrace your path
- Electronic compass and barometric altimeter
Wearable:
No
No
Yes
Best For:
Hiking, General Navigation and Geocaching
Hiking, General Navigation
Hiking, General Navigation
Handheld GPS Reviews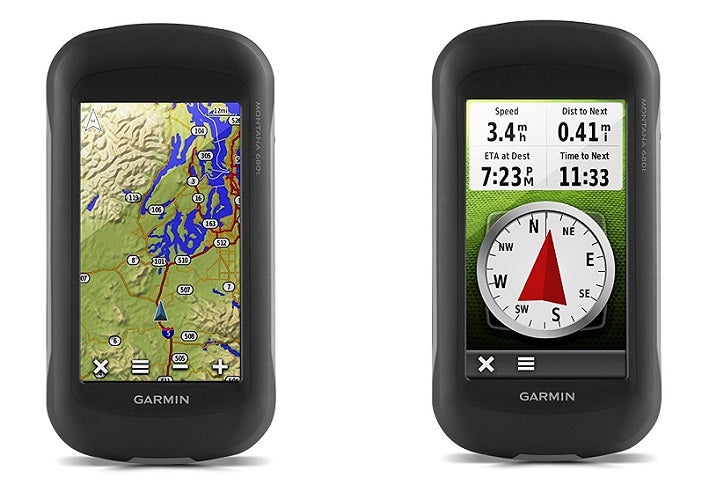 Garmin has been making the Montana series GPS units for years. In fact, my first backpacking GPS was a Garmin brand.
Now there's more features than ever packed into ever more affordable packages. 3-axis compass will allow you to maintain an accurate bearing whether moving, standing still, or holding the GPS unit at an angle.
It's hard to recognize just how convenient this feature is until you try using a GPS without it.
Garmin has loaded the 680t with high definition topographic maps so you won't have to worry about aftermarket maps unless you're looking to travel outside the US or seeking some maps with very unique perspectives.
Video: Overview of the Garmin Montana.
It even comes with over 250K preloaded geocaches, though you'll want to update their information before heading out on the hunt – in case your local geocache is no longer available (they change often).
I think one of the coolest features is the onboard camera. While a dedicated camera certainly would take better quality photos, such as a DSLR, it's not always easy or convenient to carry a camera while hiking.
Having a camera on the Montana 680t means you can take a quick geo-tagged photo or some scenery and wildlife pics on the fly. I think this is the best geocaching GPS.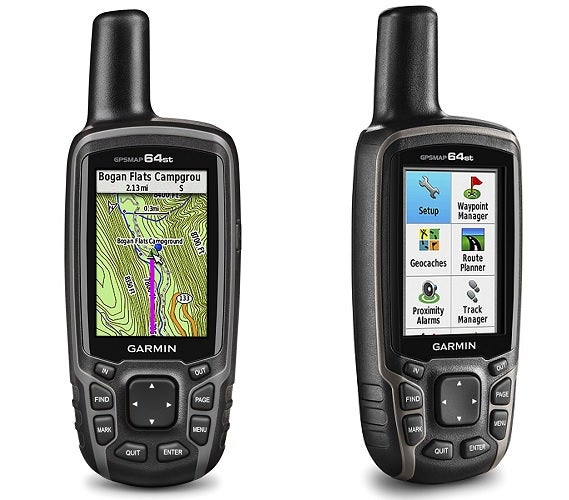 Possibly the most well-loved GPS unit in use among the hiking community, Garmin has been making the GPSMAP handheld unit for longer than I can remember.
This low-resolution screen, button interfaced GPS unit is waterproof, accurate, durable, and reliable. There's few better qualities in a hiking GPS than those!
Choose from several different models with preloaded maps in either the US or Canada. There's even a model with an integrated camera, though it'll cost you a bit more.
While the 2.6" 160×240 pixel display won't win awards for clarity or contrast, it's extremely battery efficient. They've even kept the GPSMAP upgraded and it now features the industry standard 3-axis compass and wireless Bluetooth and ANT connectivity.
Honestly, this would probably be my go-to choice for reliability, efficiency, and effectiveness.
While it's not as fancy as the high resolution, touch screen displays of some of the more expensive models, you'll be hard pressed to find a user with something negative to say.
In my opinion this is the best handheld GPS for hiking.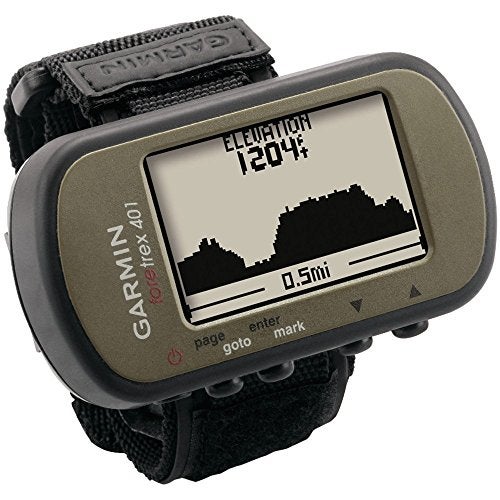 With a slight departure from the mapping GPS units we've been looking at, this GPS is simple, sleek, and efficient. It operates on a conservative two AAA batteries which promise long battery life due to the black and white screen and simple operation.
Instead of the map features available on the other units we've reviewed, this unit operates on a simple waypoint and tracking navigation system.
The GPS will passively track your route as you walk and you can activate the "TracBack" feature to retrace your steps. This is a great emergency or backup feature for those navigating difficult areas.
Create a waypoint, track, or destination before leaving home and upload the information to your GPS to use its simple functionality to track your route as you navigate. Having the option to wear it on your wrist for convenience, makes the Garmin Foretrex 401 the best backpacking GPS.
This is a great, simple, lightweight supplement for map and compass navigation for the confident backcountry traveler looking for a safety net. It never hurts to have a backup plan.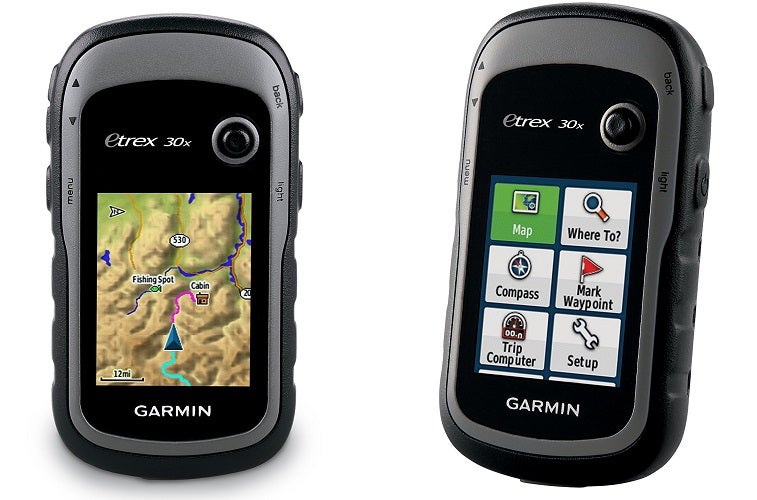 This upgraded version of a classic GPS has stood the test of time. Garmin's original eTrex has been around in black and white display format for decades. Now you can find the same reliable, waterproof GPS unit in several different models.
This 30x model eTrex features a 2.2" color display which is small, accurate, and efficient. It's a great balance between visibility and power consumption.
Preloaded base maps aren't great so you'll definitely want to take advantage of that nice display screen and get yourself some aftermarket maps to beef up your unit.
Video: Overview of the Garmin eTrex.
Topo 24K maps are a great high definition topographic map choice for most hiking users. This is a great way to take advantage of the high resolution, small screen.
With features we have come to expect from modern GPS units, the eTrex30 is wirelessly compatible with other devices to share waypoints, tracks, or routes as well as geocache information.
That means you can share geocache locations on the fly with other participants in the field. Know where something is? Share it with others! This is probably the best handheld GPS for the money.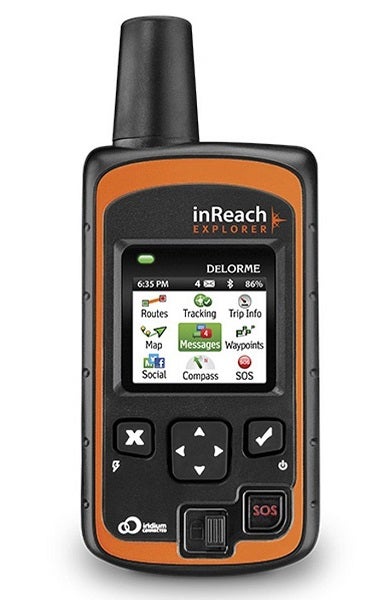 I wanted to give an option for GPS navigation units other than Garmin but it turns out Garmin bought Delorme for the messaging technology.
While GPS units connect to satellites to send and receive location based data, there's usually no way to use that connection to communicate with the world.
Luckily, with the SPOT satellite device paired to the Delorme AG, you can now send and receive messages and location information.
This is an awesome solution for those looking to carry the best GPS for hiking for accurate off trail navigation or map and compass backup.
It has all the features you would expect like a digital compass, GPS navigation with ability to drop waypoints and downloadable maps.
What makes the Delorme differnet is you can program in messages to send to specific phones such as your parents, spouse, or emergency team.
There's even an SOS and emergency signal broadcast option so you can use it like a personal locator beacon.
With support for up to 32GB SD cards and tons of custom mapping features, you'll be able to use the high-resolution sunlight readable display for accurate navigation in any weather.
Fully waterproof and equipped with access to the highest aerial satellite imagery, if you would like the ability to send messages from anywhere, the Delorme is your best bet!
Hiking GPS Comparison Table
How to Choose the Best Hiking GPS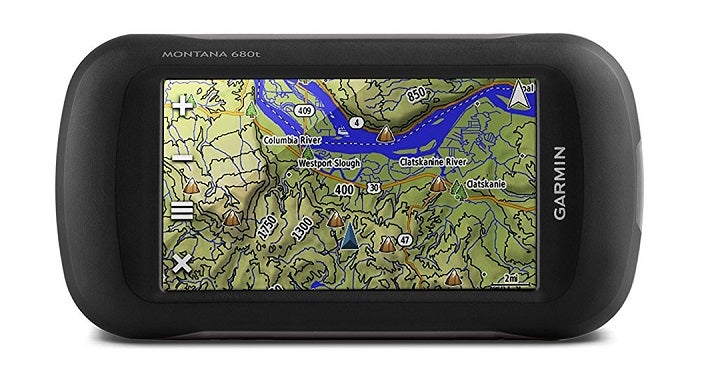 If you're new to the world of navigating in the backcountry, there can be many considerations which may not at first be obvious. I'm going to help you choose the best hiking GPS for your needs by walking with you through several key decision points.

Battery Use
GPS units all use some kind of batteries. Most hiking GPS units use replaceable batteries, unlike car GPS units which use sealed, rechargeable batteries. Why? Because in the field you won't have a good way to recharge a GPS unit, so hiking GPS units us simple AA batteries for the most part.
Consider using rechargeable AA batteries when using your GPS on shorter trips or around the local park. This will save you money on batteries and you can simply use disposable batteries on longer backpacking trips where recharging isn't an option.

Screen Size and Type
Today you'll have to choose from two main types of GPS:
Touch screen GPS units usually have larger screens, as there's no need to make room for physical buttons on the unit. However, touch screens can be more difficult to use in rain, cold weather, or when wearing gloves.
Larger screens are nice for viewing but come with two main drawbacks:
They consume batteries faster
The overall unit will be larger and heavier than smaller screen units
Maps
Most GPS units come with a pretty simple and, frankly, poor quality "base map". Fortunately, more and more manufacturers are including high quality topographic maps as standard fare on their hiking GPS units.
Be sure that the unit you're considering buying has high quality topo maps installed, otherwise make sure to calculate the cost and hassle of buying third-party maps and installing them yourself.

Electronic Compass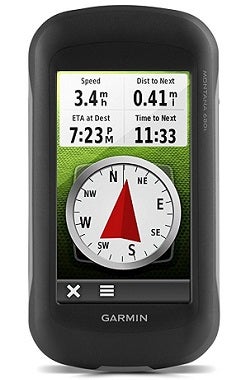 GPS units us equations to calculate where you are, where you're going, and how fast. If you're standing still, however, the unit has no way of knowing how it's oriented to the world around you.
Units lacking a standalone electronic compass are incapable of generating a heading or bearing when standing still.
Especially for accurate navigation, orienteering, or geocaching you'll want to make sure your GPS unit has an onboard electronic compass which allows the unit to calculate and display a bearing while standing still.
Having a 3-axis compass is a must-have feature as it allows you to hold the GPS in any orientation while still getting an accurate bearing.
You'll have to hold the GPS perfectly flat like a piece of paper to get a 2-axis compass to work properly, and trust me it's annoying.

Wireless Capability
Many newer GPS units feature Wi-Fi connection or wireless device-to-device communication. That means if your friend has a compatible device, you can quickly and easily transfer routes, waypoints, and POI's wirelessly.
If you're often traveling with a partner it might be worth considering a wireless capable GPS unit.

Radio Capability
Some GPS units now feature the capability to act as two-way radios or short distance phones. With a compatible device, you can use a set of GPS units to establish two-way communications which is critical in situations such as search and rescue or emergency services.
You may even find that your device comes stander with the ability to access NOAA weather radio broadcasts.

Conclusion
There are so many options on the market today that it can be a challenge to identify your needs in a GPS and find one which meets your standards.
Many GPS units offer too much power or more features than most people need. Be careful about upgrading to the most expensive unit without considering why.
Some of the smaller units offer higher reliability, equal accuracy, and many of the same robust features as top-end units at a lower price. You'll also benefit from reduced battery consumption by using a GPS that has just the features you need and not a bunch of extra fancy gadgets.
For the casual weekend hiker, the Garmin eTrex or GPSMAP units are reliable and powerful enough to get any job done without gobbling up batteries.
If you're a world class navigator looking for only the best off-trail navigation and cutting edge features, something like the Garmin Montana 680t will be your trusted companion.
It's easy to get trapped in the hype of buying new gadgets. However, with careful consideration you'll be able to choose the best handheld hiking GPS companion for all of your adventures.
Decide which features really matter to you and you'll be happy with any choice on our list of hiking GPS units.
---
I hope this guide was helpful for finding the best hiking GPS to fit your needs. If you want to comment or recommend a GPS I didn't include, please use my contact form to get in touch.
Have fun and be safe out there!
Notice: Outside Pursuits is a participant in the Amazon Services LLC Associates Program, an affiliate advertising program to provide a means for sites to earn advertising fees sold through by advertising and linking to Amazon.com. Amazon offers a small commission on products sold through their affiliate links. Each of your purchases via our Amazon affiliate links supports our efforts to bring you the best possible product reviews at no additional cost to you. We appreciate your support here at OutsidePursuits.com