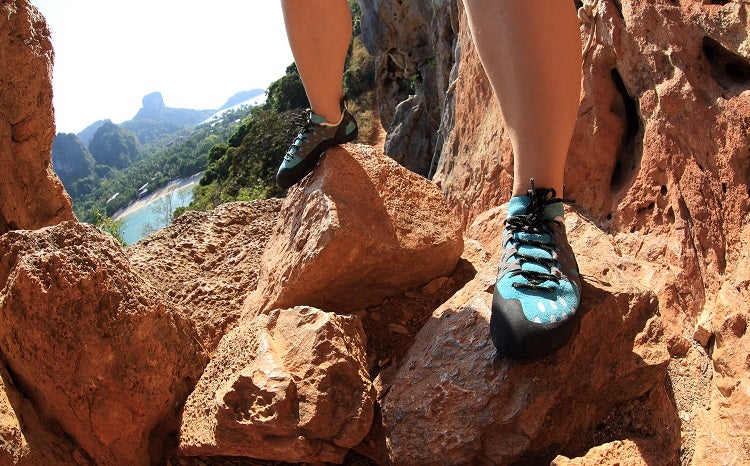 Our Editors independently research, test, and rate what we feel are the best products. We use affiliate links and may receive a small commission on purchases.
Whether you're touching rock for the first time as a rookie sports climber or are working hard on advanced projects in traditional climbing, having the best climbing shoes will be your most important part of your climbing gear.
They can determine both comfort as well as success in reaching your training goals.
In the following guide, we'll first give you a run-down of our top picks, highlighting their respective features, and then explain how to pick shoes which are the perfect fit for your needs.
Best Rock Climbing Shoes
| | Scarpa Instinct VS Climbing Shoe | La Sportiva Miura XX Climbing Shoe | Evolv Shakra Climbing Shoe |
| --- | --- | --- | --- |
| | | | |
| | | | |
| Upper: | Microsuede Lorica | Leather | Synthetic (Synthratek VX) |
| Sole: | Vibram® XS edge rubber | 4mm Vibram® XS Edge | 4mm TRAX® High Friction rubber |
| Features: | Floating power strap enhances fit and provides power | Modified lacing to facilitate toe hooking | Dual hook and loop closure system |
| | | | |
For more of my climbing gear recommendations, have a look through these popular Outside Pursuits guide links: Harnesses, Pants, Rope, Helmets.
Quick Answer: The 5 Best Rated Climbing Shoes For 2021
Our reviews of the top rated climbing shoes with our comparison table and buying guide below will help you choose the right shoe for you.
Climbing Shoe Reviews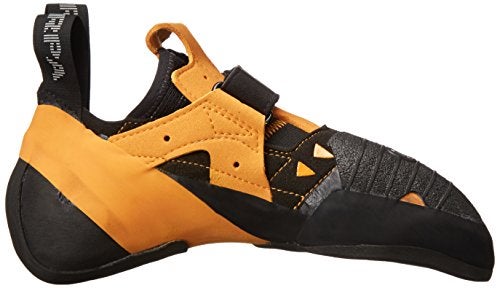 Scarpa Instinct VS Climbing Shoe at a Glance
:
---
Upper: Synthetic/mesh
Sole: 4mm Vibram® XS Edge™
Closure: Velcro
Shape: Aggressive
The Scarpa Instinct VS are some of the best climbing shoes in terms of high performance and all-around value.
Versatile both in bouldering and sport climbing, the strength of the Instinct VS is the combination of sensitivity and power.
With the VS, Scarpa closes the gap between the slipper and lace-up versions of the Instinct to deliver a powerhouse that, with the correct fit, can be used for virtually everything in any setting.
Key features of the Instinct VS are a single, floating velcro strap, a 3mm Vibram XS Edge sole, a rubber toe patch, Microsuede upper and Flexan midsole.
The shoe is stiff enough to support you on small flakes and edges and performs well in steep overhanging routes and boulder slabs.
In addition, the bi-tension randing system provides power to stand on a dime and assures the Scarpa Instinct VS keeps its great shape.
At the same time, you have enough flexibility climbing overhangs or smearing and the shoes are a wonder for any kind of hook.
Not only are they well suited for all manners of terrain, they fit many different types of feet due to the full heel cup and the custom fit with the one velcro strap.
If you like to climb indoors, the Scarpa Instinct VSare are also among the best indoor climbing shoes you can buy as well.
If your looking for the best climbing shoes for beginners, Scarpa offers the Force V (also available for women), a flat and less aggressive yet high performance shoe.

---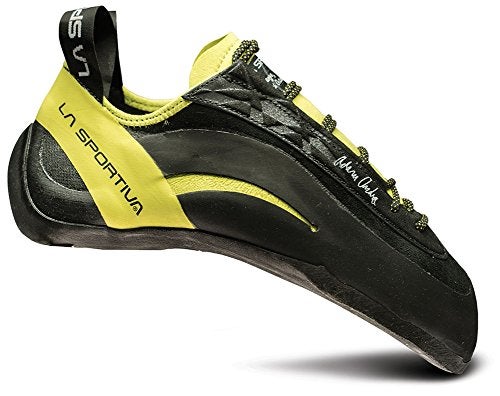 La Sportiva Miura XX Climbing Shoe at a Glance
:
---
Upper: Leather
Sole: 4mm Vibram® XS Edge™
Closure: Lace
Shape: Aggressive
To celebrate its 20th anniversary, the company released the Miura XX in a signature edition with Adam Ondra's autograph near the lacing.
That feature alone won't help you climbing, so here are the specs: these shoes feature a slip lasted construction, a 4mm Vibram XS Edge sole, a 1.1mm LaspoFlex midsole, leather upper and Pacific lining.
The fit is meant for performance with high asymmetry, while La Sportiva's patented P3 Permanent Power Platform enables the shoe to keep its aggressive shape even with continuous use.
The lacing is modified to facilitate toe hooks and the Miura XX delivers extreme precision even on small holds and heel hooks.
The ideal terrain for these high performance beauties are demanding boulder problems, overhanging sport climbing routes, extreme gym climbing and technical face climbing.
Quite versatile for such a precision model, so how about comfort?
The La Sportiva Miura XX keeps its tension to the very tip of the toes and has a feeling like the original Miura. The fit is slightly more narrow and you can adjust your level of comfort by sizing up or down.
La Sportiva managed to improve a great climbing shoe with the Miura XX and a top contender for the best bouldering shoes without losing any of the properties that made the orginal model so successful.
A beginner's shoe which is great for easy sport climbing or alpine routes, try the La Sportiva Mythos Eco (also available for women).

---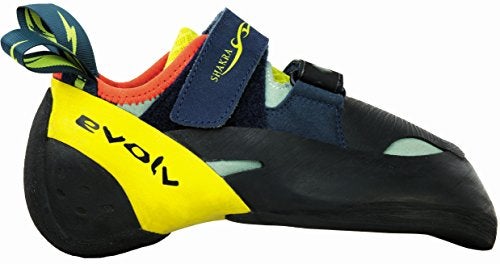 Evolv Shakra Climbing Shoe at a Glance
:
---
Upper: Synthetic
Sole:

4mm TRAX high friction rubber

Closure: Velcro
Shape: Moderate
The Evolv Shakra joins the range of Evolv climbing shoes for spring 2018 as a quite unique piece of equipment.
This is a narrower, lower volume version of the their popular Shaman shoe and is meant to fit both women and men with narrower feet.
Just like its predecessor, the Shakra is meant for high performance, as the downturned, asymmetrical profile clearly shows.
Key features are a 4.2mm TRAX high friction rubber sole, a 1mm half-length midsole, a dual hook and loop closure system and unlined synthetic upper.
Because of the slightly thinner midsole, the shoes are quite flexible to wear while the lower volume ensures a snug fit on our feet which you can customize by adjusting the two velcro straps.
The feel is responsive, yet the rubber sole will stick to holds and an increased toe rubber gives you hooking power.
Evolv achieves a natural downturn with the so-called love bump at the bottom, enabling you to pull on even the smallest edges.
The knuckle box on top places strong rebound power in the toes without squishing them. The effect creates one the of the most comfortable and sensitive climbing shoes of an aggressive style.
They are still tight, but your toes are well curled and the synthetic upper ensures there is no break-in period while the rand will maintain the aggressive shape.
You should definitely consider the Evolv Shakra if you want to work your boulder problems all day without having to take off your shoes in pain in-between.
They're also great companions for indoor and outdoor sports climbing and provide lasting comfort in longer routes. Without a doubt some of the best rock climbing shoes on the market.

---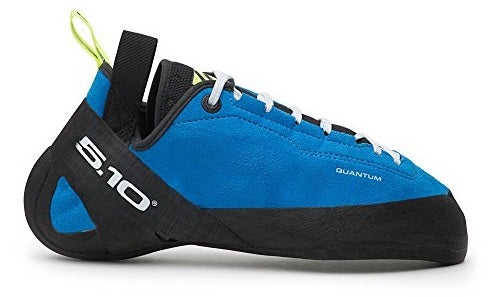 Five Ten Men's Quantum Climbing Shoe at a Glance
:
---
Upper: Lined, synthetic clarino
Sole:

4.2mm Stealth c4 rubber

Closure: Lace
Shape: Moderate
With the Quantum, Five ten delivers a high-end all-around performance shoe for any setting with a snug, yet comfortable fit.
These climbing shoes are near-perfect for overhanging and steep routes and extended climbing sessions, both indoor and outdoor.
The Quantum also performs extremely well in bouldering. Five Ten worked together with the legendary Huber brothers from Germany, Alex and Thomas, to design the Quantum.
The key features are: a Stealth C4 rubber outsole of 4.2mm thickness, synthetic lining, an Ariaprene tongue, wider last, speed lace closure system and general stiffness.
The Five Ten Quantum is a very versatile shoe, staying comfortable during extended periods of wear with no compromise on fit or performance.
Lining and tongue offer sweat absorption and breathability while the slightly wider last makes the Quantum perfect for wider feet.
These shoes excel at cracks, multi-pitch routes and on steep edges. Thanks to the stiffness and lace system, their performance will last.
For bouldering, your feeling will improve once you have broken them in. The Quantum has a moderate downturn which, paired with the wider last, allows for a more natural position for your feet.
The laces enable you to quickly lace up and choose between a super-tight or relaxed fit. The heel fit is a dream and you have a lot of precision on your toes on small edges.
The Quantum is optimal for vertical and overhanging routes, long days and traditional climbing. The combination of performance and comfort is well-balanced and the shoe is a great choice for pushing your limit.

---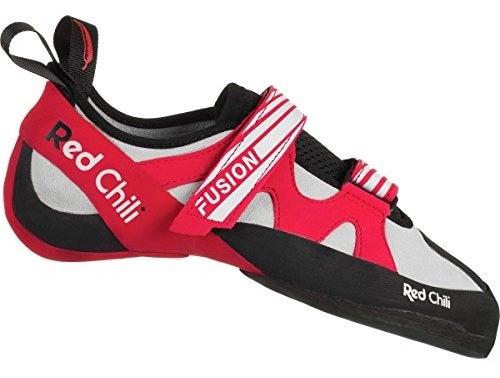 Red Chili Fusion VCR Climbing Shoe at a Glance
:
---
Upper: Leather
Sole:

Vibram XS Grip

Closure: Velcro
Shape: Flat/Moderate
Red Chili wants to deliver high tension with the Fusion shoes while keeping your feet free of cramps.
Designed as a combination of volume, downturn and precision, the concept of these climbing shoes is versatility and all-around performance in more than one scenario.
Key features of the Voltage include: aggressive downturn, a wide shape for a comfortable fit, two opposing velcro straps, a toe patch for extra grip and heel fit for performance on hooks, an RC-tension midsole and a Vibram XS Grip rubber sole.
One look at the Red Chili Fusion's profile clearly shows these shoes are all about tension: the powerful downturn is achieved by a flat strip of rubber wrapped around the heel, allowing you to transfer body tension through your toes onto small edges.
The shape of the Voltage is built to last, owing to the midsole and the Vibram XS Grip rubber, which is less prone to wear. However, the last of the shoe supports your toes without cramming them together in pain.
Even if your feet are a bit wider, there is virtually no need to break these shoes in. You'll feel right at home taking the Voltage straight to your boulder projects or steep sport climbing routes.
You can trust in the grip and support of these shoes while the anatomical fit, dual velcros and synthetic upper lining deliver sustained comfort.
The verdict: The Red Chili Voltage is perfect for high-end boulder problems and reliably ascending routes in steep and demanding terrain.

---
Climbing Shoe Comparison Table
Considerations for Choosing Climbing Shoes – Buyers Guide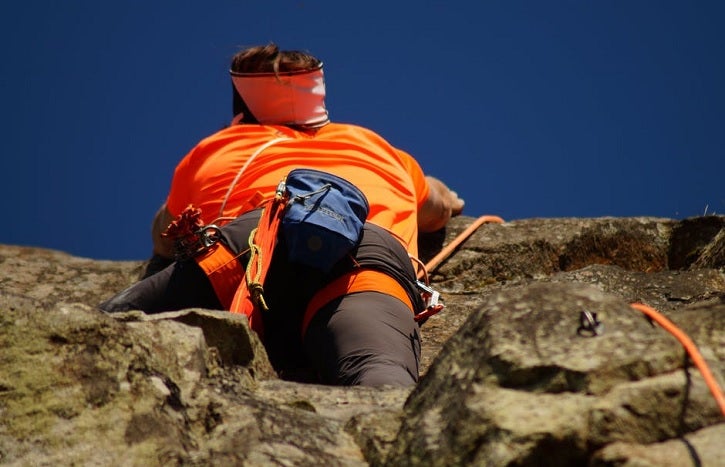 Beginners will mostly opt for a comfortable pair, while advanced climbers usually prefer a snug fit and pros worry about performance in extreme situations or under particular circumstances.
With new indoor rock climbing gyms sprouting up everywhere due to rising interest in the sport, and the stunning achievements of established professional climbers such as Alex Honnold, Adam Ondra or Chris Sharma make an impression on beginners and hardcore climbers alike.

Climbing Shoe Features:
How you fasten the shoe: velcro, lace-up or slipper models exist and influence how quickly and easily you can change into and out of your shoes. For many people, it's a question of preference, but as a rule of thumb, velcro fasteners are a common choice and good middle ground.
Design: You'll notice that climbing shoes have either a symmetrical or asymmetrical shape and a pronounced, slight or no downturn. Differences here have an impact on comfort, performance and fit.
Usage: Many models of climbing shoes are all-rounders and are fit for a number of possible scenarios, but it's not uncommon for climbers to have several pairs, for example one for the gym and one for outdoor routes.
Climbing shoes are connecting your feet to the gym wall or the rock and should be viewed more as gear than mere footwear. How well you can walk or stand in them on flat ground matters little to how they feel and perform once you go up a wall.
Shoes for climbing come with a sole of sticky rubber which provides traction or friction on seemingly smooth surfaces. A midsole provides extra support and the shoes are shaped to concentrate strength in your toes for standing on even tiny footholds.
A climbing shoe is meant to fit tightly with a perceptible tension and pressure distributed equally over the whole foot. Your toes will curl and be in touch with the front inside.
Especially for beginners, there will be a level of discomfort as wearing this kind of equipment is a new experience, but there is a fine line between being uncomfortable and being in constant pain.
No two pairs of feet are alike and many factors play into what constitutes the best climbing shoe for you specifically. While advice and recommendations from other climbers are helpful, keep in mind that their specifics and needs will differ and you should make a choice that is best suited for you.
There are vast differences between individual shoes and brands, but below we have summarized the most important factors which will enable you to pick according to your demands and preferences.

Fit
While you'll always look for that (elusive) perfect fit, beginners should focus on comfortable and less aggressive shoes. That means slightly more room and less cramp for your toes, a relatively neutral shape and neither extreme stiffness nor softness.
Go for a snug fit all around your foot and avoid air pockets in the shoe, especially in the heel, under your foot and in the toe area. Generally, women and men with slim feet will find a better fit in a narrower, low volume shoe.
Watch out for your ankles, Achilles tendons, instep, top of the foot, knuckles and outside of the toes: these areas will all be in touch with the shoes and slight pressure here is normal, but it shouldn't be unbearably hard.
When trying on shoes, you'll usually wear ultra-thin discardable socks in the store for hygienic reasons, but during use, climbing shoes are worn without socks, yet should fit like one.

Shoe Sizing
As a rule of thumb, don't buy your shoes too small. A great number of myths exist around how to pick the size for your rock shoes with some formulas of how to calculate your size based on your regular shoes.
But again, our feet are as individual as our hands and in reality, manufacturers can be arbitrary in their sizes with great differences between brands. Climbers tend to get the smallest shoes into which they can possibly squeeze their feet – with the obvious sacrifice of comfort.
If your foot moves within the shoe, the size is obviously too big, but if a pair fits snuggly and is still comfortable, there is no need to size down just because. When ordering online, you can get the same shoe in two different sizes and return one pair after trying them on.

Flat to Aggressive: Styles of Climbing Shoes
Both performance and feeling of your climbing shoes are largely influenced by their shape. You'll notice models with a downward curve (downturn) and an inward curve (asymmetrical last).
A greater curve makes for more aggressive shoes and models can be categorized as neutral, moderate or aggressive.
Neutral shoes – come with a flatter sole and feel more natural, allowing you to stand comfortably on solid ground and not forcing your toes into raised positions.
These are good for beginners or for wearing them all day. They perform well on easy routes and large holds but lack precision on smaller holds.
Moderate shoes – will display tension in the heel and a slight downturn in the toes. Depending on the material and the stiffness, your toes will either feel the rock very well or be a bit more insulated.
Aggressive shoes – are for high performance, with high tension in the heel, pronounced downturn and asymmetric shape.
Combined with a moderate or soft material, you're able to stand on small holds and have sufficient friction to smear. This power comes at the cost of comfort and shoes of this shape are usually not worn for extended periods.
A note on the toes: the more aggressive a shoe is, the more it will force your toes into a raised position with bent toe knuckles. This crimping allows for more transfer of strength, yet can be uncomfortable and takes getting accustomed to the position.
At worst, your toes will be fully raised and compressed with actually no room to go, resulting in pain. At no point should your toes be squished or layered one over another. Beginners tend to go for shoes with straight toes.

Shoe Uppers: Leather vs Synthetic
The material determines how much your shoes will stretch or retain their original shape, as well as how comfortable they feel on the inside and how soon they start to smell.
The uppers of climbing shoes are made of leather, synthetic, or lined leather, a combination of the two. Leather has better breathing capabilities and tends to smell less after time, but it generally stretches more.
Your shoes will definitely become more comfortable with stretch, with the slight danger that initially comfortable shoes become too big and sloppy.
In part, this is the reason climbers tend to downsize, though with a mix of materials and the evolution of shoes, the effect varies between a half size for leather and a quarter or half size for lined leather.
Soles: Stiff vs Soft
Stiff shoes will offer more support, which is great for longer routes and extended use, whereas a softer model gives your more sensitivity and ability to apply pressure with the toes.
Softer rubber soles will wear down quicker, especially if it's thinner. When you're starting out and are still improving your technique, a thicker and slightly harder sole will help you avoid the frustration of quick wear and having to resole your shoes early.

Closure System: Laces vs Velcro

As we've briefly outlined earlier, there are three different types of shoes in terms of closure: slippers, velcro and lace-ups. A slipper should have a snug fit since there is no way to adjust it.
You'd think a slipper is easiest to put on, but a tight fit combined with an aggressive downturn and material that hasn't yet stretched can be an ordeal to get into, making slippers not necessarily the first choice for beginners.
Velcro shoes seem to offer the best of both worlds: they are quick and easy to put on and take off and their varying number of straps (one to three) allows for some control over how they fit, especially around the middle of your feet.
Depending on the model, the straps can begin to show wear and tear if you yank them too much.
Lace-up shoes will definitely take the longest to put on, but enables you to fine-tune the fit with additional control over your toes, as opposed to velcros.
Most brands have developed some kind of speed-lacing system for their more aggressive shoes. Another advantage of a lace-up closure system is for people with unusually shaped feet as they might achieve a better fit than with velcro straps.

Type of Climbing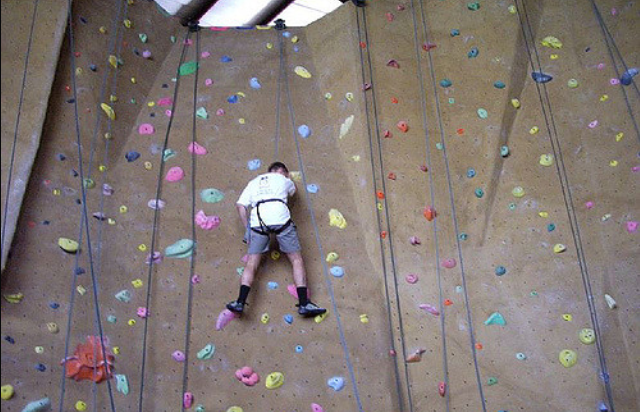 As you know by now, rock shoes are a balance between comfort and performance. An all-arounder is great for beginners and when you have multiple scenarios in mind, such as bouldering and sport climbing at the gym as well as outside on real rock.
Later in your climbing career, you might consider different models for very specific usage: one for long multi-pitches and one for working your boulder projects.
Our rule of thumb guide is as follows:
For the gym and sport climbing, consider softer, slightly downturned shoes
In traditional climbing, a bit more stiffness and tension in the heel work well
For long days, especially outside, your feet will thank you for stiffer shoes with lower tension in the heel and a neutral or moderate shape at most
If you're bouldering, you want a tight fit to optimize your performance. Bring out the more aggressive shapes and less stiff, softer models. Velcro straps help you get in and out of your gear quickly
If you're climbing on slabs (smooth rock with hardly any holds), you need soft rubber for high friction contact. A moderate downturn supports your feet on small holds.
Comfort
"No pain, no gain." You'll hear some variation of this repeated like a mantra by many climbers, but the truth is that your climbing shoes should not introduce your feet to unnecessary strain, pressure, pain or extreme positions.
We cannot stress this enough: especially as a beginner, if your feet are uncomfortable in certain positions or movements, you'll never learn proper technique as you'll start altering your style around the discomfort. Once you're on the wall, your focus should not be on how your feet feel, but where to place them next and how to execute moves.

Outside Pursuits Overview
Climbing shoes are very personal equipment where the best choice is not only influenced by preference, anatomy and technique, but also by where and how often you go climbing and if you want to specialize or are looking for an all-rounder shoe.
New innovations and models come out every year, while some basics and classic shoes persist. The climbing shoes we have presented here are just a fraction of what's available and have no ultimate claim to being the only ones you should try – your mileage will definitely vary.
Start with how and where you'll use your shoes the most and what you are looking for, then work from there.
Once you start logging a few climbs in your shoes and have broken them in, you'll also get an understanding of what is best for your feet in particular and how your foot gear can support your strengths and weaknesses.
If your new to climbing be sure to read our "How to Start Rock Climbing" guide. If you are looking for beginner climbing shoes, take a look at these.
How We Researched
To come up with the top climbing shoes we researched a variety of sources for reviews such as REI, Dicks Sporting Goods and Backcountry along with our own personal experience.
We also consulted online magazines for product research and reviews to get as much unbiased information as we could. To help weed out fake reviews we used Fakespot.com to make sure we only looked at genuine reviews.
With so much quality gear available, we had to narrow it down based on what we felt were the best options for the price. The author, Jakob Straub has extensive experience with rock climbing and bouldering. To help narrow down the selection they used their personal experience along with recommendations from instructors and retailers.
After extensive research, we came up with our list to help you choose the right one for you.
Sources
---
Notice:
OutsidePursuits.com is a participant in the Amazon Services LLC Associates Program, an affiliate advertising program. OutsidePursuits.com earns fees from products sold through qualifying purchases by linking to Amazon.com. Amazon offers a commission on products sold through their affiliate links.