Whats on your feet is by far your most important part of your hiking gear. However, choosing the best hiking shoes for your needs can be confusing with the wide variety of styles and construction.
To figure out what were, we took 15 pairs of top rated hiking shoes then hiked on some pretty rugged trails in New Hampshire.
We took them through mud, rocks and water while evaluating them on traction, comfort, water resistance and durability.
Ladies: we created a separate list of hiking shoes specifically for women.
For more of my top gear recommendations, have a look through these popular Outside Pursuits guide links: Hiking Pants, Hiking Rain Jackets, Trekking Poles
So what are the best hiking shoes?
Quick Answer: The 7 Best Hiking Shoes For 2017

First lets take a look at the hiking shoes, then we'll talk about how to choose a pair for you. Here is a feature overview of our top 3 overall picks with full reviews and our buying guide below.
Best Hiking Shoes
| | Merrell Men's Moab Ventilator Hiking Shoe | Columbia Men's North Plains Waterproof Trail Shoe | Adidas Men's Outdoor AX 2 Hiking Shoe |
| --- | --- | --- | --- |
| | | | |
| | | | |
| Upper: | Combination of Leather and Synthetic materials. | Combination of suede leather and textile construction. | Synthetic upper with air mesh construction for superior wicking. |
| Sole: | Vibram sole with aggressive tread pattern for grip. | Extra Grip rubber sole | Super-high-traction rubber. |
| Features: | Water resistant leather and mesh upper with full bumper protection around the toe and the heel. | Columbia omni-heat insulation with advanced reflective lining to keep warm in winter and cool in summer. | Molded sockliner for enhanced comfort and fit, socks not necessary. |
| View on Amazon: | | | |
Men's Hiking Shoe Reviews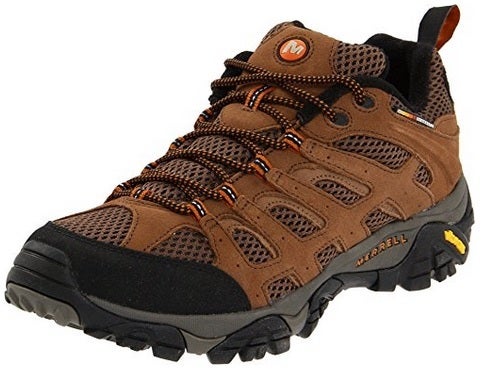 The Merrell Moab hiking shoes for Men have a lot of great features going for it. One of the most important is that has a moisture-wicking mesh lining. Ultimately, this means that even if you're stomping around in damp and wet areas, your shoes are going to dry quickly.
There's odor prevention as well, so when you have been in the shoes for hours and sweating, it's not going to have a lingering smell to them.
The vibram sole has a very grippy tread so you won't slip even in the wettest of conditions or steep inclines plus there is a cushioned heel that is shock absorbing.
Even if you're on rough terrain, it's not going to take a toll on your feet. You can hike in any condition and the shoes are going to hold up to anything you throw at them.
Features of the Merrill Moab Ventilator Hiking Shoe:
Vibram sole for traction in slippery conditions.

Water-resistant leather and mesh upper

Rubber toe cap
The Merrill Moab is our top pick for the best hiking shoes for Men.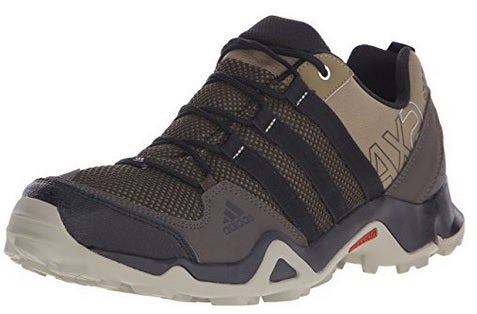 The Adidas Outdoor hiking shoe is a very economical option when you want a quality hiking shoe. The AX2's are very light weight at less than 10 ounces per shoe, making them a good choice for men's lightweight hiking shoes.
With the integrated molded sockliner, I found these to be the best hiking sneakers that I tested. In fact you can get away with not having to wear socks if your so inclined.
The comfortable textile lining is designed to fit a man's foot and you have the air mesh, which cools your foot down and makes it easy for the shoes to dry out if they are exposed to any moisture.
Maybe the best feature of the AdidasAX2 hiking shoes is the aggressive tread pattern, I really don't remember slipping at all with these hiking shoes.
They will give you confidence to hike in slippery and muddy conditions. Multiple colors are available and the synthetic blend of material makes them extremely durability so they will last you a long time.
Features of the Adidas Men's AX2's Hiking Shoes:
Molded sockliner for a better comfort and fit

Lightweight EVA midsole for cushioning

High traction rubber for grip in wet conditions
The Adidas AX2's hiking shoes are probably the best lightweight hiking shoes and should be on your short list.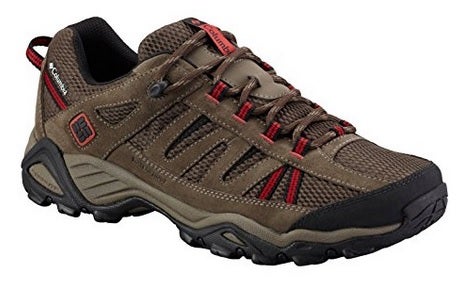 The North Plains Waterproof Trail Men's hiking shoes by Columbia are a little higher priced, but they are definitely designed for hiking in all conditions.
The combination of suede leather and textile construction gives them unmatched durability and water resistance plus they are easy to clean no matter how muddy you get them. And trust me, where I took them got REALLY muddy.
I personally have pretty wide feet, and and have trouble getting hiking shoes to fit comfortably. I found the Columbia's the best hiking shoes for wide feet.
Video: Overview of the Columbia North Plains.
The rubber sole has an aggressive tread to be able to handle hills, mountains, rocks, and other elements.
The Omni-heat insulation is designed for comfort as well as to avoid too much heat building up inside the shoe. This allows you to hike for hours on end without your feet getting too hot.
Your feet are going to stay dry and comfortable within the shoes because they can breathe. The innovative design of the North Plains shoe will keep you feet comfortable for all day hiking. If style is at all important to you, they also come in wide variety of colors.
Features of the Columbia Men's North Plains Waterproof Trail Shoe:
Breathable and waterproof hiking shoe

600 g Omni-Heat insulation

Techlite midsole for support
The Columbia North Plains are a top contender for the best waterproof hiking shoes.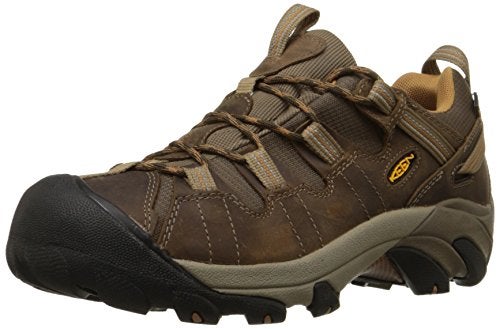 With a below the ankle cut and waterproof breathable membrane, you're going to find a balance of trail runner and traditional hiking boot here. While they're shorter and slimmer than traditional hiking boots, they also borrow a full toe cap and KEEN.DRY waterproofing.
The soles are built around 4mm deep directional lugs, meaning the rubber is molded specifically to bite into rock, scree, dirt, and mud no matter which direction you're walking.
I like the contoured heel lock which is designed to help lock down the heel when you lace the top eyelet. This is ideal for people who struggle to find a good heel fit on a hiking shoe.
Sloppy heels mean your foot can move around inside the boot which will almost instantly result in major blisters! With leather uppers and hydrophobic mesh lining, the thick rubber sole on this shoe is likely to wear out long before the rest of the boot.
Overall this is a good choice for those looking to gain some of the stability offered in a traditional hiking boot, while keeping the size and weight closer to a trail runner.
Features of the KEEN Men's Targhee II Hiking Shoe:
Large lugs for grip in muddy terrain
Leather and textile blend for breathability

Large rubber toe cap
The Keen Targhee's are some of the best trekking shoes on the market.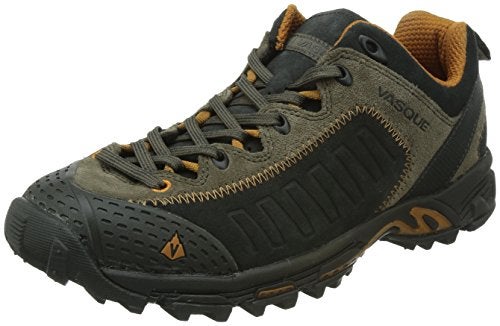 The Vasque Juxt hiking shoes for men are shaped like a climbing shoe with the protection and traction of a rugged hiker. With nearly toe to ankle lacing, it's taking advantage of lessons learned in the climbing world where shoes lace as far as possible to fit the foot more like a glove.
With a pointed tow and some rubber around the toe cap, there's some potential for mild approach shoe and bouldering use.
These shoes are not waterproof and they measure up just below the ankle. That means they're borrowing characteristics from just about every class of outdoor shoe on the market today.
These are probably ideal for the hiker who needs a trail runner for weekend getaways, an approach shoe for canyoneering and climbing, and the traction of a rugged hiker for when conditions might get nasty.
Features of the Vasque Men's Juxt Multi-Sport Shoe:
Suede leather uppers for water resistance

Highly tunable lacing system

for a good fit

Molded EVA and TPU Plate midsole for stability
I'd recommend this shoe for those within a day's drive of just about every type of terrain conquerable and I think are the best hiking shoes under $100.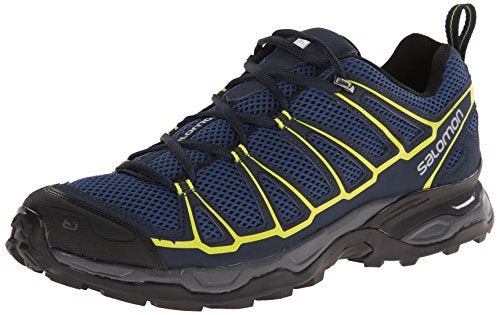 These are lightweight Men's hiking shoes made by a company that knows how to make performance footwear.
With a nearly full mesh construction and skeleton lacing for support, this shoe will take on water and shed it just as fast. Great for those looking for a lightweight trail runner hiker.
Because of the aggressive tread on the bottom, you'll find that this shoe is able to tear up dirt, scree, and mud. It's really meant to provide as much stability as possible in a dedicated running shoe.
The only drawback I find with it is a minimal toe cap which can really suck when you stub your toe on a rock when hiking or running. Never fun!
I personally like the way Salomon designed the ankle pocket. With an extra low cutout to provide room for the ankle bones on each side, it's much more likely to fit someone like me with more pronounced ankles.
Features of the Salomon Men's X Ultra Prime Hiking Shoe:
Synthetic

mesh upper for lightweight and breathability

OrthoLite cushioned insole

Contagrip outsole

for superior

traction
The Salomon X Ultra's are some of the best backpacking shoes you will find at any price.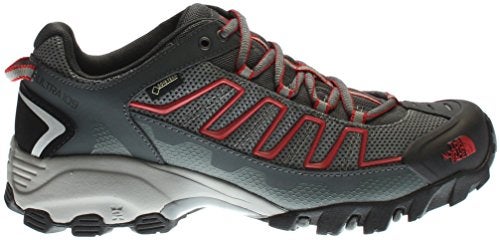 With names like The North Face and Gore-Tex, it's hard for most hikers to turn down a shoe like this. With a full toe cap and rugged lugs, this shoe is made to be as robust and protective as a trail runner can be.
I like the overall low profile and minimal design. It's a more traditional lacing system than the Salomon X Ultra so I wouldn't expect quite as snug of a fit.
My only beef with the shoe is the choice of waterproof membrane in combination with a low-cut trail runner. Rarely is this a useful combination. Because the cut is so low, water is likely to get in over the sides of the shoe if you're walking in any standing water.
In case of rain, the shoe is much too minimal to be protected adequately with gaiters. This makes for a lose-lose situation and the waterproof membrane really only serves to make the shoe hotter.
This would be a good choice for spring and fall trail running when temperatures are cold enough that wet feet can be a problem.
Features of the The North Face Men's Ultra 109 GTX Hiking Shoe:
GORE-TEX membrane for breathable, waterproof protection

Compression-molded EVA midsole for cushioning

PU-coated leather and mesh for durability
The Ulta GTX's are a good choice for Men's waterproof hiking shoes.
How to Choose the Best Hiking Shoes for You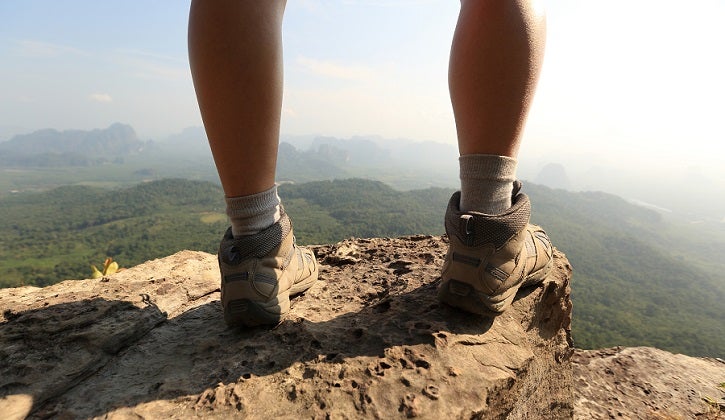 Comfort
Comfort is a very obvious and important factor when it comes to footwear for hiking because having uncomfortable shoes will ruin your hike.
Plus, sometimes hiking can get difficult, and when it comes to steep inclines and rocky paths, being uncomfortable can end up being dangerous.
Hiking is one of the easiest ways to relieve stress and get some good exercise in while you're enjoying mother nature, but if you're in an uncomfortable hiking shoe you won't feel motivated to push yourself to continue or to go back out and do it again.

Weight
The saying goes that "one pound on your feet equals five pounds on your back" and it couldn't be more true.
According to many studies, empirical evidence, and a large body of writing, "Weight on the feet is disproportionately more exhausting than weight carried on the torso."
Why is this so? Because once under motion your torso, backpack, and body remain under motion during normal hiking conditions. Your feet, however, do not.
When walking, your feet must constant accelerate and stop with every step and, if you remember from physics class, it takes a lot more energy to get something started moving than to keep it moving.
Every time you pick up and put your feet down, any extra weight on them is going to make it harder and harder to do so – expending more energy.
Don't believe me? Log a 25-mile hiking day with beefy over-the-ankle hiking boots on your feet and then compare it to a 25-mile day with a well-fitting pair of lightweight hiking shoes.
You'll feel the difference. No matter what type of footwear you decide is appropriate for you, lighter is always better!

Breathability
The cold hard truth is, waterproof shoes are going to be less breathable. The factors that make them waterproof also make them less breathable, there is no way to get around this.
Now some shoes do a better job than others at some level of breathability. The The North Face Men's Ultra 109 GTX Hiking Shoes are a good compromise for being waterproof and some level of breathability.
If your feet tend to get hot and sweaty you will be better served with a mesh or combination or mesh and leather upper. Not only do you get the advantage of lighter weight but are significantly more breathable.
The fact is, even if you go with waterproof shoes, if you step in any bigger puddle, water will seep in through the top of the shoe. If you really want waterproof hiking footwear, go with a boot that is higher and over your ankles.
You will be better off going with a water resistance, mesh upper hiking shoe in most circumstances.

Support
Many will swear by the ankle supporting qualities of high cuff boots. These boots, which come up above the ankle, can be laced tightly to snugly help surround the ankle with boot material.
This, in my experience, is more likely to just help you avoid scraping your ankles on a stick or rock than to actually help support the ankle.
Of course, if you have chronic ankle problems, I would suggest you simply go with whatever your doctor recommends or work with a physical therapist to find a good solution.
For me, however, I rarely roll my ankle and even in the worst situations it doesn't injure or hinder me greatly so this is a non-factor in my choice of footwear.

Traction
Traction is how well your shoe grips the ground. When it comes to climbing hills and walking down inclines, the traction your shoes have will help keep you safe. Ideally an aggressive tread pattern on your shoe is best, keeping you from slipping and possible injury.
It's an important aspect to consider in any hiking shoe as it aids performance and makes hiking safer and easier. While not the most important aspect of a hiking shoe, its among the most important.

Versatility
The definition of versatility is basically being able to go with the flow, which is surprisingly very important when it comes to hiking because you don't typically know what to expect.
Different trails are going to produce different hikes, so having a shoe that can walk through anything is important for those hikers that like to try everything and always want to be safe and ready for what comes at them.

Water Resistance
Many new hikers are obsessed with waterproof gear. Waterproof backpacks, bags, sleeping bags, tents, shoes, boots, and everything else under the sun. Waterproof footwear has several huge and glaring drawbacks and we'll talk about a few of them here:
Water can still come in from the top of the boot where your foot goes in. If you step in water deeper than the boots cuff (river crossing or deep puddles) or if rain leaks down your legs or rain pants (almost guaranteed) then your waterproof boot is now a swimming pool for your foot.
Even breathable waterproof footwear will retain moisture and standing water for hours or even days. Waterproof membranes simply suck once water manages to get inside the boot – they just hold in the water and make your foot marinade in nasty foot water as your skin becomes dangerously macerated.
Waterproof membranes are fragile and breakdown quickly under abrasion and movement. In a shoe or boot critical wear points are subjected to constant flexion and abrasion from your foot, rocks, dirt, pebbles, and other grit both inside and outside the shoe.
Almost without exception the waterproof membrane will break down before the boot does and now you're left with a functionless waterproof piece of footwear.
The only time I use or value waterproof hiking boots is in shoulder season conditions where trails may be muddy, snowy, or icy. In these conditions getting your feet wet can be dangerous or harmful and staying dry and warm as long as possible is always prudent.
In these conditions, it is necessary to consider some method by which to keep your feet safely warm and dry – either waterproof socks, vapor barriers, trash bag liners, or waterproof footwear.

Lacing
Perhaps one of the most overlooked parts of a hiking shoes is the lacing setup of the shoe. Cheaper shoes tend to have a poor lacing setup that are not only harder to adjust to get a proper fit but also not stay adjusted and loosen up as you hike in the them.
The primary factor in the lacing setup of the shoe is the laces themselves. A poor quality lace can be easily replaced with better ones. So if you notice them constantly loosing up, invest in some better laces.
Pro Tip: Look for shoes where laces reach higher up the shoe like the Columbia Men's North Plains Waterproof Trail Shoe, this gives you more options for a better fit.

Toe Protection
A cap on the front of the shoe will provide protection for your toes when you inevitably kick a rock or boulder. This thick piece of rubber will save your toes when you do this.
The Keen Targhee are a perfect example of a boot providing a toe cap with maximum protection. If you don't plan on hiking rocky terrain you can probably forgo this feature as it does add some weight to the boots.
Hiking Shoes Comparison Table
Now that we know what to look for in a pair of hiking shoes, lets look at a comparison of all of them:
Hiking Shoe
Uppers
Waterproof
Soles
Features
Merrell Men's Moab Ventilator Hiking Shoe
Leather/Mesh
No, water-resistant
Vibram
Water-resistant leather and mesh upper with rubber toe bumper
adidas outdoor Men's Ax2 Hiking Shoe
Textile/Mesh
No, water-resistant
Rubber
Molded sockliner for enhanced comfort

High traction rubber sole for grip in wet terrain
Columbia Men's North Plains Waterproof Trail Shoe
Suede Leather/Textile
Yes
Rubber
Breathable and waterproof

Omni-Heat insulation
KEEN Men's Targhee II Hiking Shoe
Leather/Textile
Yes
Rubber
Large lugs for grip in muddy conditions

Rubber toe cap
Vasque Men's Juxt Multi-Sport Shoe
Leather
No, water-resistant
Synthetic
Molded EVA and TPU Plate midsole for stability

Highly tunable lace system for good fit
Salomon Men's X Ultra Prime Hiking Shoe
Textile/Mesh
No, water-resistant
Rubber
OrthoLite cushioned insole

Contagrip traction outsole
The North Face Men's Ultra 109 GTX Hiking Shoe
Textile/Mesh
Yes
Rubber
GORE-TEX membrane for breathable, waterproof protection

PU-coated leather
Hiking Shoes vs Hiking Boots
Before heading out on your hiking trip one of your first and most important decisions will be whether to go with hiking boots or shoes. Both have major strengths' and weaknesses.
The biggest difference between a shoe and a boot is its height. Boots will cover your ankle and offer more stability against rolling an ankle plus the fact that its higher gives you more protection from water coming in the top and seeping into the shoe.
If your carrying a heavier load over rougher terrain, a hiking boot is probably your best option.
On the other hand, for trails with a light load, a hiking shoe is almost always a better choice.
Best Hiking Shoe Brands

Merrell is one of my all time favorite brands for shoes. All they make are shoes and they have been doing it for over 20 years. Columbia in my opinion is the best value proposition there is. Their gear is always of good quality at a reasonable price.
The North Face, certainly one of the best known outdoor gear brands, they make great stuff but is not the same value as Columbia. Adidas is well known for the sneakers and running shoes, with the introduction of the AX2 they now have a competitive hiking shoe.
Merrell
Columbia
The North Face
adidas
Vasque
Keen
Salomon
I hope this guide was helpful for finding the best hiking shoes to fit your needs. If you want to comment or recommend a pair of shoes I didn't include, please use my contact form to get in touch.
Have fun and be safe out there!
Notice: Outside Pursuits is a participant in the Amazon Services LLC Associates Program, an affiliate advertising program to provide a means for sites to earn advertising fees sold through by advertising and linking to Amazon.com. Amazon offers a small commission on products sold through their affiliate links. Each of your purchases via our Amazon affiliate links supports our efforts to bring you the best possible product reviews at no additional cost to you. We appreciate your support here at OutsidePursuits.com