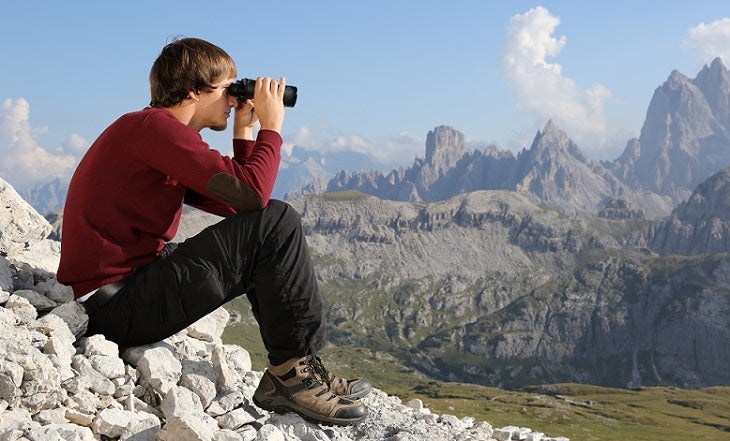 Trying to balance the need for high quality optics when hiking or backpacking can be a real challenge. On the one hand, the best binoculars have very large, high quality lenses that can sometimes be delicate.
On the other hand, your equipment needs to be durable and lightweight to survive the challenges of the outdoors.  These are the difficulties every hiker, bird watcher and traveler faces when choosing the best compact binoculars.
We're going to discuss some of the benefits and features of many compact binoculars. Further, I'm going to help you decide on the best way to choose lightweight and compact binoculars packed with modern technology.
For more of my top gear recommendations, have a look through these popular Outside Pursuits guide links: Hiking Shoes, Hiking Poles, Handheld GPS Units.
Quick Answer: The Best 7 Compact Binoculars For 2019

First let's take look a look at the binoculars, then we'll get started working together to decide on the best binoculars for you in our buyers guide and comparison table.
Best Compact Binoculars
| | Zeiss Terra ED Compact Binocular | Leica BCR/Black Ultravid Compact Binocular | Vortex Optics Viper HD Roof Prism Binocular |
| --- | --- | --- | --- |
| | | | |
| | | | |
| Specs: | 8x25 | 8x20 | 10x42 |
| Weight: | 310g / 10.9 oz | 255g / 8 oz | 737g / 24.6 oz |
| Features: | Waterproof with hydrophoic multi-coating for crystal clear images | Waterproof and Nitrogen filled to be Fogproof | Waterproof and Argon filled to be Fogproof |
| | | | |
Compact Binocular Reviews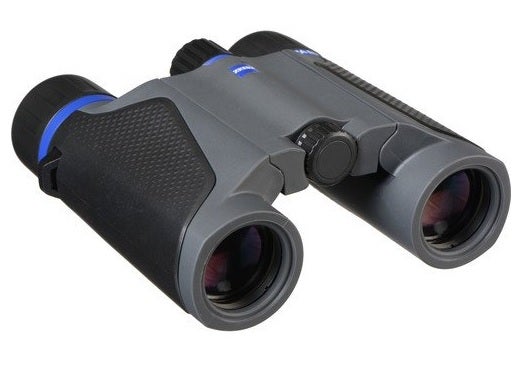 Fiberglass reinforced body, waterproof casing, and sturdy design means that Carl Zeiss is delivering nearly the perfect hiking binocular.
Fully multi-coated lenses are hydrophobic and repel fog and water for clarity and precision in any conditions.
With all these features, it's hard to figure out how Zeiss managed to pack it all into a 10.9-ounce package – the lightweight binoculars in our lineup.
For this model, Zeiss has focused specifically on an easy to use and smooth focus adjustment wheel which makes objects easy to find and focus on quickly.
Combine that with the 8x zoom and 25mm objective lens for a compact binocular that's meant to handle anything you need.
These binoculars are centered around a lightweight, compact design meant to withstand nasty conditions and function with best-in class performance in any weather.
I think the Zeiss 8×25 Terra ED's are best compact binoculars for hiking. Also available in 10×25 if you need some extra magnification.
---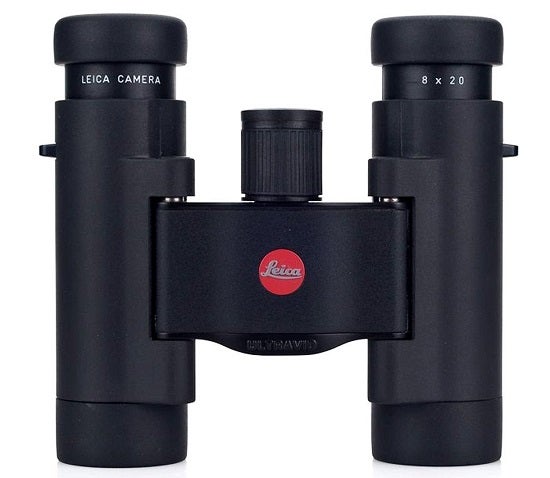 You'll be hard pressed to find a compact binocular sporting as many high-end features as the Leica 8×20.
With adjustable eye cups, quick focus wheel, and right eye diopter you'll be able to adjust for the perfect comfort and view, even if one eye is slightly different than the other.
Waterproof, sealed case and inert gas internal filling mean that you won't have to worry about fogging from the inside.
AquaDura lens coating on the outside prevents water from impeding your view by repelling water droplets. If you're looking for a compact binocular that has been engineered for the highest quality image from the ground up, this is your best choice.
While not what I would call inexpensive, they are the best compact binoculars for the money in my opinion. The Leica Ultravid binoculars are rugged, compact binoculars with superb optics and all the features you could need.
They've even gone out of the way to design the lenses for maximum crispness using an asymmetrical pattern. There's no detail missing. If your into birding, the Leica BCR Ultravid's might be the best small binoculars for bird watching.
---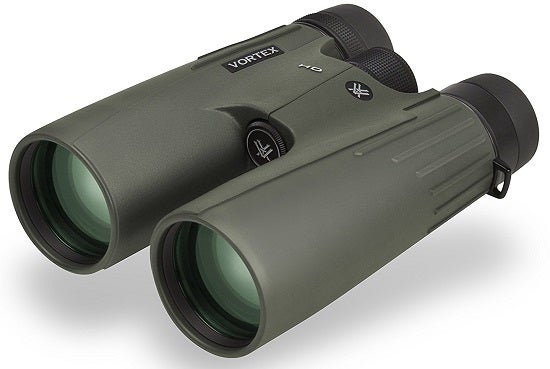 Vortex makes several great models of binoculars equipped to deal with the rigors of hiking and outdoor use. These 10x magnification binoculars are equipped with large objective lenses for low light viewing and a lifetime warranty.
Be cautious when choosing a high zoom binocular at 10x or above as the magnification can exacerbate any small movements in an unsteady hand. These are a good choice for someone with a rock-solid grip and stable hand.
With a padded neck strap, rain guard, and included lens covers, they're ready to be used in rough field conditions right out of the box.
Fogproof inert gas and water repellent lens coatings make them robust enough to handle use in any weather. Vortex even made them waterproof so there's nothing to worry about if you're taking them along on a trip into rainy conditions.
With the superb quality, ability to take a beating and 10x magnification, I think the Vortex Optics Viper's are the best 10×42 binoculars. They are also available in sizes ranging from 8×32 to 12×50.
---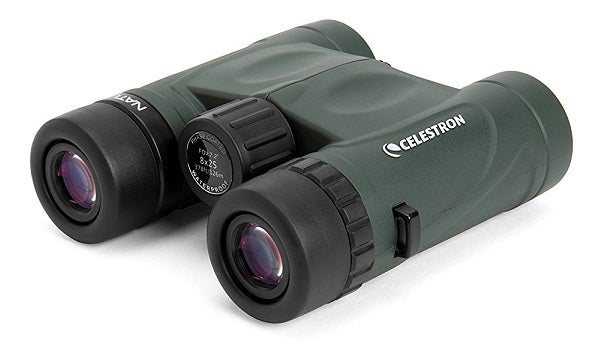 At a sub $100 price were now looking at budget priced binoculars. Celestron perhaps best known for their telescopes have applied their optics technology to the Nature DX compact binoculars.
Even at this price were looking at fully coated optics for a bright and glare free image.
If you're just getting started bird watching these are an ideal choice for beginners. Of course, they are not just for bird watchers.
Weighing in at only 18 ounces, these are a seriously lightweight and compact pair of binoculars. They are rubber coated to be waterproof so they won't get ruined when you get caught in the inevitable rain storm while you're out hiking.
The Nature DX's are also nitrogen purged and fog proof, which is surprising at this price point. If you wear glasses, you will appreciate the twist up eyecups for comfortable viewing.
This particular model is 8x power magnification but they are available from 8X25 all the way to 12X56, so you have a wide range to choose from.
With quality construction at a bargain price the Celestron Nature DX's are the best pocket binoculars.
---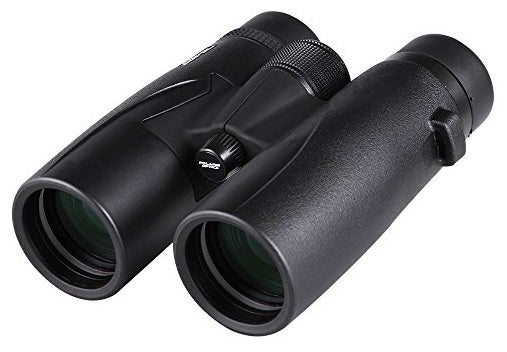 While these binoculars may not be the smallest possible choice for hiking, they'll be great for the day-hiker or birder out for a stroll.
With their large factor objective lens at 42mm they'll be an excellent choice for the early birder (ha!). Low light dawn and dusk is no problem for a larger objective lens.
Polaris has created these binoculars with extra-low dispersion glass which is fogproof and crystal clear. These binoculars are waterproof, though Polaris doesn't tell us what the IPX rating is.
You'll be able to protect the lenses with included covers and the microfiber cleaning cloth. It's a no-brainer to keep your lenses covered up when traveling with your binoculars in the car or in the pack.
For hiking you'll be able to take advantage of the DuraTech manufacturing technology which Polaris uses to make their binoculars, "light as a feather and durable as a tank". In my opinion the Polaris Optics SkyView's ruggedness and lightweight make them the best travel binoculars.
---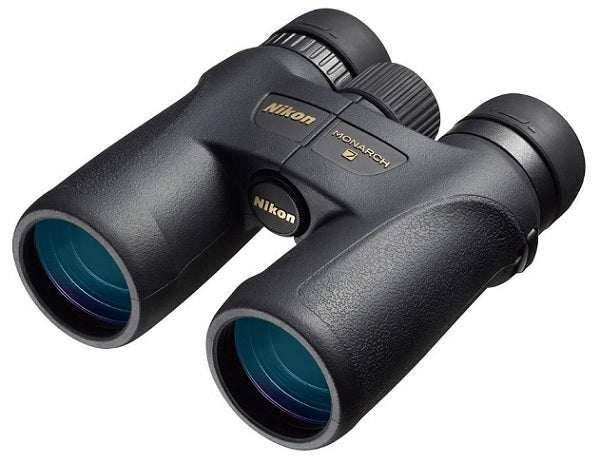 With a beefy 42mm objective lens these binoculars aren't exactly the smallest option on the market. Why consider them for hiking then?
Because sometimes you'll need a pair of binoculars with a little more horsepower than compact formats can provide.
For day hiking at the local park or nature preserve, these nitrogen filled inert gas binoculars will deliver great images in bright or low light.
Phase correcting prisms, multi-layer coated prisms and lenses, and rubberized armor coating make these an awesome choice for an uncompromising image in a durable package.
Nikon has a great name in performance optics and they've held up the deal by using premium materials such as extra low dispersion glass for the lenses on these binoculars to create the best lightweight binoculars on the market.
That means a more crisp image as a final result for your eyes to feast upon as you're hiking and enjoying the beautiful scenery nature has to offer.
---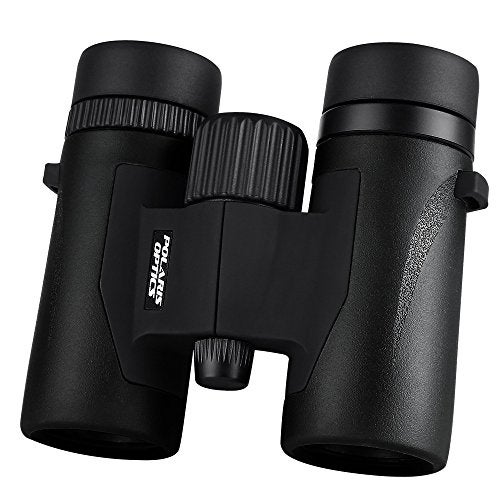 The Spectator's are another good choice for a budget priced pair of compact binoculars. With features found in binoculars costing $1,000 or more we have BaK-4 roof prism optics with fully coated optics for glare free viewing.
These binoculars are perfect for hiking, traveling and birdwatching, weighing only 15 ounces and 4.5 inches long and wide by 1.5 inches high.
For a bargain price, we have binoculars that are nitrogen purged, fog proof and 100% waterproof with a rubber coating that also gives you a good grip on them.
The easy and fast focus wheel will have you locked onto your target fast! The Spectator's will withstand drops of 5 feet without damage. Wingspan includes a case and lens cover to keep them protected while in your backpack.
There is a lot to like about the Spectators, in my opinion these are the best budget binoculars.
---
Compact Binoculars Comparison Table
---
How to Choose the Best Compact Binoculars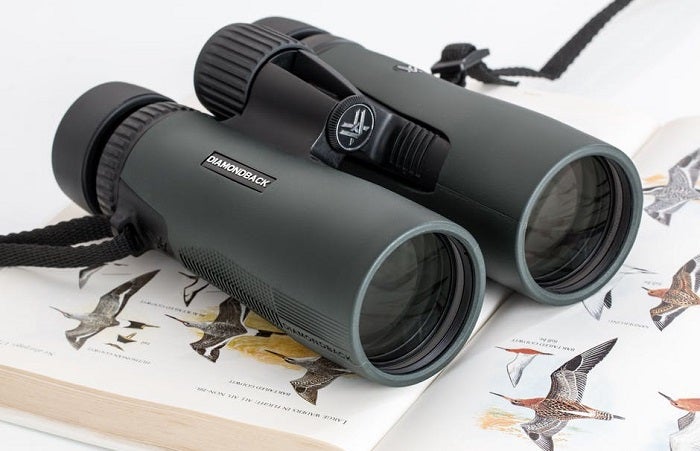 Understand the basics of binocular lens definitions, what types of binoculars are available, and how this impacts your hiking gear is critical to making the best decision. Let's take a look at the brief criteria you'll be choosing from to make your choice of compact binoculars:

Binocular Sizing
In general, there are three main sizes for binoculars:
• Full size (Ex. 8×42)
• Mid-size (Ex. 7×35)
• Compact (Ex. 8×25)
We want to avoid full and mid-sized binoculars for most hiking and situations where you will be carrying them for hours on end because they're bulky, heavy, and often delicate.
Compact binoculars excel at providing moderate viewing power in a tiny form factor package. Their main downfall is lack of features and less comfort during extended or concentrated use.

Magnification Power Rating
All binoculars will be rated by two numbers separated by an "X". For example, you might see, "8×25". Luckily, these numbers are easier to decipher than you might think.
The first number represents overall magnification power. The above example, then, would feature an 8-times magnification power.
The second number represents the diameter of the objective (outer) lens in millimeters. The above example, in this case, would have an objective lens measuring 25mm in diameter.
Lens diameter is much more critical than you might initially think, however. Larger objective lenses are able to gather larger amounts of light more easily. This means a brighter, crisper, and more true view of your target, especially in low light conditions such as dawn and dusk.
Video: Guide to magnification and optics size.
Field of View
Most binoculars will specify a field of view, rated at 1,000 yards. This can sometimes be rated differently but usually manufacturers follow this standard.
Wider field of view is great for birding when looking for birds on the move. Narrow field of view is usually better for viewing stationary objects with high detail.
Unfortunately, this is always a tradeoff. Narrow field of view is more crisp but harder to find targets. Wider field of view is less focused but easier to view sweeping panoramas.

Lens Coatings
Many lens makers these days are "fully multi coating" lenses. What does this mean? In order to maximize the amount of lens that passes through each lens, a special coating is applied to reduce reflection.
By reducing the amount of light that reflects off each lens in the binocular, a clearer and brighter image is left for the viewer.

Waterproofing
For hiking and backpacking, there's no way to keep binoculars perfectly dry. Everything gets wet on a hiking trip, eventually. Because of this, you'll definitely want to ensure that your binoculars feature a waterproof rated construction.
This is referred to as an IPX standard and is rated as such:
IPX0 means that your equipment is not at all waterproof. IPX8 means that you can submerge your equipment in up to 3-feet of water.
There are ratings in between those numbers but, for our purpose, a rating of IPX4+ will suffice to keep your binoculars dry in hiking conditions.


Fogproof Inert Gas
Some extremely high-end binoculars will be fogproof. How to manufacturers achieve this? They usually use two methods:
First, manufacturers may apply fog resistant coatings to lens exteriors or interiors. This is an inexpensive way for them to create fog resistant binocular lenses.
Second, and pricier, is the inert gas option. Some manufacturers will fill the inside of the binocular with a special gas.
Instead of atmospheric gas which may contain moisture, binocular makers can choose to fill the binocular with inert gas and seal the binocular to outside air. This means the binoculars can't fog up unless air leaks in.

Conclusion
There's a lot to consider when making the decision to purchase a binocular for hiking. While large binoculars often offer higher quality image, or a higher zoom power, they're also heavier and bulkier.
Many hikers prefer something with small size and low weight. These are the tradeoffs we need to balance to choose the best binocular.
If you're looking to carry along the lightest and most compact binocular while still taking advantage of great high quality construction and design, then the Zeiss 8×25 Terra ED Compact Binocular is the best choice for you.
For the absolute best in class features and design, you'll want to splurge on the larger Leica 8×20 BCR/Black Ultravid Compact Binocular.
Regardless of your preference, be sure to assess each binoculars unique features, size and weight plus what you will be primarily using them for, before making a decision.
---
I hope this guide was helpful for finding the best compact binoculars to fit your needs. If you want to comment or recommend a set of binoculars I didn't include, please use my contact form to get in touch.
Have fun and be safe out there!
OutsidePursuits.com is a participant in the Amazon Services LLC Associates Program, an affiliate advertising program. OutsidePursuits.com earns fees from products sold through qualifying purchases by linking to Amazon.com. Amazon offers a commission on products sold through their affiliate links.