When you want to head into the wilderness and bring along some the comforts of modern convenience, you'll probably reach for the lantern.
While there are plenty of ways to make light in the backcountry – headlamps, flashlights, etc. – a lantern really can be a decent option for a static location.
It's easy to dismiss even the best camping lanterns as bulky, heavy, or inefficient but with improvements to LED tech and battery tech, they've become more viable.
Today's camping lanterns are flameless and can last for days on a single battery charge. They're best suited for staying at a campsite for extended durations or hanging out with the family at the campground or cottage.
For more of my top gear recommendations, have a look through these popular Outside Pursuits guide links: Camping Stoves, Camping Coolers, Camping Chairs
Quick Answer: The Best Camping Lantern

Let's take a look at the top rated camping lanterns, then we'll talk about how to choose one for you. Here is a feature overview of my top 3 overall picks with full reviews and our guide below.
Best Camping Lanterns
| | Coleman Quad(TM) LED Lantern | Coleman Premium Dual Fuel Lantern | Goal Zero Lighthouse 400 Lantern With USB Battery Charger |
| --- | --- | --- | --- |
| | | | |
| | | | |
| Power: | 8 D-cell batteries | Coleman Liquid Fuel or unleaded gasoline | USB rechargeable 4,400 mAh with a 1.5A output |
| Lighting and Runtime: | 75 hrs at 190 lumens | 861 lumens on high with 7 hour runtime | 4 Hours at full power, is dimmable for much longer life |
| Features: | Panels separate from base for a total of 4 lights | Durable and reliable dual fuel lantern | Rechargeable with option solar power panel, charges portable electronics |
| | | | |
Camping Lantern Reviews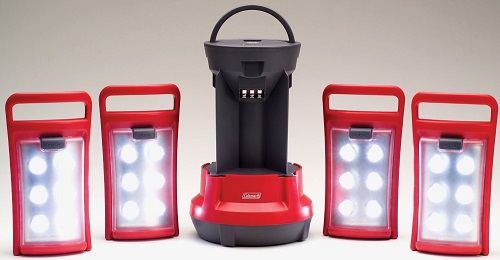 This large lantern operates on an innovative platform. With four individual lanterns attached in a circular pattern to a charging dock, it can be used as a single 360-degree lantern, or four individual lanterns.
The main lantern body relies on 8 D batteries which may be a drawback for some folks as they're large, heavy and expensive. I would recommend using rechargeable batteries for the Coleman Quad. The upside to using several D batteries is an overall 75 hours of run time for the lantern.
The Coleman Quad is a very unique design for a camping lantern and unlike any other lantern on the market. Each individual lantern panel is rechargeable and can operate in standalone mode for up to 1.5 hours at a time
Video: Overview of the Coleman Quad Lantern.
Once you place the LED panel back in the stand it will start recharging. The LEDs have a 5 year warranty and are cool to the touch, making this lantern perfect for use inside your tent.
With 47 lumens of output per panel, you'll have a total of 188 lumens from the best rechargeable led lantern.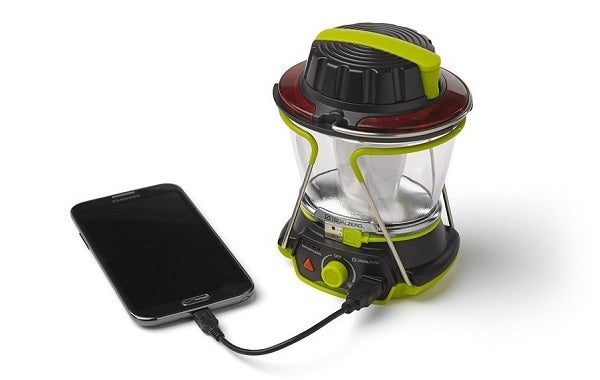 Goal Zero is known for outdoor and off-grid power products from solar chargers to battery packs. They've brought their industry experience to develop this camping lantern with an impressive 4,400 mAh battery and USB charging capability.
That's enough juice to recharge your iPhone and run the lantern! With collapsible legs and a hanging hook, you can find a place for this lantern in the tent, truck, or picnic table.
In my opinion this is best rechargeable camping lantern, even more so when you use the optional solar panel for recharging the battery.
Video: Overview of the Lighthouse Mini Lantern.
The down side is that the battery is non-replaceable meaning that you'll need to recharge the lantern before being able to use it again. For this reason I would highly recommend you bring along a solar panel recharger.
In some camping situations, this is inconvenient or impossible. If you want a battery pack for recharging electronic devices, a lantern, plus what may be the brightest led lantern in one package the Goal Zero is for you!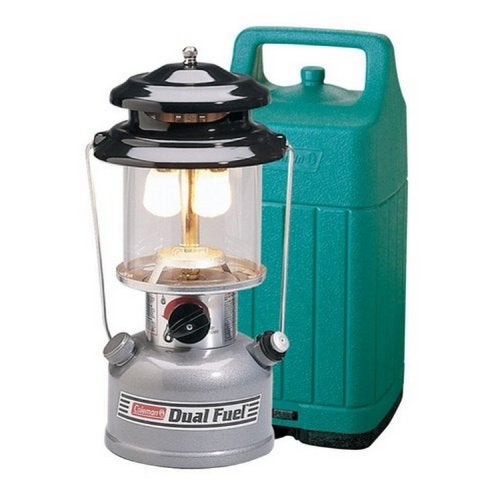 Make no mistake, this is no lantern for inside the tent. This is the real-deal, tried and true gas lantern your grandfather relied on.
Coleman has been making this camping and outdoor lighting staple for years. There's a reason it's been well-loved for years – the 861 lumens 360-degree lighting output makes it the brightest camping lantern!
You'll want to use this for extremely bright flood lighting on the picnic table, and not inside the tent. These lanterns do put out a considerable amount of heat.
Once you learn to use them, though, you'll rely on the 7-hour run time gas powered lantern for any high caliber lighting needs. It runs on Coleman white gas or gasoline so the fuel is easy to find!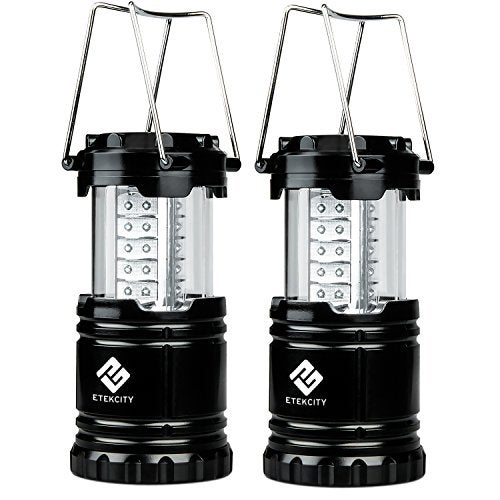 Knocking out almost all of our criteria for a great camping lantern in one fell swoop, the Etekcity lantern has it covered. This lantern is packing 30 LED lights in a circular arrangement for full directional lighting. They've included the AA batteries needed to run the lanterns and promise up to 12 hours of continuous run time.
With a 10-year warranty, collapsible design, and durable build there's not much to worry about with these lanterns.
I'd advise that you not try to break them, but they should be relatively durable and quite functional for the occasional family camping trip to keep the tent lit at night!
The Etekcity being so inexpensive, make these the best led lanterns for power outages because they use standard AA batteries and provide a solid 60 lumens of 360 degree lighting.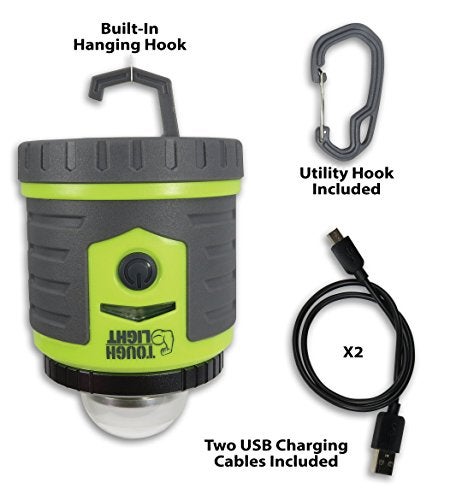 Need some bright light at the campsite? Well you found it with the Tough Light. In high output mode it throws out an impressive 400 lumens for an impressive 16 hours! What makes the Tough Light even better is its rechargeable. The 6000mAh lithium ion battery recharges with a standard USB charger that you use for your phone, tablet etc.
This thing is seriously tough, its made for the abuse it will get on a camping trip and can take being dropped from 5 feet. The rubber outer coating is water resistant and the seals have rubber O-rings to keep out the water.
One of its best features is that you can recharge your electronics like your phone, camera or tablet from the Tough Light. The lens of the Tough Light is not clear but a "diffuser" lens so that the light spreads out better and doesn't blind you like many other camping lanterns do.
It also has settings for SOS, a flashing light that lasts for well over 200 hours and a red light that flashes for emergencies.
High Power 400 Lumens – 16 Hours
Low Power 100 Lumens  – 200 Hours
SOS Beacon – 265 Hours
Red Light Hazard – 525 Hours
With several brightness settings and a 50,000 hour rated life on the light and batteries the Tough Light is on the short list for the best camping lantern.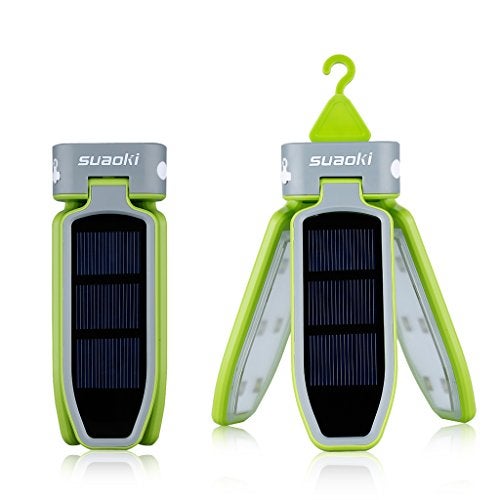 The Suaoki is the perfect light for hanging inside your tent. The unique "clover" design is not overpoweringly bright and just right for lighting up your tent for reading or getting ready for bed.
What I really like about the Suaoki is that it is SOLAR rechargeable. On the opposite side of the clover leafs are solar panels that will in bright sunshine charge the Suaoki in about 3.5 hours.
If you are looking for solar recharging capability, the Suaoki is probably the best solar camping lantern, especially considering it's low price.
Each of the leaves can be independently adjusted and even functions as a flashlight if you fold them all flat.
The Suaoki is rechargeable using a standard USB charger as well. It folds up small, not much bigger than a smart phone and is extremely light. It's a great option for a backpacking lantern because it packs up so well and fits nicely in your backpack.
It has 3 lighting modes; high, low and SOS flashing and is the best camping light or perfect for your next tailgate party.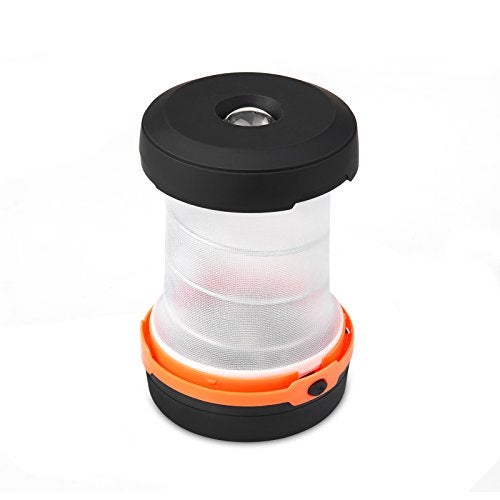 This creative lantern is tiny when in use and even smaller when collapsed. Featuring a 100,000 hour LED running off of 3 AA batteries.
On the low light mode, you'll get a run time of up to 30 hours which is pretty impressive to me! One of my favorite features which is pretty common on camping lanterns is a convertible flashlight / lantern mode.
If you're looking to really light up a large area, this definitely isn't the lantern for you. Looking for a tiny, compact lantern that can go anywhere?
This is definitely your choice.
The TaoTronics will be a good companion for minimal light in a tiny and lightweight package and in my opinion the best backpacking lantern.
How to Choose the Best Camping Lantern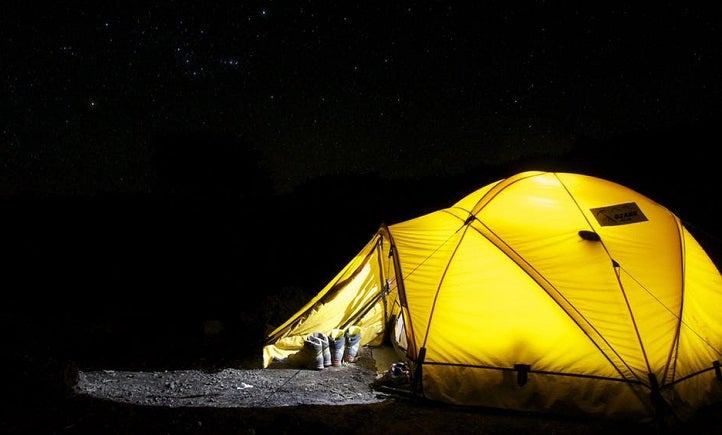 Gas vs Electric
Today most people choose electric lanterns for their reusability, simplicity, and safety. There are still reasons to go with a gas lantern however. Let's take look at some of the pros and cons:
Gas Camping Lanterns:
No electricity required
Can emit as much or more light than many electric models
Will run as long as you have fuel which is still easy to find
Aesthetically pleasing
Can be adapted for other uses including heat source
Electric Camping Lantern:
Flameless
Needs no gas or fuel
No spilling of fuel or smoke
Rechargeable using solar or outlets
Adjustable lighting and light modes
Output Modes
With traditional gas camping lanterns, light output could only be regulated by shielding the light with a shutter, or trying to carefully adjust the gas output of the flame. Today we're fortunate enough to have LED lanterns with variable outputs and functions.
The best LED camping lanterns have adjustable light levels. You may want to search for lanterns with emergency strobe or SOS output functions as well.
You never know when you'll need it!

LED Lights
As the portable lighting industry changes rapidly today, you're unlikely to find many camping lanterns still sporting incandescent bulbs. Just to be sure, thought, make certain that you're getting a camping lantern with good LED lighting.
LED's are lighter, smaller, more efficient, and cooler-running than incandescent and will make your batteries last so much longer! It just doesn't make sense to use an incandescent bulb.

Weight
If you're taking the lantern camping, there's a pretty high probability that you'll have to carry it on your back at some point. After all, many camping trips involve hiking or, at the very least, carrying gear from the car. For this reason, it just makes sense to keep your equipment lightweight.
Avoid huge lanterns when possible as they'll take up extra room in the trunk. If you're hanging your lantern from the tent, you'll want one that's compact and lightweight anyways – so it doesn't collapse the tent.

Other Features
With the prevalence of portable electronics like phones, tablets and portable GPS mapping units having a way of recharging them is a very convenient option. The Goal Zero is a great option in this case, it has a USB output that will recharge just about any electronic device. If you pair it with a solar panel you will have a constant source of power.

Conclusion
Take into consideration things like battery type, number of batteries, extra features, weight, and bulk before buying a camping lantern.
Remember that these sensitive electronics can easily be damaged by rain and misuse so look for a rugged and weatherproof lantern if you're heading into the nastiest conditions!
There's no doubt that LED lanterns are the most efficient and effective way to light the inside of your tent, car, or RV. Coleman's time tested gas lantern can be a great choice for outdoor use where massive amounts of flood lighting are needed.
Every lantern has a perfect application and your unique needs will dictate which lanterns makes the most sense for your needs.
---
I hope this guide was helpful for finding the best camping lantern to fit your needs. If you want to comment or recommend a lantern I didn't include, please use my contact form to get in touch.
Have fun and be safe out there!
Notice: Outside Pursuits is a participant in the Amazon Services LLC Associates Program, an affiliate advertising program to provide a means for sites to earn advertising fees sold through by advertising and linking to Amazon.com. Amazon offers a small commission on products sold through their affiliate links. Each of your purchases via our Amazon affiliate links supports our efforts to bring you the best possible product reviews at no additional cost to you. We appreciate your support here at OutsidePursuits.com