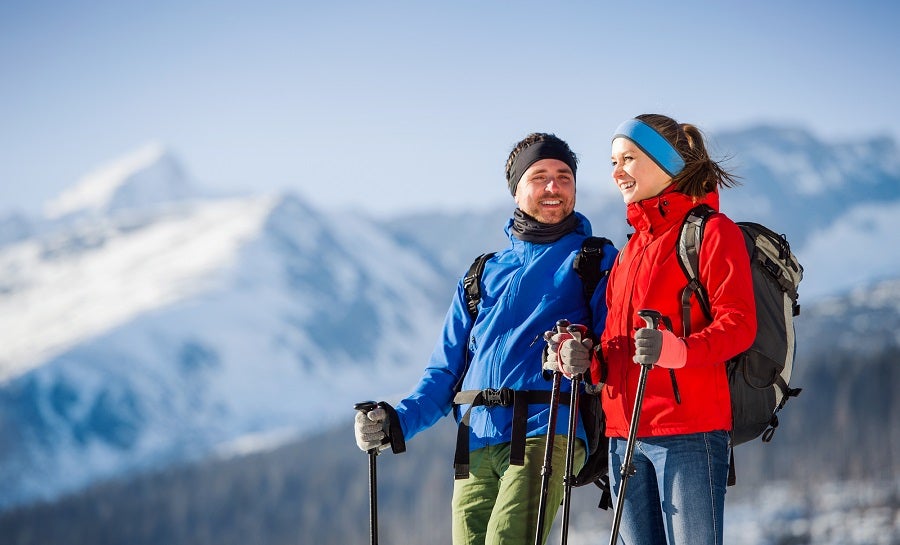 Our Editors independently research, test, and rate what we feel are the best products. We use affiliate links and may receive a small commission on purchases.
Softshell jackets are a class of outdoor clothing that bridge the gap between outer layer and mid layer.
The best softshell jackets are a versatile and useful layering option for many changing weather conditions and they can add a ton of utility value to any outdoor gear wardrobe.
Softshell jackets have versatility that just can't be found with hardshell jackets like rain jackets. With hundreds of nights spent on the trail guiding hikers and backpackers, I know what qualities make or break a jacket.
Best Softshell Jackets
| | Outdoor Research San Juan Soft Shell | The North Face Apex Bionic Soft Shell | Marmot Gravity Softshell Jacket |
| --- | --- | --- | --- |
| | | | |
| | | | |
| Shell: | Nylon / Spandex | Polyester / Elastane | Nylon / Elastane |
| Hood: | Yes | No | No |
| Weight: | 15 oz | 23 oz | 24 oz |
| Pockets: | 3 | 3 | 4 |
| | | | |
For more of my jacket recommendations, have a look through these popular Outside Pursuits guide links: Hardshell Jackets, Windbreakers, Heated Jackets.
Quick Answer: The 7 Best Rated Softshell Jackets For 2021
Here is a feature overview of my top rated softshell jackets. Our guide and comparison table will help you choose the jacket for you.
---
Softshell Jacket Reviews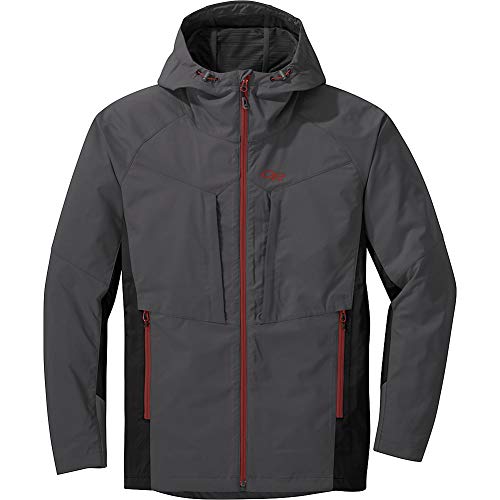 Outdoor Research Ferrosi at a Glance
:
---
Adjustable hood
Napoleon pocket stuff sack

Abrasion-resistant shoulders

Highly stretchy
Outdoor Research remains one of my all time favorite brands for many reasons and is our Editors Choice for the best softshell jacket.
Their Ferrosi softshell, like their other products is fitted, detailed and intelligent in its approach. Let's find out why it makes a solid pick for most anyone's outdoor gear.
On top of the pragmatic features of this technical mountain softshell, OR has done a good job of updating the colors to match a modern rustic look.
Honestly, softshell jackets are one of the better looking outdoor clothing options anyways, so why not pick the ones that make you look good in the woods or around town?
With a nylon/spandex blend this jacket is durable and tough thanks to the nylon but stretchy thanks to the spandex. It weighs in at about ¾ of a pound but will remain heavily wind and rain resistant throughout its lifetime.
I'm a fan of the recently added thumb loops as well as the pocket stuff sack so it can fold into itself.
Best For: Mountaineering and mixed weather conditions for slim fitted people.

---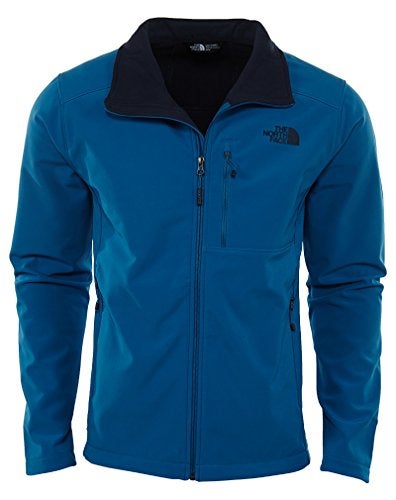 The North Face Apex Bionic Soft Shell at a Glance
:
---
Windproof
Water resistant
Relaxed fit
Fleece insulation
The North Face might be one of the most publicly visible outdoor companies today. However, good publicity doesn't mean great gear.
Can this softshell live up to the OR Ferrosi?
I have to be honest, this jacket brings some things to the table that counter the punch of the Outdoor Research Ferrosi jacket.
To start with, it has a heavier insulating fleece liner which contributes to the beefier 24 ounce weight of this jacket.
On top of that, it makes a claim few softshell will take a stab at. This jacket is windproof thanks to the Windwall polyester fabric which also sports DWR water resistance.
It's going to be slightly less stretchy, but roomier overall thanks to The North Face's notorious relaxed fit styling and would be my choice for the best waterproof softshell jacket.
Best For: Cold conditions and people with stocky builds that can fill up the relaxed fit cut of this jacket.

---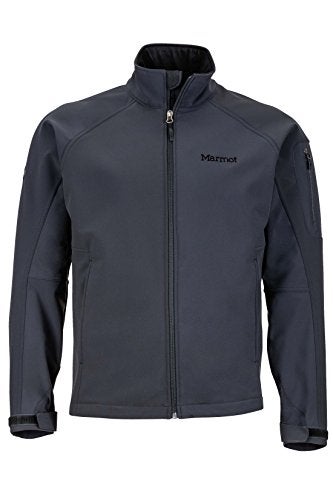 Marmot Gravity Jacket at a Glance
:
---
Windproof
DriClime lined collar and chin guard

Water resistant

Angel-Wing movement
I'll be honest – Marmot can be hit and miss with me. However, when I find the perfect piece of gear from Marmot, it always beats everything else in my arsenal hands down!
I think the Gravity jacket comes close to doing the same thing here and is the best mens softshell jacket on our list.
With Marmot's styling and the Angel Wing movement afforded by the cut of the arms, this jacket belongs on climbers. It's made to keep you warm and break the worst of the cold and rain, but still keep you free to move.
Plus, I love that the collar and chin are both protected by the soft DriClime fabric. It's a small thing, but creature comforts make all the difference in the worst conditions.
Like most of Marmot's gear this jacket is styled so that it blends in with modern looks around town but performs great on the mountain.
Just beware because it lacks a hood which might leave your noggin exposed to harsh weather.
Best For: Hikers looking for an all-around jacket that not only looks great but is probably the best softshell jacket for hiking!

---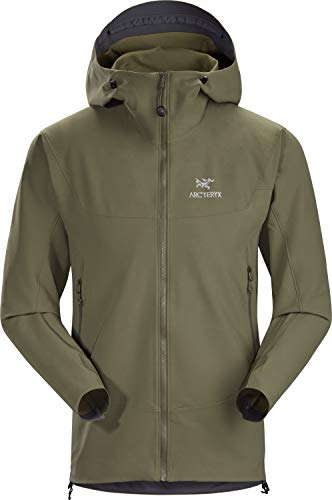 Arc'teryx Gamma LT Hoody at a Glance
:
---
Underarm gussets

Water resistant

Elastane fibers for stretch
Wee Burly fabric with DWR treatment
Unlike the Gravity jacket we just reviewed, the Gamma Hoody is rocking a helmet-compatible hood to keep you warm and cozy. But where Arc'Teryx is concerned, that's far from the most impressive feature
Arc'Teryx is known for their prices – they might set you back on your budget for the month! However, you're almost guaranteed to get one of the best garments on the market.
With this hoodie it's a slim, modern look that seems right at home on tall and lanky users. The water resistant zipper is a nice addition that helps keep this jacket water and air tight. Of course, it's not fully waterproof or windproof so you can only expect so much from it!
However, the large and adjustable storm hood is a great feature for dedicated climbers or skiers. If you're going to be on the mountain with a helmet on and you want protection over the dome, it's the only way to fly!
Best For: Helmet applications and slim framed users with large budgets looking for the best lightweight softshell jacket.

---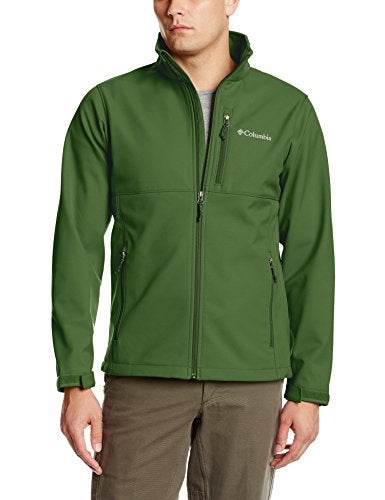 Columbia Ascender Softshell at a Glance
:
---
Low price
High collar

Adjustable cuffs

Water resistant
Columbia has been, and remains, one of my all time favorite gear makers. Why? Because they make high quality gear at great prices. The value ratio is always one of the best around and I think you'll feel the same.
Off the bat, one thing to note is the lack of a hood. This is fine for some people and certain uses, but it might be a deal breaker for others. Keep this in mind as we go!
Thanks to the 100% polyester fabric we get a warm, breathable jacket that helps cut wind and rain.
However, it's on the mid to low end of the scale when it comes to water resistance in my eyes. The zipper is generic and won't help keep water out at all, even.
That said, the relaxed fit is great for users with moderate builds. Plus, on top of all that the price is about half or less than other similar jackets on our list.
Think twice about that!
Best For: Those with minimal technical needs who want the best softshell jacket for the money!

---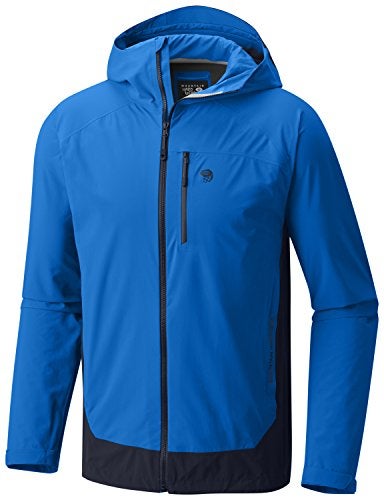 Mountain Hardwear Stretch Ozonic Jacket at a Glance
:
---
100% polyester

Water resistant

Motivity Softshell
2 Napoleon pockets
Mountain Hardwear is another one of those outdoor gear brands that just knows how to deliver. It always seems to me that they specialize in modern aesthetic blended with true mountain functions.
I'll be honest, the Motivity Softshell fabric sounds like a gimmick trade name, but it might not be. This jacket, like some softshells, uses strategic fabric placement to achieve targeted results.
There is AirShield windproof fabric in the shoulders and upper arms while the rest of the jacket remains breathable.
Without a hood the applications for this jacket on the mountain may feel limited, but I think most users will be happy with the versatility.
It's a moderately priced softshell jacket with moderate features like a chest pocket and adjustable cuffs.
Best For: A blend of features and styling that doesn't stray far in any direction.

---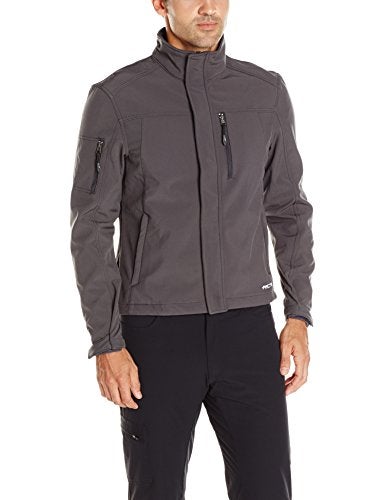 Arctix Maverick Softshell Jacket at a Glance
:
---
5% spandex for stretch
Soft inner face fabric for warmth
Sleeve pocket
If you're looking to get outdoors with a softshell jacket that's priced right for even the tiniest budget, look no further. Of course, this jacket also brings a handful of proven features to the table.
One feature I think is really worth noting is the flap that folds over the zipper. This flap keeps out wind, rand and snow to keep you warm.
Of course, the lack of a hood means you'll be best off with a hat or helmet to pair with this jacket.
There are zippered hand warmer style pockets on both sides, a napoleon chest pocket, and a sleeve pocket.
However, most notably the worst feature, is the ugly cuff adjustments. They're nothing to be worried about, but I think they could use a touch of refinement to compete with other jackets on our list.
Best For: People not looking to spend much money and want the best budget softshell jacket.

---
Softshell Jacket Comparison Table
How to Choose the Best Softshell Jacket for You

To make sure you get started on the right track We have put together the above list of top softshell outdoor jackets.
That way you can skip the lines and get straight to picking out the best softshell jacket for your needs without doing hours of research yourself. Now let's cover everything you need to know about softshell jackets!

Do You Need a Softshell?
This is a question I failed to ask myself when I started out buying new layers. Softshell jackets are fun to wear, and they almost always look sleek and nice particularly around town in the fall. But, do they really add anything to your current wardrobe of outdoor equipment?
Softshell jackets are good choices in dry weather. Because they generally lack full waterproofing, they're ideal as a mid layer for cool, breezy weather with very slight chances of light rain at most.
Some softshell jackets do, in fact, sport waterproofing capabilities. Of course it may be a matter of some semantics, but at this point these jackets seem to fade across the line and confuse themselves with hardshell jackets.
A softshell jacket is ideal for:
Cool weather
Breezy or windy
Fog or mist
High exertion activities
Softshell jackets excel against hardshell jackets when heavy exertion sports are involved. They breathe better and allow more exchange of sweat and moisture in most cases than hardshell jackets.
It's important to remember that softshells excel in these high exertion poor weather situations. In fact, these situations are, arguably, the only real times that softshells are needed. Other outer clothing options may be more advantageous in most other conditions.

Waterproofing
As I mentioned above, most softshell jackets lack waterproofing. However, not all are created equal.
There are softshell jackets which offer almost zero rain protection and some which offer nearly full water resistance. Choose your softshell jacket accordingly.
In my experience with softshells, those which offer high water resistance are generally just as comfortable as those with zero resistance. I would opt for a highly water resistant softshell in order to increase the usefulness and versatility in varying weather conditions.
Softshells with little or no water resistance may border on simple mid-layers.
Of course, the perfect solution will be different for everyone since we all have varying preferences on layering styles so I can't tell you with certainty which is right for you.

Pairing Softshells
Getting your softshell pairing right is critical to enjoying your new jacket. So, how do you add a softshell into your layering system?
I would use a softshell over a base layer and a mid layer. If not both, at least a baselayer.
Softshells are ideal for skiing in dry conditions when paired with a warm baselayer during high exertion days. You can even keep a nice breathable hardshell ready to toss on over the top when you need to cut out all the wind to stay toasty warm.
My ideal layering system for a softshell will almost always include:
Base layer
Mid layer
Softshell
Backup hardshell
Maintaining DWR Steadfastness
Softshells, almost exclusively, gain their water resistance from a chemical treatment applied to the fibers of the jacket during manufacture. These chemicals, known as DWR (durable water resistance), are critical to both you and your softshell staying happy and functional during your time outdoors.
Unfortunately, trips through the washing machine, time exposed to sun, and general use of the jacket all cause the DWR to slowly deteriorate. As the DWR finish deteriorates the jacket will become less water resistant.
Fortunately it is possible to restore DWR to a jacket. To restore DWR you can simply purchase a DWR kit from Amazon or REI which can be washed into the jacket to help improve the DWR on your jacket.
Of course, it's never as good as the factory coating they put on good softshell jackets, but it's much better than nothing!
Since it doesn't cost much, I would do this once a year or so. As a matter of practicality, you could get away with only doing it when the jacket shows signs of a loss of water resistance, but by that point it may be a bit too late anyways!

Fitment
Softshells are generally made from stretchy fabric to suit their purpose in high exertion activities. This means you can wear a more fitted jacket and still move freely instead of the larger, more baggy hardshells. But, should you go with a form fitting softshell?
For most activities, you'll want to layer well underneath your softshell. Since layers are going to take up space, be sure to size up your softshell just a bit.
While a nice form fitting softshell might look good on an evening walk around town, it may be restrictive once you put a few layers underneath on a bad weather hike!
Pro tip: Wear a few layers when trying on or test fitting your softshell to see how it will feel when in use.

Materials
Softshell jackets span a broad swath of gear. What, exactly, constitutes a softshell jacket is somewhat up for debate depending on who you talk to and which manufacturer is in question. However, the materials used for softshell jackets are relatively predictable.
Polyester is the most common material for a softshell. Polyester is a manmade fiber that excels at wicking moisture when used next to skin. During use in a softshell jacket, this fabric is usually outward facing and tightly woven. Combined with good DWR treatment it is soft, flexible, and elements-resistant outer material.
Fleece is often added inside softshell jackets. With few exceptions, this material is almost always made from polyester as well. It's a great material to soften up the collars and neckline of softshell jackets to reduce chafing.
Nylon is very rarely used. While nylon usually has superior wind and water resistance, its use is restricted almost entirely to hard shell jackets. If you're looking for a fully waterproof rugged nylon jacket, you should be taking a look at hardshells.

Breathability
One of the main benefits of a softshell is the breathability factor. Because these jackets allow quite a bit more movement of air and moisture (in most cases) than hardshells, they're able to breathe better.
For example, Gore-Tex is considered one of the most loved brands of waterproof breathable material for hardshell jackets. While it is indeed somewhat breathable, few if any WPB materials can match the breathability of a softshell.
For high-output activities like climbing, mountaineering, or running in many cases an improvement in breathability is a desirable tradeoff for slightly lower waterproofness.
In the worst weather conditions, however, most people will opt for a hardshell jacket to help protect from the nastiest torrents.

Insulation
Depending on exactly how and when you plan on using your softshell, consider how much insulation you'll need. Insulation isn't always part of a softshell, buy many come with at least some minimal fleece lining.
If you plan to use your softshell as not only a wind and rain blocker, but also to add some warmth to your kit then look for a lined shell. Be careful not to overheat, though. There's a time and a place for a softshell jacket that offers some wind and rain protection with minimal insulation.
If you're in doubt, go with a minimally insulated softshell that's a bit oversized for you. This way you can add a warm layer underneath it any time as the weather and activities around you dictate!

FAQs For Softshell Jackets
Q: What is a softshell jacket?
A: While a hardshell jacket can be worn by itself, usually softshell jackets are just part of a layering strategy. While they can of course be worn by themselves in cooler weather where heavy rain is not part of the forecast.
Q: Are softshell jackets wind and water proof?
A: Softshell jackets are effective at blocking light wind while in cool weather. They will offer protection from a light rain or drizzle but if you think you will encounter heavier rain, better to go with a hardshell or rain jacket for maximum protection.
Q: What is the difference between a hardshell and softshell jacket?
A: Well as the name suggests the outter shell of a hard shell jacket is more durable, wind and water resistant. Typically hard shell jackets have a hood while softshells do not.
While on the other hand a softshell has a flexible shell that are more comfortable to wear and more ideal for activities like cycling and hiking.
Q: When is a softshell jacket a better choice?
A: When you need light protection from the elements but need extra flexibility of movement that a softshell offers.
Q: Why should I get a softshell jacket?
A: They are the perfect solution when you don't need the extra protection from the elements of a hardshell jacket but need more water and wind resistance than just a fleece jacket can provide. They are ideal for the cool weather of fall where rain is usually not in the forecast and it's not too cold yet.

Conclusion
Overall the softshell jacket market can be confusing. I think too many people buy softshells just because they look cool. Of course, that's a perfectly legitimate reason to buy one – but consider paying attention to the features that make the most sense for you.
Most notably jackets without hoods should be considered when appropriate. Other features, like fully windproof jackets, might be important to some users and not to others. If you're going for style and don't mind sacrificing a few functions, you might be able to save money with a budget jacket.
Of course, if you want to pull out all the stops and need the best fabric, materials, technology, and fashion you can find that on our list as well!
How We Researched
To come up with the top softshell jackets we researched a variety of sources for reviews such as REI, Bass Pro Shops, Cabelas and Backcountry along with our own personal experience.
We also consulted online magazines for product research and reviews to get as much unbiased information as we could. To help weed out fake reviews we used Fakespot.com to make sure we only looked at genuine reviews.
With so much quality gear available, we had to narrow it down based on what we felt were the best options for the price. The author, Casey Fiedler has been leading backpacking trips for over a decade in his native state of Michigan.
To help narrow down the selection he used his personal experience along with recommendations from fellow guides and outfitters.
After extensive research, we came up with our list to help you choose the right one for you.
Sources
---
I hope this guide was helpful for finding the best softshell jacket to fit your needs. If you want to comment or recommend a jacket didn't include, please use my contact form to get in touch.
Have fun and be safe out there!
Notice:
OutsidePursuits.com is a participant in the Amazon Services LLC Associates Program, an affiliate advertising program. OutsidePursuits.com earns fees from products sold through qualifying purchases by linking to Amazon.com. Amazon offers a commission on products sold through their affiliate links.