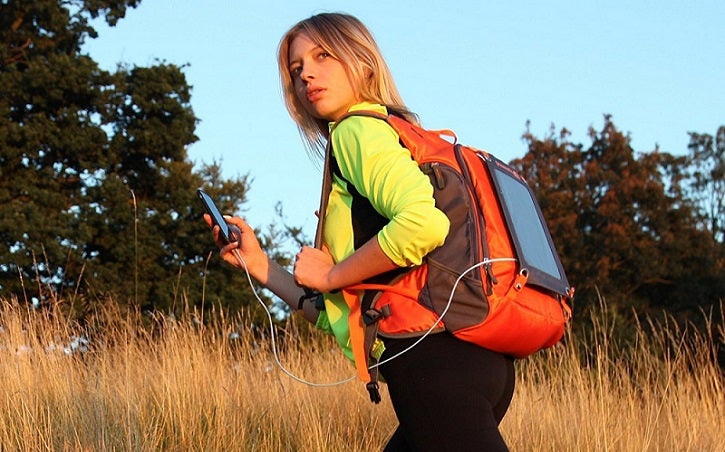 Our Editors independently research, test, and rate what we feel are the best products. We use affiliate links and may receive a small commission on purchases.
Solar powered backpacks have come a long way since their inception. I can remember some of the first models to roll out on the market. They were clunky, inefficient, and needed tons of care to function properly.
Today's solar panel backpacks are much more forgiving and they've been designed with modern standards that allow much more effective operation.
So what details are important to know when looking for the best solar backpack? Understanding the technology will help us understand how to buy the right solar backpack for your needs.
I'm going to help you through the process of deciding which backpack make sense and how solar tech can help you in the woods with your favorite hikes.
Best Solar Backpacks
| | ECEEN Hiking Backpack Solar Panel | SolarGoPack Solar Powered Backpack | ECEEN Ultra Lightweight Solar Hiking Backpack |
| --- | --- | --- | --- |
| | | | |
| | | | |
| Storage: | 42 Liter | 35 Liter | 35 Liter |
| Power Output: | 7 Watt | 7 Watt | 3.5 Watt |
| Charging Battery: | No | Yes, 10,000mAh | Yes, 2000mAH |
| | | | |
For more of my hiking gear recommendations, have a look through these popular Outside Pursuits guide links: Hiking Shoes, GPS Hiking Watches, Hiking Binoculars.
Quick Answer: The 5 Best Rated Solar Backpacks For 2021
Let's take a look at some top rated solar backpack options for hikers today.
---
Solar Panel Backpack Reviews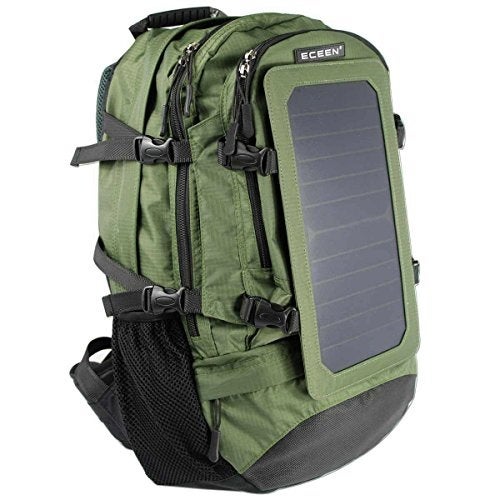 ECEEN Hiking Solar Panel Backpack at a Glance
:
---
Storage: 42 Liters
Power Output: 7 Watts
Charging Battery: No
Hydration Pack: No
This Eceen solar charging backpack comes in several variations from hydration bag to day pack. I like that there are several size and color options available.
All of them use the same 7-watt solar panel but unfortunately do not come with a charging battery. The Jackery Portable Charger Giant is an excellent choice. Convenient if all you plan to charge multiple USB devices!
Overall, I think the suspension and back paneling on the backpack could use a few upgrades. On long or hot summer hikes, it's going to be a sweaty prospect to carry the larger packs.
They do feature good compression straps which are critical for securing a large and bulky load that you might be carrying in a pack like this.
I think the smaller hydration pack model is might the best deal of the bunch on this one. It's light, small, and perfect for long trail runs where you might want to charge a GPS or sports watch for tracking your runs, hikes, or bikes.
This is the best solar backpack for those looking for a variety of setup options and choices. They have quite a few models to choose from, with different sizes and charging capacities.

---
SolarGoPack Solar Powered Backpack at a Glance
:
---
Storage: 35 Liters
Power Output: 7 Watts
Charging Battery: Yes, 10,000mAh
Hydration Pack: No
Another solar powered backpack from Eceen, this one is a 35 L pack with a smaller solar feature. Just 3.5 Watts on the panel and 2,000 mAh in the battery, this is better suited for those looking for just a bit of backup power.
The pack weighs in at just 15 ounces which is pretty good for a 35L charging backpack!
Despite the larger size the pack is a simple design and sacrifices comfort for light weight. There are no hip belt straps at all so the backpack won't be nearly as secure as other models we've reviewed.
The pack does come in a handful of colors and it has enough features to be viable as a hiking pack. Perhaps a little DIY modification to add a hip belt would massively increase the viability of this pack.
Best for low intensity hiking and those with smaller power needs.

---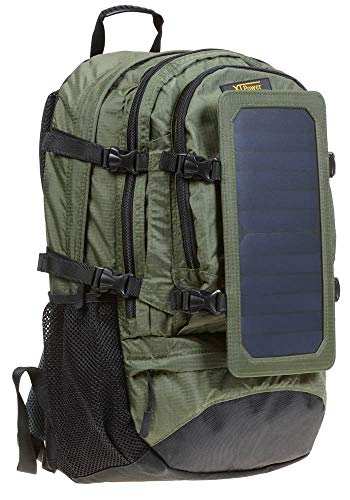 XTPower Hiking Solar Backpack at a Glance
:
---
Storage: 35 Liters
Power Output: 6.5 Watts
Charging Battery: No
Hydration Pack: No
This hiking solar panel backpack has room for plenty of gear. It comes loaded with a 10,000 mAh battery and a removable solar panel that clips on to the back of the pack.
I like that the pack comes loaded with a solid suspension and frame to handle the increased load. The pack has two loops hang anything from ice axes to water bottles and plenty of various storage for most day trips.
This pack is a good choice for those looking to carry something that can go from college campus to short hiking trips. With only one attachment option for the solar panel, you may need to get creative to optimize the pack.
It is removable though so you can always detach the solar panel for optimal orientation. I do like that the panel is rated at 7W which means that it's relatively capable of producing a significant charge.
This is the best charging backpack for serious hikers looking for a more technical backpack.

---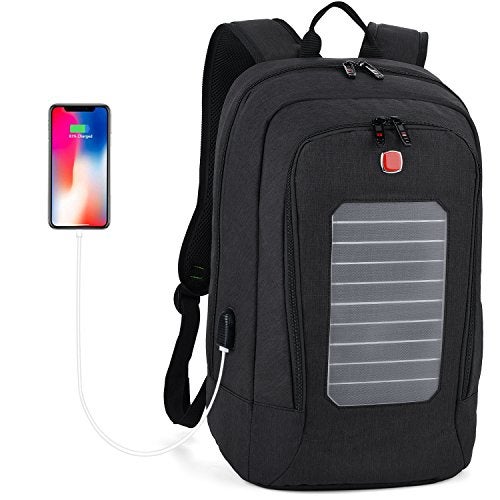 XTPower Hiking Solar Backpack at a Glance
:
---
Storage: 32 Liters
Power Output: 5.3 Watts
Charging Battery: No
Hydration Pack: No
This 40L capacity charging backpack is rocking a single panel solar charger with plenty of output power. It's made for charging any 5V device. That means just about any USB powered device, phone, tablet, or GPS will be right at home.
I like that the solar panel is detachable for optimal efficiency and it can be adjusted on the pack to help make room for bulky internal loads.
With an 5.3 W output on the solar panel, it has the ability to charge multiple devices at the same time!
Want to take your laptop with you? The Fanspack will fit up to a 15.6″ laptop in a padded slot.
Like the Eceen above, however, this pack fails to bring in a hip belt or other hiking suspension systems. That means heavy and bulky loads will be hard to secure on the trail.
The bag overall is more tailored for city use. With a padded laptop compartment and lack of hiking suspension it's more of a hybrid.
This backpack with solar panels is for those who spend more time in the city than on the trail.

---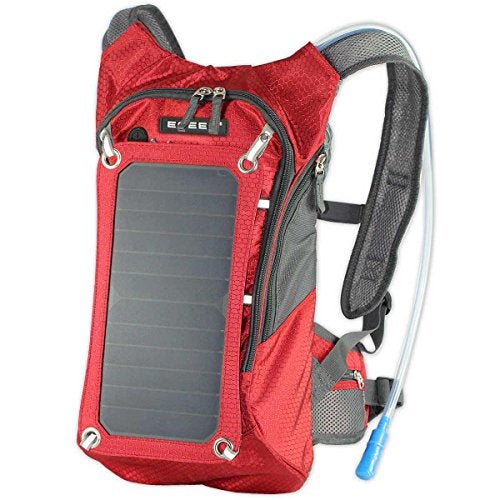 ECEEN ECO Solar Powered Backpack at a Glance
:
---
Storage: 12 Liters
Power Output: 7 Watts
Charging Battery: No
Hydration Pack: Yes,

1.8L
This is a slick looking hydration pack that comes with a powerful 7 Watt solar panel and a 2L hydration bladder.
Definitely a solid choice for active sports that don't need much room for gear storage. It would be a good backpack choice for those who often combine day hiking with biking, running, or other high intensity outdoor sports.
I like the generous hip belts that help keep the pack in place. Combined with thin but light shoulder straps and a solid sternum strap, this pack should be built to stay.
The one concern I have is that the battery is stored externally, right behind the solar panel. It seems susceptible to water damage and the zippered pocket doesn't do much to provide protection.
Take extra steps to keep your gear safe with this one!
This is the best backpack solar charger for quick day hikes or active sports where you'll be returning home at the end of the day.

---
How to Choose the Best Solar Backpack – Buyers Guide
Solar powered backpack combine a little bit of technology with the traditional aspects of hiking. Here's what you need to know to bring the two worlds together.
Charging Voltage
Voltage is one of many electrical terms that can be easily misunderstood. While amperage and wattage are also both important, voltage is critical for solar backpacks. In order for the solar backpack you choose to be able to charge your devices, it needs enough voltage.
You'll want to choose a solar backpack with a voltage specification that is equal to or greater than the needs of your devices. For instance, USB devices commonly need 5V to charge so look for a 5V output solar pack.

Using Devices While Charging
Because of the technical magic that is electrical engineering, there are some complications with charging devices in the field. Unlike plugging your phone into the wall at home, you can't charge your devices while the solar battery also charges.
That means you'll want to charge devices only at night time so that the solar pack has as much time to fill up as possible. If you're charging devices during the day your solar pack probably isn't refilling with energy.

Power Usage / Ports
Usually measured in milliamp hours for small devices, this is a measure of how much "juice" your device needs to charge. Most devices will tell you the requirements of the battery or you can find it in the technical specs of the device.
If you have a 1,000 mAh device and a 3,000 mAh solar backpack you'll be able to charge the device up to three times from that backpack on a single charge.
Make sense?
For USB ports, the more the better. Most solar backpacks only come with 1 port so you can only charge one phone or other device. More expensive ones come with 2 ports. If you have more than one device, spending a bit extra for a pack with a second charging port will be worth it.

Direct Sun Access
This is a major consideration that is too often overlooked. Solar chargers only work if you have access to direct sunlight.
Furthermore, the solar panel needs to be oriented directly at the sun during whatever phase of its travel it happens to currently be in.
Simply hanging a solar panel off one side of your pack won't be very effective. It has to be on the same side as the sunlight and it should be angled directly at the sun. Not at easy task to do constantly while hiking.
One solution is to take a break in the middle of the day for several hours to set your solar panel in direct sunlight, oriented toward the sun. This can significantly hamper your ability to travel, however.
Consider where you'll be hiking and how much sun you'll get. During a hike on most parts of the Appalachian Trail you'll be under the shade of trees and solar chargers will fail to perform well.
Hiking in the desert Southwest, however, will result in much improved charging capability with direct sun access at almost all times of day.

Weight
This is a big factor for some folks and it will depend on a few things. How large of a solar panel you choose and how big of a storage battery your pack has. Batteries are naturally quite heavy and the larger the capacity, the heavier they get.
Consider how much weight you're willing to add before making the final choice on your pack.

Durability
If you plan on taking your backpack in to the backcountry your going to want something that can take the elements. The best material for this is nylon. Its tough, durable and water resistant. Check the seams where the straps meet the pack. You want triple stitching so they don't tear off.
The other factor in durability are the solar panels. They need to be flexible, tough and able to take the elements. They will of course be exposed to the sun but also rain and possibly snow.

Hydration Bladder
The last thing we will discuss is a hydration bladder in the backpack. This will mainly be a consideration when taking the pack into the woods for the day or even longer.
Having a built in bladder saves the trouble of having to carry around water bottles on the side of the pack or taking up room inside the pack.
The Powerfly and the Zuoao both come with a 2-liter bladder. This gives you enough water for a full day of hiking. If you plan on using it for hiking, this is a feature you should have!
How We Researched
To come up with the top solar backpacks we researched a variety of sources for reviews such as REI, Bass Pro Shops, Cabelas and Backcountry along with our own personal experience.
We also consulted online magazines for product research and reviews to get as much unbiased information as we could. To help weed out fake reviews we used Fakespot.com to make sure we only looked at genuine reviews.
With so much quality gear available, we had to narrow it down based on what we felt were the best options for the price. The author, Casey Fiedler has been leading backpacking trips for over a decade in his native state of Michigan.
To help narrow down the selection he used his personal experience along with recommendations from fellow guides and outfitters.
After extensive research, we came up with our list to help you choose the right one for you.
Sources
---
I hope this guide was helpful for finding a good solar backpack to fit your needs. If you want to comment or recommend a backpack I didn't include, please use my contact form to get in touch.
Have fun and be safe out there!
Notice:
OutsidePursuits.com is a participant in the Amazon Services LLC Associates Program, an affiliate advertising program. OutsidePursuits.com earns fees from products sold through qualifying purchases by linking to Amazon.com. Amazon offers a commission on products sold through their affiliate links.