I can still remember the first hiking backpack I ever bought. I saved up from a summer job and ordered the cheapest backpack I could find on eBay.
That backpack has to be, to this day, one of the worst backpacks I've ever had the displeasure of encountering.
In order to help you avoid making some of the same mistakes, let's look deeper into what you should look for to find the best hiking backpack for your needs.
When it comes to a backpacks for hiking, whether you're out for the day or overnight, it's critical to buy quality. While quality doesn't necessarily mean name-brand, it does mean well built.
Properly sized and padded hip belts, lightweight internal frame and the proper materials go a long way toward making a good pack.
For more of my top gear recommendations, have a look through these popular Outside Pursuits guide links: Hiking Baby Carriers, Solar Backpacks and Solar Chargers.
Quick Answer: The 7 Best Hiking Backpacks For 2018

Let's take a look at the top rated hiking backpacks, then we'll talk about how to choose the right one for you in our buying guide below.
Best Hiking Backpacks
| | Gregory Mountain Baltoro Backpack | Osprey Atmos AG Backpacks | Kelty Coyote Backpack |
| --- | --- | --- | --- |
| | | | |
| | | | |
| Storage: | 65 Liters | 65 Liters | 80 Liters |
| Internal Frame: | Yes | Yes | Yes |
| Features: | Pre‑curved, ergonomically tapered shoulder harness straps with removable shims for contouring the lumbar region. | Dual zippered front panel pockets provide extra storage to items that need to be readily accessible. | Top Lid converts to sling pack, has zippered side pockets with a pocket for a hydration bladder. |
| Rating: | 4.7 / 5.0 | 4.7 / 5.0 | 4.8 / 5.0 |
| | | | |
Hiking Backpack Reviews
Let's dig into what makes a great hiking backpack and how you can choose the best one!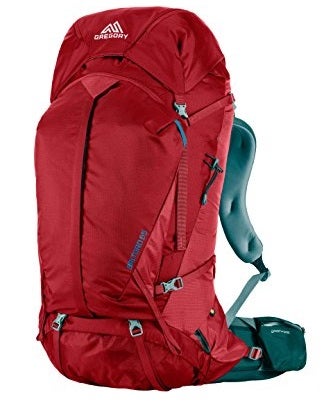 Gregory has been making great backpacks for years. This one is no exception. You'll find some of my favorite features, like hip belt pockets, air mesh back panel, and ergonomic shoulder straps.
Overall, this lightweight backpack meets my preferences more than any other on our list. The important features are present and refined.
I really like that they minimized the bells and whistles externally for a sleek and balanced looking pack.
The materials are lightweight, and they got rid of unnecessary zippers, pockets, and straps. Everything a lightweight backpack needs and nothing it doesn't.
I'm a huge fan of the top entry main pocket. This allows the pack to be optimized for loading without needing to worry about separate compartments for each item. Plus, it's easier to use a pack liner.
In my opinion the Gregory Baltoro is the one of the best backpacking backpacks on the market, highly recommended.
Women's Model: Gregory Deva 60 Women's Hiking Backpack.
---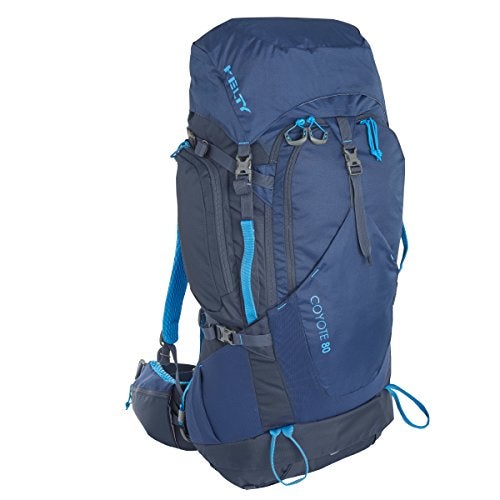 Kelty has been making great outdoor backpacks for years. Today, like most manufacturers, they primarily make internal frame backpacks.
These packs are slimmer, sleeker, and help hikers balance better on uneven terrain as compared to older models of backpacks. Internal frame backpacks are ubiquitous these days and you'll be hard pressed to even find an older model of camping backpack.
The Kelty Coyote is an 80L backpack with ice axe loops (which most of you won't need unless your rock climbing), hip belt pockets, several outer pockets, and a large brain.
The brain is what hikers call the top part of the backpack which covers the pack and can be strapped into place. There's a stretch panel storage pocket on the back for rain gear or any other quick-grab items.
Of all the pockets, zippers, and features they loaded on to this pack, the hip belt pockets are by far the most versatile and helpful.
Video: Overview of the Kelty Coyote 80.
While most people won't use all the bells and whistles on this backpack, it definitely has plenty of features to allow you to learn what you do and don't like.
At a weight of 5lbs 5oz when empty, it certainly isn't lightweight! That's okay, though because the rugged build is meant to carry large, bulky gear and handle heavy loads for extended hikes into the backcountry. The Kelty Coyote is my pick for the best hiking backpack for the money.
Women's Model: Kelty Coyote 70 Women's Hiking Backpack.
---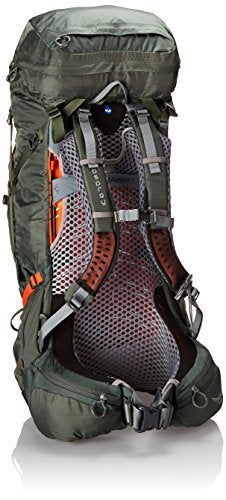 Osprey is my favorite overall manufacturer of backpacks for hiking. You'll find their trekking backpacks in every store and they've done a good job over the last few years of making something for everyone's needs.
Many of their hip belts, for instance, are heat moldable. That means they can be baked in an "oven" in the store, molded to fit the exact shape of your body, and then hold that shape forever. This is an awesome feature that I love!
On top of innovation in the field of manufacturing, Osprey is also making leaps toward improving other areas. The Atmos back panel is made from a suspended mesh which holds the pack away from your back while you walk.
This helps to reduce that nasty buildup of heat and sweat along your back. On top of this, they've lightened up their materials, and streamlined their designs.
Video: Overview of the Osprey Atmos 65.
While the Atmos is not an ultralight backpack, you will find many lightweight features incorporated. Osprey removed a lot of the unnecessary outer pockets and zippers to lighten the bag overall.
They've also included a massive sized brain on the pack with tons of adjustability. While the Atmos is listed as a 65L bag, it's flexible enough that you could probably carry 45L without a problem. Osprey Atmos 65 is probably the best camping backpack available.
Women's Model: Osprey Women's Aura 65 AG Backpack.
---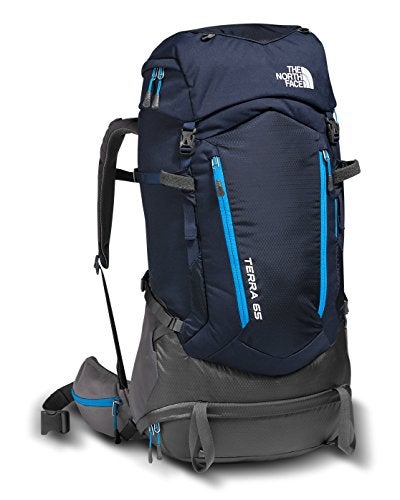 If you've ever been in a sporting goods store, then you're familiar with the North Face brand. They're synonymous with outdoor gear. This 65L bag is top entry and side entry, featuring a large zippered side pocket much like the Kelty Coyote.
Generously sized hip belt pads have integrated zippered pockets which, as you know, I love in a bag. Overall, I'm not a huge fan of the padding and ergonomics they chose with regards to the back panel.
Three large chunks of foam provide most of the structure and support for the back panel and, in my experience, this usually is less comfortable than other methods.
What I do like is the easily adjustable torso length. Today's backpacking packs are getting smarter and more adjustable each year. While not listed as a waterproof backpack, it would take a lot rain to get water into it.
With the Optifit system, you can quickly and easily change the torso length on the bag. Of course, you'll probably only ever do this one time, but it's still nice to be able to do so easily and intuitively.
Overall the internal frame backpack has minimal unnecessary features and is offered in three great colors. I'd take a shot at this bag if you need a 65L backpack! In my opinion the best hiking backpack under $200.
Women's Model: The North Face Electra Women's Backpack.

---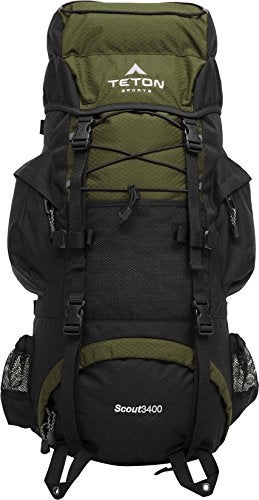 If you're looking to buy your first expedition sized backpack at a killer price, this is the one. For getting started, you won't find a bag much more affordable. On top of that, the pack space is quite large, at 55L it's plenty large for a 3-4-day trip for most hikers.
Like most bags these days, this backpack has an adjustable torso length so you can dial in the fit. However, I'd say the biggest downfall of the bag is the lumbar padding and hip belt.
There's not much adjustment here, simply bulky thick hip pads. Luckily, the requisite load stabilizer straps are in place. As are water bottle holder pockets and two external pockets.
While you're not going to get Osprey-level adjustability and fitment from this pack, it is lightweight and inexpensive for the budget backpacker. In my opinion the TETON Sports Scout is the best hiking backpack under $100.
---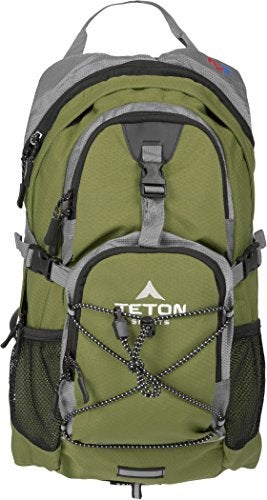 With this bag, we move into the realm of a day hiking backpack. Day backpacks are meant for short day-long trips and the addition of a hydration bladders makes it even more convenient.
Hydration bladders are those water bags that fit inside a backpack and allow the wearer to drink using a straw and a bite-valve that attaches to the shoulder strap. Teton sports has included a hydration bladder with this pack which is great cause you won't have to go buy a separate one!
I'm always a fan of shock cord lashing. That's the elastic bungee cord that goes over the outside where you can strap down rain gear, oddly shaped gear, or other unexpected items.
This pack also comes loaded with a rain cover. While I've had mixed feelings about rain covers, they can always be a help in a burst shower if you really need it.
Video: Overview of the Teton Sports Hydration Backpack.
For a day hiking backpack, I always look to find a minimalist hip belt and a sternum strap. Why? Because it's nice to be able to secure the pack for scrambling, mild climbing, or even running.
The TETON Sports Oasis has my vote for the best day hiking backpack.
---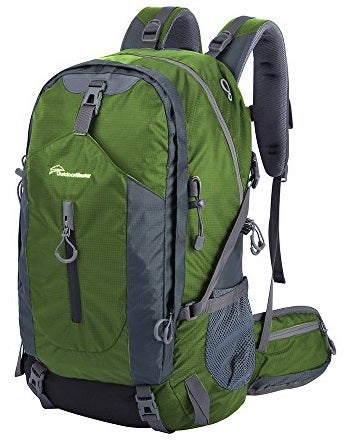 This is an outdoor themed backpack for daily use around town. Yes, it'll work just find for a day hike, but it's huge! They've included plenty of features to make it just right for carrying books, laptops, and tablets. However, that means it's lacking the correct ergonomics or details for hiking.
That's okay! If you're a college student looking for one backpack that can go to class or go into the mountains for a day hike, this might be a good choice. Why own two backpacks when one will suffice?
The hip belt is robust enough to handle a decent load and the shoulder straps are wide to distribute pressure evenly.
As always, I'm a fan of the hip belt pockets. The OutdoorMaster is my pick for the best budget hiking backpack.
---
Hiking Backpack Comparison Table
Hiking Backpack
Capacity
Weight
Features
Rating
Gregory Baltoro 65 Backpack
65 Liters
4.9 pounds
SideKick doubles as daypack/hydration sleeve.

WeatherShield hipbelt pocket to protect your valuables.
4.7 / 5.0
Kelty Coyote 80 Backpack
80 Liters
5 pounds
Top loading lid converts to sling pack with zippered side pockets and front pockets
4.8 / 5.0
Osprey Atmos 65 AG Backpack
65 Liters
3.9 pounds
Dual zippered front panel pockets with Internal reservoir sleeve plus a removable floating top lid
4.7 / 5.0
The North Face Terra 65 Exploration Pack
65 Liters
4.3 pounds
Large zippered side entry to main compartment with improved zippered sleeping bag compartment plus 7 storage pockets
4.5 / 5.0
Teton Sports Scout 3400 Backpack
55 Liters
4.5 pounds
Large sleeping bag compartment and multiple compartments and pockets for storage.
4.5 / 5.0
Teton Sports Oasis Hydration Backpack
18 Liters
2 pounds
2-liter hydration bladder included with three zipper pockets, main storage space and two mesh pouches in front.
4.3 / 5.0
OutdoorMaster 50L Backpack
50 Liters
2.6 pounds
Water bottle elastic side pockets, hipbelt pockets, front pockets also includes a waterproof rain cover and padded laptop compartment.
4.4 / 5.0
How to Choose the Best Hiking Backpack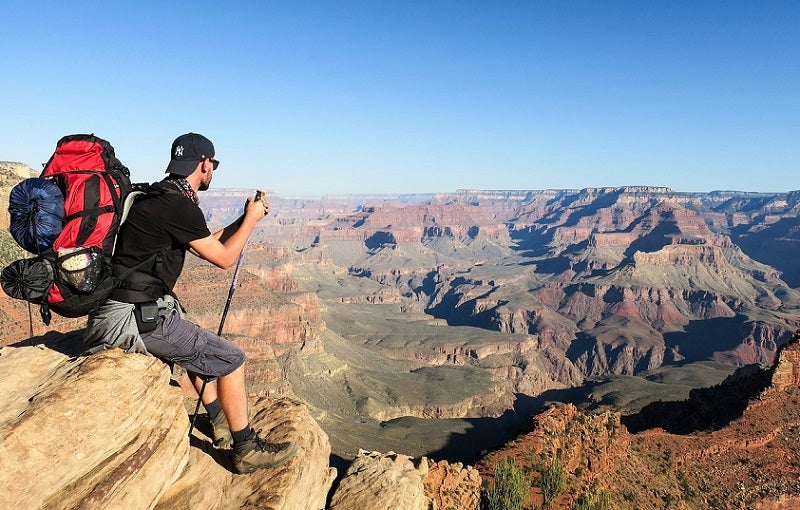 How Long Will You Be Out?
This is an important question that all too often gets overlooked. When we start talking about hiking backpacks, really, we could be looking for a pack to carry snacks for a day or food for a week. Be sure to set reasonable expectations for your backpack and what it can handle.
For a day hike, any small day backpack will do. These usually resemble super fancy school backpacks. Look for a lightweight hip belt and ergonomic shoulder pads.
If you're heading out for an overnight with a light load of gear, a 30L pack will suffice. Of course, if you are planning to carry everything including the kitchen sink a set of cast iron skillets, then go bigger.
For multi-day and weeklong expeditions, you'll want something between 60-90L depending on your experience, time of year, and how much space you need.
If your just getting started, see my beginners guide to backpacking.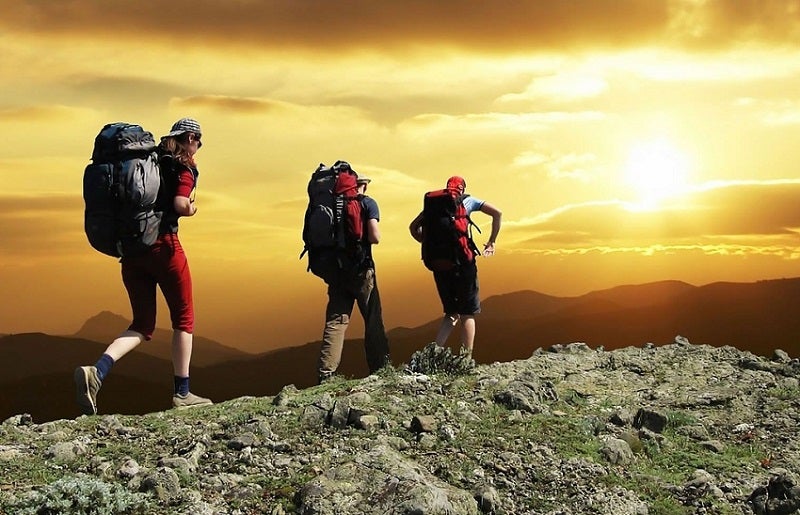 How Big of a Backpack Do I Need?
We talked about this a bit above, as it relates to the duration of your trip. Other factors will also influence your decision on pack sizing. If your looking for more of travel backpack, you can see my reviews here.
Let's dig into these a bit more.
Some factors which would cause your decision to err on the side of "larger pack" might include:
Less experienced backpacker
Most of your gear is bulky
You'll be traveling many days between resupplies
You're not certain how much food or water you'll need
On the other hand, you might choose a small day backpack if:
You're an experienced hiker with a refined gear kit
You're an ultralight backpacker
You're only out for a light afternoon hike
You'll have easy access to supplies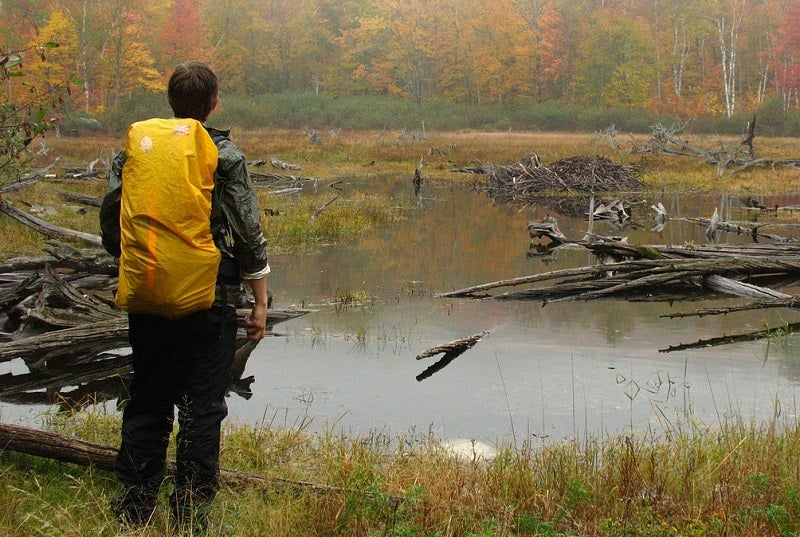 Suspension
The secret to finding a trekking backpack that is comfortable is making sure it is the right size, which is where the suspension of the backpack comes into play.
Suspension, for those that are beginners in the backpacking world, is defined as the adjustable nature the backpack holds in order to make it perfectly fit your back and torso.
Suspension is important in the same way that comfort is, as it will allow your hike to be the best it can be because you feel your best. If a backpack doesn't form to your back, you're going to spend the majority of your hike wishing you didn't have it.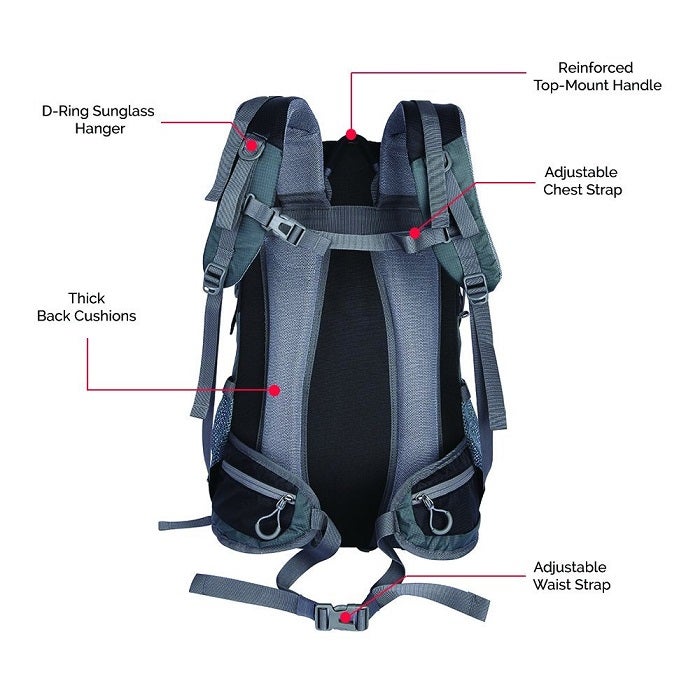 Sizing
You'll want to pay special attention to sizing and fitment. If you're a new backpacker, save yourself some time and a lot of hassle by heading to the local outfitter and getting sized properly for your new pack.
Sizing involves measuring, adjusting, and fitting the correct hip belt, shoulder straps, and torso length.
Getting this wrong can be uncomfortable, painful, or even result in raw sores where the pack rubs improperly against your body when hiking.
Getting your sizing right will help the pack fit comfortably and distribute the weight of your pack across your body safely.

Rain Covers
As I mentioned I have mixed feelings on rain covers. If you have anything you don't want getting wet, then your going to want one.
Unless you think you will be hiking in the rain for extended periods of time you probably wont need one because most backpacks are naturally water resistant. If you really want a waterproof backpack the ONEPACK Hiking Backpack is 100% water proof.
Adjustability and Fit
Adjustability and fit has to do with the same concept as suspension, which is why it's important to consider the ability to fully adjust the straps to fit your body comfortably.
Making sure your backpack fits you the best way it can is critical to being comfortable on your hike, safe on the trails, and not too sore after you finish the at the end of the day.
Some backpacks have the ability to adjust the way it rests on your back while others don't, so understanding the difference between the two and taking that into consideration when backpack shopping is important. Look for shoulder padding and adjustable straps.

Ease of Use
How easy the backpack is to use is more important for beginner hikers that aren't interested in complicated suspension or pockets they can't seem to work. Some backpacks are too simple, while others are cumbersome.
This may include some side pockets, waist band pockets, a hydration bladder or the ability to house one, bungee cords and much more. Think about what you want on the trails and then look for features that are going to need.

Best Backpack Brands

I have always been a fan of Osprey backpacks, they don't make anything but packs so they are quite good at it. Gregory is another manufacturer that only makes packs and hydration bladders so as a result, when you only do one thing you can do it really well.
Kelty is a well known for making quality outdoor equipment like tents, sleeping bags and of course backpacks. The North Face probably the most well known brand on my list, they have a solid reputation for making outdoor equipment, its hard to go wrong  with anything from them.
You cant go wrong with any of these brands.
---
I hope this guide was helpful for finding the best hiking backpack to fit your needs. If you want to comment or recommend a backpack I didn't include, please use my contact form to get in touch.
Have fun and be safe out there!
Be sure to check out our reviews of hiking shoes for men and women.
Notice: Outside Pursuits is a participant in the Amazon Services LLC Associates Program, an affiliate advertising program to provide a means for sites to earn advertising fees sold through by advertising and linking to Amazon.com. Amazon offers a small commission on products sold through their affiliate links. Each of your purchases via our Amazon affiliate links supports our efforts to bring you the best possible product reviews at no additional cost to you. We appreciate your support here at OutsidePursuits.com