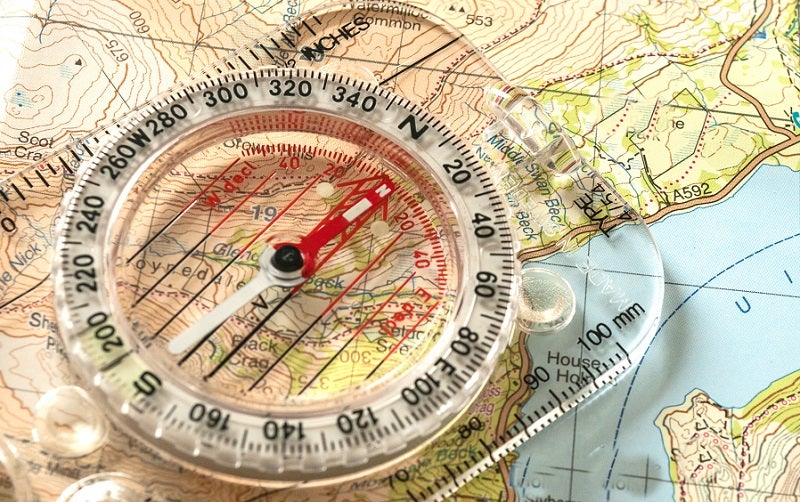 Our Editors independently research, test, and rate what we feel are the best products. We use affiliate links and may receive a small commission on purchases.
In a world where technology is increasingly taking over our everyday lives, there may come a point where compasses are an antiquated relic of human history. In practice, the principle is simple: just take a magnetic piece of metal, suspend it in a nearly frictionless environment, and allow it to align with the magnetic field of the earth. Once aligned, all you need to do is figure out which way is north, mark it red, and you'll be able to gauge every other directions relative to north. For hikers, backpackers and survivalists, the compass is a primitive tool which can make the difference between life and death in many situations. And the best part? You'll never need batteries!
Best Hiking Compasses
| | Suunto MC-2G Global Compas | Silva Ranger 515 Compass | Brunton TruArc 3 Base Plate Compass |
| --- | --- | --- | --- |
| | | | |
| | | | |
| Sighting Mirror: | Yes | Yes | No |
| Luminous: | Yes | Yes | No |
| Features: | Magnifying lens, straight edge & inch markings | Clinometer, magnifying lens, straight edge & inch markings | Metric & standard scales, tool-less declination compensation |
| Best For: | Advanced navigation with topographic map | Advanced navigation with topographic map | Simple operation for backup navigation |
| | | | |
For more of my hiking gear recommendations, have a look through these popular Outside Pursuits guide links: GPS Hiking Watches, Handheld GPS Units, Hiking Binoculars.
Quick Answer: The Best Rated Hiking Compasses

Let's take a look at the top rated hiking compasses, then we'll discuss how to choose the best one in our guide below.
---
Hiking Compass Reviews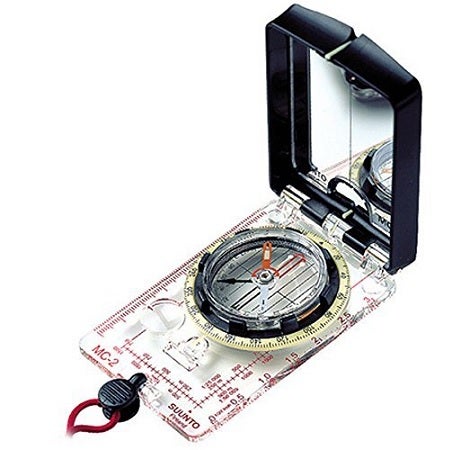 SPECS
:
---
Sighting mirror: Yes
Luminous: Yes
Features: Magnifying lens, straight edge & inch markings
Best for: Advanced navigation with topographic map
Suunto is one of the most popular names in compass making. They're known for high-quality products made in Finland, and reliable navigation equipment from digital wrist computers to highly accurate orienteering compasses. Suunto's new global compass needle has been modified to maintain a higher degree of accuracy from anywhere in the world. With advanced features like a sighting mirror, multiple rulers and a wrist locking lanyard, you'll be able to navigate with accuracy in any conditions.
I love the 2-degree bezel increments and glow-in-the-dark bezel ring for added functionality at every time of day. Adjustable declination is a must-have for any decent compass, and the MC-2G won't let you down. Sighting holes are a game changer for accurate and reliable navigation in all conditions. In my opinion, this is the best hiking compass you can buy.

---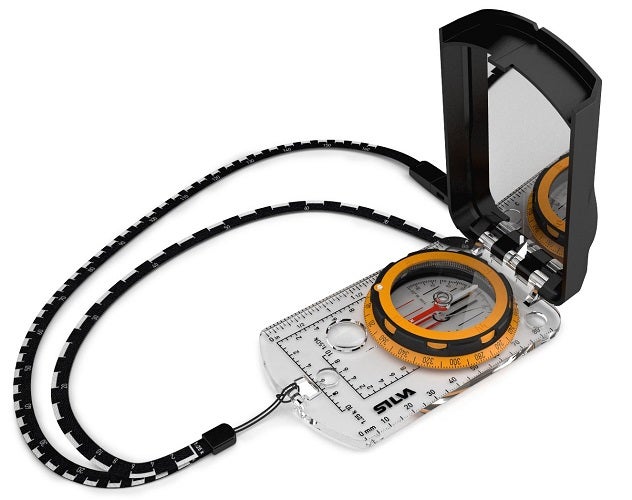 SPECS
:
---
Sighting mirror: Yes
Luminous: Yes
Features: Clinometer, magnifying lens, straight edge & inch markings
Best for: Advanced navigation with topographic map
If you're looking for a top-quality orienteering compass at a reasonable price, this is the compass that belongs in your backpack. I love the high visibility bezel for reading and adjustment in any lighting conditions. It's also helpful if you happen to set down or drop your compass. You'll be able to find it more easily with the illuminated yellow bezel. This is a mirrored sighting compass for extreme accuracy and would be a perfect pick for those planning to do off-trail navigation, orienteering or adventure racing.
While it requires a tool for declination adjustment, the tool is integrated on the lanyard. One advantage of tooled declination adjustment is that once adjusted, you don't have to calculate it in to your navigation. The compass automatically adjusts for it. With an inclinometer, magnifying glass and multiple navigational scales for map reading and measuring, you'll be able to take this compass from beginner to expert tasks.

---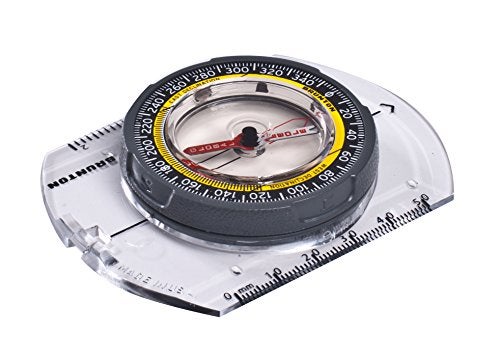 SPECS
:
---
Sighting mirror: No
Luminous: No
Features: Metric & standard scales, tool-less declination compensation
Best for: Simple operation for backup navigation
This is a seriously compact base plate compass for accurate but simple navigation. With a global needle like the MC-2G, this compass is calibrated to work appropriately all over the world. The outer bezel reads in 2-degree resolution and features both inch and cm scales on the outer rulers. One of the most important features for accurate navigation is an adjustable declination, which Brunton delivers on the TruArc 3.
Video: Overview of the TruArc 3 Compass.
TruArc 3 Baseplate Compass
I like that the declination can be read and adjusted without using any tools. Some compasses require a special tool to adjust declination, which can be a pain on the trail. This compass is made in the USA, if that's an important factor for your decision making. You may not get pinpoint accuracy from this compass, but you will get compact reliability for just about any situation.

---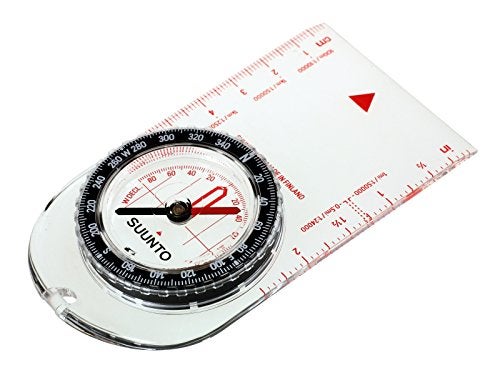 SPECS
:
---
Sighting mirror: No
Luminous: No
Features: 

Fixed declination correction scale, snap lock lanyard that's detachable for easy map access

Best for: Basic navigation in the woods
If you're looking for a compass that's functional but lightweight, compact and minimalist, this might be the one for you. With a minimal features, the A10 compass delivers clear base plate, declination adjustment and black and white bezel. This is a compact compass for minimal map orientation and navigation. You won't get the same accuracy from this compass as you would from an orienteering compass, but it's inexpensive, functional and is probably the best basic compass for exploring in the woods. It has enough features to get a competent compass user out of a tight situation. I'd recommend this product to someone looking for a compass that will orient a map and provide basic navigation. This obviously won't be a good fit for users hoping to quickly expand their navigation skills, as you'll outgrow its abilities quickly.

---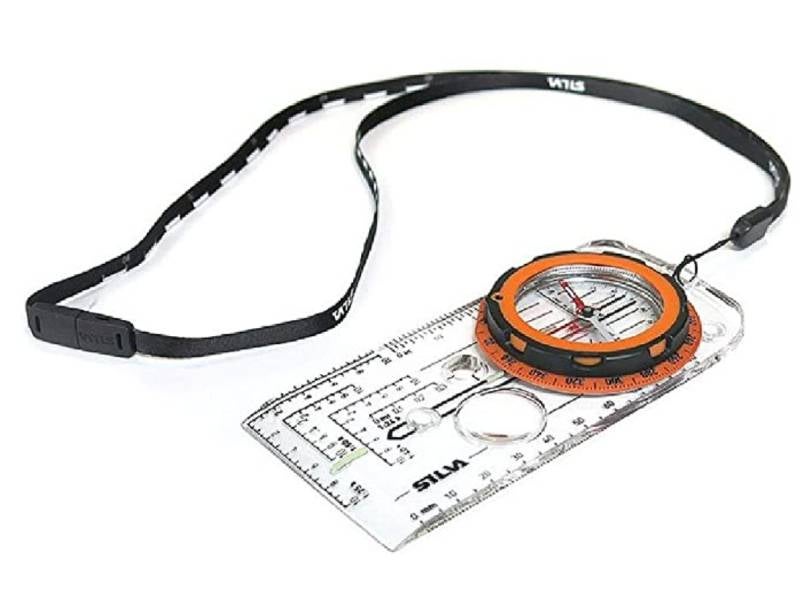 SPECS
:
---
Sighting mirror: No
Luminous: Yes
Features: 

Declination adjustment, magnifying lens, suitable for night use with luminous markings

Best for: Basic navigation for beginner to intermediate users
Silva packed in all the features of the Ranger 515, but without the mirror or sighting hole. This means you'll have a lighter, more compact compass with robust features and slightly less accuracy overall. For the experienced and adept navigator, this should present few issues. You'll get the same gradient 2-degree bezel and high visibility navigation ring with a magnifying glass for map reading. Again, you'll have to adjust declination with the built in screwdriver, but that comes with its own set of drawbacks and convenience. This would be a great choice for those looking to get a compass that's great for beginner to intermediate users.
With plenty of features to accurately navigate for the novice or expert, this compass would be a great middle-ground choice for general backpacking where accuracy is important. This must be balanced with compact and lightweight navigational equipment. The Silva Explorer Pro is perfect for on-trail hiking and moderate navigational needs. The Silva Explorer Pro may the best survival compass with its Hi-Vis color, 4X luminous dial for navigating in low light conditions.

---
Compass Comparison Table
How to Choose the Best Hiking & Backpacking Compass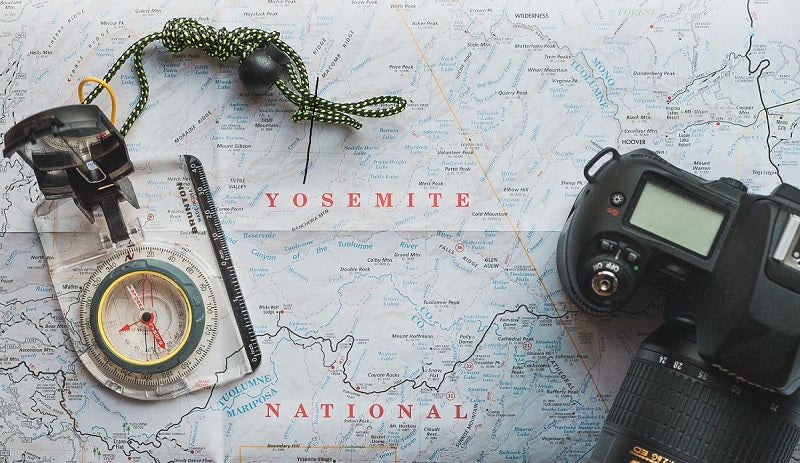 Redundancy
Many choose to keep compasses around as a backup navigation option. Sometimes that's in a survival kit, the car trunk, or on the dash of a boat for navigation when it gets dark. We all know that batteries and electricity, no matter the source, may run out in certain situations. You can help prevent that with a solar charger, as these can charge up electronics as long as there's sunlight.
Some hikers choose to keep a small, lightweight compass attached to their zipper or on the top of their hiking pole as well as their main orienteering compass and handheld GPS. Of course, not everyone feels the need for three compasses, but it can be a great backup option when you need it.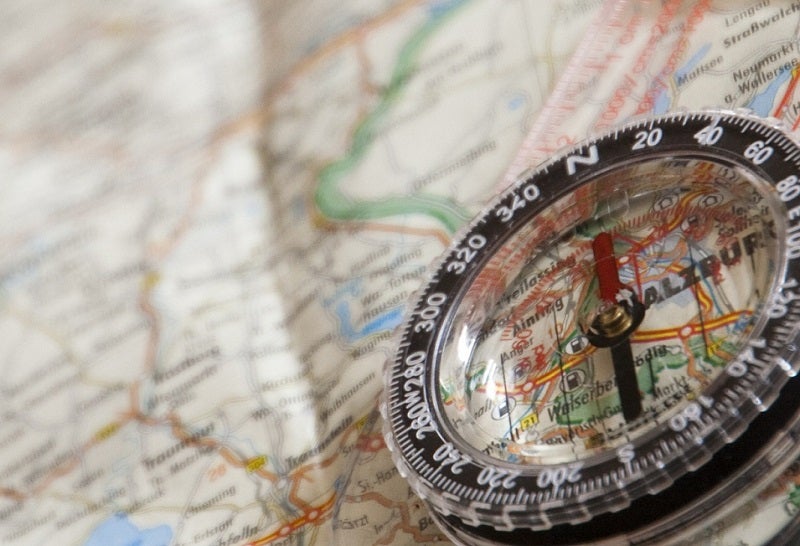 Orienteering and Adventure Racing
Adventure racing may conjure up images of the "Tough Mudder" and similarly orchestrated adventures, but what we're talking about goes a little beyond. Adventure races can vary in duration from a few hours to several days where participants must use combinations of running, backpacking, paddling, mountain biking and other outdoor skills to find hidden waypoints.
This must all be accomplished with nothing more than a topographic map and an orienteering compass. Orienteering, while a skill involved in adventure racing, can also be considered a separate activity. Some local clubs and groups have orienteering challenges or races involving less of a challenge than an adventure race, but operating on the same principal: to use a map and compass to find waypoints before your competitors do!

Building Awareness
Video: How to use a compass.
If you're going to spend time in the wilderness hiking or backpacking, it's important to build familiarity and orient yourself to your surroundings. Every year, rescue operations are carried out in seemingly avoidable situations where hikers have gotten lost, only to find out they were mere miles from an easy escape. You'll be amazed at how much more confident and comfortable you'll feel after having some training and practice with a map and compass. Understanding how to orient the map to your surroundings, recognize landmarks and navigate using simple terrain features will provide a huge boost for your safety (and ego).

Types of Compasses for Hiking & Backpacking
Simple Baseplate Compass
These compasses are nearly bare-bones devices with only a few features. They often have clear acrylic baseplates so that maps can be viewed and read through the compass. These compasses are a great all-purpose compass for beginners and will serve most hiking and backpacking needs.
Liquid Filled Compass
Many types of compasses are liquid-filled. This isn't reserved for a single type of compass, but rather a feature found throughout many models. By adding fluid inside of the needle chamber, the compasses are buffered from movement and vibrations. Using fluid helps to dampen the swing of the compass and temper erratic movement when navigating. This is a must-have feature for navigation purposes.
Orienteering Compass
Orienteering compasses may go by various names, but they feature advanced level navigational accuracy. With clear baseplates, they're meant to navigate with topographic maps, often featuring rulers, declination scales, sighting mirrors and clinometers. These compasses are full-featured and are great for highly skilled navigators.

Considerations for Compasses
Learning to Use a Compass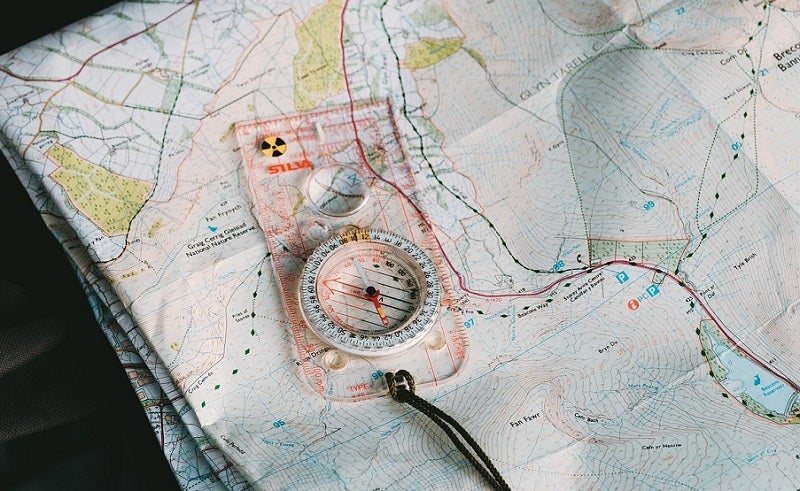 It can be difficult to learn to use an advanced compass. Check local outfitter stores of basic navigation classes or try some YouTube videos to familiarize yourself with the basics. One of the best ways to become an advanced compass user is to participate in orienteering. This activity forces you to use a map and compass to navigate to hidden locations in the fastest time possible. It's an enjoyable way to learn great compass navigation!

Storing and Caring for Your Compass
When you're not using your compass, be sure to store it in an appropriate location. Keep your compass away from powerful electronics or magnets. Both of these have the propensity to distort the accuracy of your compass over time. Remember that your compass is meant to work outdoors, and may also be disrupted or show inaccurate readings in vehicles or buildings.

Protecting Your Compass in the Field
Your navigational accuracy is only as good as your compass. Unfortunately, good compasses can bleed your wallet dry. So, how can you protect your water-filled acrylic investment? In general, just managing your gear with a little more care is a good place to start. Store your compass near the top of your bag, that way there's nothing pressing down on it when you set your backpack down, and it's easy to access when you need it.
Some compasses come with a protective cover. In fact, most orienteering compasses have a cover that flips down, which contains the sighting mirror. Additionally, some compasses come with a carrying case. These are usually made of a soft fabric, which is good enough to prevent scratches of your clear baseplate.

When to Carry a Compass
Generally speaking, a compass has a place on any hike. Whether you're going out for a day or a week, you can stand to benefit from using a compass. To be totally honest, I'll usually skip the compass if I'm on a short hike with cell phone reception in a local area I know. The real risk level is very low, and I know I'm safe in these situations. When that's not the case, however, I'm always carrying a compass (and a good map) with me.
For simple afternoon hikes at the local park with the kids, a small pocket compass is probably all you need for backup at most. If you're off-trail backpacking in the Wind River Range, however, you'll need at least a high quality baseplate compass, if not an orienteering compass. Tossing a decent baseplate compass into your bug out bag, emergency bag in the trunk, or prepper-style survival kit is a must-do as well.

FAQs
How do you use a map and compass for hiking?
Ideally, I'd take a class or learn from someone knowledgeable. It's a skill best learned through hands-on practice. Look for classes at your local outfitter or REI store. You could also learn a lot by reading through a good book with a map and compass in hand. You can also learn a lot by watching how-to videos on YouTube, and following along with your own map and compass. If you still have questions, try signing up for an adventure race sprint with an experienced partner. You'll learn a lot by doing it in the field, and these short adventure races are a great way to test yourself.
What other techniques work for finding North if I'm lost?
There are tons of old wives tales, misinformation and straight up lies surrounding how to navigate without a compass. While entire books can, and have, been written about emergency navigation that's outside the purpose of this article. Instead, I'll just briefly mention a few I hear a lot.
Things that work:
Using a magnetized paper clip and a floating leaf
Using an analog watch face to bisect the sun
Using the path of the sun as a rough E-W line
Using regional constellations
Things that don't work:
Finding moss on the north side of the tree
Trying to remember which way you were heading last
What do all good orienteering compasses have?
Ideally, you should have an orienteering compass with a good sightline indicator. That's going to radically improve your accuracy. Barring that, a fluid filled compass with a good, long baseplate will get you close enough. There's something that makes triangulation almost impossible in some parts of the world, though…
If you can't see very far, you can't really triangulate. In order to accurately triangulate your position you need three (or more) visible and discernible topographic features within sightline. Usually this only happens on open mountain balds or aggressive terrain where you can see a long distance. If you're deep in the hardwood forests and flat lands of Northern Michigan – think again! You can't see more than 50 yards!
What kind of compass is the best for hiking?
Our pick for the best hiking compass is our Editor's Choice, the Suunto MC-2G Global Compass. Suunto is one of the most well-known brands in compass making, and this model is ideal for hiking/orienteering.
What extra features should I look for?
If you can find it, a good UTM grid reader is nice on your compass. Also, a scale that can convert contour lines into slope angle is quite handy. If you can't find a compass that has these tools built into the baseplate, you can often buy helper tools or print them off at home. Be sure to get the tool you're looking for to match the scale of your map with the units of measurement you prefer. I always bring a GPS as a backup, because it's great insurance if you read the map wrong.
Conclusion
There are compasses made to suit anyone's needs from ultra-basic to highly advanced, feature-rich navigation tools. If analog compasses aren't your tool, you can always find advanced watches and GPS tools today that will assist with navigation. Remember that compasses never run out of batteries, and can be just as or more accurate than modern replacements. Learning to read a map and compass will instil a sense of self-reliance that you won't get from following a GPS. For any hiker, backpacker or survivalist, a command of basic map and compass skills can be critical to your growth.
Recent Updates
May 5, 2022: Verified availability of all products. Included additional FAQs to address common consumer queries.
How We Researched
To come up with the top hiking compasses we researched a variety of sources for reviews such as REI, Bass Pro Shops, Cabelas and Backcountry along with our own personal experience. We also consulted online magazines for product research and reviews to get as much unbiased information as we could. To help weed out fake reviews we used Fakespot.com to make sure we only looked at genuine reviews.
With so much quality gear available, we had to narrow it down based on what we felt were the best options for the price. The author, Casey Fiedler has been leading backpacking trips for over a decade in his native state of Michigan. To help narrow down the selection he used his personal experience along with recommendations from fellow guides and outfitters. After extensive research, we came up with our list to help you choose the right one for you.
Notice:
OutsidePursuits.com is a participant in the Amazon Services LLC Associates Program, an affiliate advertising program. OutsidePursuits.com earns fees from products sold through qualifying purchases by linking to Amazon.com. Amazon offers a commission on products sold through their affiliate links.