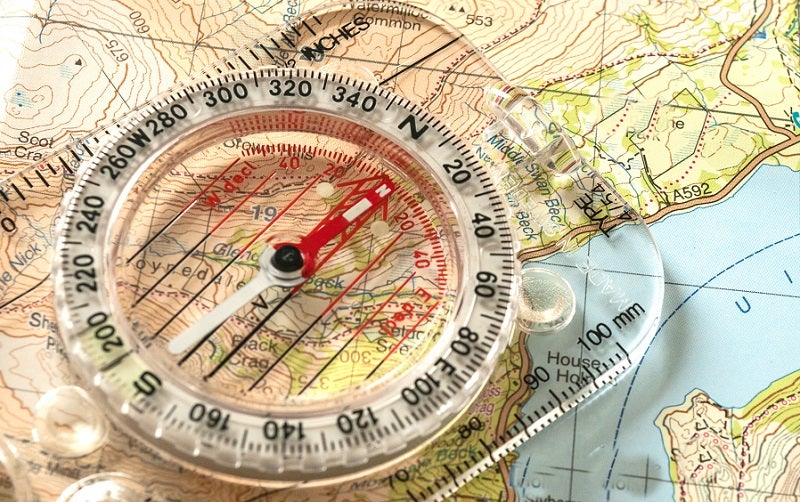 In a world where technology is increasingly taking over our everyday lives, there may come a point where compasses are an antiquated relic of human history.
Wait a second… that day is already here! Almost.
In practice, the principle is simple – just take a magnetic piece of metal, suspend it in a nearly frictionless environment, and allow it to align with the magnetic field of the earth.
Once it's aligned, all you need to do is figure out which way is north, mark it red, and then you'll be able to tell where all the other directions lie relatively speaking.
For hikers, backpackers and survivalists alike, the compass is a primitive survival tool which can really make the difference between life and death in many situations and the best part?
No batteries! Ever.
For more of my top gear recommendations, have a look through these popular Outside Pursuits guide links: GPS Hiking Watches, Handheld GPS Units, Hiking Binoculars.
Quick Answer: The 5 Best Compasses For 2018

Let's take a look at the top rated hiking compasses and then we'll talk about choosing one for you in our guide below.
Best Hiking Compasses
Suunto MC-2G In Global Compas
Silva Ranger 515 Compass
Brunton TruArc 3 Base Plate Compass
Features:
Baseplate features magnifying lens, straight edge and inch markings for accurate map reading.

Split-sighting mirror with a luminous two-color bezel ring for night use
Clinometer, map magnifier and sighting mirror plus luminous points for night use

Split-sighting mirror for superior accuracy when navigating on distant landmarks
Metric and standard scales, tool-less declination compensation
Best For:
Advanced navigation with topographic map
Advanced navigation with topographic map
Simple operation for backup navigation
Hiking Compass Reviews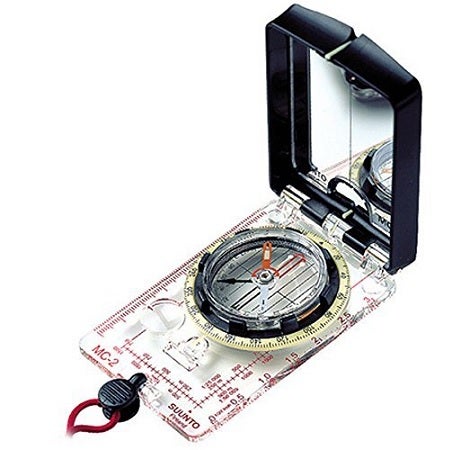 Suunto is one of the best names in compass making. They're known for high quality products made in Finland and reliable navigation equipment from digital wrist computers to highly accurate orienteering compasses.
Suunto's new global compass needle has been modified to maintain a higher degree of accuracy from anywhere in the world.
With advanced features like a sighting mirror, multiple rulers, and a wrist locking lanyard you'll be able to navigate with accuracy in any conditions.
I love the 2-degree bezel increments and glow-in-the-dark bezel ring for added functionality at all times of day.
Adjustable declination is a must-have for any decent compass and the MC-2G is not going to let you down there.
Sighting holes like the one on this compass are a game changer for accurate and reliable navigation in all conditions. In my opinion this is the best orienteering compass you can buy.
---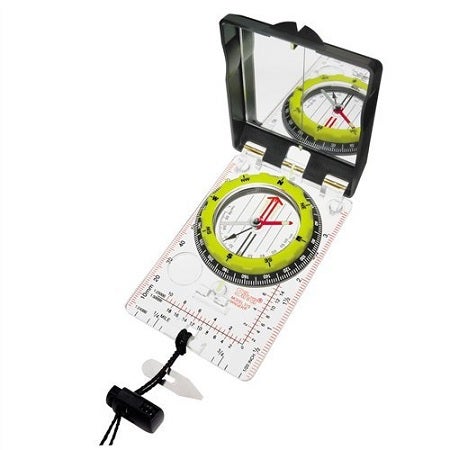 If you're looking to pick up a top-quality orienteering compass at a reasonable price, then this is the compass that belongs in your backpack.
I love the high visibility bezel for reading and adjustment in any lighting condition. It's also helpful if you happen to set down or drop your compass. You'll be able to find it much more easily with the illuminated yellow bezel.
This is a mirrored sighting compass for extreme accuracy and would be a perfect pick for those planning to do lots of off-trail navigation, orienteering, or adventure racing.
While it does require a tool for declination adjustment, the tool is integrated on the lanyard.
One advantage of tooled declination adjustment is that once it's adjusted, you don't have to calculate it in to your navigation again. The compass automatically adjusts for it.
With a inclinometer, magnifying glass, and multiple navigational scales for map reading and measuring you'll be able to take this compass all the way from beginner to expert tasks and is the best compass for survival in the backcountry.
---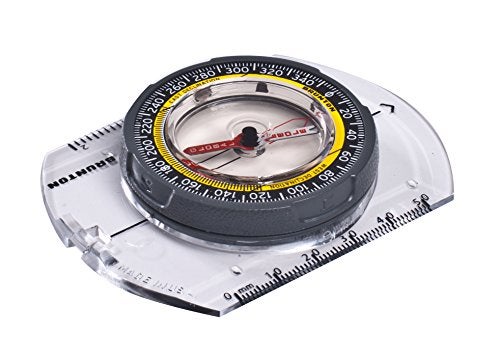 This is a seriously compact base plate compass for accurate but simple navigation. With a global needle, like the MC-2G, this compass is calibrated to work appropriately all over the world.
This compass's outer bezel reads in 2-degree resolution and features both inch and cm scales on the outer rulers.
One of the most important features for accurate navigation on any compass is an adjustable declination which Brunton delivers on the TruArc 3.
Video: Overview of the TruArc 3 Compass.
I really like that the declination can be read and adjusted without any tools. Some compasses require a special tool to adjust declination which can be a pain in the butt on the trail and make the Brunton TruArc probably the best compass for hiking.
This compass is made in the USA – if that's an important buying factor for your decision making. You're not going to get pinpoint accuracy from this compass, but you will get compact reliability for just about any situation.
---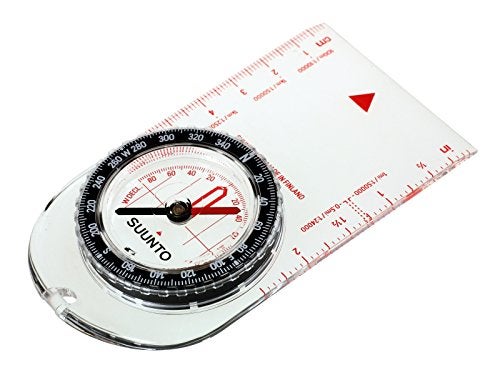 If you're looking for a compass that's functional but lightweight, compact, and minimalist then this just might be your choice. With a bare minimum of features, the A10 compass delivers clear base plate, declination adjustment, and black and white bezel.
This is a compact compass for minimal map orientation and navigation. You won't get the same accuracy from this compass as you would from an orienteering compass.
However, it's inexpensive and functional for minimal navigation and is probably the best compass for the money. It has enough features to get a competent compass user out of a tight situation.
I would recommend this compass to someone looking for a compass that will serve to orient a map and provide basic navigation. This won't be a good fit for users hoping to quickly expand their navigation skills – you'll outgrow its abilities quickly.
---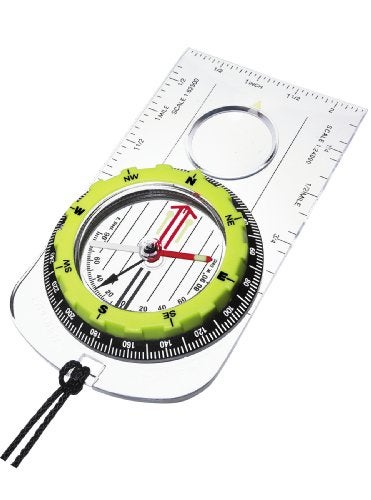 Silva packed in all the features of the Ranger 515 but without the mirror or sighting hole. This means you'll have a lighter and more compact compass with robust features and slightly less accuracy overall.
For the experienced and adept navigator, however, this should present few issues. You'll get the same gradient 2-degree bezel and high visibility navigation ring along with the magnifying glass for map reading.
Again, you'll have to adjust declination with the built in screwdriver but that comes with its own set of drawbacks and convenience. This would be a great choice for those looking to get a compass that's great for beginner to intermediate users.
With plenty of features to accurately navigate for the novice or expert, this compass would be a great middle-ground choice for general backpacking where accuracy is important.
This must be balanced with compact and lightweight navigational equipment. The Silva Explorer Pro is perfect for on-trail hiking and moderate navigational needs.
The Silva Explorer Pro may the best survival compass with its Hi-Vis color 4X luminous dial for navigating in low light conditions.
---
Compass Comparison Table
How to Choose the Best Hiking and Backpacking Compass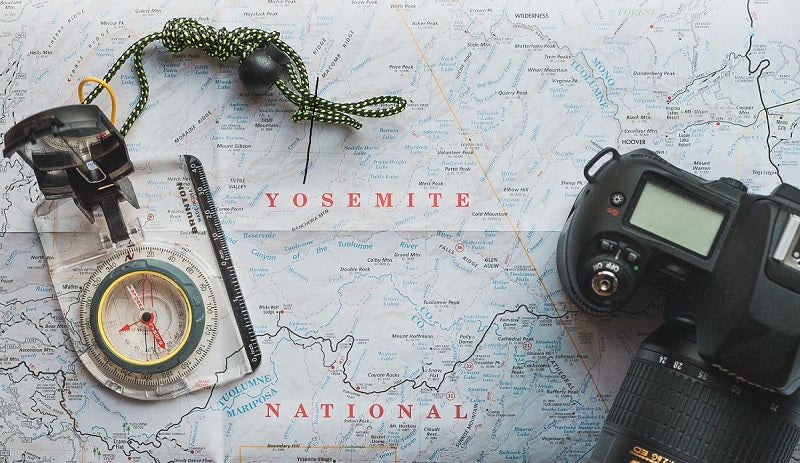 Why bother using a compass? We've already talked briefly about some potentially valuable benefits of choosing to use a compass over other devices for navigation.
Let's dive in briefly to several great reasons many people choose a compass companion.

Redundancy
Many people choose to keep compasses around for a backup. Sometimes that in a survival kit, the car trunk, or on the dash of a boat for navigation when the "lights go out". We all know that batteries and electricity, no matter the source, may run out in certain situations.
Some hikers choose to keep a small, lightweight compass attached to their zipper or on the top of their hiking pole in addition to the main orienteering compass and a handheld GPS. Of course, not everyone feels the need for three compasses, but you get the idea.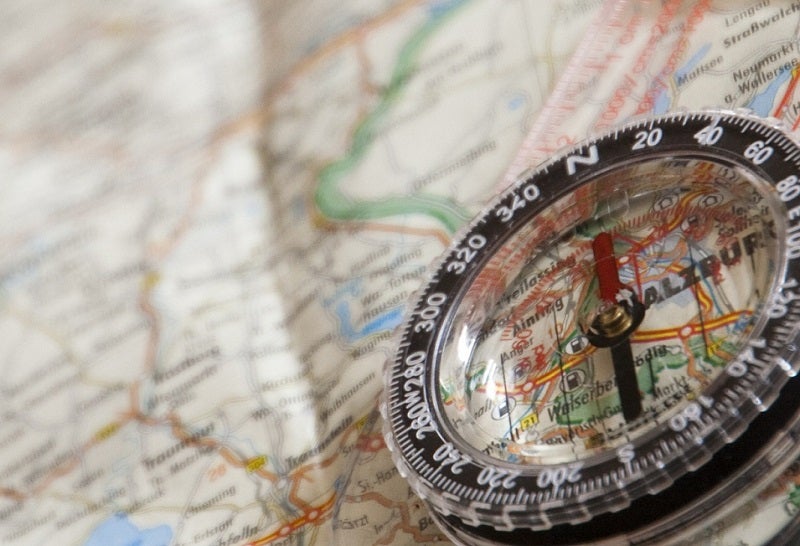 Orienteering and Adventure Racing
Adventure racing may conjure up images of the "Tough Mudder" and similarly orchestrated adventures but what we're talking about goes a little beyond.
Adventure races can vary in duration from a few hours to several days where participants must use combinations of running, backpacking, paddling, mountain biking, and other outdoor skills to navigate to and find hidden waypoints.
This must all be accomplished with nothing more than a topographic map and an orienteering compass. Orienteering, while a skill involved in adventure racing, can also be participated in as a separate activity.
Some local clubs and groups may have orienteering challenges or races involving substantially less challenge than an adventure race but operating on the same principal – use a map and compass to find waypoints before your competition.

Building Awareness
Video: How to use a compass.
https://youtu.be/988WLcUPBOE
If you're going to spend time in the wilderness hiking, backpacking, or recreating in any way, it can be important to build a base level of familiarity with navigation and orienting yourself to your surroundings.
Every year rescue operations are carried out in seemingly avoidable situations where hikers have gotten lost only to find out that they were mere miles from an easy escape.
You'll be amazed at how much more confident and comfortable you'll feel after having some training and practice with a map and compass.
Understanding how to orient the map to your surroundings, recognize landmarks, and navigate using simple terrain features will provide a huge boost for your safety (and ego).

Types of Compasses for Hiking & Backpacking
Simple Baseplate Compass
These compasses are nearly bare-bones devices with only a few features. Almost invariably, they have clear acrylic baseplates so that maps can be viewed and read through the compass.
These compasses are a great all-purpose compass for beginners and will serve most hiking and backpacking needs.
Liquid Filled Compass
Many types of compasses are liquid filled. This is not reserved for a single type of compass but rather a feature found throughout many compasses.
By adding fluid inside of the needle chamber, the compasses are buffered from movement and vibrations. Using fluid helps to dampen the swing of the compass and temper erratic movement when navigating. This is a must-have feature for any navigation purposes.
Orienteering Compass
These compasses may go by various names but they feature advanced level navigational accuracy. With clear baseplates, they're meant to navigate with topographic maps, often featuring rulers, declination scales, sighting mirrors, and clinometers.
These compasses are full featured and great for highly skilled navigators.

Considerations for Compasses
You never knew there was so much to learn about compasses, did you? Well, just to make sure you're set off on the correct path we're going to talk through a few more key points with compasses use and maintenance.
Learning to Use a Compass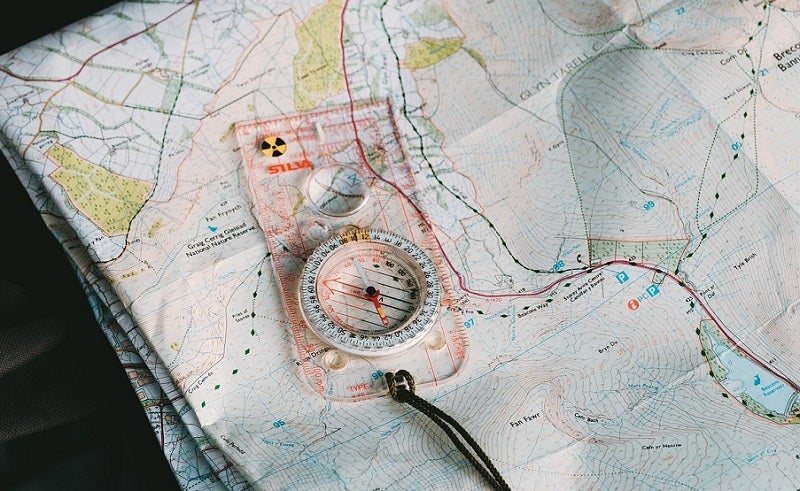 It can be quite difficult to learn to use an advanced compass. Check local outfitter stores of basic navigation classes or try some YouTube videos to familiarize yourself with the basics. One of the best ways to become an advanced compass user is to participate in a sport called orienteering.
This sport forces you to use a map and compass to navigate to hidden locations in the fastest time possible. It's an enjoyable way to learn great compass navigation!

Storing and Caring for Your Compass
When you're not using your compass, be sure to store it in an appropriate location. Keep your compass away from powerful electronics or magnets.
Both of these have the propensity to distort the accuracy of your compass over time. Remember that your compass is meant to work outdoors and may also be disrupted or inaccurate in vehicles or buildings.

Conclusion
There are compasses made to suit anyone's needs. From ultra-basic to highly advanced feature-rich navigation tools. If analog compasses aren't your tool, you can always find advanced watches and GPS tools today that will assist with navigation.
Remember that compasses never run out of batteries and can be just as accurate or more accurate then modern replacements. Learning to read a map and compass and navigate properly will instill a sense of self-reliance and skill that you won't get from following the arrow on a GPS.
For any hiker, backpacker, or survivalist, a command of map and compass skill is critical to growth.
---
I hope this guide was helpful for finding the best hiking compass to fit your needs. If you want to comment or recommend a compass I didn't include, please use my contact form to get in touch.
Have fun and be safe out there!
Notice: Outside Pursuits is a participant in the Amazon Services LLC Associates Program, an affiliate advertising program to provide a means for sites to earn advertising fees sold through by advertising and linking to Amazon.com. Amazon offers a small commission on products sold through their affiliate links. Each of your purchases via our Amazon affiliate links supports our efforts to bring you the best possible product reviews at no additional cost to you. We appreciate your support here at OutsidePursuits.com