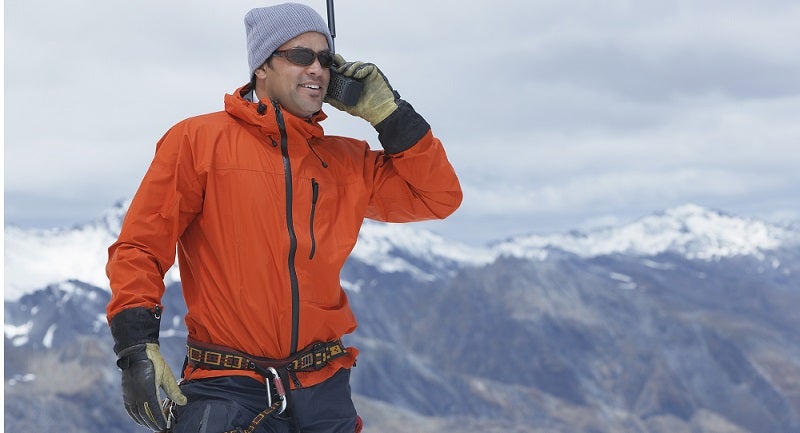 Our Editors independently research, test, and rate what we feel are the best products. We use affiliate links and may receive a small commission on purchases.
I remember as a kid being thrilled to have a walkie talkie just for fun. They were so cool and even if we didn't have anything worth using them for as kids, we sure enjoyed them.
Now, of course, you and I have much better reasons to pick up good walkie talkies and two way radios from job site management to hunting or recreation.
Unfortunately for us, picking out the best two way radio that won't waste your time and money isn't always as easy as we might like.
That's why I'm going to help you not only find some of the top walkie talkies available, but understand what qualities to look for when selecting your next walkie talkie.
By the end of this article you're going to have a solid understanding of what makes a good two way radio and what to avoid altogether when purchasing.
Best Walkie Talkies
| | Motorola MR350R | BaoFeng BF-F8HP | Midland GXT |
| --- | --- | --- | --- |
| | | | |
| | | | |
| Max Range: | 35 Miles | 30 Miles | 36 Miles |
| Power: | 2 Watts | 8 Watts | N/A |
| Channels: | 22 | 128 | 50 |
| Weather Channels: | 11 / 7 NOAA | 11 / 7 NOAA | 11 / 7 NOAA |
| | | | |
For more of my hiking gear recommendations, have a look through these popular Outside Pursuits guide links: Solar Chargers, Hiking GPS, Compact Binoculars.

Quick Answer: The 7 Best Rated Walkie Talkies For 2021
Our reviews of the top rated walkie talkies with our comparison table and buyers guide will help you choose the right pair for you.
---
Walkie Talkie Reviews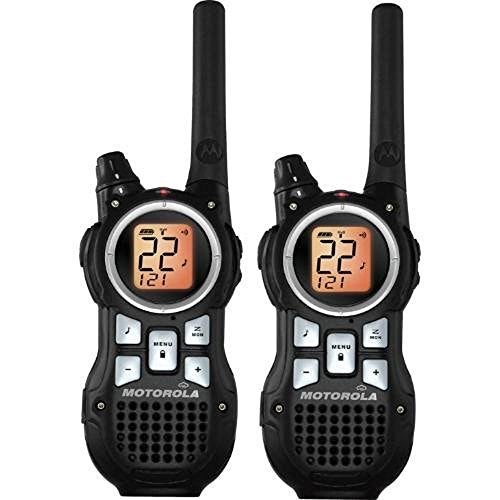 Motorola MR350R Two-Way Radio at a Glance
:
---
35 Mile Range
11 weather channels
Tons of privacy codes
iVOX hands-free communication
Motorola has been making wireless communication devices for decades and their expertise is well respected for good reason and why it is our Editors Choice for the best walkie talkie.
These powerful two-way radios have tons of features you'd expect and many that might be luxuries. I have to hand it to them, the 121 privacy codes attached to each of the 22 channels is an impressive feature.
In even the busiest areas, there should be plenty of options for a private channel.
These walkie talkies also come ready for the modern era with a vibration call alert like your cellphone. You can also choose between 20 call tones or ringtones.
You may not even have thought about it, but advanced features like hands free communication could be helpful.
The iVOX features allow the radio to keep an "open mic" so that when you talk it automatically transmits the call.
Best For: Powerful recreational users who want radios that have tons of features.

---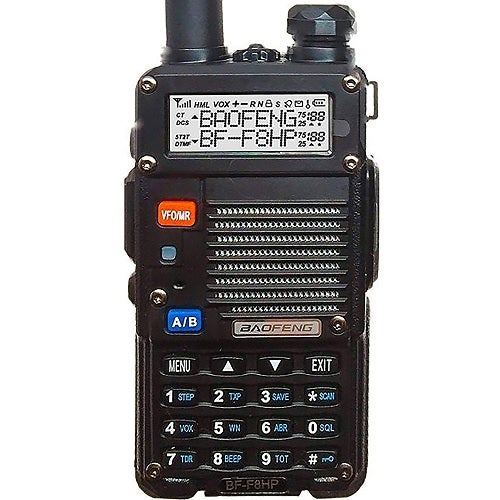 BaoFeng BF-F8HP Dual Band Two-Way Radio at a Glance
:
---
30 Mile Range
Up to 8 Watt power
2,000 mAh battery
Accessory package
With these radios we move from recreational foolproof radios into the world of advanced radio users.
That doesn't mean you can't use them for everyday activities, though. If you want a powerful handheld radio at a reasonable price… look no further!
Let's be clear first though, this radio operates a bit different from others we've been talking about. Technically this is a HAM radio and operates on VHF, UHF, and FM frequencies.
This means more options, more power, and more control for advanced users. However these 2 way radios are harder to use than your standard 22-channel recreational walkie talkie.
That said, you can choose from 1, 5, and 8-watt power output options. This means when you need the extra power you can get it, otherwise you can conserve battery power with lower output.
Among many advanced features, you can program 128 memory channels. The radio comes with a charging station, belt clip, 7" antenna, and wrist strap.
Best For: Power users who want the best two way radio such as security teams, hospitals, job sites, and other high-need users.
---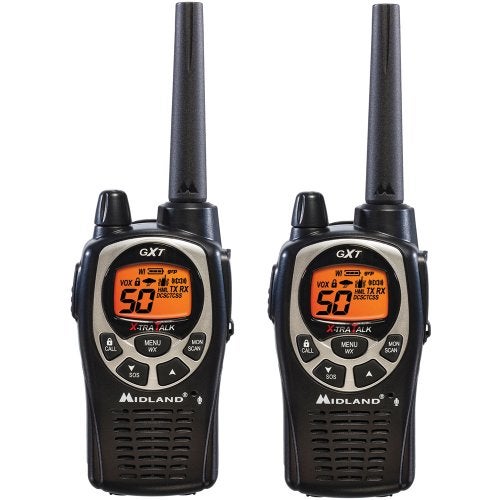 Midland GXT1000VP4 FRS/GMRS Two-Way Radio at a Glance
:
---
36 Mile Range
50 channels
142 privacy codes
Car charger and ear buds
Now going back to a more recreational and user friendly walkie talkie. If you want to be able to pick up your radio and get straight to using the walkie talkie without fiddling with settings and options, this is your go-to.
It's nice that this radio is available in 2-packs or as a single unit. If you need 3 radios you don't have to buy extras.
Of course, the real value here is the easy to use walkie talkies that won't break the bank. They come with plenty of advanced features like hands-free VOX and privacy channels.
However, they're easy enough to turn on, set the channel, and get going right away.
Luckily the charging dock for these radios comes with a wall plug and a 12v vehicle plug. You can also swap the battery packs out so that aftermarket batteries can be carried as backup.
If you want weather, it's easy to find with these radios. All you have to do is a hit a button and the radio automatically scans for NOAA weather radio channels.
Best For: Recreational users who want the best FRS radio that is easy to use with hands-free accessories.

---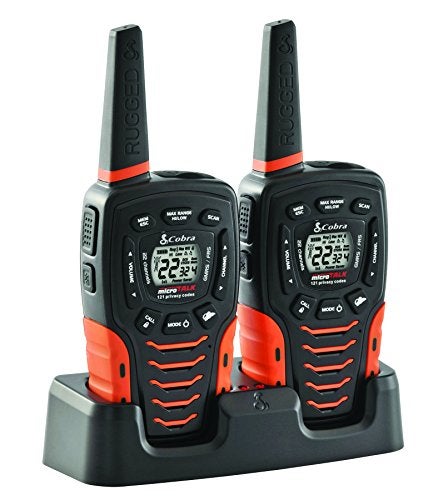 Cobra ACXT645 Walkie-Talkie at a Glance
:
---
35 Mile Range
3124 total channel combinations
Waterproof IPX4 rating
Built-in LED flashlight
Cobra has been around making walkie talkies for years. They make a great balance of quality and price in everything that they do and it shows. These waterproof radios are ready to go out of the box!
If you want weatherproof radios with weather radio, look no further. These radios are rated to the IPX4 waterproof scale and can scan up to 10 NOAA weather bands.
Like many modern walkie talkies, they're ready out of the box for VOX hands-free communication.
However, they don't come with a headset or accessory mic so you'll need some accessories if you want easy hands-free calling.
One thing they do come with that some radios won't is the rechargeable AA NiMH batteries. These batteries can be charged with the included radio dock.
Best For: A mid-price walkie talkie with broad features and good looks.

---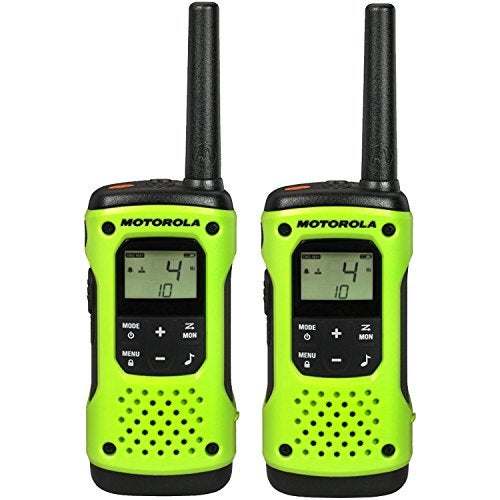 Motorola Talkabout Radio T600 at a Glance
:
---
35 Mile Range
IP67 waterproof
Floats in water
Bright yellow color
These radios take a few new spins on old looks and tech. They're a sleek but rugged design that takes a direct approach to making walkie talkies easy to use. They're made to withstand the worst nature can throw at them!
These two way radios have a handful of features that I think make them perfect choices for kayakers or emergency use. What do I mean by that?
Thanks to their bright yellow color they're easily visible and match well with first-responder bright colors.
They also are designed specifically to float. Not only that, they float face-up and when in water activate a locator beacon light. What a cool feature for users who will be around water!
For kayakers, lifeguards, or responders working near water there's no doubt that you won't find a better walkie talkie on our list. I do like that the radios also come with a padded carrying case.
Ideal for first responders looking for the best 2 way radios that is an easy to use radio.

---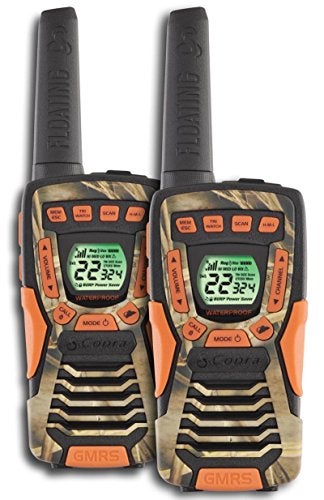 COBRA CXT1045R-FLT-CAMO at a Glance
:
---
37 Mile Range
2662 total channel combinations
Rewind-Say-Again message replay
Floating design
COBRA is going to make another appearance on our list and this time they're aimed at hunters.
These camo / orange color radios are perfect for the hunting partners in your life or that next fishing trip so you know where the crew is at.
By far the most helpful feature of these radios is the Rewind feature. What this does is automatically save 20 seconds of any radio call.
Then, afterwards, you can replay it to make sure you didn't miss anything. This is an awesome feature, particularly for emergency situations.
While the floating radio feature is helpful, it's not as robust as the T631 above. However, it's much better than having your radio plunge to the bottom of the lake.
With 22 channels and 121 privacy codes you can definitely find a free band. Particularly since these radios are tailored for hunters and remote areas thanks to their camo and orange colors.
Best For: When your need a walky talky for hunting and fishing with floating features and camo color patterns.

---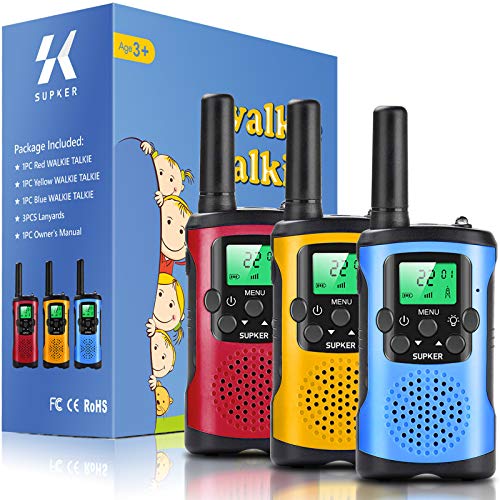 FAYOGOO Kids Walkie Talkie at a Glance
:
---
3 Mile range
22 Channels
3 AAA battery operation
Drop-resistant
I started this article by talking about my fascination with walkie talkies as a kid. And, as our final review, I want to show you the best walkie talkie for kids that can get them excited about being outside!
We know kids aren't always gentle with their toys. That's why the drop-resistant construction is important on these radios. Plus they're very simple to use with fool-proof push button operation.
But let's be honest, kids these days can figure out any technology.
Another fun feature that many radios now have is the built-in LED. For adults it's a pragmatic tool on a radio, but for kids it's a cool spy-inspired feature that makes an ordinary situation more fun!
Whether you prefer boy/girl colors or prefer to avoid them, you'll have to choose between the very defined blue and pink colors available. For better or worse the blue is a digitized camo color and the pink is blindingly bright!
Best For: Getting kids to get stoked about being outside or staying in touch with parents.

---
Two Way Radio Comparison Table
How to Choose the Best Walkie Talkie for You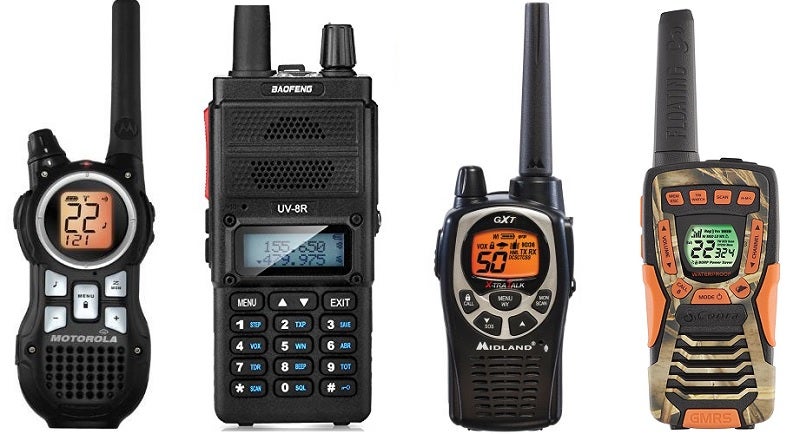 Radio Size
For many recreational users, size and weight doesn't matter much. However in application you may want to think again.
Radios vary in size and weight depending on several factors. However, you don't want to get held down by a bulky, heavy radio if you need to be light and fast.
For hikers, hunters, and backpackers a 2 way radio that is small and lightweight is ideal. Of course, too small may mean your radio lacks sufficient power to communicate over long distances, and we'll get into that later.

Radio Bands and Channels
For the majority of radios that you'll want to use during recreational use, the channel bands are simple. In fact you'll likely never even need to know anything about them. Just in case though, let's review a couple important facts.
A simple 22-channel radio requires no license or permission to operate. These function on a simple Family Radio Service frequency. Even at crowded events like an air show or busy campground you should be able to find an available channel.
In order to operate a radio with access to more frequencies you may need licensure. Most of the time these simple licenses are easy to obtain but it's an unnecessary hassle unless you have some reason to use specialized channels, just avoid them.

Power and Range for 2 Way Radios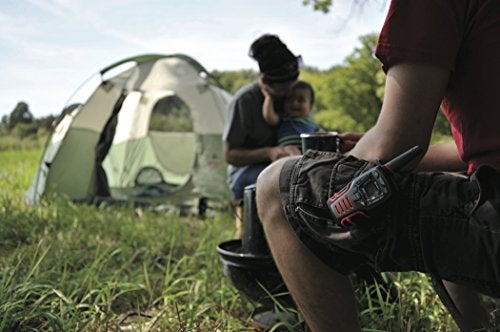 Walkie talkies will make some pretty wildly skewed claims about range. It seems that every cheap radio claims it can communicate at absurd distances like 20 miles or more. Truth is, those numbers are based on data that simply doesn't hold up in the real world. You'll be lucky to get 2 miles of distance out of even a quality radio.
For general use on the FRS radio frequencies a maximum power output of 0.5 watt will yield a short distance range. You'll find that these two way radios operate at somewhere between 1-3 miles depending on conditions.
If you need more power, you'll have to jump up to the GMRS frequencies which require a license to operate. These units can reach power levels up to 50 watts for stationary base units but often operate on 1-2 watt handheld devices in the field.
These higher powered radios are useful for scout camps, job sites, or major construction projects. They have ranges that really can reach up to 25+ miles in good conditions.
Most recreational users will want to stick with the low power FRS units. For businesses and power users, look into the GMRS radios.
The power of the radio you choose to use should depend on several factors:
Line of sight impacts signal in a very real way. If there are walls, hills, trees, or mountains between you and the other user, you'll need a more powerful radio to connect.
Weather can impact signal. Clear skies tend to allow radio signals to travel further. Cloudy, stormy, or even foggy atmospheric conditions all reduce range in most cases.

Privacy and Interference Codes
In super busy areas there may come a time when 22 channels of options just isn't enough. So, what's to be done? You could try smoke signals, I guess… or…
Using interference codes essentially gives you an extra set of channels to communicate on. Most radios will have channels 1-22 but each channel can have a sub-channel. These sub-channels (for instance: Channel 5 Code 2) each provide an extra exclusive chat channel on their own.
Of course, there's not actually a way to encrypt or lock other users out of your channel. It just provides more lanes if traffic is busy, so to speak.

Battery Life
Battery life is important to users with low access to to charging stations. This means hikers, backpackers, and hunters are likely to all prioritize battery life features. If you're using the radio on a worksite, as a security team, or around the house then your chances of being without power are slim.
For backcountry users without access to power where you can charge up, you'll want your battery to last as long as possible. This is determined by two things.
First the power of your radio makes an impact. The higher power (wattage) the more battery it will consume. For two radios with the same battery size, the one with a higher wattage will go dead faster.
Second the sheer size of the battery inside your radio makes an impact. Battery size ranges from model to model but is measured in mAh or milliamp hours. The bigger this number, the more "juice" your battery has.
When you need more battery power one good solution could be a spare battery. Before buying a walkie talkie, find out if it has changeable batteries. Some small devices operate off of AA batteries. Others have proprietary battery packs.
The cost of spare batteries can range widely so do your research before you purchase to make sure it's within your budget to pick up a couple extra batteries!

NOAA Radio
Because we often write about outdoor sports, we know weather is an important tool for you. Having access to a weather report, even if crude, can be very critical in the backcountry.
Luckily, some two way radios and walkie talkies have built in weather band channels. You may not know this but NOAA broadcasts weather reports around the country 24/7. If you tune your car radio or walkie talkie to the correct signal you'll get weather reports!
It's worth noting that if you're particularly deep in the backcountry, especially in remote areas, you may not pick up a weather band signal at all.

FAQs For Two Way Radios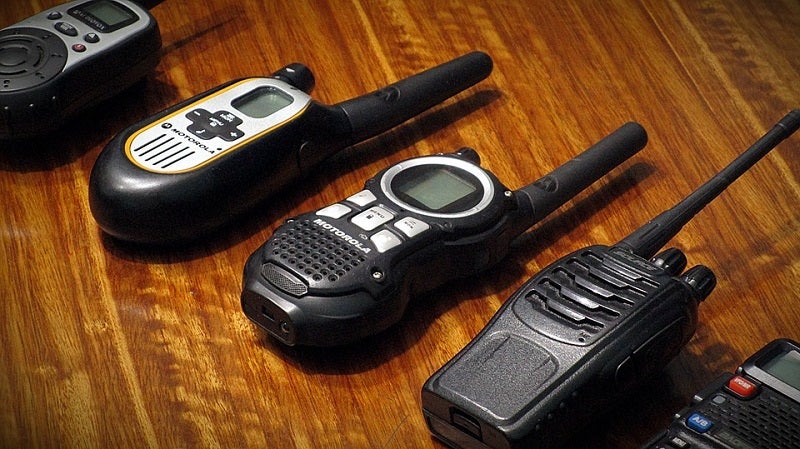 Q: Do I need a license to operate my radio?
A: Usually not! If you're operating a push-button 22 channel radio, you probably won't need a license. Check the users manual that came with your radio to be sure.
If you're operating a more advanced radio such as a HAM or GMRS you may need an advanced license.
Most users just don't need these advanced radios, so you'll probably want to stick with a simple recreational radio.
Q: How far can my radio communicate?
A: We talked about this a little earlier in the article. However, let's take the gloves off and be real for a second.
Often radios are advertised at silly distances like "35+ miles". These advertisements quickly fall apart when you realize this is a "unobstructed" number. If hills, walls, houses, buildings, trees, or mountains are in the way you can see this number fall by 90% or more.
Most recreational radios will operate between ½ – 2 miles on average.
Q: Should I use AA batteries or a battery pack?
A: That's a great question! When it comes to walkie talkies I think that AA batteries are a good choice for most recreational users.
If you're at the campground or out hiking and can't recharge your walkie talkie, it's easy to swap AA batteries. There are many situations where recharging an internal battery is hard or impossible. However, taking along some extra AA batteries or buying them from the campground store is very easy!
Outside Pursuits Overview
I tried to make sure that our reviews represent a variety of walkie talkies that all users might enjoy. Whether you want a cheap walkie talkie, one that floats, or one with the most advanced features you can find them here on our list.
Of course, before you go buying the first thing you can find – make sure you read through the "how to choose" segment.
Remember that the radio you choose should be primarily based on how you want to use it. Walkie talkies for kids don't need all the features of radios for first responders so make sure that you spend your money on a radio with the features you really need.
Once you've found the right radio for you it will be your trusted companion!
How We Researched
To come up with the top hiking boots we researched a variety of sources for reviews such as REI, Bass Pro Shops, Cabelas and Backcountry along with our own personal experience.
We also consulted online magazines for product research and reviews to get as much unbiased information as we could. To help weed out fake reviews we used Fakespot.com to make sure we only looked at genuine reviews.
With so much quality gear available, we had to narrow it down based on what we felt were the best options for the price. The author, Casey Fiedler has been leading backpacking trips for over a decade in his native state of Michigan.
To help narrow down the selection he used his personal experience along with recommendations from fellow guides and outfitters.
After extensive research, we came up with our list to help you choose the right one for you.
Sources
---
I hope this guide was helpful in picking the best walkie talkie to fit your needs. If you want to comment or recommend a two way radio I didn't include, please use my contact form to get in touch.
Notice:
OutsidePursuits.com is a participant in the Amazon Services LLC Associates Program, an affiliate advertising program. OutsidePursuits.com earns fees from products sold through qualifying purchases by linking to Amazon.com. Amazon offers a commission on products sold through their affiliate links.