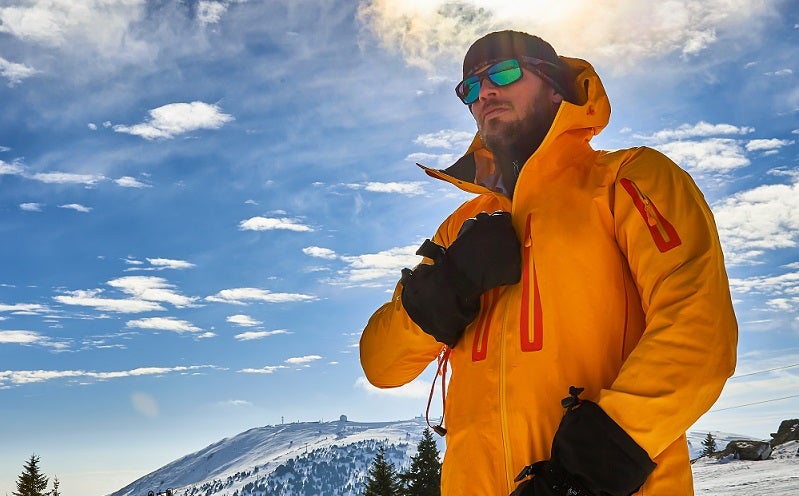 Picking the best ski jacket is a difficult task because it has to perform well in a wide range of conditions.
Everything from well below zero to warm spring skiing while being waterproof and breathable at the same time.
Having been a ski instructor for over five years in Utah I can tell you what makes a good ski jacket. There are features you must have and some you can leave behind.
Now I'm going to help you find the right ski jacket.
We'll look at some factors in choosing your next ski jacket and suggest a few top performers.
Ladies: can skip to the Best Womens Ski Jackets.
For more of my top gear recommendations, have a look through these popular Outside Pursuits guide links: Ski Pants, Ski Gloves, Ski Helmets
Quick Answer: The 5 Best Ski Jackets For 2018

Here is a feature comparison of my 3 top rated ski jackets with full reviews and our buying guide below.
Best Ski Jackets
| | The North Face Carto Triclimate Jacket | Columbia Whirlibird Interchange Jacket | Arcteryx Beta AR Jacket |
| --- | --- | --- | --- |
| | | | |
| | | | |
| Shell: | 100% waterproof nylon | 100% waterproof polyester | 100% waterproof GORE-TEX Pro |
| Liner: | 100% "Heatseeker" polyester insulation | Omni-Heat Reflective Microtex polyester Insulation | Breathable polyester liner |
| Features: | 3-in-1 jacket with removable liner, waterproof zippers & detachable hood | 3-in-1 jacket with removable liner, waterproof zippers & detachable hood | Watertight pit zippers, reinforced shoulders & elbows, helmet compatible Drop Hood. |
| | | | |
Best Men's Ski Jackets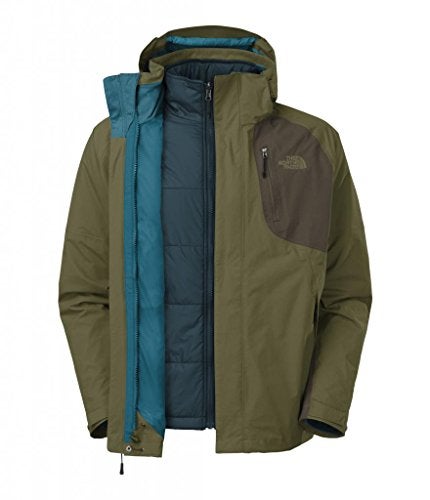 The North Face Men's Carto Triclimate Jacket at a Glance
:
---
Shell: 100% Waterproof nylon
Style: 3-1 Modular jacket
Insulation: 100 g/m² Heatseeker™ insulation
Other: Breathable, fully seam-sealed and adjustable, removable hood
The North Face has been in the game of outdoor clothing since the 1960's. Founder, Douglas Tompkins being dissatisfied with hiking jackets at the time decided he could do better and The North Face was born.
For this reason their products are usually well thought out and not too far off base. They've managed to wiggle their way into being one of the most widely recognized names in the industry by making some of the best outdoor clothing.
The Men's Carto Jacket is a 3-1 ski jacket that continues this tradition of quality gear and is the culmination of everything they have learned over the last 50 years.
You'll pay a decent price for the name brand and for the "breathable" HyVent fabric (North Face's in-house fabric) but when you wear the jacket you will understand why it cost a little more than other jackets.

The breathable HyVent 2L shell when paired with their "Heatseeker" insulated liner makes it one of the warmest ski jackets available so you will stay warm even on the coldest of days.
And when spring season comes around, you can take out the insulated liner and just use the completely waterproof shell.
Their HyVent insulation really sets this jacket apart from the fleece-crowded market.
Your going to pay a little more for the Carto jacket but you will have a jacket that is going to give you years of service and with its flexibility, you can use it all season long.
As with most ski jackets, it comes in several styles and colors, one of them is sure to suite your style. If you afford to spend a little more the The North Face Carto jacket is in my opinion the best ski jacket.
Women's Model: The North Face Women's Cinnabar Triclimate Jacket
---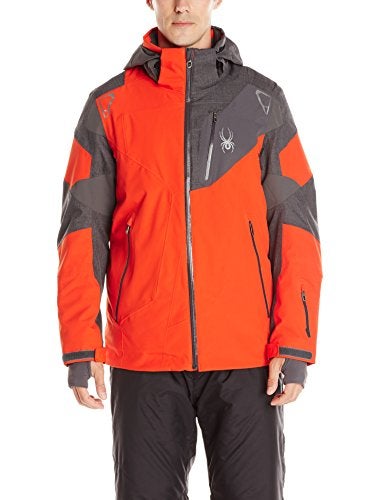 Spyder Leader Jacket at a Glance
:
---
Shell: 100% Waterproof DWR polyester
Style: One piece
Insulation: 100 g/m² of 3M Thinsulate™ Insulation
Other: Fully seam taped, removable helmet compatible hood
The Leader ski jacket is one of Spyder's least expensive offerings but being made by Spyder you are ski getting a worthy contender for your money.
The Leader has 80 grams of 3M Thinsulate insulation so you know it will keep you warm. However it does not have a removable liner like the Columbia Whiribird or North Face Carto jackets so that's a minus in my opinion.
However, I can count on one hand the times I have actually removed the liner from my jacket, the only time you will is if you're spring skiing when it's really warm out.
In those conditions breathability and being waterproof are far more important.
The Leader is 100% waterproof with "Spylon (DWR)" coating, waterproof zippers and taped seams. With the Bemis anti-abrasion resistant shell it will last you many seasons.

If you tree line ski, it will resist the scratches from tree branches you will encounter.
It has a removable and adjustable helmet compatible hood plus it comes with wrist gaiters to keep the wind and snow out, even if you take a digger.
You're going to be comfortable all day on the slopes with its "core ventilation system" and with the DWR coating on the shell, one of the best waterproof ski jackets available.
Even being one of Spyder's most inexpensive ski jackets, you will not go wrong with this jacket.
Women's Model: Spyder Women's Project Jacket
---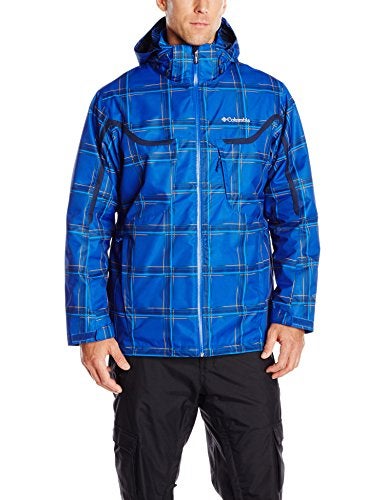 Columbia Whirlibird Interchange Ski Jacket at a Glance
:
---
Shell: 100% Waterproof nylon
Style: 3-1 Modular jacket
Insulation: 80 g/m² Omni-Heat™ Reflective Microtex
Other: Breathable, waterproof, windproof and critical seam-sealed shell
Columbia is a company that has been around since the 1930's and I have long touted as one of the best quality-value ratio outdoor gear manufacturers in the market. Especially if you're lucky enough to live nearby a Columbia Outlet store, the value ratio of their product simply cannot be beat.
The Whirlibird Interchange Jacket is no different. It has a nylon outer shell with "selective seam taping" is not going to be completely waterproof in any major sense but we already know that's not super critical in a ski coat.
Polyester insulation and inner lining is a great choice of materials and serves to move this jacket up on the list.

A removable hood is a feature I love on a ski coat and earns this jacket brownie points! Featuring an adjustable powder skirt really just seals the deal on this economy-priced jacket.
It'll be hard to be disappointed in this jacket especially at the variety of price points it is available at.
If you don't happen to be near a Columbia Outlet you can find this jacket for a killer deal on Amazon. For the style conscious skier they have quite a few colors and styles available.
I would not hesitate to recommend this jacket for a full featured entry-budget skier jacket. It's probably the best ski jacket for the money.
Women's Model: Columbia Women's Whirlibird Interchange Jacket
---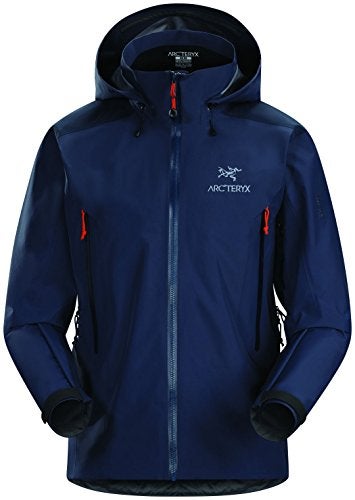 Arc'teryx Men's Beta AR Ski Jacket at a Glance
:
---
Shell: 100%

Ripstop

nylon waterproof GORE-TEX®
Style: One piece shell
Insulation: Liner only
Other: Helmet compatible drop hood with pit zippers
If Columbia is a company I have touted as value based, Arc'teryx is absolutely (in my opinion) the opposite. Without a doubt it is the outstanding "premium" name brand in the outdoor gear world.
Arc'teryx is a Canadian based company that got its start making products for the military and moved into the civilian market in the late 1990's
In my opinion many of their products do not deserve the high price tags. However, the Beta AR ski jacket is not in that category.
Keep in mind that, unlike the other jackets I reviewed, this one does not come with a removable insulated liner.
This jacket is primarily a shell with a thin layer of insulation but amazing it is incredibly warm. On really cold days I would use a good breathable base layer or a sweater.
The high-end GORE-TEX® Pro waterproof fabrics combined with reinforced shoulder and elbows make this one the most rugged and long lasting jackets on the market.

The Beta AR jacket has a helmet-compatible, easy to adjust hood plus a separate collar to keep out the cold air. The jacket includes large "pit-zips" for ventilation when its warm out which is a critical inclusion in my book.
One of the odd features left out was the lack of a powder skirt. This is without a doubt a ski jacket that will last you many years and is the best Gore-Tex ski jacket.
Women's Model: Arc'teryx Women's Beta AR Jacket
---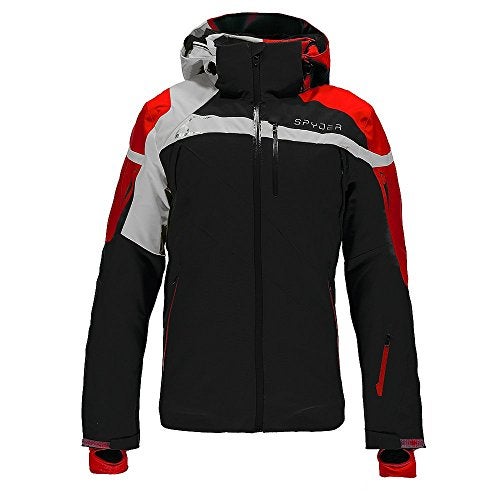 Spyder Titan Ski Jacket at a Glance
:
---
Shell: 100% Waterproof polyester Spylon DWR
Style: One piece shell
Insulation: 60 g/m² of 3M Thinsulate™ Insulation
Other: Fully seam taped, removable helmet compatible hood
Spyder based in Boulder Colorado, is one of the official suppliers to the US Ski Team so that should tell you something about the quality of Syper Jackets.
The Titan is one of Spyder's latest offerings and in my opinion is one of the better ski jackets on the market. It is definitely one of the warmest ski jackets with its 60g of Thinsulate insulation while maintaining a thin and flexible design.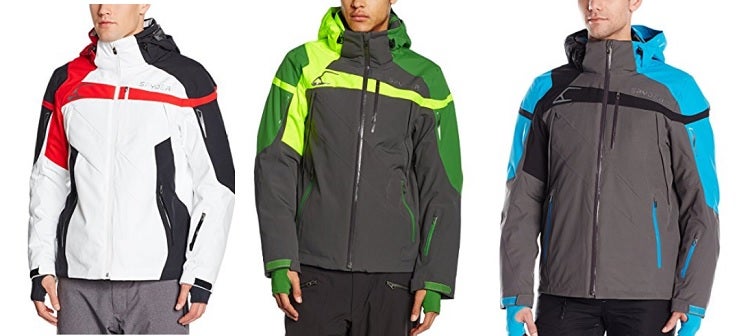 The jacket has all the necessary features of a quality ski jacket like a removable helmet compatible hood. The jacket is fully waterproof with all seams fully taped plus an abrasion resistant coating on the vulnerable parts of the jacket.
The Spyder Titan has a removable power skirt that is a necessity in my opinion. The Titan also has a ventilation system for spring skiing or when the weather turns warm.
While certainly not the cheapest ski jacket, you could pay a lot more for less of a jacket. The Spyder Titan's racing roots show through with this jacket. It won't make you an Olympic skier but you may feel like one wearing the Spyder Titan.
Women's Model: Spyder Women's AMP Ski Jacket
---
Men's Ski Jacket Comparison Table
| Men's Ski Jacket | Shell | Style | Insulation | Features |
| --- | --- | --- | --- | --- |
| The North Face Carto Tri-Climate | 100% waterproof nylon | 3-1 Modular jacket | 100 g/m² Heatseeker™ | Fully seam-sealed, removable hood |
| Spyder Leader Jacket | 100% DWR waterproof polyester | One piece | 100 g/m² of 3M Thinsulate™ | Fully seam taped, removable helmet compatible hood |
| Columbia Whirlibird Interchange | 100% waterproof nylon | 3-1 Modular jacket | 80 g/m² Omni-Heat™ Reflective Microtex | Breathable, waterproof & critical seam-sealed shell |
| Arc'teryx Men's Beta AR Jacket | 100%waterproof Ripstop nylon GORE-TEX® | One piece shell | Liner only | Helmet compatible Drop Hood with pit zippers |
| Spyder Titan Ski Jacket | 100% waterproof Spylon DWR | One piece | 60 g/m² of 3M Thinsulate™ | Fully seam taped, removable helmet compatible hood |
How To Choose the Best Ski Jacket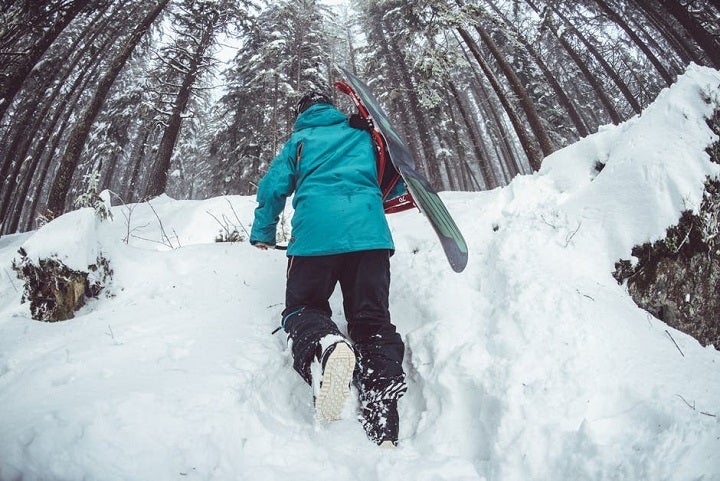 It seems like outdoor gear companies these days are using every hype word they can think of (or make up) to get people excited and extremely confused about what they're actually buying.
We're going to set you straight when it comes to buying your next ski jacket. This article will take you through what to look for, what to avoid, and how to smell that BS when the local outfitter tries to sell you something you don't need.
Once you understand what to look for in a ski jacket you'll be able to make a decision which saves you money and improves your skiing experience.

What is Layering?
If you've dressed for the outdoors before, you've probably heard of layering. Layering is a methodology for dressing which leaves the wearer with many varying combinations of clothing that can accommodate a wide range of weather eventualities.
In other words: wearing a shirt, sweater, and jacket gives you more options than just wearing one really thick coat.
Types of Jacket Layers
We're going to break down layering here into only two main groups:
Shells
Shells are the outermost layer and are very critical to the success of a good layering plan. Shells have one primary job – to create a barrier between you and the weather.
Shells are usually either windproof, waterproof or (ideally) both. If your shell is waterproof it is also windproof. The reverse is not always true.
Insulation
Insulation comes in two flavors – natural and synthetic. The three main examples are merino wool, polyester, and goose down. For the cold winter months down insulation is probably the best, albeit most expensive, choice.
Insulation layers always go under the shell and are primarily responsible for trapping and retaining body heat.

Types of Ski Jackets
When it comes to ski jackets we're going to look at a few styles with different approaches to layering:
Modular "3-in-1" Jackets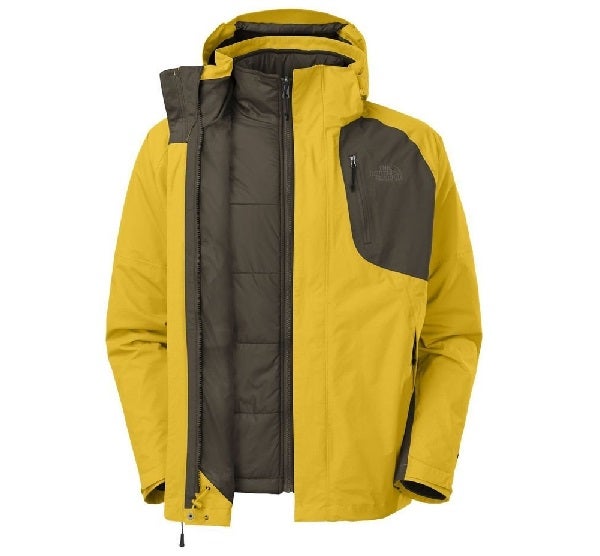 Becoming very popular in the last few years are the modular jackets. These jackets take an all-encompassing approach to layering and, when you purchase one, they come with everything you need to make 3 separate layers.
Here's how it works: You get a shell and an insulation layer when you purchase a 3-1 system. The only real neat feature here is that they're usually made to zip together.
Why is this even important? Because, when zipped together, you have a single jacket which acts as your insulation and shell in one. When zipped apart you can choose shell or insulation – or both.
These systems provide an easy no-brainer type solution to layering.
The major downside? You're stuck with whatever combination of shell and insulation the manufacturer deems appropriate. This isn't so good for customizing but you can always just get a different shell insulation later and swap them out. The The North Face Carto Tri-Climate Jacket is an excellent example of this type of jacket.
NOTE: Additional shells or insulation layers may not fit the zipper system of your original 3-1 coat so you may have to wear them as individual layers (something I prefer to do anyways).
Insulated Shells
Most lower-end ski jackets are the "insulated shell" type of jacket. It is far and away less versatile and adjustable than a 3-1 layering system, the insulated shell comes with thick insulation permanently sewn inside the jacket.
I'm not a fan of this type of jacket, mainly because they tend to be heavier and bulkier than a 3-1 modular jacket.
This really sucks when its spring skiing conditions and everyone else is stripping off layers while you're soaked in sweat inside your non-adjustable coat. If you plan on doing any spring skiing then I would not consider this type of jacket, even though you may save some money.
There are very few situations outside of polar exploring where insulated shells have an advantage over good adjustable layering systems.
Only consider these options for the most extreme cold conditions.
Soft Shell Jackets
A relatively new option in jackets. This type of jacket is a hybrid of a hard shell and an insulation liner such as a fleece jacket. This jacket is not a bad option in warmer conditions early in the season or spring skiing where it tends to be warmer.
They do not offer the same water resistance of a hard shell but if don't fall often or its not raining then I think this a good way to go. I would consider this only if you ski frequently and have other jackets.
Hard Shell Jackets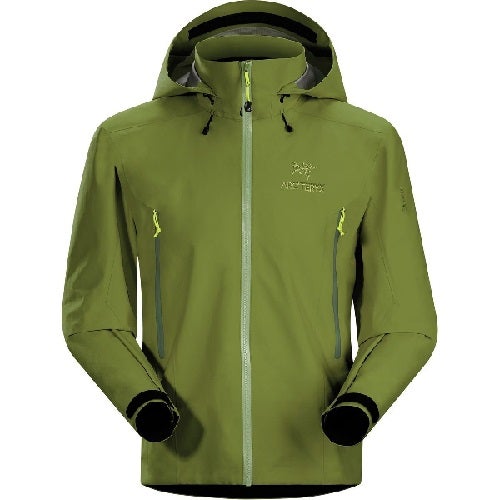 This type of jacket is mainly for protection from the elements, like wind, sleet and snow. A great example of just a quality hard shell is the Arc'teryx Beta AR Jacket.
When you choose this option you are choosing the "Homemade layering" (see below) I would consider this option for a frequent or experienced skier who needs maximum flexibility with their layering.
As you get to know the conditions and what layers works best, you can dress exactly the way you need to. For the once a year skier/boarder the 3-1 modular jacket is probably a better option, like the Columbia Whirlibird Interchange Jacket or the The North Face Carto Tri-Climate Jacket.
Homemade Layering Systems
It's worth noting here that it is possible and, often, advisable to create your own layering system. Selecting your own hard shell jacket and insulation layer (or multiple different layers of insulation) means you have full control over every variable.
Most outdoor professionals will choose this method due to the superior level of control provided in choice of gear.
Homemade layering system won't be able to zip together into a single garment the way 3-1 systems do but that's a very minor drawback when compared to the great benefits offered by choosing your own appropriate clothing layers.

Choosing a Ski Jacket Shell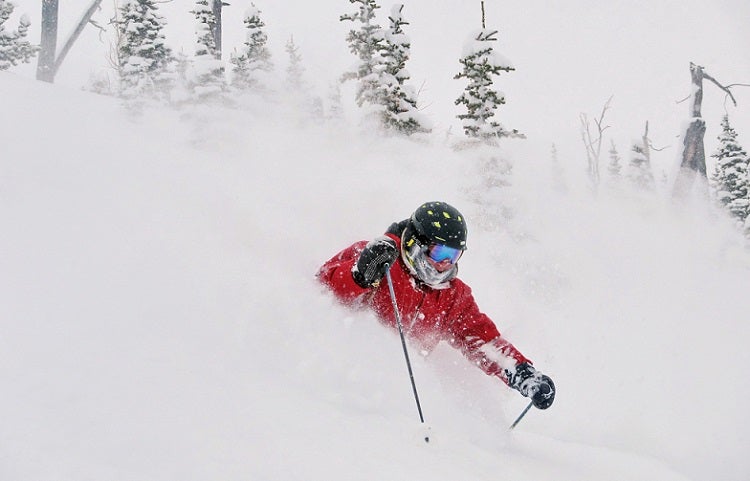 Picking a shell can be a confusing process when you begin to consider how many features and options are out there.
On top of this, manufacturers are always trying to come up with new ways to make common features sound like the most groundbreaking thing since the wheel. Let's talk about what you really need to know:
Waterproofing
Waterproof layers are really only necessary if you're planning to ski in spring conditions. For the majority of skiers, a waterproof shell is absolutely not necessary for resort skiing.
Waterproof breathable shells are all the rage and hyper expensive. They're really not necessary and you're a lot further ahead letting your upper body "breathe" by halfway unzipping the jacket or opening the "pit zips" found in higher end jackets for ventilation.
Before shelling out the beaucoup bucks for waterproof breathable shells, consider how likely you really are to end up in a situation where you're getting rained on while skiing.
When you're looking at the spec's for ski jackets you may notice a water resistance rating. It is usually expressed in mm or mil. This rating describes how water resistant the jacket is.
It's a bit technical but it goes like this:
Take a column of water and how high the water column needs to be before the water soaks through is its "mil" rating. For example, if the jacket is rated at 5,000 mil, it will take a column of water 5,000 mm's high (200 inches) before it can start to soak through the shell of the jacket.
Most jackets are rated at least 5,000 mil with real high end jackets going all the way up to 20,000 mil. Not all jacket makers use this scale or the rating for their jackets.
Another term you see thrown around is "taping" and there are two taping methods. First is the "fully taped" seams, meaning that ALL seams have been sealed with some type of coating to make sure water does not get in and provides a measure of extra durability.
You will find most high end jackets "fully taped" like the Spyder Titan Ski Jacket.
There is also "critical taped" this tends to be on more mid-range jackets and means that only the major seams like the sides and outside of the arms are taped for extra water resistance.
Windproofing
Windproof layers which are not waterproof are often less expensive. These jackets are sometimes called "soft shell" jackets. In most winter time resort skiing conditions a softshell outer layer is just the right amount of weather protection.
Advantages of softshell windproof layers include flexibility (made from stretch material) and much better breathability than even the most advanced waterproof coats.
Breathability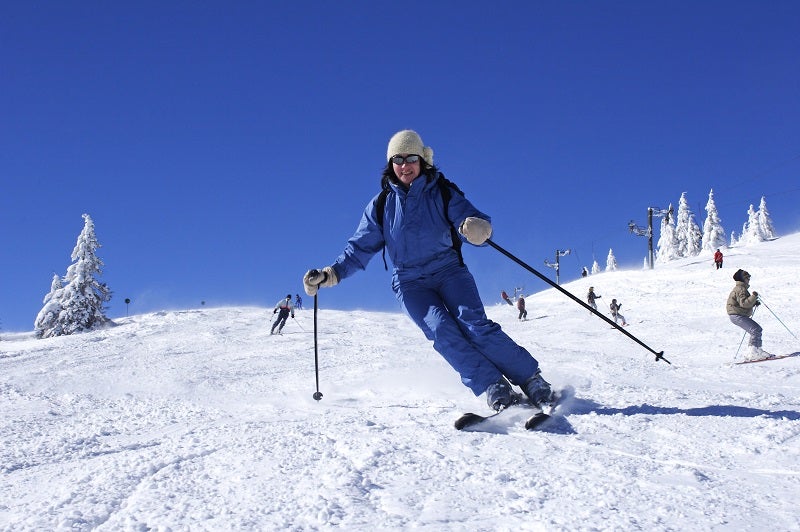 Another term you are likely to hear in regards to jackets is "breathability". It has its own rating like waterproofing. The breathability of the outer shell is measured in "grams". This rating tells you the amount of water vapor, (perspiration) will evaporate through the material in a 24 period.
Like mm or mil, the higher the better and of course the more it costs. It can be useful when comparing jackets and is mainly only a consideration if you ski in warmer conditions or a hard charging skier who works up a sweat.
If you are a backcountry skier who hikes for a few hours to get to the location, then breathability is a more important consideration for you. For the rest of us, this is really not that critical.
Ventilation
Extremely critical for a good shell layer – ventilation options. My personal favorite, and the option I think is most critical in choosing a shell, are "pit-zips".
Large zippers under the arms are great way to dramatically increase the temperature range at which your shell layer can be worn.
Fit and Sizing
If you are choosing a shell only jacket, make sure you order a size or two larger than normal for you is definitely important.
Why go up a size?
You'll want room under that shell for your insulation layer. The other consideration is the length of the jacket. If you have a longer torso, be sure to get a jacket that is cut longer. Not all jackets will reach much past your waist.
In my mind a longer jacket is better because they will help keep the cold and snow out. This is especially important for beginner skiers/boarders who tend to fall more often and will get snow inside of their jacket if it doesn't reach far enough down.
A "snow/powder skirt" can prevent this however. (discussed below) If you're buying a 3-1 system then simply choose the size which fits you best.

Powder Skirt
Another mandatory feature is a powder skirt.
Most ski shells come with an elastic cord around the bottom hem to help seal the jacket against the weather. Don't confuse this with a true powder skirt – powder skirts are inside the jacket.
Usually a handful of inches above the bottom of the garment, and provide and additional adjustable seal around your waist to keep out the snow when you take a digger.

Hood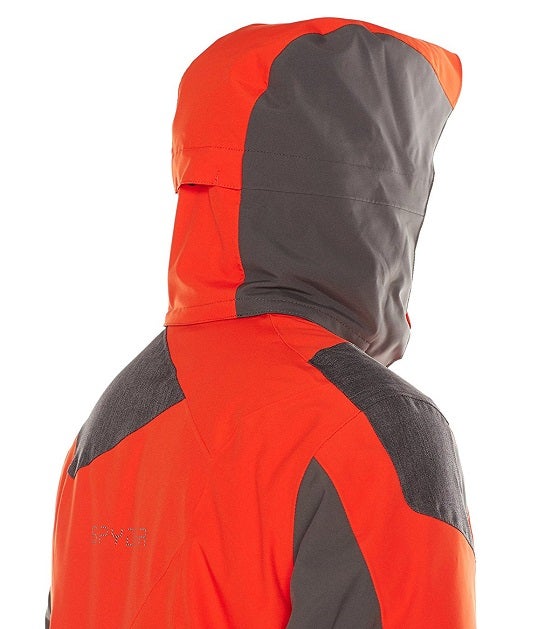 If you're skiing with a helmet (and you should be, see our ski helmet reviews here) then a hood really isn't going to do you any good.
Look for shells with removable or stowable hoods. Often times feature-rich shells have a small pocket into which the hood can be stashed.
Some jackets feature a "helmet hood" but these are usually meant for covering climbing helmets and often won't fit the larger ski helmets.
Helmet skiers are left with the beanie option for extra warmth though it's rarely necessary with a good helmet.

Extra Features
Some of the better ski jackets offer some extra features that can come in handy and some are necessities. One feature you may find on jackets are "pit zips", these are a necessity in my book.
When unzipped they allow plenty of air flow under your arms when you start getting warm. They allow you to regulate your temperature to your liking.
Some jackets have special ski pass pocket, now that most ski mountains give you card instead of the clip on paper pass, this can come in handy on the lift line.
Most jackets come with adjustable and storable hoods but now that most people wear helmets this is not much of a benefit anymore. I cannot remember the last time I used mine on the slopes.
Make sure there are plenty of pockets for keeping snacks, phone, water, a neck gator etc.

Choosing Insulation
Once you've smartly chosen your favorite shell, you'll want to start looking at insulation. Don't ignore this even if you're buying a 3-1 system because understanding what insulation you're buying is really important to making an informed buying decision.
Fleece
Fleece comes in many thicknesses and weights. Windproof fleece is amazing and if you can find it, don't hesitate to pay the extra price.
Look at the fleece in your 3-1 jacket to make sure it's thick (or thin) enough for your needs. Not all 3-1 jackets are made the same!
Fleece is really just specially woven polyester!
Synthetic
Okay, I know fleece is synthetic, but it has its own category. Synthetic insulations are usually some variation of polyester insulation trapped inside a nylon garment. There are as many different colors, brands, and warmth variations out there as you could ever imagine.
Synthetics are great for wet conditions where your insulation might become soaked. This is only a real potential in spring skiing.
Down
You won't find down insulation unless you take the DIY approach to making a layering system or, if you've got the budget, you start considering extremely high end 3-1 layering options.
Down usually comes from geese but sometimes you'll find duck down. These little feathers are hyper-insulating and extremely lightweight. Added benefit? They're highly compressible meaning you can smash your jacket into a tiny ball for packing.
Drawbacks include high price and a severe loss of insulation if the down becomes wet. Maybe not the best choice for late spring skiing.
Packability
Alright, I made that word up, you caught me. It is, however, worth noting that many insulation layers come with the cool feature of being able to pack down inside of their own pockets for luggage and travel. This is a feature I have enjoyed many times.

Best Brands of Ski Jackets

This is a bit subjective of course and if you ask 10 skiers what the best brands are you will get 10 different answers. There are some ski jacket makers that always seem to get mentioned and not by coincidence they are the jackets reviewed here.
These jacket makers have been around for a while and have excellent reputations for making quality equipment.
Spyder – Almost always at the top of everyone's list, and since the US Olympic team trusts them, you can too.
Arc'teryx – A Canadian company that got its start making jackets for the Canadian Mounties, so you know this is a quality bran.
The North Face – Always a good option for ski gear as well, many people swear by this brand.
Helly Hansen – who is probably better known as a maker of Women's jackets is a great option as well.
Columbia – Usually on most peoples list of the best ski equipment, they are in my opinion one of the best price/performance brands on the market.
---
I hope this guide was helpful for finding the best ski jacket to fit your needs. If you want to comment or recommend a jacket I didn't include, please use my contact form to get in touch.
New to skiing? See my beginners guide to skiing for tips and advice.
Have fun and be safe out there!
Click here to return to the reviews.
Notice: Outside Pursuits is a participant in the Amazon Services LLC Associates Program, an affiliate advertising program to provide a means for sites to earn advertising fees sold through by advertising and linking to Amazon.com. Amazon offers a small commission on products sold through their affiliate links. Each of your purchases via our Amazon affiliate links supports our efforts to bring you the best possible product reviews at no additional cost to you. We appreciate your support here at OutsidePursuits.com