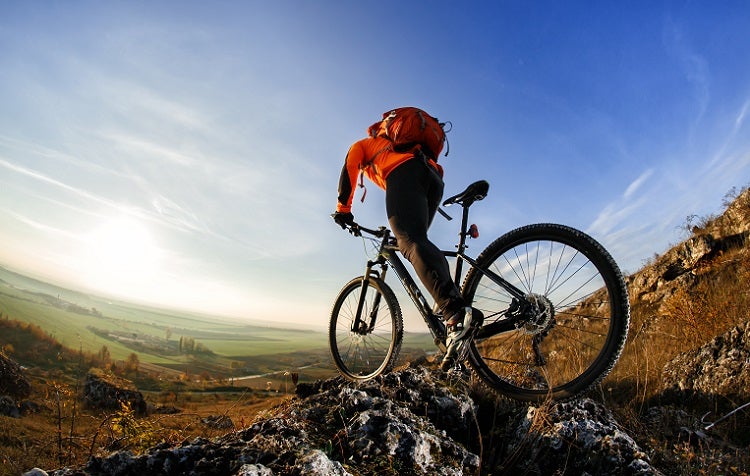 MTB backpacks are a necessity for mountain bikers for a number of reasons. The combination of a place to store your gear and ability to carry a large volume of water speaks for itself.
It has also been shown that riding with a hydration packs results in more frequent drinking and better hydration in comparison to using a water bottle. This is because a hose is much easier to reach and use than a water bottle on the frame.
Depending on what kind of riding you do and the distances/time involved, you will need a bigger pack and hydration bladder.
Best MTB Backpacks
| | CamelBak Skyline Hydration Backpack | Evoc FR Lite Team Protector Hydration Backpack | Evoc Low Rider 5L Hip Pack |
| --- | --- | --- | --- |
| | | | |
| | | | |
| Storage: | 10 Liters | 10 Liters | 5 Liters |
| Hydration: | 3 Liters | 3 Liters (not included) | 2 Liters |
| Waist Belt: | Yes | Yes | Yes |
| Waterproof: | No | Yes | Yes |
| | | | |
For more of my top gear recommendations, have a look through these popular Outside Pursuits guide links: MTB Helmets, MTB Pedals, MTB Shoes.
Quick Answer: The 7 Best MTB Backpacks For 2019
There are many MTB backpacks available with a wide range of volumes and features. Our guide and comparison table of the top rated MTB backpacks will help you choose the right one for you.
MTB Backpack Reviews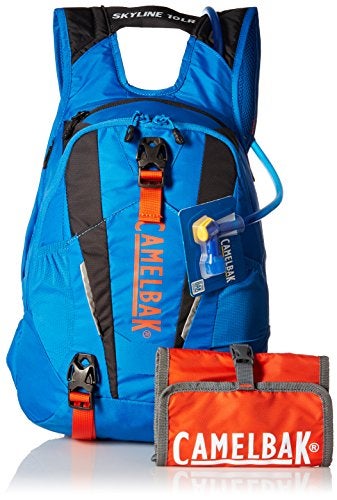 CamelBak Skyline 10LR at a Glance
:
---
7 Liters of storage
100oz Reservoir included
Straps for a helmet and pads
There are two versions of this feature filled pack available. The Skyline is for men and the Solstice for women. A 100oz reservoir is included with this mountain bike backpack and there is space inside for 7 liters of gear.
This should be more than enough more most short to medium length rides. There are some nice features included in this pack.
A fleece lined pocket gives you somewhere to store sunglasses without scratching them, there is a pocket that compresses down so you can squash your jacket as small as possible and your helmet and kneepads can be attached to the outside.
The "LR" in the name does not stand for liter, but lowrider and refers to how the pack sits low on your back, moving the weight to your hips.
This keeps the pack stable when riding at speed and the top of your back stays open, helping to keep you cool. Its a tough call, but I think the Skyline is the best MTB backpack.
Best For: A feature filled day pack with male and female specific versions.
---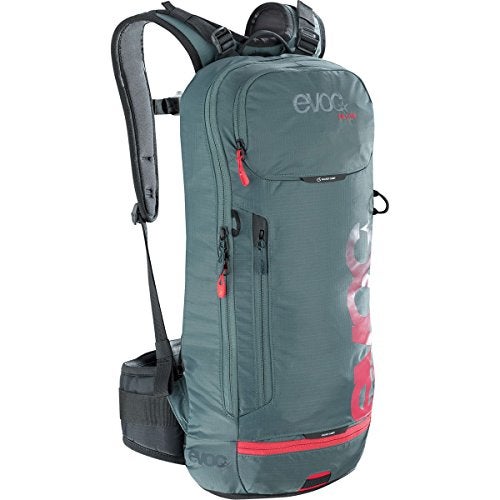 EVOC FR Team Lite at a Glance
:
---
10 Liters of storage
Spine protector
Tool roll
External helmet and pad storage
Although this pack was built for enduro racers, it will also support you on normal rides as well. The defining feature of this pack is the integrated spine protector.
This is a great feature that can protect you in two ways. If you crash, it will stop anything in your pack from stabbing you in the back (literally!). Likewise, if you land on your back, it will prevent your spine hyperextending and causing potentially life changing injuries.
The internal storage hold 10 liters of gear, enough for a long day of riding and racing. There is a tool roll and small pockets for sunglasses/goggles, your phone and keys. No reservoir is included but there is a compartment for one up to 100oz in size.
Externally there is a helmet holder big enough for full face helmets. You can ride comfortably for many hours wearing this pack thanks to the back padding and comfortable shoulder straps.
As with all EVOC products, the construction is great and there is a surprising amount of attention to detail.
Best For: Enduro racers and riders who need spine protection.
---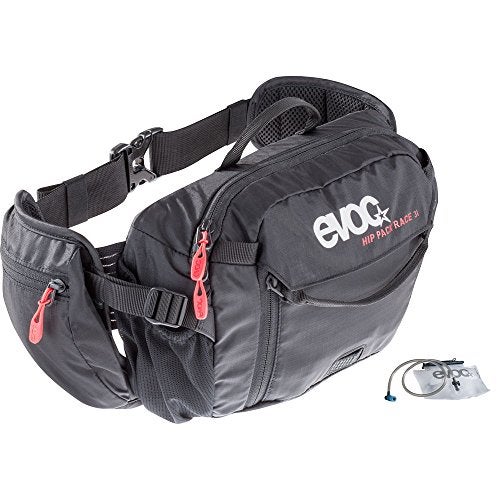 Evoc Low Rider Hip Pack at a Glance
:
---
3 Liters of storage
1.5 Liter reservoir
Tool roll
Hip packs are great if you do not like getting a sweaty back. Dakine have designed this hip pack with short rides in mind. It may look small but a surprising amount of gear can be hidden away inside.
A 1.5L reservoir is included and stows away in its own section next to the 3 liter main compartment. Here you should be able to fit an extra layer or rain jacket and snacks.
There is also a fold out tool roll to organize your tools and make trailside repairs easy. On each side of the waist strap is a pocket big enough for some snacks or your phone, provided it is not of the huge variety.
Evoc know that you do not like sweating. The back features Evoc's Air Flow Contact Padding. This helps keep the part of your back in contact with the pack cool and as sweat free as possible.
Once you have it strapped down, the pack does not usually bounce around even when riding through rough terrain. If you have heavy items in it plus a full reservoir, then you may notice some movement but not enough to bother you.
Best For: Short rides and riders who do not like sweaty backs.
---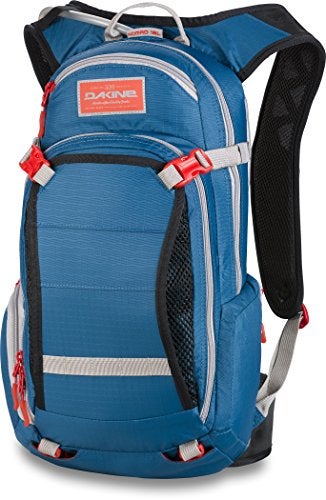 Dakine Nomad at a Glance
:
---
20 Liters of storage

Breathable backpanel

Straps for a helmet and pads
Sometimes you need to take a lot of gear with you. Bikepacking is a great example of when you need extra space in your pack.
The Nomad has 20 liters of storage space to pack in clothing, food, as well as large camping items like a sleeping bag and all the rest of your equipment.
There is a tool roll that unzips from the outside of the pack and smaller side pockets for snacks. A helmet and pads can be strapped on to the outside.
The more you pack in, the heavier the load. Thankfully the Nomad is comfortable to wear when fully packed thanks to the padded and ventilated shoulder and waist straps.
Best For: Riders who do not pack light and bikepackers. 
---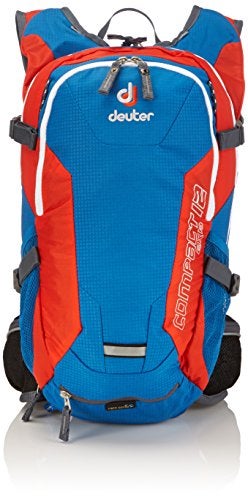 Deuter Compact EXP at a Glance
:
---
10 Liters of storage
Ventilated straps and back panel
3 liter hydration bladder
Deuter have done a good job of creating a mountain bike backpack with a large storage capacity that also keeps you cool. The shoulder and waist straps are constructed with a mesh and the wide channel between the back pads allows air flow.
The 15 liters of storage space has a good shape to let you cram in more gear than other packs of the same size. You can get everything in this pack that you might need for a long day in the mountains. There is a tool pocket on the outside and a detachable rain cover to keep everything dry in wet weather
The Deuter Compact has a large 3 liter hydration bladder and there are loops on each shoulder strap, so you can choose which side to wear the hose.
Most packs do not give you this choice. When fully laden, this pack does have the tendency to move from side to side, even if you pull the straps really tight. Overall, the Deuter EXP is the best MTB hydration pack.
Best For: Big days on the mountain while staying cool. 
---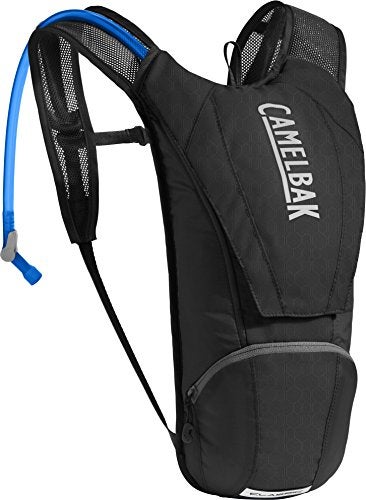 CamelBak Classic at a Glance
:
---
2 Liters of storage
70oz Reservoir included

Lightweight, ventilated mesh harness
CamelBak have a legitimate claim to calling this pack the "Classic"; they made hydration packs popular and before other brands started to produce their own,
CamelBak was pretty much the only company producing them. Their early monopoly on the market led to CamelBak becoming a household name and it is only in recent years that people have started referring to hydration packs by anything else.
The Classic is the first pack that they produced and has been updated to keep in their lineup over the years. There is an included 70oz reservoir and 2 liters of storage space inside for the bare essentials.
You should be able to fit in a jacket and a few snacks, making this pack ideal for short to medium length rides, as well as cross country racing. There is a compartment on the front for tools and an external bungee to store any layers that do not fit inside.
The wide shoulder straps have vents, making them stable and cool. We said above to look out for waist straps but this pack does not need any thanks to its small size. The Camelbak Classic is probably the best cycling backpack for short rides.
Best For: Short rides and cross country races.
---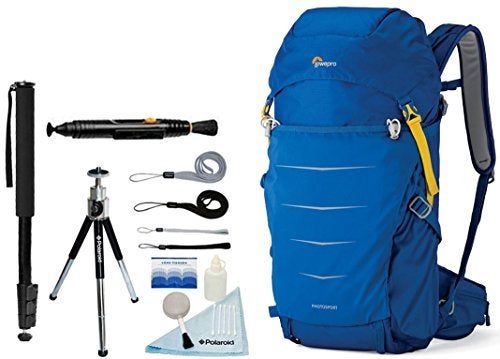 Lowepro Photo Sport 300 AW at a Glance
:
---
14 Liters of storage
Padded pocket for a DSLR camera and spare lens
Waist strap
One of the best things about mountain biking is that it can take you to some stunning locations.
If you are an amateur or professional photographer then you will doubtless want to take at least one camera with you. Lowepro have made possibly the perfect mountain bike hydration pack for photographers.
You can store a DSLR camera and an extra lens in the padded pocket at the top of the pack. To ease the process of getting your camera out of the pack, the camera pocket can be reached and the camera removed with one hand, so you do not have to take the pack off.
Below this is the main compartment with 14 liters of storage space. You can cram in more photography equipment, clothing, snacks and everything else.
Inside there is also a separate compartment for a 70oz reservoir, keeping the water away from any electronics. In the event of rain, you can cover the whole pack with the included rain cover. Despite the large size, the pack stays firmly in place thanks to the shoulder and waist pads.
Best For: Photographers who want to transport cameras and other equipment.
---
Mountain Bike Backpack Comparison
How to Choose the Best MTB Backpack for You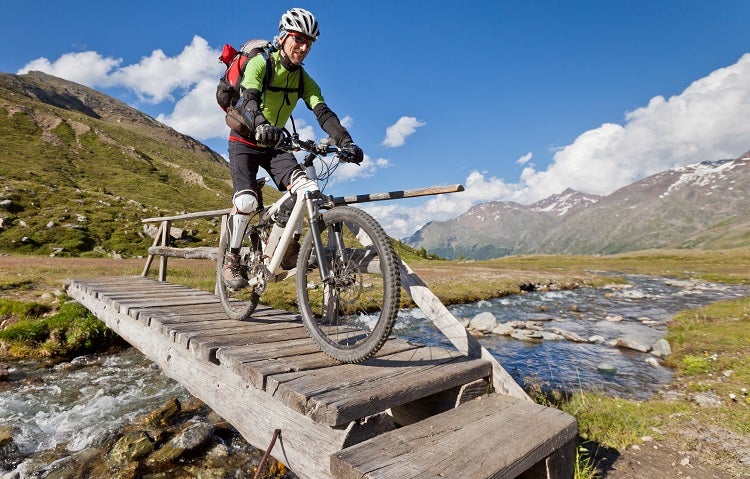 Storage Volume
The first thing you need to think about is how much gear you take with you on the average ride. Think about extra layers, tools, snacks, extra tires etc.
If you only go on short rides, then you probably only take a few tools whereas all day rides in the mountains require that you take more with you. If you like bikepacking then you need even more space for food and camping equipment.
There are even hydration packs available for photographers to (reasonably) safely transport their equipment. 

Reservoir Volume & Quality
How much are you going to drink on your average ride, or how much do you need to take in order to make it to the next water source. The water reservoir in your pack needs to hold this amount of water and also needs to fit in the pack.
If a reservoir comes with the pack, then this is not a problem. Sometimes you will need to buy a reservoir separately so check that your pack will hold what you need.
Unfortunately, not all included reservoirs are of a particularly good quality. If you need to purchase one, do not get the cheapest available as poorly constructed reservoirs have a tendency to leak or even break, which is less than ideal when you are deep in the mountains.
Look for a reservoir with a large opening so you can clean the inside properly. Mold will grow on the inside of any reservoir if you leave it long enough. This can even happen overnight if you have had a sugary sports drink in there.
To help avoid this, keep your reservoir clean and at the least, store it in the freezer in between rides.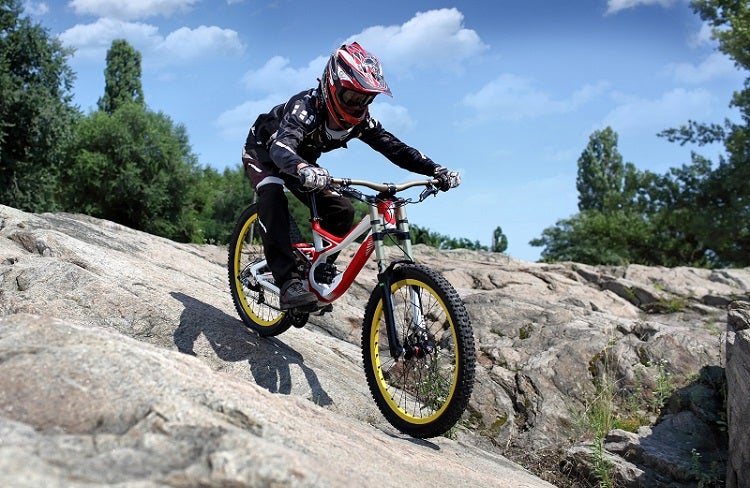 Rucksack or Hip Pack
There are rucksack style hydration packs available in a big range of sizes. From small with enough storage for bare essentials to huge bags for bikepacking and photographers.
If you do not like wearing a rucksack and do not need to transport huge amounts of gear or water, then a hip pack is a good choice. They tend to have a smaller storage capacity and carry up to 1.5 liters of water.
This is enough for medium distance rides and you can enjoy the breeze flowing over your back.
The disadvantage is that a hip pack is more prone to shaking around while you ride unless you tighten the straps up as much as possible.

Fit
Like all equipment, a hydration pack needs to be comfortable to wear or you will not enjoy using it.
If a pack moves around or shakes from side to side, not only will you find this annoying, but you will also find that the weight of the pack will pull you off balance in corners with potentially disastrous consequences.
Look for a pack that has lots of adjustable straps to customize the fit and how it sits on your back. The weight of the bag should be spread over your back and supported with a hip strap. Padding on the shoulder straps will help keep you comfortable too.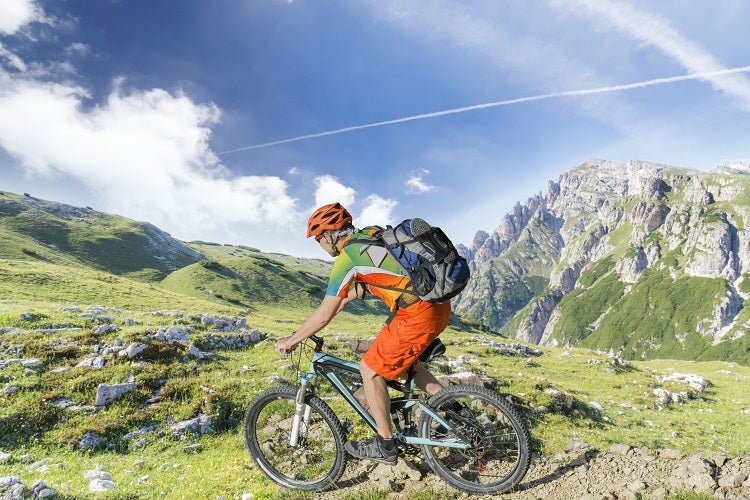 Additional Features
A well thought out hydration pack will have lots of little extras to make you happy. A dedicated multi-tool compartment will make trailside repairs easier, a helmet strap gives you somewhere to stash a helmet on long ascents and straps allow you to carry pads or camping equipment.
Inside it is useful to have compartments to organize your gear and if a rain cover is included you can get home without everything in your pack getting wet. Some hydration packs have a spine protector and even a whistle for emergencies.
Conclusion
We have written this article to help you navigate the choice and make an informed decision about the right mountain biking backpack for you. Review our criteria for choosing a backpack to see what features are important to you. Then check out our suggestions of MTB backpacks.
---
I hope this guide was helpful in picking the best MTB backpack to fit your needs. If you want to comment or recommend a pack I didn't include, please use my contact form to get in touch.
Have fun and be safe out there!
The CamelBak Skyline is our Editor's Choice as the best MTB backpack with its combination of storage, hydration and features.
OutsidePursuits.com is a participant in the Amazon Services LLC Associates Program, an affiliate advertising program. OutsidePursuits.com earns fees from products sold through qualifying purchases by linking to Amazon.com. Amazon offers a commission on products sold through their affiliate links.