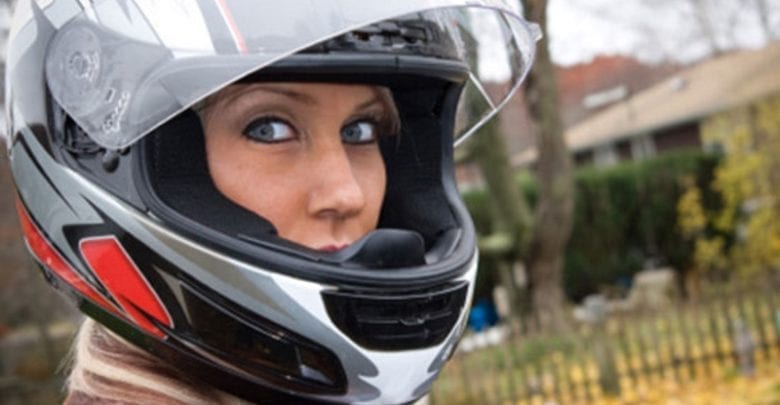 In this article we give you our selections for the best full face motorcycle helmet. And we've provided some background and technical information that's helpful when choosing the right motorcycle helmet for your specific riding needs in our How To Choose The Best Full-Face Motorcycle Helmet For You section.
Quick Answer: The 7 Best-Rated Full Face Motorcycle Helmets
---
Best Full Face Motorcycle Helmets
| | Bell Qualifier DLX Full-Face Motorcycle Helmet | Shoei RF-1200 Full-Face Motorcycle Helmet | HJC SY-Max III Modular Motorcycle Helmet |
| --- | --- | --- | --- |
| | | | |
| | | |   |
| Type | Full Face | Full Face | Modular (Flip up) |
| Colors Available | Devil May Care Matte, Isle of Man Black/Red, Rally Matte Black/White, Matte Black, Hi Viz, Solid White | Black, Yellow, Matte Black, Matte Black, Red, Silver, White, TC-2 Graphic, TC-6 Graphic | Black, Silver, White, Matte Black, HI-Viz Yellow |
| Bluetooth-ready | Yes | No | Yes |
| Ventilated | Yes | Yes | Yes |
| Built-in Sun Visor | Yes | Yes | Yes |
| Price | $199.95 | $380.22 | $269.99 |
| | | | |
Also See: Full-Face Motorcycle Helmets Comparison Table
---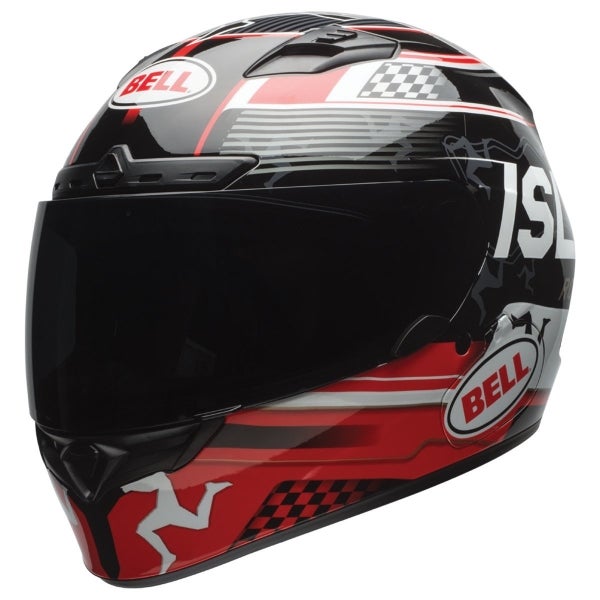 Since the 1950's Bell Motorsports has been a highly-respected maker of great racing helmets for all types of motorsports from amateur Sprint car racing and Pro Street drag racing to Formula One and Indy cars.
There's a strong tradition at Bell and the DLX carries it forward in the full-face motorcycle helmet category.
The combination of comfort, quality, light weight, road noise abatement and a transitional face shield make the selection of the Qualifier DLX as our #1 pick hard to dispute.
At Outside Pursuits the price/value analysis has relevance to all of our product reviews, as well as the selection of our top-rated picks.
So it's especially nice to have all of these features packed into a DOT/ECE full-face motorcycle helmet. For this reason the editors of Outside Pursuits believe that the Bell Qualifier DLX is the best motorcycle helmet under $300.
The patented Transitions photochromatic face shield gives DLX owners the flexibility to ride day or night without a shield change. Here is some video footage of the Qualifier DLX featuring the Transitions adaptive shield.
It's hard to overlook the growth in demand for motorcycle helmets with bluetooth. The Qualifier DLX can house the SENA SMH-10 or a Cardo Scala Rider Q1/Q3 Bluetooth unit with earphone recesses and accessible side-mount cavity.
Features of the Bell Qualifier DLX:
Lightweight polycarbonate shell
3 shell sizes and 6 fit sizes
Includes the Transitions Adaptive Shield
Ventilation and padded wind collar
Padded wind collar drastically reduces wind and road noise
ClickRelease for the fastest, easiest, tool-free shield changes ever
NutraFog II superior anti-fog, anti-scratch and UV-protected shield
Accepts Bell Sena SMH10 and Cardo Scala Rider Q1/Q3 Bluetooth stereo headset and intercom (sold separately, separate mounting plate required)
DOT/ECE – certified and 5 Year Warranty
3.5 lbs.
It was truly a pleasure to be a participant in selecting the Bell Qualifier DLX as our #1 pick for the best full face motorcycle helmet and the Editors Choice among strong competition.
---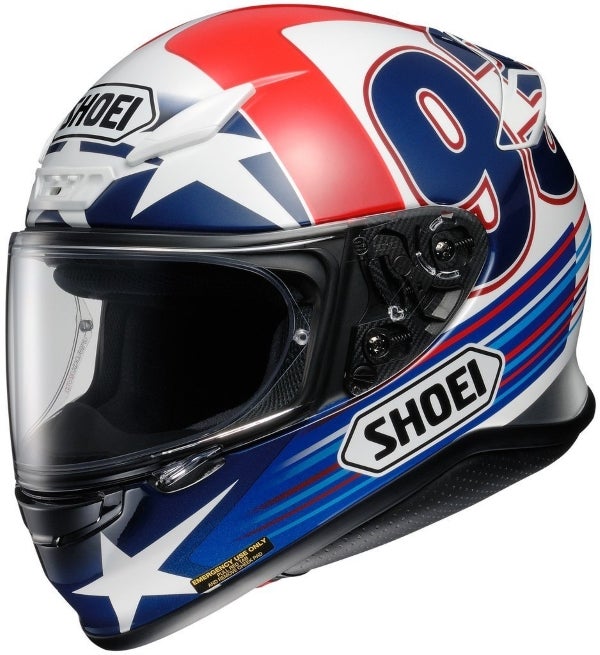 Shoei is a Japanese motorcycle helmet manufacturer founded in 1958. Since the formation of the company Shoei helmets have been designed and manufactured in Japan. Today they are distributed and sold all over the world.
Despite their worldwide success, Shoei has stayed true to their roots and remains a small company, dedicated to making only the highest-quality motorcycle helmets.
The Shoei RF-1200 helmet definitely keeps to tradition delivering a lightweight, quiet and performance-oriented helmet built from superior materials.
The fabrics and plastics used in fabricating the RF-1200 are a slight cut above anything else we reviewed.  However, this premium manufacturing comes with a price which may not be inline with the functional gains of the helmet.
If price and ancillary features were not factors the Shoei RF-1200 wins this review hands down. But the RF-1200 lacks an adaptive shield and the Bluetooth-readiness of our Editor's Choice.
There are so many patented design features to this model that we could see immediately the singular focus that Shoei possesses toward motorcycle helmets. Four intake vents and uniquely positioned upper exhaust outlet vents make it the best ventilated motorcycle helmet.
Features of the Shoei RF-1200:
AIM+ Patented Light-Weight Multi-Ply Shell Construction
Superior Design Air Ventilation System – (4 vents)
3D Max-Dry System II Interior absorbs and dissipates sweat
Q.R.S. (Emergency Quick-Release System) allows emergency medical personnel to easily remove cheek pads from an injured riders helmet
Shield locking mechanism ensures shield stays locked at high speed
Dual-layered window beading ensures windproof/waterproof seal
Unique shield ribs at top and bottom eliminate shield bending in high speed during opening or closing
Safety Certification Standards: Snell-M2010, DOT
3.46 lbs.
Lots of wind tunnel testing has been applied to the design to cut wind noise at high speeds without blocking necessary road noises.  Four shell sizes, three-dimensionally-shaped center pads and cheek pads ensure a really personal, nearly custom, fit.
Overall we agreed that the RF-1200 was the safest motorcycle helmet primarily due to its attention to size and fit customization.  So it is also considered the best fitting motorcycle helmet in our review.
Thus, the RF-1200 is the best choice as a helmet to be used in a racing environment,  or if you plan on pushing the envelope with more extreme and higher-speed riding. This distinction leads some enthusiasts to the conclusion that it's generally the safest motorcycle helmet.
---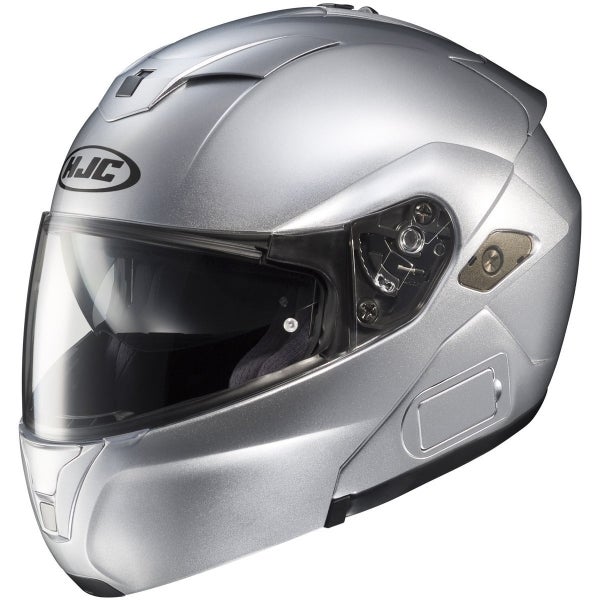 HJC has specialized in manufacturing motorcycle helmets since their formation in 1971. Their innovation, style and reasonable pricing have resulted in HJC's success in selling motorcycle helmets all over the world.
You may notice a number of HJC "knock-off models" appearing due to the worldwide popularity of their products.
According to Motorcycle Industry Magazine HJC eclipsed all other helmet makers in 1992 in both volume and revenue making them the #1 helmet brand in North America.
HJC takes pride in the amount of design testing that they perform and they're one of the very few helmet companies that are equipped with its own state of the art wind tunnel testing laboratory to test for aerodynamics, ventilation and noise.
As modular helmets go there are a few trade-offs regarding convenience and safety. We left the debate over whether to go modular or not out of this review.
Instead, we selected what we considered to be the best modular motorcycle helmet in the HJC SY-Max III to pair with the two full-face helmets selected above.
Features of the HJC SY-Max III:
Advanced Fiberglass Poly Spectra (Composite Weave) Helmet Shell
Lightweight Space-age Polycarbonate Chinbar
Bluetooth-ready with aerodynamic exterior module recess and ear speaker recesses.
Accepts ChatterBox XBi2-H Bluetooth Wireless Intercom unit
Convenient Single-Button and One-Handed Chin Bar Release
"ACS" Advanced Channeling Ventilation System
Full Front to Back Airflow Flushes Heat and Humidity Up and Out
Three-position Shield – Multiple Positions with Locking Mechanism
Tool-free Shield Swap System
Multiple Optional Face shields and SunShields Available
Meets or Exceeds D.O.T. Standards
5.2 lbs.
As the name implies the SY-Max III is a twice-improved version of a modular helmet that HJC released some years ago. The new patented ventilation/cooling design is the most significant improvement.
The SY-Max III had the best ventilation we observed from all of the helmets.  A 3-position locking shield and Bluetooth-ready recesses all make the SY-Max III a very capable all-around helmet and our #3 overall pick.
---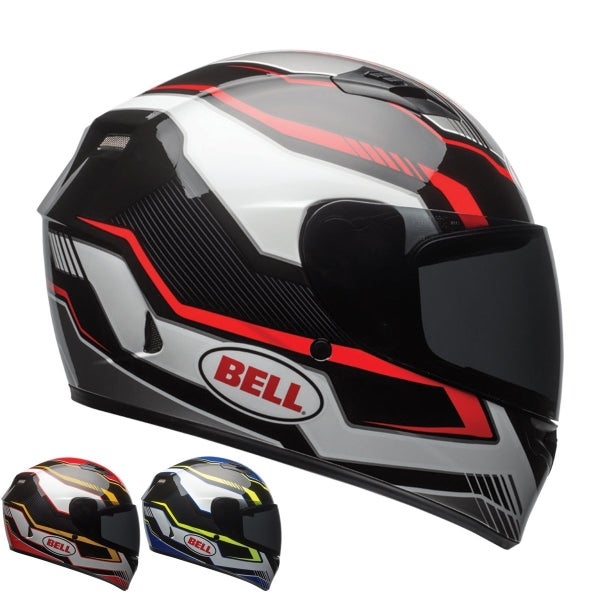 The Bell Qualifier full-face helmet is an entry-level helmet from a top-rated maker. As full-face motorcycle helmets go, the Qualifier is quite popular. It lacks some of the features (like Bluetooth-readiness and transitional shield) of its big brother, The Qualifier DLX.
Features of the Bell Qualifier:
Polycarbonate and ABS for Lightweight Shell Construction

Shield has Click Release for simple and shield replacement (no tools needed)

NutraFog II anti-scratch and anti-fog w/ UV light-protective shield

A good sized padded wind collar to reduce noise

Interior padding is removable and washable. Cheek pads are fitted

Integrated speaker cavities for Bluetooth 

Padded chin strap with D-ring closure

5 Year warranty
The Qualifier has a lightweight shell made from Polycarbonate/ABS and a tool-free shield replacement feature. Also includes the NutraFog 2.0 anti-fog and anti-scratch shield with UV protection.
This helmet packs an incredible value at this price and comes with a 5-Year Warranty.
---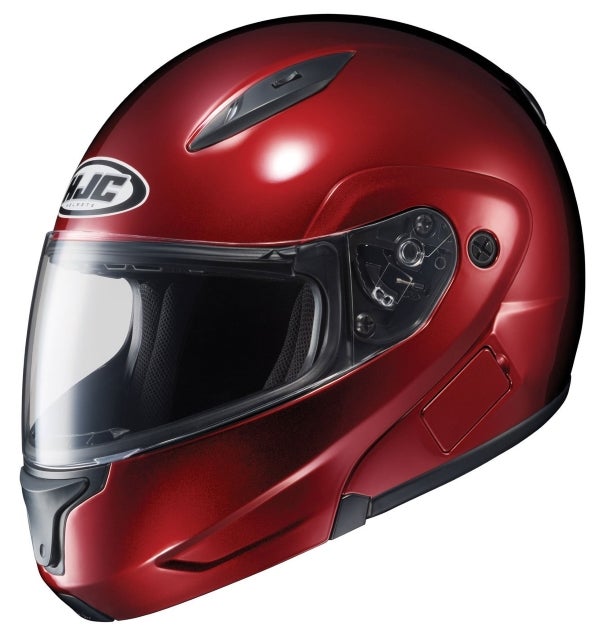 When considering the factors that make the best motorcycle helmets in any category the manufacturer's reputation and longevity in the industry has big significance.
For an entry-level modular helmet the HJC CL-MAXBT II is clearly a recommended helmet at its price point. And it's  made by a highly-respected manufacturer.
Features of the HJC CL-MAXBT II:
Advanced Lightweight Injection-molded Poly Shell –  w/ One-Button Chin Bar Release

Superior Fit and Comfort Using Advanced CAD Technology

Bluetooth-ready (uses interior recesses and speaker cavities)

Faceshield has 95 percent Protection for U.V. sun rays 

Tool-less Shield Replacement (patented Quickslide)

ACS – HJC-invented "Advanced Channeling System" for ventilation – provides full front to back airflow while removing heat
With a polycarbonate shell and single-button chin bar/face shield release this model has all of the basic functionality of most higher-priced modulars and therefore we rated it the best motorcycle helmet under $200.
It is Bluetooth-ready and has HJC's tool-less shield replacement system. And HJC's patented Advanced Channeling Ventilation System (ACS) provides full front-to-back airflow and hot air exhaust.
---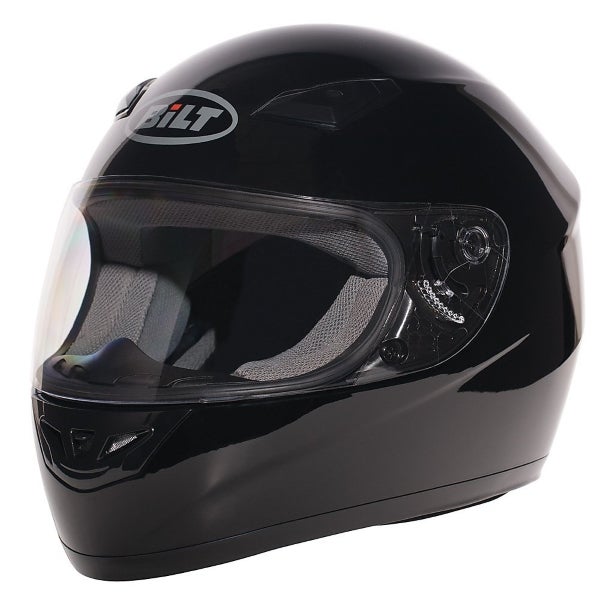 BILT is a house brand for lots of motorcycling accessories and rider apparel.  They have a pretty good selection of helmet types from half helmets to dual-sport models.
Bilt hangs in the low to mid-range helmet market, but delivers quite well on basic features and functionality.
Features of the Bilt Fusion Full-Face Motorcycle Helmet:
Injection molded polycarbonate shell

One-piece shell for full-face protection 

Strap uses familiar Double-D ring retention 

Comes with clear shield fitted as standard w/ quick release 

Two slide-opening forehead vents for airflow
The bilt Fusion has a hinged clear shield and two slide-opening forehead vents.  The Fusion is as basic as it gets and is the best budget full-face motorcycle helmet.
It comes in 3 colors: Black, White and Matte Black.
---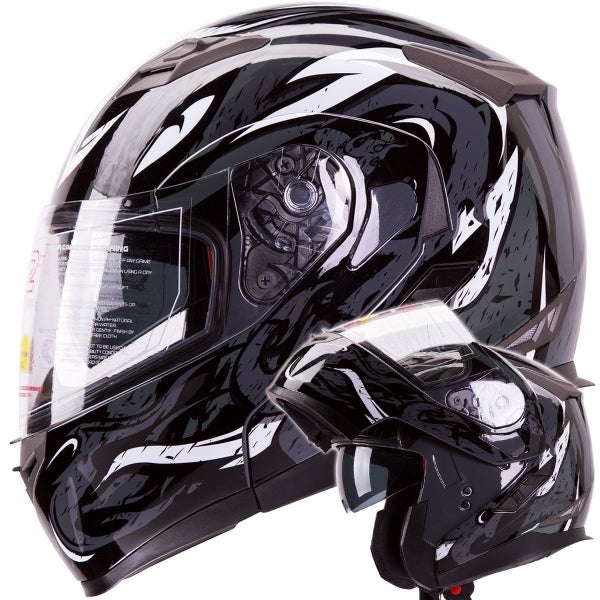 The IV2 VIPER Model #953 helmet appears in Outside Pursuits' review entitled Best Bluetooth Motorcycle Helmets where it's part of a Bluetooth helmet combo along with a SENA SMH5 Bluetooth 3.0 Unit.
We chose it because it doesn't skimp where DOT-certification is concerned.
Features of the IV-2 Viper Model #953:
DOT Approved – Meets or exceeds DOT requirements

Fiberglass-reinforced w/ ABS plastic thermal shell, with Composite Impact Foam (EPS)

One-Button Flip-up (Modular) allows for access by rider open face when talking or drinking 

EZ Open Air Vents are Durable and Functional and provide maximum circulation

Retractable and easy-to-use Inner Sun Visor
The IV2 VIPER Model 953's Fiberglass-reinforced thermal plastic composite shell and EPS impact absorption liner make it a legitimate helmet for motorcycle-speed head protection.
It features a one-button flip-up system to convert from full-face to open-face with ease. There's an inner drop-down visor and easy-open air vents for circulation.
Overall, the IV2 VIPER Model 953 is the best motorcycle helmet under $100.
---
Full-Face Motorcycle Helmets Comparison Table
| | | Price | Type | Colors Available | Bluetooth-ready | Ventilated | Built-in Sun Visor |
| --- | --- | --- | --- | --- | --- | --- | --- |
| Bell Qualifier DLX Full-Face Motorcycle Helmet | | $199.95 | Full Face | Devil May Care Matte, Isle of Man Black/Red, Rally Matte Black/White, Matte Black, Hi Viz, Solid White | Yes | Yes | Yes |
| Shoei RF-1200 Full-Face Motorcycle Helmet | | $380.22 | Full Face | Black, Yellow, Matte Black, Matte Black, Red, Silver, White, TC-2 Graphic, TC-6 Graphic | No | Yes | Yes |
| HJC SY-Max III Modular Motorcycle Helmet | | $269.99 | Modular (Flip up) | Black, Silver, White, Matte Black, HI-Viz Yellow | Yes | Yes | Yes |
| Bell Qualifier Full-Face Motorcycle Helmet | | from $67.14 | Full Face | Gloss Black/Red/White, Medium | No | Yes | Yes |
| HJC CL-MAXBT II Modular Motorcycle Helmet | | from $107.64 | Full Face | Black, White and Matte Black. | Yes | Yes | Yes |
| BILT Fusion Full-Face Motorcycle Helmet | | from $39.97 | Full Face | Matte Black, Black, Whote | No | Yes | Yes |
| IV2 VIPER Model #953 Modular Motorcycle Helmet | | from $26.95 | Flip-up (Modular) | Black Gloss | No | Yes | Yes |
---
How to Choose The Best Full-Face Motorcycle Helmet For You
With so many manufacturers and options available in the marketplace, it can be a daunting task to decide how you'll spend your hard-earned money to buy the best motorcycle helmet for your needs.
History
The use of motorcycle helmets dates back to 1914 when motorcycle racers at the Isle of Man (a British dependency off the coast of Great Britain) were suggested to wear them as a protection against head injuries including concussion and even death.
The story behind the original use of motorcycle helmets is quite interesting. Motocycle riders owe a lot to Dr.  Eric Gardner who originated the idea of a helmet made of canvas and shellac. He introduced  the invention to racers at the Isle of Man in 1914. You can read more about the origins of modern motorcycle helmets here.
Early on it was apparent that helmets reduced the number and severity of head-related injuries and were soon adopted as standard equipment.  The very earliest helmets were crudely made of canvas heavily covered with shellac to form the hard outer shell.  Technology and advancement have brought about better-fitted and more durable helmets over the decades since.

Motorcycle Helmet Types – Video Tutorial
Full-Face
As the name suggests a full-face helmet covers the entire face in addition to the entire head and skull.  A large cutout area in the front allow for visibility and may be covered in clear or tinted transparent plastic shield.
Because they are so enclosed, full-face helmets have air vents on the top and/or chin bar portion of the helmet allowing for ventilation and cooling.
Some riders have a "claustrophobia-like effect" when wearing a full-face helmet and for that reason opt for another less constrictive type of helmet.  Nonetheless, full-face are considered to be the most effective at protecting riders of all other helmet types.
Full-face helmets have been in use since the early 1900s and represent the status quo for many riders.  And for these reasons the racing communities and high-speed non-professional applications predominantly utilize full-face helmets.

Modular
A modular helmet was originally referred to as a "flip-up" or "flip-face helmet. It is essentially a full-face helmet that can be opened to convert to an open-face helmet.  This hybrid design has been the subject of some debate in regards to the pros and cons.
Many have said that modular helmets are easier to remove in an emergency and thus making it easier to access the rider's face in an emergency.
The flip-side of the argument says that the chin bar portion of the modular helmet can open inadvertently or even be broken free from the helmet during an accident.
There is definitely a convenience to be had with a modular helmet. It can be opened to talk, eat or drink quickly during a ride. For instance motorcycle-mounted law enforcement use modular helmets to more easily converse with drivers in a traffic stop.
With today's materials and technology the modular helmet is nearly as protective as a full-face. (Note: While no studies exist to compare full-face vs. modular helmet efficacy, a safety study by a consumer group showed that 35% of all crashes showed major impact on the chin-bar area).
So whether you're riding with a full-face or a modular helmet you're taking the extra precaution to protect the face and chin area. It should be noted that riding with a modular helmet that is open can add significant wind drag and can also increase the risk of neck or back injury during an accident.  A good rule-of-thumb is to only use a modular helmet for riding while in the closed position.

Open Face (aka "Three-Quarter")
The open face, or "three-quarters", helmet covers the top and back of the head as well as the ears, but lacks a chin bar like that of the full-face helmet.
Some of these type helmet include a removable sun visor that snaps on and off.  This feature helps block sun glare from the eyes and also shades the face.
Open face helmets provide the same rear head protection as that of a full- face helmet, but little to no protection for the face.
Separate eye protection from glasses or goggles is a necessity with open-face helmets and is also required to meet most state and local riding laws
At high speeds the smallest of bugs can be painful and hazardous.  Dust and wind to the face and eyes can cause rider discomfort, distraction and possible injury.  So it is common (and as stated above required by local laws) for riders to wear goggles or sport-style sunglasses to provide some level of eye protection when riding with open-face helmets.
And there is also a variation on open-face helmets that adds a snap-on full-face clear or tinted plexiglass shield.   While these cannot compare to a chin bar for protection they can stop insects or debris from hitting the rider's face.

Half
The half helmet has been referred to as a "brain bucket."  This reference comes about on account of the helmet meeting the very minimum requirements for helmet laws requirements.
While this style offers the least amount of rider protection, it offers the rider the most freedom, and the least amount of constraint.  Half helmets became popular In the UK and with road racers of the 1960s in the British Isles.
As with the open face, it is a requirement to use eye protection such as goggles or wrap-around sunglasses with a half helmet.
Despite meeting most local and state regulatory requirements for motorcycle head protection,  most Motorcycle Safety Foundations do not endorse their use.

Motocross
The motocross-style helmet has an extended chin bar to allow for maximum airflow during physically challenging off-road and track riding.
Air can flow unhindered through this chin bar to the rider's mouth while still protecting the mouth and chin. The chin bar is also lengthened to accomodate full-sized foam goggles which block debris and dust from the rider's eyes.
The enlarged visor on motocross helmets blocks sun and stadium lights from hindering rider visibility.
Using a modern motocross helmet with chin bar combined with proper goggles can provide nearly the same level of protectiion as that of a full face street helmets.

Dual Sport (Adventure)
A fairly new category of motorcycle helmet has emerged from the advent of dual-sport or "adveture" riding.
In this style of riding it may be necessary to ride on highways or improved roads for long distances and then go off-road to unimproved roads or trails on the same ride.
These helmets combine the aerodynamics of a clear flip-up shield like a full-face helmet with the visor and extended chin bar of a motocross.
There is typically also a tinted drop-down eye visor like modern full-face helmets.
This features makes it possible to have eye and sun protection without the need to periodically engage and remove tinted goggles or sunglasses.  It's a quick and simple single release button to engage and disengage the drop-down eye visor.  This helmet type is gaining in popularity as dual-sport and adventure bikes grow in popularity.

Construction
Motorcycle helmets are generally constructed from various grades and formulations of plastics. There are a range of density and strength compounds from which various parts are constructed. These varied material types have a bearing on overall construction costs of a helmet.
Outer Shell (Crown)
Premium-priced helmets use plastics that are high in tensile strength, adequately flexible as needed, while remaining lightweight.  The outer shell (or crown) of premium-priced helmets use composite materials made of plastic combined with fiberglass, Kevlar and/or carbon fiber to strengthen and to reduce weight.
Inner Shell (Core)
The inner shell or (core) is generally a combination of fabric and foam. These materials are selected for #1 protection and #2 comfort.   The inner shell elements are constructed from EPS  (aka Expanded Polystyrene Foam) and an outer shell to protect the EPS.
Thickness
The overall thickness and density of these materials is formulated to lessen the impact of an accident so as to avoid particular penetration of the skull and thus reducing head injuries.
Helmets can be with different thicknesses and densities to offer enhanced protection form high-speed or racing environments. The outer shell of the helmet might be made of a variety of plastics or fiberglass-type materials.  To varying degrees the plastics offer protection from penetration.
Lexan
For example, Lexan which you may recognize as bulletproof glass will not crush when impacted.  Therefore, the outer shell will look undamaged but the inner EPS will be crushed. Fiberglass is less expensive than Lexan but is heavy and very labor-intensive.
Fiberglass
Fiberglass or fiber shells will crush on impact offering better protection. Some manufacturers will use Kevlar or carbon fiber to help reduce the amount of fiberglass but in the process it will make the helmet lighter and offer more protection from penetration but still crushing on impact.
---
Thanks for reading Top 7 Best Full Face Motorcycle Helmets Reviewed.  We hope that this article gave you all the information you needed to select the brand and type of motorcycle helmet that is right for you.
If you're a motorcycling enthusiast here's our some more of our product review articles:
MOTORCYCLE GEAR  BLUETOOTH HELMETS | FULL-FACE HELMETS | MODULAR HELMETS | PHONE MOUNTS | GLOVES | GPS | MOTORCYCLE COVERS | MOTORCYCLE TENTS | WHEEL LOCKS | BACKPACKS | JACKETS | BOOTS | MOTORCYCLE JEANS | RAIN GEAR |  WINTER GLOVES | MOTORCYCLE BATTERIES | HARLEY BATTERIES | ATV BATTERIES | CHAIN LUBE | ENGINE OIL  
We chose the Bell Qualifier DLX Full-Face Motorcycle Helmet as our all-around Editor's Choice for its great quality and features.
OutsidePursuits.com is a participant in the Amazon Services LLC Associates Program, an affiliate advertising program. OutsidePursuits.com earns fees from products sold through qualifying purchases by linking to Amazon.com. Amazon offers a commission on products sold through their affiliate links.