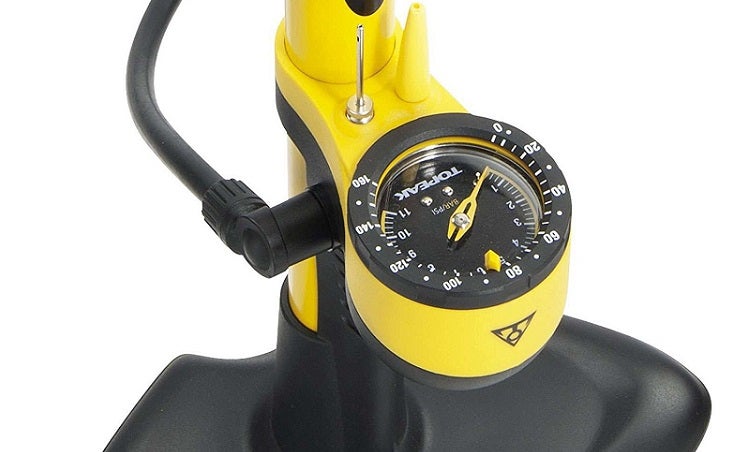 A bike pump is probably not something you have given a whole lot of thought to. Its not an exciting tool but it will probably be your most used one.
Every time you go for a ride its a good idea to top off the tires so they are at the proper pressure level.
There are several types of bike pumps were going to talk about here:
They each have their purpose and really you need at least 2 types. You shouldn't leave your house without a portable frame mount pump in case you get a flat on the road.
A good quality floor pump is something every biker needs to have.
For more of my top gear recommendations, have a look through these popular Outside Pursuits guide links: Road Bike Helmets, Mountain Bike Helmets, Bike Lights.
Quick Answer: The 5 Best Bike Pumps For 2018

Let's take a look at the top rated bike pumps, then we'll talk about how to choose the right one for you in our buying guide below.
Best Bike Pumps
| | Topeak Joe Blow Sport II Floor Pump | Pro Bike Tool Mini Bike Pump with Gauge | Pro Bike Tool CO2 Inflator |
| --- | --- | --- | --- |
| | | | |
| | | | |
| Type: | Floor pump | Hand pump | CO2 |
| Max Pressure: | 160 psi | 120 psi | Depends on tire size |
| Features: | Quality steel barrel construction meant for high pressure & comes with multiple inflation needles. | Machined aluminum with inline pressure gauge. | CO2 cartridge stores in handle, screws on the valve stem. |
| Best Use: | Everyday home use. | On the road emergency use | On the road emergency use |
| | | | |
Best Floor Bike Pump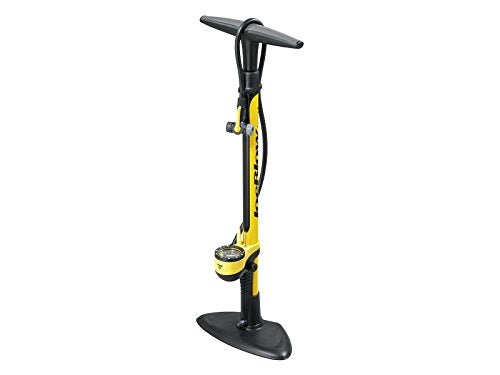 Topeak Sport II at a Glance
:
---
Type: Floor pump
Max Pressure: 160 PSI
Valve Compatibility:

Presta and schrader

Construction: Steel barrel and swivel hose
Topeak has been known in the biking community for decades for making quality biking equipment. The Sport II floor pump is a heavy duty floor pump. The moment you unpack it, you can tell this is a quality product.
The forged steel barrel is solid and the steel base, (not cheap plastic) is stable and secure, even when you are pumping vigorously. Topeak rates the pump up to 160 psi and I think you could get there if you really needed that much pressure.
Video: Overview of the Topeak Sport Floor Bike Pump.
The handle is very large and comfortable, once you start pumping, it will immediately become obvious it is well designed. The head is designed to fit both Schrader and Presta valve stems.
It has one side for the Schrader valve and the other for Presta/Dunlop and the flip lock secures the head to the valve with a simple flip of the lever. The high visibility gauge is very easy to read with its bright yellow and black dial.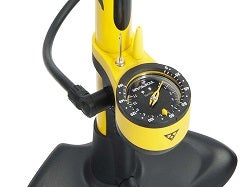 The hose has been well designed so it rotates on the barrel to relieve any stress you put on it. This ensures it wont break off and will last a long time.
Another nice design feature is the fact that not only it comes with a needle for inflating balls but it also comes with an attachment for inflating rafts, air mattresses etc.
My favorite feature is the mount at the bottom of the barrel for the extra needles so you don't lose them. The Topeak floor pump is really a no brainer.
Its a quality pump that just plain works and is the best bike floor pump for the money.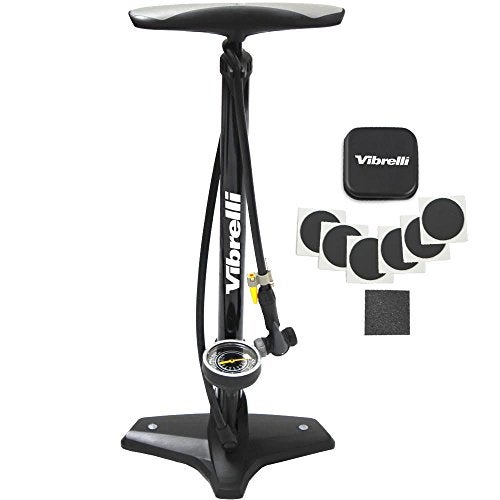 Vibrelli High Performance at a Glance
:
---
Type: Floor pump
Max Pressure: 160 PSI
Valve Compatibility: Presta, schrader and dunlop

Construction: Steel barrel and nylon base
The Vibrelli floor pump is a bargain priced pump that will suite all your inflation needs. This quality pump has a steel barrel that will last pretty much forever, unless you leave it out in the rain.
It has a WIDE base that has plenty of room to put your feet on so it stays stable when your pumping it. Vibrelli rates it up to 160 psi, I cant swear it goes that high as I never went over 120 psi but I believe it could.
The very easy to read gauge is located on the bottom of the barrel that you wont have to squint to read the pressure. Its also pretty accurate, to within a few pounds.
Naturally it works with Schrader and Presta valve stems but it also works with Dunlop stems as well. While I am not familiar with Dunlop, I believe its common in Europe.
The head of the pump has a Schrader valve adapter on one side and Presta/Dunlop on the other. Just attach the proper side to your valve and flip the switch to lock it on the valve.
It locks on securely with no air loss.
Being a floor pump it has a long barrel that allows very rapid inflation of your tire, you should be able to inflate most any tire in under a minute.
Like the Vibrelli mini pump it comes with a small repair kit that features glueless patches. I haven't tried using them yet so I cannot comment on how well they work.
The handle is large, ergonomic and comfortable and while it may not seem a big deal, if you are pumping up a road tire to pressure it does make a difference at high pressures.
The Vibrelli comes with a 15 year warranty so they stand behind their products. I think this is the best road bike floor pump.
Best Mini Bike Pump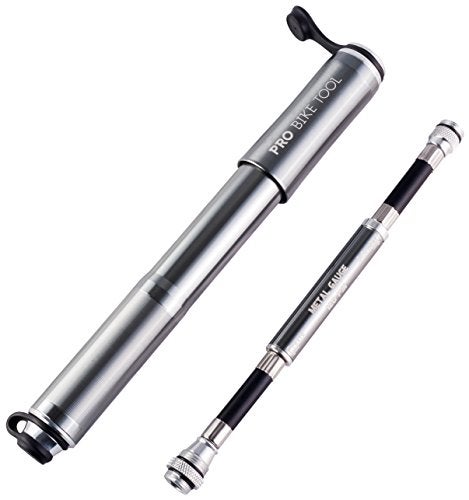 Pro Bike Tool at a Glance
:
---
Type: Portable frame pump
Max Pressure: 120 PSI
Valve Compatibility: Presta and schrader

Construction: Aluminum alloy barrel
The Pro Bike Tool mini pump is solid portable bike pump and has a LIFETIME warranty so you know its well made. For a small portable pump it has a long piston that provides a surprising amount of air per stroke.
While it cannot compete with a floor pump, it will inflate most any tire to full pressure in under a minute. It works just as well with mountain bikes as well as road bikes and Pro Bike Tool claims it inflates tires up to 120 psi.
BUT like any compact pump, I don't think you could realistically ever get above a 100 psi.
The Pro Bike Tool utilizes a different design in that it uses a hose to connect to the valve from the valve. I rather like this design because it can be a pain to try and maneuver the pump to fit on the valve stem.
The flexible hose SCREWS on the valve stem,  this give you a secure seal, no air loss and all the air from every stroke goes into the tire.
No cheap flip lever to lock it on or break off.
It easily fits on both Schrader and Presta valve stems and comes with a velcro strap so you can mount it anywhere on the bike without using one of the mounting brackets on your bike.
Whats even more amazing I think, is that it includes an inline pressure gauge that is pretty accurate. I found it within 5 pounds, which is as accurate as any floor pump. probably its only downside is Pro Bike Tool doesn't give you any extras like a needle for inflating balls etc.
If you are looking for the best portable bike pump, then the Pro Bike is for you.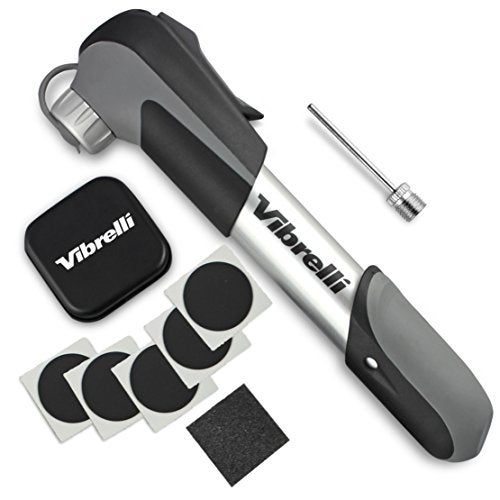 Vibrelli Mini Pump at a Glance
:
---
Type: Portable frame pump
Max Pressure: 120 PSI
Valve Compatibility: Presta and schrader

Construction: Aluminum alloy barrel
The Vibrelli pump is a quality option for a portable bike pump to take with you biking. It comes with a bike mounting kit and works just as well for a road or mountain bike. With a capacity of 120 psi it can provide enough pressure for any road bike.
Like all the bike pumps reviewed it will work with Schrader and Presta valve stems. The design is pretty good as it fits both valve types without having to change or flip anything with the port. It just accepts both types, and does it without leakage.
Video: Overview of the Vibrelli Mini Bike Pump.
The portable bike pump is made from an aircraft grade Aluminum alloy that will not rust or corrode. This pump will run circles around cheaper, plastic bike pumps.
The extending telescopic design allows a large amount of air per stroke allowing you to inflate your bike tire in pretty rapid fashion.
Not only do you get a pump, it also comes with a repair kit, that has glue-less patches, which if you have messed with patch kits you know what a pain they can be. Just put on a self sticking patch and inflate!
To top off a pretty impressive bike pump, it also comes with a needle for inflating footballs, soccer balls etc.
For the money, I think this is the best bike frame pump, highly recommended.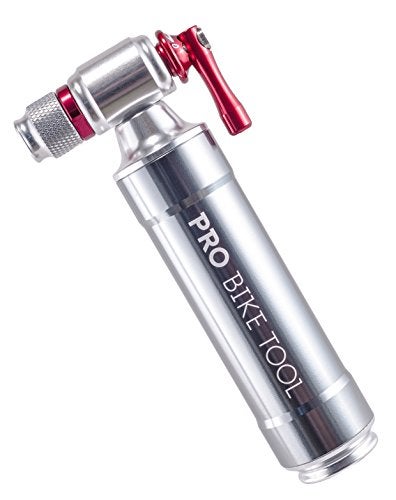 Pro Bike Tool at a Glance
:
---
Type: CO2 mini bike pump
Max Pressure: Depends on tire size
Valve Compatibility: Presta and schrader

Construction: Aluminum alloy barrel
The Pro Bike Tool CO2 Inflator is quite different from the other pumps reviewed here. Obviously the big difference being, its not really a "pump". It uses a CO2 cartridge to inflate your bike tire.
This has several advantages. One of the biggest being is size, its tiny and will easily fit in your under the seat cargo bag, pocket or hydration pack.
Another nice feature is there is no pumping! Just insert the CO2 cartridge and then screw it on your valve stem and inflate.
Video: Overview of the Pro Bike Tool CO2 Inflator.
That's it! No pumping, the compressed CO2 will fill most any tires except for fat tires. This pump is not meant for general use tire inflations.
You can of course use it for a new tires but that's not what it is designed for. The Pro Bike Tool inflator is best used for emergency use, like back in the woods or side of the road flats.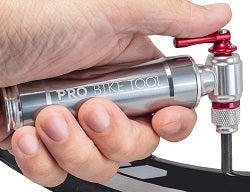 Keep in mind each CO2 cartridge is single use. If you don't use all the air it will stay in the cartridge for some time but I wouldn't do that.
It's meant for emergency use, what good is it if all the air leaked out and/or there is not enough in the cylinder?
There is no pressure gauge so there is no way to see how much air is left in the cylinder. As such its for side of the road, back on the trails emergency use only.
The CO2 inflator works with Schrader and Presta valve stems and screws on the valve stem for a secure connection with no air loss.
The Pro Bike Tool CO2 Inflator is milled from a solid block of aluminum so it is designed to last a long time. In fact, it comes with a lifetime warranty. Since its not a true pump, there are almost no moving parts and very little to break.
This is a perfect companion to bring with you. The one time you really need it, you will be very glad you have it with you.
Just be sure you buy and use the recommended CO2 cartridges. In my opinion the Pro Bike Tool is the best co2 bike tire inflator.
Bike Pump Comparison Table
How to Choose the Best Bike Pump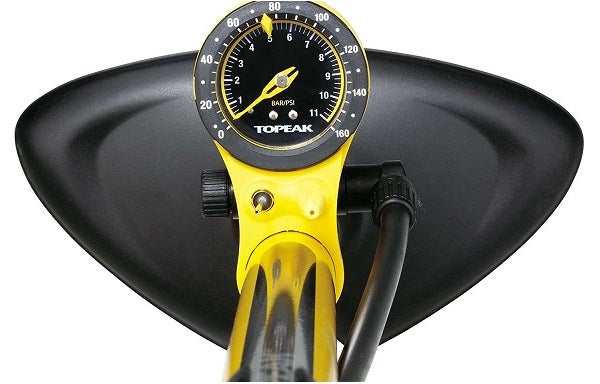 Having a good bike pump is going to be one of your most used bike accessories. The best bicycle pumps reviewed serve a dual purpose meaning you can also use them to inflate basketballs, footballs etc.
A good quality floor pump is something you should only need to buy once. Its worth spending a little time and money to find a good one that will last and also inflate your tires faster with less effort.

Pump Valve Stem Attachment
All modern bike pumps will support both Schraeder and Presta valves. The big question is how well do they attach and seal to the valve. And how easy it to change between the two valve types and how easy it to lock to the valve stem.
There are rather large differences between the various models. The better ones don't require flipping between ports, you can use the same one for both valves.
The locking mechanism is a large difference between a quality pump in that they are easier to lock and don't lose air when you unlock the pump.
Pressure Gauge
The last thing you need when working up a sweat pumping up your bike tire is a little crappy gauge that you can't read or worse, no gauge at all. The better gauges are of decent size, easily readable and a good color combination.
Now a gauge is only as good as how accurate it is. Also the location of gauge is important. While higher up on the stem makes it easier to read but easy to damage as well when it falls over.
Also having the gauge at the bottom also usually gives you a wider more stable base.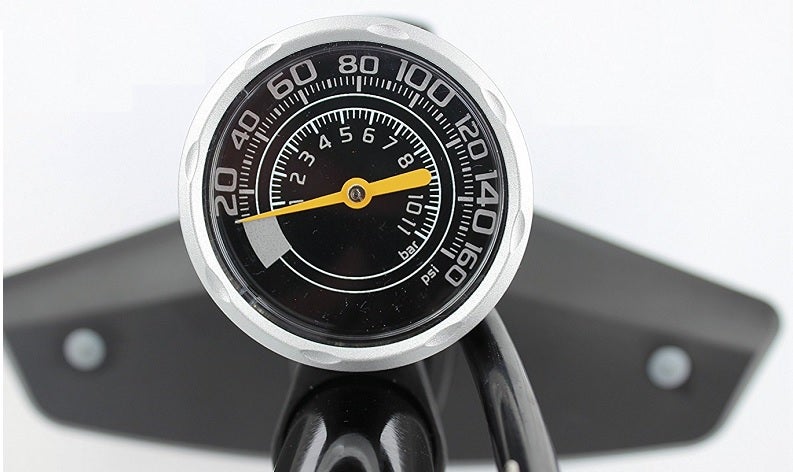 Speed of Inflation
Here as a generalization, bigger is better. The longer and wider the stem the more air you will push into the tire with every stroke. It's just a matter of physics.
Another feature of a better pump is one that does not take half the air out of a tire when attaching it.
The smaller, portable pumps will take longer just based on size but they can help make up for it with a double action. Meaning they are pushing air into the tire on both strokes.
The last type of pump is not really a "pump" but have a CO2 container that is under pressure and contains enough air to inflate anything but fat tires.

Stability
For stability, bigger is usually better. Having a wider, bigger base will tend to make it easier to pump your tires up. Here metal is going to be your friend.
A cheap plastic base does not make a good base. Having a wide enough base to put your feet is pretty important for stability.
This become even more important as the pressure increases in the tire, you will need to push that much harder. This is where a wider, more stable base really comes in handy.
Now this is irrelevant of course when using a hand pump or a CO2 pump.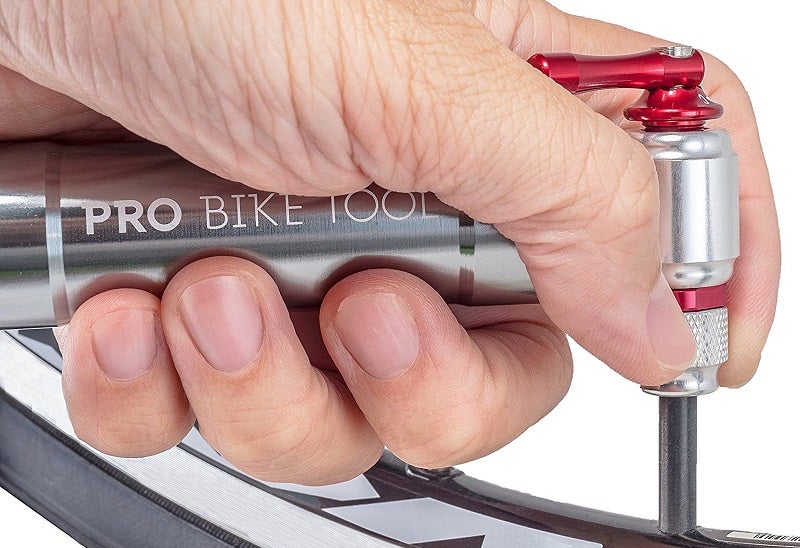 Durability
Other than speed of inflation, durability is pretty key. While a bike pump is probably not going to break the bank you don't want to just waste money buying a new pump every year because the cheap one you bought at Walmart is rusted out or just broke.
Probably more annoying is if it breaks when you really want to go riding and your pump is broke.
Now a floor model that sits in your garage probably is not going to take a lot of abuse but the pump that you mount to your bike and goes out on the road with you is going to take a lot more abuse.

Comfort
This is course somewhat subjective but having a pump with ergonomic handles that are comfortable can make a big difference. Unless you try several pumps you won't really understand the difference between a good handle and a cheap one.

Extra Features
Once you have a good pump you will probably find lots of other uses for it. All of the floor pumps reviewed can accept a conical attachment to inflate rafts, mattresses and other toys.
---
I hope this guide was helpful for finding the best bike pump to fit your needs. If you want to comment or recommend a pump I didn't include, please use my contact form to get in touch.
Have fun and enjoy the ride!
Notice: Outside Pursuits is a participant in the Amazon Services LLC Associates Program, an affiliate advertising program to provide a means for sites to earn advertising fees sold through by advertising and linking to Amazon.com. Amazon offers a small commission on products sold through their affiliate links. Each of your purchases via our Amazon affiliate links supports our efforts to bring you the best possible product reviews at no additional cost to you. We appreciate your support here at OutsidePursuits.com