Since you are here, you have probably discovered mountain biking is a great sport. Not only can you have lots of fun, but you also stay fit and healthy at the same time.
Don't be fooled by the photos you will see advertising mountain bikes, it is not all about huge jumps and drops at breakneck speed.
You can still enjoy mountain biking by staying on easier trails and increasing the difficulty as you gain experience.
To get started, you should read this beginners guide to mountain biking to get a better idea about the sport. You will find all sorts of information about different bike types and the clothing that will keep you comfortable.
The big question is about the bike: What is the best beginner mountain bike?
Obviously this is a serious consideration because you certainly want to get a capable machine but at the same time you might not be comfortable shelling out lots of money for a top of the line mountain bike.
If you are, then great and you can check out our recommendations of the best enduro bikes.
For more of my top gear recommendations, have a look through these popular Outside Pursuits guide links: MTB Pedals,  MTB Helmets, MTB Shoes.
Quick Answer: The 5 Best Mountain Bikes For Beginners
Here is a feature overview of my top 3 overall picks. Our guide and comparison table of the top rated beginner mountain bike will help you choose the right one for you.
Best Beginner Mountain Bikes
| | Diamondback Sync 'r Pro MTB | GT Karakoram Comp MTB | Kona Process 134 Supreme MTB |
| --- | --- | --- | --- |
| | | | |
| | | | |
| Frame: | 6061 T6 Aluminum Frame, | GT Speed Metal Aluminum | Kona 6061 Aluminum Butted |
| Tires: | Schwalbe Tough Tom 27.5×2.35″ | All Terra Cypher 29X2.1″ | Maxxis Minion DHF 27.5 x 2.3″ |
| Drivetrain: | SRAM 1×8 speed | Sunrace CS-MS8 11-42, 11 speed | SRAM XX1 10-42t, 11 Speed |
| Brakes: | Tektro Auriga hydraulic disc brake with 180 front/160mm rear rotors | Shimano BR-315 hydraulic disc, 160mm rotors | Shimano XT Hydraulic Disc, 160mm rotors |
| | | See the GT Karakoram at JensonUSA | See the Kona Process 134 at JensonUSA |
Beginner Mountain Bike Reviews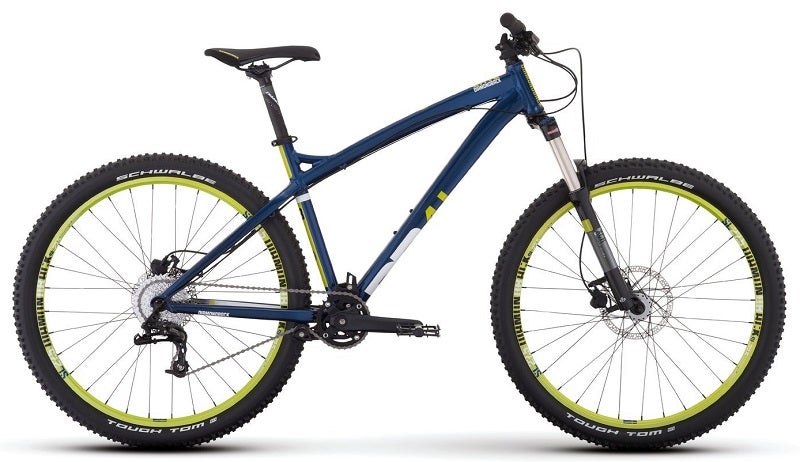 Diamondback Sync 'r Pro Mountain Bike at a Glance
:
---
Frame: 6061-T6 aluminum alloy frame
Tires: Schwalbe Tough Tom 27.5×2.35″
Drivetrain: SRAM 1×8 speed
Brakes: Tektro Aries hydraulic disc brake with 180 front/160mm rear rotors
Shocks: SR Suntour XCR 120mm travel

Weight: 31 lbs
With its modern frame geometry and great price, the Diamondback Line is our Editor's Choice for the best beginner mountain bike.
FRAME
As you can probably see, it's a hardtail with a low bottom bracket height and length of the frame allow you to ride fast through rough terrain while the rear triangle is kept short to give the ride a playful feel.
Designed to be a do-it-all hardtail, you will be able to get all the basics of mountain biking mastered on the Line.
SHOCKS & SUSPENSION
The SR Suntour XCR fork with 120mm of travel is an excellent choice for a bike at this price range. You may not get the impeccable performance of forks that cost more than this whole bike, but you do get a fork that can hold its own on rough trails.
SR Suntour forks are present on the majority of entry level mountain bikes not only because they are affordable, but also because they are reliable and can be trusted to get the job done.
The XCR has 32mm wide stanchions (legs) to boost stiffness and you can set the preload or even lock out the fork for climbs.
It does struggle a bit with big hits and really chunky rock gardens but you will need to learn the skills to deal with those on smaller features first before this becomes a concern.
DRIVETRAIN
A SRAM 1×8 drivetrain gives you an acceptable range of gears. This should just about be enough range for you to enjoy a ride.
If you have lots of steep hills in your area, you may want to try out some smaller chainring sizes to help you get up them, but this will come at the expense of a slower top speed. Consider upgrading to 1×10 at some point.
WHEELS
The Line rolls on 27.5" wheels and the chunky, knobbly 2.35" Schwalbe Tough Tom tires have got your back through any terrain, including mud. When it is time to slow down, Tektro Auriga hydraulic disc brakes are there for you.
These are very much entry level brakes and do not offer too much power or control. They will still be able to stop you though, and they can certainly stop you better than any mechanical brake.
For beginner purposes they are absolutely fine.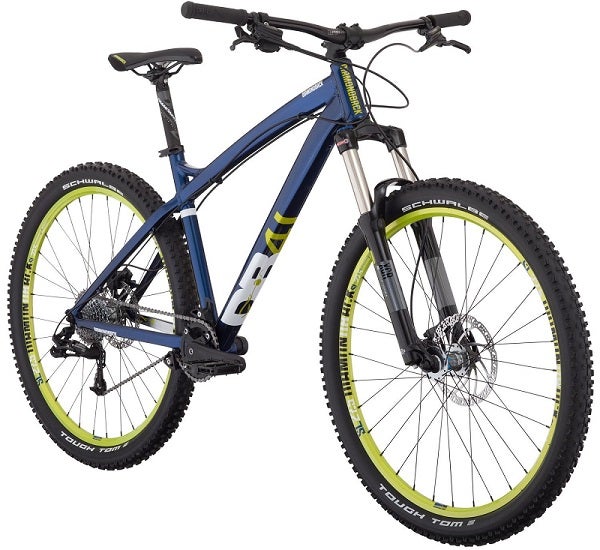 HEADTUBE
Despite the modern geometry of the frame, it is surprising to see a non-tapered headtube. Most modern frames use this wider design and matching fork for stiffness.
At the beginner level you do not really need to worry about the difference in performance but the presence of a non-tapered headtube dramatically limits your fork upgrade options in the future.
As a result, when you feel that you have reached the limits of the Line in its current build, you will have to purchase a whole new bike to get something with better suspension.
Despite this, the Line is still an excellent choice as the best entry level mountain bike you can buy in it's price range!
You will not be disappointed with its performance and it will provide the platform you need to dive into proper trails and get to grips with mountain biking.
---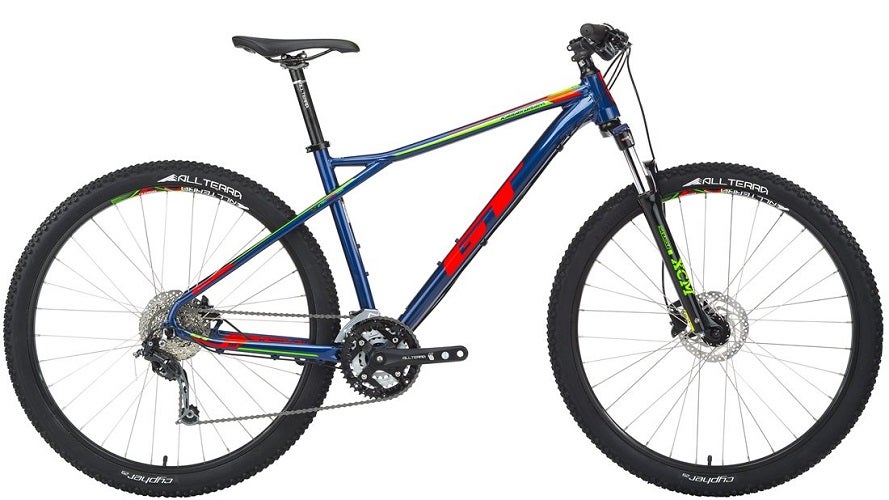 GT Karakoram Comp Bike at a Glance
:
---
Frame: GT Speed Metal Aluminum
Tires: All Terra Cypher 29X2.1″
Drivetrain: Sunrace CS-MS8 11-42, 11 speed
Brakes: Shimano BR-315 hydraulic disc brakes, 160mm rotors
Shocks: SR Suntour XCM 100mm travel
Weight: 33 pounds
If your looking for the best mountain bike for the money, you will find it here with the GT Karakoram!
The Zaskar has been around for over 25 years. Back in the day it was known as a bike to do anything on and was popular with cross country racer, slalom racers, as well as riders who liked to hammer their bike through the roughest terrain they could.
FRAME
One reason for the Karakoram's popularity is the strong frame design.
Obviously GT have obviously made changes to the frame over the years. Originally it was only available for 26" wheels (as all mountain bikes were back then).
Now it is available in 27.5" and 29" versions, with modern frame standards like a tapered head tube and wider axles. All of the fun and reliable aspects of the original remain.
This 29" version is the perfect beginner mountain bike if you think your riding will tend more towards all day adventures and the occasional XC race.
SHOCKS
Softening the front end is a SR Suntour XCM fork with 100mm of travel. Being a Suntour fork, it performs best soaking up trail chatter when planted firmly on the ground.
While it will do its best to deal with big hits or even the odd drop, it is not really intended for such maneuvers. If you want to get to grips with the airborne side of mountain biking, then you should look elsewhere and also for a bike more intended for gravity.
DRIVETRAIN
To help take you up and down mountains all day long, or at speed around a race course, the Zaskar has a Shimano SLX 3×9 drivetrain with a Acera cassette and KMC chain.
The Accera group has the same performance as higher groupsets but at a lower price. Accurate shifting is what you should expect from any modern drivetrain and you get exactly that.
WHEELS
All Terra Cypher tires are only really good on dry hardpack conditions.
There is a good chance that you will encounter dust, loam, gravel, mud, and wet conditions on your rides, so it would be a good idea to swap these tires for some that are more specific to your trails. Save these for race day on a dry course.
Alex rims on centerlock hubs keep you rolling fast and Shimano hydraulic disc brakes will slow you down with all the power you need.
Many years later, the Karakoram retains all the reasons why it became the best starter mountain bike! Now available with 29" wheels, you do not need to look any further for a beginner mountain bike to take you on big adventures in the hills.
---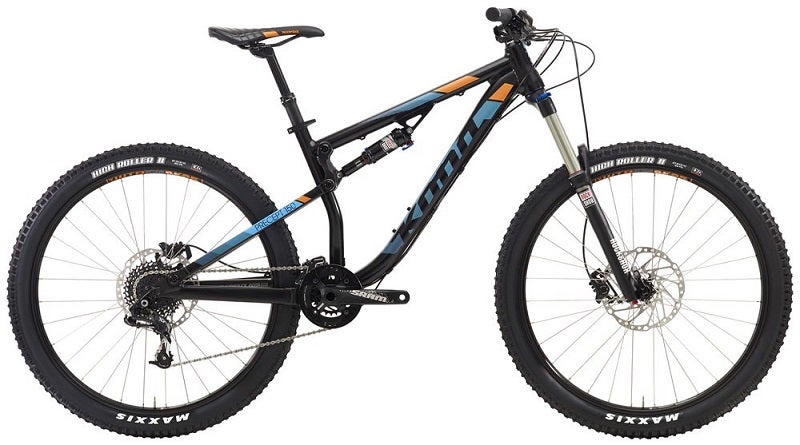 Kona Process 134 Supreme Bike at a Glance
:
---
Frame: Kona 6061 Aluminum Butted
Tires: Maxxis Minion DHF 27.5 x 2.3″
Drivetrain: SRAM XX1 10-42t, 11 Speed
Brakes: Shimano XT Hydraulic Disc
Shocks: Front: RockShox Pike RCT3, 140mm of travel, Rear: Monarch RT3
Weight: 29.2 lbs
Getting into the world of serious mountain bikes for hardcore riding, the Kona Process 134 is the little brother of the Process series. While the Process 134 may have a bit less focus on hardcore gravity riding, it retains the same trail shredding capability of its brethren.
FRAME
The frame cuts a similar shape to the Process frame. There is lots of standover height to help you move around with a long reach and a slack head angle.
In terms of weight, the Process 134 is quite heavy at 29.2 lbs but Kona are so confident about the strength of the frame that it comes with a lifetime warranty.
Although Kona would more than welcome you to take the Kona Process 134 to an enduro race, as a beginner, you are unlikely to do so. What you need to think about at this stage is how a bike can support you while you get used to mountain biking and learn the basic to intermediate skills.
The Kona Process 134 definitely has your back. It climbs well and the shock has a lock out setting to stiffen it up on big climbs. Open up the suspension before pointing the Process downhill and you will find yourself on board a confident bike that begs you to push it harder.
SHOCKS & SUSPENSION
The RockShox Pike fork and Monarch shock make small work of trail chatter, as well as bigger impacts, such as through rock gardens or drops.
A disconcerting wheezing sound does come from the fork when it compresses and rebounds, but this is nothing to worry about.
DRIVETRAIN
A RAM XX1 drivetrain is one of the factors keeping the price of the Kona Process 134 so low. While this gives you all the range that you need, even for big days in the mountains, it is heavier than many 1×11 setups.
On an already heavy bike, you may want to keep an eye on your savings and upgrade at some point in the future.
Video: Kona Process 134 Overview.

WHEELS
The Kona Process 134 rolls on WTB rims laced to Shimano Deore hubs. 2.3 wide Maxxis Minion DH tires perform very well in all conditions, except deep mud. You will enjoy the confidence and traction that these tires give you.
In keeping with the Precept's trail shredding attitude, it comes fitted with a KS dropper post. Although the 140mm of travel is certainly welcome when you want to get the seat out of the way for hectic descents, unless you are short, you will find the seat still quite high.
Again, a dropper post with more travel is an upgrade you can make in the future.
Out of the box, the Kona Process 134 is the perfect full suspension trail bike that will not break the bank. It will flawlessly accompany you on any mountain bike missions you take it on, whether that is big mountain adventures or learning new skills at the bike park.
While it is more than capable in this set up, once you have progressed as a rider and want to start making upgrades, the frame will still be there for you, always prepared to help you take your riding to the next level.
While its a little more expensive than the other bikes on our list, if you want the best mountain bike for beginners, the Kona Process 134 is for you!
---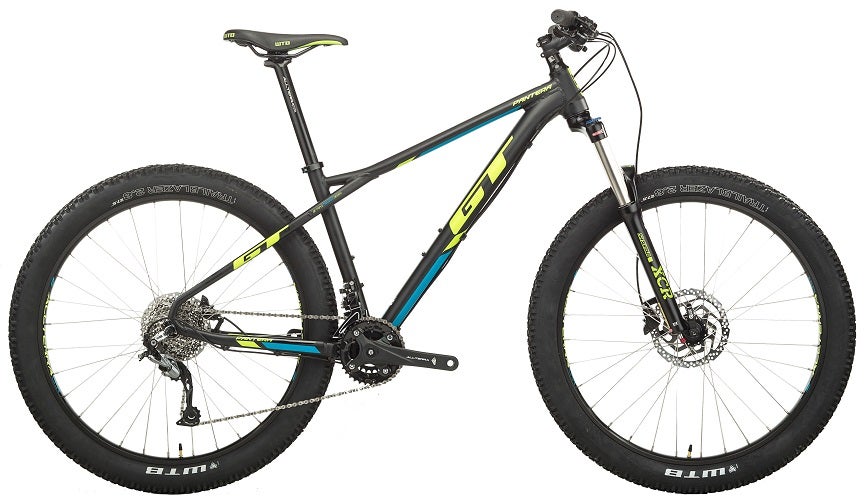 GT Avalanche Comp Bike at a Glance
:
---
Frame: Aluminum Alloy
Tires: All Terra Cypher 29X2.1″
Drivetrain: Sunrace CS-M98, 11-36T, 9-Speed Cassette
Brakes: Shimano BR-M315 Hydraulic, 160mm Front & Rear
Shocks: SR Suntour XCM-HLO 100mm Travel
Weight: 33 lbs
GT produce all manner of affordable yet capable bicycles across all genres of the sport. It is no surprise that they released this alloy version of the Pantera to complement the earlier carbon frame model.
To keep the final price of their bikes down, GT design and build as many components themselves.
DRIVETRAIN
Despite this, it is still a surprise to see a Sunrace CS-M98, 11-36T, 9-Speed Cassette on the Avalanche, giving you all the gears you need for big days in the mountains as well as reliable and accurate shifting.
WHEELS
The 2.1 tires do a great job of absorbing small bumps and minor trail chatter. They also give incredible traction when climbing and have grip for days when hammering downhill. Anything that gets past the tires is left to the Suntour fork.
SHOCKS & SUSPENSION
This 100mm travel fork is designed for cross country racing. It therefore performs well when both climbing and descending, as long as you do not throw anything too extreme at it, which you are unlikely to do at the beginner level anyway.
The Suntour also has a remote lock out so you can climb with even more efficiency.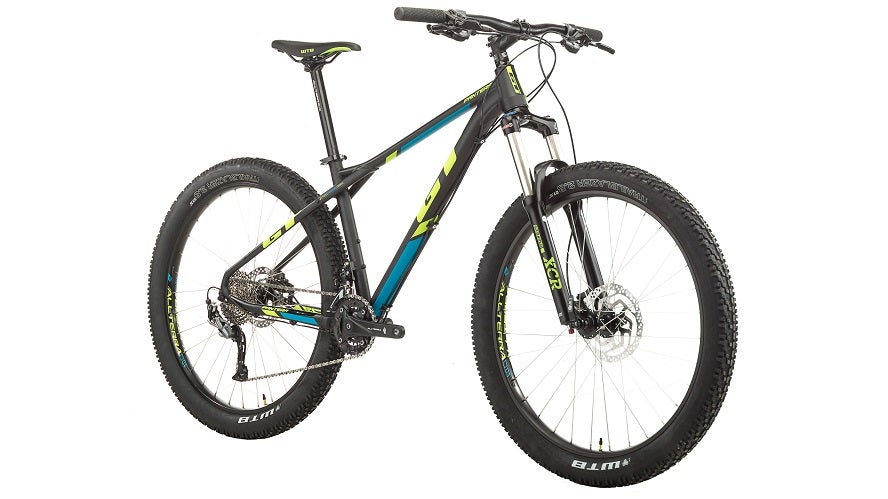 BRAKES
Shimano BR-M315 also take care of the braking with their impressive M315 brakes. These hydraulic disc brakes feature all the important internal aspects of their bigger brothers to give you huge braking power and modulation.
The Shimano feature reach adjust (how far the lever sits from the handlebar), so you can dial them in to your hand size, albeit with a tool so you cannot do so on the fly.
FRAME
At the heart of any bike is the frame and the Avalanche does not disappoint. The long reach may feel stretched out to some but helps you when climbing and the length of the bike gives stability at speed.
The head tube is tapered and the rear axle is wide and stiff, following the 12×142 standard.
The only disadvantage of the bike is that the wheel hubs have unsealed bearings, so will not last as long if you regularly ride in wet and muddy conditions.
Overall, the Avalanche is a highly capable plus sized bike at a more than affordable price point. The plus tires add a level of comfort and confidence with their bump absorbing properties and grip.
Perfect for any beginner and might be the best budget mountain bike!
---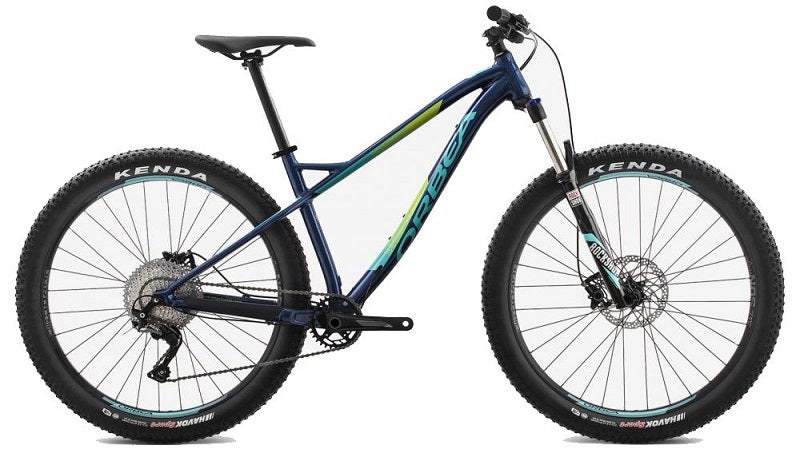 Orbea Max 18 Bike at a Glance
:
---
Frame: Aluminum Alloy
Tires: Kenda 1153 2.35″ 30TPI
Drivetrain: Sun Race 11-40t 11-Speed
Brakes: Shimano M365 Hydraulic Disc
Shocks: Rock Shox 30 Silver TK, 100mm travel
Weight: N/A
Spanish brand Orbea have built the Max 18 to be a shapeshifting hardcore hardtail for trail riding.
Why shapeshifting?
Loki is a viking god who can change shape and likes to cause chaos. The Orbea Max can accept 27.5" wheels with plus sized tires or faster 29" wheels with normal width tires.
Each of these set ups will give you a different ride and different types of chaos…good chaos though!
FRAME
Modern geometry such as a slack head angle and short chainstays ensure that you have confidence on steep or rough descents. With big plus sized tires, the Max is certainly not a light bike to ride, but it does not want or need to be a featherweight race machine.
What it wants to be is a tough machine capable of taking a hammering. And this is exactly what it is with a huge portion of fun thrown in.
SHOCKS & SUSPENSION
Up front you get 100mm of travel from the RockShox TK fork with boost axle spacing for stiffness. This fork will eat up the big and small hits flawlessly, albeit with a bit of flex in the stanchions.
A lock out lever means you can stiffen the fork up for climbs before opening it again to enjoy the descent.
DRIVETRAIN
Shimano spec the Max with a 1×11 drivetrain on a Sunrace cassette and 32-tooth chainring. Beginners or anyone in areas with steep climbs may find this chainring a bit too big so consider changing to a 30-tooth until your legs get stronger.
WHEELS
Strong Sunringle Duroc rims spin on Modus boost hubs to keep the Max rolling on a stiff and strong platform. The Kenda K1153 2.35 tires have huge amounts of grip and comfort once you have found your perfect pressure.
You will almost certainly need to invest a fair bit of time to find the right tire pressure, but once you have found it, you will absolutely love the feel of these beasts.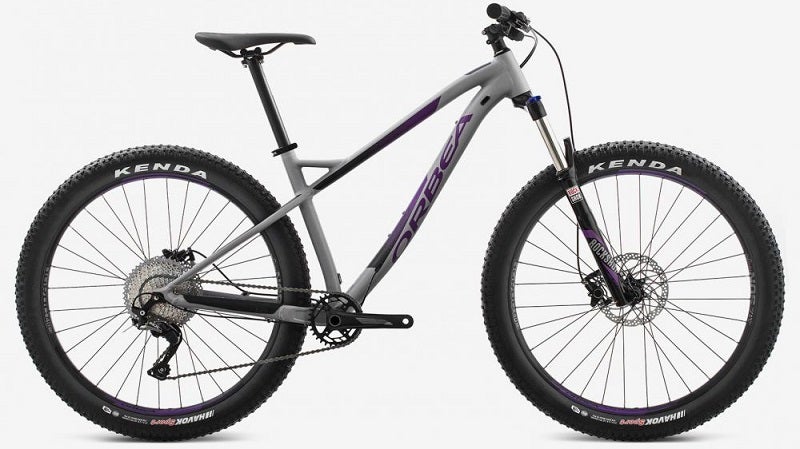 BRAKES
Stopping duties are taken care of by Shimano M365 brakes. Thanks to trickle down technology from more expensive brake models, the M365s can provide you with all the braking power and performance that you need.
There is also reach adjust to dial in the lever position to match your hand size.
Giving the bike a clean look is the internal cable routing to keep the cables out of site. There is even internal routing for a dropper post, which would make a great upgrade to the stock post.
The Loki wants you to squeeze as much fun as possible out of each trail you take it on. At the end of the day, regardless of any other motivations you have for getting into mountain biking, fun is probably on the list.
So if you want the best value mountain bike in a plus sized hardtail that is guaranteed to give a good day on the mountain, then get yourself a Max!
---
Beginner Mountain Bike Comparison Table
| Hardtail MTB | Frame | Tires | Drivetrain | Brakes | Shocks | Rating |
| --- | --- | --- | --- | --- | --- | --- |
| Diamondback Sync 'r Pro | 6061-T6 aluminum alloy frame | Schwalbe Tough Tom 27.5×2.35″ | SRAM 1×8 speed | Tektro Auriga hydraulic disc | SR Suntour XCR 120mm | 4.1 / 5.0 |
| GT Karakoram Comp Mountain Bike | GT Speed Metal Aluminum | All Terra Cypher 29X2.1″ | Sunrace CS-MS8 11-42, 11 speed | Shimano BR-315 hydraulic disc | SR Suntour XCM, 100mm | 4.3/ 5.0 |
| Kona Process 134 Mountain Bike | Kona 6061 Aluminum Butted | Maxxis Minion DHF 27.5 x 2.3″ | SRAM XX1 10-42t, 11 Speed | Shimano XT Hydraulic Disc | Front: RockShox Pike, 140mm, Rear: Monarch RT3 | 4.3/ 5.0 |
| GT Avalanche Comp Bike | Aluminum Alloy | All Terra Cypher 29X2.1″ | Sunrace CS-M98, 11-36T, 9-Speed | BR-M315 Hydraulic disc | SR Suntour XCM-HLO 100mm | 4.0/ 5.0 |
| Orbea Max 18 Hardtail Mountain Bike | Aluminum Alloy | Kenda 1153 2.35″ | Sun Race 11-40t 11-Speed | Shimano M365 Hydraulic Disc | Rock Shox 30 Silver TK, 100mm | 4.1 / 5.0 |
How to Choose the Best Beginner Mountain Bike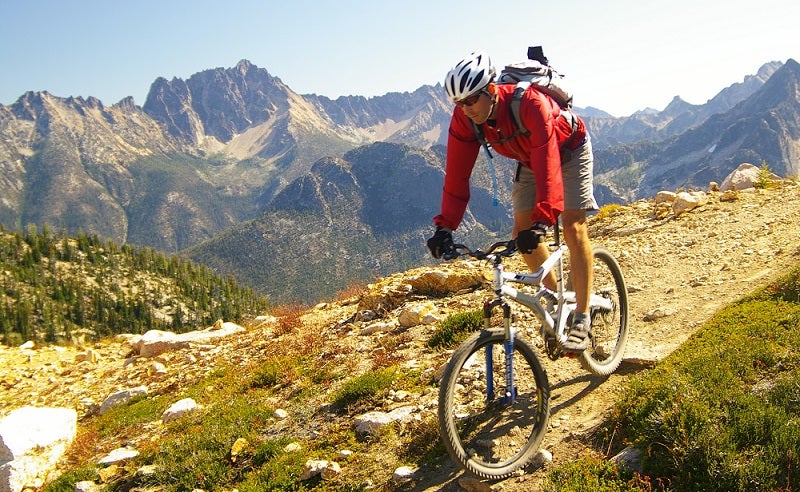 Choosing the Right Beginner Mountain Bike
Hopefully by now you have tried out mountain biking a few times with friends. If not, it is advisable to give it a go before purchasing your own mountain bike, just to make sure that you are committed before spending money.
Once you have made that decision, you may be wondering where to start and asking yourself questions like which bike should you buy and what clothes do you need. We are here to help with all of the questions you might have!
Most people will want to start with something more affordable that is more matched to the kind of trails that beginners will typically start on.
At the end of the day, you do not need a long travel race machine if you are not going to ride the advanced trails it has been built for. It is better to master the basics on a capable yet affordable bike and upgrade later.
So with that in mind, here are a few things that you should consider and look out for when buying a beginner mountain bike.

Hardtail or Full Suspension?

Hardtail mountain bikes have a suspension fork at the front and a rigid rear end. Full suspension bikes have a shock at the rear as well as a suspension fork.
Which is better?
Neither is necessarily better. Having suspension at the back means you have better traction but less efficiency when pedaling. Hardtails are lighter and cheaper due to the simpler frame design and lack of shock.
So which should you go for? A hardtail will certainly get the job done but you will enjoy a bit more comfort on a full suspension bike.
One thing you should be wary of is the actual fork and shock used. There is a world of difference between a good quality fork/shock and a cheap version.
The former will give you a comfortable ride and enhance your performance whereas the latter could just behave like a pogo stick and cause you problems. The mere presence of suspension on a bike does not automatically mean it is good.

Frame Material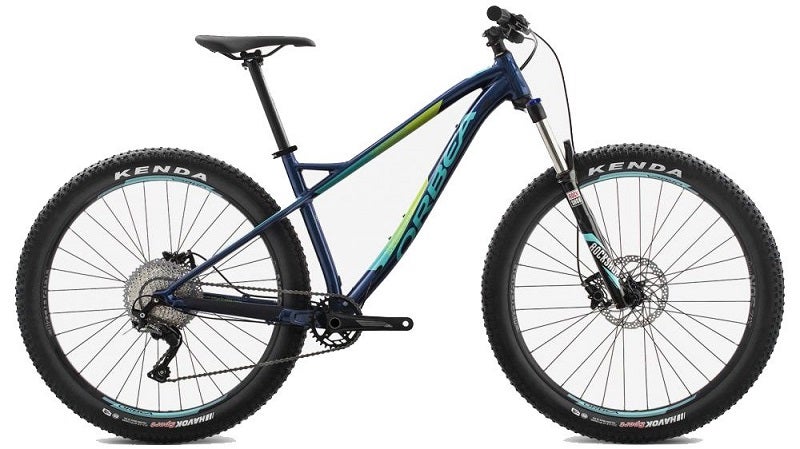 There are three materials commonly used for modern mountain bike frames: aluminum alloy, carbon or steel. An affordable beginner mountain bike is unlikely to have a carbon or steel frame.
Carbon is expensive to produce and steel is generally used on custom or boutique bikes.

Wheel Size
26" wheels used to be the standard but there are very few new bikes being made with this wheel size. It has been replaced with 27.5" and 29" wheels.
A bigger wheel can roll easier over obstacles on the trail, carries speed better but accelerates slower than a smaller wheel. Acceleration speed should be of no concern to you as a beginner but the advantages of a big wheel definitely should be.
The choice between the sizes will come down to your height. Taller riders often feel more at home on a 29 inch.

Drivetrain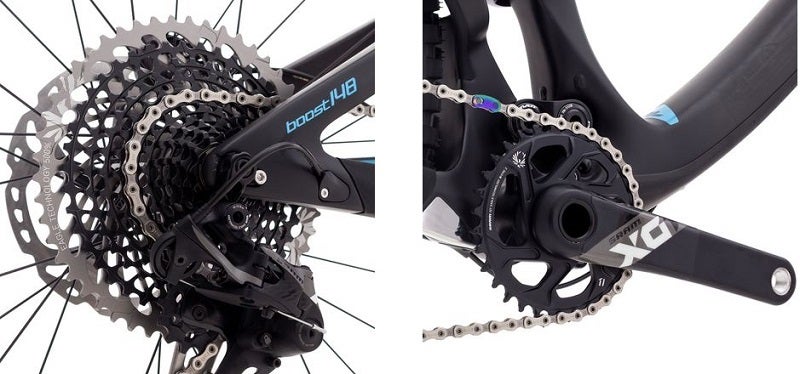 On beginner mountain bikes you can expect to see drivetrains with 2 chainrings at the front and a 9, 10, or 11 speed cassette (2×9, 2×10, 2×11). If you are lucky, you will find one with a 1×10 or ideally a 1×11 set up.
A single chainring paired with a 10 or 11 speed cassette will give you the range of gears you need with less weight than a 2x set up (less chainrings, one less gear shifter and no front derailleur or extra cables).

Brakes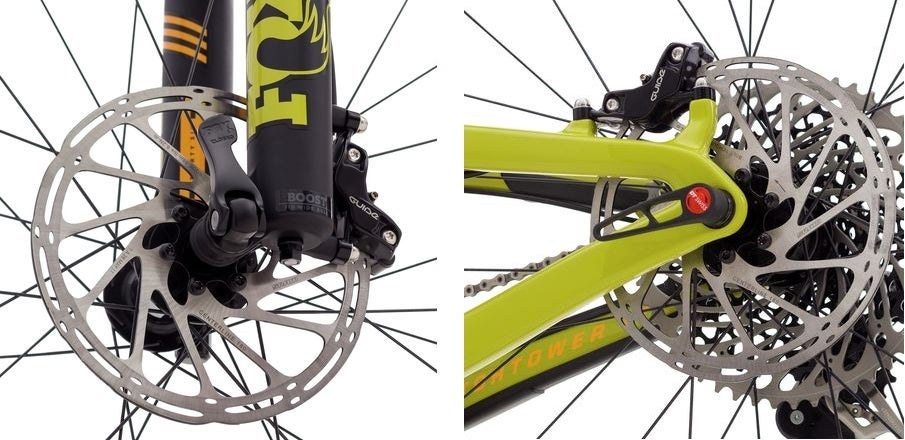 To enjoy mountain biking, we recommend you settle for nothing less than hydraulic disc brakes. The difference in braking power and performance in comparison to cable pull or rim brakes is huge.
An affordable mountain bike will not have the best brakes, but as long as they are hydraulic disc brakes, you will be able to stop with ease and comfort.
If you are looking at a bike that does not have disc brakes, check to see if the hubs, fork and frame are compatible and consider purchasing a set to fit to your new bike.

Tires
Do not expect too much from the stock tires on beginner mountain bikes. They are likely to be cheap and use hard compound to keep the price of the bike down.
Tires have a profound effect on the handling of a mountain bike, so an upgrade to a set of tires suited to mountain biking is highly recommended.
---
I hope this guide was helpful in picking the best beginner mountain bike to fit your needs. If you want to comment or recommend a bike I didn't include, please use my contact form to get in touch.
Have fun and be safe out there!
OutsidePursuits.com is a participant in the Amazon Services LLC Associates Program, an affiliate advertising program. OutsidePursuits.com earns fees from products sold through qualifying purchases by linking to Amazon.com. Amazon offers a commission on products sold through their affiliate links.