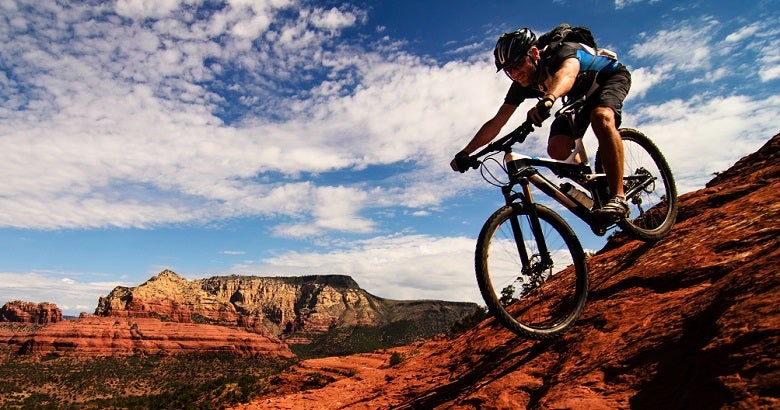 Our Editors independently research, test, and rate what we feel are the best products. We use affiliate links and may receive a small commission on purchases.
If you ask the average mountain biker what he enjoys the most about mountain biking, he is most likely to admit that he is happiest when riding downhill, rather than up.
Gravity assisted speed, fast corners and the resulting adrenaline make for a fun experience that most do not get from cranking up a hill.
While you can get the maximum descending fun riding a downhill specific bike, you cannot ride this type bike back to the top again.
Cross country bikes are made for speed going up and down but are generally not built to deal with big hits, drops and jumps that make mountain biking fun.
The middle ground is taken up with the enduro market and it seems that this has become the most popular genre in mountain biking.
And for good reason: Enduro bikes are fun bikes to ride.
Best Enduro Mountain Bikes
| | Santa Cruz Megatower Carbon GX Eagle | Yeti Cycles SB6 Turq X01 Eagle Enduro | Pivot Firebird Carbon Pro X01 Eagle |
| --- | --- | --- | --- |
| | | | |
| | | | |
| Frame: | CC level carbon fiber | Turq carbon fiber | Carbon fiber |
| Drivetrain: | SRAM GX Eagle, 12-speed | SRAM XO1 Eagle | SRAM X01 Eagle |
| Brakes: | SRAM Guide RSC. 200mm rotors | SRAM Guide RSC. 180mm rotors | Shimano XT M8000. 180mm rotors |
| Rear travel: | 160mm | 152mm | 170mm |
| Shock: | RockShox Super Deluxe Select | Fox Factory DPX2 | Fox Float Factory X2 |
| Front travel: | 160mm | 160mm | 170mm |
| | Competative Cyclist | Competative Cyclist | Competative Cyclist |
For more of my MTB gear recommendations, have a look through these popular Outside Pursuits guide links: MTB Helmets, MTB Pedals, MTB Shoes.

Quick Answer: The 5 Best Rated Enduro Bikes For 2021
Unfortunately it is not quite as simple as just going out and buying a bike (it never is, come to think of it). You will find that each bike comes in a range of options and with different specifications of components.
Not to worry though, we have your back. Let's get to it!
Enduro Bike Reviews
Check out our reviews of the top rated enduro bikes and the guide below to get you started in the world of enduro mountain bikes.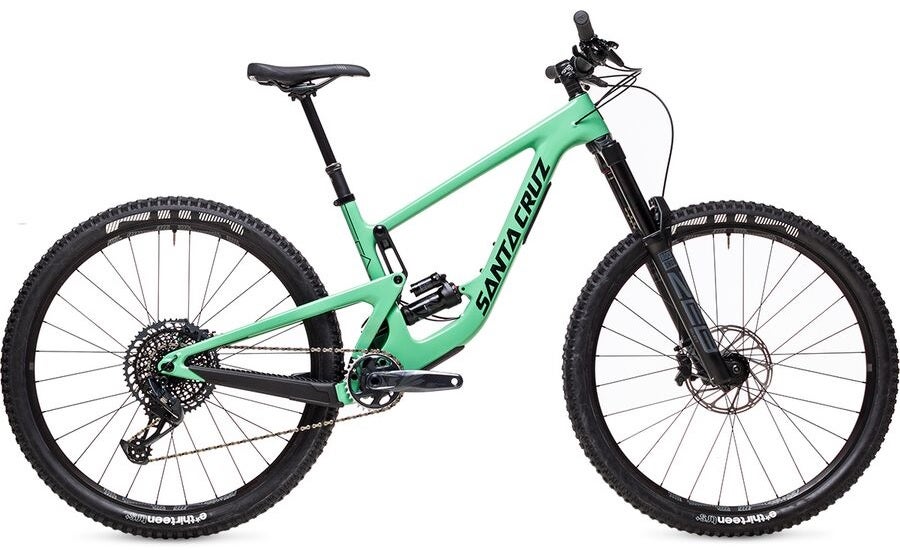 Santa Cruz Megatower Carbon GX Eagle at a Glance
:
---
Frame: CC level carbon fiber
Drivetrain:

SRAM GX Eagle, 12-speed

Brakes: SRAM Guide RSC. 200mm rotors
Rear travel: 160mm
Shock:

RockShox Super Deluxe Select

Front travel: 160mm
Fork:

RockShox Zeb Select

Wheelset:

e*thirteen LG1 EN

front and rear
The original 29-inch Megatower is a very capable, and very popular trail bike and wins our "Editors Choice" award for the best enduro bike.
So capable in fact, that Santa Cruz riders started using it to race in the Enduro World Series.
SHOCKS & SUSPENSION
Despite it doing remarkably well in such testing conditions, it was felt that the 135mm of rear travel was not quite enough to handle the rough courses at race speed. For this reason, Santa Cruz have created the Megatower.
Now with 160mm of rear travel paired with a 150mm fork, the Megatower "long travel" is ready for any trail you can throw yourself down.
Despite it technically having a new frame design, the front triangle has not been changed, meaning the Megatower has a familiar feel to anyone that has ridden the original version.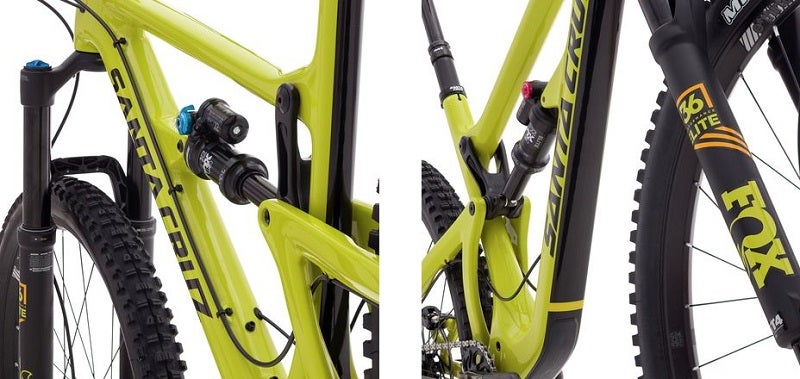 It is the rear triangle where the frame designers made changes. An updated VPP linkage design builds on the bob-free platform and adds more mid stroke support.
This is combined with the lower leverage ratio that ramps up at the end of the stroke. On the trail this means you will not blow through all the travel when clattering through rock gardens and you will be hard pressed to get it to bottom out.
The chainstays are also now 2mm longer, making the LT stable at speed.
Flipchips were found on the original Hightower to switch adjust the geometry and accommodate 27.5+ tires. The Megatower does not have flipchips and cannot accept any other wheel size. Santa Cruz want you to keep the Megatower ready for racing or hardcore trail shredding.
FRAME
Despite the same front triangle being used, the longer fork means the Megatower has a slacker 66.4 headangle. CC level carbon is used throughout the frame, which is just as stiff but a lighter option that C level carbon.
By using CC level, Santa Cruz have managed to reduce the weight of the frame by up to 280g, depending on the size.
So sure are Santa Cruz of the Megatower 's durability, that it comes with a lifetime warranty, including the linkage bearings. Santa Cruz built this bike to cope with some serious abuse.
With a lifetime warranty for you to play with, you really do not have to hold yourself back to the point where you are far more likely to break yourself than one of these frames!
The spec on this build draws a good line between high-performing components without some of the most expensive options being specced. RockShox take care of the suspension with a Zeb Select Elite shock and a 36 Performance Elite fork (160mm).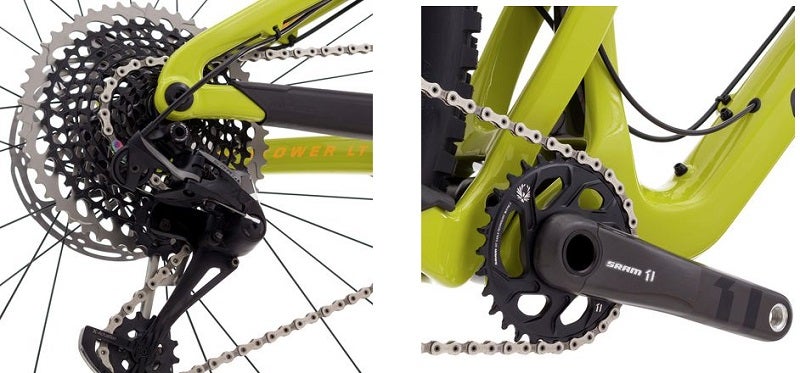 DRIVETRAIN
SRAM supply the drivetrain and brakes. An SRAM GX Eagle (1x12) is paired with a GX cassette. The XG is more affordable than XX1 but also cheaper.
The reliable XG cassette saves a fair bit of money at the cost of some extra weight but ultimately it is the derailleur and shifters that get the job of changing gears done and the XG still performs very well.
BRAKES
SRAM Guide RSC brakes are very popular among enduro racers. They offer contact point and reach adjustment so you can set them up exactly as you need them.
The four pistons in each caliper deliver strong braking with unmatched modulation. To get the best performance on long descents the front rotor is 200mm with 180mm in the rear.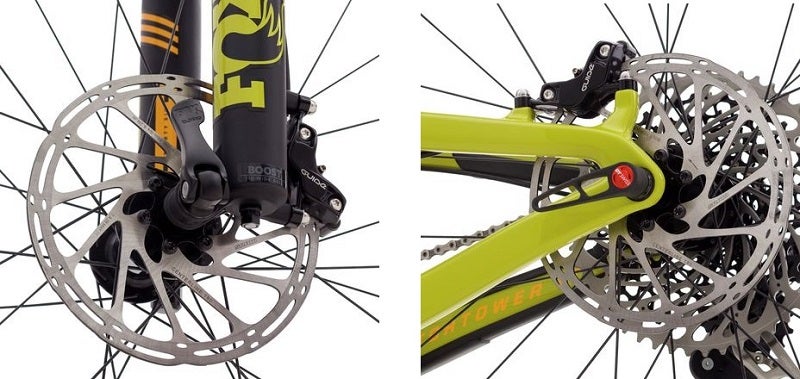 e*thirteen LG1 EN hubs keep the whole bike rolling on a light and stiff package. These come fitted with e*thirteen TRS tires, a great all round and aggressive tire.
STEM & HANDLEBARS
Finishing the package off is a Highline 3 Dropper dropper post, and a e*thirteen Base 35 carbon handlebar (35mm clamp size.)
The Santa Cruz Megatower enduro mtb may not be the longest or slackest 29" enduro bike available, and there are certainly others with more travel. It does not need to be anything else though, as it is a highly capable race machine that is also fun to shred on gnarly trails.
It maneuvers easily and accelerates fast, ensuring you are always smiling and chasing down your best times.
---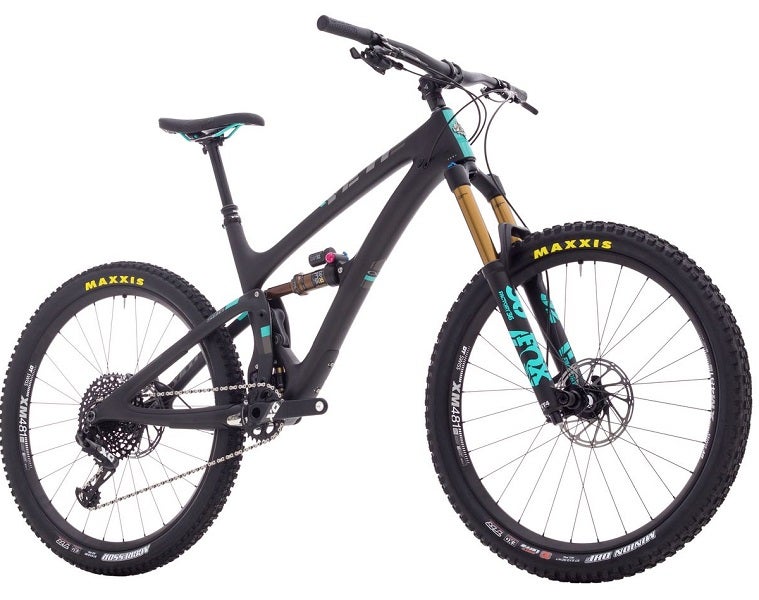 Yeti Cycles SB6 Turq X01 Eagle at a Glance
:
---
Frame: Turq carbon fiber
Drivetrain: SRAM XO1 Eagle
Brakes: SRAM Guide RSC. 180mm rotors
Rear travel: 152mm
Shock: Fox Factory DPX2
Front travel: 160mm
Fork: Fox Factory 36
Wheelset: DT Swiss XM481 rims on DT Swiss 350 hubs
Richie Rude has won the World Enduro Series twice. Both times he was riding a Yeti SB6.
Riding the same frame as Richie does not mean you can be as fast as he is (not many people are), but it does give you a stiff and light platform to help you reach your full potential.
FRAME
This version is not just the same frame design used by Yeti's enduro race team, but the same carbon version as well. The DB6 frame is offered in C series carbon and a stiffer, lighter Turq version, the latter being used by the race team and on this build.
The Turq frame is 260g lighter in comparison the C series. Rest assured, Yeti have very high testing standards for their frames, ensuring that each and every one meets the expected stiffness and quality.
To ensure the frame behaves properly, each component of it has been custom designed and built by Yeti. No off the shelf parts are used so Yeti can absolutely guarantee the quality of their frames and with a five year warranty it's the best enduro mountain bike in its price range!
Molded rubber guards on the downtube and chainstay eliminate noise and damage from chainslap and protect vulnerable areas from rock strikes.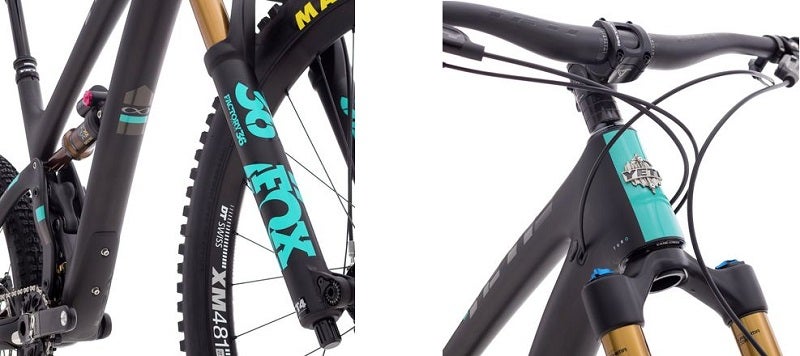 SHOCKS & SUSPENSION
It is not just the build quality and stiffness of the frame that translates to speed on the trail. Yeti's Switch Infinity suspension design remains stable when pedaling but is at the same time plush with great small bump sensitivity, anti-squat, and the ability to swallow big hits as well.
This means you can lay down power over rough terrain, climb efficiently and point it down big jump lines at the bike park.
Switch Infinity's genius lies in the main pivot being able to rise at the start of the travel, before changing direction to give a bottomless effect. The change of direction also prevents suspension performance being affected by the chain.
Confused about what Switch Infinity looks like? So were we until we watched this video.
The DB6 has a long reach, a low bottom bracket height and a 65.5 head angle. The combination of this geometry and the 152mm rear, 160mm front travel allow you to blast over and through rough terrain with unrivaled confidence.
Fox look after the suspension with a Factory DPX2 shock and 36 fork.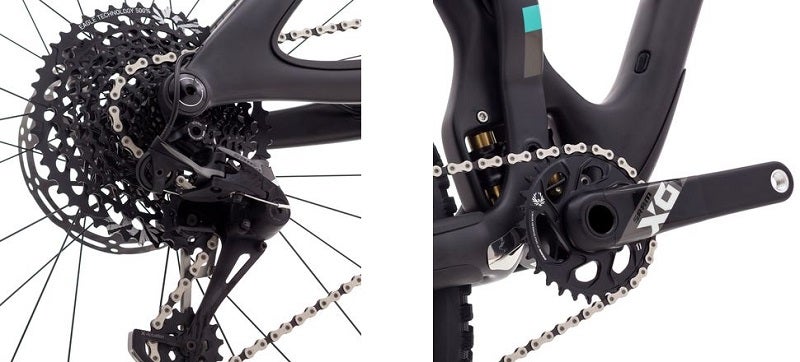 DRIVETRAIN
This build features SRAM Eagle XO1. This 1x12 drivetrain gives you all the range you need for long days in the mountains. The 50-tooth ring at the top can be kept in reserve for all but the steepest of climbs, or for when your legs are shot.
Paired with a 32-36-tooth chainring, you can get all the speed you dare out of the descents. XO1 sits in the middle of SRAM's Eagle offerings in terms of price, accuracy, and weight.
XX1 will cost you more and weighs less while GX saves some money in exchange for weight. X01 is therefore a good choice for anyone that is serious about racing but does not want to shell out top dollar.
BRAKES
SRAM Guide RSC brakes come with 180mm rotors. These four piston brakes have phenomenal modulation, allowing you to really get a feel for the brake power.
You can also dial them in to your exact preferences thanks to the contact point and reach adjustment. An upgrade to a 200mm rotor at the front will give you some more power and less fade on long descents.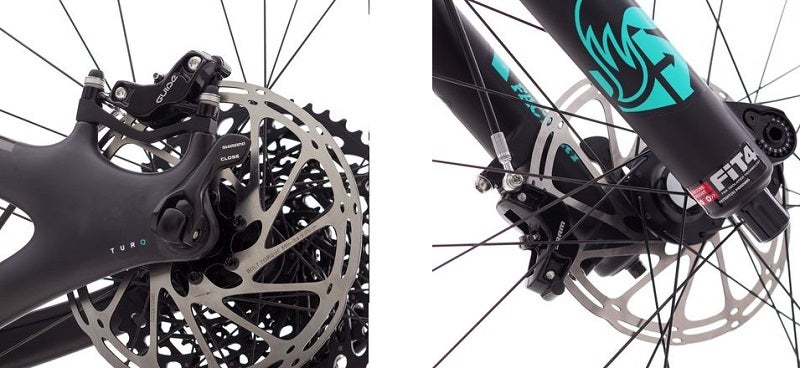 WHEELS
A DT Swiss alloy wheelset is the only letdown on this build. For the same price you can find other bikes with stiffer carbon wheels.
However, other bikes are not the DB6 and the DT Swiss wheels are more than reliable. The wheels come fitted with race-ready Maxxis tires.
STEM & HANDLEBARS
A Fox transfer dropper post will get your seat out of the way when the going gets rough. Finishing off the cockpit is a 50mm Race Face Turbine stem and a 800mm wide Yeti Carbon handlebar.
If you want to get the exact same build as Richie Rude, Yeti produced 150 of a special edition with all the bells and whistles. Get one here, if there are any left
---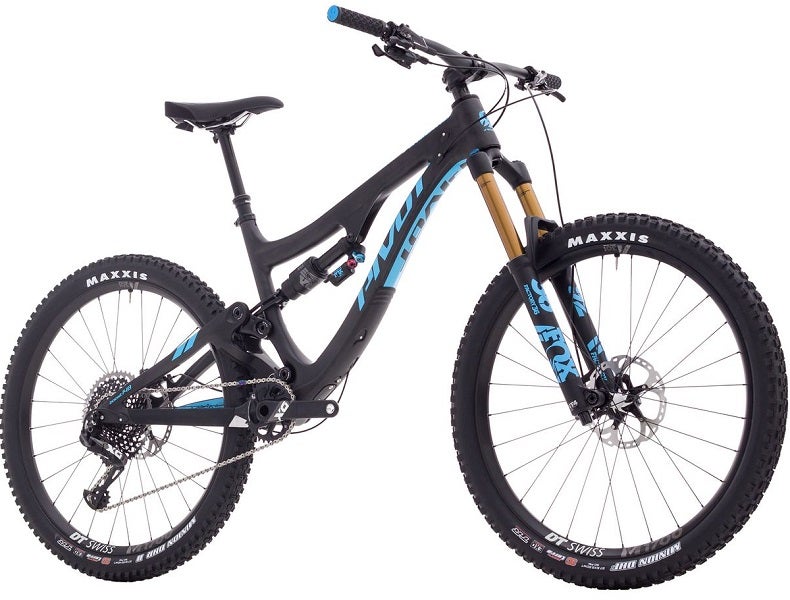 Pivot Firebird at a Glance
:
---
Frame: Carbon fiber
Drivetrain: SRAM X01 Eagle
Brakes: Shimano XT M8000. 180mm rotors
Rear travel: 170mm
Shock: Fox Float Factory X2
Front travel: 170mm
Fork: Fox 36 Factory
Wheelset: DT Swiss Spline-Two M1700
It is often said that enduro bikes are as fast as downhill bikes were a decade ago. So is an enduro bike a beefed up trail bike or a beefed down downhill bike?
FRAME
Pivot have answered this question with the Firebird. With its very slack geometry similar to Pivot's Phoenix DH, there is very little doubt what kind of riding the Firebird is intended for.
As a general rule, more suspension travel means that climbing performance will be impaired. The Firebird sports 170mm front and rear and confirms that longer travel is not the best choice for going uphill.
Not that it is a burden to ride when going up. In fact, it climbs surprisingly well considering the generous suspension. Uphill slogs are not what the Firebird is made for though.
Fast, technical, choppy, high risk, high adrenaline riding is what the 27.5" Firebird wants and when you point it downhill, it will happily plow through any terrain and put a huge grin on your face!
Despite the carbon frame, at times it is possible to feel a bit of flex. Whether this is a bad thing depends on what kind of ride feel you want. A bit of flex adds an element of comfort and helps with traction.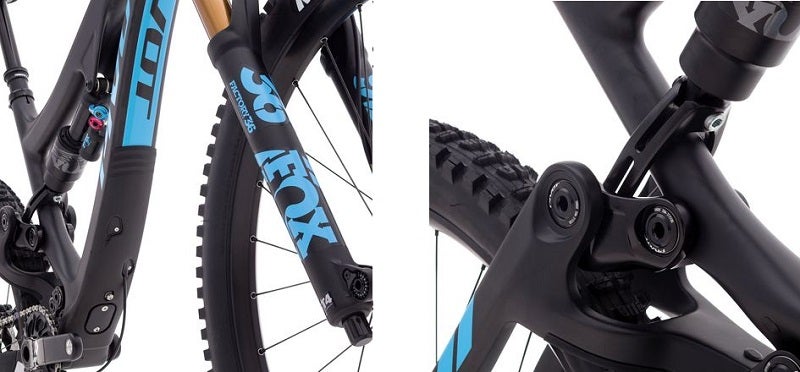 Rubber guards protect the frame from scratches and dents. Pivot back up the frame's strength with a ten year warranty.
The Firebird's downhill prowess is thanks in part to the very slack 65 degree head angle. You will also find that it has a long reach and wheelbase.
The latter ensures stability at speed but paired with the short chainstays, it is never a problem to whip the Firebird out of corners on onto the back wheel.
When you are sitting down and pedalling, the long reach is compensated by the steep seat tube angle, which keeps your weight centered and enough on the front wheel to stop it wandering.
SHOCKS & SUSPENSION
Stability and confidence in harsh terrain is what you can expect from the Firebird. To soak up bumps, a DW-link suspension design is coupled with a Fox Float Factory X2 shock. The design of the DW-link helps to move the rear wheel up and over square edges.
This helps you to maintain speed going downhill as you do not have to worry about hammering through rock gardens.
The shock is complemented by a Fox 36 fork. Wide stanchions ensure stiffness, which is exactly what you need on a bike like this that encourages you to push yourself to your limits.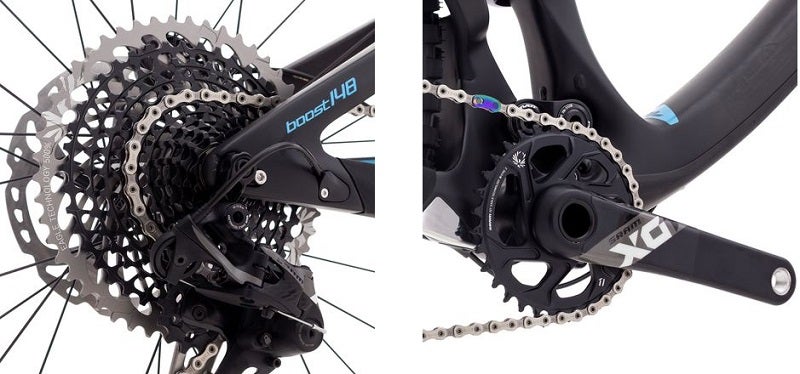 DRIVETRAIN
This build comes with a mix of SRAM and Shimano. A complete SRAM Eagle X01 drivetrain takes care of the gears. X01 is a dependable groupset. It may not quite have the top-notch performance of XX1.
While the difference in shifting is hardly noticeable, the difference in price certainly is.
BRAKES
Shimano XT M8000 brakes with 180mm rotors take care of slowing you down from the terrifying speeds that the Firebird can take you.
The modern versions of the M8000 brakes have better modulation that their forebears, which means you have more control and are less likely to lock up the wheels unintentionally.
Contact point and lever reach can be adjusted to your preferences. The one thing you should consider is swapping at least the front rotor for a 200mm to get the maximum power available. This will give you more peace of mind on terrifying descents.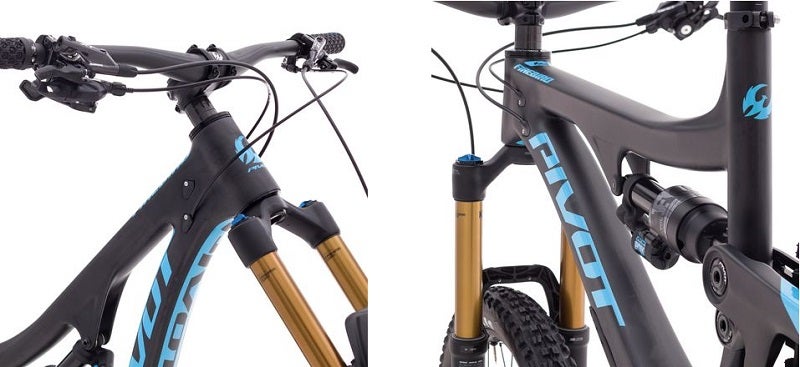 WHEELS
DT Swiss wheels with 30mm internal diameter keep the Firebird rolling. You may not like the slight flex in these alloy wheels so a future upgrade to carbon could be on the cards.
However, out of the box, these wheels will be happy to take everything in their stride.
Depending on the frame size that you choose, you will either get a KS Lev Integra 100mm dropper post fitted on a small frames, or a Fox Transfer 125mm on a medium frame or 150mm on a large.
The cockpit is finished off with a 45mm clamp and carbon handlebar with a 35mm clamp for extra stiffness.
Some might say that 170mm is too much travel for enduro and that the Firebird is more of a steed for bike park hooligans.
However, more and more 170mm enduro bikes are coming onto the market and the speed that the Firebird will give you cannot be argued with.
---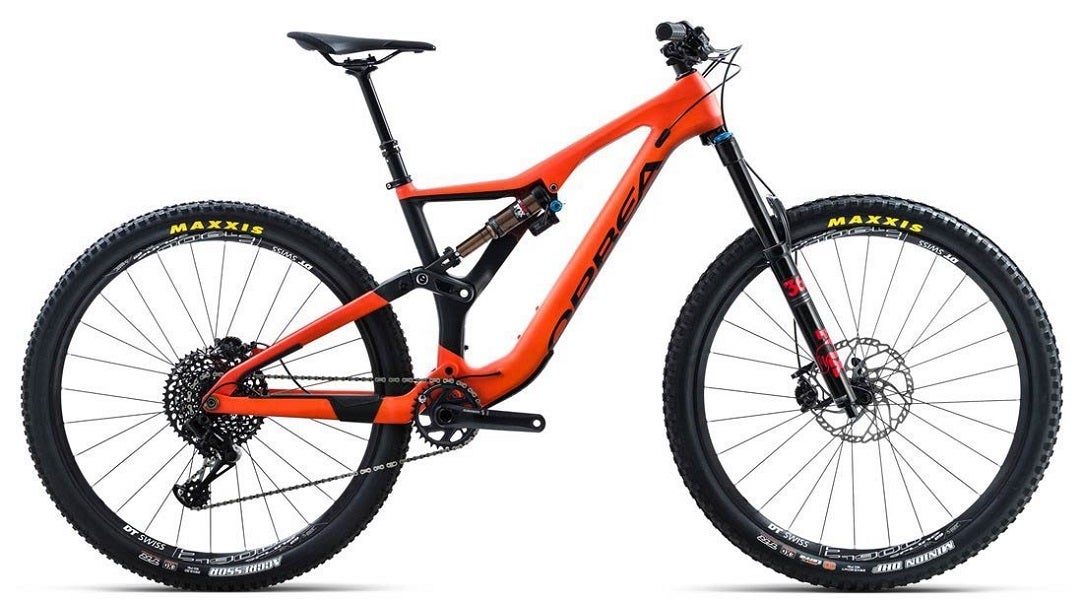 Orbea Rallon at a Glance
:
---
Frame: Carbon Fiber
Drivetrain: SRAM GX Eagle
Brakes: Shimano XT M8000 Ice-Technologies
Rear travel: 150mm
Shock: Fox DPX2 Factory Kashima
Front travel: 160mm
Fork: Fox 36 Float Performance
Wheelset: DT Swiss E-1900 Spline
Orbea have upgraded their already great Rallon from 27.5" wheels to 29". They believe that the bigger wheels are the better choice on the terrain that the Rallon is intended for.
FRAME
Measuring longer and slacker than other bikes that are considered long and slack, the Rallon is the sort of bike that you want underneath you when the trail goes down and the going gets rough.
You can even adjust the geometry using a flip chip to swap the head angle and seat tube angle from 65.5/76 to 65/75.5. Even in the higher position, the bottom bracket height is low.
This really puts you inside the bike, keeping you center of gravity low to help push through technical and choppy terrain but there is an increased risk of pedal strike.
Thanks to the geometry and long wheelbase (1217mm on the large size), the Rallon is remarkably stable at speed and especially at speed on rough trails and you could make the argument it's the best all mountain enduro bike.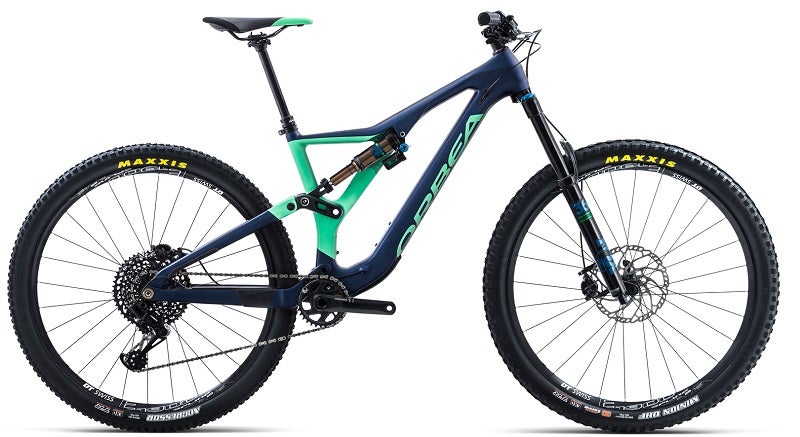 At the same time it is responsive, allowing you to maneuver and whip from one line to the next.
SHOCKS & SUSPENSION
Orbea's Advanced Dynamics suspension paired with a Kashima coated Fox DPX2 Factory shock takes everything in its stride, from technical terrain to cased landings.
150mm of rear wheel travel is on offer and the Advanced Dynamics manages to isolate the effects of braking and acceleration on suspension. This creates a good platform to pedal on, making the Rallon acceptable on climbs.
It does not hug the ground quite as well as other bikes but the suspension can be made more responsive by using a 34-tooth chainring instead of 32.
Complementing the shock is the brilliant Fox 36 fork. The smooth, supple and supportive travel (160mm) combined with wide and stiff stanchions will take the brunt of big hits while calming any trail chatter.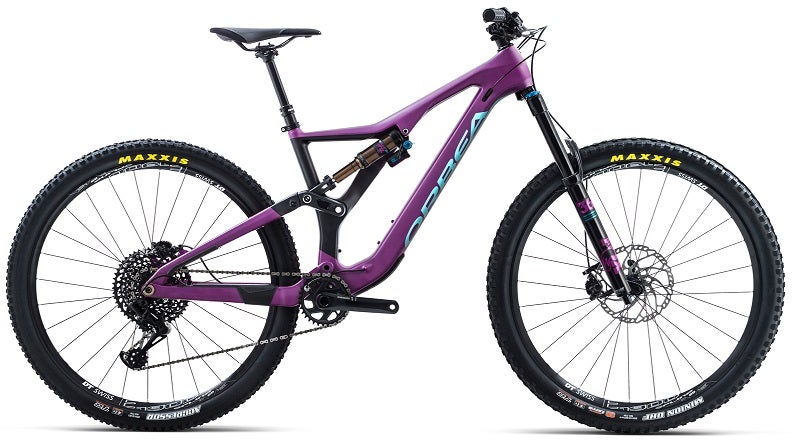 DT Swiss provide an E-1900 Spline wheelset with 30mm internal rim width. These alloy wheels are strong and light and the slight flex is welcome on such a stiff frame. An upgrade to carbon wheels is only necessary if you want an ultra stiff set up.
DRIVETRAIN
A SRAM GX Eagle drivetrain gives you 12 gears and all the range you need to take you up and down any mountain. The GX is more affordable than the lighter X01 and XX1 versions but still gives you precise and reliable shifting.
STEM & HANDLEBARS
Race Face finish off the cockpit with an 40mm Aeffect stem (50mm on the size large) and an Aeffect handlebar with a width of 780mm and a 35mm clamp size.
A wide and stiff handlebar is what you need on a bike like the Rallon that wants to be shredded down scary terrain.
If you have more cash to spend and want a better specced version of the Rallon, have a look at the M-Team version.
---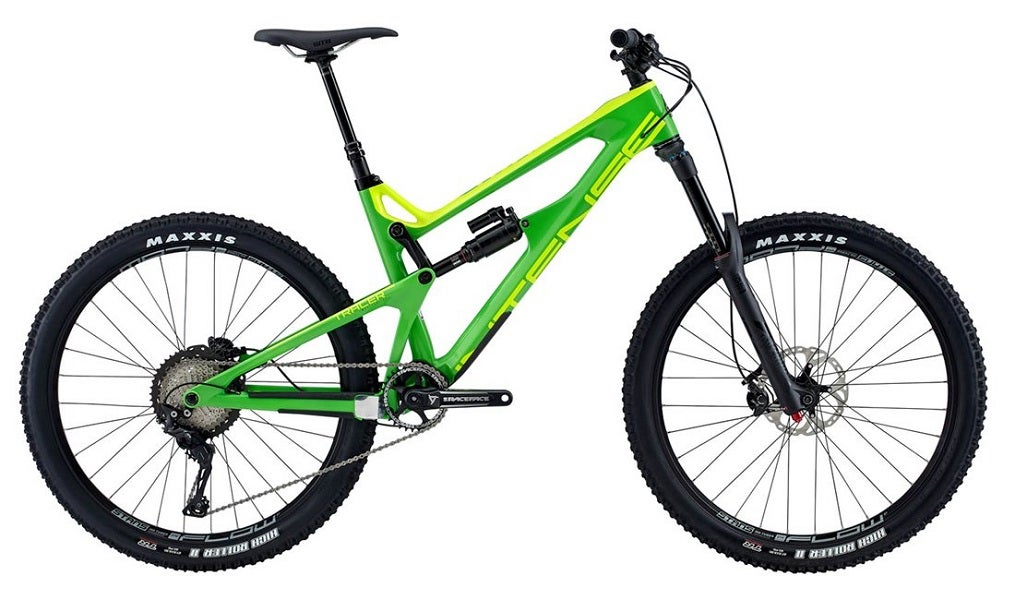 Intense Tracer at a Glance
:
---
Frame: Carbon fiber
Drivetrain: Shimano XT
Brakes: Shimano XT
Rear travel: 165mm
Shock: RockShox Monarch Plus R3
Front travel: 160mm
Fork: RockShox Lyric RC solo-air
Wheelset: Stans Flow S1 on Stans Hubs
The Tracer has been a staple of the Intense lineup since 1998. Obviously it has changed a lot since then.
Each new model has seen updates and improvements and this 2017 model is no different, receiving the longer, lower, slacker treatment that other bikes in the enduro category had also had.
FRAME
The result is a up-to-date 27.5" racing machine featuring it's stiffest frame ever and fantastic suspension. Carbon fiber has been used on both the front and rear triangles, forming the basis of the frame's stiffness.
Intense have removed the option of adding a front derailleur (everyone uses 1x drivetrains these days), which allowed them to create a symmetrical rear triangle, boosting stiffness. Further enhancing the stiffness of the ride is use of the wider boost axle width.
SHOCKS & SUSPENSION
A redesigned suspension system and Enduro Link with 165mm of travel has increased the responsiveness of the Tracer, giving a more playful ride and the ability to easily switch from one side of the trail to the other and get the whole rig in the air.
This version is specced with the race-ready RockShox Monarch Plus R3 shock. RockShox also provide a 160mm Lyric at the front.
With a head angle of 65.5 degrees, you can descend with confidence on the Tracer. The wheelbase has grown an inch over the previous model and the reach by half an inch.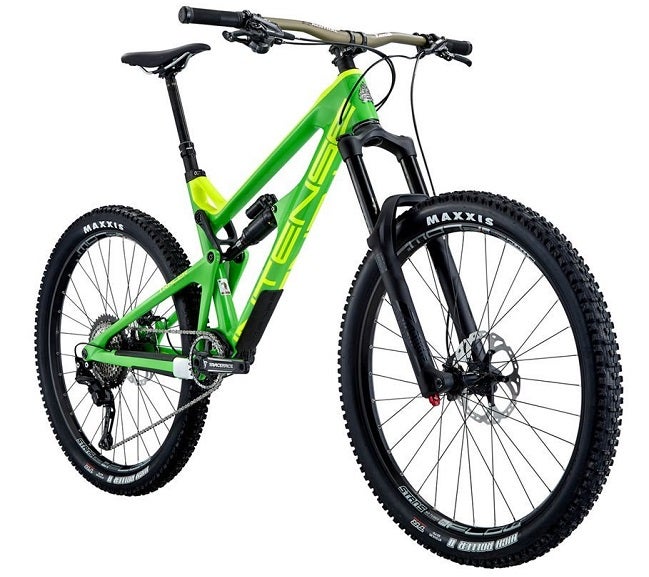 A balanced and central riding position makes you really feel like you are inside the cockpit of the Tracer. Handling still requires active input. You will need to tell it where to go, rather than just hang on and plow through.
But tell it where to go and the Tracer will deliver. It has your back through any terrain you want, soaking up big hits and trail chatter with ease.
DRIVETRAIN
It even climbs well, taking the edge off slow-speed square-edged impacts that you might expect to stop you in your tracks. Shimano's 11 speed XT drivetrain gives you all the range you need without the huge and easy spinning option of SRAM's Eagle.
BRAKES
Reliable shifting and durability are what you need on a race machine and XT delivers just that. Shimano XT disc brakes take care of you when you need to slow down. You may want to upgrade the stock 180mm rotors to 200mm to get more braking power.
WHEELS
Stans Flow is an excellent wheelset and a great choice on this build. Stans basically invented the tubeless system for mountain bikes and they build high-quality wheels.
Video: Overview of the Intense Tracer.
Intense Tracer 2017 - Quick Look
They are paired with Maxxis High Roller II tires, which (unless the trail is really muddy) will take you up and down any trail with confidence.
STEM & HANDLEBARS
Up at the cockpit you will find a 400mm Intense stem and a Renthal FatBar with a width of 780mm and a 31.8mm clamp. A RockShox Reverb Stealth dropper post with 150mm of travel will get your seat out of the way, albeit in a package that may need more regular maintenance than other droppers.
As always, Intense did not neglect aesthetics with the Tracer. Fast looking paint jobs, internal cable routing and rubber chainstay protectors to keep the paintwork fresh all enhance the look of the bike.
The Tracer is not only a fast machine built for racing, it is versatile enough for big mountain adventures as well, making it a great choice if you want the best enduro MTB to do it all.
---
Enduro Mountain Bike Comparison Table
| Enduro Mountain Bike | | Frame | Drivetrain | Brakes | Rear travel | Shock | Front travel |
| --- | --- | --- | --- | --- | --- | --- | --- |
| Santa Cruz Megatower Carbon GX Eagle | | CC level carbon fiber | SRAM GX Eagle, 12-speed | SRAM Guide RSC. 200mm rotors | 160mm | RockShox Super Deluxe Select | 160mm |
| Yeti Cycles SB6 Turq X01 Eagle | | Turq carbon fiber | SRAM XO1 Eagle | SRAM Guide RSC. 180mm rotors | 152mm | Fox Factory DPX2 | 160mm |
| Pivot Firebird | | Carbon fiber | SRAM X01 Eagle | Shimano XT M8000. 180mm rotors | 170mm | Fox Float Factory X2 | 170mm |
| Orbea Rallon | | Carbon Fiber | SRAM GX Eagle | Shimano XT M8000 Ice-Technologies | 150mm | Fox DPX2 Factory Kashima | 160mm |
| Intense Tracer | | Carbon fiber | Shimano XT | Shimano XT | 165mm | RockShox Monarch Plus R3 | 160mm |
How to Choose an Enduro Mountain Bike – Buyers Guide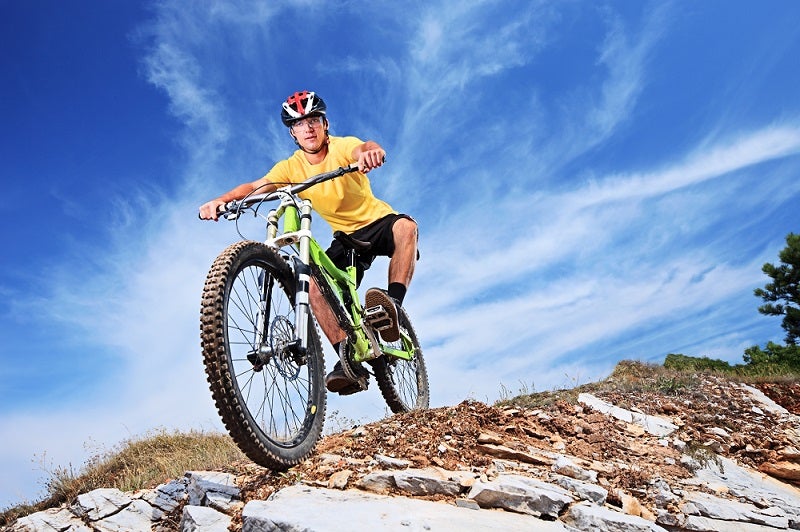 Why Enduro Mountain Bikes?
A full suspension enduro MTB is optimized for smashing downhill, strong enough to deal with some serious abuse, but light and efficient enough to pedal to the top of the mountain.
These are the traits that a mountain bike should have to allow its owner to ride it anywhere and (within reason) over anything.
On top of this, enduro has a lively and accessible racing scene. At the top end is the Enduro World Series that sees that very best riders in the world battle it out on a courses around the world.
Only the downhill sections are timed in an enduro race, with the shortest total time taking the win. You do not have to be a professional and sponsored rider to race though.
Look anywhere with a mountain biking scene and you are likely to find some kind of enduro race to join. Why not challenge yourself and sign up to one of the many multi-day enduro races that take place around the world?
Although you are probably not going to win the Enduro World Series, what you can do is give yourself the best possible chance by riding the same bikes as those professional racers.
With the exception of prototype frames and maybe the very occasional custom built frame, all the bikes that you see the pros racing are available commercially.
On top of that you first need to make sense of a ton of other factors, like what those geometry numbers mean and length of travel to name just two.

Frame Material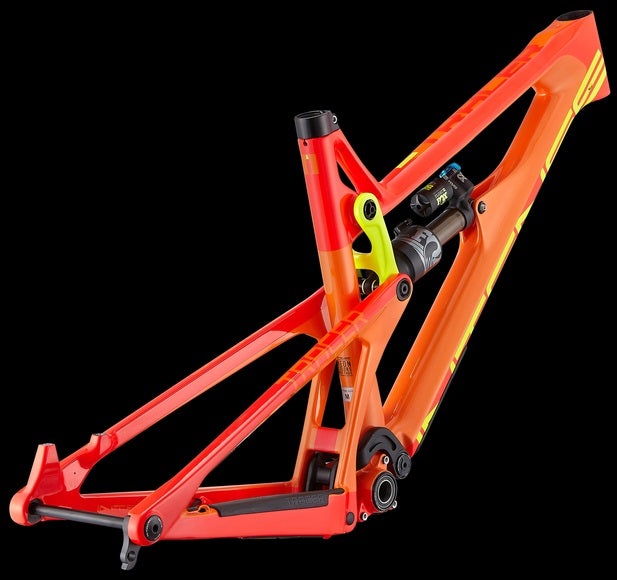 This comes down to a choice between carbon and aluminum.
Carbon is the lighter, stiffer and stronger material and thanks to the construction process, it can be molded into pretty much any shape and each frame is consistent thanks to the same mold being used for each one.
A bike with a carbon frame will be more expensive due to the higher production costs. A stiff frame gives a more responsive ride, reacting fast to pedaling or direction changes.
However, once you are going flat out, it is less able to absorb vibrations and impacts from the trail. This vibrations end up being transferred through to you.
Hydroformed aluminum (mixed with a few other metals and therefore often correctly referred to as "alloy") is also commonly used for enduro frames.
Some people find the feel of carbon too stiff and unforgiving whereas aluminum has some flex and greater comfort, especially at high speeds and when dealing with big impacts, like from a drop with a flat landing.
Steel is still occasionally used for enduro frames. Steel has even better vibration damping properties than aluminum, is more durable but it is heavier.
An even better material is titanium but it is even more expensive than carbon. You are very unlikely to find an enduro MTB bike with a titanium frame that is not a custom build.
For the average rider (you) the choice is between carbon and aluminum. Most, but not all professional enduro racers use carbon frames.

Frame Geometry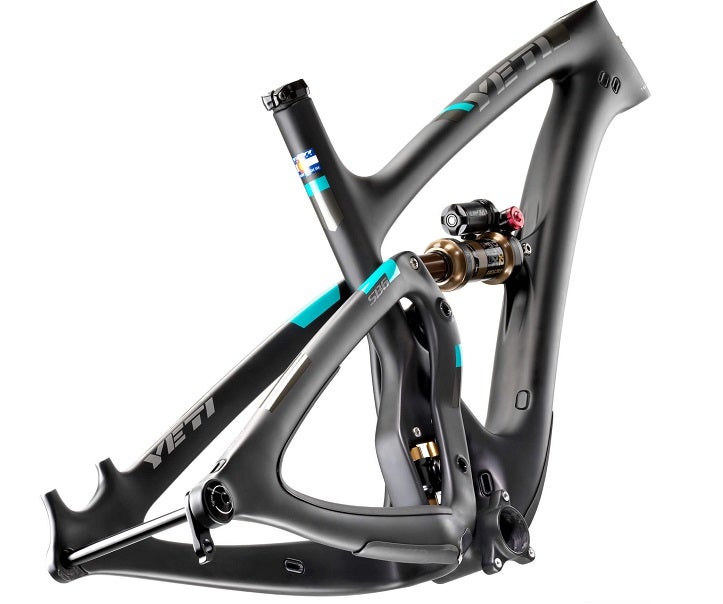 More important than the material used to build the frame is the geometry. This refers to the angles and measurements used in the design of the frame.
Modern enduro frames are long, low and slack.
"Long" means that the wheelbase (or measurement between the two wheels) is big. A long wheelbase makes the bike more stable at speed. "Low" refers to the height of the bottom bracket.
It being nearer to the ground helps keep your center of gravity low, helping you to push through technical terrain rather than it doing its best to throw you off the bike.
"Slack" (as opposed to steep) refers to the angle of the headtube, which in turn influences the angle at which the suspension fork extends from the frame and consequently how far in front of the bike the wheel sits.
A slack head angle creates a bike that rides better in steep terrain and is generally more stable. The suspension fork can react better to high speed impacts and you also get the benefit of better high speed cornering.
If the angle gets too slack, the climbing ability of the bike is compromised.
Other terms that you will encounter when looking at the geometry of an enduro frame are seat tube angle, standover height and chainstay length.
The angle of the seat tube influences where your seated weight will be in relation to the bottom bracket. A steeper seat angle helps with climbing and is irrelevant when going downhill because you will be standing anyway.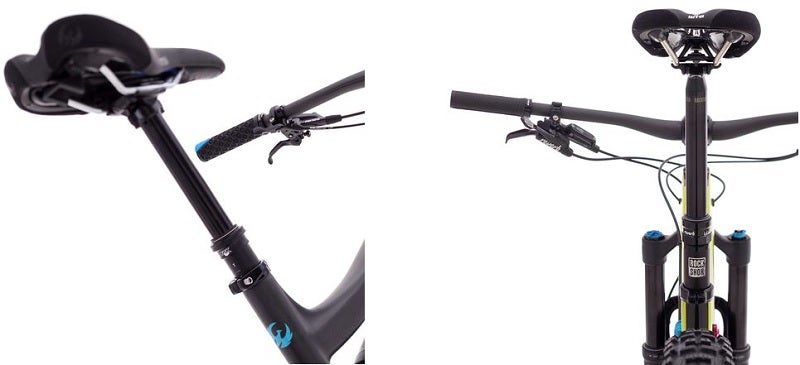 Standover height is how much distance there is between the top tube (the top of the frame) and your body. A bigger distance allows you to move around more on the bike and, crucially, makes it easier for you to put your foot down in an emergency.
The chainstay is the section of frame that runs between the rear dropout (where the wheel is held) and the bottom bracket. There is a chainstay on each side of the frame.
The length of the chainstay is measured between the center of the rear wheel axle and the center of the bottom bracket. A short chainstay means it is easier to lift the front end and the bike is easier to maneuver in general.
A shorter chainstay is less stable at speed. When comparing frames, do not forget that the chainstay on a 29" bike will be longer than that of a 27.5" bike by default to accommodate the larger wheel.
Frame builders spend a lot of time tweaking all the angles on a frame to deliver what they believe to be the best design. The way in which all the angles work together and the reasons behind how they affect the ride is lost on most mortals.
What you can do is look at what works and read reviews of the bikes you are interested in to get an idea of how they behave on the trail.
At the end of the day, the components fitted to a bike also have a profound influence on a bike's performance, so looking at frame geometry alone can only get you so far.
Before we move on, one thing you will find from time to time is a frame with adjustable geometry. This works thanks to so-called flip chips that can be removed and reinserted the other way around.
The result is a frame that can be set to having a lower bottom bracket height with a slacker head angle or vice versa, giving you the freedom to maximize the advantages of the geometry depending on whether you are going for a casual ride or preparing for a race.

Suspension Options

All good enduro mountain bikes have a full suspension. Yes there are hardtail frames being sold has "hardcore" enduro hardtails and they are undoubtedly lots of fun to ride, but no one at the winning end of enduro races is riding one.
Suspension helps you to ride fast by ironing out bumps on the trail, taking the sting out of big impacts, and giving you more traction in corners.
Enduro MTB bikes have between 140mm and 170mm of rear wheel travel, coupled with a suspension fork of equal or greater travel at the front.
More travel is not necessarily better but it does take the sting out of larger impacts and for serious enduro racing you should be looking at bikes with at least a 160mm fork.
Having too much rear travel can cause the bike to feel unresponsive, especially when climbing. However, this is in part dependent on the geometry, as is how the suspension deals with impacts in the first place.
There is no one design of full suspension frame and how the parts move in relation to each other varies, resulting in either linear or progressive suspension.
This means that the frame either moves through its travel at the same rate, or ramps up after a certain amount of movement.
It is not just the frame design that influences the suspension feel, but also the shock. Air shocks ramp up more towards the end of the travel whereas coil shocks are more supple yet linear.
Whatever you choose, it is critical to ensure not only that you have your fork and shock set up properly, but also that you have them regularly serviced to ensure that they stay in perfect working order.

Wheels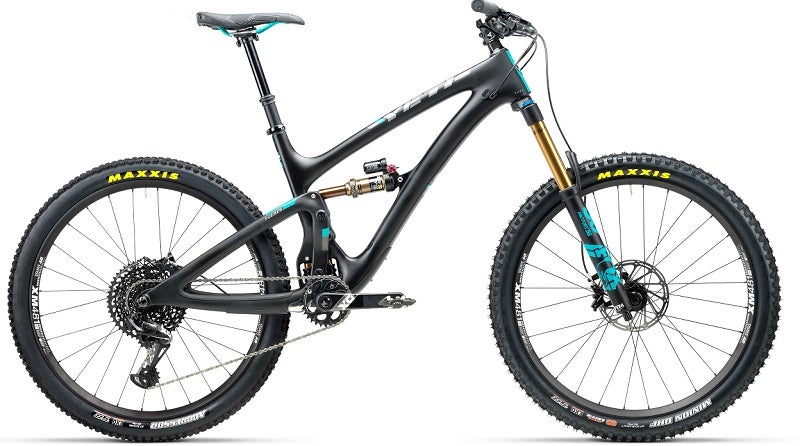 More than just what keeps the bike rolling, wheels can have a profound effect on the handling of a bike. The first thing you need to decide is if you want a bike with 27.5" or 29" wheels.
There is a lot of discussion about the optimum wheel size. We won't go into too much details here but in theory, bigger wheels roll over bumps easier. At the end of the day it all comes down to personal preference.
If you are tall, you may find that a 29" wheeled bike fits you better.
Once you have settled on a wheel size, you need to look at what material is used to build the wheels. Like frames, carbon wheels are light, strong, stiff, and expensive. A good set of carbon wheels will help you accelerate fast and hold your line through rough terrain.
This rigidity is actually a disadvantage on long descents as there is very little vibration damping. A big impact with a sharp rock could result in your expensive carbon rim cracking.
If you are going to pay extra for carbon wheels, you are better off paying for a set with a lifetime guarantee just to be on the safe side.
Aluminum wheels on the other hand have more flex, giving a more comfortable ride. They are also more likely to dent rather than crack if you hit them hard.
You need to pay attention to the width of the rims, specifically the internal width. A wider internal measurement allows the tire to have a bigger volume, giving you more traction.
An internal width of 26mm to 35mm is what you should look for.
A quick note on hub standards: without going to far down this rabbit hole, there are a number of different hub widths. Each of which is claimed to be the best choice by those that created it.
Frame designers have had a hard time keeping up with the rapidly changing "standards" in recent years.
Of course, if you buy a complete bike, the hubs will fit. If you intend on using some other wheels, you will need to check to see if they are compatible or if there is a conversion kit available.

Gears
The modern standard is either a 1x11 or 1x12 set up. 1x11 will give you the range of gears you need to ride in most terrain. 1x12 is only really needed by the strongest and fastest riders, or if you will spend lots of time on very steep climbs.

Brakes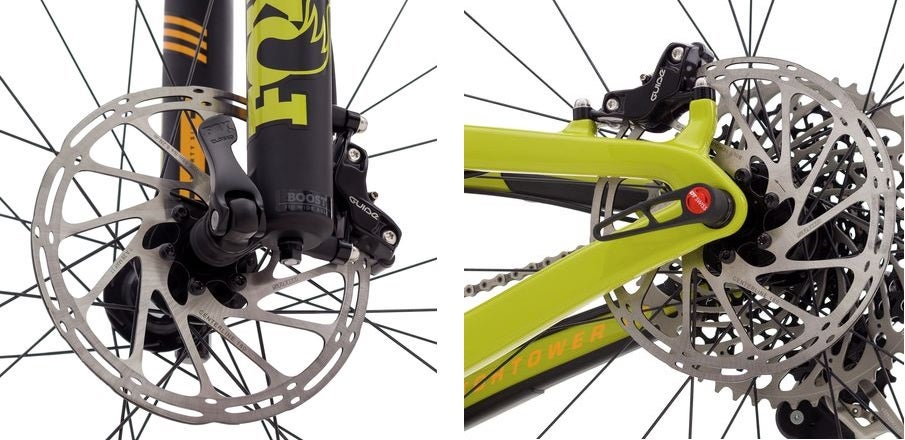 The more powerful your brakes, the later you can apply them, meaning you can ride more of the trail at faster speeds. You need to know that your brakes can slow you down reliably each time you need them on long, fast descents.
Look for brakes with four pistons and rotors that are no less than 180mm in diameter. Bigger rotors mean more stopping power. Different brakes have different levels of adjustability when it comes to lever reach and pad contact point.
They also perform differently under pressure and in certain conditions. It is worth having a closer look at the brakes that come as stock on your bike to know if you will need to upgrade them.

Other Components
A dropper post is an absolute must and you should not even consider entering an enduro race without one. You should also take a quick look at the other components that have been selected to finish off your bike.
A wide handlebar and short stem from a known manufacturer should be present, as well as a good set of tires and handlebars!

FAQ About Enduro Bikes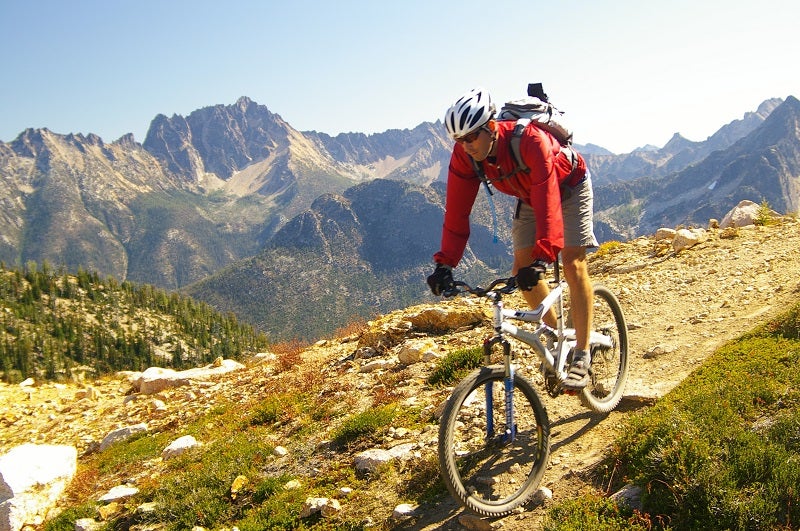 Q: What is an "enduro" bike?
A: Enduro is style of riding and racing mountain bikes that puts an emphasis on the downhill sections. Enduro bikes can still be pedalled easily to the top of a mountain but not as easily as a light cross country bike for example.
It is on fast, technical terrain where enduro bikes shine. Enduro bikes usually have front a rear suspension with lots of travel, big tires to give as much traction as possible, and lots of attitude.
Q: Do I need the most expensive version of an enduro bike with the best components?
A: High end, expensive components like XX1 from SRAM are lighter and more accurate than their cheaper counterparts like GX.
However, the use of lighter materials can mean that certain parts wear faster and lower end components still confidently get the job done.
Items like chains, and to a certain extent derailleurs and cassettes, will all need replacing sooner or later.
While it may be nice to have the best performing and lightest components on your new bike, you may wish to downgrade in the future…unless you have lots of spare cash that is!
Q: Is it worth spending more on a carbon frame?
A: Handling and ride feel aside, there is one point to bear in mind when choosing between carbon and aluminum.
Carbon frames are mostly produced in factories in parts of the world where there are less than optimum schemes in place to deal with the carbon waste produced.
This waste, and also your carbon frame cannot be recycled and lots of it unfortunately ends up as ocean fill, which is less than ideal for the planet.
Aluminum can be completely recycled, so you may want to bear that in mind when making up your mind. Finnish brand Pole recently decided against carbon for their new frames, citing these exact concerns.
Q: If enduro bikes are meant for racing, are they still fun to ride?
A: Yes they are.
Truth be told, most enduro bikes are sold to the average weekend warrior that wants a capable mountain bike to smash around the local trails. Even if you never even consider entering a race, your new enduro bike will still be fun to ride.
How We Researched
To come up with the top enduro bikes, we researched a variety of sources for reviews such as Competitivecyclist, JensenUSA, REI, EVO along with our own personal experience.
We also consulted online magazines for product research and reviews to get as much unbiased information as we could. To help weed out fake reviews we used Fakespot.com to make sure we only looked at genuine reviews.
With so much quality gear available, we had to narrow it down based on what we felt were the best options were for the price. The author, Richard Bailey has a wide background in mountain biking in a variety of countries, terrain types and bike packing for weeks on end.
The author has decades of experience and is eager to share his knowledge with readers.
To help narrow down the selection we used personal experiences along with recommendations from fellow MTB bikers, bloggers and bike shops.
After extensive research, we came up with our list to help you choose the right one for you.
Sources
Notice:
OutsidePursuits.com is a participant in the Amazon Services LLC Associates Program, an affiliate advertising program. OutsidePursuits.com earns fees from products sold through qualifying purchases by linking to Amazon.com. Amazon offers a commission on products sold through their affiliate links.