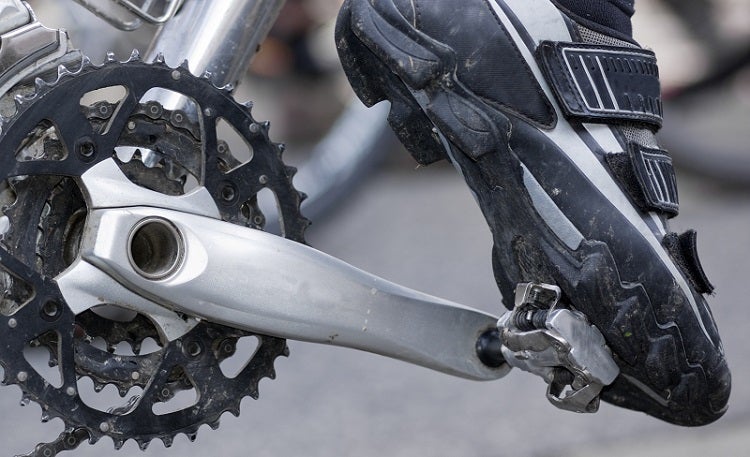 Our Editors independently research, test, and rate what we feel are the best products. We use affiliate links and may receive a small commission on purchases.
There is much more to mountain bike pedals than just a place to put your feet. As the component responsible for keeping your feet attached to the bike, it is important to make an informed choice and make sure that you get the right set of pedals for your needs.
If you have bought a new bike and it came with stock pedals, it is highly unlikely that they are any good. It is a good idea to replace the cheap plastic pedals with a good quality pair that will hold onto your feet securely.
We are going to cover the Best MTB Clipless Pedals and the Best MTB Flat Pedals, along with what makes a good MTB pedal and give you 5 recommendations for each type of pedal.
Best MTB Pedals
| | SHIMANO Saint PD-M820 SPD Pedals | Crank Brothers Egg Beater MTB Pedal | SHIMANO PD-M9120 XTR SPD Pedals |
| --- | --- | --- | --- |
| | | | |
| | | | |
| Type: | Clipless | Clipless | Clipless |
| Material: | Cro-Moly body and Axle | Stainless Steel | Chromoly Steel Axle, Aluminum Body |
| Weight (pair): | 400 grams | 278 grams | 379 grams |
| Warranty: | 2 year | 5 year | 1 year |
| Rating: | 5.0 / 5.0 | 4.5 / 5.0 | 4.7 / 5.0 |
| | | | |
For more of my MTB gear recommendations, have a look through these popular Outside Pursuits guide links: MTB Shoes, MTB Saddles, MTB Helmets.
Quick Answer: The 10 Best Rated MTB Pedals For 2021
Clipless MTB Pedals
Flat (Platform) MTB Pedals
Our reviews of the top rated MTB pedals along with our comparison table and buyers guide will help you shoose the right pedals for your bike.

---
Best Clipless MTB Pedals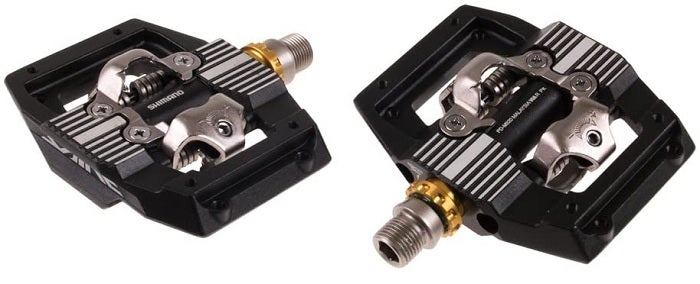 If you budget is a bit lower or you want to test out a half platform clipless pedal without breaking the bank, Shimano have an alternative to the XTR for you.
Although the price is lower, the M820 pedals are still durable and very functional. The small platform helps to guide your foot into the clip.
The platform does not really help with anything other than this, as it is too small and smooth to offer any real grip. The entry is not quite as convincing or audible as the XTR model but you can certainly still clip in with confidence.
The release on the other hand is plenty loud and and noticeable enough so that you will know for sure that you have unclipped. The cleats are the same as the XTR and can be swapped out.
Weight is slightly higher than the Shimano XTR at 408 grams but this is the compromise for a lower price.
Reliability and durability are not compromised so these are a great pair of budget or starter clipless pedals. I think these are the best clipless MTB pedals under $200.

---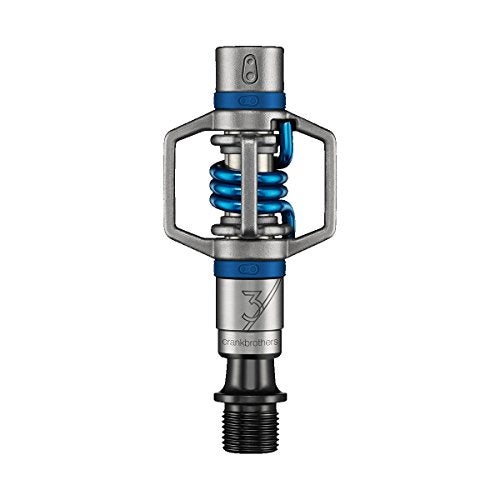 The Egg Beater pedals are the unrivaled leaders in getting rid of any mud that might land on them. The simple design with wide spaces between the spindle and rails provides little surface area for mud to hold on to.
It is possible to clip into any of the four sides of the Egg Beater pedals, but this does not necessarily make them easy pedals to clip into.
In fact, it can be pretty challenging to get your foot into the correct position to clip in as the target area is so small and there is no platform to use as orientation.
Without a platform, they are very easy to clip out of, but due to the precision needed to get your foot clipped in, these are not a good choice for the first time clipless user, especially as there is not much adjustability on offer.
You can swap the orientation of the cleats to have either 15 or 20 degrees of float but the tension of the mechanism is fixed.
The Egg Beater is certainly a low profile pedal. There is not much to look at so it is not surprising that they are very light at only 280 grams per pair.
These pedals are best for weight conscious cross country racers with previous experience of clipless pedals.

---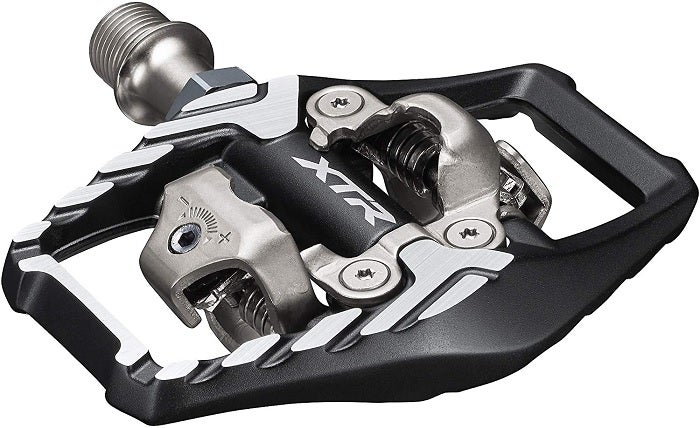 This pedal is a great compromise between having a platform around the clip mechanism and keeping the weight down.
The small platform provides just enough area to support your foot in non-clipped in emergencies. The aluminium body and well thought out machining mean they are not too heavy.
The body has been anodized and the spindles are polished. As a result, mud will not stick to them. A bit like a non-stick frying pan.
A similar coating is also present on the engagement mechanism to allow easy clipping in, and the tension and be adjusted to tune the resistance.
The standard cleats release by twisting sideways and other cleats are available which will release after a certain amount of upward force. The latter are the safest option if you are new to clipless pedals.
The height is 18mm, which is quite thin for clipless pedals and helps avoid strikes. Due to the small platform size, these pedals are best suited to cross country and trail riders.
Once you get into more aggressive trail or enduro, you will want a pedal with a larger platform. Overall I would say the XTR's are the best clipless MTB pedal.


---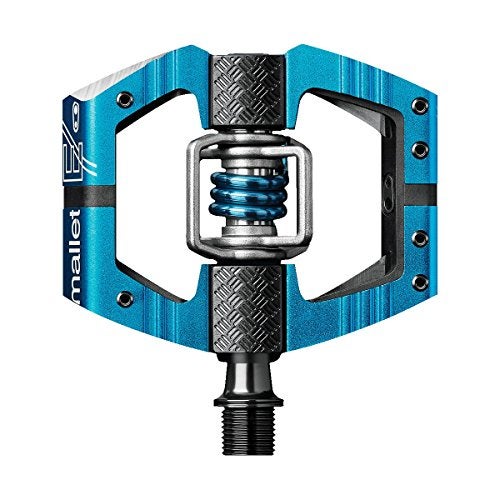 If it is enduro riding or racing that you are into, and you want to be clipped in while having a big platform for extra support, then the Mallet Enduro is the pedal for you.
The clips in the heart of the pedal are essentially the same great mud-dispersing design as the Egg Beaters with the same choice of 15 or 20 degrees of float.
Surrounding the clip mechanism is a wide platform with traction pads and pins, both of which can be adjusted. The platform has a slight concave shape and the edges are chamfered to deflect rock strikes.
The platform works excellently and allows you to unclip and still ride as normal on the platform. For example, this could be useful when negotiating a series of fast and tight turns where you may want to put one foot out and then the other.
You can just unclip and still have confident grip on the pedals. Despite the platform, the Mallet Enduros are not too heavy at 420 grams for the pair.
While the platform would be overkill for cross country riders, aggressive enduro riders and racers will love the security on offer.

---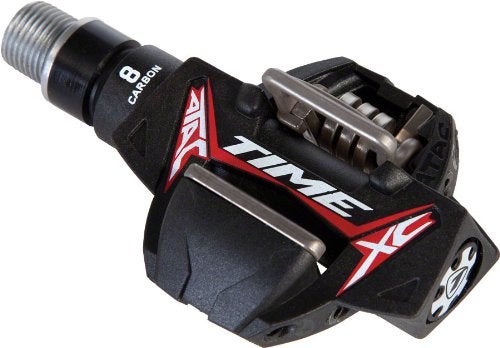 These are super lightweight pedals with an excellent ability to shed mud. Time have engineered their pedals to allow some lateral float (meaning the shoe can slide side to side on the pedal) to further reduce strain on your knee joints.
This can take some getting used to as it gives the impression that you foot is not properly connected.
Due to the mechanism allowing this float, the release can be inconsistent depending on where exactly the cleat has been engaged. The tension of the release can be adjusted by turning a screw on the side of the pedal body and the stock cleats have either a 13 or 17 degree release.
The main body is made of carbon and the pair weigh an impressive 284 grams. There is a small bit of platform available, making it easier to clip in than the Egg Beater 3 pedals but the whole body is still small, so precision is needed.
You do not have to worry about mud clogging the mechanism as the design forces mud out of the front as you clip in. It basically has no choice but to be expelled.
The light weight and small profile of the Time ATAC XC 8 pedals make it suitable for cross country riding (like the name suggests).

---
Best Flat MTB Pedals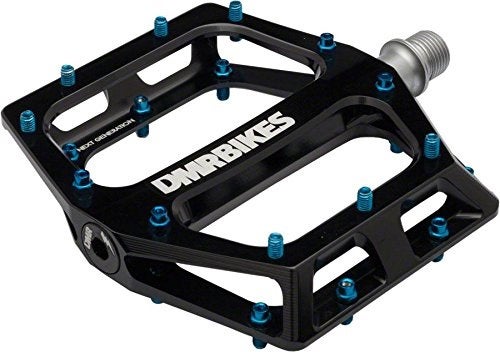 Back in 1999, DMR were renowned for the performance of their V8 and V12 pedals. Today DMR can offer you the Vault, which is a slimmer, grippier version of the V12 with just as much reliability and popularity.
The body has a concave shape with 11 pins. 7 of these pins are reversible, with one end longer than the other. The idea here is that you can custom tune the grip as much as you want, provided you have enough patience to repeatedly unscrew, flip and rescrew the pins.
The platform itself is fairly wide and this combined with the pins will hold onto your foot even if you do not get it in the right position.
DMR have made the rear of the platform slightly narrower than the front. The front is shaped to deflect impacts and the idea is that once the front has squeezed through a tight gap.
The rest will slip through easily, so you will not as easily get stuck between rocks or hang up when cornering. Mud does not have much space to rest on and the gappy design allows mud to fall off again if it does.
The bearings are durable and the construction bombproof so you can enjoy long service from a top notch pedal used by some seriously hardcore professional shredders.
If your looking for the best flat MTB pedal, the DMR Vaults are it!

---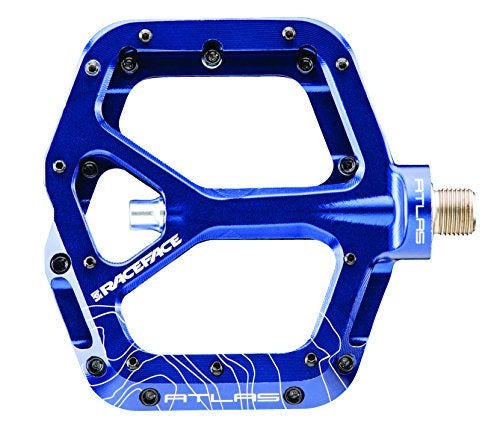 The body of the Atlas is not the biggest but will fit most people. Looking at the pins, they are shorter than those found on other pedals but combined with the slim and concave platform, there is still plenty of grip available.
The pins screw in from the underside, so can be replaced or removed as necessary. To keep rock strikes at bay, the platform is chamfered.
Despite being the best offering from RaceFace, the sealed bearings do tend to wear quite fast and lateral play will develop sooner than you might expect.
This is not a big issue as you cannot notice the play under your feet when riding. Make sure to keep the bearings topped up with grease injected through the port to keep them spinning for as long as possible.
At 365 grams, they are very light and mud is thrown off effectively. The slim design helps you sit low in the bike and the grip will not let you down.

---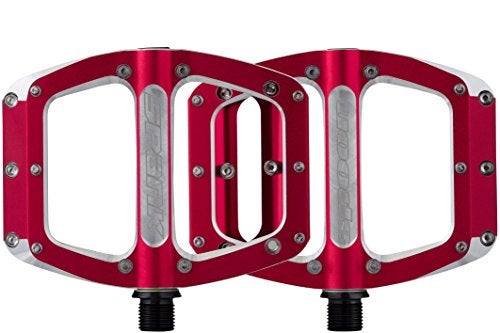 Flat pedals tend to come in one size and If you are lucky they will roughly match your shoe size. Spank have created the Spoon to be a top performing pedal and eliminate the luck involved in sizing.
It is available in two sizes so you should be able to find one to match. The 110 is for giants with feet size US 11 or over and the 100 is for everyone else.
The cold forged, concave body can take a beating and each side has 10 replaceable pins. Longer 14mm pins are at the front and back of the pedal and the four in the middle measure 12mm. You can remove pins for fine tuning if you wish.
At a reasonable 420 grams and a more than reasonable price point, the Spoons are one of the cheaper flat pedals available, which is surprising considering the build quality and performance. I would say the Swank Spoon's are the best flat MTB pedal under $100.

---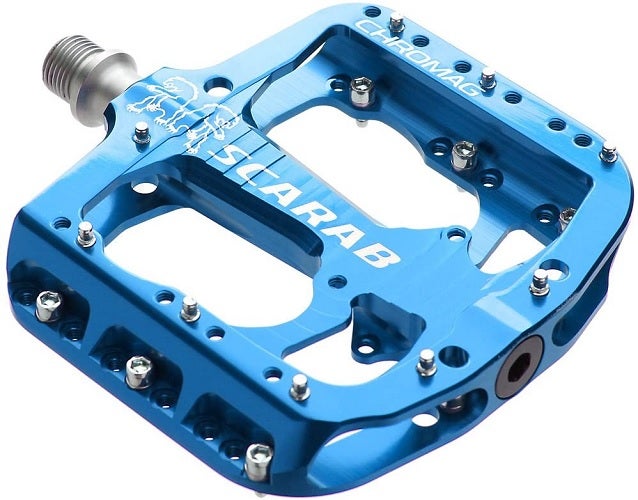 Ever heard of Brandon Semenuk? If not, look up some of his videos right now. Once you have been suitably impressed by his jaw-dropping skills, you may wonder how he keeps his feet planted on his pedals.
The answer is with Chromag Scarab pedals.
Not only can these pedals put up with some serious, serious abuse. If you are into big drops and maybe the odd flip, the Scarabs are for you.
Video: Brandon Semenuk with Chromag Scarab pedals.
Brandon Semenuk Does It Again | RAW 100 | Version 3
The grip from the pins can be fine tuned, which is also important when landing high-risk stunts.

---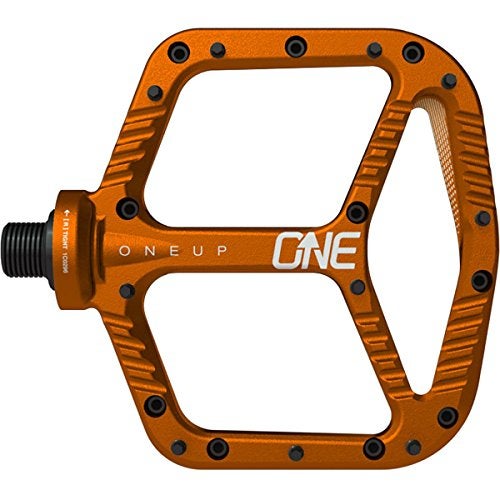 In Canada they have a saying: "It's grim up north". This part of the world also happens to be home to some incredible mountain biking, although it can get somewhat wet.
It is in Squamish, B.C. that OneUp design, test and build their bombproof products and the OneUp pedals are designed to be solid and durable.
Overall grip is less than some of the more aggressive pedal and pin combos intended for more extreme riding but trail riders will not be let down by the OneUp's. The body is beautifully designed and has a slightly concave shape.
Northern weather is kept at bay with sealed cartridge bearings that will spin for many thousands of miles. They are not particularly light at 355 grams but this is of no concern when you consider the durability.
Looks are not everything, but the OneUp's are certainly a good looking pair of pedals. If you want to enjoy suitable grip for standard to aggressive trail riding, then you should get yourself a pair.

---
Mountain Bike Pedals Comparison Table
How to Choose the Best MTB Pedals For You
Types of Mountain Bike Pedals
There are two types of pedals: clipless and flat (also called platform pedals). Neither one is superior to the other but each has pros and cons.
Clipless pedals have a somewhat misleading name, as you do actually clip your feet into them.
A cleat screwed into a pair of compatible shoes clips into the pedal body. The shoe is held securely in place until the rider twists his foot sideways to release.
The advantage of this is that the rider's shoes cannot break contact from the pedal body when riding through rough terrain.
The disadvantage comes when it is necessary to get a foot down to prevent a crash. You may not be able to get your foot out of the pedal fast enough and if you do crash while clipped in, the bike is probably going to come with you.
Clipless Pedals
Are designed to release the cleats in a crash situation but it is still common to see crashes where the rider and bike end up in a tangled mess with feet still in the pedals.
For a long time is was mistakenly believed that pedaling while clipped in to pedals is more efficient than pedaling on flat pedals. This has since been shown not to be true but the myth is still perpetuated mainly by road cyclists and cross country racers.
Flat Pedals
Have a wide platform and pins to grip the sole of shoes. There are specific shoes for using with flat pedals that have a flat sole made of grippy rubber. Flat pedals allow the rider to get a foot down quickly and easily.
For this reason, most beginners will start with flat pedals as they allow a feeling of safety. When riding at speed over rough terrain, it is possible for the foot to disconnect from the pedal and the pins on the pedal body can be a hazard in a crash.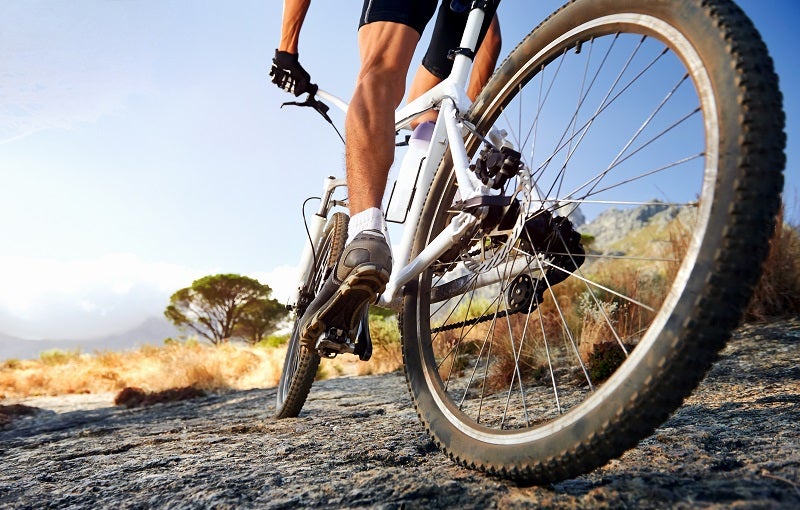 Which Type of MTB Pedal is Best?
The answer is neither. While clipless will keep your feet in place, there are times when it helps to get your foot down fast. These times roughly equal the number of times that you will be saved by having your foot clipped in.
This makes it sound like clipless would be better overall. However, there are many techniques that can only be learned properly with flat pedals because clipless allow you to cheat.
A classic example is the bunny hop. It is possible to pick up the rear wheel when using clipless pedals because if you pull your feet up, the pedals and rear wheel will come with them.
Proper bunny hop technique requires an explosive action and sweeping back with the feet. You are unlikely to be able to learn this properly with clipless pedals whereas with flat pedals you have to use the correct technique or you will not get the bike into the air.
Clipless pedals are used by the overwhelming majority of mountain bike racers and this is one of the reasons why it is commonly believed that they must be better.
The best riders will use both while training to ensure that they are riding correctly but will use clipless when racing to enjoy the extra security.
If you had to choose only one, then flat pedals should be your choice.

MTB Pedal Considerations
Weight – As with all components, the more a pedal weighs, the more overall weight you have to push around. Lighter pedals will cost more. Some pedals even have magnesium bodies or titanium axles to reduce both weight and your bank balance.
Durability – At some point, every pedal will be smashed against a rock. Then it will happen again, and again. You need a pair of good quality pedals that can put up with this abuse without breaking.
Maintenance – All bearings wear out and pedal bearings are no different. Being able to replace them easily prevents frustration.
Mud Dispersal – Mountain bikes tend to go to some muddy places. Mud can cause trouble for many components and pedals are no exception.
Clipless pedals are prone to having the mechanism clogged up and the machined spaces of flat pedals can become a home for mud, weighing you down.
Good pedals have been designed to shed mud so that it does not have a chance to hang around.

Clipless Pedal Considerations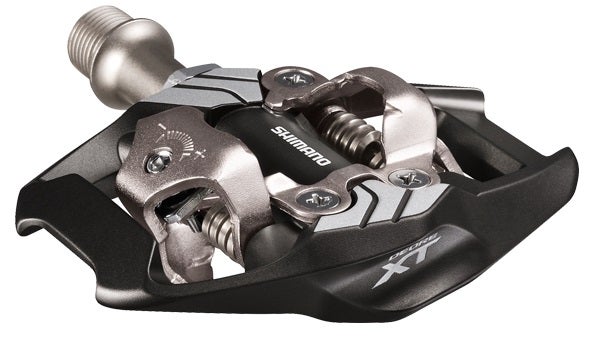 On top of the above points, you will need to consider the following if you are looking for a pair of clipless pedals:
Getting in and out – Clipping in should not require too much effort. Likewise, you do need to be able to actually get your foot out again at some point. Some clipless pedals have a set force needed to do both while others are adjustable.
Float – This refers to how much you can rotate your shoe in the clip before it unclips. Float allows the foot to rotate slightly while pedaling, which can help avoid certain knee or leg problems.
Platform – Some clipless pedals consist of just the clip. Others have a pedal body similar to a flat pedal around the clip. The latter are popular with downhill or gravity riders as they offer more support and at least something to hold your foot in place if you cannot get your foot clipped back in.

Flat Pedal Considerations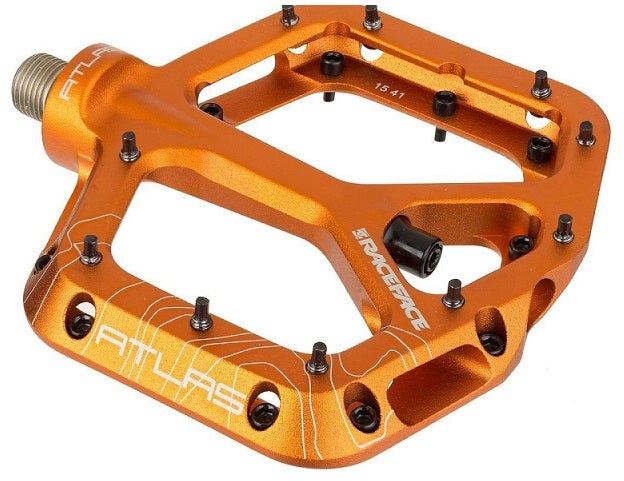 Platform size and shape – Try to find a pedal that will cover as much of your shoe sole as possible without any pedal sticking out. The grippiest pedals have a concave shape, either achieved by the design of the pedal body or shorter pins being installed in the middle.
Height is also a consideration as a fatter pedal is closer to the ground and therefore more likely to strike rocks or other objects. As a pedal gets thinner, it is more difficult to achieve a concave shape so the loss of grip tends to be countered by longer pins.
There is more to a pedal's height than the body; longer pins technically make the pedal wider again.
Pins – Grub screws or metal pins protrude from the body of a flat pedal to stick into the shoe sole. Ideally the pins will screw in from the underside of the pedals otherwise they can get so damaged by rock strikes that they cannot be replaced.
Longer pins provide more grip but are more hazardous in a crash. Scarred shins are a common sight on mountain biker's legs!
---
I hope this guide was helpful for finding the best mountain bike pedals to fit your needs. If you want to comment or recommend a set of pedals I didn't include, please use my contact form to get in touch.
Have fun and be safe out there!
How We Researched
To come up with the top mountain biking pedals, we researched a variety of sources for reviews such as Competitivecyclist, JensenUSA, REI, EVO along with our own personal experience.
We also consulted online magazines for product research and reviews to get as much unbiased information as we could. To help weed out fake reviews we used Fakespot.com to make sure we only looked at genuine reviews.
With so much quality gear available, we had to narrow it down based on what we felt were the best options were for the price. The author, Richard Bailey has a wide background in mountain biking in a variety of countries, terrain types and bike packing for weeks on end.
The author has decades of experience and is eager to share his knowledge with readers.
To help narrow down the selection we used personal experiences along with recommendations from fellow MTB bikers, bloggers and bike shops.
After extensive research, we came up with our list to help you choose the right one for you.
Sources
Notice:
OutsidePursuits.com is a participant in the Amazon Services LLC Associates Program, an affiliate advertising program. OutsidePursuits.com earns fees from products sold through qualifying purchases by linking to Amazon.com. Amazon offers a commission on products sold through their affiliate links.