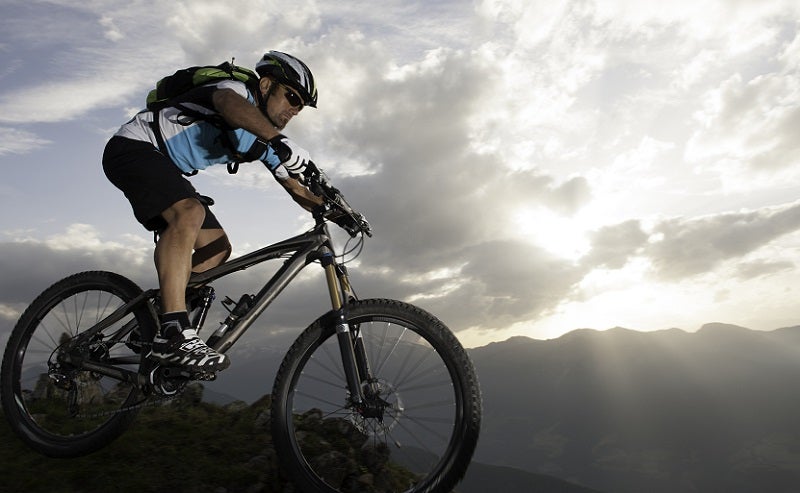 While it is possible to go mountain biking while wearing a generic cotton t-shirt, the best MTB jerseys that have been specifically designed and constructed for the task will keep you much more comfortable.
There are a couple of reasons for this.
Cotton soaks up sweat and holds on to it like a sponge. Consequently, your t-shirt will become soaked through quickly and when you do stop, the dampness of the material will make you cold.
On top of this, the cut of a standard t-shirt was not designed with mountain biking in mind. It may not be obvious what to look for in a mountain bike jersey, so we have summarized what you need to think about below.
For more of my top gear recommendations, have a look through these popular Outside Pursuits guide links: MTB Shorts, MTB Helmets, MTB Shoes.
Quick Answer: The 5 Best MTB Jerseys For 2019
Our reviews of the top rated MTB jerseys with our guide and comparison table will help you choose the right one for you.
Best Mountain Bike Jerseys
| | Troy Lee Designs Ace | Fox Ranger Short Sleeve | Gore Bike Wear Power Thermo |
| --- | --- | --- | --- |
| | | | |
| | | | |
| Made From: | 100% polyester fabric | TruDri 100% polyester knit fabric | 87% Polyamide, 13% Elastane |
| Style: | Short sleeve, with full length YKK front zipper | Short sleeve, T-Shirt style | Long sleeve, with full length zip with semi-lock slider |
| Features: | Reflective details on the rear and shoulders | Drop tail design with flatlock seam construction | Reflective details on the rear and shoulders |
| | | | |
MTB Jersey Reviews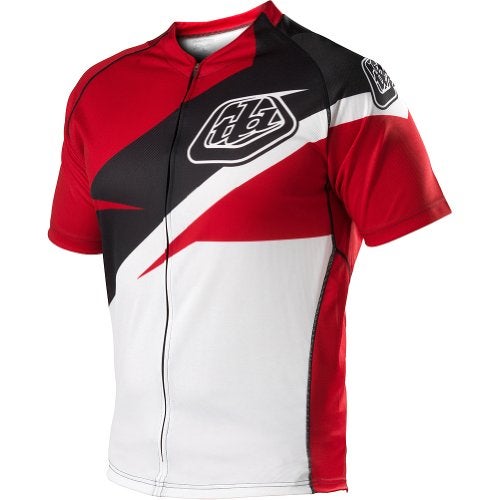 They chose an excellent name for this jersey, because it really is ace. Troy Lee Designs started out making motocross clothing before branching out into mountain bike clothing for downhill and gravity riders.
The Ace jersey is intended for the XC and trail crowd, who neither want a jersey as tight fitting as a XC racer, nor as loose as an enduro or downhill jersey.
The fit is close but comfortable with room to move. The whole jersey has flatlock seams and the cut is low at the back with very short sleeves. The material is excellent at wicking away sweat and keeps you nicely cool on warm days.
A zip at the front can be opened for more ventilation. At the back there are two open and one zipped pockets to store tools and snacks.
The close fit makes it appear to be a XC jersey, but the range of movement allowed makes it suitable for trail riding as well. This is a great jersey for the average rider who likes to join a XC race once in a while.
It is comfortable enough to wear with a backpack or you can stuff some snacks and tool into the pockets for shorter rides or races.
To make this jersey even more versatile, there are reflective details at the rear and on the shoulders. These make it suitable for commuting and add an element of safety if you are riding home from the trails after dark.
On top of all of this, the Ace jersey is remarkably durable and will last for several seasons and I think the best MTB jersey!
Women's Model: Troy Lee Designs Ace Women's MTB Jersey
---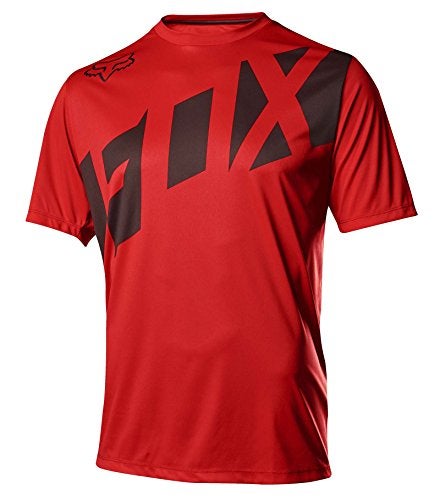 The Ranger is an affordable trail jersey with no compromise on the most important features or cut.
The material is breathable and wicks sweat effectively to keep you dry. It is, in fact, the same material that Fox use on their more expensive jerseys.
The tail is dropped to ensure that nothing is left sticking out when you are bent over pedalling. Flatlock seams are used throughout and raglan sleeves allow easy movement.
If you are not taking a backpack with you, there is a small pocket on the side which is big enough for a small snack, keys or a lift pass (the Ranger is also great for a day at the bike park).
What you don't get is any mesh sections or ventilation holes. It has a "tshirt" look to it and consequently has no panelling. Neither of these matter too much though, as it is still a comfortable jersey to wear for many hours.
Finishing the Ranger off are some reflective details to keep you safe on the roads in low light and a sunglasses wipe on the inside. A range of colors from subdued to very bright and noticeable are available to match your style.
---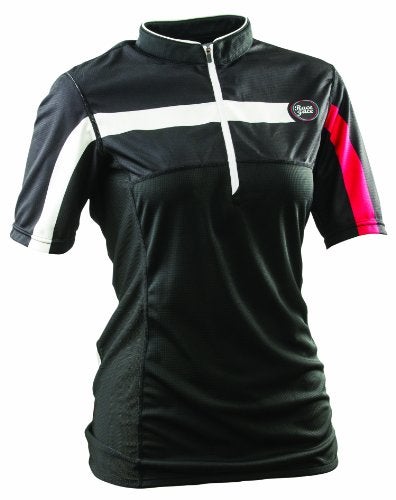 As is unfortunately the case in many areas of life, mountain biking can be very male dominated. Until a few years ago, female mountain bikers did not have many options when it came to clothing made specifically for them.
You don't need us to tell you that men and women are built differently. Predictably, the male specific clothing was not all too popular with the ladies.
The first women's bike clothing was also not a huge success either, as most items were simply made smaller and pinker.
Race Face did not like this, so hired a female designer to come up with some riding gear that is more suited towards a women's shape. The DIY jersey is a great performer and has some cool features.
Similar to the Ace jersey, it has a relaxed fit that is neither too close, nor too loose. The material is breathable and features a zip at the front and mesh sections under the arms to keep things as breezy as possible.
If you only ride in very hot temperatures (think desert), you may find the DIY jersey to be too warm. On the flip side, with the zip done up, it can keep you a bit warmer once the sun has gone down.
The bottom of the jersey has an elasticated band with internal silicone details to hold it in place. It is very annoying to constantly be pulling a jersey down again after a rucksack has nudged it up.
The band keeps the bottom of the jersey where it should be, with or without a pack.
While the construction is as solid as anything else that Race Face produce, the material does not stand up too well to getting snagged by thorns at the side of the trail. This is only an aesthetic problem, and does not affect the overall durability.
A couple of pockets at the rear allow you to stash some essentials. Next to these is a narrow pocket intended to hold a pump.
Instead of the classic pink that other designers assume women "must" like, the DIY jersey is available in gravel or black.
---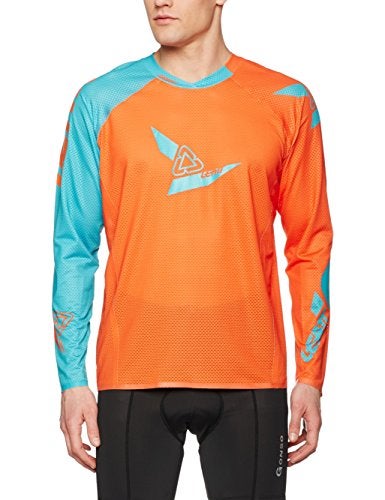 Leatt manufacture some great protective equipment, as well a small range of clothing. This is a long sleeved jersey for summer enduro shredding in comfort and style.
The main body of the jersey is constructed from a stretchy mesh fabric, which moves with your body and allows loads of air to flow through.
The fit is loose without being baggy and the stretchiness of the fabric allows you to pull it on over pads. Whether you are riding padded up or not, this jersey will keep you as cool as possible.
Overall it feels very light in terms of weight and durability. However, the DBX 4.0 has been designed to put up with some proper abuse.
The long sleeves keep your arms safe from the sun and any unexpected meetings with the ground. A reinforced section can be found on the elbows, to shrug of grazes and prevent holes in your nice jersey.
Other features include a zipped pocket and a glasses wipe to keep your eyewear clean.
Instead of using stitched seams, Leatt prefer (hence the UltraWeld name) to melt most of the seams together.
Overall the DBX 4.0 is a great choice for hot summer riding.
---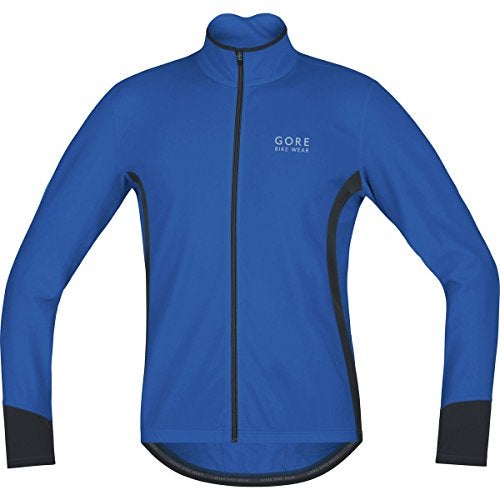 Ok summer will not last forever. Once you have embraced this fact, you can start thinking about what to wear on the bike once the temperatures fall. You weren't thinking of hibernating anyway, were you?
This close fitting mountain biking jersey from Gore will help you through the colder months. For cool autumn and spring temperatures, you can wear it by itself and open the full length zip to control your temperature.
If it gets colder, zip it all the way up and the collar will close snugly around your neck to keep warmth in. For winter riding, you can use the Contest Jersey as a layer under a wind and waterproof jackets.
This jersey is a strong addition to your layering that will enable you to keep riding in very cold conditions.
At the back you will find a pocket big enough to hold a pump and two smaller pockets for snacks and tools. The shoulders have some anti-slip reinforcement to make sure your pack does not slide around.
If you want to keep riding through the winter, or are already a serious fatbike enthusiast, get yourself an Contest Thermo Jersey to keep the cold out.
---
MTB Jersey Comparison Table
| MTB Jersey | | Made From | Style | Other | Rating |
| --- | --- | --- | --- | --- | --- |
| Troy Lee Designs Ace | | 100% polyester | Short sleeve, with full length | Reflective details on the rear and shoulders | 4.6 / 5.0 |
| Fox Ranger Short Sleeve | | TruDri 100% polyester | Short sleeve, T-Shirt style | Drop tail design with flatlock seam construction | 4.5 / 5.0 |
| Race Face Women's DIY | | 87% Polyamide, 13% Elastane | Long sleeve, with full length zip | Silicone on shoulders for abrasion resistance | 4.4 / 5.0 |
| Leatt DBX 4.0 UltraWeld | | Moisture Cool wicking mesh | Long sleeve | Brush guard reinforcement on elbows | 4.3 / 5.0 |
| Gore Bike Wear Contest Thermo | | 87% Polyamide, 13% Elastane | Long sleeve, with full length zip | Reflective details on the rear and shoulders | 5.0 / 5.0 |
How to Choose the Best MTB Jersey for You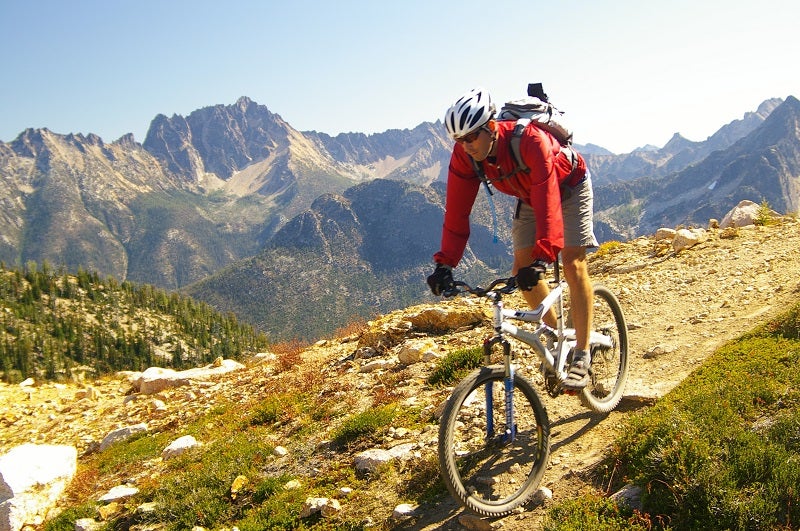 Why You Should Wear an MTB Jersey
While your cotton shirt may be comfortable to wear during normal day-to-day activities, but once you get on the bike, the fit is likely to be all wrong.
The stitching is also liable to cause chafing, all of which results in you being uncomfortable.
Why let something like this get in the way of enjoying a ride? A properly designed mountain bike jersey will be made of the right materials, and have the right cut and fit to ensure that you can ride all day in comfort.

Material
Mountain biking tends to get you warm and sweaty in most seasons. A good jersey will be made from a material that wicks sweat away from your skin.
By moving moisture from your skin to the outer layers of the jersey, it can evaporate quicker. In the process you stay cool and the sweat does not build up.
A stretchable material will move with your body rather than restrict it. Thicker material is more durable and will protect you more in a crash but is warmer to wear.
Some jerseys have thin material or mesh under the armpits on on the back to keep you cool. Thicker sections are then used on the shoulders to prevent your pack straps rubbing too much, and on the arms to and protect you in a crash.
Flatlock seams are a must. This type of seam does not stick out towards your body but instead is stitched flat so it cannot rub.

Cut & Riding Style
Look for a mountain biking jersey that is long enough at the back to cover you even when bent over the bike. A design with multiple panels will stretch and move in the way that you need it to when riding.
Downhill jerseys are generally baggy and loose to allow body armor to fit underneath. The neck on a downhill jersey will often be shaped to incorporate a neck brace.
Trail and enduro jerseys are loose fitting without being baggy. The key here is all day comfort. Mesh panels on the back help prevent too much sweating under your backpack.
XC jerseys have a tight-fitting cut to be as aerodynamic as possible. They usually have pockets at the back to carry snacks and tools, and may have a zipper at the front for more ventilation.
Season
In summer you need as much ventilation as possible. A thin jersey with mesh panels and short sleeves will help to keep you cool. For winter riding, choose a thicker jersey with long sleeves.
You might want to wear a base layer underneath. For even colder temperatures, you might want to get a jersey with some insulation or windproofing.
---
I hope this guide was helpful for finding the best MTB jersey to fit your needs. If you want to comment or recommend an jersey I didn't include, please use my contact form to get in touch. New to mountain biking? Here is a guide to get you started.
Have fun and enjoy your ride!
The Troy Lee Designs Ace is our Editor's Choice as the best MTB jersey with its combination of comfort, protection and quality.
Notice:
OutsidePursuits.com is a participant in the Amazon Services LLC Associates Program, an affiliate advertising program. OutsidePursuits.com earns fees from products sold through qualifying purchases by linking to Amazon.com. Amazon offers a commission on products sold through their affiliate links.