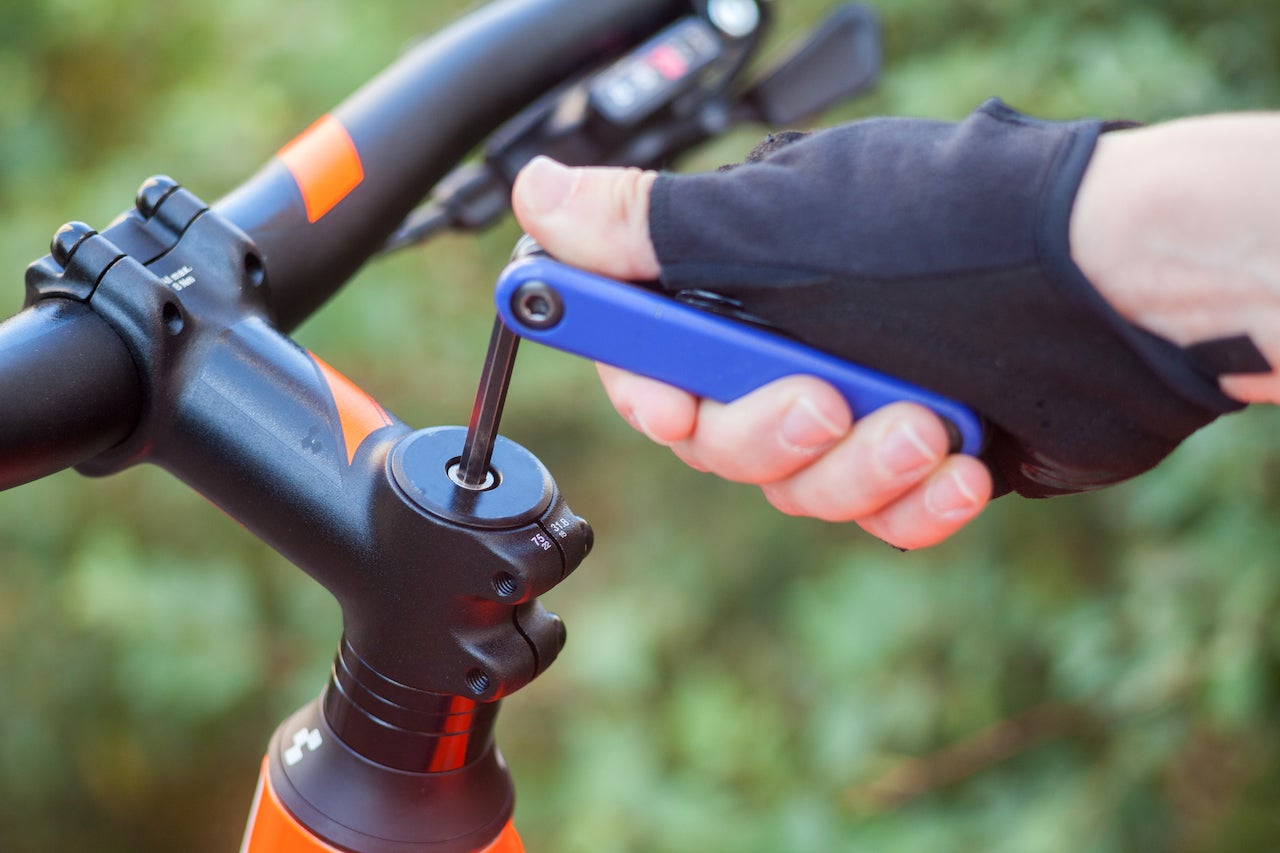 Our Editors independently research, test, and rate what we feel are the best products. We use affiliate links and may receive a small commission on purchases.
Having the best bike multi-tool can be a lifesaver in the woods and is an indispensable item for any mountain biker to have with them at all times.
Having a chain break while 10 miles back in the woods with no cell phone coverage is not out of the realm of possibility.
It's not just mountain bikers that a multi tool can come in handy for. If you are a road biker who takes long trips, you can run into a situation where you need to make an emergency repair as well.
Best Bike Multi Tools
| | Topeak Alien II Multi Tool | Park Tool MT Premium Multi Tool | Crank Brothers M19 Multi Bicycle Tool |
| --- | --- | --- | --- |
| | | | |
| | | | |
| Design: | 2 Piece break apart design | Single piece "Swiss Army" style | Single piece "Swiss Army" style |
| Tools: | 26 tools, including chain tool | 9 tools | 19 tools, including chain tool |
| Size: | 3.4" x 1.7" x 1.6" | 6" x 2" x 1" | 6" x 2" x 3" inches |
| Weight: | 270g (9.5 ounces) | 226g (8 ounces) | 177g (6.25 ounces) |
| | | | |
For more of my bike gear recommendations, have a look through these popular Outside Pursuits guide links: Bike Tool Kits, Bike Repair Stands, Bike Pumps.
Quick Answer: The 5 Best Rated Bike Multi-Tools For 2021
Our reviews of the top rated bike multi-tools with our guide and comparison table will help you choose the right one for you.
Bike Multi-Tool Reviews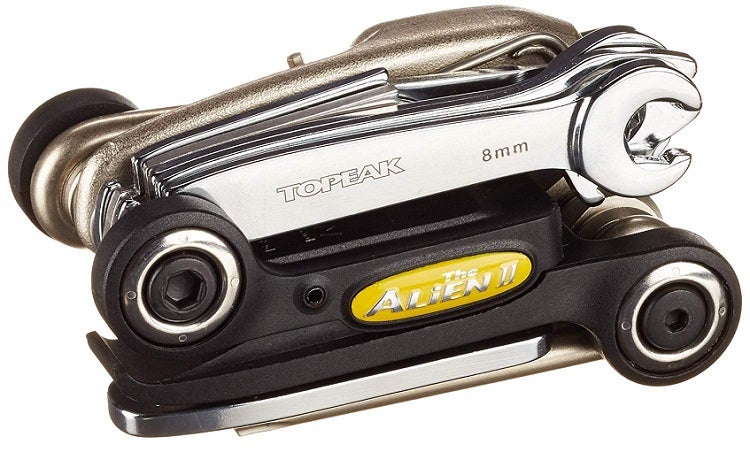 The Alien II Comes With These Tools:
---
Chain tool (chains up to 12 speed)
Chain hook
15mm pedal wrench
2 tire levers
Allen/Hex wrenches 2 to 10mm
T25 Torx
8, 9, and 10mm box-end wrenches
14, 15-gauge spoke wrenches
#2 Phillips/flat-head screwdrivers
The Topeak is the MacGyver of tools. I really don't think there is a repair that you would need to make that the Alien II cannot handle.
The Topeak Alien is a high quality tool made from hardened, stainless steel that feels good in your hand. You can tell once you open it for the first time, it's well-made.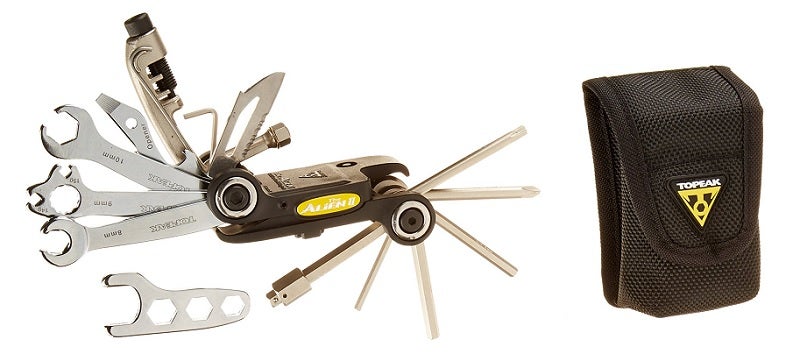 As you can see it has most everything you would need plus it comes with a nice carry pouch that will fit in any seat cargo pack. The Topeak Alien II is a good option and might be the best bike multi tool for the money.

---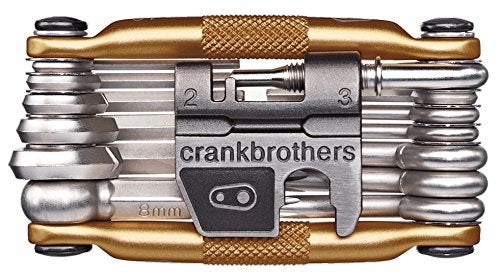 The Crank Brothers M19 Comes With These Tools:
---
Chain tool: 8/9/10 speed compatible
Spoke wrench: #0, 1, 2, 3
Allen/Hex wrenches: #2, 2.5, 3, 4, 5, 6, 8
Open wrench: 8mm, 10mm
Screwdrivers: phillips #1, phillips #2, flat #2
Torx: T-10, T-25
Crank Brothers has been making cycling tools for quite some time and the 19 function multi tool is a good offering.
Unlike some other multi-tools the Crank Brothers does not split apart but being designed like a Swiss Army knife, it is very easy to use.
Definitely a higher grade tensile steel than most tools in its class, you can just about stand on it to turn a bold that is locked hard. It comes with just about every tool the biker can ask for to make repairs.
The tools fit securely in each size bolt or screw, a testament to its quality construction and tolerances.
The Crank Brothers M19 finishes off the complete package with a stainless steel carry case and is small and light enough to fit in your cargo pack or just keep it in your pocket. By far the Crank Brothers M19 is one of best cycling multi tools you can buy.

---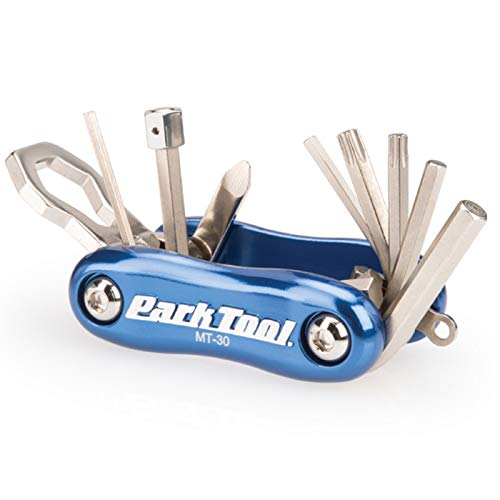 The Park Tool MT Multi-Tool With These Tools:
---
Allen/Hex wrenches 2.5, 3, 4, 5, 6, & 8mm
Torx T10, T25 and T30 compatible drivers
Flat blade & Philips screwdrivers
8, 9 and 10mm box end wrenches
Disc brake piston press
Pedal wrench
Knife
Bottle opener
Park Tools are synonymous with quality. The MT is quality made here in the USA from high grade stainless steel so it will not rust.
The Park MT is a standard "switch blade" design that packs several tools into a compact tool that fits in your pocket.
This allow maximum usage of each tool, a great design in my opinion. It snaps back together securely so you don't lose any of the pieces.
The only thing missing from this MTB multi tool is a carry case of some sort, but this is a minor detail in my book. I also would like to see a bottle opener like the Crank Brothers.
The Park Tool is a no brainer and you won't go wrong taking this out in the woods for any emergency repairs. This is probably the best MTB multi tool you can buy.

---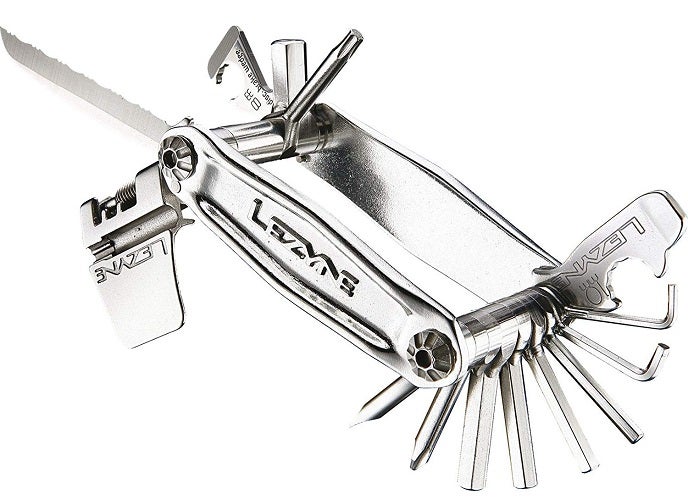 The Lezyne Comes With These Tools:
---
Allen/Hex wrenches 2, 2.5, 3, 4, 5, 6, 8mm
Phillips & Flat Head
Torx T25
Spoke Wrenches: Mavic Mtv, 3.22, 3.45
Tire Lever: Open end 10mm
Chain Tool: (9/10/11 speed)
Serrated Knife 60mm
Open End 8mm wrench
Disk Brake Wedge
Bottle Opener
The Lezyne bike tool has a simple elegant design. Made from high quality stainless steel in a Swiss Army style the tool has 20 functions to fix most any repair the mountain or road biker will need.
Unlike most other bike tools it comes with a razor sharp serrated edge knife. It can really come in handy when you need to cut something!
The Lezyne bike tool screams quality and is one best bike multi tools available. Its an easy to use tool that hopefully you won't need to use it out in the woods but if you do, you will be glad you have it!

---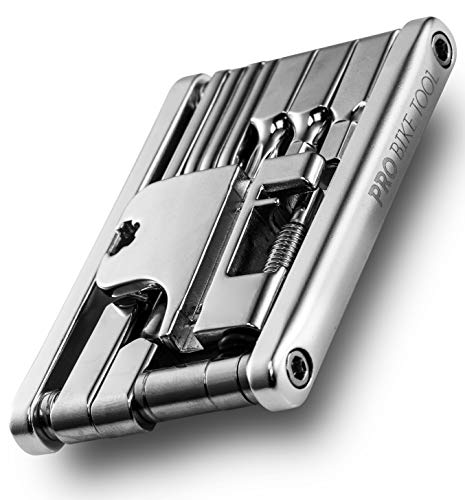 The Pro Bike Tool Comes With These Tools:
---
Allen/Hex wrenches: 2.5/3/4/5/6 mm
Torx: T25/T30
Phillips Tools: PH1 cross drive
The Pro Bike Tool is by far the smallest and lightest of the bike multi-tools evaluated. This is going to be more for use for road bikers because it lacks a few tools that a mountain biker would find critical.
They even pack a chain tool in this slim tool, and the tools it does provide are very high quality. Made from a high grade SUS420 stainless steel this tool will not rust like cheaper stainless steel tools.
In addition the tool's surface has a anti-corrosion treatment. It has a simple Swiss Army knife design that is easy to use and very compact.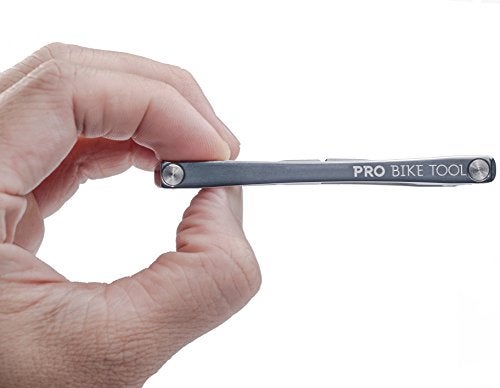 They include most any tool you are likely to use or need so if you are looking for an elegant, slim tool that will take care of most adjustments and repairs, the Pro Bike Tool is probably the best road bike multi tool.

---
Bike Multi-Tool Comparison Table
How to Choose the Best Bike Multi Tool For You

What Bike Multi-Tool is Right For You?
We have a variety of tools for you to choose from is a variety of configurations:
All in One – These mult-tools have most every tool you could possibly need or want. Everything from allen wrenches, screw drivers and chain tools. The trade off is weight and bulk. They may barely fit in your under seat saddle bag. You may need to keep it in your backpack. The Park Tool is a good example of this type.
Minimalist – These multi-tools will be only able to make the simplest of repairs. Normally they only come with the most common Allen wrenches and flat head and Phillips screw driver. Under most circumstances this may be enough. The upside of these tools is the lightweight and small size. The Pro Bike Tool is a good example of a minimalist tool.
In the end it comes down to do you think you will just be making some simple adjustments or full on repairs in the field?
Multi-Tool Functions
Screw Drivers
Having both a flat head and a Philips is an absolute must. You will be hard pressed to find a bike that doesn't have both types of screws somewhere on the bike.
Allen/Hex Wrench
Most every road and mountain bike have Allen screws on it whether it's to adjust the brakes or the seat, you're going to need this essential tool. More is definitely better as there are many sizes in use.
Chain Tool
Probably more crucial for the mountain biker but still a good idea for the road biker. If you need to remove a broken chain link, having a chain tool is an absolute necessity.
Torx
The use of Torx screws is becoming more common on bikes, especially on higher end bikes. Luckily the Torx 25 is pretty much the standard size.

Quality
You can buy a cheap bike multi-tool that may have all the necessary tools BUT here is the problem: If the tools are of poor quality they might break the first time you go to use it! I have seen it happen.
Not only may the tool break you may damage your bike by stripping a screw or bolt but possibly injure yourself. If you have ever scraped your knuckle because of a poor quality tool you know what I mean.
Weight and Size
Of course lighter is better but you can't sacrifice strength to get it. The tool has to be sturdy enough to handle a tough job.
Size is important as well, you don't want it too small because you won't be able to get any leverage on the tool to turn a tough screw or bolt! Keep in mind if your carrying it a saddle bag, make sure you have enough room to fit it.
One other consider is a case. While it's nice to keep the tool in a protective case, the trade off is extra size and bulk. If you are keeping the tool in an under seat saddle bag, you may not have room for a case.
Bike Multi-Tool FAQ
What is a bike multi-tool?
A bike multi-tool has all of the metric Allen keys and other tools needed for trail and roadside repairs and adjustments.
Do you need a bike multi-tool?
A set of metric Allen keys can adjust the bolts on your road or mountain bike. However, bike multi-tools include cycling-specific tools such as a chain breaker and T25 Torx wrench.
Do I need a chain tool on my multi-tool?
Not all bike multi-tools include a chain breaker. A chain breaker adds weight and size to multi-tools but comes in handy. Even if you're not comfortable fixing your own chain, investing in a multi-tool with an integrated chain tool will allow fellow cyclists to help you if you break a chain on a ride
How should I carry a multi-tool while riding?
Multi-tools are designed to fit easily in a saddle bag, hydration pack, or jersey pocket.
Conclusion
There is a large difference in quality between the bike multi-tools. I have used quite a few over the years and can attest to this.
A good bike tool will allow you to do just about all common tasks and repairs on a bike. Such as adjusting your handlebars, seat height or brakes.
If you don't have a full tool box at your home, then purchasing a multi-tool with all the functions and tools you might need is even more important.
---
I hope this guide was helpful for finding the best bike multi–tool to fit your needs. If you want to comment or recommend a cycling tool I didn't include, please use my contact form to get in touch.
Have fun and enjoy the ride!
How We Researched
To come up with the top bike multi-tools, we researched a variety of sources for reviews such as CompetitiveCyclist, JensenUSA, REI, EVO along with our own personal experience.
We also consulted online magazines for product research and reviews to get as much unbiased information as we could. To help weed out fake reviews we used Fakespot.com to make sure we only looked at genuine reviews.
With so much quality gear available, we had to narrow it down based on what we felt were the best options were for the price. The staff authors have a wide and varied background in road cycling, racing and bike packing.
The authors have decades of experience in cycling and eager to share their knowledge with readers.
To help narrow down the selection we used personal experiences along with recommendations from fellow cyclists, bloggers and bike shops.
After extensive research, we came up with our list to help you choose the right one for you.
Sources
Notice:
OutsidePursuits.com is a participant in the Amazon Services LLC Associates Program, an affiliate advertising program. OutsidePursuits.com earns fees from products sold through qualifying purchases by linking to Amazon.com. Amazon offers a commission on products sold through their affiliate links.