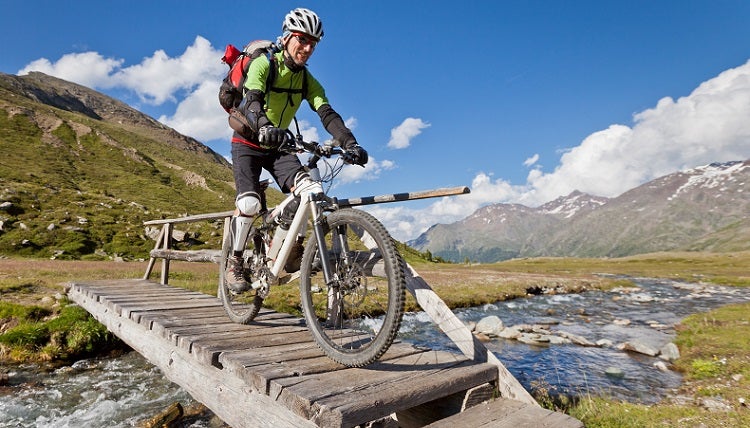 Our Editors independently research, test, and rate what we feel are the best products. We use affiliate links and may receive a small commission on purchases.
At some point when mountain biking, something will go wrong and you will hit the deck. Often, hands and knees are the victims of this so it is important to protect them.
If you do hit the ground, a good pair of MTB knee pads will at the least stop your knees getting grazed. They can also prevent more serious injuries such as a shattered kneecap.
You may think that kneepads are reserved for more extreme trail riders that do big drops or other high risk stunts. However, anyone can fall off and crashes often happen on trails that you are familiar with.
Best MTB Knee Pads
For more of my MTB biking recommendations, have a look through these popular Outside Pursuits guide links: MTB Helmets, MTB Pedals, MTB Shoes.
Quick Answer: The 5 Best Rated Mountain Bike Kneepads
Check out our recommendations of the top rated MTB Kneepads and comparison table to see if one of them fits your criteria and give it a go!
---
MTB Knee Pad Reviews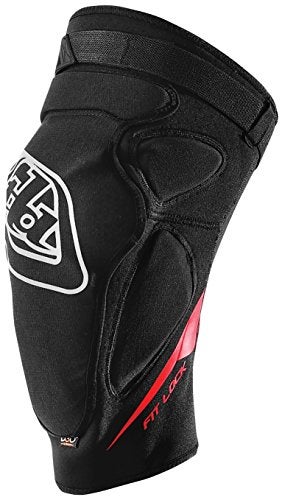 Back in the day, it was only really downhill racers who wore kneepads. The clunky plastic knee and shin guards offered good protection but were neither ventilated, nor flexible enough for trail riding.
Times have changed and after seeing what everyone else had, downhill racers wanted a pad that has the same level of protection but in a smaller package.
Troy Lee Designs created the raid kneepads for this purpose. D30 padding on the front of the knee is flexible and hardens when impacted. The side of the pads features foam padding and the back is made from a breathable mesh.
The rest of the sleeve is made from neoprene. A silicone band inside and a velcro strap at the top of the sleeve keeps them in place along when pedaling and during crashes.
When it comes to comfort, you can wear the Raids for many hours on the bike. Likewise, you can leave them on for a whole day at the bike park without giving them a second thought.
These pads will keep your knees safe in high speed impacts, making them the best MTB knee pads for more risky styles of mountain biking. The protection does make them quite heavy at 414g.
Best For: Downhill or enduro racers who want full-on knee protection in a slimmer package.

---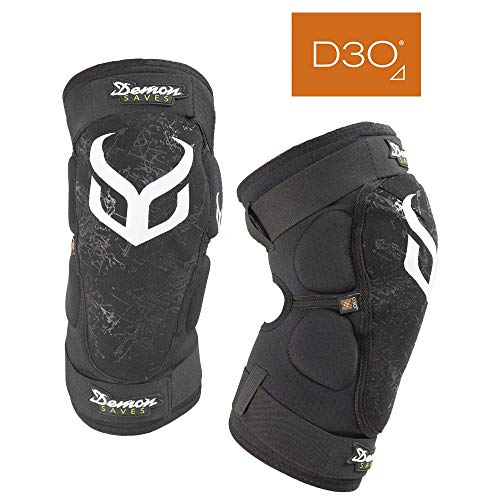 The Demon Hyper X knee pads will stay glued to your legs regardless of how rocky the terrain or difficult the course.
These are the ideal choice for those who want hassle-free protection that stays put no matter what.
Designed with D30 impact material, a kevlar based top shell and ventilated neoprene liner, these are built to cushion the worst of falls while keeping your legs cool.
Dual adjustable hook and loop straps work to keep the pads in place, while a foam backing prevents chafing and friction on your skin.
Better yet, they come complete with Demon United's quality guarantee.
Keep in mind that due to their close-fitting design, these knee pads run small. Take your measurements, and if you find yourself in between sizes, opt for the larger option.
Best For: Adventurous trail and cross country riders who need a tight knee pad that stays put.

---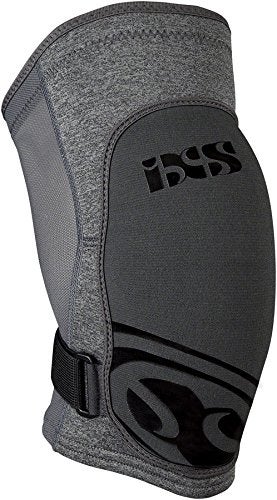 Although these are not actually the lightest in their class of minimal kneepads, they are top performers in terms of protection and comfort.
The neoprene sleeve is held in place by silicone grippers and a velcro strap wraps around the top of your calf muscle, ensuring that the pad will not shift on your leg while pedaling. The rear of the sleeve is mesh to increase ventilation and comfort.
In terms of protection, the pads are made from what IXS call "X-matter", which remains flexible while pedaling but will absorb big impacts. The outer is made from tough and durable kevlar to ensure durability.
There is not enough padding to completely protect you from hard, high speed impacts against sharp objects. There is no padding on the side of the knee, but for the average rider, the Flow pads have all the protection that you need.
At 300g you will hardly notice that you are wearing these pads and they even roll up small so you can store them easily in your rucksack.
Best For: All round trail riders who are not bothered by ultimate levels of protection and want to keep total weight low.

---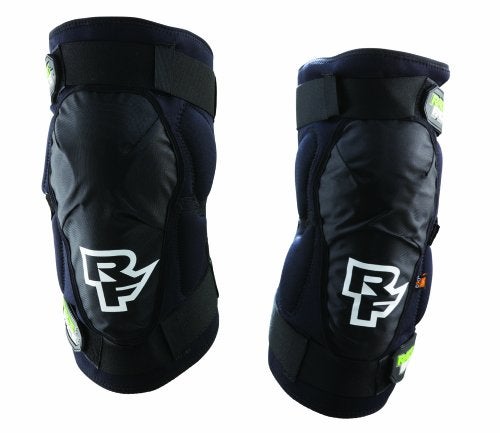 You may be the kind of rider that rides to the trails or does not like to pedal a lot while wearing pads, you may get tired of constantly taking off your shoes to get your pads on and off. If this sounds familiar, Race Face have created the perfect pair of pads for you.
The Ambush pads forgo a sleeve and just have two adjustable velcro straps to hold them in place. This system works surprisingly well and they stay in place on long, hectic descents.
Once you have custom tuned the fit, they are also comfortable enough for long rides and even to walk in if a bit of hike-a-bike is needed. They are not the coolest of pads, but do a good job of wicking away sweat so you do not feel like you have sponges on your knees.
This will take care of any big impacts that come your way. A different foam padding is used on the sides of the knees to ward of knocks and scrapes.
The ease of putting them on and the hefty protection does mean that the weight is somewhat high at 502g. The price on the other hand is not hefty.
Best For: Riders who like to quickly take their pads on and off and do not mind the compromise on breathability.

---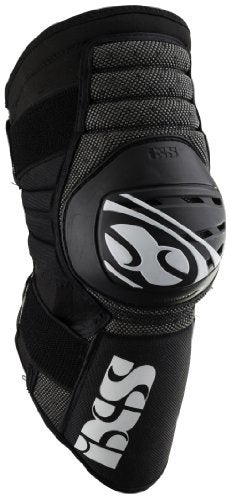 If you want to go big, fast, or both, and want some serious knee protection, the Daggers are for you. They were designed with help from Darren Berrecloth, who is a rider known for his affinity for going big and fast.
Hard plastic covers the outside of the knee pad to spread impacts and prevent sharp rocks stabbing through. The hard shell also helps prevent the pad from hanging up on the trail and getting pulled out of place.
Around the main pad are foam sections to protect the sides of your knees. The top of your shin is also protected by a section of foam. The Dagger may look like it is stiff, but it has a lot of flexibility and the knee is shaped to conform to your knee.
The main sleeve is made from aeromesh to keep you as cool as possible. Internal silicone straps and velcro straps keep the pads securely in place and they can pedal for many hours in comfort.
When standing, the shin protection will cause a bit of discomfort. This is annoying when standing around but do not forget that standing around is not the primary purpose of a pair of mountain bike kneepads!
Best For: Downhill racers and freeriders who want some durable, high protection pads.

---
MTB Knee Pads Comparison Table
How to Choose the Best Mountain Bike Knee Pads For You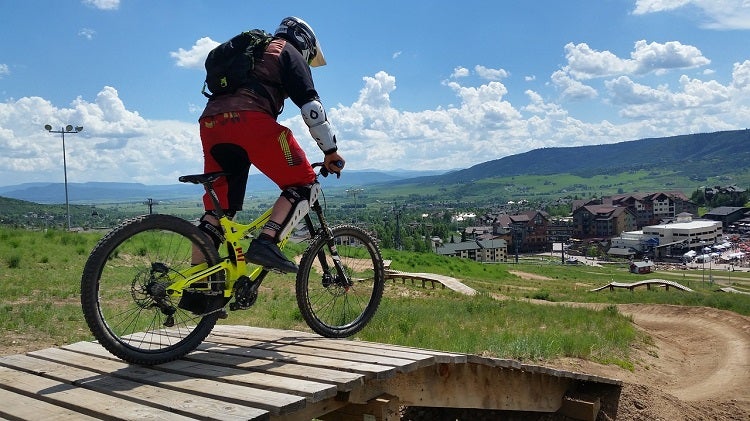 Level of Protection Needed
Cross country and casual mountain bikers will get all the protection needed from a thin pair of pads. As your skills and level of riding increases, you will need more protection.
Look for hard density foam in the pads to save you from high speed crashes, as well as padding on the side of the knees.
If you ride a lot in rocky terrain, you may want a hard shell as part of the padding. A plastic shell will stop sharp rocks piercing the pads and if the shell is on the outside of the pad.
It will help you slide over the ground as you crash, rather than snagging on rocks which will pull the pads out of position on your legs.
Some pads have special foam that hardens on impact. This costs more but the investment is worth it due to the fact that the pads will flex and mould better to the shape of your knees.
This is more comfortable for long hours of pedaling but still provides great protection when you need it.

Attachment Type
There are two types of kneepads: those that are pulled on like a sock and those that clip or strap on.
The latter will not require you to take your shoes off if you want to put on pads mid ride but weigh more and are warmer due to the thicker material around your legs.

Size
Most pads come in small, medium and large sizes. You should be able to find one that fits the circumference of your legs. Correct fitting is important.
A loose pair of pads will shake free of your knees when riding through rough terrain and no longer protect what you need them to. A tight pair of pads will be uncomfortable and may even restrict blood flow.

Conclusion
A slight lapse of concentration can see you hit the deck and if a rock hits your knee, you could end up in hospital with a nasty cut or worse.
There are thinner and lightweight pads available for cross country use up to thicker models for enduro and downhill racing.
There are lots of different types of pads available and knowing what to look out for can be unclear. To help you make a decision, we have written this article to outline what you need to consider and also suggest a selection of the best pads available.
---
I hope this guide was helpful in picking the best mountain biking knee pads to fit your needs. If you want to comment or recommend a kneepad I didn't include, please use my contact form to get in touch.
Have fun and be safe out there!
How We Researched
To come up with the top mountain biking helmets, we researched a variety of sources for reviews such as Competitivecyclist, JensenUSA, REI, EVO along with our own personal experience.
We also consulted online magazines for product research and reviews to get as much unbiased information as we could. To help weed out fake reviews we used Fakespot.com to make sure we only looked at genuine reviews.
With so much quality gear available, we had to narrow it down based on what we felt were the best options were for the price. The author, Richard Bailey has a wide background in mountain biking in a variety of countries, terrain types and bike packing for weeks on end.
The author has decades of experience and is eager to share his knowledge with readers.
To help narrow down the selection we used personal experiences along with recommendations from fellow MTB bikers, bloggers and bike shops.
After extensive research, we came up with our list to help you choose the right one for you.
Sources
Notice:
OutsidePursuits.com is a participant in the Amazon Services LLC Associates Program, an affiliate advertising program. OutsidePursuits.com earns fees from products sold through qualifying purchases by linking to Amazon.com. Amazon offers a commission on products sold through their affiliate links.