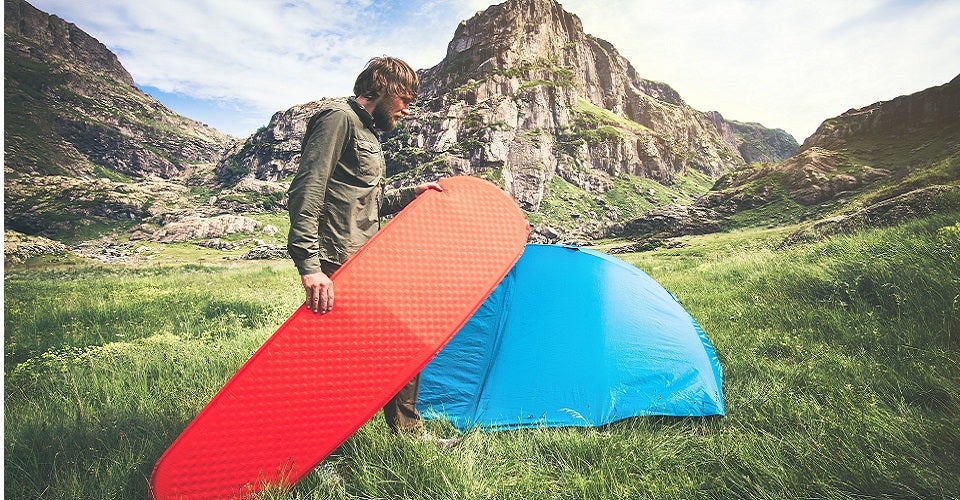 Our Editors independently research, test, and rate what we feel are the best products. We use affiliate links and may receive a small commission on purchases.
When you hear the word "sleeping pad" what is the image conjured in your mind?
Is it a flat blue foam mat from Walmart's camping section? Maybe you're thinking of a huge inflatable air bed for guests in the spare bedroom.
Perhaps you're thinking of one of those fancy self-inflating camping pads…
In this article, we're going to be taking a look at some of the best camping and backpacking sleeping pads.
We'll talk about what makes a pad great and what considerations you'll want to take a look at before making a final decision.
Best Backpacking Sleeping Pads
Therm-a-Rest ProLite Mattress
Therm-a-Rest Z Lite Sol Mattress
Klymit Static V Sleeping Pad
Type:
Self-Inflating
Closed-cell foam
Breath Inflation
R Value:
R-Value: 3.0
R-Value: 2.6
R-Value: 1.3
Inflated Sized:
72" x 20" x 1"
Large: 72" x 20" x 3/4"
Small: 51" x 20" x 3/4"
72" x 23" x 2.5"
Weight:
1.06 Pounds
L: 14oz, S: 10oz
18.6oz
For more of my backpacking gear recommendations, have a look through these popular Outside Pursuits guide links: Backpacking Sleeping Bags, Backpacking Tents, Hiking Poles.
Quick Answer: The 10 Best Rated Backpacking Sleeping Pads
Our reviews of the top rated backpacking sleeping pads along with our guide and comparison table will help you choose the right pad for you.
---
Backpacking Sleeping Pad Reviews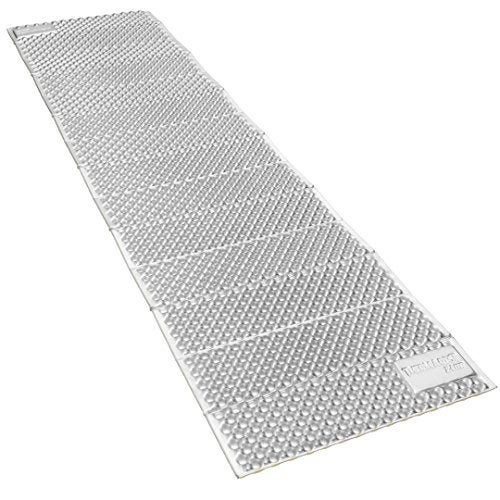 Therm-a-Rest Z Lite Sol Mattress at a Glance
:
---
Type: Closed-cell foam sleeping pad
Size: 72″ x 20″ x 0.8″
Weight: 14.4 ounces
R Value: 2.6
This is an adaptation to the classic Ridge-Rest mattress pad by Therm-a-Rest (a Cascade Designs company). These pads have been well loved and used for years and are by far the most common closed cell foam pad sighting on the trail.
The egg-crate foam design folds along set edges to pack into a small rectangle. The pad itself is still quite bulky, however, and will need to be carried outside of the pack.
One of the down sides of carrying pads outside the pack is getting them torn up if you fall, walk by sharp branches and sticks, or get them dirty in general.
Since it's closed cell foam, however, it's inherently waterproof so that's not too much of a concern.
Video: Overview of the Therm-a-Rest Z Lite
Therm-a-Rest® Closed-Cell Mattresses
These pads are nearly indestructible and can be cut to any size, length, or shape if you desire a DIY modification to save space or weight.
The Therm-a-Rest Z Lite Sol is the best closed cell sleeping pad on the market, highly recommended.

---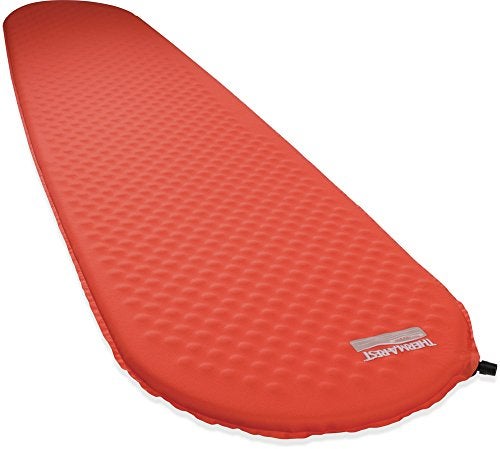 Therm-a-Rest ProLite Mattress at a Glance
:
---
Type: Self-Inflating foam core
Size: 5 Sizes available, Large 77″ x 25″ x 1″
Weight: 1 lbs 2 oz
R Value: 2.4
This is my second pick from Cascade Designs and by far the best sleeping investment I've ever made is this amazing pad.
I have had numerous great experiences with their customer care and support and these all lead me to love their products across the board.
Without a doubt this is one of the most common self-inflating pads on the trail today.
Why?
The design is simple, lightweight (for a self-inflating pad) and reliable.
Inside the pad, they've cut out excess foam to lighten the overall weight of the pad while still maintaining insulation and comfort.
Video: Overview of the Therm-a-Rest ProLite.
Using Your Self-Inflating Therm-a-Rest® Mattress
While not as thick as the XLite pad, this pad is a great solution for many looking to balance convenience, reliability, and function.
The nylon outer shell of this pad is much thicker than the XLite so it'll hold up to a bit more abuse but that's not an excuse to be careless. The Therm-a-Rest ProLite Mattress might be the best sleeping pad you can buy.

---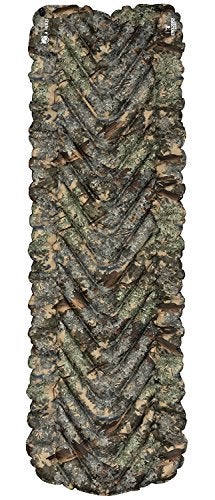 Klymit Static V Lightweight Sleeping Pad at a Glance
:
---
Type: Breath inflation pad
Size:

72″ x 23″ x 2.5″

Weight:

18.1 oz

R Value:

1.3
This blow-up sleeping pad combines multiple baffles and different alignments of baffle angles to help minimize pad roll-off.
That's my made up technical word for the tendency to roll off of a pad in the middle of the night. Horizontal baffles near the edge help bump you back to the center of the pad as you sleep.
V-shaped pads in the center help to keep the body aligned for back sleeping during the night.
This pad is reasonably light, (about 18 ounces) solves a real problem for many hikers, and has a thick 2.5" inflated loft though it'll be heavier and bulkier than the XLite.
The Klymit packs in to a small package, 3"x8" and works well as a camping sleeping pad as well.
This is an excellent sleeping pad, especially if you have difficulty staying in position when sleeping overnight. The Klymit is the best inflatable sleeping pad.

---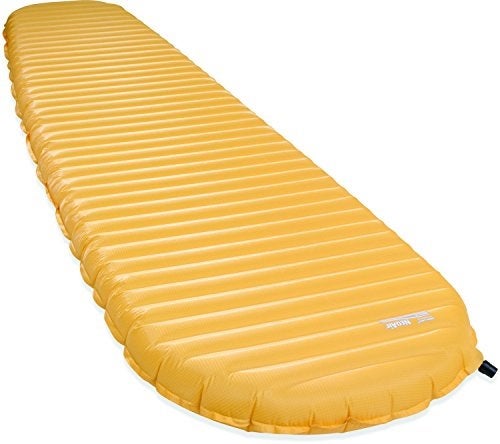 Therm-a-rest NeoAir Xlite at a Glance
:
---
Type: Breath inflation pad
Size: 5 Sizes available, Large 77″ x 25″ x 2.5″
Weight: 1.01 pounds
R Value: 

3.2
Why are my 3 of my 5 top picks all from the same company?
Because Cascade Designs knows how to make some great gear and their brands are some of the best large brands in the industry for quality, design, and customer service.
You'll have to inflate it yourself as it's a lung powered inflator but that's a small negative in my book.
The 2.5" loft is comfy and I sleep better on this pad than I do in my bed. Available in several lengths, the already lightweight 12oz regular size can be found in ¾ or ½ length for smaller and lighter pads.
One main consideration is that the lightweight nylon material can be damaged by careless use. Avoid sleeping on protruding nails on shelter floors or sharp roots, rocks, or pine needles.
All of these should be considered when setting up any inflating sleeping pad to avoid unnecessary damage and repairs.
This sleeping pad has the highest loft of the sleeping pads we reviewed and is the best sleeping pad for side sleepers because you don't get the pressure points that other pads can have.

---

Klymit 
Ozone Sleeping Pad
at a Glance
:
---
Type: Breath inflation pad
Size: 72″ x 21″ x 2″
Weight: 12.2 Ounces
R Value: N/A
Possibly one of the lightest backpacking sleeping pad on the market today, this pad has had a niche following for years.
The frame is based on the idea that less is more as Klymit has removed every part of the pad that's not vital.
I've tried laying on one before and found it to be uncomfortable because I am more of a side sleeper but many people who sleep on their back find the pad just right.
If you're the type of person who doesn't move an inch and can fall asleep on your back with ease – this pad might be for you.
With all the areas of padding that have been removed to pare down the pad, many hikers find this air pad is difficult to arrange yourself on the pad without slipping through one of the holes. It does however feature an integrated pillow that may help you cut back on weight and space if you're not particular about the type of pillow you use.
If you're the type of backpacker who wants the lightest sleeping pad (12 ounces) in a small package, 6″ x 3″ (can fit in a soda can), then this is one of the best ultralight pads available.
This is definitely a lightweight, low bulk option but consider the pros and cons and your sleeping style before ordering!

---

Hiker Hunger Self Inflating Sleeping Pad at a Glance
:
---
Type: Self-Inflating foam core
Size: 77" x 25" x 1.5"
Weight: 2.6 pounds
R Value: 

3.3
After using the Hiker Hunger's trekking poles and liking their quality product I decided to try out their backpacking sleeping pad.
The sleeping pad they came out with is very similar to the Therm-a-Rest ProLite Mattress pad, and that's a good thing.
It's a self-inflating pad, that is ultra-lightweight, weighing only 30 ounces for the regular size and 42 ounces for the long. Its not the light weight that will make you love this sleeping pad, it's how comfortable it is!
I really like self-inflating sleeping pads, the convenience is unbeatable, just turn the knob and let the pad do its magic. And if its not thick enough to your liking you can blow into it, to make it a little thicker.
Even at only 1.5 inches thick, you almost feel like you're in your bed at home.
Those rocks and roots under you?
You won't even know they are there. If its not too cold out, you can get away without having a sleeping bag.
But is not just comfortable, it has an R-Value of 3.3 so it will keep you warm on those cold nights in the backcountry or at the campground. The Hiker Hunger sleeping pad is made from a tough and durable 75D ripstop nylon.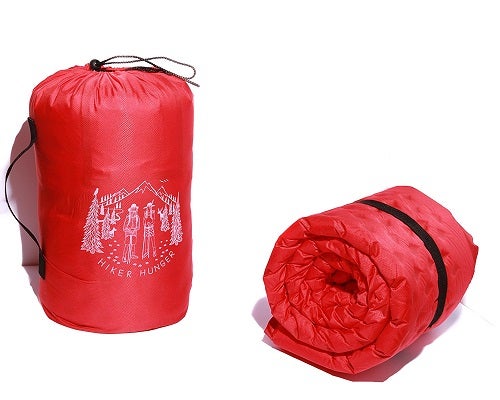 If your heading into the backcountry it's a very packable sleeping pad. It measures only 8 x 13 inches and packs up in the included storage bag. Hike Hunger even included a repair kit, not that you'll need it, but just in case….
They really stand behind the product, if you don't like it for ANY reason, send it back.
No questions asked.
The Hiker Hunger makes a case for being one of the best self inflating sleeping pads available.

---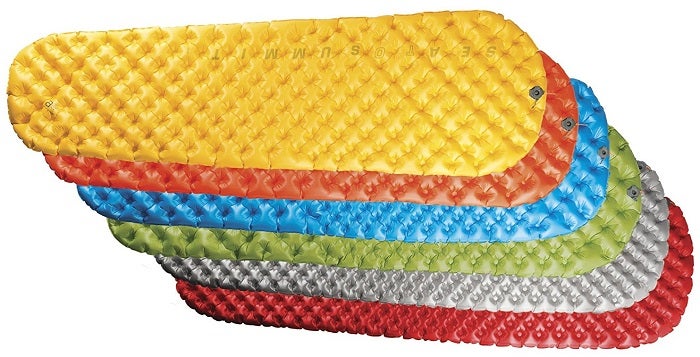 Sea to Summit Comfort Plus Insulated Mat at a Glance
:
---
Type: Breath inflation
Size:

72″ x 21.5″ x 2.5″

Weight: 1.9

 lbs

R Value: 4
Similar in design and comfort to the Therma-a-Rest NeoAir (price too). The Sea to Summit Comfort Plus Insulated Mat packs up into a slightly smaller package and a few ounces lighter.
They use something called "Air Spring Cells" which mimics individual springs in a mattress and really does provide a comfortable nights sleep.
With 8-12 breaths, the Sea to Summit pad inflates to full thickness of 2 inches. This is a .5 inch thinner than the comparable NeoAir.
The .5 inch actually can be noticed at times if you put a lot of pressure in one area, like with your knee or elbow.
When you are lying on it you will find it to be one of the most comfortable pads available. Hikers everywhere swear by them!
It has a high R-Value of 4 but its actually higher than that because they use a proprietary fabric they call Exkin that reflects body heat back. Sea to Summit claims an equivalent R-Value of 5.0.
I can't confirm that it is that high, but it's if true, that makes it the warmest sleeping pad available!

---

Big Agnes Insulated Q-Core Deluxe Air Chamber Sleeping Pad

 at a Glance
:
---
Type: Breath inflation
Size: 5 sizes available

Weight: 25

 oz

Rating: 4.3 degrees
Looking to head out into the backcountry? Well the "Mother of Comfort" has a good 3-season sleeping pad for you ultralight backpackers.
It's a breath inflation air pad that takes roughly 20-25 breaths to inflate it. Unfortunately there is no pump included but it's a quick inflation.
You will find the 4 ¼ inch comfortable and quite warm.
The rip-stop nylon shell is very tough and light, ideal for backpacking and will takes lots of abuse.
The Big Agnes Q-Core SLX is available in 5 sizes, everything from regular size, making an ideal women's sleeping pad up to an extra wide and long size if you want to extra wiggle room.
Running on the more expensive range, we get some nice features like antimicrobial treatment, a heat reflective coating and I-beam construction for support and light weight.
The Big Agnes insulated pad may not be as comfortable as your bed but it's pretty close!

---

Nemo Tensor Insulated Sleeping Pad at a Glance
:
---
Type: Breath inflation
Size: 6 sizes available

Weight: 15 oz
Rating: +30 degrees
The Tensor is an ultra lightweight sleeping pad coming in under a pound. To get the light weight we have to give up some comfort because it's only 3" thick but still rated down to 30 degrees.
Nemo doesn't supply us with an R Value but it's a good 3 season option.
If you are a light sleeper, you will appreciate the Tensor, the baffles and 20D fabric are very quiet compared to some other "loud" sleeping pads.
The Tensor comes with a stuff sack and compresses down to the size of a water bottle so it doesn't take up much room in your pack for you ultralight backpackers.
If you are into car camping as well, the Tensor is still comfortable enough for most anyone with it's 6 available sizes 48″ x 20″ to 76″ x 25″ so there is no separate women's model.

---

Exped SynMat XP 7 Pump Sleeping Pad at a Glance
:
---
Type: Integrated pump inflation
Size: 3 sizes available

Weight:

30 oz

R-Value: 4.80
The Exped is one of the only all season sleeping pads so it will work for winter camping being rated down to 2 degress and an R-Value of 4.8. With the Texpedloft Microfibre insulation it's heavier than the other pads on our list at about 30 ozs.
Made from 75D polyester, it's tough and durable and quiet for you light sleepers. It's available in 3 sizes so you should be able to find one to fit you.
Probably it's best feature is the integrated air pump. After a long, hard day on the trail, who wants to have to blow up a mat? With the Exped, you don't have to! It also includes a Schnozzel Pumpbag for even faster inflation.
Exped mats with integrated pumps: how to adjust mat firmness
The Synmat folds up small into its stuff sack at about 8"x5" so it doesn't take up too much valuable space in your pack.
No matter if you into hunting, backpacking or car camping the SynMat is an ideal option.

---
Sleeping Pad Comparison Table
How to Choose the Best Sleeping Pad for Backpacking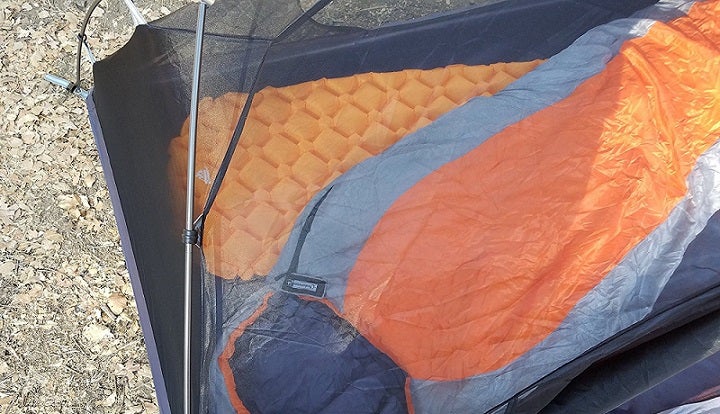 What is R-Value?
To keep it simple, we'll take a brief look at something called R-value. This is a measure of how well something insulates, or stops the transfer of heat.
One of the main functions of your camping sleeping pad is to keep you insulated from the often-cold ground at night. Without insulation, you would often end up dangerously cold throughout a night's rest.
For our purposes, all you need to know is that all pads should have an R-value and the higher the number, the warmer the pad will be.
One last note – R-values are often massively skewed from manufacturer to manufacturer so it can be difficult to objectively trust the testing of different pads… sad.
Some of the most obvious criteria for choosing a camping mattress pad might be packed-size, weight, or effectiveness in keeping you warm.

Sleeping Pad Types: Foam, Blow Up & Self-Inflating

In general, there are three main types of sleeping pads for backpacking and camping. These are self-inflating pads, blow-up pads, and closed cell foam pads. Each of these has its own pros and cons and I'll take you through the deciding factors of each.
Closed Cell Foam Pads
These pads are inexpensive, durable, and hassle-free. Closed cell foam has a great insulation rating (R-value) for its weight and size and does an excellent job at trapping dead air space (the primary function of insulation).
One of the biggest drawbacks is these pads are usually thin and can lack enough padding to create a comfortable sleep surface for many people, they also do not pack down well (compress) and therefore are often bulky and must be carried on the outside of the pack.
Blow-Up Pads
These pads must be inflated with air in order to use them and they do not have their own inflation method. Some of these pads have external battery powered inflators or a pump kit, but using extra goodies to pump them up really defeats their two main purposes: lightweight and low bulk.
These pads, when inflated using your own lung power, can be some of the lightest and least bulky pads to own. I personally love these pads for their exceptionally light weight, low bulk, relatively high R-value, and thick cushion to provide a great night's rest.
Self-Inflating Sleeping Pad
These pads are some of the heaviest and bulkiest pads available. Why would anyone choose them, then? Because all you have to do is open a small valve, cook dinner, and the pad will inflate its self for you!
This is a huge convenience factor and these pads have been the most popular pad on the market for years. People love easy!
These pads can come in any thickness as size to meet your needs. Generally speaking, these pads are simply a nylon sandwich with open cell foam inside.
Open the valve and the foam begins to expand and inflate the mattress. Simply squeeze the air out of the pad and roll it up in the morning to pack it away.
Here is a good video from REI on choosing a sleeping pad:
How to Choose Sleeping Pads || REI
Weight
Anything you choose to carry around all day hiking, backpacking, or camping is going to add up. Sometimes these differences are more noticeable: like the difference between a lightweight titanium cooking pot versus hauling a cast iron skillet.
Often, however, the differences are smaller but they all add up – like your checking account balance.
When it comes to weight you'll find that lightweight usually comes at a price. One exception, however, is closed cell foam pads which are cheap, relatively light, but bulky.
Some of the most advanced and lightweight premium sleeping pads can run well upwards of $100. Here are the different types of sleeping pads for camping rated by their weight (generally):
Self-inflating pads (heaviest)
Closed Cell Foam Pads
Blow-up Pads (lightest)
Of course, we can get drastically varying weight depending on the maker, model, and variations to any specific product. For instance a ¾ length closed cell foam pad might actually be lighter than a blow-up pad such as the NeoAir xLite.
There are always different ways to find a combination of factors which creates the best balance of weight and function for your own personal needs.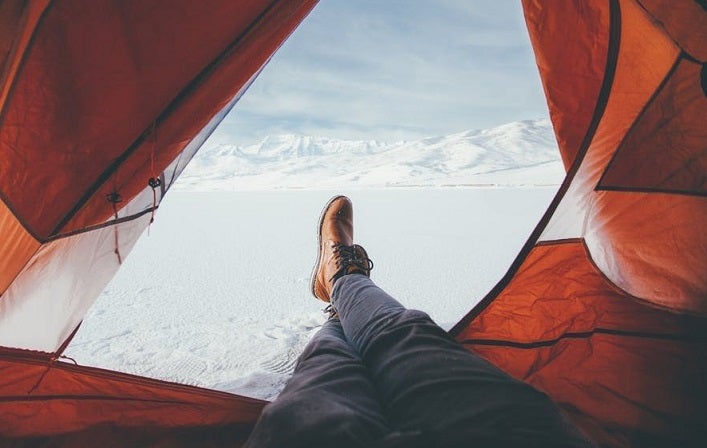 Convenience
Some people just hate having to huff and puff with their lungs to fill up a blow-up sleeping pad and won't consider one because it's a hassle. That's totally fine.
Others find it inconvenient to have to strap a bulky close cell foam pad to the outside of their pack. Still others don't want to take the time to deflate, compress, and roll up a self-inflating mattress every morning.
These are factors you'll have to consider for yourself and at the most basic level a closed cell foam pad such as the z-lite might be the overall least hassle choice of any sleeping bag pad.
One of the biggest hassle factors might be a broken or deflated air mattress that has to be fixed on the fly – closed cell foam pads can't be popped and won't deflate so that's always a nice reassurance.
Loft
Every sleeping pad has a specific thickness or loft. Some, like thin closed cell foam mats, are no more than 1/8" thick. Others can be 3" thick or more and feel a lot like sleeping at a hotel in the woods.
Personally, I like to use thicker sleeping pads for a more comfortable night's sleep. While I have slept on closed cell foam pads such as the Ridge-Rest, I find them uncomfortable and they prevent me from getting a great night's sleep.
Loft can be largely a personal preference and you may not know until you sleep on a few different ones for a full night. So see what the return policies are before you buy one. The ones reviewed here are all available on Amazon, so you can return them.

Sleeping Style
Marching hand in hand with loft, you'll want to consider your sleeping style when purchasing a pad. Back sleepers may be comfortable on a thin closed cell foam pad while side sleepers may want a blow-up mattress with more loft.
Generally, side sleepers will find thicker pads more comfortable and restful to prevent pressure points and pain on the hips and shoulders. If you're a back sleeper, you'll be able to get away with a much broader range of pads with comfort.
I personally find that an under-inflated blow-up pad is my perfect happy place for a comfortable, warm, and restful night's sleep at the lightest and least bulky size.

Sleeping Pad Size: How Big You Need?
Length
To be comfortable you will at least need your head, shoulders and torso on the pad. Ideally you would want your legs as well. The typical sleeping pad is 72 inches or 6 ft so as long as your under 6 feet you should be fine.
Some manufactures like ThermaRest make a "long" of 78 inches for the taller people among us. If you really want to save on weight and size, there are ¾ length pads of 48 inches or so.
Width
Most sleeping pads are 20 inches wide, which is the "standard" width. If you have broad shoulders or a large person you may want to go with a larger size like 25 inches. Once you start looking at these larger sizes your options will become limited. Be sure your tent will accommodate the wider pads!
Caring For Your Sleeping Pad
Depending on the type of sleeping pad there are a few things to keep in mind. Here are a few tips to maximum life out of your pad.
For a self inflating pad, be sure to store it UNCOMPRESSED. Leave the valve open and unrolled. If you leave it compressed while not using it, the pad may lose some of its self inflation properties as the foam will become overly compressed and too compact. If you can, hang it in a closet.
For a blow up pad, there is not much to do other than keep it rolled up and out of the way so it doesn't get damaged or punctured.
Closed cell pads are pretty durable, not much to do here other than don't keep anything heavy on top of it.
Best Sleeping Pad Brands

Of all the manufactures of sleeping pads, my favorite without a doubt is Therm-a-Rest by Cascade Designs. They have some of the most respected names in the Outdoor Gear market like MSR and Platypus. Their sleeping pads are comfortable and well made.
Hiker Hunger, a newcomer to sleeping pads is another company dedicated to producing a fine line of outdoor gear, I really like their trekking poles. I would be remiss if I didn't mention Klymit, a small company that is focused only on making gear for camping and backpacking. So the best brands are:
Therm-a-Rest
Klymit
Hiker Hunger
OutdoorsmanLab
Final Thoughts
If you're looking for the lightest pad with the lowest bulk at the expense of all else, then the Klymit X Frame is your pad.
At under 10 oz it's one of the lightest and most comfortable inflatable pads available. If you're looking for maximum comfort – weight ratio, then the NeoAir XLite is your pad. Tipping the scales at just over 12oz for a full length size, this pad is a beefy 2.5" thick and warm, it's my main sleeping pad.
Other options abound and many will find the inexpensive, durable, and easily modifiable closed cell foam pads to be the best value for their money.
Ultimately your choice of pad is up to you. Try camping with a friend at first and borrowing pads to test which style, length, and thickness of pad is the best choice for you.
Remember that saving weight some secondary to getting a good night's sleep because sleep deprivation on a backpacking trip can really beat you up.
How We Researched
To come up with the top sleeping pads we researched a variety of sources for reviews such as REI, Bass Pro Shops, Cabelas and Backcountry along with our own personal experience.
We also consulted online magazines for product research and reviews to get as much unbiased information as we could. To help weed out fake reviews we used Fakespot.com to make sure we only looked at genuine reviews.
With so much quality gear available, we had to narrow it down based on what we felt were the best options for the price. The author, Casey Fiedler has been leading backpacking trips for over a decade in his native state of Michigan.
To help narrow down the selection he used his personal experience along with recommendations from fellow guides and outfitters.
After extensive research, we came up with our list to help you choose the right one for you.
Sources
---
I hope this guide was helpful for finding a good backpacking sleeping pad to fit your needs. If you want to comment or recommend a sleeping pad I didn't include, please use my contact form to get in touch.
Have fun and be safe out there!
Notice:
OutsidePursuits.com is a participant in the Amazon Services LLC Associates Program, an affiliate advertising program. OutsidePursuits.com earns fees from products sold through qualifying purchases by linking to Amazon.com. Amazon offers a commission on products sold through their affiliate links.