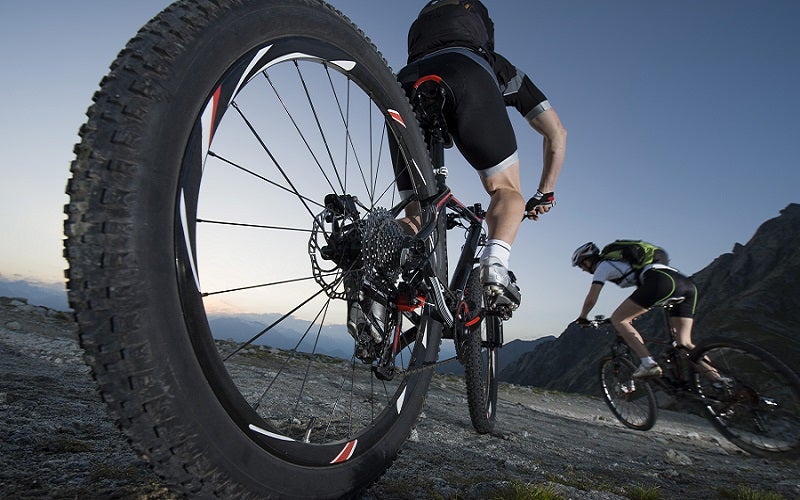 Our Editors independently research, test, and rate what we feel are the best products. We use affiliate links and may receive a small commission on purchases.
Tires are the only contact point that a bike has with the ground. It does not matter what bike you ride or how expensive the components are, you need to have an appropriate set of tires on it to have the best riding experience.
Even the most modern of mountain bikes will handle poorly if the tires do not match the trail conditions.
Choosing the best mountain bike tires for your riding style is one of the most important aspects of bike setup, but the choice of tires can be overwhelming due to all the factors that need to be considered.
What we are going to do is cover what you need to know so that you can make an informed decision about which tires match your needs.
Best Mountain Bike Tires
| | Schwalbe Racing Ralph Snake Skin | Michelin WildROCK'R2 Advanced Tire | Maxxis Minion DHF EXO TR |
| --- | --- | --- | --- |
| | | | |
| | | | |
| Type: | Tubeless Ready | Tubeless Ready | Tubeless Ready |
| Size(s): | 26", 27.5", 29" | 27.5", 29" | 27.5", 29" |
| Width(s): | 2.1″, 2.25″ | 2.35″ | 2.3″, 2.5″, 2.6″ |
| Best For: | Mostly dry cross country | Dry, loose and dusty trail or enduro riding | Wet and dry trail or enduro use |
| | | | |
For more of my MTB biking recommendations, have a look through these popular Outside Pursuits guide links: MTB Helmets, MTB Pedals, MTB Shoes.
Quick Answer: The 10 Best Rated MTB Tires For 2021
Our reviews of the top rated MTB tires with our guide and comparison table will help you choose the right tire for you.
---
Mountain Bike Tire Reviews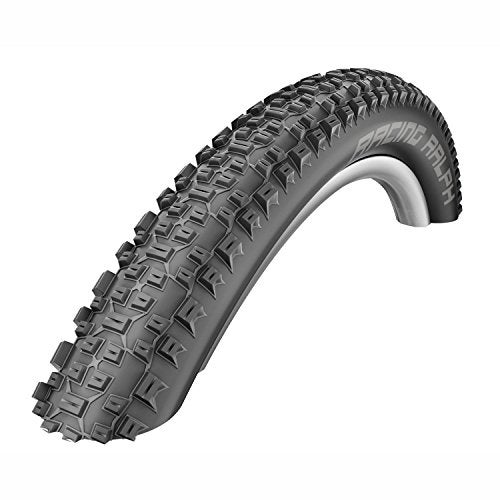 Schwalbe Racing Ralph Snake Skin at a Glance
:
---
Tubeless Ready: Yes
Size(s): 26″, 27.5″, 29″
Width(s): 2.1″, 2.25″
Best For: XC
Rating: 4.5 / 5.0
The Racing Ralph is a fast tire for dry XC use. There are more than 28 versions available in all wheel sizes, with different combinations of compounds and casings. You should be able to find the exact one you need.
The shallow, slightly ramped knobs are not the absolute fastest in a straight line on dry trails, but they do have fantastic grip in loose conditions, over roots, and even in a bit of mud.
Best For: Mostly dry XC. Front and rear. Tubeless.

---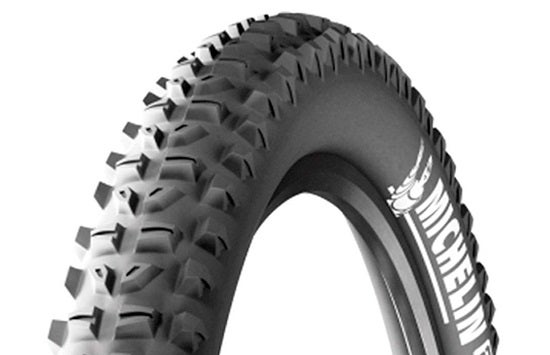 Michelin WildROCK'R2 Advanced Tire at a Glance
:
---
Tubeless Ready: Yes
Size(s): 27.5″, 29″
Width(s): 2.35″
Best For: Downhill, Enduro
Rating: 4.7 / 5.0
Fabien Barel is a legendary mountain bike racer and he was heavily involved in the development of this front tire. It is intended for enduro or aggressive trail use in dry conditions.
All three wheel sizes are available with a choice of two compounds. The tire is 2.35 inches wide and the dual layer casing with reinforced sidewalls can put up with some serious abuse.
The shoulder knobs are huge for cornering traction and all the knobs have multiple sipes. In dry conditions the Wild Rock'R2 is very predictable and a great choice for loose, dusty or rocky trails.
On hardpack dirt, the large knobs do have quite a bit of rolling resistance and as soon as things get wet you will start sliding around, so save this tire for the summer months.
Best For: Dry, loose and dusty trail or enduro riding. Tubeless.

---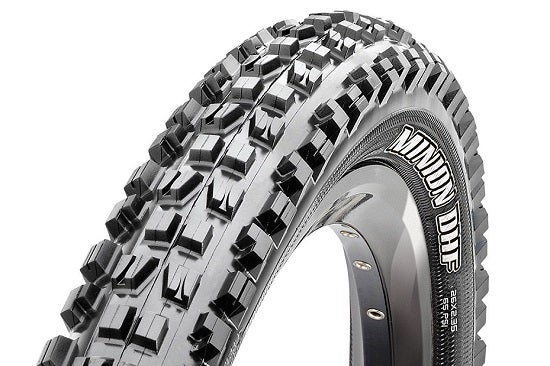 Maxxis Minion DHF EXO TR MTB Tire at a Glance
:
---
Tubeless Ready: Yes
Size(s): 26″, 27.5″, 29″
Width(s): 2.3″, 2.5″, 2.6″
Best For: Enduro, Wet & Dry Trail
Rating: 4.7 / 5.0
The Minion DHF is a great all-round tire that really shines in wet, muddy conditions. It is available in 2.3, 2.5 and 2.6 inch versions (depending on the wheel size) with a choice of compounds and reinforced casing.
Thanks to the big knobs, half of which are siped, the Minion DHF will give you great traction in all conditions but as a consequence it is slow to get up to speed and does not hold speed to well.
You will certainly not be getting to the top of any climbs particularly fast using these tires but you can certainly trust it on the way down, regardless of the trail conditions. Overall, the Maxxis Minion's may be the best MTB tires.
Best For: Wet and dry trail or enduro use. Can be used either as a front and rear tire. Tubeless.

---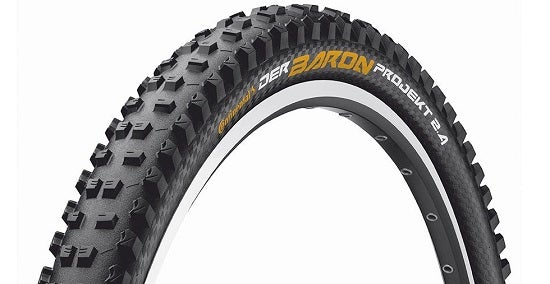 Continental Der Baron Projekt at a Glance
:
---
Tubeless Ready: Yes
Size(s): 26″, 27.5″
Width(s): 2.4″
Best For: Wet, Muddy Trails
Rating: 4.8 / 5.0
This 2.4 inch wide tire is great in the wet. The open spaced tread sheds mud easily and the large shoulder knobs cut deep when cornering. You will find this tire to be great in muddy conditions and it's grip on wet roots is unmatched.
Continental use their Black Chili compound in Der Baron. This is a blend of rubber and carbon, allowing softer compound rubber to be used without it wearing out fast. As a result you get a long lasting, grippy tire.
The sturdy Apex casing will withstand a hammering through rocky terrain and shrug off any thorns or anything else trying to remove the air from your tire.
Best For: Wet, muddy trail riding. Front tire. Tubeless.

---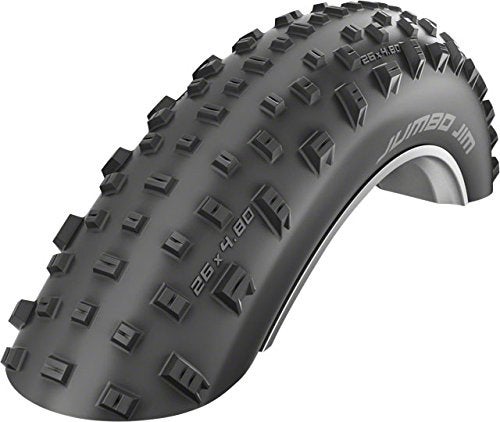 SCHWALBE Jumbo Jim Evolution at a Glance
:
---
Tubeless Ready: Yes
Size(s): 26″
Width(s): 4.0″, 4.8″
Best For: All around fat biking
Rating: 4.8 / 5.0
This 4.0 inch or 4.8 inch wide fat bike tire is right at home rolling over soft trails as well as dry hardpack. Whether it be sand, dirt, or mud, the Jumbo Jim will get you through.
A choice of compounds and casings are available, all of which are surprisingly fast rolling. 26 inch wheel size only.
Best For: All round fat biking. Tubeless.

---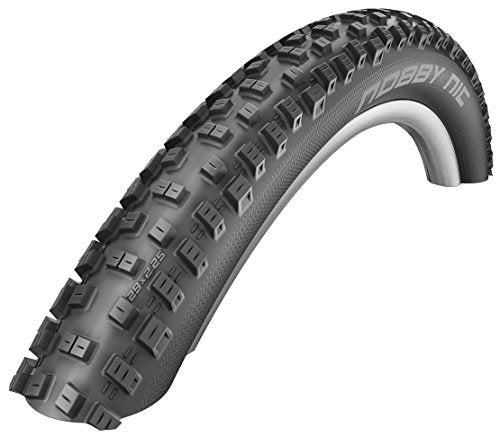 SCHWALBE Nobby Nic at a Glance
:
---
Tubeless Ready: Yes
Size(s): 26″, 27.5″, 29″
Width(s): 2.1″, 2.25″, 2.35″
Best For: XC, Mixed Trail use
Rating: 3.8 / 5.0
Reasonably lightweight and available in a variety of wheel sizes, casings and compounds, the narrower versions of the Nobby Nic are a great choice for XC riding or racing in the wet and mud, as well as dry, loose conditions.
The big square and siped blocks are widely spaced to shed mud and there is a great transition between the center and shoulder blocks for predictability.
In a straight line the Nobby Nic has great acceleration and will happily skip through patches of mud.
In corners, the big shoulder knobs hang on well and can be pushed into a predictable, controllable drift.
Best For: XC and trail in mixed conditions. Front and rear. Tubeless.

---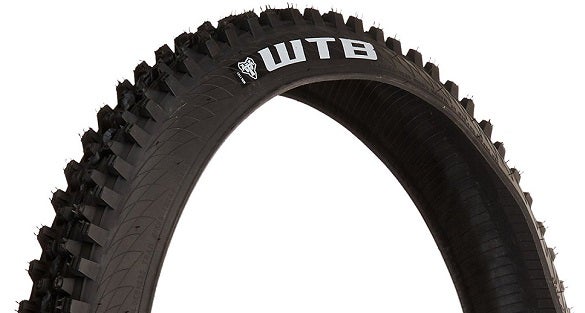 WTB Warden TCS Tough/High Grip at a Glance
:
---
Tubeless Ready: Yes
Size(s): 26″, 27.5″
Width(s): 2.3″
Best For: Downhill, Enduro
Rating: 3.8 / 5.0
Another mud tire. The 2.3 inch wide Warden cuts through mud with its tall spiky knobs. The blocks are relatively stiff for cornering and braking confidence.
A tough dual ply casing will put up with enduro thrashing in big mountains. Overall this tire is a great choice for blasting down steep terrain at speed.
Beware rock gardens though as you may get bounced around a bit. Available for 26 inch and 27.5 inch wheels.
Best For: Steep and muddy enduro. Tubeless.

---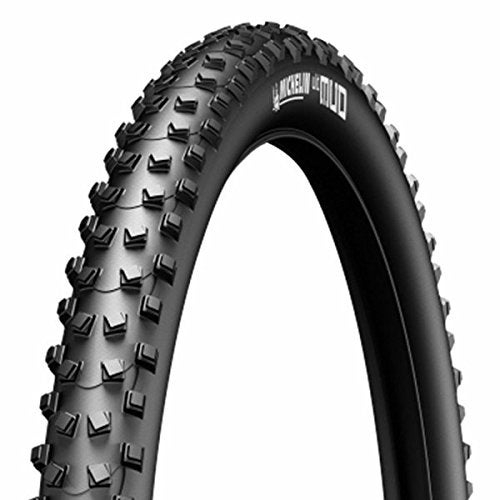 Michelin Wild Mud Advanced Magi-X at a Glance
:
---
Tubeless Ready: Yes
Size(s): 27.5″
Width(s): 2.35″
Best For: Wet & muddy trails
Rating: 3.8 / 5.0
Only use these tires in the mud. They are very slow and sluggish in the dry but so very grippy in the wet! The knobs have two "layers" to cut through mud and the twisted layout of the layers straightens out under load before springing back again to throw off any stuck mud.
The 2.35 inch width may not seem much but it will cut through mud to find grip below. A very soft compound gives amazing confidence on wet roots and rocks.
The reinforced casing means that this tire can handle a beating, so aggressive trail riding or enduro are where it will shine…as long as the trails are muddy.
Best For: mud, mud, mud and more mud. Enduro or trail riding anywhere that is muddy and slippery. Tubeless.

---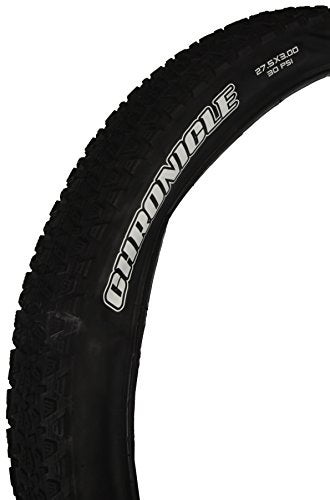 Maxxis Chronicle MTB Tire at a Glance
:
---
Tubeless Ready: Yes
Size(s): 27.5″
Width(s): 3.0″
Best For: All around use
Rating: 4.0 / 5.0
If you have a plus bike, the Maxxis Chronicle is a great tire for all round use. It is 3 inches wide and available in 27.5 or 29 inch wheel sizes.
It has a fast rolling set of centre knobs with a triangular shape for acceleration as well as braking traction. For cornering there is a more aggressive set of shoulder knobs with transition knobs in between.
The top of the knobs have small cut out sections. These are not siping but help mud and snow to fall off rather than stick and clog.
While there are more aggressive treads available but the Chronicle can be used in pretty much all conditions.
Best For: Plus bike riding. Front and rear. Tubeless.

---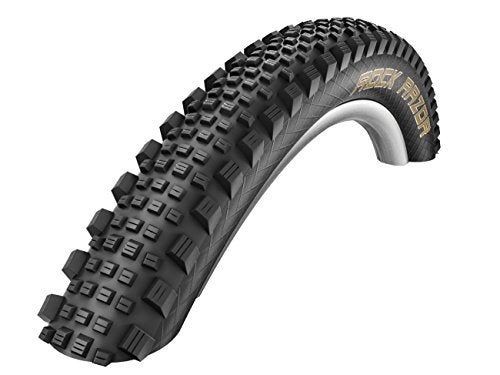 SCHWALBE Rock Razor Snake Skin at a Glance
:
---
Tubeless Ready: Yes
Size(s): 26″, 27.5″
Width(s): 2.35″
Best For: Enduro, Downhill, Racing
Rating: 4.0 / 5.0
Available in all two wheel sizes, the Rock Razor is a semi-slick (very shallow centre knobs with bigger side knobs) 2.35 inch wide rear tire for aggressive trail, enduro and downhill riding and racing.
The nature of a semi-slick tire means that it is only suitable for dry conditions. As its name suggests, the Rock Razor excels in rocky terrain.
The small center knobs are slightly ramped and the side knobs are siped to maximize cornering grip.
The design means that you can accelerate fast and corner hard, but there is not much braking traction available. You can also easily get the Rock Razor to drift if you do not lean it all the way over onto the shoulder knobs.
A variety of casings and compounds are available.
Best For: Dry rocky trails. Front tire only. Tubeless.

---
Mountain Bike Tire Comparison
How to Choose the Best MTB Tires – Buyers Guide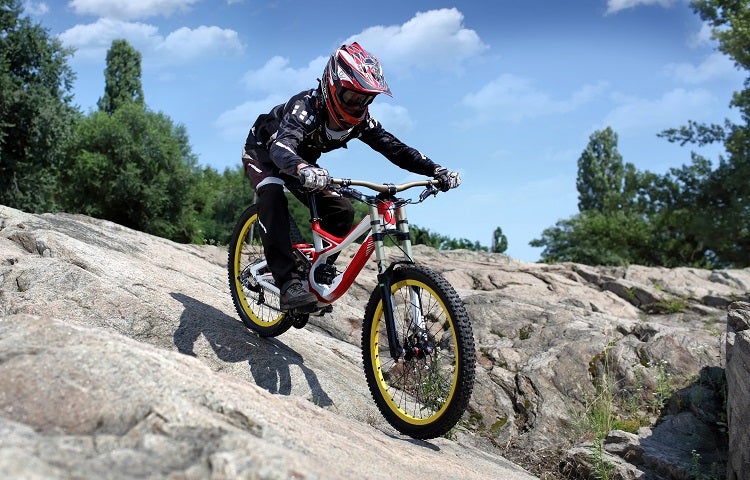 When choosing your mountain bike tires there are quite few factors to consider. Some relate to your bike and tires themselves like wheel size, casing, and compound.
Some others are:
Terrain
Weather conditions
Style of riding
If you have a bought a new bike, it is advisable to replace the stock tires.
This is for a couple of reasons.
The first is that a bike model will be sold across the world and the tires it comes with are unlikely to match your trail conditions and season.
The second reason is that stock tires are often cheap versions made from hard compound rubber that will not give you particularly good grip.
With all that needs to be considered, it is not possible to say a particular tire will be perfect for you.

Width
A wider tire has a bigger footprint on the ground and therefore gives more grip. Narrower tires have less rolling resistance up to a certain point.
This does not necessarily mean that a very narrow tire is the best choice for speed because a wide tire absorbs more bumps from the ground, allowing the bike to roll faster.
It used to be assumed that narrow = fast, but with the discovery that wider tires can roll faster, even cross country racers are using wider tires than before.
This does not mean that you should go out and get the fattest tires you can find (or even a fat bike) because at some point the shock absorbency is balanced out by the increased rolling resistance.
So what about plus bikes and fat tire bikes?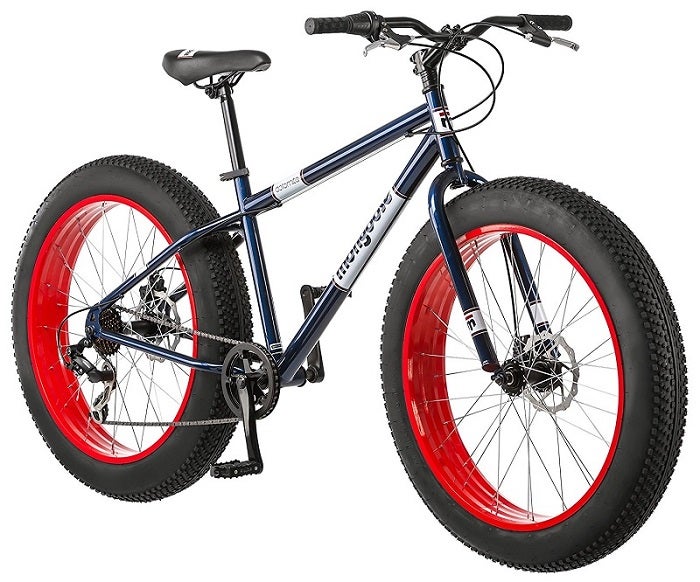 The latter were developed for use on snow and sand, where the huge tire width of 4.0 inches allow the bike to float on the surface.
Plus bikes generally have tires between 2.6 and 3.2 inches and give huge amounts of grip on all kinds of terrain. The disadvantage of these bikes is the extra weight and rolling resistance.
Your acceleration will be slower, but you can ride down ski slopes or through a desert.
Pro Tip: As a general rule, it is a good idea to run a slightly wider tire on the front. The rear wheel is the one that drives you forward and consequently there is an advantage in having a tire with less rolling resistance to push you forward.
The front tire has less weight on it, so the extra resistance from a wider tire is negated. It also has the important job of holding traction, so a wider tire with more grip makes more sense here.
If the back tire slides out in a corner, it will follow the front tire. If the front slides out however, it is almost certainly game over and you are likely about to test the softness of the local dirt with your body.
This isn't always fun (rarely in fact) so stay rubber side down by maximizing your front tire traction.
It is not just cornering that is important for front tire traction. When riding down steep trails, the front tire will have most of the braking force going through it so you want to have a tire that will hold onto the ground and allow you to control your speed.
Ultimately, the tire width you can use is limited firstly by your rims and then your frame and fork. It makes sense that you will not fit a fat bike tire onto a standard rim.
You will be able to squeeze some wide tires into narrow rims, but this comes at the price of a rounded tire shape that will fold under heavy cornering. Using a wide rim with a tire that is too narrow leads to tire and rim damage.
There has been a trend in recent years of producing wide rims that give wide tires a big volume and footprint.
Check what tire width your rim manufacturer recommends as working with your rim. Once you know that, you also need to check with your frame and fork manufacturer to find out what maximum tire width will fit at the front and back.
Do not forget that there needs to be some space for mud clearance.

Profile
There are three types of profile design. Square tires appear flat on top. They roll well over soft mud and have lots of cornering traction, but when you lean over to the absolute limit of the tires grip, they will suddenly break free.
Round tires force you to lean over more onto the shoulder knobs and start to drift sooner in loose dirt than square tires. On the other hand, there is a noticeable transition between the center and shoulder blocks so you can get a feel for where the break away point is.
Medium tires fall somewhere between square and round profile tires for mixed conditions.

Tread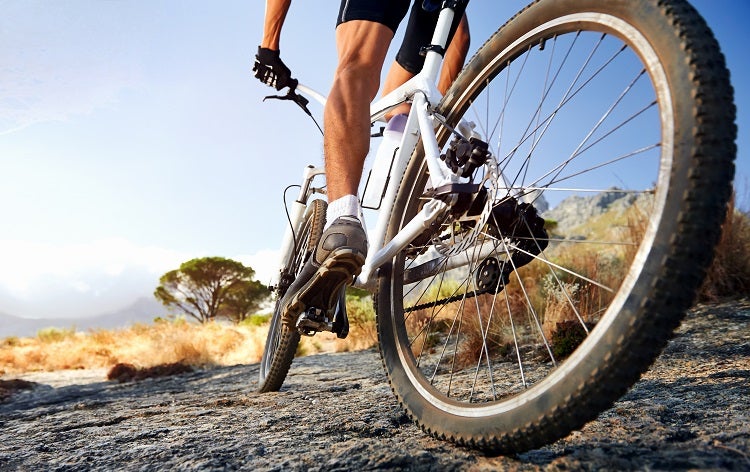 If you look at a range of tires, they may all look different but on closer inspection they usually roughly follow the same design with three sets of knobs. Along the center of the tire is one set.
On the shoulder is another for traction when leaned over in corners. In between the two is a set for the transition between the two.
The front of the blocks are ramped on some tires to reduce rolling resistance. The back of the blocks is always square as this is the braking surface. Blocks may have grooves cut into them.
This is called siping and allows the tire to mold around the trail better, creating a larger surface area and footprint.
Tires for dry and wet conditions have different tread designs. Dry tires have smaller center knobs for less resistance in straight line.
They may also have small side knobs or slighter bigger ones for more traction in corners. Rear tires may have closer spaced knobs for less rolling resistance.
Wet weather tires generally have large, tall, and widely spaced knobs so that mud can fall off instead of clogging. The knobs have square edges to help them dig in.
Narrow mud tires can cut through deep mud, whereas wider tires give more grip pretty much everywhere else, such as over roots and rocks.

Tire Compound
Tires are not all made from one standard rubber.
The rubber compound used determines how the tire behaves. A softer compound means the tire conforms more to the trail and therefore has better grip.
On the other hand, this means higher rolling resistance and a shorter life because soft compounds wear out faster.
The compound used in a tire should always be advertised in a range of 40A to 70A. The higher the number, the harder the compound. It is not uncommon for a tire to be sold in a choice of compounds.
Many tires have a dual compound, with a harder rubber on the center of the tire for low rolling resistance and soft compound side knobs for cornering traction.

Tire Casing
Below the rubber, holding the whole tire together is a nylon casing. Two layers of nylon make up the sidewall and there are three layers below the tread. The quality of the casing used in measured in threads per inch or TPI.
A higher TPI means that the tire will have less rolling resistance and a lower weight because less rubber needs to be used. However, a higher TPI casing is less durable so a TPI that has a compromise is between the two is found.
Some tires that have to put up with lots of abuse, like downhill tires, have two plies of casing for strength. Some tires have two plies in the sidewall or kevlar reinforcement. This is to protect the tire from sidewall tears when riding through rocky terrain.
Extra puncture protection can be added to the casing under the tread. These are called belts.

Tubes vs Tubeless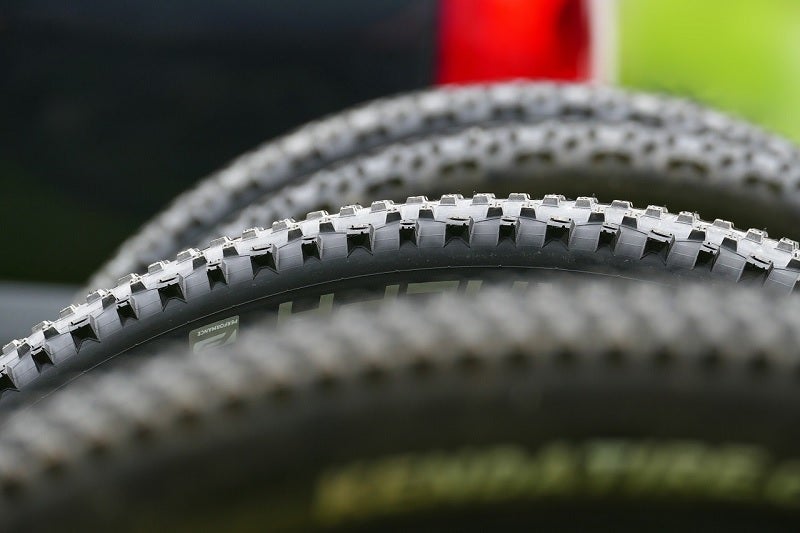 Tubeless Tires
Tubeless tires are pretty much the standard nowadays for MTB riding and for some good reasons. They tend to be more puncture resistant and ride faster than a tubed tire. This being especially important is you are riding in rocky terrain. The downside is they are harder to change out.
Tubed Tires
Just because tubeless tires are all the rage now that doesn't mean tubed tires are obsolete! They have some advantages like less maintenance, and a wider variety to choose from. They are also easier to change out when needed that a comparable tubeless tire.
Most modern rims are tubeless compatible. If you do not run your tires tubeless, it is highly advisable to make the conversion if your rims will support it. Tubeless setup means that you will only very, very rarely get flat tires.
Only tubeless tires (with a folding bead) will work properly as part of a tubeless setup. All tires can have an inner tube installed. If you need tubeless tires, or are converting, be sure to check that the tire you have chosen is compatible.

Rolling Resistance
So let's define what exactly what the term means: Rolling resistance is the amount energy or speed lost while the tire is rolling. So what does this mean for you?
Well the less the rolling resistance the less effort you will have in getting and staying at speed. This being especially important for racing. There is no downside to having a tire with less rolling resistance so all things being equal go with the tire with less rolling resistance.
---
I hope this guide was helpful in picking some good MTB tires to fit your biking needs. If you want to comment or recommend a tire I didn't include, please use my contact form to get in touch.
Have fun and be safe out there!
How We Researched
To come up with the top mountain biking tires, we researched a variety of sources for reviews such as Competitivecyclist, JensenUSA, REI, EVO along with our own personal experience.
We also consulted online magazines for product research and reviews to get as much unbiased information as we could. To help weed out fake reviews we used Fakespot.com to make sure we only looked at genuine reviews.
With so much quality gear available, we had to narrow it down based on what we felt were the best options were for the price. The author, Richard Bailey has a wide background in mountain biking in a variety of countries, terrain types and bike packing for weeks on end.
The author has decades of experience and is eager to share his knowledge with readers.
To help narrow down the selection we used personal experiences along with recommendations from fellow MTB bikers, bloggers and bike shops.
After extensive research, we came up with our list to help you choose the right one for you.
Sources
Notice:
OutsidePursuits.com is a participant in the Amazon Services LLC Associates Program, an affiliate advertising program. OutsidePursuits.com earns fees from products sold through qualifying purchases by linking to Amazon.com. Amazon offers a commission on products sold through their affiliate links.