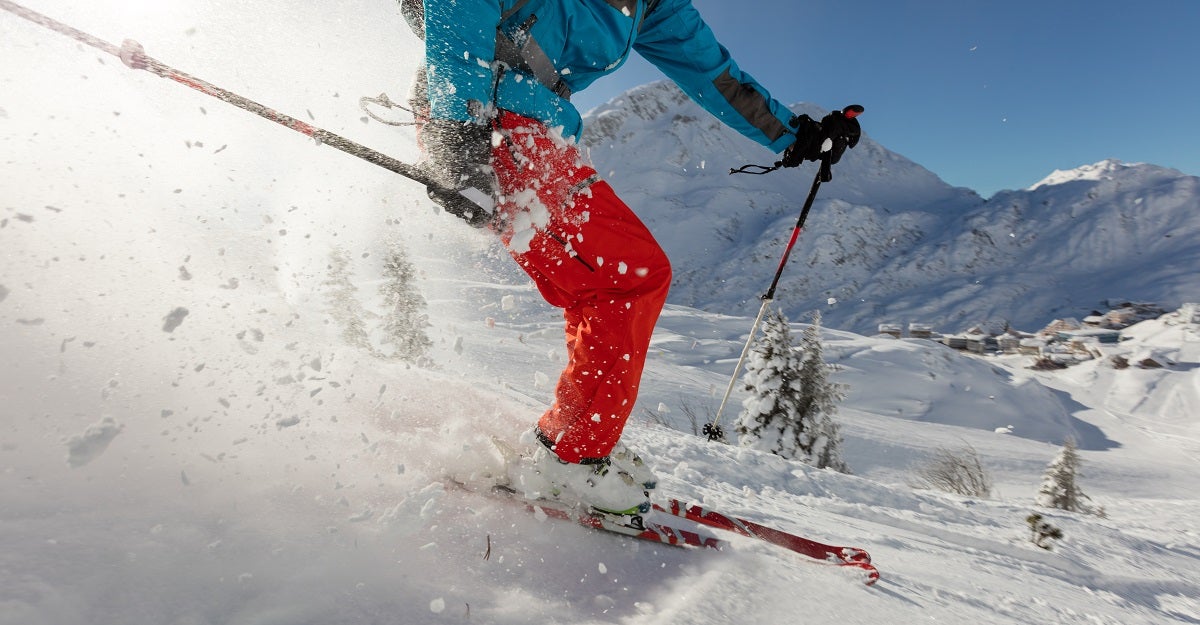 Our Editors independently research, test, and rate what we feel are the best products. We use affiliate links and may receive a small commission on purchases.
If you're just getting started with skiing, then you may be wondering where to begin. You may have noticed that there are different kinds of skiing out there! Which is the right type for you? Well, we're here to tell you all about each type so by the time you're done reading there will be no doubt in your mind what kind of skiing you're going to try out. We know you're ready to get started so let's hop right in!
1. Cross Country Skiing
If you're nervous about the high speeds that some skiers reach, then you may want to start out with cross country skiing. The great thing about skiing is that you don't only have to stick to one type. You can move between them as your skills progress, as your sense of adventure becomes redefined, as you move between different mountains, etc.
Okay, so cross country skiing really has something for everyone. No matter if you're a senior or if you're looking to bring along your child, there's a ton of versatility here. You'll be able to stay on or off-trail with this type, which is great if you get easily bored and want to explore some untouched territory. Just make sure that you have the right equipment!
Now, there are 3 different types of cross country skiing: classic, skate skiing, and light touring. Let's go through each one so you can start narrowing down your options.
Classic Cross Country
This is the most popular form and is also the easiest and quickest to learn. Why? Because you ski on tracks which help you slide along without putting too much force into it. Essentially, you're gliding one foot forward, then the other, with the help of poles.
As arms move diagonal to legs, it creates a natural rhythm which feels intuitive to us as it's very similar to walking. At a slower pace, it's perfect for really taking in nature, fresh air, and beautiful views. At a faster pace, it's an excellent cardio workout that will keep you in shape all winter long!
Skate Skiing
As you can probably guess by the name, this form is very similar to ice skating or even roller blading. It's the same type of motion and concept, pushing the ski diagonally to move forward. Where it starts to differ from skating though, is where skating requires a lot of strength and force to gain high speeds, skate skiing is much easier. You're really going to glide and be able to reach fast speeds with relatively little effort.
Skate skiing cannot be done anywhere except for on wide, groomed trails as this technique requires hard snow rather than the powder often found off-piste. The skis required for skating are a bit shorter than class cross country skis.
Light Touring
While the other two types of cross country skiing are great for beginners, light touring is for those who want something a bit more adventurous. This is the only type of cross country skiing perfect if you want to explore off-piste skiing but aren't sure if you're ready for it yet.
The skis required here are very similar to the classics with free heel bindings, but are typically a bit wider to provide added stability on ungroomed territory. If you ever feel like off-piste isn't for you or the conditions just don't allow for it, you can always go back to groomed trails too so it's very versatile.
Telemark Skiing
This type of skiing gets its name for where it originated: the Telemark area of Norway! Sondre Norheim is thought to be the inventor of the technique and of telemark bindings, and comes from here. The technique is an incredibly popular one, melding elements from both alpine and Nordic skiing. You may also hear it referred to as "free-heelers" due to the bindings used which leave the heels free.
This design looks quite a bit like those of cross country but also like downhill alpine skiing. As the heels are free, you can climb up mountainsides, allowing the wearer to explore areas they wouldn't be able to otherwise. The bottoms of the skis have "skins" attached to them to provide the traction needed to move uphill, through the backcountry, and over steep terrain.
Compared to cross country skis, you'll find that telemark gear is much more sturdy so you can explore uphill and downhill.
Alpine Touring
Finally, we have alpine touring which draws a lot of similarities to Telemarking in ski design. They are great for exploring the backcountry and lets you ascend steep inclines. The big difference comes with the bindings. While Telemark skis have a free heel always,
Alpine skis have a free heel while ascending and then lock down the heel while skiing downhill. This makes them the favorite option for mountaineers as they make getting to incredible vista locations much easier.
Ease
If you're just looking for which type is the easiest, then your best bet is classic cross country skiing. As mentioned previously, it is perfect for skiers of all fitness and experience levels. You can choose to go at your own pace instead of speeding down a mountain if you don't feel ready for that.
As you're only allowed to ski on groomed runs, you will be able to go out with certain expectations, unlike off-piste where you never know what you're going to get.
In addition, you'll be able to learn at your own pace too, traveling at higher speeds once you feel comfortable with what you've accomplished so far. If you feel like being more adventurous, transitioning to light touring is a great option as you will still be on groomed runs but can also choose to venture out into ungroomed areas if you'd like.
Summary
Now that you know the differences between these 3 main types of skiing, have you decided which style suits your preferences and experience level? While all of the above are different, you can start out with one style and seamlessly transition to another as you get more acquainted with skiing as a sport.
We hope that our guide has been able to help you at least narrow down your options. Thanks for tuning in, and we'll see you again shortly! Be safe and have fun!
Notice:
OutsidePursuits.com is a participant in the Amazon Services LLC Associates Program, an affiliate advertising program. OutsidePursuits.com earns fees from products sold through qualifying purchases by linking to Amazon.com. Amazon offers a commission on products sold through their affiliate links.