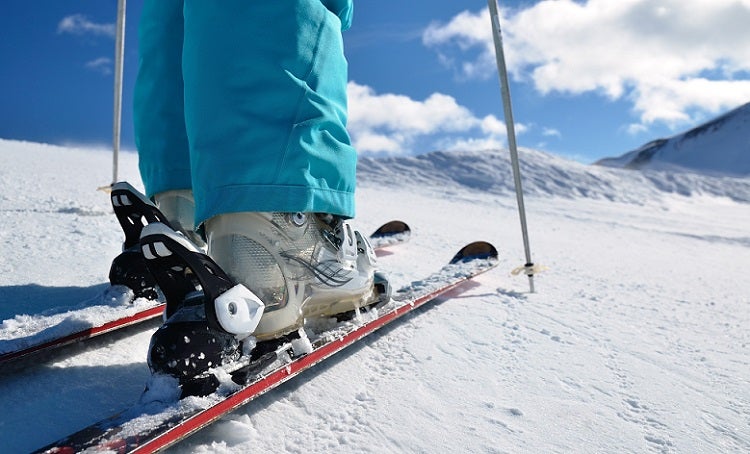 You're thinking about joining some friends on a ski trip, or maybe you've decided to learn on your own. Either way, this year is the year you learn to ski!
As a beginner skier, there is already tons of advice, information, and skills to know. It doesn't help that all the gear is expensive and everyone seems to be trying to sell you something.
As a full time ski instructor at Deer Valley Resort in Utah, I spend over 100 days each winter on skis, teaching guests of all ability levels to ski.
Part of my job is to help new skiers learn not only skills, but understand their equipment. Knowing your equipment, choosing the right equipment, and using it properly can really make or break a new skier's experience.
For more of my top gear recommendations, have a look through these popular Outside Pursuits guide links: Beginner Skis, Ski Jackets, Ski Pants
Quick Answer: The 3 Best Beginner Ski Boots For 2018

If your going to need a boot bag to carry those ski boots, check out my reviews here. Right now, I'm going to teach you what you need to know to make the best choice for your new ski boots!
Best Ski Boots For Beginners
| | Salomon X Pro 100 Ski Boots Mens | Rossignol Women's Kelia 50 Black All Mountain Ski Boot | Dalbello Aspect 100 Ski Boots Mens |
| --- | --- | --- | --- |
| | | | |
| | | | |
| Fit: | Heat moldable for a customizable fit | Sensor Fit Liner for warmth and all day comfort | PU/DB Hyperlite Liner for superior comfort and warmth |
| Adjustment: | 4 Lightweight Aluminum Micro Adjust Buckles | 3 Lightweight Aluminum 7 Position Adjustable Buckles | 4 Lightweight Aluminum Micro Adjust Buckles |
| Best For: | Beginner/Intermediates | Beginner | Intermediate |
| | | | |
Beginner Ski Boot Reviews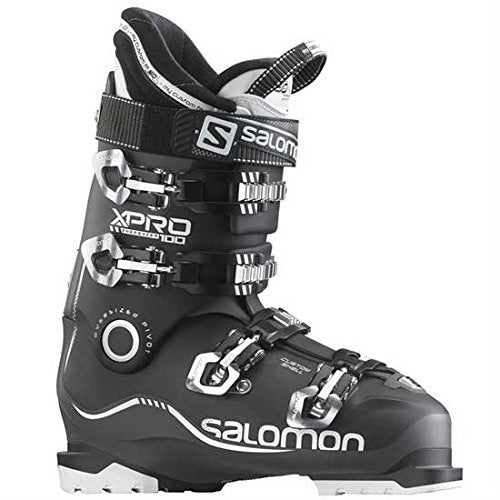 Having skied in the Salomon X Max 100 for several years as a full-time instructor, I can tell you that this boot will keep up with you. With a fully heat mold-able shell and liner, this boot is forgiving and starts with a generous 100mm last.
If you've got a particularly narrow or low volume foot, go with the X Max which is essentially the same boot with a 98mm last for more narrow feet.
Salomon has done a fabulous job of putting high quality liners in these boots which are comfortable yet snug. Holding down the heel and capturing the entire foot, you can wear these boots comfortable buckled with no pinching.
If your foot is wider or bonier, you'll want to have them heat molded to fit your foot when you buy them.
Ladies, you'll enjoy the Salomon X Pro 70 which is made the same boot with a lighter flex. For a beginner female skier, it should be more than enough and you can always move up in flex rating as you progress.
These boots are made to the same standard as my old favorites, the X Max 100's. Overall, the Salomon X Pros are the best ski boots for beginners.
---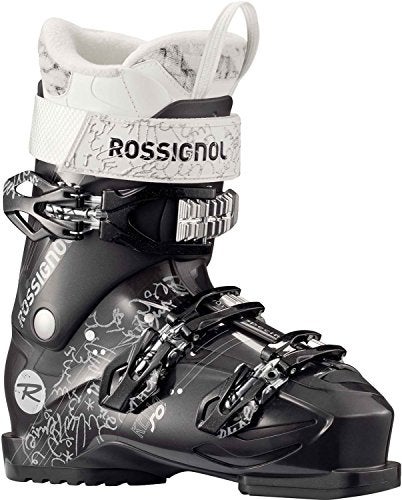 With a flex of 50 and a 104mm last, these boots are very soft and very wide. There's enough room in here for just about anyone's foot and that actually might be a bad thing.
If your feet are narrow or small, this boot may be too roomy for you and you'll end up with a poor boot fit. Poorly fitting boots mean bad technique and difficulty in learning.
However, at a beginner's price range and with forgiving sizing and specifications, this boot makes a good case for the beginner.
As long as the boot fits properly there's a lot of good to be said for this entry level beginner women's ski boot. A soft flex rating is ideal for short or lighter skiers.
Guys, you're going to have to take a look at the Rossignol Evo 70 which is one of the softest flex ratings you'll find in a men's boot and it comes with a similarly generous 104mm last.
---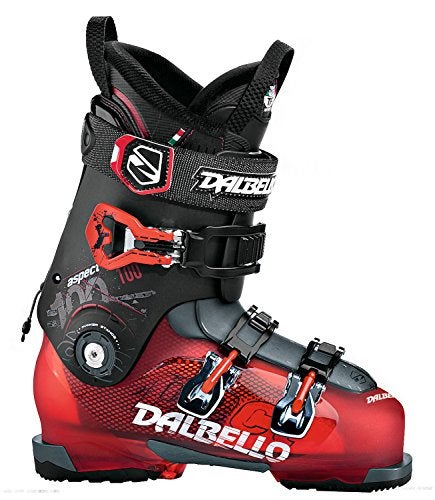 If you're looking for something squarely between the sizing of the Rossignol Evo and Kelia model and the Salomon X Pro models, then the Dalbello Aspect might be a good choice.
While each manufacturer measures and sizes boots slightly differently, the Dalbello measures up at a 102mm last. While still quite generous, this might be a good sizing choice for many beginner male skiers with medium sized feet.
This boot does feature a walk/ski mode which some find useful for comfort but it's definitely not a touring boot. Think twice before deciding on a ski boot with walk / ski mode as this always compromises the overall performance of the boot.
Ladies, the Dalbello Aspire 60 Ski Boot is the equivalent women's boot.

---
How to Choose the Best Beginner Ski Boots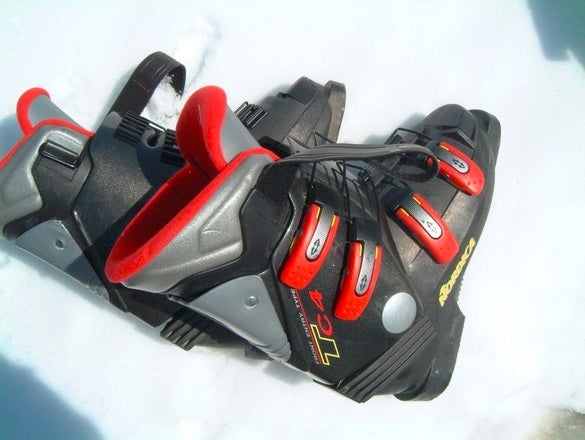 There are a few critical factors that will impact your boot buying decisions. As a beginner, there's less need to get the *perfect* fit but a poorly fitted boot or an uncomfortable one can really slow learning progress and kill your fun on the hill.
Let's walk through the most important factors in choosing a beginner ski boot.

Flex Rating
Flex rating is really just a measure of how stiff your new ski boot will be. Flex ratings go as low as 40 and as high as 130 (sometimes higher). To put that into perspective, a 70 flex might be for a lightweight skier or a beginner skier.
Flex of 130 would be for a very tall, heavy, or advanced skier or racer. Generally speaking, lower flex ratings are more ideal for beginner skiers. However, flex rating can also be impacted by height and weight. If you're taller or heavier, then you'll want to go up a rating.
If your really not sure, have yourself fitted for boots then go buy them online to save money.

Sizing
Seemingly simple, sizing is measured in "Mondo Point" numbers. These numbers can be easily converted from shoe sizes, however they're rarely accurate.
Each manufacturer makes boots slightly differently and this means my foot, which fits a Salomon boot very well, may be totally different from yours. This is yet another reason to go and get fitted for boots by a professional.

Last
This is a vocabulary word which is used to measure the width of a ski boot. Last is measured in millimeters and denotes the width of the foot bed of the boot. A last of 98 or less is usually considered narrow or high performance. Last measurements of 100 or more tend to be a more casual and comfortable fitment.

Touring vs Alpine vs Tele Boots
There are several styles of ski boots and, if you get it wrong, you'll have a really hard time enjoying your ski day.
Alpine Boots
These are ski boots meant for skiing at the resort. These boots are the appropriate choice for almost every beginner. Featuring a solid shell construction and fixed boot angles, these boots are the most common boot at a resort for a good reason.
Touring Boots
Touring boots are usually lighter, softer (flex wise), and feature some form of "walk mode". These are for skinning up mountain while backcountry skiing and if you don't understand what that means, then you'd best avoid a touring boot.
These boots are sometimes called AT boots or randonee boots. Because the walk mode on touring boots makes them more comfortable for skiing, but less effective for learning good technique on groomed runs, they're best avoided unless you plan to do some backcountry skiing.
Telemark Boots
Sometimes lovingly called drop knee skiing, tele skiing is a form of ski touring or backcountry skiing. Rare in a resort setting but not unheard of, this type of skiing requires special technique, and unique gear.
Telemark boots are different from other boots as they feature a flexible toe piece which looks like an accordion. This articulated joint of the boot is made to accommodate telemark skiing and the boots themselves won't even fit into regular ski bindings.
Avoid them unless you plan to learn Tele skiing exclusively.

Mistakes To Avoid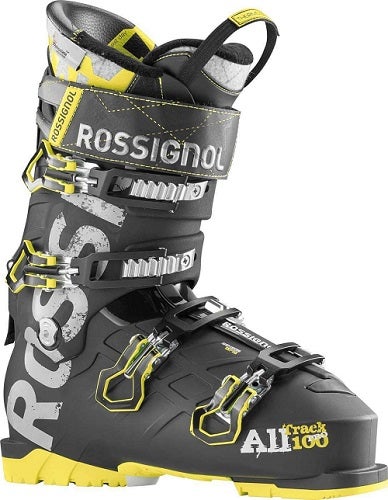 Using Shoe Measurements
Avoid converting your shoe size into ski boot size and buying based on that measurement. It won't fit well and can lead to many issues. Go and get your boots fitted by a pro.
Buying Used
Most often, used ski boots have seen a lot of use. While the boot may still be in usable condition, the liner (inside) is usually packed out, stinky, and generally useless.
Only buy used ski boots if you already know your size and fitment and plan to replace the liner with an aftermarket replacement.
Staying Too Comfortable
Ski boots are meant to fit snugly but they shouldn't be rubbing, pinching, or painful. The best way to describe a good fit is to imagine the ski boot "hugging" your entire foot snugly.
There should be no room to lift up your heel, the foot should not "slop" from side to side. A little wiggle room in the toes is ideal to keep blood flowing but almost everything else should be locked down.
Conclusion
Ultimately ski boots must fit comfortably, transfer power and movement to your skis, and create a stable platform on which to ski.
All day comfort is important so if you're having rubbing, pinching, hot spots, or irritation then take your boots in to a ski shop and ask them to help you customize the fit. Ski boots can be modified by professionals in order to more properly fit your foot!
There are tons of ski boot options available and I highly recommend that you get fitted for your boots by a professional.
Sloppy ski boots will compromise and hold back your skiing potential. There's no way to control your skis if your boots are sloppin' around on your feet!
Stay safe out there and I'll see you on the mountain!
---
I hope this guide was helpful for finding the best beginner ski boots to fit your needs. If you want to comment or recommend a pair of boots I didn't include, please use my contact form to get in touch.
New to skiing? See my beginners guide to skiing for tips and advice.
Have fun and be safe out there!
Notice: Outside Pursuits is a participant in the Amazon Services LLC Associates Program, an affiliate advertising program to provide a means for sites to earn advertising fees sold through by advertising and linking to Amazon.com. Amazon offers a small commission on products sold through their affiliate links. Each of your purchases via our Amazon affiliate links supports our efforts to bring you the best possible product reviews at no additional cost to you. We appreciate your support here at OutsidePursuits.com