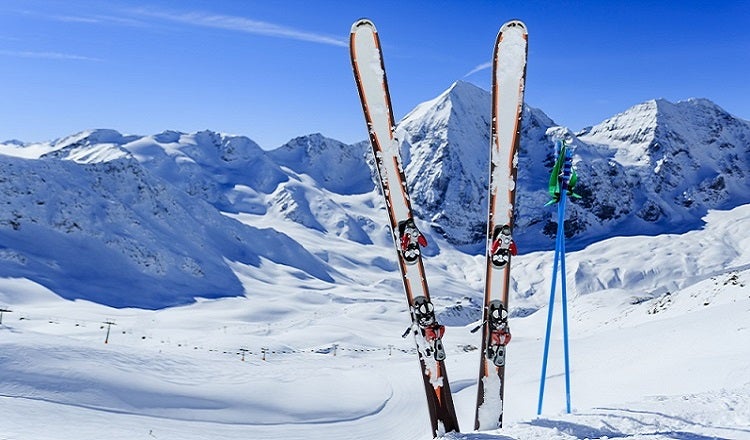 Are you ready to learn how to ski this season? Whether you've been putting it off or you're just going with some friends or family, there's no reason to wait!
As a full time instructor with years of experience, I can tell you that choosing the best beginner skis to get started can make all the difference. When I started learning to ski I had no clue what I was doing or what to buy!
I'm going to recommend a few skis here that would make great choices for beginners. Remember, these are by no means all of the choices available to beginners and I encourage you to find the best possible ski for your needs.
For more of my top gear recommendations, have a look through these popular Outside Pursuits guide links: Beginner Ski Boots, Ski Boot Bags, Ski Travel Bags
Quick Answer: The 3 Best Skis For Beginners

Now, I'll help you figure out how to get started picking out the right ski for you as a beginner skier. Let's get to it.
Best Beginner Skis
K2 Konic 78TI: Ski & Binding Package
Atomic Vantage X 75 C Skis with Lithium 10 Bindings
Rossignol Experience 84 HD Konect
Skis Sizes:
156 cm
170 cm
177 cm
149 cm
156 cm
163 cm
170 cm
162 cm
170 cm
178 cm
Bindings:
K2 bindings
Atomic Lithium 10 Bindings
Look SPX 12 Dual WTR Konect B90 bindings
Features:
Rocker in the tip, camber underfoot and rocker in the tail for better float and mobility
Rocker in the nose, camber underfoot and through the tail for better float and mobility
Carbon Alloy Matrix for increased edge grip, stability and dampness
Beginner Ski Reviews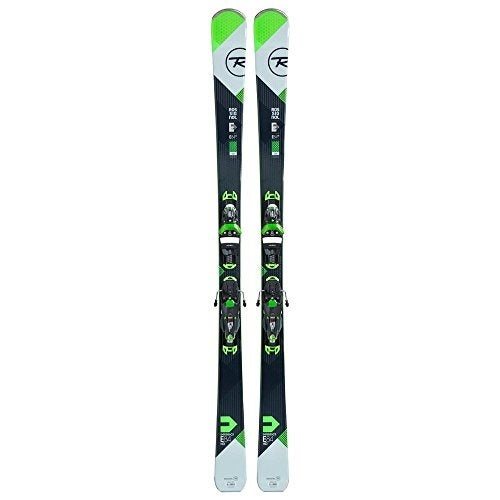 Rossignol's Experience line of skis is meant to be an all mountain ski with a touch of on-piste favor-ability. These skis are a moderate 84mm under foot which means they're narrow enough to tear up the groomers yet wide enough to float in powder and crud.
With an integrated binding system, you'll have no problem fitting this ski to any boot and no hassle trying to pick out your own bindings.
I love that integrated bindings are becoming more popular and more refined. This makes life so much easier for beginner skiers and there's so much less to go wrong.
Rossignol has been making great skis for years and you will find plenty of company among skiers with Rossignol equipment. It's a great company to buy gear from!
Best For: Beginner and Intermediate groomed trail skiing
Ladies, you'll find an equally suitable option with the Women's Temptation 84 skis from Rossignol.
---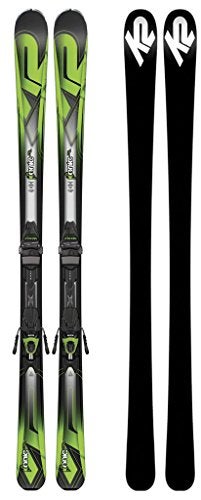 As a full time ski instructor, I spend more than 100 days a year on skis. For the last two years, I've spent every one of those days on a pair of K2 skis quite similar to these.
K2 Konic skis are made with a narrow waist which equates to high agility, aggressive turns, and great control.
At 70mm under foot this ski isn't meant for off-piste skiing (powder skiing) but since you're a beginner, you'll probably be staying on the groomed runs anyways.
Flat tails and a moderate tip rocker mean that the ski has an incredibly long effective edge. Effective edge is the amount of ski which maintains contact with the snow during normal conditions.
Because of this, the ski will have good edge grip and control. I recommend this ski for the beginner looking to stay on the groomed runs.
Best For: Beginner and Intermediates skiers who want to carve some turns on groomed trails

Ladies, you'll find an equally suitable option with the K2 Luv 75 Womens Skis.
---

Atomic has been making skis for ages and their equipment extends all over the alpine skiing industry. This solid beginner ski is another narrow ski with features meant to live on the groomed ski runs.
A narrow waist, flat tail, and moderate turn radius make these skis another solid choice for beginner skiers. With a price that's reasonable you'll be able to grow into these skis for a few seasons (unless you learn really fast).
Soft flex and integrated bindings make these skis easy to turn for beginners and hassle free for setup with your new pair of boots.
Video: Overview of the Atomic Advantage skis.
Don't hesitate to start out with a nice narrow ski as you learn to ski on the runs. It's going to make your skiing much easier to manage.
Sometimes it's also advisable to go a bit on the short side when choosing length for a beginner ski. Note, these are uni-sex skis, there is not a separate Men's and Women's ski.
Best For: Beginner and Intermediate skiers for powder and groomed trails
---
How to Choose the Best Skis for Beginners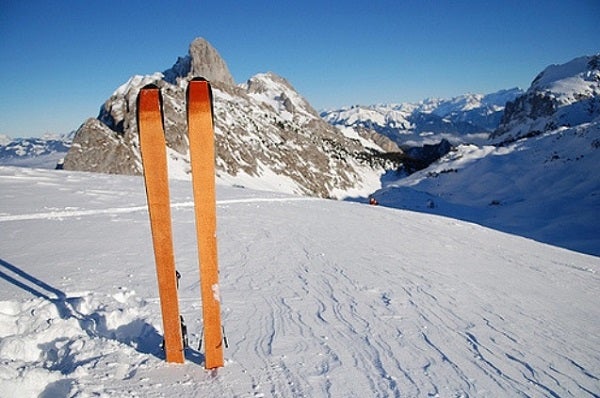 There's a lot to learn and understand when it comes to picking out a great ski. For beginners, however, the work doesn't need to be difficult. To get started we really only need to pay attention to a few factors when choosing a ski. Here they are, broken down for you.

Length
Choosing a ski length is pretty easy for a beginner skier. By measuring the distance from your chin to the ground in centimeters, you'll have a great estimate of how long a ski you need as a beginner. Of course, this is a rule of thumb and won't always hold perfectly true as there are many factors affecting ski length.
This great guide at Evo.com is an excellent starting point.
Choosing a ski which is slightly shorter than the suggested ski length for your height may help you learn to manage the ski more easily. As long as you're staying on the groomed runs, and I hope you are when first starting out, then you won't have an issue with a short and narrow ski.
I, personally, tend to prefer a ski which is slightly on the short end of my range for the added agility, control, and deftness of turns. If you're particularly heavy for your height, consider a slightly longer ski.

Style
For the beginner skier (if you've never skied before) you're best sticking with a beginner carving ski. Why? Because these skis are made to help a new skier learn the fundamentals of skiing as easily as possible.
Exotic ski types such as twin tips, park skis, powder skis, or other variations may not be an appropriate choice. These skis can actually make it much harder to learn good technique as a beginner skier.
Beginner skiers should pick a soft flex ski with a narrow waist for easy turning. Until you've mastered a handful of essential skills, you won't be adventuring through the trees or off into the powder so using a powder ski is senseless for a beginner.

Measurements
Skis are measured in a standard way as follows:
120/88/113
Of course, this is just an example but let's break down these numbers. First (120) is the width of the tip of the ski in millimeters. Second (88) is the width of the ski in the middle, again in millimeters. Lastly (113), and again in millimeters, is the width of the tail of the ski.
For the beginner skier, it's pretty simple to find a ski with appropriate measurements. Look for a ski with a waist measurement (the 88 in our example) between 70mm and 85mm. It's really that easy.
Going too wide under foot will make it harder to master new skills. Go any narrower than 70mm under foot and you're looking at very specific race skis.

Mistakes to Avoid
As a beginner skier, there are tons of pitfalls that might cause your love of skiing to be sidelined. I'm going to make a few suggestions to help you succeed as a beginner skier while maximizing your enjoyment of the mountain.

Learning from Friends
The first time I ever went skiing my friend showed me how to pizza wedge, left me at the tow rope, and disappeared for the day. I'm still not sure how I survived that experience but I went on to fall in love with skiing.
Video: Learning to ski "Pizza" turns.
One of the biggest mistakes I see people make in skiing is trusting their friends to teach them. This so often leads to pressure, dangerous situations, and lack of true learning for the new skier.
Don't let your friends teach you how to ski – go and get a lesson or at least ski one on one with a friend who is an instructor.
Getting started skiing the wrong way can derail what would otherwise be a potentially lifelong love affair with a wonderful sport.

Buying The Most Expensive Gear
Getting started skiing is expensive no matter how you approach it. Unfortunately, the sport is just pricey! However, the beginner skier can get away with saving a huge sum of money by moderating expenses up front.
If you start out by purchasing expert level skis and boots will only hinder your learning at the beginning. Start with a quality pair of beginner skis, they will last you many seasons on the slopes if you take care of them.

Best Brands of Beginner Skis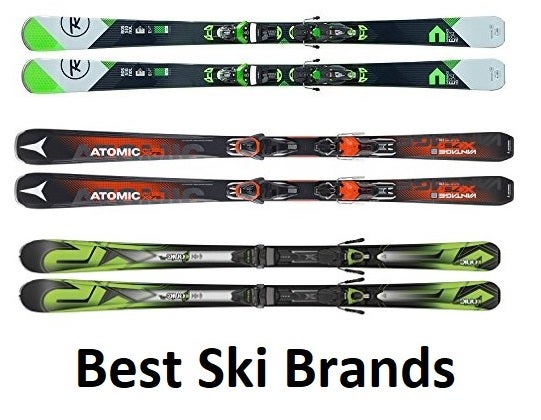 As you can imagine choosing the "best" ski brands is subjective and depends on who you ask and their level of skiing ability. However, skiing for quite some time and trying many brands of skis, I can recommend the following:
Atomic – An Austrian company founded in 1955, so they have been making skis for quite some time. One of the larger manufactures, they have a wide range of beginner to racing skis.
K2 – Founded in 1962 by Robert Marcovitch in Seattle Washington, K2 was one of the originators of modern fiberglass skis. K2's are used by many Olympic skiers but they have a excellent lineup of beginner skis.
Rossignol – This French company has been around for over 100 years and is now the largest manufacturer of skis in the world. They are a brand you can trust and their "Experience" lineup of skis is a good choice!

Conclusion
Getting started skiing is all about having fun, mastering vital skills, and making your experience on the mountain as positive as possible.
For those reasons, I've outlined the best ways to get started choosing a beginner ski. Remember to avoid spending too much and take the time to learn proper skiing skills and technique so your skiing can be enjoyable, safe, and productive.
We're looking for a specific set of criteria for a good beginner ski but the details aren't too important. It's far more important to get out there, take a lesson, and practice those critical skiing skills you'll want to master!
Generally, a short ski, with a narrow waist and a low flex is a great choice for the beginner skier. If you follow this rough guideline, you'll be certain to end up with a ski you can learn easily on.
---
I hope this guide was helpful in picking the best skis for beginners to fit your needs. If you want to comment or recommend a pair of skis I didn't include, please use my contact form to get in touch.
New to skiing? See my beginners guide to skiing for tips and advice.
Have fun and be safe out there!
Notice: Outside Pursuits is a participant in the Amazon Services LLC Associates Program, an affiliate advertising program to provide a means for sites to earn advertising fees sold through by advertising and linking to Amazon.com. Amazon offers a small commission on products sold through their affiliate links. Each of your purchases via our Amazon affiliate links supports our efforts to bring you the best possible product reviews at no additional cost to you. We appreciate your support here at OutsidePursuits.com