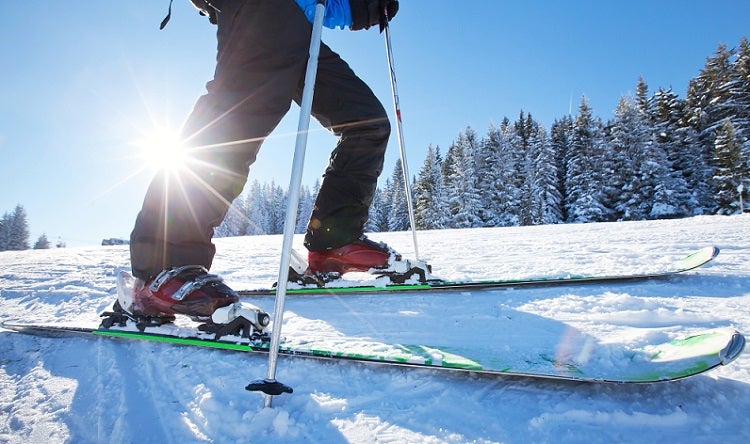 If your feet get cold or end up with blisters its probably your ski socks and not your boots. The best ski socks are going to be made from a combination of organic fibers, like Merino Wool and synthetic fibers like nylon.
This combination provides the best possible combination of warmth, thickness and moisture wicking abilities.
So what are the best ski & snowboard socks?
Well to find out we tested the major brands of socks skiing on some of the coldest days in Telluride Colorado in the middle of January to see which ones would be up to the task.
We found there were some major differences between them, some were far superior to others.
Ladies: A link is provided for the ladies model of the below ski/snowboard socks
For more of my top gear recommendations, have a look through these popular Outside Pursuits guide links: Ski Pants, Ski Jackets and Ski Base Layers
Quick Answer: The 5 Best Ski & Snowboard Socks

Let's take a look at the top rated ski and snowboard socks then we'll talk about how to choose the right pair in our buying guide below.
Best Ski & Snowboard Socks
| | Smartwool PhD Ski Medium Sock | Hot Chillys Men's Mid Volume Sock | Wigwam Men's Snow Sirocco Sock |
| --- | --- | --- | --- |
| | | | |
| | | | |
| Material: | 65% Merino Wool, 33% Nylon, 2% Elastane | 70% Bio-Silver Acrylic, 15% Nylon, 15% Lycra | 42% Wool, 24% Nylon 21% Polypropylene Polyester |
| Cushioning: | Knee-high ski socks with padding in the shin, ankle and toe. | Designed for use in ski boots with compression in the toe and heel plus padding in the shin and ankle. | Medium padding in the shin and foot, over the calf height. |
| Features: | Moisture wicking properties with a natural antibacterial compound. | Bio-Silver Acrylic provides anti-microbial properties kills bacteria and eliminate odors. | Merino wool provides moisture wicking properties with extra padding compared to other ski socks. |
| | | | |
Ski Sock Reviews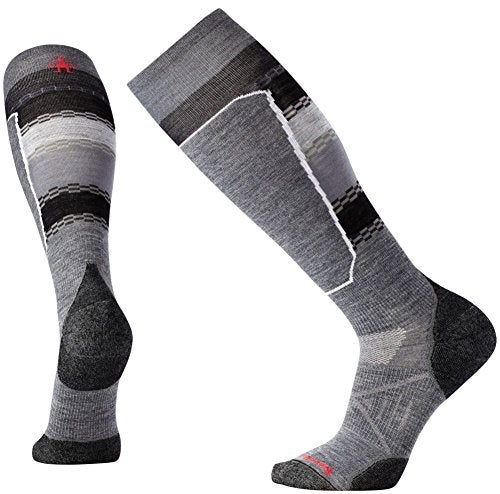 Smartwool ski socks are made in the USA and are a longer, light weight sock, made from 70% Merino wool.
This is a natural fiber from New Zealand sheep, and is used by many outdoor clothing manufacturers. To keep their shape they also have 28% Nylon, and 2% Elastane thrown in, both give you good elasticity.
The 2 elastic fibers give the socks a high stretch and recovery ability, so you can wear them over and over and they will spring back into shape. These socks are not prone to bunching up or slipping around in your ski boots.
The fabrics will stand up to machine washing on a gentle warm cycle, followed with a low cycle in the tumble dryer. One thing I really like about these socks is the padding in the front of the sock which after a hard day on the slopes you will appreciate.
With some other socks my shins would bother me at the end of the day but that didn't happen with the Smartwool PhD socks.
The mesh ventilation areas ensure top quality for moisture and temperature control. Small pockets of air are trapped in the wool keeping good air flow and sweat to a minimum.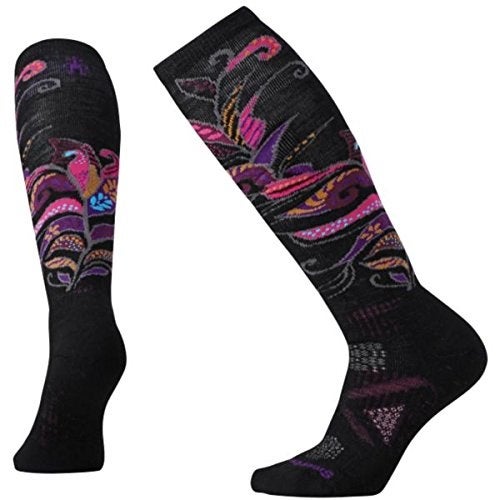 The snowboard socks not only wick away any sweat, but also prevent odors. Merino wool has a natural antibacterial compound. The Smartwool PhD socks can be worn for a few days in a row without washing and not stink.
You will find a medium cushioning on the heel that provides just the right padding plus a flat knit seam making the toe area durable. These are seamless socks so they do not rub or chaff  that can cause blisters.
With a 14 inch overall length they can even cover part of the calf, if you do not want to fold them over. I found that the longer length prevented the top of my boots from rubbing on my legs.
If your feet tend be get cold easily like mine then you will find these to be best ski socks for cold feet. The Smartwool socks are warm and comfortable, they are my top pick for a ski sock.
Women's Ski Socks: Smartwool Women's PhD Ski Medium Pattern Socks
---

Wigwam Sirocco are made of 42% Merino wool, 24% Stretch Nylon and 34% other synthetics, making them a mid-weight sock.
Merino wool is not irritating against your skin like normal wool. Not only does this wool feel incredibly soft but it is not itchy. If you have ever had to scratch your foot with a ski boot on, you know how annoying that is!
Merino wool also retains heat well keeping your feet toasty warm. The Wigwam socks also have excellent ventilation by retaining small pockets of air and like the Smartwool socks they won't stink if you wear them for a few days in a row.
These socks can take washing after washing and still hold up and will last for years.
Wigwam is a US based company that has been knitting clothing for over a hundred years, they stand behind their product with a 2-year guarantee.
At 14" in length, they are pretty long, of at least knee length. This means they come over the tops of your ski boots, preventing any chaffing from the edge of the boot.
They have a little more shin cushioning than the Smartwool socks which I liked and really helps when I do mogul runs. I found the Wigwams to be the warmest ski socks I evaluated, slightly edging out the SmartWool socks.

The foot hugging technique of the ankle cuff gives a comfortably tight compression around the foot, preventing slippage and ensuring that the sock does not bunch up in your ski boot.
The seamless toe adds to the comfort of the non-slip sock, and also means no blisters, assuming you get a comfortable, good fitting boot.
The Wigwam's are a great choice for skiing or snowboarding. They are durable and will hold up season after season. They come in many sizes starting so you wont have a problem getting a good fit.
They also come in many colors, so if your looking for a bit of style you should be able to find a color you like. Overall the Wigwam Sirocco's are some of the best socks for skiing that will keep your feet comfortable on the coldest of days!
Women's Ski Socks: Wigwam Women's Snow Sirocco Midweight Wool Ski Sock
---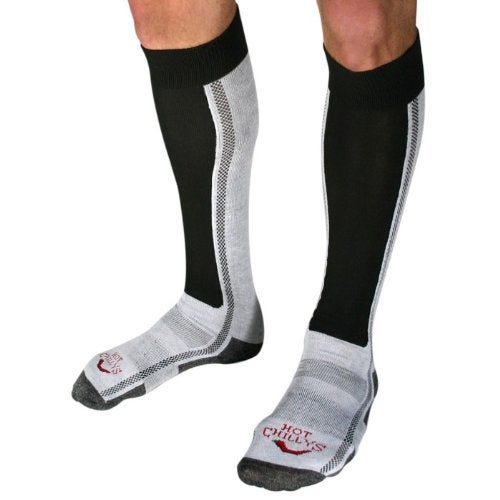 These are a mid-volume, slightly heavier snowboard sock, made with 70% Bio-Silver Acrylic, 15% Nylon, 15% Lycra, and they come with a premier performance rating. They are made to go over the calf, so are a longer length.
Hot Chillys are designed from the ground up to be worn with ski boots, and anatomically designed with compression to the toe, arch and heel areas, to give a top performance.
The Mid Volume Sock is knit with an exclusive MTF (Moisture Transfer Fibers) technology which allows the fabric to soak in moisture and keep it away from skin, keeping your skin dry and warm.
The Bio-silver based blend of fabrics are a state of the art technology in the blending of these yarns, and help to create a natural antimicrobial compound.
The anti-microbial blend allows the socks to soak in the moisture of sweat, but also kills the bacteria and eliminate odor.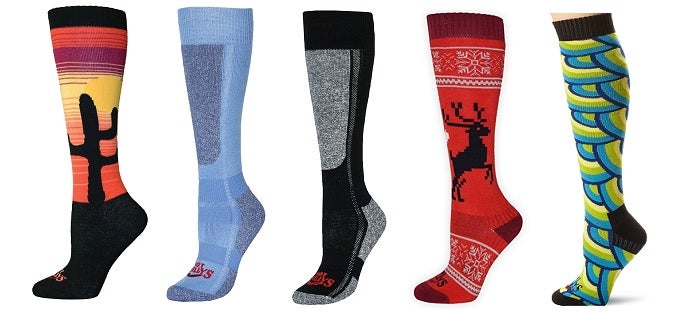 I thought these were the most comfortable of the ski socks. Not only does the unique fabric have a soft feel, but it is also non-abrasive eliminating chaffing and blistering.
These are slightly thinner and feel like they were tailored fit to your feet, with the compression of extra-looped cushioning in the toe and heel areas they give excellent support.
The compression allows for good circulation and some added support that you will appreciate after a hard day on the slopes. They come in 3 sizes, M = US shoe size 7-8.5 /  L = US shoe size 9-11.5 / XL = US shoe size 12-14.
Having a higher man-made component, they will hold their shape better and last longer than their wool competitors. That being said, they come with a 1 year limited warranty, which is not as long as some of their competitors.
These tended to fit a bit tighter and had more compression than their Merino wool competitors but I did come to appreciate that after a long, cold day on slopes.
Women's Ski Socks: Hot Chillys Women's Premier Mid Volume Socks 
---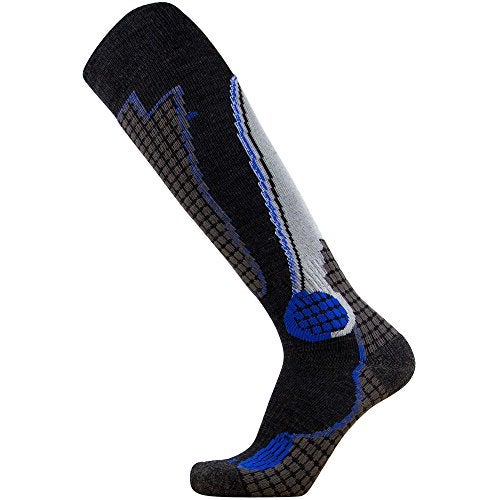 The High Performance Wool Ski Socks are more synthetic than some other wool socks being only about 25% merino wool. However it is just enough to make them warm enough for skiing or snowboarding, even on very cold days.
Like the Smartwool PHD socks they have some extra padding where it is needed, in the shin, ankle and the heel. If you ski with them you will appreciate this, especially if you are renting boots and can't quite the a great fitting boot.
I rent boots often and sometimes no matter how many boots I try I still get rubbing in the ankles. This is where the padding really can help out.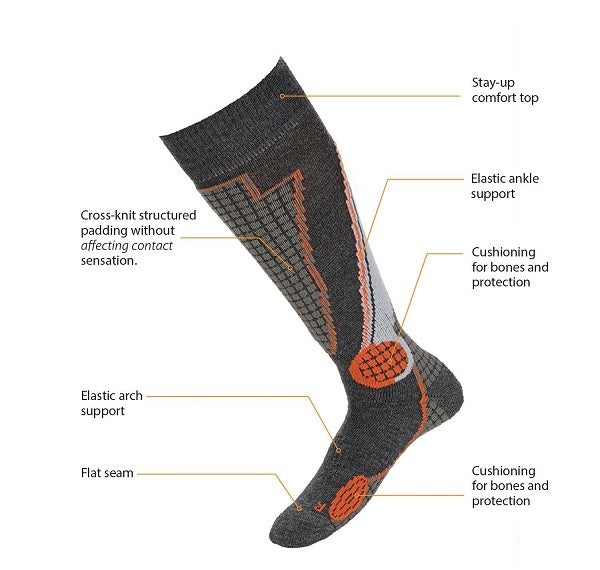 There are times if I didn't have the padding I don't think I would have been able to ski because my ankles would have been rubbed raw.
Being a majority of synthetic material they have excellent air flow and moisture wicking to keep your feet warm and dry.
The High Performance socks provide a small amount of arch support for comfort and the compression spandex keeps the socks from falling down while you are out carving some turns.
They are an excellent pair of ski/snowboard socks and are uni-sex with a variety of colors available.
---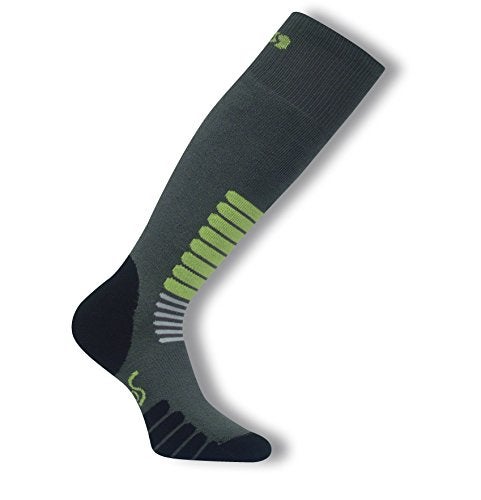 The Euro socks as you may have guess are from Europe, specifically Italy and are 100% synthetic. No wool in these socks but created a proprietary blend that feels like a natural fiber. They call it "Microsupreme" and it makes up 80% of the sock with the rest being nylon and lycra.
The Microsupreme is designed to give the socks some compression and enhance blood flow through your feet. The compression also helps reduce cramping and lactic acid production when you are really tearing it up.
Somehow they created a sock that delivers the best of both worlds with a sock that is comfortable and warm while providing breathability. They synthetic nature of the fiber also inhibits bacteria and fungus growth so even if you wear them all week they still won't stink.

I can't attest to the reduction of injuries Eurosocks claim that they help reduce shin splints and plantar fasciitis but if you suffer from those conditions then these socks might be worth a shot based on that alone.
There is a lot to like about the Eurosocks, they are definitely a good option for a ski sock.  These are uni-sex as well with quite a few colors to choose from.
---
Ski and Snowboard Socks Comparison Table
| Ski Socks | Made From | Height | Features | Rating |
| --- | --- | --- | --- | --- |
| Smartwool Men's PhD Light Elite Pattern Ski Socks | 65% Merino Wool, 33% Nylon, 2% Elastane | Over the Calf | Flat knit seams with a durable toe seam | 4.8 / 5.0 |
| Wigwam Snow Sirocco | 42% Wool/24% Stretch Nylon/21% Polypropylene/7% Stretch Polyester/5% Olefin/1% Spandex | Knee-high | Cushioned ski socks with stay-put knee, heel, toe, and shin | 4.4 / 5.0 |
| Hot Chillys Men's Mid Volume Sock | Micro polyester | Over the Calf | Cushioning on shin area to prevent abrasion | 3.9 / 5.0 |
| High Performance Wool Ski Socks | 54% Nylon, 25% Merino Wool, 16% Polypropelene, 5% Spandex | Knee-high | Cushioning in the shin, ankle, and heel | 4.8 / 5.0 |
| Eurosocks OTC Ski Socks | Micro polyester blend | Over the Calf | Lightly padded at the ankle and heel to prevent abrasion | 4.3 / 5.0 |
How to Choose the Best Ski Socks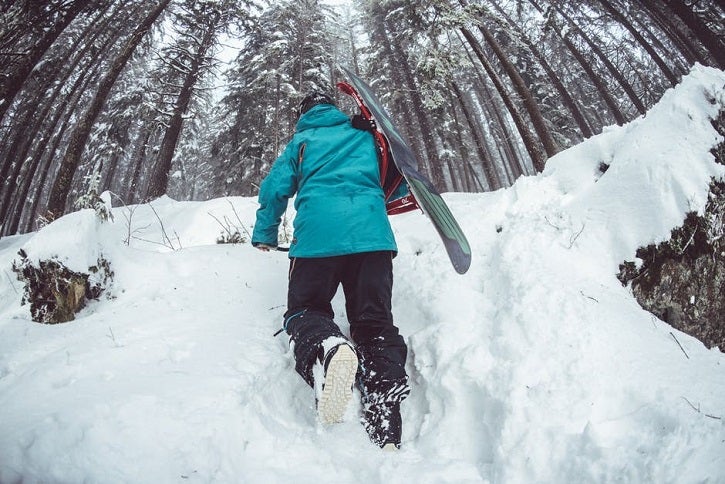 Why Wear Specialty Ski and Snowboard Socks?
If you are suffering cold achy feet at the end of long day on the skiing slopes, then the likelihood is you have the wrong socks for such a strenuous activity. A cold snowy day on the mountain can be grueling on your feet, and it is important to keep them warm and dry.
You will have a very miserable day when your feet start hurting because you haven't taken the basic care to wear the correct socks. It is easy to avoid cold, numb and hurting feet simply by wearing the proper socks.
If there is one thing you must avoid it is cotton socks. A pair of cotton socks will soon become soggy and cold, as they trap the moisture so avoid cotton socks.

Comfort
It's no use starting off with comfortable socks that aren't comfortable as you become more active. You don't want socks that crumple up once you start getting active. A stretchy fabric will contour to your feet as they move and not scrunch up in uncomfortable lumps.
A quality pair of ski socks with pads will be more comfortable at the vulnerable pressure points like your shins and ankles.
For a comfy softness, look for socks with a content of Merino wool, such as the SmartWool PhD. The silky texture of this wool is good for people with sensitive skin.
Merino wool does not cause irritation or the scratchy feel that some wool blends can create when directly against the skin.
Socks that reach up over the knee are used by many skiers and snowboarders and considered a warming luxury. Also some socks that are tailored to fit left and right feet and to fit snugly to the heels and toes.

Warmth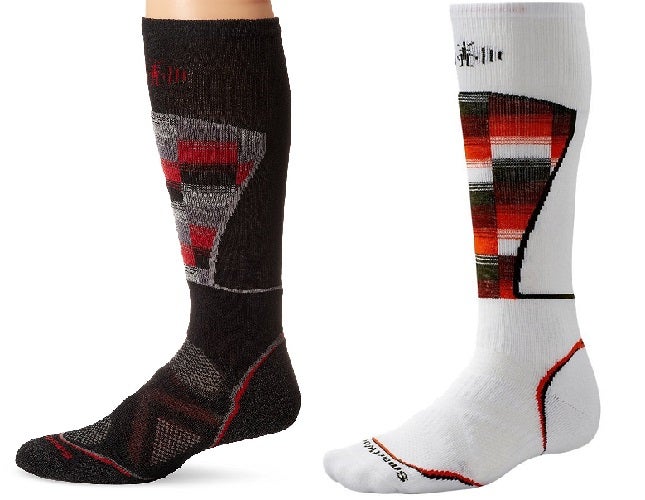 If your feet are cold it probably means there is a lack of blood flow to your feet. Remember, your feet will be exposed to freezing temperatures. You would not dream of doing that without a warm coat.
Keeping your toes nice and warm is just as important. Merino wool proves its worth, as it both retains heat and is a breathable.
It works like feathers in a down jacket, keeping the heat in, and allowing pockets of breathable air to circulate. Having warm feet is one of those comforts that will make your day on the slopes so much better.
Trying to keep your feet warm by substituting thick socks is not the answer. A real solution is wearing thinner socks that are made of the right materials, such as the Smartwool PhD ski socks.

Wicking Ability and Drying Speed
Wicking is how a fabric responds with the moisture from your body. Our feet will sweat, even when they're not hot. Because when you are skiing or boarding you will need a fabric that can absorb the moisture from your skin and pull it away so they don't get wet.
Tightly woven Merino wool allows for a thinner sock and the ability of this natural fiber allows it to work like a sponge. The fibers will absorb moisture, but not feel heavy or damp.
Once wet, the Merino wool fibers allows the sock to spring back into its original shape and dry quickly like the Wigwam Sirocco ski socks which perform very well in this area.

Ski and Snowboard Sock Types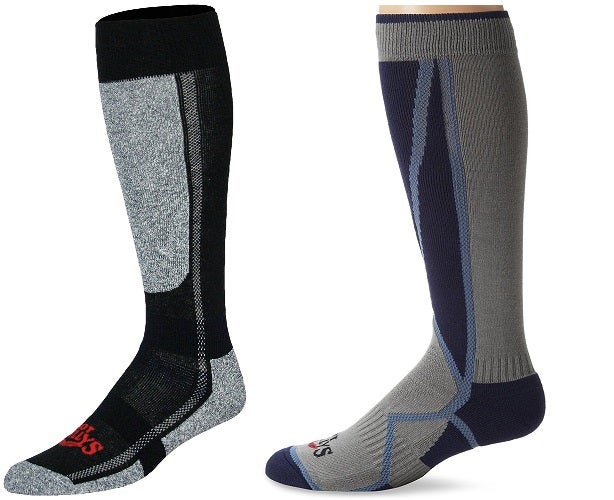 Compression
Just like the name sounds, these types of socks fit very tight and snug. Similar to "dri-fit" shirts and shorts, these are very thin and comfortable. I know what you are thinking; I need a thicker sock for comfort and padding.
While this may have been true years ago, modern ski boots have very comfortable and warm liners so the need for a thick is not necessary.
I don't find them as comfortable, because they are made from synthetic materials like nylon and polyester that offer excellent wicking ability.
However if the weather is very cold, these may not be the best choice. The Hot Chillys Ultralight are a good example of this style of sock.
Traditional Ski Sock
When I say "traditional", I mean a sock made from wool. I personally prefer the soft feel of merino wool. Merino wool is not like wool you may have experienced in the past. Its not itchy and scratchy at all.
Merino socks like the Smartwool PhD ski socks are fairly thin and offer some compression and usually have some padding in the heel and shin.
I really like the shin padding because I ten d to lean forward a lot and my shins rub up against the boot and the extra padding makes my shins very happy at the end of the day.
Outdoor/Mountaineer Socks
These types of socks are meant for all day use in the cold and are usually fairly thick for some extra warmth but also have wicking properties to wick away moisture when you are working up a sweat.
They are usually over an the calf sock and are a good choice when the temperature gets below 20 degrees or you suffer from cold feet due to poor blood circulation.
Heated/Electric Socks
If even the outdoor/mountaineer socks are not sufficient to keep your feet warm you can get heated socks that are battery powered. I would only recommend these if you have really bad circulation and traditional merino wool socks are not keeping your feet warm.
Modern heated socks are very warm and with lithium batteries will usually last all day. Some of them can even be controlled with a smartphone app. Pretty cool!

Ski Boot Fit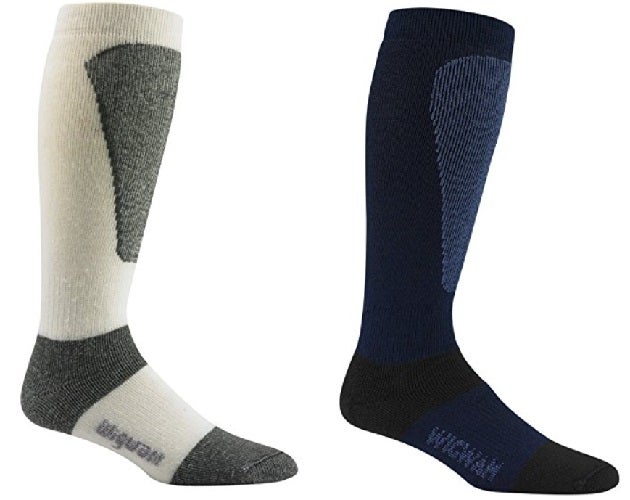 How much room your feet have in your ski boot will also to play an important role in how comfortable your feet are during the day.
You don't want too much extra room nor too tight which will result from having to wear bulky or multiple pairs of socks to keep your feet warm.
Longer socks are ideal as you will have access to the tops and can simply readjust them with a little tug. Ultralight ski socks are thinner and give your feet a little bit of wiggle room inside your boot.
Should your ski boot be a tight fit, then try a pair of the Hot Chillys Ultralight, as they perform well and are made from a thinner fabric.
Socks with padding are popular for a reason because they can help you prevent blisters. The thicker parts of the sock are in the pressure points like your ankles and shins which you will come to appreciate like I have.
I have had a lot of problems with my shins rubbing against the boot, especially when doing moguls. The extra padding really does help.

Durability
One last aspect to consider when assessing your choice of ski socks: Can your socks withstand all of the demands of skiing and continue to protect your feet and keep them warm.
This is where the socks like the SmartWool PhD outperform many of the other brands. The Merino wool fibers allow these socks to go for days without washing, absorbing moisture yet not getting soggy and smelly yet still keep your feet warm.
On top of that, they can withstand wash after wash and still hold their shape.
FAQs: For Ski Socks
Q; What Kind Of Socks Should I Wear While Skiing?
A: The best socks to wear while skiing or snowboarding are Merino wool socks like the SmartWool PhD. Merino wool not only keeps your feet warm but they also have superior moisture wicking properties keeping your feet dry as well.
Q: What Are Ski Socks Made Of?
A: Most ski socks are a blend of Merino wool with synthetic fibers woven in to provide a snug fit and durability.
Q: How Do You Keep Your Feet Warm While Skiing?
A: There are two important things to keep in mind so your feet stay warm. The first is proper boot fit. Boots that are too snug will cut off circulation leading to cold feet.
Too loose and not only is that dangerous it can let in cold air and snow. The second is wearing the proper type of ski socks like the SmartWool PhD or Wigwam Snow Sirocco Socks.

Best Brands of Ski Socks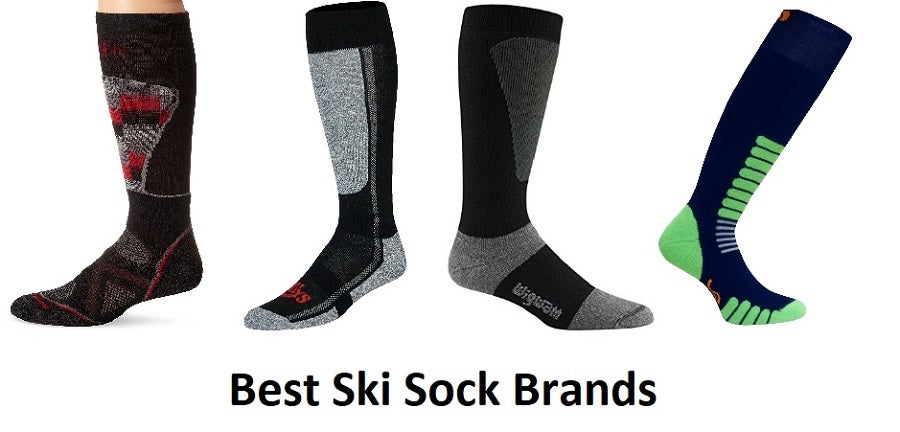 As you can imagine choose the "best" brands of ski socks is subjective but after trying just about every pair on the market I can recommend these brands:
SmartWool – The originator of Merino wool socks, they are my favorite ski socks. Not only comfortable but warm with just the right amount of cushioning.
Hot Chillys – They make synthetic ski socks made mostly of acrylic. Why that might not sounds good they made them very comfortable and just as important warm!
Wigwam – Another Merino wool sock manufacturer, their socks are less than 50% Merino wool however but its enough to get the benefits.
Eurosocks – As you may guess they are of European origin. These Italian socks are 100% synthetic of a proprietary fabric that compression socks that are good for improving circulation and keeping your feet warm.

Conclusion
Who would have thought choosing a ski or snowboard sock could be so complex? Yet, considering all the aspects discussed above, you may have to go through trial and error before you find the perfect ones for you.
There many factors to consider: how tight your ski boots are, how much you sweat, how wide your shins are, and whether you prefer your socks to come up over your calves.
Whether or not you prefer organic material like wool or silk is an important decision. Newer socks make from nylon/spandex are usually compression socks and work best for warmer spring skiing when your feet are most likely to perspire.
In my opinion the newer merino wool blend for ski socks is the best choice. They offer warmth, wicking ability, and for me most importantly, some heel and shin padding. You don't normally find padding in the ultra-light/compression socks.
All of these are personal choices, so what is right for one person, may not be right for you. Your best bet is what I did, try a few different pairs, then when you find a pair that is comfortable for you, buy several pairs.
---
I hope this guide was helpful for finding the best ski socks to fit your needs. If you want to comment or recommend a pair of socks I didn't include, please use my contact form to get in touch.
New to skiing? See my beginners guide to skiing for tips and advice.
Have fun and be safe out there!
Click here to return to the reviews.
If your looking for a good pair of goggles, please see my favorite pairs here. I review the ski helmets here and my reviews of Men's ski gloves here and Women's gloves here.
Notice: Outside Pursuits is a participant in the Amazon Services LLC Associates Program, an affiliate advertising program to provide a means for sites to earn advertising fees sold through by advertising and linking to Amazon.com. Amazon offers a small commission on products sold through their affiliate links. Each of your purchases via our Amazon affiliate links supports our efforts to bring you the best possible product reviews at no additional cost to you. We appreciate your support here at OutsidePursuits.com