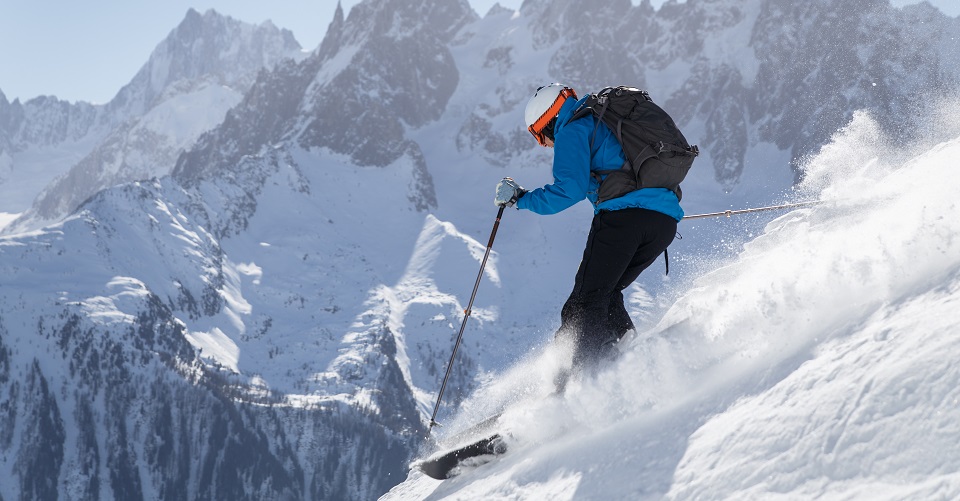 Skiing and snowboarding are one of the most fun alpine sports you'll ever participate in. There's something addicting about the rush of adrenaline and the freedom of sliding on the snow.
As your level of skill increases, however, chances are that you'll begin carrying more gear and spending more time on the mountain.
If you're doing some backcountry split boarding a backpack becomes your biggest connection to survival in many situations.
Avalanche airbags, food and snacks, avalungs, and more features every day make these backpacks more like life savers than just backpacks.
Let's look at some of the features you may want when considering a ski and snowboarding backpack. Then I'm going to suggest the Best Ski Backpack and the Best Avalanche Airbag.
There are tons of features to choose from in today's ski and snowboard backpacks. Let's review some of them so you can make your choice confidently
Quick Answer: The 7 Best Ski and Snowboard Backpacks
For more of my top gear recommendations, have a look through these popular Outside Pursuits guide links: Avalanche Beacons, Ski Jackets, Ski Pants
Best Ski and Snowboard Backpacks
Dakine Heli Pro Backpack
Black Diamond Jetforce Saga 40 Avalanche Airbag
Deuter Freerider Pro 30
Size:
20 Liters
40 Liters
30 Liters
Features:
Can carry your skis or snowboard on the pack and comes with a hydration sleeve.

Rescue whistle on sternum strap and hydration compatible.
Can carry your skis or snowboard on the pack.

Helmet holder hipbelt stash pocket and zippered top accessory pocket.
Removable sitting mat with emergency whistle on chest strap.

Can carry your skis or snowboard on the pack.
Avalanche Features:
None
JetForce Technology Echargeable airbag system with dedicated avy-tools pockets
None
Ski Backpack Reviews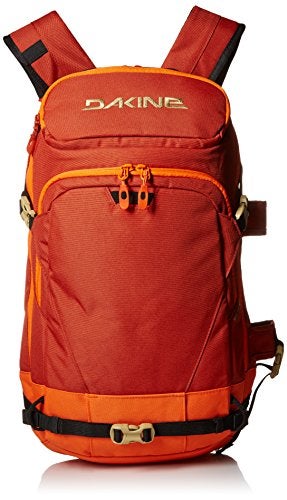 Dakine Heli Pro Backpack at a Glance
:
---
Storage Capacity: 20L
Vertical snowboard carry and diagonal ski carry
Hydration compatible sleeve
Made from tough 600D Polyester
This backpack is a mid sized do it all type bag that can take you to the top, or chill for a beer at the lodge. You'll be able to vertical carry your snowboard or split board. If you ever decided to haul a pair of skis you can do that, too, with the diagonal ski carry straps.
Made from 600D polyester it's going to be durable and yet still soft. Compared to nylon, polyester is a much friendlier material to the touch and at 600D it's thick enough to stand up to some abuse!
It's important that a snowboard bag can handle some abrasion because the sharp metal edges of carrying gear on the pack tend to damage bags over time.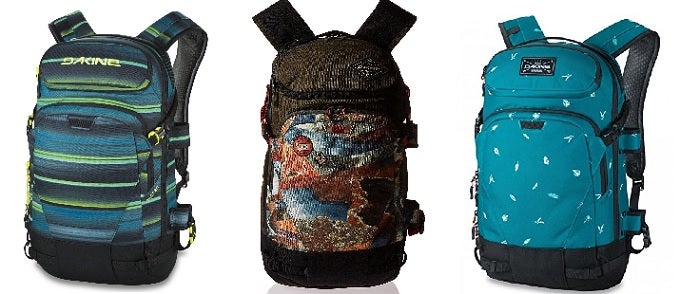 There's an internal padded sleeve that can accommodate a 15" laptop. Also included is hydration compatible storage, although you'll have to buy the hydration bladder separately. I would say the Dakine Heli Pro is the best snowboard backpack!
---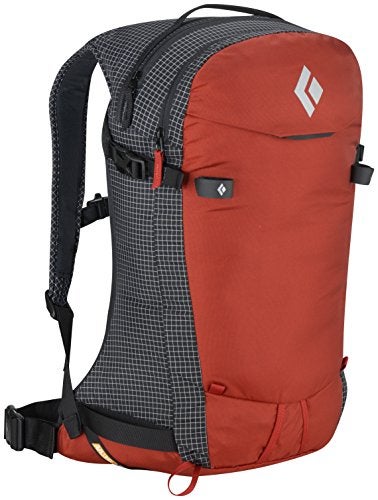 Black Diamond Dawn Patrol 25 Backpack at a Glance
:
---
Storage Capacity: 25L
Diagonal ski carry
Ice tool pockets, with helmet holder
Compatible with Black Diamond's AvaLung Element
Available in three colors – red, white, and black – you can rock out with this 25L bag in a size tailored to your body. This is a feature we haven't yet seen from other makers but it's really quite important.
With the added load and instability of carrying skis or boards on a backpack, ensuring a good fit is critical. Refer to Black Diamond's sizing guide to measure your torso length and choose the appropriate bag size for you.
True to their style, Black Diamond has included straps for skis, boards, and ice axes. This backpack is an ideal solution for snowboard mountaineering due to the moderate size, slim design, and storage space for essential mountaineering gear.

Side panels are made from durable Dynex material for increased durability. I like that this bag also comes ready for an AvaLung which the other bags we've reviewed do not.
There's also a dedicated avy gear compartment and helmet storage, overall I think the Dawn Patrol is the best ski backpack.
---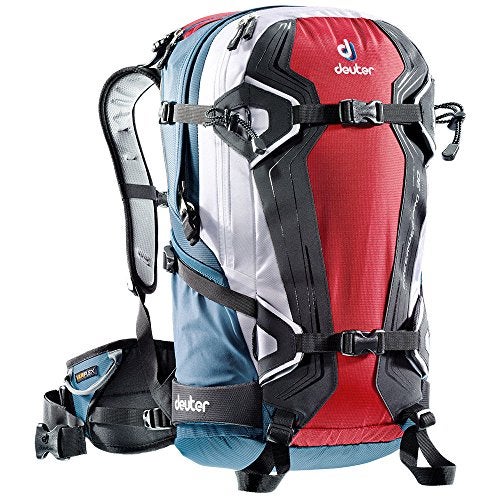 Deuter Freerider Pro 30 Backpack at a Glance
:
---
Storage Capacity: 30L
Vertical snowboard carry and diagonal or on the sides ski carry
Helmet pod

3.0 L hydration system compatible
If you've ever wanted a backcountry backpack that screams "America!" then you've landed in the right spot. This red, white, and blue backpack made by Deuter will definitely make a statement on the mountain.
There are several options for attaching a snowboard or skis to the bag using the versatile strapping system. There's also an easy to use strap for ice axes. There are a few other interesting features that I do like about the bag.
A removable sitting mat provides warmth and protection from melting snow on your rest breaks. Necessary? Maybe not. Nice? Definitely.
Climbing rack straps on the hip belts are nice for mountaineering and a feature we haven't seen yet on other bags.
Video: Tour of the Deuter Freerider Pro Backpack.
If you're going to be carrying a trad rack, ice screws, or other climbing gear I'm going to suggest you heavily consider this bag as your first choice.
With helmet storage and a dedicated goggle compartment it's a great choice for the serious mountaineer.
This bag makes a tough competitor to the Black Diamond Dawn Patrol for those who are doing technical touring.
---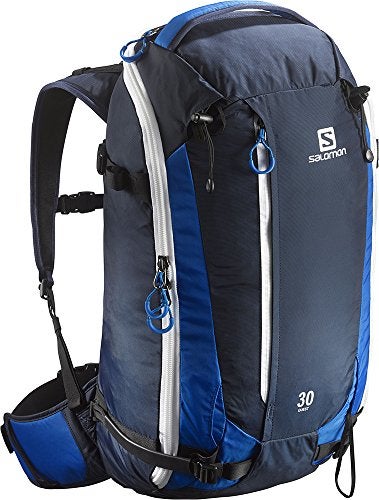 Salomon Quest 30 Backpack at a Glance
:
---
Storage Capacity: 30L
Vertical snowboard carry and diagonal or on the sides ski carry
Helmet carrier
3.0 L hydration system compatible
Salomon knows how to make snowboarding and skiing gear without a doubt. When it comes to backpacks, this 30L bag is refined and effective just like all their products.
The shoulder straps and hip belt are slim, fitted, and lightweight. I like that all the zippers have large pulls and big buckles that are easy to operate with gloves.
There is an integrated hydration bladder compartment with the correct ports ready for use. While hydration bladders are nice, they can be hard to prevent freezing in the winter. Make sure your bladder is insulated and on cold days wear the entire backpack under a large coat to prevent freezing.
There's a strap on the outside of the pack to fit your skis or snowboard for an all-day carry. At the 30L size this would make a good pack for long day touring or short overnight hut touring.
I do like the slim and sleek exterior design of the pack. The last thing you want to do is get a bulky backpack caught on a tree branch while you're shredding!
---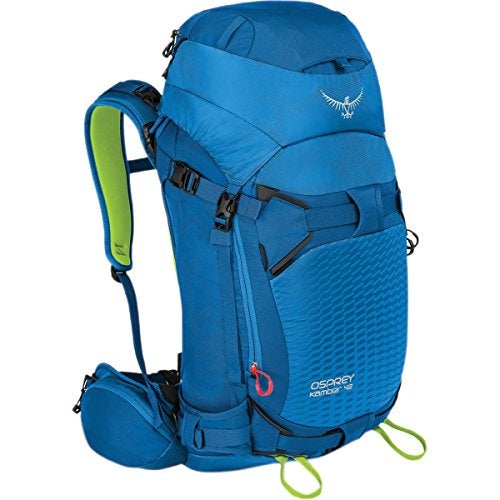 Osprey Packs Kamber Ski Backpack at a Glance
:
---
Storage Capacity: 30L
Vertical snowboard carry and diagonal or on the sides ski carry
Helmet carrier
Hipbelt Pockets
My first ever backcountry skiing backpack was an Osprey. I've long stood by Osprey packs for hiking and they continue to do a good job of bringing quality backpacks into the world of snowboarding.
Glove sized zipper pulls and hip belt straps are important features that Osprey has nailed down after years of making great packs. There's a separate avalanche gear pocket for your shovel and probe that can be accessed through a j-style zipper system.
There's room for your snowboard in a horizontal carry strap that distributes the load across your hip belts using extra reinforced straps. This is important and too often overlooked when carrying such a heavy and bulky load on a small backpack.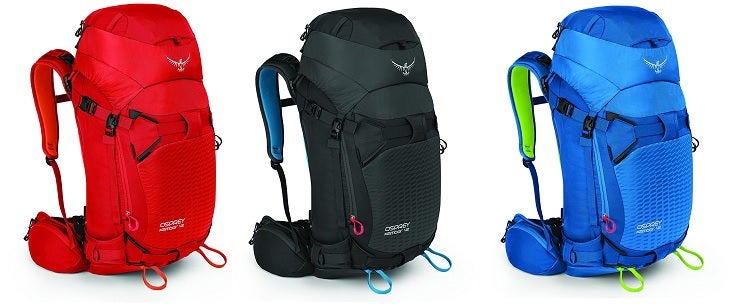 I like that the shoulder straps are thin and ergonomic so that they don't get in the way of free arm movement when skinning up or boarding down.
You definitely don't want the pack to feel like it's keeping you from moving freely – that can negatively affect your boarding style and throw you off balance.
---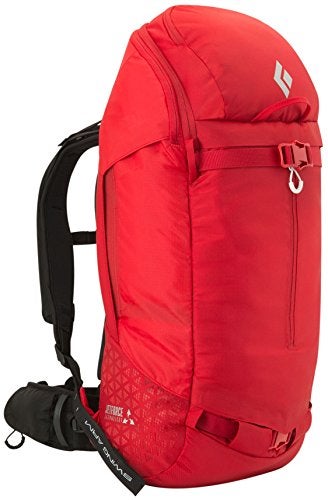 Black Diamond Jetforce Saga 40 Avalanche Airbag at a Glance
:
---
Storage Capacity: 40L
JetForce Technology airbag system
Helmet carrier
Hipbelt Pockets
You'll find this futuristic backpack in either red or black and ready to blast off at the first sign of an avalanche. There's a JetForce airbag system built into the backpack.
It's rechargeable and highly durable. It's also travel friendly so you won't have to worry about it if you're heading out on a plane!
The integrated suspension on the shoulder straps and hip belt actually swings outward to provide access to the zippered backpanel of the backpack. This allows access to the bag without having to take your snowboard off every time and then strap it all back on.
I like that they've even designed the backpack so that the airbag can deploy even with skis or board attached.
Video: Overview of the Black Diamond JetForce Technology.
We always think about getting caught in a slide while boarding, but what if the slide comes while you're still skinning up? Overall this is a solid choice if you're looking for most of the features of the Dawn Patrol backpack.
If your looking for the best avalanche airbag, the Black Diamond Saga JetForce is it.
---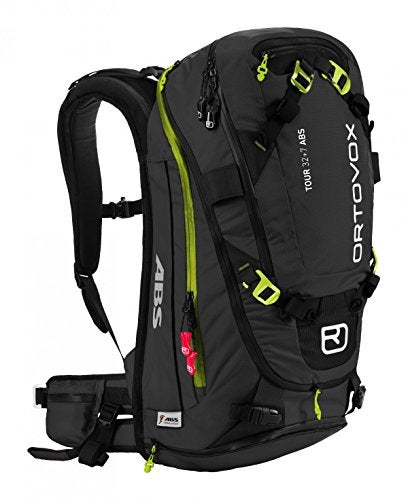 ORTOVOX TOUR ABS Avalanche Survival Backpack at a Glance
:
---
Storage Capacity: 32L
Two airbags with separate air chambers
Removable helmet net
Hydration system compatible
Ortovox is perhaps best known for the innovation in the realm of avalanche safety gear. They make great avy beacons and other gear. Now they're leading the way into the world of avalanche airbag backpacks.
The MASS unit inside the backpack is a Modular Airbag Safety System. This means there's a separately replaceable airbag and activation unit (CO2 canister).
One feature you won't find elsewhere is the dual redundant airbags. There are two airbags with separate air chambers which help to improved reliability and safety of the airbag deployment unit.
There are two balloons with a total volume of 170L of air space for floatation and protection from impacts.
Video: Tour of the Ortovox Avalanche Backpack.
This bag does cost a bit less than the Black Diamond JetForce avalanche airbag. There's still room for skis or a snowboard on the backpack and the airbag unit should still work just fine if triggered while skinning.
The airbag unit weighs only 1.5 pounds so it doesn't add a lot of weight and is removeable so you can use the backpack without it.
The airbags on this backpack deploy vertically on both the left and right side of the backpack within seconds of triggering the pull handle. The Ortovox Tour is another solid contender for the best avalanche backpack.
---
How to Choose the Best Ski Backpack for You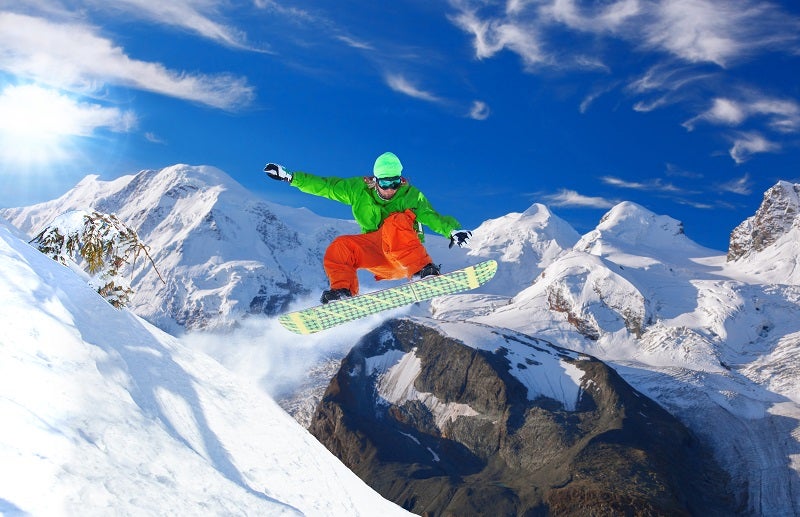 Skiing and Snowboarding backpacks essentially come in two flavors. One is meant for carrying gear back and forth to the car. The other type is made for carrying gear while out on the mountain.
Both are insanely helpful and totally necessary in my opinion. Having spent about 500 days on the mountain in the last 6 seasons I can tell you – you need a snowboarding backpack to stay organized!
Avalung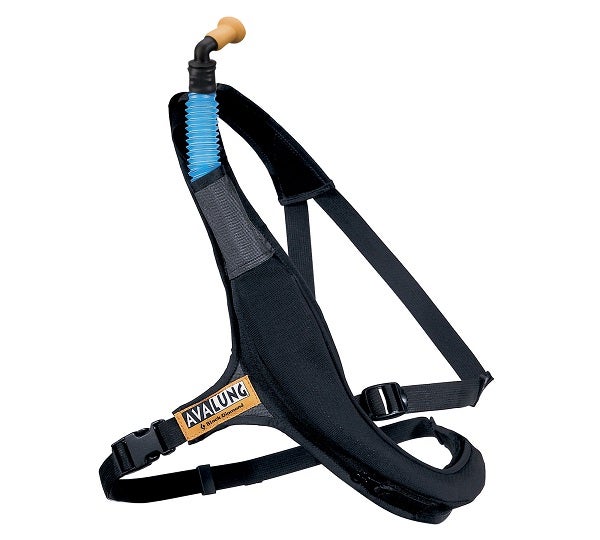 This is a safety feature meant for backcountry snowboarders. If you're planning on boarding out of bounds or doing some backcountry shredding you may want to consider an Avalung. If you're boarding the groomers in bounds, don't worry about it.
Avalungs are integrated into some backpacks. They feature a breathing valve attached to the shoulder strap of your pack. If swept up in an avalanche, the idea is to put the "snorkel" piece in your mouth.
If you're buried you can breathe through the snorkel which pushes your used air out of an opening in the bottom of your pack.
This feature extends the supply of fresh oxygen in the case of a burial. I have heard they're quite effective at extending survival times. They are not meant to "save" you but simply extend your air supply, giving your friends more time to find you.

Avalanche Air Bags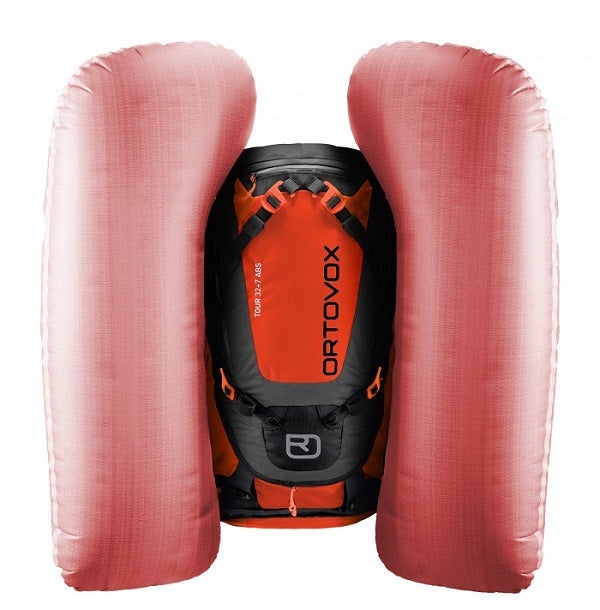 These new features on some backpacks are equivalent to the Cadillac of modern snowboarding backpacks. They can cost upwards of $1,000 but they just might save your life.
Using an integrated CO2 (refillable) canister they instantly inflate an airbag around your head by simply pulling a rip cord attached to the backpack.
This serves to purposes. First the airbag helps to keep you nearer the surface of the avalanche as it slides. Thereby you'll be easier to find and dig out when your friends respond.
Secondly the airbag wraps around your head on 3 sides for nearly full protection. This helps to reduce trauma damage from unfortunate boarders getting swept up by a slide and banged around into debris.
Again, this is a feature only for backcountry or out of bounds boarding. There's no need for these features when snowboarding in bounds at the resort.

Size
Snowboarding backpacks are going to come in a range of sizes depending on your needs. Generally, you'll find these guidelines to help in choosing a size:
10-20L Pack: In bounds boarding or side country snowboarding at the resort
20-30L Pack: Backcountry touring for a day or carrying a lot of gear at the resort
35L+ Pack: Overnight touring or backcountry hut touring
Ski & Snowboard Storage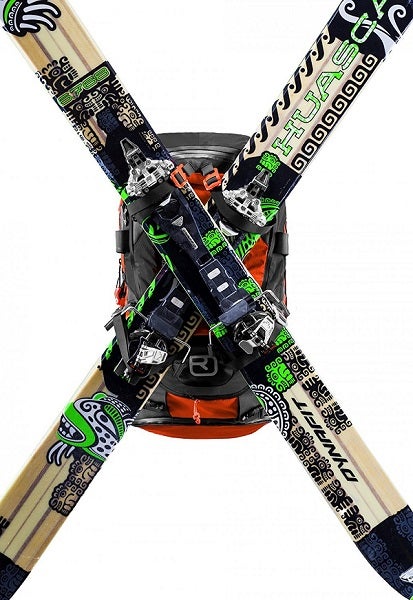 I've found that storing skis or board on a backpack just doesn't work. They're too long and heavy to be supported properly by a backpack's suspension system in my experience (as a backpacking guide and ski instructor).
Nevertheless, many people are enamored by the idea of carrying around their split board on a fancy backcountry backpack. More power to you! However, be aware that the performance of these features often falls short of the idealistic photographs in the advertisements.

Avy Gear Storage
The final consideration to be made is for avalanche gear. If you're carrying a shovel, probe, and beacon you'll want these somewhere separate and easily accessible.
You should know in an instant where this gear is located and be able to get to it very quickly.
Most backcountry snowboard backpacks have a separate zippered pocket for the shovel and probe. Your beacon needs to be strapped on your chest and not put into the backpack, however.
As always, if you're unsure what avy gear to carry, how to use it, or where to store it, make sure to take an approved avalanche safety course.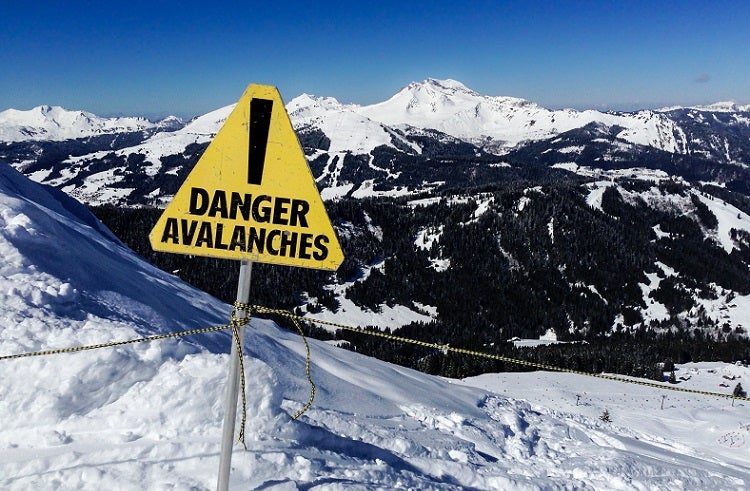 Conclusion
No matter what pack you choose, make sure to go back to the start and determine your needs first. Choose a pack with enough room to carry the gear you need, whether it's a short day at the resort or an overnight hut tour.
Avalanche features are many and varied. Taking an avalanche training course before buying your first pack will give you  a better idea of what features you need and want. Then you can make the best decision for buying your own snowboard backpack!
---
I hope this guide was helpful for finding the best ski and snowboard backpack to fit your needs. If you want to comment or recommend a backpack I didn't include, please use my contact form to get in touch.
New to skiing or snowboarding? See my beginners guide to skiing or my beginners guide to snowboarding for tips and advice.
Have fun and be safe out there!
Notice: Outside Pursuits is a participant in the Amazon Services LLC Associates Program, an affiliate advertising program to provide a means for sites to earn advertising fees sold through by advertising and linking to Amazon.com. Amazon offers a small commission on products sold through their affiliate links. Each of your purchases via our Amazon affiliate links supports our efforts to bring you the best possible product reviews at no additional cost to you. We appreciate your support here at OutsidePursuits.com