So many skiers overlook the ski pole and, even more so, many skiers fail to understand the true use and value of a ski pole.
Ski poles, and your use of them, can really make or break a well-polished skier's form on the mountain.
Keeping your hands up and in front while you actively use the ski poles can be difficult to remember amongst all the other continuous challenges of skiing – and even more difficult yet if the ski poles are heavy or the wrong size.
We're going to talk about what ski poles are used for, why you need them, how to size them, and what to consider when picking up your next set of ski poles.
Spending more than 100 days a season teaching alpine skiing has allowed me to fully understand the ski pole and its uses and I will share with you how to go about choosing your next set of ski poles.
Quick Answer: The 7 Best Ski Poles For 2018

Let's take a look at the top rated ski poles, then we'll talk about how to choose a pair for you. Here is a feature comparison of my 3 top overall picks with full reviews and our buying guide below.
Best Ski Poles
Black Diamond Razor Carbon Ski Poles
Rossignol Tactic Pro Carbon Ski Poles
Winget Carbon Fiber Mountain Alpine Ski Poles
Shaft:
Aluminum Upper
Carbon Fiber Lower
Aluminum Upper
Carbon Fiber Lower
Carbon fiber shaft
Features:
Grip extension for secure choke-ups.
4 in. powder baskets.
2.5 in. powder baskets
Anti-wear manganese steel tip.
Best For:
Backcountry Skier
Recreational Skier
Performance Skier
Ski Poles Reviews

While we don't have the safety release of the Leki poles, BD does bring us some lightweight touring features in these poles.
Adjustable length flick-lock mechanism is meant for touring and skiing backcountry gnar that will leave your GoPro smiling.
Included 4" powder baskets are dedicated to backcountry skiing when the white stuff gets deep and you can choke up on the poles with the included rubber grip if the climbing gets really steep!
Luckily BD made the bottom half of the pole carbon fiber which means valuable weight savings as you huff and puff your way up the steepest slopes around for a "day off". In my opinion these are the best backcountry ski poles.
Best for: Backcountry touring with varying terrain.
---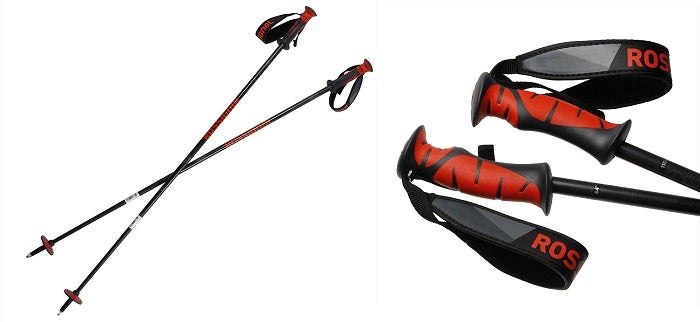 Rossi has been making ski gear for years beyond count and their equipment is as prevalent as it is useful. These poles are the best value carbon fiber poles on the market in my opinion and despite the low price, you can expect great quality.
Rossignol has been making ski gear and rental lines of equipment to meet the needs of general skiers. These poles are popular with skiers of all abilities and rental shops alike for good reasons: they're inexpensive and reliable.
While they're not the lightest poles on the market, you'll be hard pressed to beat them for the price – especially if you only ski a few days a year. I think these are the best ski poles for the money.
Best for: The occasional skier.
---

While you won't see this brand on any major ski shop shelf, it's worth noting that they're insanely affordable for a lightweight carbon fiber alpine pole.
Steel tip and removable baskets mean you can use these poles in any condition. With a shaft made of 80% carbon fiber, they're guaranteed to be lighter than just about any other budget priced pole.
Available in lengths from 105 – 130cm these should fit most skiers but be sure to double check your length before ordering.
Integrated straps and ultra-sticky grips make for the finishing touches on these affordable lightweight ski poles. In my opinion these are the best carbon ski poles.
Best for: Performance on a budget.
---

Looking for an upgraded pole with a few safety features and all-terrain skiing ability? This is your choice.
Leki made this pole with an economy-grade aluminum shaft to keep expenses down while plugging in the trigger grip frame.
What's so special about that? It means that you can keep your poles on your wrist all the time without worrying about getting injured thanks to the binding-like tension release system.
If the poles get stuck in the chairlift, in the powder, or on a tree as you ski by they'll simply release from the strap at a certain pressure and prevent your arms and wrists from getting injured!
I've seen tons of people swear by these poles and the extra safety is always nice in a sport where it's all too easy to get hurt. Overall I think the Leki's are the best ski poles.
Best for: Skiers with existing arm and wrist ailments.
---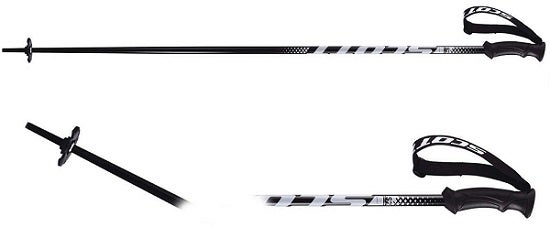 Why are these ski poles my go-to choice? Because I don't need any extra bells and whistles on my ski poles. I spend about 7 hours a day with ski poles in my hands and I can say that I've got nothing to complain about with the Scott 540's.
These are general use ski poles but I ski with them everywhere, despite their lack of powder basket. They're relatively light, cheap, and they do the job. I've also had my ski poles stolen a few times, so I try to save money on my poles.
Best for: Budget skiers who don't need any "extras".
---

Black Diamond, one of my favorite makers of outdoor equipment also makes an adjustable ski pole. I have never had the need for them personally, but I can see how they would come in handy in certain situations.
Friends tell me who do a lot of backcountry skiing they do like to be able to adjust their poles when skiing DEEP powder and find the poles are sinking in too far before hitting something solid.
They can also come in handy when zig-zagging steep inclines and want one pole shorter.
These poles have a very wide range of adjustability, 95-145cm for the shorter model and 105-155cm for the long model. The locking mechanism is solid and reliable while being easy to adjust.
Being made of aluminum they are light and strong, not as light as the BD Razors reviewed above (just over a pound). Like the Razors, they have the choke-up grips and the flick-lock mechanism.
One nice benefit is they can be used for hiking as well by removing the basket and changing the tips. Being adjustable they can pack up into a smaller package then typical ski poles.
If you are looking for the best adjustable ski poles, the Black Diamond Traverse poles are it.
Best for: Backcountry skiing with varying terrain.
---

These Zipline "Lollipop" (what a name!) graphite composite ski poles are an amazing bargain for the price. These poles are half the price of some other poles of similar construction. The poles are 14 mm which is a standard size but they seem to have more flex than some other ones I have used.
Being a composite they are lighter and have more shock absorption than aluminum ski poles. Maybe that's why these poles are supplied to the USA Freestyle Olympic Team.
The poles have a grip that is comfortable but also easy to hold, nice when hitting the bumps! The super hard Tungsten tip will last the life of the pole and gives a better ability to stick the pole in icy or hard packed snow.
You will have difficulty finding a better ski pole at any price, especially with the pedigree this pole has of being used by the Olympic Ski Team.
Best For: Intermediate skier looking for good performance.
---
Ski Pole Comparison Table
How To Choose the Best Ski Poles
Why Should I Use Ski Poles?
This is a fair question and probably one of the most misunderstood tools in a skier's arsenal. Despite common perception, ski poles are not meant as a source of propulsion across the flats or into the lift lines.
Good ski pole use generates rhythm and timing when alpine skiing, particularly in moguls and tight areas. Ski pole us is particularly important in small radius turns and when skiing steeps.
Ski poles, in the hands of an efficient skier, are occasional supplements to polished skiing technique.
What are the Types of Ski Poles?
To keep it grossly simple we'll break ski poles into three categories:
General use
Race poles
Powder poles
General Use Poles
These poles feature small, standard, baskets and are meant for use in all conditions but are most suited to use on the groomers and in the moguls. If you're a recreational skier, chances are that these poles are just fine for you. These poles are well rounded and appropriate for most skiers.
Race Poles
Race poles usually have an asymmetrical design and shields to protect the hands from race gates. These poles, while cool-looking, are generally expensive and totally unnecessary for the average skier. If you're not a racer, it will be quite apparent that you're skiing with someone else's ski poles.
Powder Poles
Often made from lighter weight materials such as carbon fiber, these poles are good for backcountry touring and feature large baskets for flotation in the powder.
If you take a race pole or general use pole into the powder, you'll quickly find the pole sinks when you try to use it. This can be dangerous as it may cause the pole to be torn from your hands or throw you off balance.
What materials are ski poles made of?
Ski poles can be made of all sorts of fancy materials these days so let's talk about just a few:
Aluminum
Most common
Inexpensive
Can be bent back into shape
Durable
Fiberglass
Very durable
Can "snap" back into shape after bending
Inexpensive
Carbon Fiber / Composite
Pricey
Super lightweight
Can be fragile comparatively
Easy to ski with for long durations
How Do I Size My Ski Poles?
Traditional wisdom dictates that ski poles be sized by the following process:
Stand on level ground
Hold the ski pole in your hand upside down with the basket resting atop your fist
Bend your arm at a 90-degree flex
The ski pole handle should rest on the ground in this position
As a full-time ski industry professional, however, I have taken a different approach. I like to start by sizing my ski poles with the above method but I make the following modification:
Stand on level ground
Hold the ski pole in your hand upside down with the basket resting atop your fist
Bend your arm at a 90-degree flex
The ski pole handle should rest on the ground in this position
Size ski poles one size down
Why size down one step?
Because shorter ski poles help me commit to crossing over my skis with my body and changing edges – it also helps me keep my weight and balance forward on my skis when skiing moguls.
This is, of course, relatively advanced skiing technique and merely a suggestion for those advanced skiers.
Video: How to size ski poles.
Conclusion
Don't forget to measure twice and order once when it comes to ski poles. Not sure what length is right for you? Borrow a friend's or order an adjustable pole if you just can't decide.
For most skiers, an inexpensive aluminum ski pole will serve all your needs without a problem. Those of us with more specific needs may want to consider carbon fiber and powder baskets for those deep days when we just have to call in sick to work.
Remember that good skiing happens with the feet and ski poles are just a supplement to efficient skiing on the mountain! If you are a beginner skier, see my guide to getting started skiing.
---
I hope this guide was helpful for finding the best ski poles to fit your needs. If you want to comment or recommend a pair of poles I didn't include, please use my contact form to get in touch.
Have fun and be safe out there!
Notice: Outside Pursuits is a participant in the Amazon Services LLC Associates Program, an affiliate advertising program to provide a means for sites to earn advertising fees sold through by advertising and linking to Amazon.com. Amazon offers a small commission on products sold through their affiliate links. Each of your purchases via our Amazon affiliate links supports our efforts to bring you the best possible product reviews at no additional cost to you. We appreciate your support here at OutsidePursuits.com