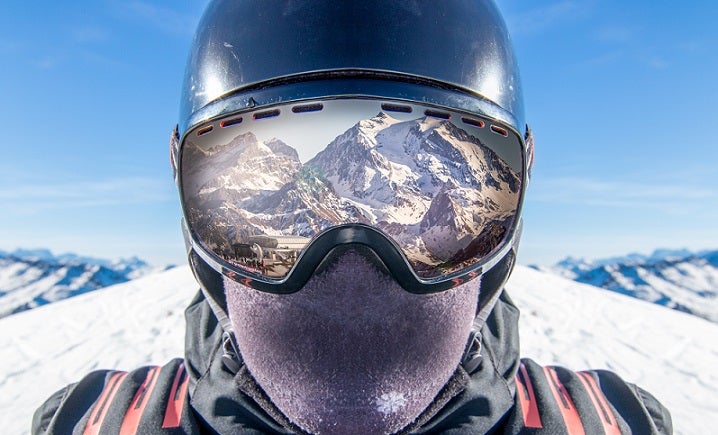 It may be tempting to incorrectly identify a balaclava or ski mask as a delightful pastry but it's not. Balaclavas are a specific type of face warmer.
The term has recently come to be used ubiquitously to describe any face warming device – from neck warmers to full face, windproof fabrics.
We're going to avoid neck warmers and stick solely to the more dedicated balaclavas and their modified counterparts. Today we can find the best ski mask balaclavas in fleece, wool, or other synthetics such as polyester. Each has a purpose.
They're made to be thick or thin, sometimes windproof, and often feature breathing holes to leave room for breath to escape. The best balaclavas, however, are chosen specifically to match the needs of the wearer for snowmobiling, skiing, or other winter sports.
Quick Answer: The 7 Best Ski Masks For 2018
For more of my top gear recommendations, have a look through these popular Outside Pursuits guide links: Ski Base Layers, Ski Jackets, Ski Pants
Best Ski Mask Balaclavas
| | Smartwool NTS Mid 250 Pattern Balaclava | CTR Howler Windproof Balaclava | Beardski Prospector Ski Mask |
| --- | --- | --- | --- |
| | | | |
| | | | |
| Material: | 100% Merino Wool | 100% Windproof Fleece with Membrane | Thermal fleece neck & vented neoprene mouth and chin |
| Features: | Contoured, breathable design with comfortable flatlock seams | Hinge allows you to use it as as a balaclava or neck tube | Silk backing for comfortable feel next to your face while looking cool! |
| | | | |
Ski Mask Reviews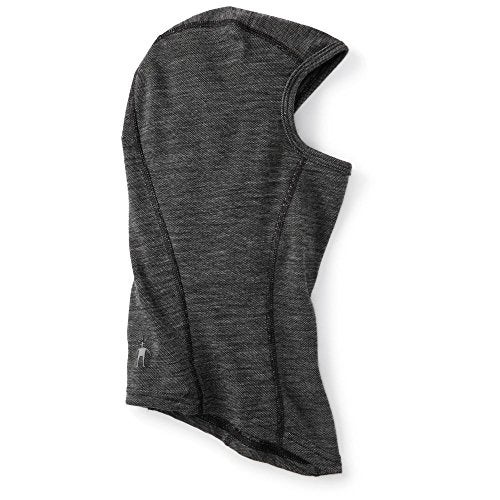 I personally own this balaclava and love it to death! For any occasion but the most extreme winds, this balaclava is all I need. When activity levels are high, this is my go-to choice.
With flat-sewn seams all around the lightweight merino wool sits comfortable on my skin.
It's thin enough that breath easily passes through without needing breathing holes. Fortunately, it's also extremely lightweight so it accompanies me on most of my cold weather backpacking trips.
I tend to stash it in an inside coat pocket when skiing just in case I encounter some really nasty conditions, then I'll add it under my neck warmer and it's thin enough to be worn comfortable under a helmet.

Overall I would say this is the best balaclava for skiing and just all around cold weather use. Use of merino wool means it dries quickly and resists the buildup of old breath odors, too!
---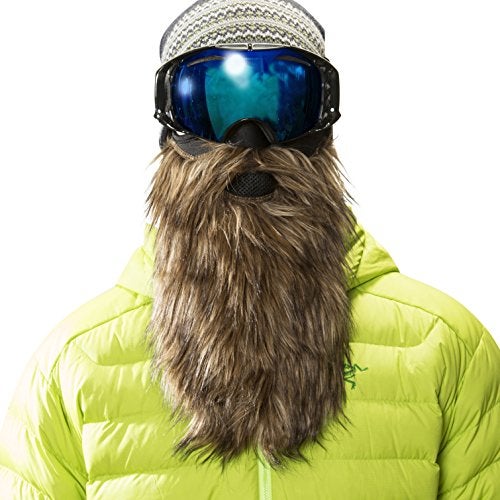 This one makes our list for a pretty simple reason: it makes you look like a hardcore mountain man. This neoprene face-only mask is easy to take on and off while you've already got a hat, helmet, and goggles on.
I've personally seen many skiers use this for warmth and the neoprene mask plus the long "beard" acts as balaclava and neck warmer all in one.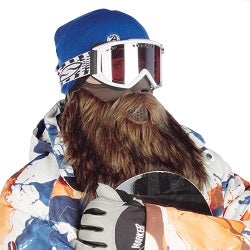 It's definitely nice to be able to don the balaclava after all the other ski gear and remove it as needed throughout the day without having to undress on the mountain.
The only downside is that it's bulky and heavy. If you want to take it off, you'll need a backpack and not just a pocket to store it in.
Unless, of course, your pockets are mega-size.
There's something to be said about what might be the coolest ski mask as well, because these are definitely all the rage right now.
---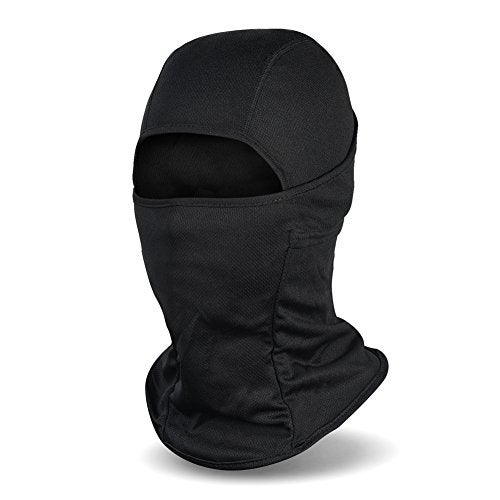 It's pretty hard to argue with the price of this thin, polyester balaclava. It's made to be windproof using polyester fabric which exhibits natural wicking ability for rapidly drying breath and moisture off the garment.
One of my favorite things about this particular balaclava is that it features a separate upper and lower half which means the mask can be worn in a huge combination of ways.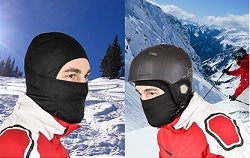 With a few adjustments, it can cover everything but the eyes, or be pulled back to cover just the neck as a thin warmer.
It's also possible to adjust this ski mask balaclava to cover any combination in between.
Definitely earning top marks for frugality and versatility! However, because the fabric is windproof and the mouth features no dedicated breathing holes, after a period of time you will likely get moisture buildup.
There's also the very real potential for hot breath to be accidentally directed up toward goggles or glasses where it can cause fog.
---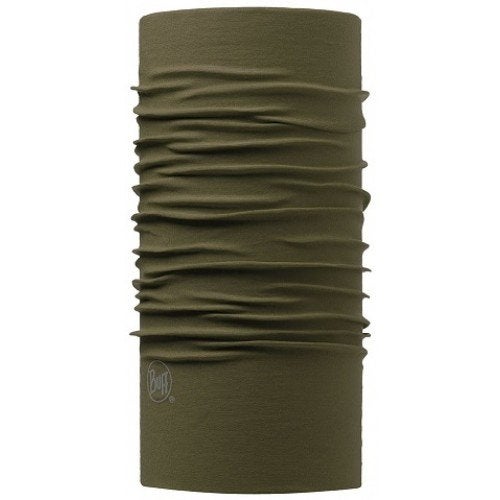 Nope, not a joke. This one is literally just called the "Buff". They've been popular for years in the hiking and backpacking world for their versatility and usefulness in so many forms.
It's really just a stretchy, thin polyester tube usually available in wild colors and patterns. What's neat about it is that you can wear it in 12 different styles. Such as:
Neckerchief
Headband
Mask
Hood
Balaclava
Do Rag
Cap
Hairband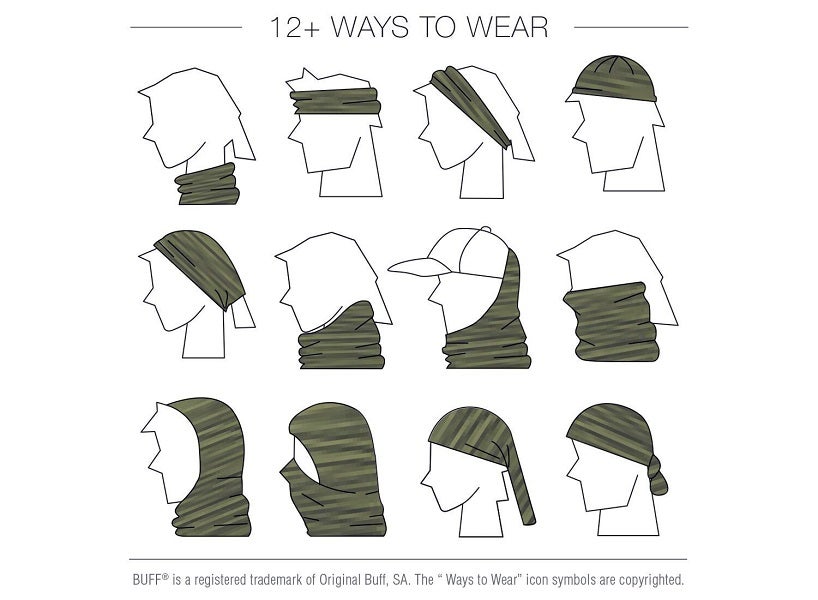 It's pretty thin, though, so you won't want to fight the most frigid winds of the north with this on. It is, however, a great solution to just about every neck warmer, head warmer, balaclava, pirate mask need you'll have.
It comes in 30 colors and styles so you are sure to find one that matches your style and/or ski jacket.
---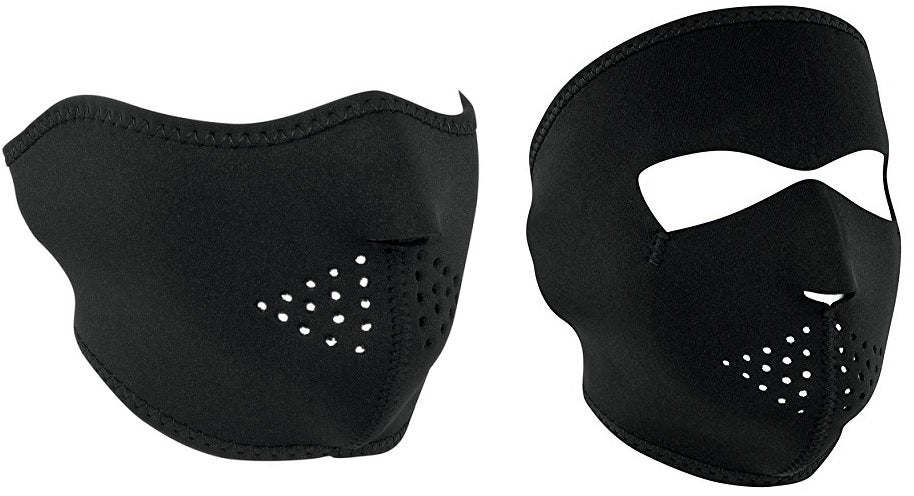 If your looking to make a statement on the slopes then the ZANheadgear is for you. If comes not only in a half and full mask design depending on how much protection from the cold you want. The mask comes in some of the most unique designs I have ever seen.
The crazy designs not only make a statement they do serve a useful purpose of helping your friends and family find you on the slopes.
The Zangear is available in standard black and the colored ones are reversible to plain black if you want a more plain look.

It only comes in one size but being made of stretchy neopene it will fit most faces. I prefer the half mask style as it fits with my googles better and I like to wear a Turtle Fur gaiter to help keep my neck warm.
---
If your looking for a simple no nonsense mask to stay warm, the bargain priced Serius is for you! The half mask portion is made from standard neoprene what will form fit your face and keep it warm.
The scarf section being made from 200 wt Polartec® fleece will keep your neck warm on those freezing cold days on the slopes.
The opening for your nose is large enough to allow you to breathe easy and not fog up your goggles. I like that it comes in four sizes so you can get the perfect fit, making it ideal for kids.
The mask is waterproof and has breathable liner so if you start sweating it will be able to evaporate. It has a velcro closure for easy on easy off and the perfect fit, hard to go wrong here.
---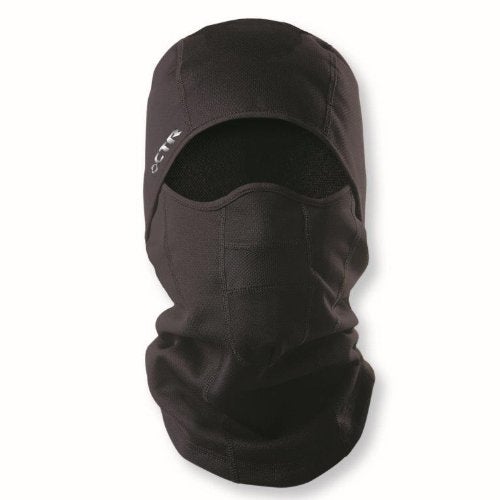 Finally, we're going to take a look at a fully windproof balaclava with a hinged upper and lower construction. One of the biggest drawbacks of windproof balaclavas is the buildup of wet breath.
Fortunately, this balaclava takes that into account with a dedicated mesh breathing patch around the mouth to let out breath without letting in too much air.
The issue with just putting holes in a balaclava is that they let in the wind, snow, and other nasty weather. By using a mesh breathing panel, however, you can allow the passage of breath and fresh air without directly letting in the cutting, cold wind.
You'll also be able to tuck this balaclava inside your coat to keep everything tightly wrapped up. Elongated neck segment is flared at the end to help drape over the shoulders and tuck well inside the jacket.
Overall, this is the best balaclava for extreme cold and a great choice for the seriously nasty weather you might encounter in extreme conditions.
---
How to Choose the Best Ski Mask
I personally own several different balaclavas – a thin merino one for running, a thick windproof one for the coldest windy days on the mountain, and a few in between for other levels of activity.
Choosing the best balaclava is based on users' needs and activities but we've suggested few of our favorites.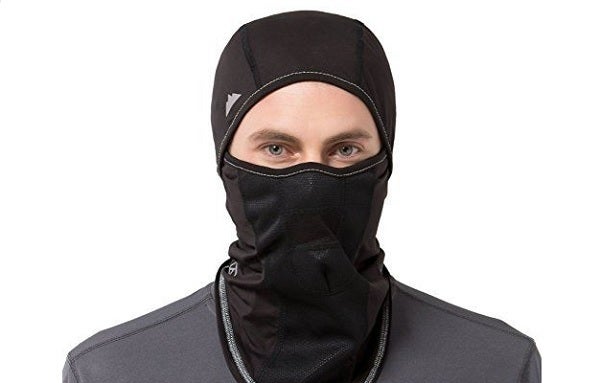 Design and material are the two biggest assets that any balaclava can have. Why's that? Because it's the combination of these two factors which makes or breaks a balaclava.

Material
When picking out a balaclava you'll have to choose between a few different materials though many fail to spend adequate time understanding the differences.
Polyester
Great at wicking moisture and drying quickly
Often builds up "stink factor" from breath and wear more quickly
Good lightweight material choice
Nylon
Can be woven tightly to be windproof
More durable than most other outdoor fabrics
Often used in combination with other fabrics as a blend
Merino Wool
Great moisture wicking
Odor resistant
Overall best choice for most applications
Neoprene
Windproof
Highly water resistant
Doesn't let the breath escape well
Design
Balaclavas are, by design, meant to cover the head, face, and mouth. Usually they only leave an opening for the eyes and sometimes they leave mouth and nose "breathing" holes.
In today's market, however, you'll find "mask" type designs which cover only the cheeks and mouth. You may also find convertible balaclavas which are meant to function as neck warmers, masks, and balaclavas all in one.
I'll describe a few ideal designs for different wearers:
For the Helmet Wearer
Most ski and snowboard helmet wearers (or winter mountaineers) will want one of two options:
Thin merino wool balaclava
Removable "mask-only" balaclava
I find that thicker material under my helmet really bothers me and often causes headaches. Further, the added material makes many helmets fit improperly or function unsafely. Either choose a thin balaclava or a face only, removable type mask with an adjustable Velcro strap.
For Full Protection
If you're not wearing a helmet and want full head protection, then you'll want a traditional balaclava to cover the head, face, and mouth.
When choosing this type of protection, you'll probably want to either wear a hat over the top portion for extra warmth or you'll want to choose a thicker balaclava that's entirely windproof.
Be careful choosing a windproof balaclava, however, as they're almost always waterproof as well. This means you'll want breathing holes or you'll be marinating in stinky breath by the end of the day.

Conclusion
When it comes to balaclavas, warmer is not always better. Even in the nastiest winter conditions, most physical activity will keep you warm enough to only need a thin balaclava.
When the serious weather hits, or if you're riding a snowmobile or motorcycle in cold weather, you may need a dedicated windproof balaclava.
You'll definitely need to choose based on your level of activity, weather conditions, and personal preference. We've offered up a choice to meet everyone's different needs so pick the best face mask for you!
---
I hope this guide was helpful for finding the best ski mask balaclava to fit your needs. If you want to comment or recommend a mask I didn't include, please use my contact form to get in touch.
New to skiing? See my beginners guide to skiing for tips and advice.
Have fun and enjoy your day on the slopes!
Notice: Outside Pursuits is a participant in the Amazon Services LLC Associates Program, an affiliate advertising program to provide a means for sites to earn advertising fees sold through by advertising and linking to Amazon.com. Amazon offers a small commission on products sold through their affiliate links. Each of your purchases via our Amazon affiliate links supports our efforts to bring you the best possible product reviews at no additional cost to you. We appreciate your support here at OutsidePursuits.com