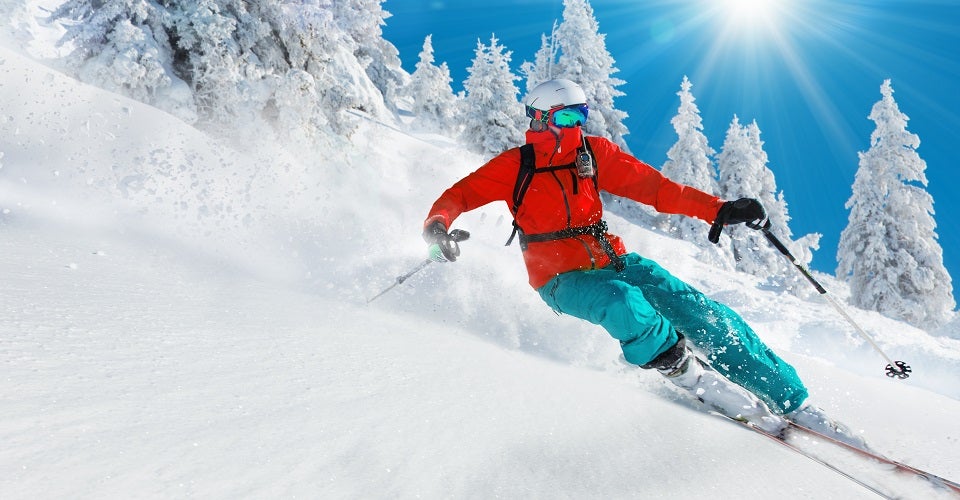 Our Editors independently research, test, and rate what we feel are the best products. We use affiliate links and may receive a small commission on purchases.
I still remember trying to understand the world of skis when I was about to get my first set! It was a fun, yet confusing journey through the world of ski types.
Unfortunately I got it wrong and ended up on a pair of skis that were difficult for me. I changed skis, and boots, soon after when I realized my mistake but it was costly.
So, how can you find the best all mountain skis without making the same mistake? Today we're going to cover all mountain skis, how to choose them, and which ones are worth your time.
If you're wondering what, exactly, an all mountain ski is and who should be skiing on this type of ski you're in luck! That's one of the most important factors we'll talk about next.
As a certified alpine ski instructor with over 500 days on skis in the last 6 seasons, I know what makes a great ski work.
Best All Mountain Skis
| | Head Skis USA Kore 105 Ski | Elan Ripstick 116 Ski | Head Skis USA Absolut Joy Ski |
| --- | --- | --- | --- |
| | | | |
| | | | |
| Underfoot: | 105mm | 116mm | 78mm |
| Turn radius: | 17.8m | 19.5m | 2m |
| Lengths available: | 171 – 189cm | 185 – 193cm | 143cm – 168cm |
| | Backcountry.com | Backcountry.com | Backcountry.com |
For more of my ski gear recommendations, have a look through these popular Outside Pursuits guide links: Ski Goggles, Helmets, Gloves, Poles, Backpacks.

Quick Answer: The Best Rated All Mountain Skis
Our reviews of the top rated all mountain skis with our comparison table and guide will help you choose the right pair of skis.
---
All Mountain Skis Reviews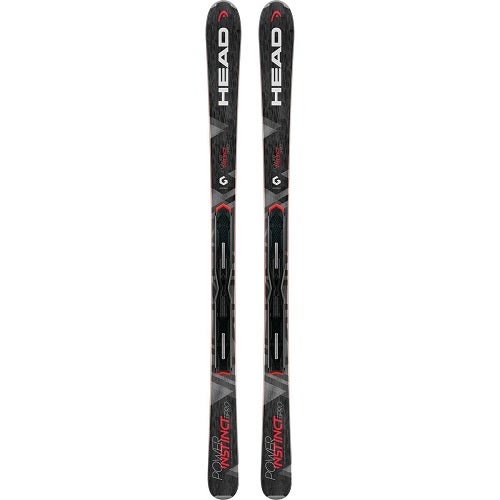 Head Skis USA Kore 105 Ski at a Glance
:
---
Underfoot: 105mm
Turn radius: 17.8m
Lengths available: 171 – 189cm
There's no doubt – after well over 100 days a season on skis I've settled on Head as my pick for the top ski manufacturer. Hands down.
That's why this aggressive all mountain ski makes our top pick. It's a powerhouse that can shred anywhere.
If you want a ski that's wide enough to float but cuts hard enough to rip carves on even the nastiest crud, look no further.
With a wood core and graphene laminate the ski is light and relies on titanium to keep things locked down.
You will need to come up with your own bindings for these skis. The rail is pre-mounted but the bindings are not.
True to Head's aggressive skiing nature you're looking at a deeply cambered ski with a mostly flat tail and an early rise tip. Make no mistake, this ski isn't for novice skiers – you'll have to learn to tame this beast if you expect to unlock its secrets.
Best for beginners who want to quickly become intermediate to expert skiers and willing to put in the time to learn this advanced ski.
Check out the Head Ti's latest price on: Backcountry.com
---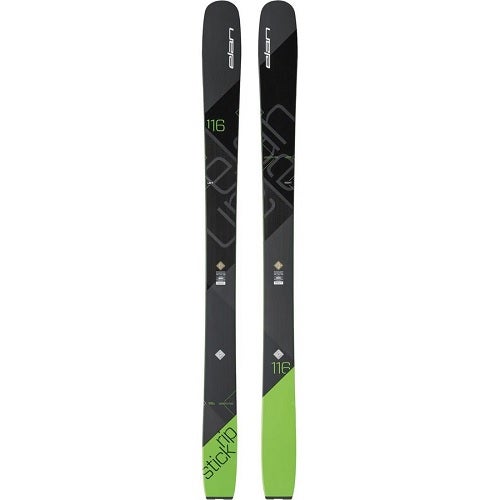 Elan Ripstick 116 Ski at a Glance
:
---
Underfoot: 116mm
Turn radius: 19.5m
Lengths available: 185 – 193cm 
Elan is a brand that's been making skis that go unnoticed to US skiers for too long.
Their skis are among the most responsive and fun sticks to hit the mountain with and the Ripstick 116 is a perfect all around one ski quiver.
This ski is no doubt meant to float and thrash off-trail much more than the Head Kore.
It starts at a much longer 185cm minimum length which means no matter which version of this ski you end up with, it's going to want to rip and float in the powder.
On top of a longer overall length, the Elan Ripstick 116 is wider underfoot. That means more stability. Make no mistake though, it's going to take more effort to get this ski to tip on edge.
Elan is well known for their highly responsive slalom skis. Thanks to that, if you push it, you'll find that the relatively wide tip and tail cause this ski to rip a tight turn. Luckily, it's also available in a women's model and a narrow model.
Best for off-trail explorers who find themselves wanting to push the limits on the groomers.
Check out the Elan Ripsticks latest price on: Backcountry.com
---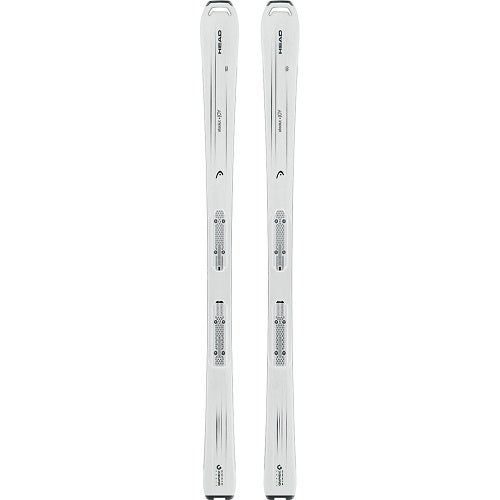 Women's Head Skis USA Absolut Joy Ski at a Glance
:
---
Underfoot: 78mm
Turn radius: 2m
Lengths available: 143cm – 168cm
Ladies, this one is for you. Head makes the Absolut Joy ski entirely too much fun to rip all over the mountain.
I've heard and seen nothing but great performance reviews on this ski by my fellow alpine instructors. It's one of the best ways to shred the entire mountain!
There's no doubt – Head know how to make a world class GS ski and they love doing it.
Borrowing many of the design elements of their top line of Supershape skis, the Joy ski can really cut trenches!
Be ready though, the leg crushing 10 meter turn radius requires skill to unlock!
With a composite core and graphene layers, this ski achieves enormous power to dig arcs while staying lightweight.
And, while it is narrow underfoot for most skiers, the early rise tip and generous tip width make it easy to stay up in the powder.
This one is best for the ladies who want to show everyone around them what good skiing looks like.
Check out the Head Joy's latest price on: Backcountry.com
---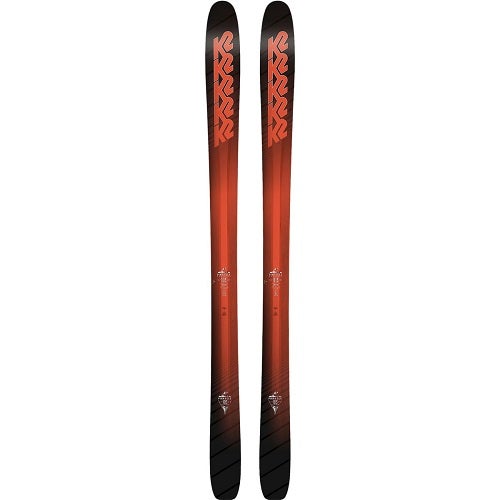 K2 Pinnacle 105 Ski at a Glance
:
---
Underfoot: 105mm
Turn radius: 19m
Lengths available: 170 – 191cm
K2 makes a great ski that you'll be hard pressed to beat for performance at a value price.
While the 105mm underfoot width might be wide for some, I know there are plenty of skiers who value the fat board trend.
Of all the skis we've reviewed so far, this one is by far the most suited to floating and slashing pow lines on a dumper day.
This is a seriously long and fat ski that's got just enough performance left to cut in on the groomers.
The problem with many big mountain freestyle skis is that their enormous width and rockered profile make them chattery, hard to control, and dangerous on groomers.
K2 left just enough sidecut and camber in this ski to keep you in control on hardpack.
Meanwhile this ski is just begging to send it down a line of fresh powder with all the float of a trusty pontoon boat.
Best for skiers who ride the groomers just to get into the backcountry.
Check out the K2's latest price on: Backcountry.com
---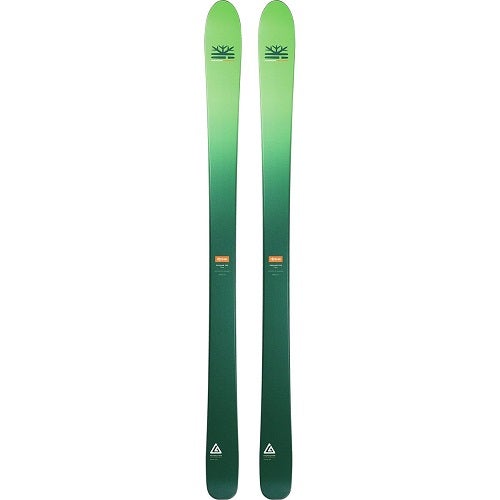 DPS Skis Cassiar Alchemist Ski at a Glance
:
---
Underfoot: 94mm
Turn radius: 20m
Lengths available: 165 – 191cm 
DPS is a relative newcomer and boutique ski maker that has "carved" a real segment of the market.
They're known for their fat skis that tend to favor the all mountain and freeride style of alpine enjoyment.
Let's be clear, while DPS advertises this ski as a "short turn radius" we all know 178m isn't short. However, it is stable at speeds and floaty in the powder when things get a bit deep.
After all, that's what many of us really care about anyways, isn't it? Among the skis on our list, this one stands out for its partial twin tip.
When I say that, I mean that the rockered rise in the tail makes this ski a little easier to tip out of a turn and also provides a platform for moderate switch skiing.
Although this is definitely a ski that's on the "fat" side, it can handle some crud and hardpack too. Thanks to the cambered profile underfoot and the slimmer 94mm waist you can get a bit of an edged turn in with these.
Best for a little bit of everything where agility on the groomers doesn't matter much.
Check out the DPS's latest price on: Backcountry.com
---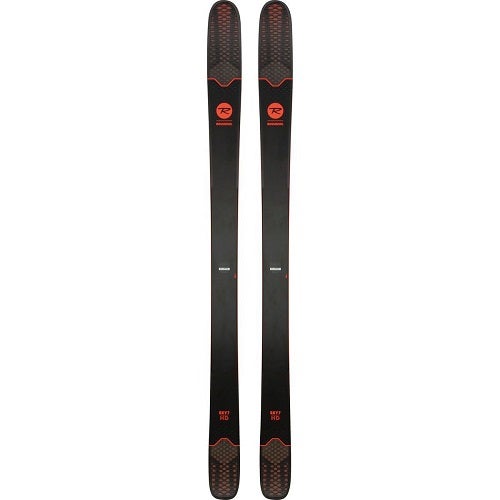 Rossignol Sky 7 HD Ski at a Glanc
e:
---
Underfoot: Not specified
Turn radius: 18m
Lengths available: 156 – 188cm 
Rossignol has been making skis for ages and they're among the most stalwart manufacturers available.
I think any skier would be hard pressed to go wrong with a pair of Rossi's but the Sky 7's are particularly well-rounded.
Rossignol started rocking the tech in these skis a few years ago. They're a heavily rockered tip ski that's lightweight and narrow waisted.
That means you can float in the powder or coax them on edge to carve a turn.
With a 95mm waist it's going to feel like work getting them up on edge, but once you do they're going to lock in.
Inside the carbon alloy matric keeps this relatively wide ski stiff enough to maintain its bite. Meanwhile, the entire ski is lightweight enough to float through the powder with an impressive 128mm tip that stays near the surface.
Ladies check out the Rossignol Sky 7 HD Ski – Women's
Best for tackling resorts that have a reputation for dumping feet of fluff at a moment's notice.
Check out the Rossignol Sky's latest price on: Backcountry.com
---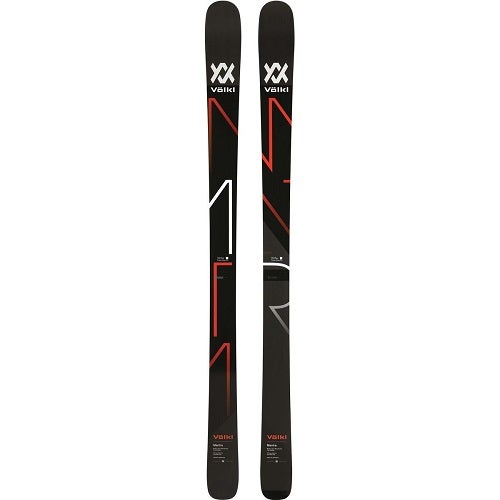 Volkl Mantra Ski at a Glance
:
---
Underfoot: 96mm
Turn radius: 5m
Lengths available: 170 – 191cm
Volkl is a maker that doesn't get as much headline time as I think they deserve.
The Mantra ski in particular, however, has been well loved thanks to its wide hips and tendency to rip pow like butter.
With a hide waist and a full rocker profile, this ski clearly prefers to be off trail and slashing powder. That's not all it has in store, though.
We have the relatively generous sidecut to thank for this skis' ability to tip over and rip.
Inside the titanium laminate makes the ski poppy and powerful enough to dig in. However, unlike a heavily cambered ski, it will still ride high in the powder and feel buttery playful.
Ladies check out the Volkl 100Eight Ski – Women's
Best for those who just can't resist the fat ski trend but see the need for some shape on trail.
Check out the Volkl Mantra's latest price on: Backcountry.com
---

All Mountain Skis Comparison Table
How to Choose the Best All Mountain Skis For You
Get ready, we're going in depth to answer your questions and make sure you get set up with the right all mountain skis for you!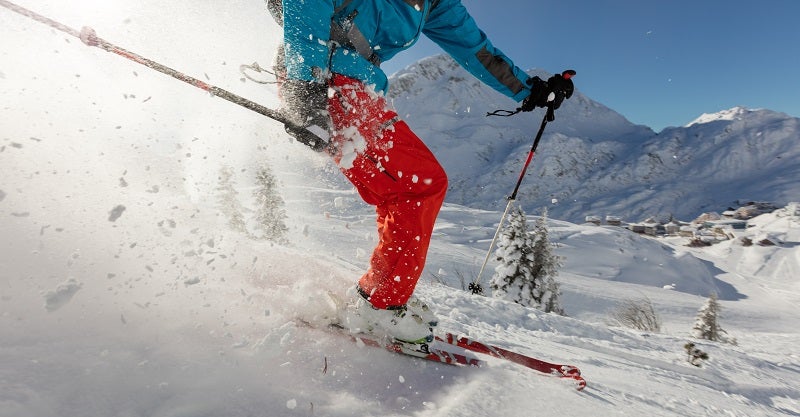 What Are All Mountain Skis?
This is an important first question – what sets all mountain skis apart from other types?
All mountain skis are meant to tackle many conditions and skiing styles with a "one-ski-quiver" idea. These skis are skinny enough to rip groomed runs. They have enough tip rocker and width to float in off-trail conditions. They're also snappy enough to edge in the crud.
All mountain skis, from a technical standpoint, are crafted to mix and blend characteristics of powder skis and carving skis. They also often have a partial twin tip so you can ski them switch when necessary.

Should You Use All Mountain Skis?
All mountain skis are a great choice for people who don't know exactly what kind of skiing they are going to do. Unlike specialized skis, all mountain skis can perform moderately well in almost all conditions.
Specialized skis can be hard to control for many skiers in conditions where they aren't meant to excel.
If you're skiing all of the mountain then an all mountain ski might be good for you. Many skiers tend to stay just on the groomed ski runs. In this situation a narrow waisted, short carving skis might be better.
If you're skiing park all the time, a dedicated symmetrical twin-tip would be better. If you're skiing backcountry, a dedicated powder ski would be more ideal.
For skiers who ski outside the ropes in the morning and then shred groomers in the afternoon, an all mountain ski might be the best middle ground.
Characteristics of All Mountain Skis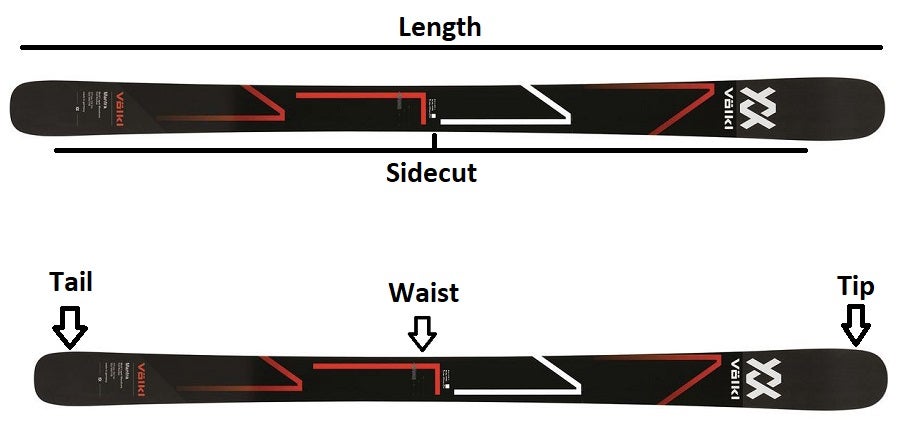 In order to find the perfect all mountain ski, you'll want to understand a few ski mechanics. We'll cover them here in brief, but know that there's a lot of depth to fully understanding ski mechanics.
Tip & Tail refer to the front and back of the ski respectively. Usually this is in reference to width or rocker (the upturned shape of a ski).
Waist refers to the area of the ski underfoot where the bindings are usually located.
Bindings are the mechanical attachment point where the boot is held to the ski.
Sidecut refers to the difference in width between the tip/tail of the ski and the waist. Sidecut affects turn radius and float, among other characteristics.
Turn Radius refers to the size of a circle that a ski would make if it were to be edged through a full turn. Turn radius can be affected and controlled by a skier's input.
Ski Profile will be some combination of rocker and camber.
Rockered skis are upturned, like a banana, at the tip and tail. Cambered skis are bent upwards in the center with the tip and tail on the ground.
Overview of Rocker and Camber from Evo.com
What is Ski Rocker? And How to Choose The Right Type
All skis have some combination of these two – usually rocker in the tip and tail and camber in the center. Some rare skis are fully rockered – usually for park or powder skiing.
Understanding how these characteristics affect the ski is important. However, all mountain skis generally blend these characteristics for you.
Ski Waist (Underfoot)
We touched on some of these topics above but now let's dig in a little deeper.
One of the specs we give you is the "underfoot" size measured in millimeters. Simply put the waist or underfoot is the middle of the ski or the narrowest part of the ski. Modern skis have gotten wider over the years because they offer more control especially in powder conditions.
Lets look at some underfoot sizes and what they are best used for:
80-90mm – Groomed Run Skis
If you ski primarily where it's a lot of man made snow and fresh powder dumps are not common, a narrower underfoot will serve you best. A narrower underfoot will give you better control under packed powder and icy conditions. The narrow waist allows you to "dig" in your edges to avoid sliding. If you "lose your edges" you are most likely going to fall.
90-100mm – All Mountain
This range is a good compromise between a "groomer" ski and a powder ski. They will give you good control and ability to cut into ice and packed powder and enough "float" in powder conditions. They won't perform great in either but pretty good and that's what were looking for: a one quiver ski that can go anywhere.
>100mm – Powder Skis
If you are fortunate to ski in powder conditions most of the time like in Steamboat Springs, you are going to want a wider, powder ski. Wider skis are going to float or stay on top of the powder than a narrower ski. Skis with an underfoot of over 100mm will perform poorly in packed powder and icy conditions that are frequent in the Northeast.
Be sure to pick a ski that matches your most skied conditions or just get multiple pairs of skis so you always have the right ski for the conditions.
Profile
Skis all have a "profile" which just refers to the shape of the ski. A strictly flat bottomed ski is pretty rare nowdays and do have their place. We are going to talk about camber, rocker and mixed camber/rocker.
Camber
By far the most common design for skis. This design is where the tip and tail of the ski is bent slightly down from the center of the ski. When you place them bottom to bottom there is a space in between them.
This design is ideal most conditions except for deep power. The camber design gives you excellent control because the ski edges are able to dig into the snow or ice. It's still a good design for all mountain skis but the newer mixed rocker/camber has now taken over.
Rocker
This design for skis is the exact opposite of camber. Here the tip and tail are bent or raised slightly up. A full rocker design is usually reserved for deep power skis only. If you are a backcountry skier or tree skier these types of skis may be for you.
Mixed
A mixed rocker/camber profile is the latest design of new skis. Typically this is accomplished with a rocker on the tip, meaning its is slightly bent up allowing it to cruise through powder and the tail bent slightly down allowing you to dig your edges in on packed powder/ice. It's an excellent compromise and most ski manufacturers are going in this direction.
Side Cut
The side cut radius or turn radius is simply a measure of how fast the ski will turn. A smaller number means the ski will make a tighter turn and makes a better mogul ski where quick tight turns are needed. Whereas a longer turn radius makes longer more sweeping turns better suited to blue cruiser runs.
An all around ski as you can imagine somewhere in the middle so it turns relatively quickly but would not be suited for moguls. However be a good ski for groomed blue skill level runs.
Ski Stiffness
Here your skill level is the most important factor. A stiff ski is stable at the high speeds that you will encounter on black diamond runs but harder to control and turn. This is not a good combination for beginners.
A flexible ski is best suited for beginners as it is easier to control and make turns. However will flex and shake at higher speeds. Stiffer skis tend to be heavier due to the incorporation of metal to give it the added stiffness. As a result harder to turn and control.

Finding Your Ski Length
For an all mountain ski, the best way to find your ideal ski length is easy. At minimum you need a ski that is as tall as your collar bone. This is a very short ski, but acceptable.
A ski this short will be fast, agile, and easy to control. It may struggle to stay afloat in powder, however and may feel squirrelly at speed.
At the longest you would probably go with a ski that is about as tall as your eyebrows. With one end of the ski on the floor, the other end should go no higher than your eyebrow line.
This ski length would be quite long, but stable at speed and showing good float in powder. However, they will be harder to turn and control than a shorter ski.
If you're not sure, go with a ski that's about as long as the distance from the ground to your chin or lips. This is usually measured in centimeters.
How to choose a ski length from Evo.com
How to Choose the Right Size Skis
Finding Your Ski Width
When it comes to all mountain skis, ski width is usually going to be most important underfoot. This measurement will generally range between about 75mm – 100mm. Of course, this is slightly subjective so use these as rules of thumb.
To figure out what width is most ideal for you I would go with this:
Narrower skis are more agile. They respond better on groomed trails and they really grip and rip! These skis are ideal when you want more agility, faster handling, and ski on groomed runs more than off-trail.
Wider skis float better. They are harder to turn and edge, but you get a lighter float in the powder. These skis are for the skier who prefers to ski trees, off trail, and in the side country while still hanging with friends and family on groomed trails.
Frankly, you'll be hard-pressed to make a wrong choice as long as you stick within these guidelines.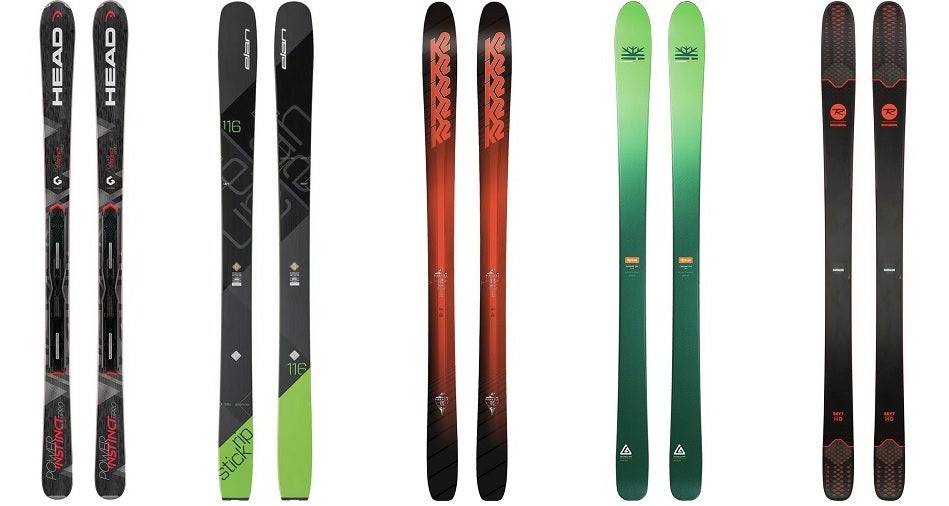 FAQs For All Mountain Skis
Q: Is there a perfect ski for everything?
A: When I bought my first skis I sought out the "one ski quiver" just like everyone else. Attempting to save money only cost me more.
Skis are like any good tool – you need the right one for the job. If you want to ski powder, you need a ski that's good in powder. Same goes for ripping slalom courses – you'll need a slalom ski for that. Of course you need to also mix in your personality and preferences before deciding.
I'm of the mind that there's no perfect ski. However, an all mountain ski that blends performance characteristics can make a great everyday ski for many casual beginner – advanced skiers. Experts will, of course, have specialized skis for each situation.
Q: How do I know what width and length to get?
A: If you're not sure just remember this:
Longer skis are more stable and float better in powder
Shorter skis are easier to learn on, more agile, and easier to turn
Wider skis float better in powder
Narrower skis are easier and faster to edge
Every decision you make needs to be based on how you like to ski.
Are you fast and zippy, loving to rip your skis from edge to edge?
You want a shorter, narrower ski. Do you prefer to bomb everything in straight lines and hurtle through the trees like a kamikaze pilot with a death wish? You probably want a wider, longer ski.
Q: Is that ski too fat/skinny to ski on/off trail?
A: I hear this way too often. Skiers today have been convinced that certain skis "can't be skied off trail" or I'll hear, "You can't ski switch with that."
Truth is, if you talk to any skier over 40 years old, they'll tell you that skiers always used to shred everything on straight sticks. Sidecut is a new thing in skiing, 40 years ago every ski was straight as a board and 180cm long or more.
Don't let people, magazines, or ski movies make you think that you can't ski certain skis in certain conditions. I've ripped waist deep powder on a pair of 72mm GS skis. I've seen skiers on 95mm boards carve like Bode.
Remember, you're in control of the ski – not the other way around. Sure, certain skis can make your life easier when you're skiing in specific conditions. As you evolves as a skier, your choice of skis should too!
Just remember a good skier can adapt and overcome.
Q: Is an all mountain ski right for me?
A: If this is your first pair of skis, chances are really good that an all mountain ski is the right pick. Unless you know you're going out for the race team or solely want to rip backcountry pow with your buddies, you'll probably be best starting with an all mountain ski.
Pro tip: Don't start learning to ski by ripping pow with your buddies or racing – you'll get yourself in trouble.
Assuming you've been skiing for a while and you're feeling comfortable on blue runs, your choice of skis opens up. You may want to spend more time off trail or more time learning to carve those groomers.
If carving calls your name strongly, go with a narrow waist carving ski. If skiing off trail and looking for powder stashes is calling to you, then go with a wider waist all mountain or dedicated powder stick.
Most of us ski a little of everything with friends, family, and at different resorts. All mountain skis are the best way to be prepared for this until you enter the expert level and want several skis for different conditions.
Q: Do my new skis need a tune up?
A: Right out of the box your skis need to be mounted and set to your boot size. This is a task best done at a pro shop by a trained tech – unless you're trained. The bindings will also need to be
Most often out of the box your all mountain skis will have a dry base. They will need to be primed and waxed with an initial base prep wax before any skiing is done on them. This is very important for the long term health of your new ski bases.
After that, you can get those skis waxed for the conditions at hand and get out there!
Any ski shop worth their salt with a full service tech bench will follow this process if you take them your new skis. (Note: there can be minor variations to this process so be sure to work with a trusted pro.)
As you spend more time on those skis you'll need to have the edges sharpened regularly. A word of caution, however, is to find a shop you can trust or do it yourself. Your ski edges are consumed during each sharpening and when that metal is all ground away you will need a new set of skis – that's expensive!
Many poor quality ski shops will remove more metal from the edges than needed during sharpening. After all, it's quicker for them to just toss them through the machine. Besides, they don't care how fast your edges wear out…
What I'm saying is, don't get the wool pulled over your eyes!
Final Thoughts
At the end of the day, your skis need to be a reflection of you. Every ski can get you down the mountain, but the perfect skis for you will make it a trip in bliss. 
All mountain skis are great for any situation. They're not perfect at any one thing, but they're made to be sure you can tackle anything the mountain throws at you and be back to the lodge for chili fries without getting in over your head.
All mountain skis are the perfect choice for beginners all the way to experts who need a ski that can behave itself anywhere you put it. Whether you want to edge the groomers or butter the backcountry.
---
I hope this guide was helpful in picking a good pair of all mountain skis to fit your needs. If you want to comment or recommend a pair of skis I didn't include, please use my contact form to get in touch.
How We Researched
To come up with the best all mountain skis, we researched a variety of sources for reviews such as REI, Backcountry, Moosejaw, EVO along with our own personal experience.
We also consulted online magazines for product research and reviews to get as much unbiased information as we could. To help weed out fake reviews we used Fakespot.com to make sure we only looked at genuine reviews.
With so much quality gear available, we had to narrow it down based on what we felt were the best options were for the price. The author, Casey Fiedler was a full time ski instructor for Park City and The Canyons in Utah. 
To help narrow down the selection he used his personal experience along with recommendations from fellow ski instructors.
After extensive research, we came up with our list to help you choose the right one for you.
Sources
Notice:
OutsidePursuits.com is a participant in the Amazon Services LLC Associates Program, an affiliate advertising program. OutsidePursuits.com earns fees from products sold through qualifying purchases by linking to Amazon.com. Amazon offers a commission on products sold through their affiliate links.