Aren't hiking shirts the same thing as a regular shirt?
Well, no, they're not. Why's that? Because the best hiking shirts have special properties and characteristics to be effective.
Sure, we can hike in a normal cotton shirt on occasion but when we're backpacking or hiking on longer trips or extreme conditions, quality matters.
Most hiking shirts today feature a few technical similarities. For instance, flat sewn seams, polyester or merino wool fabric, and lightweight or layer-able construction are all important.
We're going to dig in to the details and what you should look for when you choose your next backpacking shirt.
For more of my top gear recommendations, have a look through these popular Outside Pursuits guide links: Hiking Backpacks, Hiking Shoes, Hiking Pants.
Were going to look at the:
Let's take a look at what options are available to you to get started hiking today, we've got a great list to get you started. Let's dive into it!
Here is a feature overview of my top rated hiking shirts with full reviews and our buying guide below.
Best Hiking Shirts
| | Columbia Men's Silver Ridge Long-Sleeve Shirt | White Sierra Women's Gobi Desert Long-Sleeve Shirt | Mountain Hardwear Wicked Short Sleeve Tee |
| --- | --- | --- | --- |
| | | | |
| Material: | 86% Polyester/14% Elastane | 100% Polyester | 100% Polyester |
| Sleeve Length: | Long sleeve with snaps to make it short sleeve | Long sleeve with snaps to make it short sleeve | Short sleeve |
| Type: | Button up | Button up | Pull over |
| Other: | UPF +30 | UPF +50 | UPF +30 |
| | | | |
---
Best Long Sleeve Hiking Shirts
You will find long sleeve hiking shirts come in two major varieties. First there's the nylon button up shirts common with fishermen and casual campers. There's also the tight-fitting polyester shirts popular with athletes, runners, and hikers.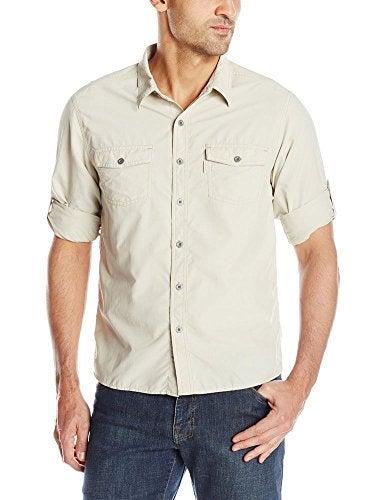 White Sierra Bug Free Sanibel Long Sleeve Shirt at a Glance
:
---
Sleeves: Long
Fabric:

Nylon

Design: Button up

Insect

Repellent: Yes
Other: Roll-up sleeves with button tabs, UPF +30
This is a nylon button up Men's hiking shirt with sleeve retainers. Perfect for that classic outdoor look and a great compliment to a canoeing or fishing trip.
I like these nylon long sleeve shirts for situations where I might want to keep sun or bugs at bay. The White Sierra is treated with Insect Shield that lasts for 70 washings that helps keep mosquitoes, ticks, flies, chiggers and midges away.
Overall I find that shirts like these are good only in certain situations. The nylon fabric can be a bit too abrasive for days of hiking with a backpack on. However, they've great for cutting wind, sun, and bugs.
I like to use them as a hiking supplement on day hikes or in conditions where the more robust nylon might help protect me. This is one of the best long sleeve hiking shirts for hiking through thick or scratchy brush.
Click here for the Women's White Sierra Bug Free Hiking Shirt.
---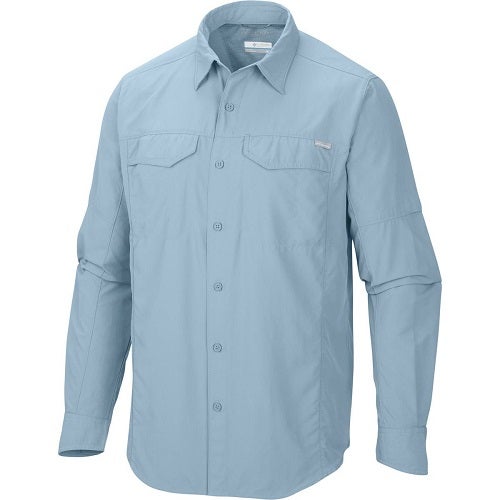 Columbia Men's Silver Ridge Long-Sleeve Shirt at a Glance
:
---
Sleeves: Long
Fabric:

Cotton

Design: Button up

Insect

Repellent: No
Other: Roll-up sleeves with button tabs, UPF +30
Similar to the last shirt we reviewed, this roll-up long sleeve shirt is different because it's polyester. Polyester is usually a bit more comfortable and soft than nylon and it's certainly better at wicking.
However, it's generally not windproof and can struggle to keep out bugs as well as the hearty nylon materials.
Columbia makes some of the best shirts for hiking with their great balance of value to cost and they rarely seem to make a product that misses a beat. Overall I would say this shirt has a bit of an edge in sunny conditions or conditions where you'll be getting wet often.
Polyester will allow better airflow to keep you cool in hot sunny conditions. It'll also wick and dry a bit faster than nylon.
Click here for the Columbia Women's Gobi Desert
---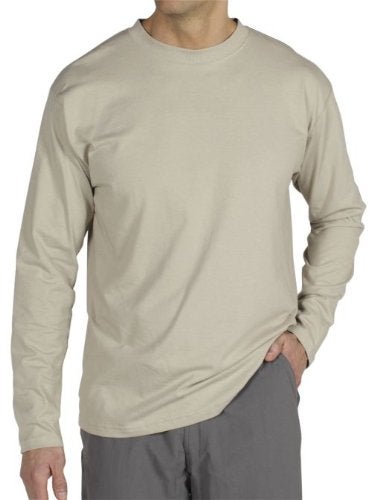 ExOfficio Men's BugsAway Chas'r Long Sleeve Shirt at a Glance
:
---
Sleeves: Long
Fabric:

Cotton

Design: Pull over

Insect

Repellent: Yes
Other:

Odor resistant finish

, UPF +30
This uncommon outdoor shirt material has an advantage over others in only a few situations. In this case, the shirt is made from cotton which retains more moisture and stays wet longer than other materials.
When is this actually a good thing in the outdoors? When it's insanely hot and you want to stay wet for a while. I'm thinking of those burning hot, dry August days in Michigan where it's great to take a dunk in the river and stay wet for a while.
This shirt is impregnated with bug repellent which can help to stave off bugs, ticks, and insects for up to 70 washings of the shirt. It's also treated to be odor-repellent to help keep those stanky pits at bay a bit longer.
Click here for the Exofficio Women's Bugs Away Chas'r Long Sleeve Crew
---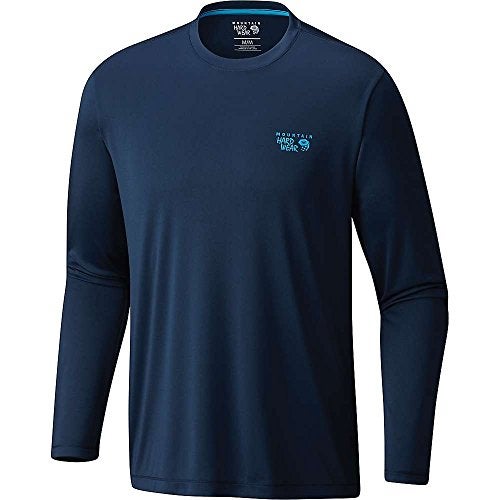 Mountain Hardwear Men's Wicked LS Tee at a Glance
:
---
Sleeves: Long
Fabric: 

Polyester

Design: Pull over

Insect

Repellent: No
Other:

Wick Q moisture

wicking fabric, UPF +30
This is the long sleeve version of the hiking t-shirts I've loved using for years. Mountain Hardwear has been making the Wicked series of shirts for years and they've been some of my favorites.
I love the soft polyester and I can say from experience that the material will stand up to years of hiking. While most hiking clothing is flat-sewn, Mountain Hardwear spares no expense in making their garments comfortable.
It looks like they've put in some reflective piping around the cuffs and collar which I like. A good choice for adventure racers, runners, or night athletes.
While they've included antimicrobial treatment in the fabric, I'm sure mine wore off years ago and these days my shirts are as stinky as any. Can't say a bad word about these shirts!
Click here for the Mountain Hardwear Women's Wicked Lite LS Tee
---
Best Women's Hiking Shirts
Ladies shirts truly are designed and shaped different than men's. As they should be. We all need the best gear we can find for hiking and these shirts deliver.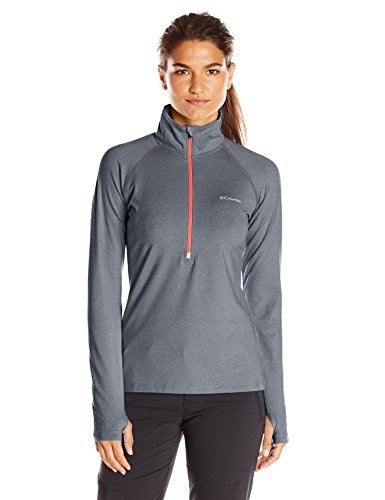 Columbia Women's Trail Flash Half Zip Shirt at a Glance
:
---
Sleeves: Long
Fabric: 

Poly blend

Design: Pull over with 1/2 zipper

Insect

Repellent: No
Other:

Thumb holes

, UPF +50
I love the half-zip long sleeve polyester shirt. I use these as an integral part of many of my seasonal layering systems and you'll always find a shirt like this in my pack. Flatlock sewn seams are great for all the reasons we've already mentioned.
One thing I like about this shirt is the thumbhole addition. I have a few shirts like this and, honestly, I haven't found a practical use for it other than putting your arms through other shirt sleeves.
It helps prevent the sleeves from riding up in those cases. Honestly, I just like using the thumbholes sometimes, and you may find they're nicer than you expect for comfort and convenience.
---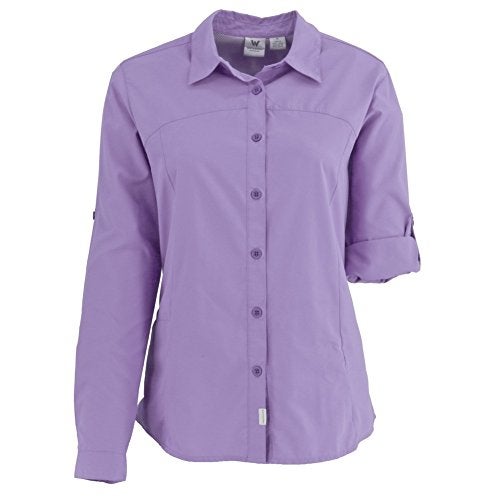 White Sierra Women's Gobi Desert Long-Sleeve Shirt at a Glance
:
---
Sleeves: Long
Fabric: 

Polyester

Design: Button up

Insect

Repellent: No
Other: Roll-up sleeves with button tabs, UPF +50
This one is similar to the Columbia Men's Silver Ridge. It's a polyester long sleeve with roll up sleeve options. This is pretty critical for these shirts in my opinion because the versatility is one of the biggest things they've got going for them.
I do like that they have a white option. This is my color of choice in a long sleeve outdoor shirt because it helps to keep the shirt cool when using it for sun protection.
Like the Men's White Sierra above, it is treated with Insect Shield to keep the mosquitoes, ticks, flies, chiggers and midges away.
On top of that, this shirt is engineered to shed heat. Polyester is lightweight and breathable and they included a mesh breathable vent in the back of the shirt, probably the best backpacking shirt you can buy.
---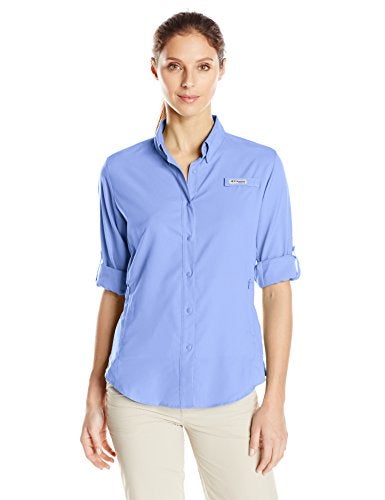 Columbia Sportswear Womens Tamiami at a Glance
:
---
Sleeves: Long
Fabric: 

Polyester

Design: Button up

Insect

Repellent: No
Other: Roll-up sleeves with button tabs, UPF +40
Another long sleeve convertible polyester shirt, this time from my trusty Columbia brand. Wicking fabric and sun protection are two of the biggest advantages of this type of shirt and it belongs on the water.
Around the beach or cottage, on a canoeing trip, or on a sun-exposed hike are the ideal locations for this particular shirt. In these cases, it would pay off to choose a light-colored fabric, as we mentioned earlier.
I like that Columbia puts in a mesh lined vent in the back of these shirts. Like the White Sierra above it helps to improve the shirt's overall performance in these nasty hot conditions. Combine with a wide brimmed sun hat for the perfect kayaking or canoeing shirt.
---
Best Short Sleeve Hiking Shirts
These are my favorite for summer hiking, running, and any performance sports. I like my shirts thin, breathable, and fast drying. That usually means only the best and lightest polyester shirts for me since Merino tends to be out of my personal budget.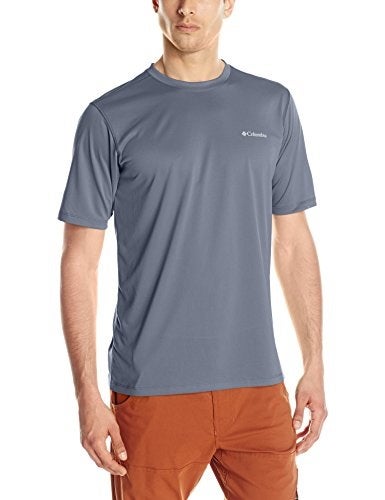 Columbia Men's Tuk Mountain at a Glance
:
---
Sleeves: Short
Fabric: 

Poly blend

Design: Pull over

Insect

Repellent: No
Other:

Wicking fabric

, UPF +50
Again, Columbia comes in with a nice polyester shirt at a great price. When it comes to making the best lightweight hiking shirts, Columbia tends to be one of my first stops.
Why? Because they know how to deliver the goods at an affordable price.
This stretch woven polyester shirt is going to wear like it's not even there. These are ideal for summer hiking or layering a clothing system from.
You'll love the overall airflow and breathability as well as nearly instant wicking. With a fully polyester shirt like this one, you can leave it sitting on a rock for half an hour and it will be dry as a bone!
Click here for the Women's Columbia Trek Shirt
---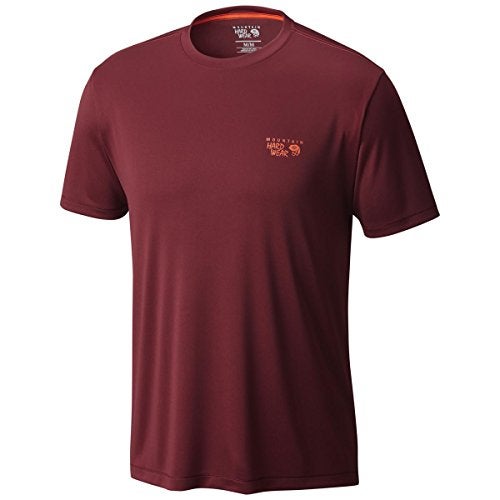 Mountain Hardwear Men's Wicked S/S Tee at a Glance
:
---
Sleeves: Short
Fabric: 

Polyester

Design: Pull over

Insect

Repellent: No
Other:

Wicking, antimicrobial fabric

, UPF +30
This is the updated version of the shirts I've used from Mountain Hardwear for years. I love the lightweight moisture wicking material. They did add reflective material to the shirt which is not necessarily a bad thing and it might as well be there.
One thing I like about MH is that they print their tags on the shirt instead of sewing in a tag. Why is this nice? Because with a fabric tag, even if you cut it off they often leave abrasive pieces of fabric sticking out. No one likes that! But not to worry with these shirts.
One user did complain of seams not being flatlock sewn but all of mine have always been flat-sewn and the shirt is listed and sold as flatlock so I'm sure it must have been an error on manufacturer or seller's part. The MH Wicked is one of the best hiking t shirts for the money, highly recommended.
Click here for Women's Mountain Hardwear Wicked SS Tee
---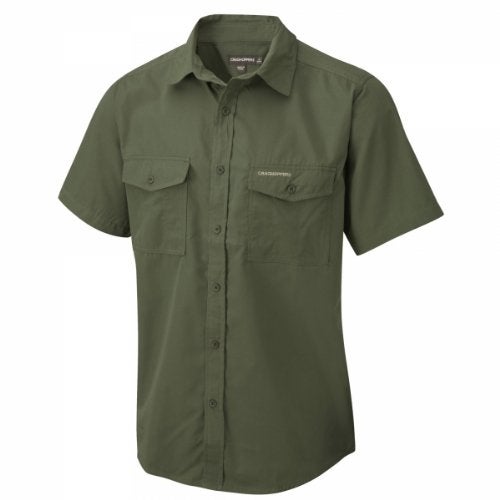 Craghoppers Men's Kiwi Short-Sleeve Shirt at a Glance
:
---
Sleeves: Short
Fabric: Polyester/ Cotton

Design: Button up

Insect

Repellent: No
Other: UPF +30
This one's a bit of an oddity when it comes to fabric. A polyester / cotton blend paired with the classic button up crocodile hunter style shirt.
When it comes to thicker, button up outdoor shirts I tend to prefer having long sleeves with the option to roll up. Why? It's just more versatile. Something to keep in mind.
Some features of this particular shirt are the wash and wear technology and the solar shield. Of course, anything that provides shade could be called "solar shield" but we'll give it to them.
Overall, I'd like to see a few more features in order for this shirt to make it my everyday hiking shirt. However, it is a great fall hiking shirt for short day hikes.
Click here for the Craghoppers Women's Darla Short Sleeve Shirt


---
How to Choose the Best Hiking Shirt for You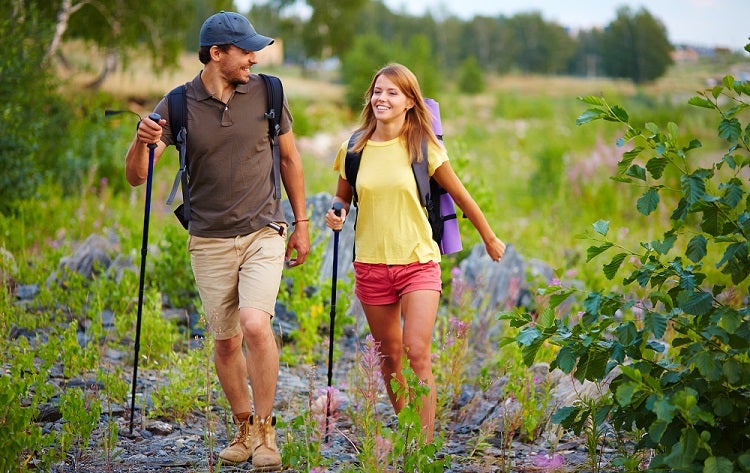 There are a few critical factors that I look for above others when picking out a hiking shirt. In fact, I'm so picky about it that I usually stock up on about half a dozen at a time when I find good ones!
You might even be surprised to learn that great hiking shirts don't necessarily come from big brand names. We just have to know what to look for!

Fabric Material Selection
There are really only two fabrics to choose from, in my opinion, when selecting a hiking shirt. Properties we want are lightweight, soft, durable, and moisture wicking.
These are critical properties to avoid chafing or problems with temperature regulation in rain or sweaty conditions. Let's take a look at the two fabrics that can achieve this for us.
Polyester
This is a synthetic manmade fiber that's popular for tons of sports garments. When you think of an UnderArmour shirt you're seeing polyester, blended with something called lycra (think spandex).
On occasion manufacturers will choose to use a polyester and nylon blend. Nylon may be added for increased durability because nylon fibers are much stronger than polyester.
Polyester is awesome because it's cheap, wicking, and effecting. It carries moisture well and dries quickly. The biggest drawback is that polyester can tend to get stinky more quickly than the next fabric.
Merino Wool
Merion wool is a unique type of wool that's sourced from select locations. The wool fibers have a hydrophobic (water-hating) shell and a hydrophilic (water-loving) core. Think of it like a straw.
The individual fibers wick and suck water and sweat away from the body through their cores where it evaporates from the outside of the shirt. Pretty cool!
With Merino Wool, the problem is that the fabric is very expensive compared to polyester and it's a little less durable. I've found that Merino tends to be susceptible to wool moths.
However, it is a better material overall if you can afford it and the fibers themselves resist the buildup of body odor quite well.
Nylon
This fabric type is unusual for a next-to-skin hiking shirt. It is common to find nylon woven in a blend with other fibers like polyester due to its overall addition of strength. Where nylon excels is in windproof applications and bugproof applications.
Nylon can be made to reflect wind as the fibers can lock out wind. This means no heat loss due to wind so it's a good outer layer choice.
Certain nylon garments can be made with bug resistant weaves and properties. It's been my experience that bugs such as mosquitoes still somehow manage to get through, but less often.

Fabric Weight
There's no one fabric thickness or weight that is ideal for a hiking shirt. We need to consider the other layers of garments you'll be wearing and the time of year you'll be hiking. I like have an ultra-thin long sleeve white polyester shirt for summertime hiking in sunny conditions.
In warm but shady conditions, I like to wear very thin polyester t-shirts. During wintertime, I prefer thicker merino wool long sleeve zipper neck shirts.
Consider all these factors when making a decision. If you plan well enough you may even be able to use your summer hiking shirts for winter with the addition of a few simple layers.

Seam Construction
This might seem nitpicky but trust me, it's important. You're looking for shirts with flat-sewn seams. Why? Because seams that stick up can cause chafing, blisters, or even just rub your skin raw. This is critical!
There are a couple areas where it's more important than others to be sure that your hiking shirt is smooth, flat and soft. Around your hips and waist where a backpacking hip belt might go is the first one.
Secondly around your arms and shoulders is critical. In both of these areas any seams that might stick out will cause rubbing and chafing that will hurt.

Zippers
Some hikers consider zippers on the shirt to be critical. I find that on my summer hiking shirts I usually prefer no-zippers. On long sleeve shirts, however, I prefer to have zippers.
Really all you need to do is understand that zippers provide a bit more temperature control without having to change shirts. If this is important to you or to the conditions you'll be hiking in then I'd advise you to put it high on your priority list.
---
I hope this guide was helpful for finding the best hiking shirt to fit your needs. If you want to comment or recommend a shirt I didn't include, please use my contact form to get in touch.
Have fun and be safe out there!
The White Sierra is our Editor's Choice as the best hiking shirt for both men and women with its combination of comfort, adjustability and quality.
OutsidePursuits.com is a participant in the Amazon Services LLC Associates Program, an affiliate advertising program. OutsidePursuits.com earns fees from products sold through qualifying purchases by linking to Amazon.com. Amazon offers a commission on products sold through their affiliate links.