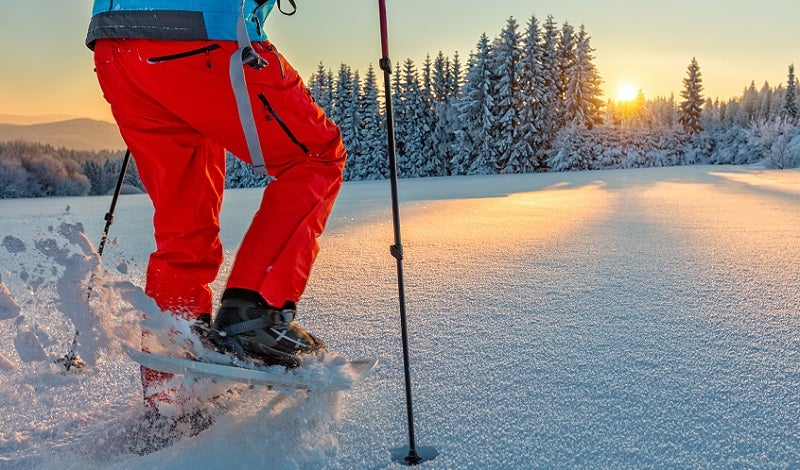 Our Editors independently research, test, and rate what we feel are the best products. We use affiliate links and may receive a small commission on purchases.
Snowshoes were once required gear for getting around in regions with heavy snowfall and harsh conditions. Snowshoeing today is a popular and accessible snow sport you can do for recreation and a cardio workout.
The equipment is relatively inexpensive, but your snowshoeing experience and performance will also depend on footwear. We have reviewed the five best boots for snowshoeing.
All of our picks perform well by themselves when walking or hiking in ice and snow weather, but they'll particularly serve you well in combination with snowshoes.
We'll give you our top selection of boots below and then go into further details of which features are important.
Best Snowshoe Boots
| | Salomon Quest 4D 3 GTX Boots | Columbia Bugaboot III Snow Boots | Merrell Moab 2 MID Waterproof Boots |
| --- | --- | --- | --- |
| | | | |
| | | | |
| Upper: | Nubuck leather & textile | Suede & synthetic mesh | Leather, nylon, webbing |
| Sole: | Synthetic sole | Rubber sole | Synthetic sole |
| Weight: | 22.6 oz | 24 oz | 29 oz |
| Insulation: | N/A | 200g Omni-Heat insulation | 400g Insulation |
| Other: | GORE-TEX waterproofing | Omni-Grip non-marking traction rubber outsole | M-Select DRY treatment |
| | | | |
For more of my gear recommendations, have a look through these popular Outside Pursuits guide links: Snowshoes, Hiking Poles, Cross Country Skis.

Quick Answer: The Best Rated Snowshoeing Boots
Our reviews of the top rated snowshoe boots with our buyers guide will help you choose the right pair of boots for you.
---
Snowshoe Boots Reviews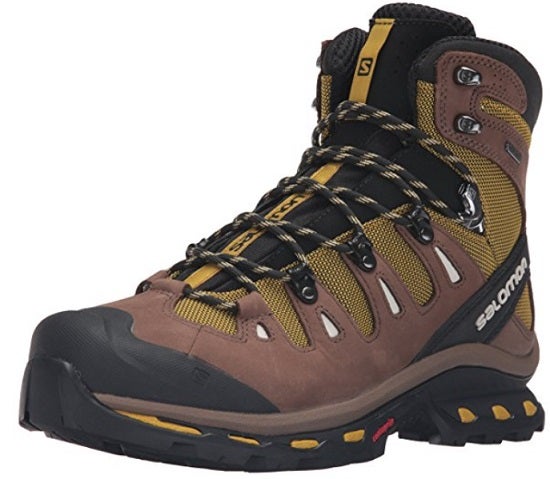 Salomon Quest 4D 3 GTX Hiking Boots at a Glance
:
---
Synthetic sole, textile and Nubuck leather upper
Removable, molded EVA footbed
Weight: 22.6 oz

GORE-TEX waterproof protection
The Salomon Quest 4D 3 GTX hiking boot is an aggressive, high-performance shoe where the manufacturer has improved upon the great qualities of the first generation.
You can rely on its water resistance with the Gore-Tex lining and trust that your ankle and foot will be protected. At a medium weight, you get high stability and support with excellent grip on a wide range of surfaces and even in snowy and icy terrain.
Salomon achieves this with an updated synthetic Contagrip sole and a layered interior with dynamic cushioning.
With a gusseted tongue, heel foam and strap, an ankle collar and a rugged lacing system with blocker, these boots are easy to put on and adjust.
They're comfortable from the beginning and will serve you well in a wide range of outdoor activities from hiking, trail running and backpacking to snowshoeing.
A minor downside are the many exposed seams and the uppers, which are composed of mixed materials and are on the flexible side. However, with a mud guard and toe cap, you're sufficiently protected for snowshoe application.
The Salomon Quest 4D 3 GTX will take heavy use in rough conditions all year long while keeping you comfortable and overall the best boots for Snowshoeing.
Women's Model: Salomon Quest 4D 3 GTX Women's Snowshoe Boot has all the great features of the Men's version but offers lightweight support specifically for female feet.

---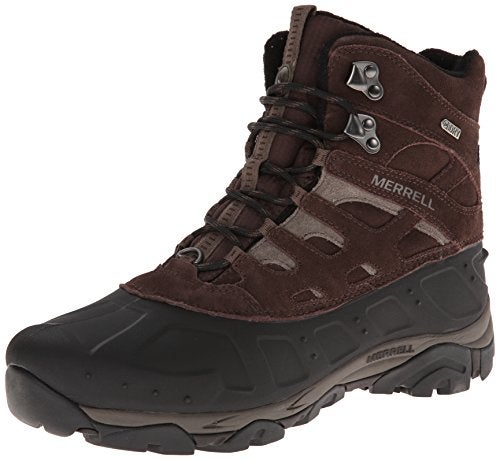 Merrell Moab 2 MID Waterproof Boots at a Glance
:
---
Suede with synthetic mesh upper
Removable, molded EVA footbed
Weight: 24 oz
The Merrell Moab waterproof boots are a reasonable budget option with good value. The manufacturer aimed to provide a comfortable hiking boot of low weight which you can wear all day, and they largely succeeded.
A protective waterproof shell keeps out the wetness while a low bulk insulation of polyester fibers keeps you warm. A special treatment on the inside keeps smells at bay.
A rubber outsole offers good grip on slippery surfaces but is less suitable for rocky hikes and scrambling over boulders. An EVA midsole and footbed support your feet and your ankle finds support in the nylon shank.
The upper from cow suede and mesh is flexible and leaves seams with the protective shell exposed. It's evident that the lower price on these boots comes at the cost of durability. The boots perform better in snow than in wet conditions.
Pay attention to the sizing as a small fit will give you cold feet faster. The narrow, silhouette fit could be a pain point but if you get the fit correct, these are among the best snowshoe boots.

---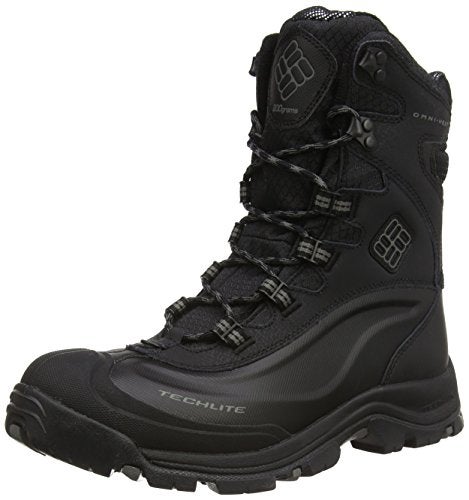 Columbia Bugaboot III Snow Boots at a Glance
:
---
Leather, nylon, webbing upper
Gusseted tongue
Weight: 29 oz

200g insulation with Omni-Heat
The Columbia Bugaboot III snow boot is waterproof, insulated against the cold and on the tall side for support and protection.
The upper is a durable mixture of nylon, leather and webbing and a gusseted tongue keeps snow out even in ankle-deep conditions. The Columbia Bugaboot is comfortable, yet slightly clunky.
The sturdiness is great for snowshoeing, but depending on your preference for those chilly days and harsh weather hikes, you might prefer a slightly more flexible shoe. The Columbia Bugaboot are by far the best snowshoe boots for your money.

---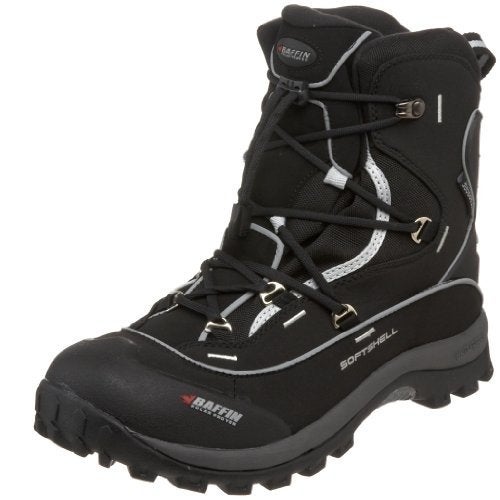 Baffin Snostorm Snow Boots at a Glance
:
---
Synthetic soft shell upper

Waterproof, breathable membrane

Single-pull lace system

Baffin B-Tek hollow fiber insulation
The Baffin Snostorm Snow Boot is a mid-height mode that's waterproof and insulated. The manufacturer lists a temperature rating of 50°F to -4°F, which is achieved with an ultralight hollow fiber insulation.
Water is kept out thanks to a waterproof yet breathable membrane. Stability and protection are provided by the ankle shaft, a TPU base plate and tendon guard.
The EVA midsole supports you and the Polar rubber outsole gives you traction, although it could be slightly stiffer for better performance, especially on rocks.
A quick-pull lacing system allows you to easily step in and out of these boots, and they hardly need to be broken in since they're softer than other models.
A light option in this temperature range, the Baffin Snostorm boots are good for snowshoeing, colder climate and backpacking trips in harsher conditions.
Women's Model: Baffin Snosport Women's Snowshoe Boot has very similar features and a Ladies sizing and fit.

---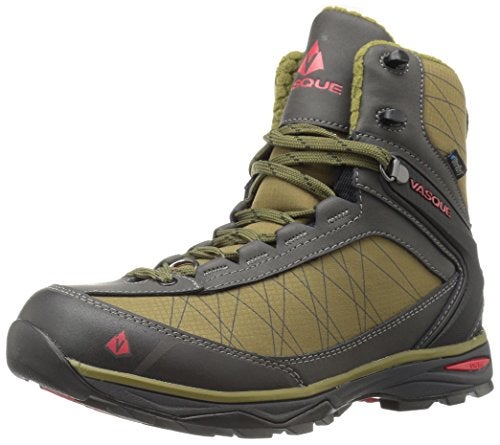 Vasque Coldspark Ultradry Snow Boots at a Glance
:
---
Leather, nylon, webbing upper
Speed-lacing loops & quick release hooks
Weight: 20 oz

200g 3M insulation
The Vasque Coldspark Ultradry Snow Boot is a lightweight model designed for hiking and snowshoeing in moderately cold conditions.
They feature a compound outsole for good grip, a molded EVA midsole and a dual density EVA footbed for comfort. The upper is composed of waterproof leather and a soft shell.
As a result, the shoes don't need serious breaking in and are comfortable from the start. In terms of performance, they're great for fast hikes in moderate conditions.
Stability is sufficient thanks to the shaft and a molded rubber heel kick. However, the soft exterior is a downside: it lacks rigidity and can collapse when you attach snowshoes or microspikes, depending on the system for attaching them.
This can lead to discomfort and pressure on the toes. In addition, in slushy and wet conditions, the upper becomes soaked and can compromise the waterproofing.
Their grip on snow and ice is good and you have sufficient room for thick, warm socks. These shoes are not heavy-duty, but are a reasonable choice if you value comfort in the cold weather.

---
How to Choose the Best Snowshoeing Boot For You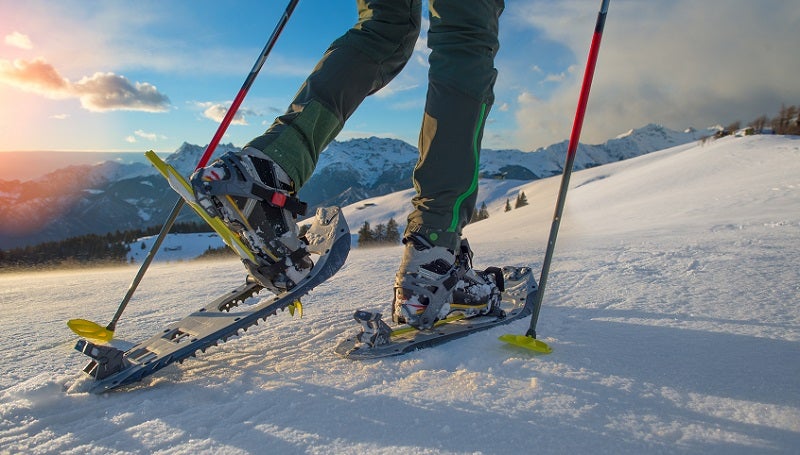 Snowshoes come in different types for flat, rolling or steep mountain terrain, and your gear should match conditions. Similarly, your snow boots should work well with your specific snowshoe model.
For challenging terrain and in most cases, sturdy and rigid boots work well, but there are lightweight and low-impact snowshoes which work best with the softer, lightweight models (sometimes called fast-packing).
In addition, you'll want to look for insulated, waterproof boots with thick soles and rubber or leather uppers and enough room for thick socks.

Key Considerations For Snowshoe Boots
A good snow boot for snowshoeing keeps your feet warm and dry and prevents you from unnecessarily expending strength and energy thanks to the following features:
A good and secure fit ensure your feet stay within the boots, while a sturdy upper allows you to tightly attach the snowshoes without compressing the footwear, or putting pressure on your feet.
A stiff sole allows for optimal transfer of energy, properly binding your boot to the snowshoe and of course, your boots should be waterproof and insulate your feet.

Warmth
In the colder months, you want to stay warm, of course. Boots keep your feet toasty with a combination of insulation and a liner. The material traps your body heat inside while keeping the cold out.
To save weight, manufacturers tend to use 100, 200 or 400 grams of synthetic. On some models, you'll find a reflective liner that further increases warmth.
Also keep in mind that your blood needs to circulate for your feet to stay warm, so sufficient room and an adequate fit are crucial.

Waterproofing
To keep moisture out, snowshoe boots feature a barrier. Usually the sole acts as a bottom layer, whereas material on the upper repels water from the top.
This can be a waterproof upper such as leather or a membrane from synthetic fibers. Snow boots usually do a better job to protect from frozen water such as ice, snow and slush, and from liquids such as puddles and rain.
Most boots feature a combination upper with both leather and synthetics in order to maintain breathability. The tongue of a shoe further helps keeping frozen water out.
Once moisture gets inside your shoes, your feet will quickly become cold, depending on the liner. Opposed to synthetic material, a liner from felt or sheepskin continues to insulate even when wet.

Fit & Comfort
The proper fit will not only influence the comfort of your boots, it's also essential to provide protection for your ankles and toes. In terms of height, snowshoe boots should at least cover and secure the ankle.
The deeper the snow, the higher the shaft should be to keep out snow. Full height to the knee is overkill, though, since the purpose of snowshoes is also to prevent you from sinking in too deep into the powder.
If you feet move around too much, you'll tire out quickly while snowshoeing. Yet you need enough room for thicker socks and to maintain circulation. Compression will chill your feet – they need "breathing space."

Stability & Stiffness
A sturdy, non-compressible upper is good so you can fit snowshoe bindings tightly and securely and prevent your footwear from shifting.
A soft toe box can become squished by binding straps, which will cut your circulation. With a sturdy and stiff outsole you don't waste energy flexing the boots inside the bindings.

Traction
When snowshoeing, your traction depends on your equipment. As outlined earlier, a thick and rigid boot sole helps transfer energy better. Apart from that, you'll want to pay attention to the sole of your snow boots for when you go outside without snowshoes. Softer rubber grips well on snowy surfaces and ice. Deep powder and rocky patches and trails call for a more sturdy sole. Manufacturer compromise by a combination of materials and a stiffer central area of the outsole. An additional midsole provides support for your feet.

Extras
These are non-essential, nice to have features. Many manufacturers make it easy to get in and out of the boots with a quick-lace system and sometimes include a heel strap for slipping them on. Insoles are mostly removable, which helps when you need to dry and air out shoes. On some models you'll find means to attach gaiters or features that complement snowshoes, such as a toe cap.

Care and Maintenance
Maintenance on snowshoe boots is minimal, but if you wear them in town, pay attention to salt or chemicals on sidewalks and remove any accumulation as they can be aggressive to your boots.
The liners on the reviewed snowshoe boots are fixed, and removable ones are usually a feature of heavy-duty expedition boots only.
Waterproof boots that become wet inside from either sweat, snow or ice will stay wet for a while. Pat them dry and stuff them with newspaper or a shoe cushion to absorb the moisture and dry the liner.
How We Researched
To come up with the top snowshoeing boots we researched a variety of sources for reviews such as REI, Backcountry, Moosejaw, EVO along with our own personal experience.
We also consulted online magazines for product research and reviews to get as much unbiased information as we could. To help weed out fake reviews we used Fakespot.com to make sure we only looked at genuine reviews.
With so much quality gear available, we had to narrow it down based on what we felt were the best options were for the price. The author, Casey Fiedler was a full time ski instructor for Park City and The Canyons in Utah.
To help narrow down the selection he used his personal experience along with recommendations from backpacking guides.
After extensive research, we came up with our list to help you choose the right boots for you.
Sources
---
Conclusion
Identify which features you need on snowshoe boots by defining the terrain and condition in which you'll go snowshoeing. Match your pick to the type of snow gear you already own or want to get.
Also consider how versatile you want your boots to be, that is when you'll use them without snowshoes. Do they need to be suitable for the city, or for scrambling over rocks on challenging mountain trails?
Will you also wear ice spikes, or is their traction sufficient for your situation? Think of the temperature range, and make sure you have sufficient insulation in your shoes.
If you're new to snowshoeing, be sure to see my How To Snowshoe – Guide For Beginners.
Have fun and be safe out there!
Notice:
OutsidePursuits.com is a participant in the Amazon Services LLC Associates Program, an affiliate advertising program. OutsidePursuits.com earns fees from products sold through qualifying purchases by linking to Amazon.com. Amazon offers a commission on products sold through their affiliate links.