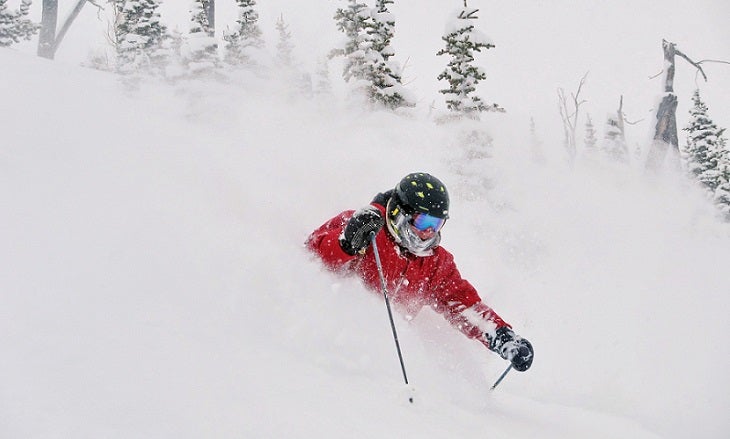 Our Editors independently research, test, and rate what we feel are the best products. We use affiliate links and may receive a small commission on purchases.
Your base layer for skiing and snowboarding can make or break a day on the slopes. A good base layer will regulate your temperature by wicking away moisture from your skin keeping you warm and dry.
Base layers are typically tight-fitting in order to avoid chafing and to provide compression, as well as support.
The best base layers for skiing or snowboarding are breathable and you shouldn't even notice you are wearing them.
However with so many options available, which base layer should you buy?
Best Ski Base Layers
| | SmartWool Nts Mid 250 Zip Thermal | Under Armour EVO Coldgear | ColdPruf Platinum Dual Layer |
| --- | --- | --- | --- |
| | | | |
| | | | |
| Material: | 100% Merino Wool | 87% Polyester, 13% Elastane | Inside: CPT Polyester / Outside: Polyester, Merino Wool |
| Style: | 1/4 Zip | Compression Mock | Crew Neck |
| Features: | Flatlock seam construction | ColdGear Compression technology | Dual layer construction with Silvadur |
| Rating: | 4.5 / 5.0 | 4.1 / 5.0 | 4.3 / 5.0 |
| | | | |
For more of my ski gear recommendations, have a look through these popular Outside Pursuits guide links: Ski Jackets, Ski Pants, Ski Gloves.
Quick Answer: The 7 Best Base Layers For Skiing & Snowboarding
Our reviews of the top-rated ski base layers with our comparison table and buying guide will help you choose the right base layer for you.
---
Best Merino Wool Base Layer
SmartWool Nts Mid 250 Zip Thermal Base Layer at a Glance
:
---
Made From:

100% Merino Wool

Stitching: Flat seams
1/4 Length zipper
SmartWool revolutionized the base layer industry when they sprung onto the scene in 1994. Now known for top quality Merino wool clothing products, SmartWool makes an exceptional thermal layer.
With over 20 years to refine their fabric, you can rest assured that a SmartWool base layer won't let you down.
While other companies are now also taking advantage of the quality of Merino wool to produce great base layers, most will agree that SmartWool has a leg up on these competitors.
This ¼ zip thermal top features long sleeves and a snug-fitting high collar. If you're worried about seam construction and chafing, worry no more. SmartWool uses flat seam construction in every product.
How long will it last? Mine has lasted well over 8 years and still wears as well as day one. Hint: watch out for clothes moths.
You'll find that the fit is snug but not compressing. Sleeves tend to form well to the body and not ride up, while the torso leaves just enough room to fit well without any excess material.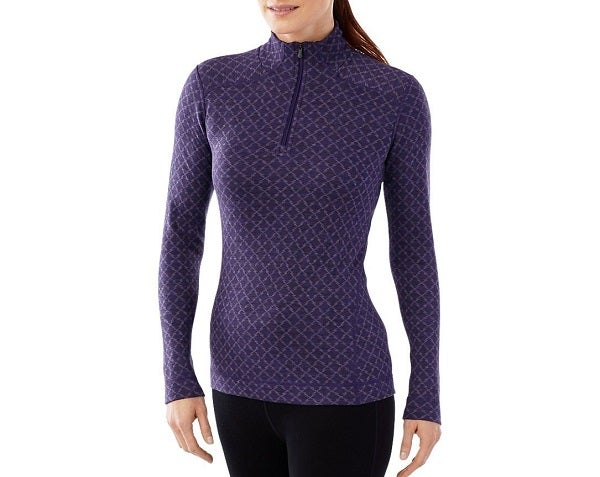 Well known for their insistence on top quality materials, SmartWool is invested in high ethical standards in the production of their wool. The company advocates for humane conditions for the animals that produce their wool, while selecting only the highest quality product.
When you purchase from SmartWool you can rest assured the craftsmanship, quality and ethical practices are all top notch.
We recommend this product for the greatest range of comfort and flexibility. With a long zipper for venting and the unique properties of Merino wool, the SmartWool NTS 250 is a great mid-weight balanced solution.
Of course it goes without saying that the antimicrobial properties of Merino wool certainly help give this base layer a nudge up on the leader boards.
The Smartwool thermals are the best base layer for cold weather that will keep you warm and comfortable on the slopes.

---
Warmest Ski Base Layer
Under Armour ColdGear Evo Compression Mock at a Glance
:
---
Made From: Polyester/Elastane
Stitching: Smooth flatlock seams

Anti-Odor technology
It's pretty well known that Under Armour founder, Kevin Plank, got started in his grandmother's basement.
Focused entirely on synthetic fibers, UnderArmour won't be producing Merino wool products any time soon.
Like most UnderArmour products, this ColdGear compression shirt fits extremely tight. These shirts are meant to compress and some users may find that without the proper sizing, the fit may be uncomfortably tight.
When is this fit ideal?  I personally ski 100+ days a season in an UnderArmour base layer and it's ideal when you're wearing layer upon layer of clothing.
Having a skin-tight base layer means more warmth and less bulk for those times you need to add insulating layers and shells .
Composition on this garment is pretty cut and dry when considering the wicking properties and stretch characteristics. 87% polyester means great wicking and moisture movement.
This, combined with 13% elastane, gives a seriously stretchy appearance.
Long sleeves and a high collar with no zippers in sight means that once this layer is on, it won't be easy to to remove or ventilate.
This is something to keep in mind when planning your layering choices. To help alleviate some of this, I suggest using a white version of this shirt and simply taking off all other layers in the case of overheating.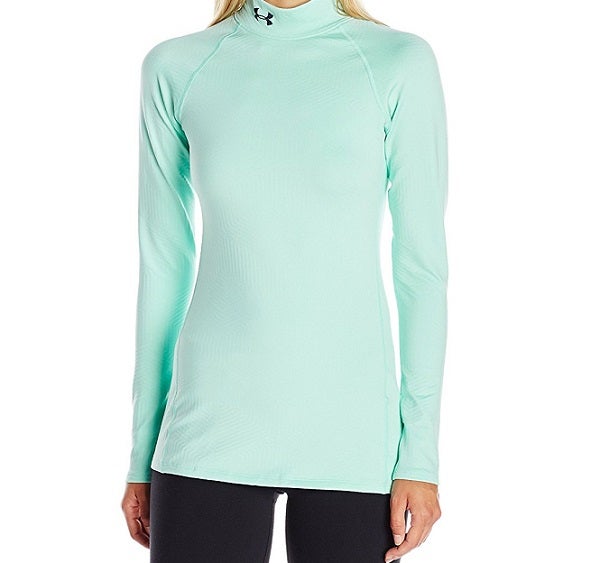 Keep in mind, however, that polyester is well-known to quickly build up body odor. That being said, I've skied in UnderArmour base layers for several days at a time without building up an offensive odor.
Perhaps this is due to UnderArmour's new anti-odor technology? Unfortunately I was unable to get any real information about this "technology" from their website.
The bottom line is UnderArmour makes some of the warmest base layers for cold weather that will keep you comfortable on the slopes.

---
Best Ski Underlayer
ColdPruf Platinum Dual Layer at a Glance
:
---
Made From: Inner

CPT Polyester / Outer Polyester, Merino Wool

Stitching: Smooth flatlock seams

SILVADUR Anti-Odor technology
Compared to our other two-base layer manufacturers, ColdPruf is generally less widely recognized. Offering Made-in-America garments, the company's Platinum series shirt and pants are worth taking a look at.
Tight fitting and offered in two colors, black and heather gray, these base layer shirts and pants are pretty straight forward.
Shirts are tight fitting, providing support and compression while the pants' boot cuffs around the ankles and fit snugly.
This ensures the the pants stay in place when you add or remove layers or when enjoying recreational activities.
For fit and comfort, these base layer pants feature a wide elastic waist band which will help the garment sit securely, but comfortably, by spreading the constriction across a wider area of your mid-section.
Where the ColdPruf thermal shirts and pants really diverge from the pack is in the construction of the weave. These base layers are made using a different fiber blend on the inside from the exterior fabric.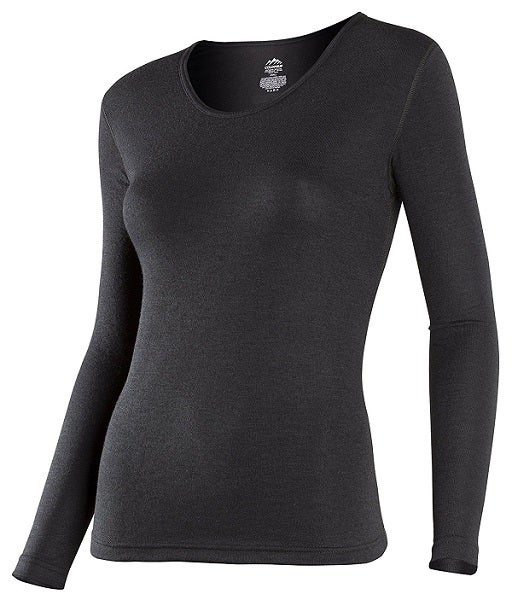 Against the skin you'll be treated to 100% polyester which provides absolutely maximum wicking potential by moving moisture away from the body. This garment's exterior weave features a 70% polyester, 30% Merino wool blend.
This may seem like an odd choice when comparing Merino wool's superior next-to-skin performance with polyester. Personally, I would have rather seen ColdPruf switch the positioning of these layers.
ColdPruf uses "Silvadur", a  seemingly proprietary technology for odor prevention, to help mitigate the inherent buildup that many synthetic performance fabrics tend to have.
As mentioned earlier, when digging around on the company's website we were unfortunately unable to locate information on this technology, thus I can't offer an explanation as to how this actually prevents odor build up.
I can attest, however, from personal experience that it does work.
I'd really love to see ColdPruf offer more information about the garment's construction, technology, and fiber choices but the results speak for themselves. They make some of the best base layers for snowboarding and skiing available.

---
Best Men's Base Layer
Helly Hansen Men's LIFA Merino at a Glance
:
---
Made From: 57% Merino Wool, 43%

Polypropylene

Stitching: Smooth flatlock seams

Non-itch construction

LIFA

 technology interior
Helly Hansen has been making outdoor apparel since the 1800s and is popular among ski instructors and other outdoor professionals.
Being based in Norway, they know a thing or two about making warm undergarments.
LIFA Merino base layers are designed to provide warmth on cold days when you're enjoying medium and high intensity activities.
This top provides 2 layers in one item of clothing. The itch-free inner layer utilizes Polypropylene LIFA Stay Warm Technology to draw moisture away from your skin.
The outer layer is constructed from 100% Merino Wool for combined wicking and insulation.
The HH LIFA Stay Dry Technology gives this top surprising warmth without the thickness of other base layer materials. The seams feature a "flat lock" stitching so they don't rub or chafe.
With a limited lifetime warranty against defects, I think Helly Hansen has a winner here with the Helly Hansen Men's LIFA Merino Base Layer.

---
Best Cold Weather Ski Base Layer
MERIWOOL Merino Wool Midweight Baselayer Crew at a Glance
:
---
Made From: 100% Merino wool

Stitching: Smooth flatlock seams

Available in 6 sizes / 4 colors
With the Merriwool base layer we are returning to Merino wool. We already know the benefits of Merino wool; namely warmth, anti-microbial and anti-odor properties.
The Merriwool wool is responsibly source from Australian sheep so you can feel good you are doing a small part for protecting the Earth.
Being they are made from a natural material they are very soft and comfortable while providing the warmth of wool.
They are very thin and lightweight so they don't impede movement or flexibility, especially important when trying to carve up the slopes while skiing or snowboarding.
Being made from thin Merino wool they have the wicking properties you need when you are working up a sweat, keeping you warm and dry.
I have worn them several days in a row and not have them stink like some other materials.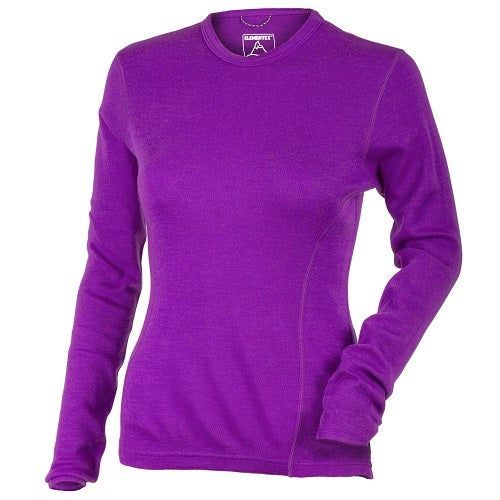 The Merino wool is maintenance free and doesn't shrink so you can buy your size and not have to worry about shrinking in the dryer.
Merriwool gives a 30 day 100% return policy for any reason and 1 year warranty against any manufacture defects. If you want a Merino wool base layer, hard to go wrong here.

---
Best Merino Wool Base Layer
Smartwool Men's 250 Baselayer Crew Slim Fit at a Glance
:
---
Made From: 100% Merino wool

Stitching: Smooth flatlock seams

Available in 5 sizes / 11 colors
Smartwool was founded in 1994 by a group of skiers who wished to manufacture clothing especially designed to keep skiers warmer while skiing.
They identified Merino wool as the ideal material for making ski clothes because it regulates temperature well.
The Smartwool NTS Mid 250 Crew Top is manufactured using an interlock knit to provide breathability, thermoregulation, odor resistance, and comfort.
The slim-fit pattern and Merino-covered shoulder panels are designed with comfort in mind. This top utilizes a flatlock seam construction to prevent chafing so you can wear these tops all day long without feeling uncomfortable.
Although they are made from Merino wool, these tops can be machine washed. You must use only warm water on a gentle cycle. You may also tumble dry them on a low setting.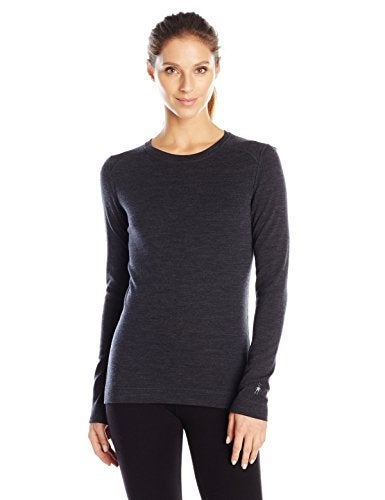 An expert tip is to turn these tops inside out when you only place them inside the washing machine. Only was them alongside similarly delicate clothing, such as woolen sweaters.
Otherwise, harder materials can rub against them during the wash and cause damage. When you have finished drying them, fold them away. Don't place them on hangers because that can cause them to lose their shape.

---
Best Budget Option
Burton Men's Midweight Crew at a Glance
:
---
Made From: 90% Polyester, 10% Spandex

Stitching: Chafe-free softlock seams

Available in 6 sizes / 15 color schemes
The Burton Men's Midweight Crew is the most affordable option, but that does not mean that this top is low quality.
Burton has been manufacturing clothing specially designed for mountain adventures for over 40 years. This long-term experience with clothes designed for the snow is reflected in their designs.
The material is synthetic — 90% Polyester and 10% Spandex. However, this proprietary DRYRIDE midweight 200 fabric is breathable and designed to keep you warm and wick away moisture.
The DRYRIDE material is also protected against UV rays, odors, and stretching. Softlock seams are used to minimize chafing.
If you're skiing for the first time and choosing your clothes with a tight budget in mind, the Burton Men's Midweight Crew is a great value choice. It will enable you to stay warm and comfortable out on the snow and enjoy the experience.

---
Ski & Snowboard Base Layer Comparison Table
Author's Expertise / Why You Should Trust Our Reviews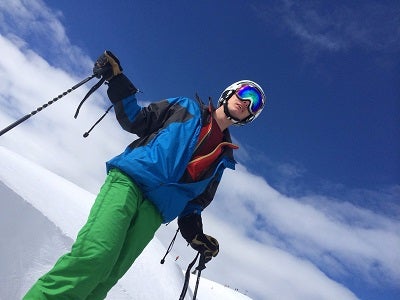 I started writing online for my own outdoor sports blog in 2010. Right out of the gate I landed opportunities to test gear for Road ID, Hydrapak, Wolverine, Helle Knives, Pearl Izumi, and GU Energy. Those were the days when growing a no-name blog was easy. Today niche blogging is a different story.
In 2012 I left Central Wyoming College with a degree in Outdoor Education and Leadership. Soon after, I was on a month-long expedition with the National Outdoor Leadership School's Outdoor Educator Course which helps would-be outdoor guides ascend from "aspiring" to "inspiring".
Between here and there I've participated in and spoken at length about outdoor pro-deal programs for companies like Patagonia, Smith Optics, Giro, Therm-a-Rest, Platypus, MSR, Columbia, and many more. I still work closely with tons of outdoor gear companies to review and analyze products. If you have a product opportunity you'd like to discuss, please review my guidelines and contact me here.
After several seasons of guiding backpacking trips and working as a certified Alpine Ski Instructor at Deer Valley Resort in Park City, UT for several seasons, I had to move on. As any educator will tell you – teaching doesn't pay the bills very well.
In 2016 I began building my freelance writing career as readers and other bloggers reached out to me for help with technical outdoor sports content strategy for online businesses.
2018 saw the launch of Hike With Less, my ultralight backpacking partnership program with Dustin Walker.
How to Select the Best Ski Base Layer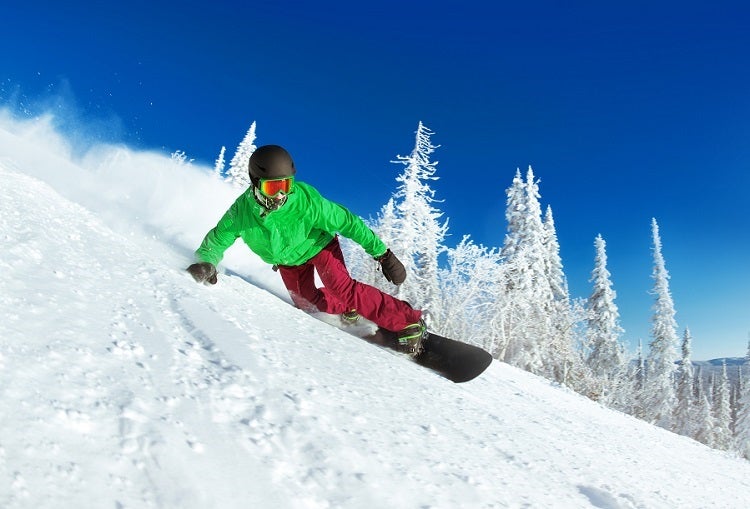 It would seem that the skier seeking a new set of next-to-skin clothing for a day on the slopes might walk into the outfitter and be presented with an easy decision. Alas, it is not so.
Cold weather performance gear comes in a startling variety of colors, sizes, and styles each of which boasts an impressive array of technologies and proprietary claims of one sort or another.
We're going to break it down and work on helping you find a good base layer through a proper understanding of exactly what makes a good base layer.

Types of Base Layers
There are many types of fibers used in base layer construction, however, wool and polyester are far and away the most common and well proven.
Wool
One of the two main fibers used in base layer garment construction, normally merino wool, this natural fiber has many advantages.
Naturally odor controlling, merino wool garments can be worn many times without accumulating disgusting levels of body odors. This is awesome for days of skiing without easy access to washing machines all the time.
Merino wool fibers, on a microscopic level, boast a hydrophobic sheath surrounding a hydrophilic core. What does this mean?
Merino wool fibers basically act as a straw; pulling moisture away from the skin through the core of the fiber where it can then evaporate into the atmosphere.
Disadvantages include high price of garments and lack of durability when compared to synthetics.
Polyester
Polyester is the other most common outdoor performance fiber. Polyester fibers are man-made synthetics which provide high levels of wicking.
This is sometimes achieved by or aided by coatings applied to the fabric. On a microscopic level, the creation process of the polyester fibers has a big impact on wicking potential.
Every garment maker will claim their manufacturing process is somehow better than the last.
Polyester garments are very frequently mixed with nylon for added strength and spandex for stretch and form fitting. Almost all major sports manufacturers create their performance and wicking shirts using some blend of polyester based fabric.
Polyester is widely manufactured, inexpensive, but likely to build up high levels of body odor rapidly.
Silk
Less common than it used to be with the popularity of Merino wool it is still a good choice for warmer skiing conditions due to its thinner weight and excellent wicking abilities.
Many silk base layers are now treated for odor reduction and enhanced wicking. The main problem with silk is it just more fragile, requires hand washing, and cannot be put in the dryer.
With the advantages of synthetics and Merino wool it is not as widely used anymore.

How to Choose a Base Layer Weight
Base layer manufacturers each have some proprietary way of measuring the thickness of their garments. Unfortunately, there is no industry standard measurement, such as grams per square foot, by which to compare apples to apples.
Ultimately, you'll want to identify the different thickness (or weights) of fabric that are offered by whichever manufacturer you're buying from. Now we're going to break them down into three categories:
Lightweight
Lightweight base layers are ideal for the hard-charging skiers who never stop moving and crush snow as a habit. These layers provide minimal extra warmth and just enough wicking to keep the skin dry and cool as you ski.
These base layers are right for high levels of activity or warm spring skiing.
Examples include UnderArmour's UA Base 1.0 and Patagonia's Capeline 1.
Midweight
Midweight base layers are the best choice for the widest group of skiers. These base layers will help keep you warm when the winds are cutting across the chairlift. They're also light enough so that you won't be sweating out of control on that double black bump run.
Choose a midweight base layer if you need to be protected throughout a large spectrum of skiing activities.
Examples include UnderArmour's UA Base 2.0 and Patagonia's Capeline 2.
Heavyweight

Heavyweight base layers are noticeably thick and beefy layers meant to add serious warmth and wicking. This type of base layer is only appropriate for extremely cold mid-winter trips when the thermometer has long since bottomed out and iced over.
These are ideal for extremely low levels of activity or extremely low temperatures. You will overheat in these under normal conditions.
Examples include UnderArmour's UA Base 4.0 and Patagonia's Capeline 4

How to Evaluate Base Layer Clothing for Skiing and Snowboarding
Warmth
We talked a bit about choosing a weight, or thickness of fabric for your base layer. It's important to balance this against the daily weather report for the mountain and your skiing plan.
If you're going to ski on run at a time between breaks at the lodge, a heavier layer is most likely best. However, if you're planning to ski full throttle all day you'd be best served with a lightweight layer.
Remember to choose appropriate outer layers based on your skiing plan and the daily weather.

Breathability
Breathability in ski base layers is universally excellent so long as you're wearing wool or polyester. One of the biggest factors in moisture management is outer layer choice.
I highly recommend skiing gear with armpit zips and inner leg zips. These allow for maximum airflow, when needed, to evaporate and cool moisture which your base layer is actively regulating.

Drying Speed
You'll find that polyester fibers tend to dry slightly faster than most others. Of course, it goes without saying, that cotton has the worst drying speed of any fabric so please avoid wearing cotton garments.
For maximum drying speed, I highly recommend black colors. These absorb heat energy the best from sunlight and will lead to slightly quicker drying times than others.

Layering Ability
Probably the best piece of advice here is to choose a tight fitting next-to-skin style base layer for your primary garment. Tight fitting stretchy base layers stay in place better under other layers and leave more room for outer layers while still minimizing bulk.

Durability
One of the biggest drawbacks of merino wool, unfortunately, is a lack of durability when compared to synthetics. Polyester is slightly more durable but still a relatively weak fabric by its self.
So what's the solution? Look for garments with a nylon blend. Nylon is incredibly strong and blends well with performance gear to add strength.
There are a few companies out there producing merino or polyester nylon blends and the one which comes first to mind is Darn Tough.

Comfort and Fit
Broadly speaking, the more lycra or spandex content in a garment, the more stretch and form fitting ability the garment will have.
These layers are meant to hug the skin and, if not properly sized, may be uncomfortably tight.
Garments lacking spandex or lycra are meant to be worn more loosely and may add some bulk to your layering system.
Choose a garment with flat sewn seams for minimal chafing. Luckily you shouldn't need to worry about this as almost every manufacturer understands this and includes flat sewn seams standard on all garments.

FAQs For Skiing & Snowboarding Base Layers
Q: Is Merino Wool the best baselayer?
A:  Hey, that's a good question! If you've been to a high-end running shop or been approached by a salesman at the local outfitter you're probably under the impression that the only good base layer is a $100 merino wool layer.
Well… Merino is good but it's not the best all the time.
Here's what's good about merino wool:
It's anti-odor naturally
It has great wicking properties
Many love the soft feel of the fabric
Here's what's not so good about merino:
It's expensive
It's relatively fragile
It attracts wool moths
You can buy a nice form fitting polyester base layer which is also wicking, warm, and great for base layers for about $20 and the local supermarket. Or you can buy a $100 merino wool base layer.
Polyester does stink more and faster, but it's much cheaper. Polyester also won't be eaten by wool moths. My Smartwool base layer has gotten at least half a dozen holes over the years just sitting in the closet from wool moths. Yuck.
One consideration for environmentalists is that polyester fibers are unnatural and can end up in water streams after being washed. Merino wool fibers, however, are quite natural and maybe less impactful to the environment in the long run.
Q: What thickness base layer do I need?
A:  Baselayers comes in about 3 thicknesses which are lightweight, midweight, and heavy weight. The thickness you need depends on these factors:
Outside temps
Activity levels
Wind speed
Other layers you're wearing
For skiing and snowboarding go a little lighter than you think you need. Your high activity level will keep you quite warm and you can rely on your outer layers to keep the wind off you. If you go too heavy you'll be sweating in no time!
Q: Should my base layer really be skin tight?
A:  Well… unfortunately you really do need a skin tight base layer.
Keeping the base layer fabric on your skin primarily is helpful for wicking moisture away from the skin. Tight layers mean that every inch of skin is in contact with fabric that can wick away those little droplets of sweat.
It also makes it easier to get a mid layer over the top of a good base layer. Something nice and tight won't take up room and restrict movement when binding with other layers of your clothing.
The next layer over the top of that tight base layer is a mid layer. That layer shouldn't be skin tight so don't worry people won't have to see you running around in tights.
Q: Is Under Armour the best base layer?
A:  Under Armour really took off thanks to good marketing and good timing. Also it helps to have your brand name on nearly every pro football player ever.
But is that stuff really as good as it seems?
Under Armour makes polyester base layers mixed with lycra for stretch. You can also buy polyester lycra base layers for about half (or less) the price from other manufacturers.
So, what makes Under Armour better? Nothing at all.
The only difference is Under Armour uses a magical fiber weaving pattern that is more effective as a baselayer than other companies. Do I believe that's the case? I'd say it's suspect but possible.
Q: What are base layer gloves?
A: Base layer gloves are thin, skin tight gloves that go on before larger thicker gloves. They're often called liner gloves and can be made of polyester or merino.
Because fingers tend to get cold when gloves wet out from sweat, liner gloves can be swapped out when they get sweaty and you can be back to a dry, comfortable glove after lunch!
Having thin base layer gloves on is nice if you have to take off your thicker gloves out on the mountain. Sometimes you need more dexterity when adjusting buckles or straps and doing that with bare fingers can be literally painful!
---
I hope this guide was helpful for finding a good ski base layer to fit your needs. If you want to comment or recommend a base layer I didn't include, please use my contact form to get in touch.
New to skiing? See my beginners guide to skiing for tips and advice.
Have fun and be safe out there!
How We Researched
To come up with the top base layers we researched a variety of sources for reviews such as REI, Backcountry, Moosejaw, EVO along with our own personal experience.
We also consulted online magazines for product research and reviews to get as much unbiased information as we could. To help weed out fake reviews we used Fakespot.com to make sure we only looked at genuine reviews.
With so much quality gear available, we had to narrow it down based on what we felt were the best options were for the price. The author, Casey Fiedler was a full time ski instructor for Park City and The Canyons in Utah.
To help narrow down the selection he used his personal experience along with recommendations from fellow ski instructors.
After extensive research, we came up with our list to help you choose the right base layer for you.
Sources
Notice:
OutsidePursuits.com is a participant in the Amazon Services LLC Associates Program, an affiliate advertising program. OutsidePursuits.com earns fees from products sold through qualifying purchases by linking to Amazon.com. Amazon offers a commission on products sold through their affiliate links.