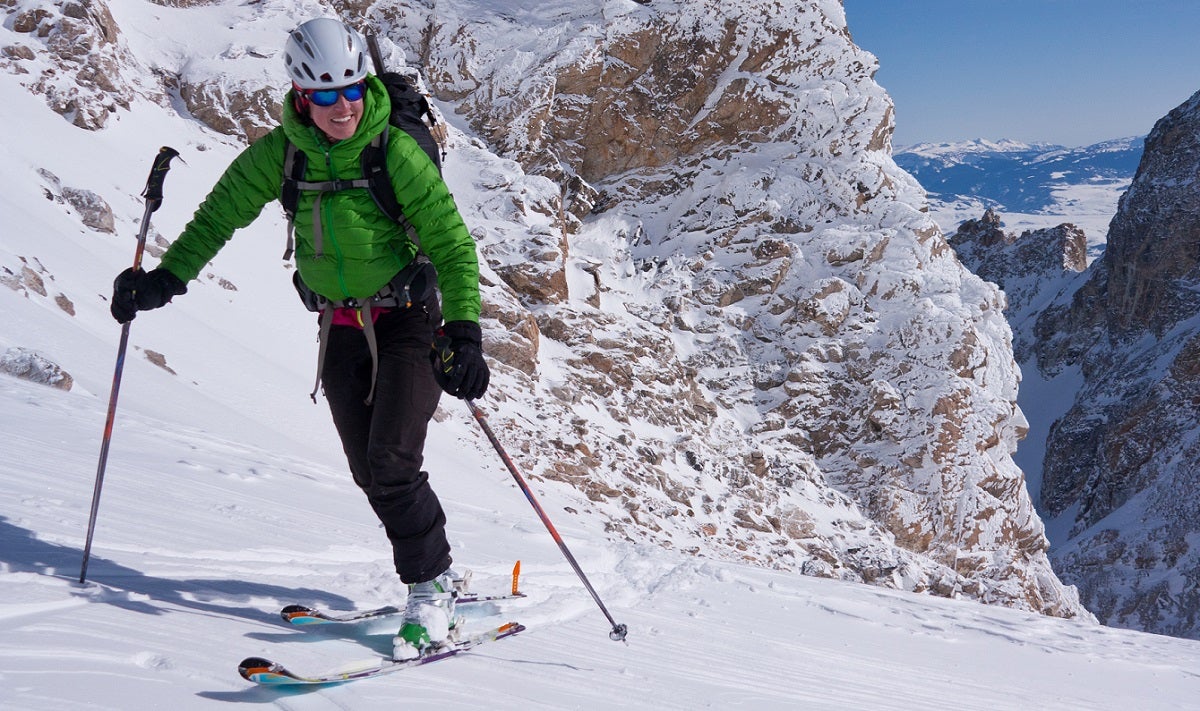 Our Editors independently research, test, and rate what we feel are the best products. We use affiliate links and may receive a small commission on purchases.
Telemark skiing is a technique within the sport that is admired not only due to the sheer elegance of it, but also the amount of practice it takes to achieve said elegance.
No matter if you're already a seasoned skier or are brand-new to this world, we think you'll find our guide useful. Let's take an in-depth look at telemarking and we're sure that by the end you'll want to get your boots on and go give it a run!
History
Let's start off by talking a bit about the history of the sport. As you may already know, skiing has been around for thousands of years. However, it was developed and used for more practical reasons like hunting, traveling during the winter, and even warfare!
Instead of 2 poles the first skiers used just one long pole to keep speed under control and help with turning. In fact, in some parts of central Asia, they still use this technique (it's very difficult).
Telemark skiing is quite a bit different in the sense that skis are used to turn. Way back in the 1860's, a man named, Sondre Norheim, from Telemark, Norway started turning with his knees bent and the outside ski moved forward, pointed into the turn.
Norheim actually made his skis himself, with a wider tip and tail, and the narrower waist. This design is now the standard for all current-day downhill skis – also known as the "sidecut".
His bindings were very intriguing too – made of birch root to provide just enough control while still letting his heels rise up. This motion helps to mimic the way we naturally move while walking.
Resurgence in The Western World
So, how has this history translated to modern-day society? Well, back in the early 1970's, Telemark skiing made one of its first appearances (that we know of) in the western side of the United States. The motive? Trying to avoid paying high lift ticket prices, which at the time were a whopping $19!
Not only that, but they could use the technique to explore more off-trail and potentially find more challenging runs and more beautiful scenery.
A skier named, Dickie Hall, around this time heard of it and started trying it out, essentially bringing it on his own to New England. From there, it started spreading all over North America and blew up in popularity from there.
What is the correct method?
Telemarking is essentially a combination of Alpine and Nordic skiing elements. However, where it differs from alpine is that the inside ski is set backward with a smooth motion of the unbound heel. This is called the "Freeheel Position". If you're new to it, we recommend practicing this first in an area without snow.
The center of gravity should be right over the center of the skis, and by jumping you can move the forefoot to an almost full-lunge position. However, this is done in a very graceful movement that looks almost as if they're dancing. Holding a pole above your head with both hands will give you added stability during this motion.
One huge advantage of Telemarking is the ability to attach skins (textured pieces of fabric) to the ski bottoms so you can travel uphill with them. This, along with the free heel allows you access to new backcountry spaces that you simply can't access with cross country skis or really any skis with a fixed heel binding.
Freeheel Starters Lesson - Introduction to Telemark Skiing
Main Advantages of Telemark Skiing
Let's talk about the main advantages of Telemarking so you can determine if it fits into something you'd like to explore.
Hiking and backcountry exploring is significantly easier and less of a hassle with telemark gear. As we previously mentioned, as the lifted heel creates a natural stride, you'll be much more efficient and have to exert less energy in order to ascend a mountainside.
If you learn to ski on this equipment, you'll be able to ski much easier on just about any other skis. Newbies tend to lean forward and telemarking helps move them back onto the ski center, as well as helps to improve balance and agility.
As the gear is so lightweight and easy to use (due to the free heel), it works well for beginners of any age. Children will feel more confident as it's a more natural feeling to their bodies, and the lighter ski boots only aid in this. It's all about the freedom!
Many people love the appearance and elegance of the sport. If you aren't drawn in by more aggressive ski styles, this may be the perfect alternative for you.
Telemarking is actually known to be safer than alpine skiing and snowboarding. If you're hesitant to try skiing because of risk of injury, this could be the technique you need.
The level of physical conditioning required for proper telemarking is no joke. You'll have no choice but to become fit, but also benefit from more well-balanced muscles and greater mobility.
Level of Fitness Needed
At this point you may be wondering just how fit you need to be to start out learning. We can't say that it's overall any more difficult than other ski styles; the challenging part is perfecting the technique. It's kind of like a squat motion, repeatedly. As you can imagine, this can tire you out quickly, so high stamina is your best friend. If you really want to help yourself, we recommend training during the off-season as well.
Necessary Equipment
You'll need the basics like telemark boots, special bindings, and the correct skis. With bindings, you'll have either a 75mm with the notorious beak or the NewTelemarkNorm (NTN) which are comprised of the most cutting-edge materials and has been said to offer the most pleasant telemarking experience. It also doesn't have that "beak" making it easy to visually differentiate between the two.
Similar to skiing you will need some warm clothing. Start with a good base layer, this is your primary way of staying warm. A good ski jacket will protect you from the elements. Don't forget about pants, while not as critical they are still important.
A good, warm pair of ski gloves to keep your hands warm and allowing you to grip and control the ski poles are necessary as are goggles to protect your eyes from the UV rays and wind. Lastly, a balaclava or ski mask will protect your face from the cold weather and wind.
Summary
Now that you're practically an expert in knowing all about what telemark skiing is and how to go about learning, what do you think? If you're here, that means you're already showing an interest in it. You never know, it may end up being one of your favorite sports or at least favorite ways to see beautiful backcountry views. We hope that you enjoy your time in the snow! Thanks for joining us and we'll see you again soon.
Notice:
OutsidePursuits.com is a participant in the Amazon Services LLC Associates Program, an affiliate advertising program. OutsidePursuits.com earns fees from products sold through qualifying purchases by linking to Amazon.com. Amazon offers a commission on products sold through their affiliate links.