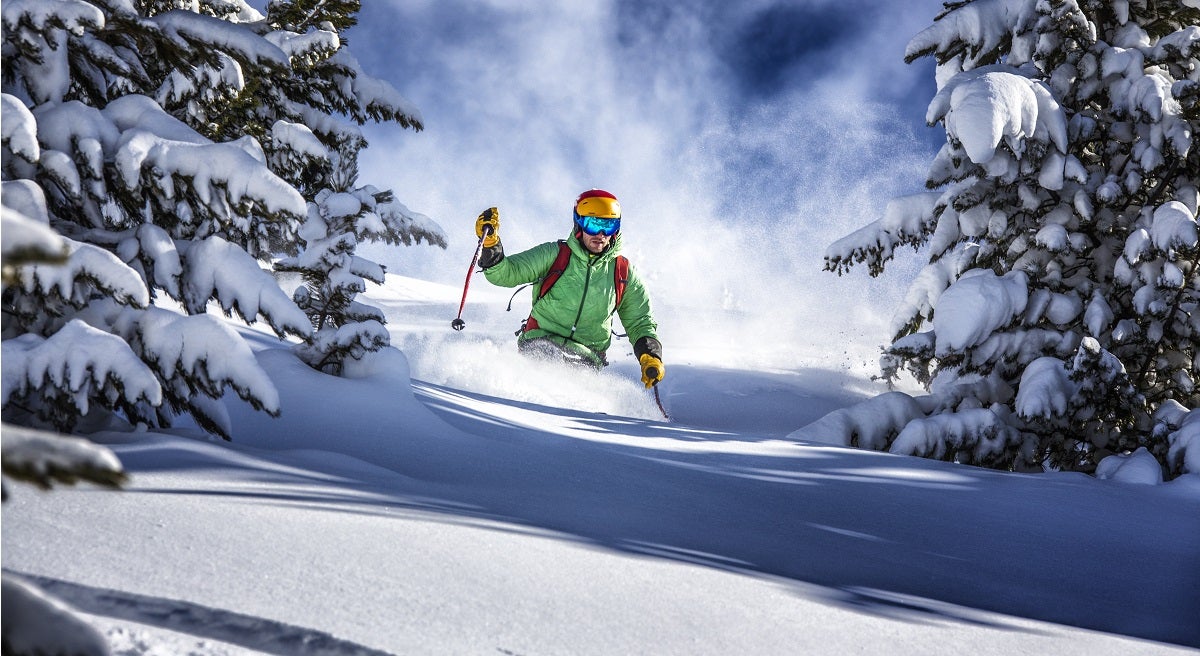 Our Editors independently research, test, and rate what we feel are the best products. We use affiliate links and may receive a small commission on purchases.
Once you have mastered skiing on groomed trails, it's time to up your game a little and try backcountry skiing.
Ski touring, or "skinning" as it's often called, is known to be a difficult form of skiing where you first ascend up the mountainside before you ski down it. Typically, this won't be done on your regular commercial ski runs that have ski lifts or pulls available. Instead, you'll find ski touring performed in unmarked, unpatrolled locations.
You'll hear many people also refer to it as "backcountry skiing" in North America. You may be wondering why people still prefer this more challenging method of skiing down a hill, when they could simply take the lift? Not only does it save you money on a lift ticket, but it's also a wonderful way to connect with nature and see "untouched" parts of the mountain.
History
The sport was created by some transformation of off-piste skiing along with ski mountaineering. The earliest mention of skinning dates back all the way to 1555, when Olaus Magnus wrote about Norwegians using long skis with fawn skins on the bottoms to offer enough grip to ascend hills.
Almost 300 years later, it was also a Norwegian – this time a man named Snowshoe Thomson – who worked for 2 decades as a mail carrier on 10-foot skis over the Sierra Nevada Mountains. Taking on that kind of venture wasn't easy to begin with, but when you pair that with an 80-pound sack of mail, you can imagine just how difficult that may be.
At the beginning of the 1900's, Dartmouth College ended up creating a club which actually used similar skis to go up and down mountains and hills. Later on, the first ski lift was built in Sun Valley, Idaho, which attracted all kinds of crowds. However, there were still quite a few people who preferred skiing as a way to escape said crowds. They searched for quiet, fresh snow that not only lets you truly immerse yourself in nature, but also take advantage of that pure powder so many of us wish for at the beginning of each season.
That's where ski touring comes in.
Trips range widely and there is quite a bit of flexibility in the sport. You can go for a day just like you would with any other type of skiing, or you can spread it out over a multiple-day adventure. In these cases, you'll probably find yourself sleeping in tents, huts, or even cabins – depending on the location.
Ski Touring Equipment
Equipment has thankfully improved significantly since the times when Dartmouth first formed their ski touring club. Regarding skis, poles, boots, clothing, and safety equipment such as avalanche beacons. You can expect cutting-edge materials and designs.
You can expect each piece of gear to be generally very lightweight and easy to carry, as well as durable enough to offer you warmth and protection from the elements. However, due to the vast array of options out there, it's also easy to become overwhelmed.
We'll quickly run through each of the main pieces of equipment and what you should look for.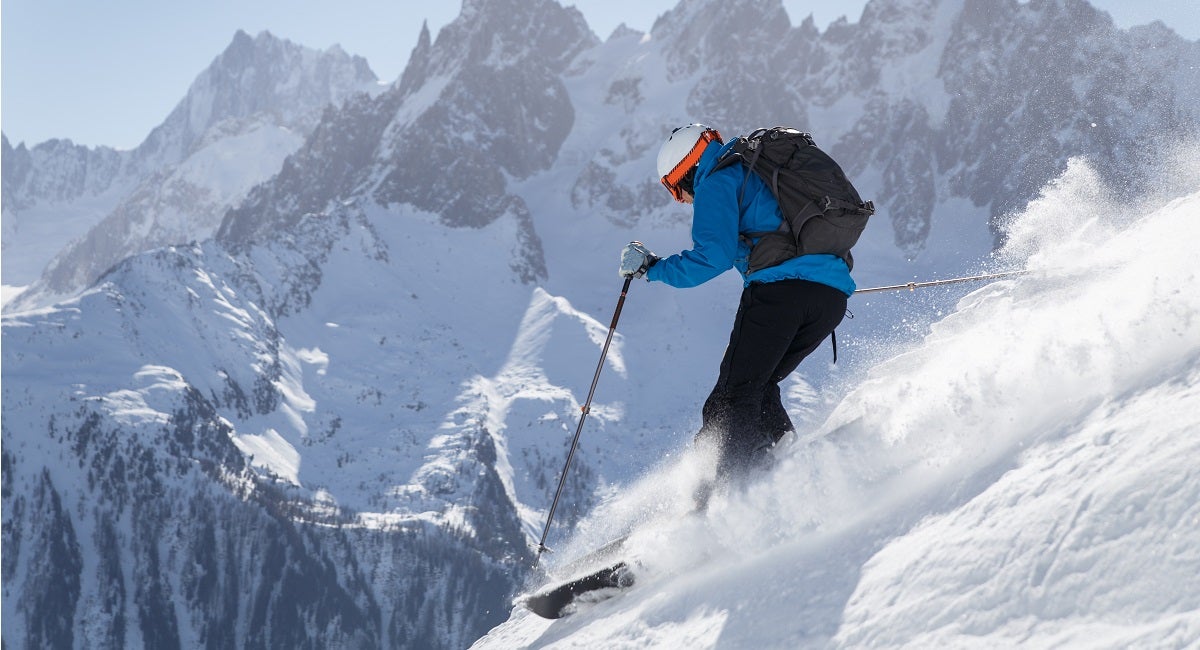 Ski Touring Boots
These boots are unique in that you need mobility and freedom to move naturally when climbing up the hill/mountain but stability and stiffness when skiing down it. At first glance, these boots will look and feel very similar to your average alpine ski boot. However, the main difference here is that the touring boots come with adjustable cuffs which facilitate a more inclined movement as you're hiking uphill. This ensures you're not limited or feel awkward/uncomfortable. If you put them on or simply pick them up, you'll also notice that they're lighter.
Bindings
There are a few options when it comes to Alpine touring (AT) bindings, from those dedicated just for touring, to specific backcountry hybrid bindings. While you'll find little differences depending on the model and manufacturer, AT bindings will all come with a pivoting feature which allows you to lift your heels off the skis as you step. This makes for a more natural stepping motion, similar to how we move when we are hiking without skis.
Skins
The great news is, we no longer use the skin of animals while touring! Instead, we now have strips of incredibly tough nylon with synthetic fur on one side and a very sticky material on the other side to attach to the underside of your skis. These are what will give you enough traction to ascend hills with greater ease. Similar to skateboarding grip tape, you can choose skis that already come with it or you can make your own setup and buy and apply the skins separately.
What kind of other gear/clothing do you need?
As you know, you're going to need the right outerwear and backpack to carry extras. If you're frequently in frigid temperatures, you know that layering is the secret to staying warm and dry. Depending on the weather conditions, we recommend you keep a lightweight (waterproof) ski jacket with you at all times.
Underneath your ski jacket, a cotton t-shirt, along with a long-sleeved shirt over that should get the job done. Long johns or a base layer are ideal to wear underneath ski/snowboard pants. Always carry an extra pair of socks and hand warmers in your pack! Trust us, there will come a day when you need them.
In addition to socks, it's necessary to bring with you some safety and backup supplies. Extra layers, as we mentioned, along with some dried fruit, nuts/trail mix, and water. Jerky is also a great way to conveniently get in some protein and fats without adding much bulk or weight to your pack.
As most ski touring takes place in the outback, there's no excuse not to have avalanche safety equipment with you. This will consist of not only your basic first aid kit, but a shovel and probe at the very least.
When should you go ski touring?
This depends on the location you're in, your skill level, as well as the snow conditions. Generally speaking, however, you can do it in the winter or early spring. Spring is actually often preferred by skiers, as you'll find corn snow which has a kind of crusty, firmer surface. This makes for a really fun session, and is best found in early in the day or late afternoon.
In contrast, winter is when you're more likely to find powder snow, which we all love. However, daylight will be shorter and conditions will be colder and windier. Not to mention, powder is only recommended for more experienced riders.
Is ski touring growing in popularity?
Yes, it is! Despite requiring quite a bit of physical fitness, ski touring has created a very loyal and expanding base of enthusiasts! The challenge is part of the fun, similar to marathon runners! Being able to achieve something like that without the help of vehicles or ski lifts is incredibly satisfying. Not only that, but it helps you bond with others and with nature.
The first time you break free of the crowds and get to experience the majesty of the mountains and the uniqueness of mountain huts, you'll find it's even addictive! Don't take our word for it – try it out for yourself!
Summary
Ski touring can take a lot out of you, we won't deny that. It can be tiring learning proper form and technique, but we can tell you that it's more than worth it. We hope that you found our guide helpful and that you have a solid grasp on what ski touring is and what is needed to do it properly. We know you'll make the most of your experience. Thanks for tuning in and we'll see you again soon. Enjoy your time in the snow!
Notice:
OutsidePursuits.com is a participant in the Amazon Services LLC Associates Program, an affiliate advertising program. OutsidePursuits.com earns fees from products sold through qualifying purchases by linking to Amazon.com. Amazon offers a commission on products sold through their affiliate links.