There's a big difference between your dark pair of hipster blue jeans from Abercrombie and the best pair of pants for a long hike or overnight backpacking trip.
Some of the differences might be easily evident such as wearing loose fitting pants for range of movement when hiking. Other differences may be less obvious and a few of them I had to learn the hard way.
When shopping for quality hiking pants it might be easy to be intimidated by inflated price tags and hyped up claims.
Understanding what materials your pants are made from, why they're designed certain ways, and what features really matter can help sort out the value from the noise.
Always keep in mind, too, that a good pair of nylon hiking pants can last a dozen years or more of normal use without a problem.
We're going to take a look at some of the best backpacking pants on the market right now and why they make such great choices for hikers of any ability level. Be sure to see my favorite hiking shoes and trekking poles.
Ladies; while these reviews are for the Men's pants, they each have a women's version available, I have a link to them for each pair of pants for your convenience.
Quick Answer: The 5 Best Hiking Pants For 2017
These are my top 3 picks for hiking pants with full reviews and my buyers guide on how to choose hiking pants below.
Best Hiking Pants
| | Outdoor Research Cirque Pant | Columbia Royce Peak Pant | Mountain Hardwear Mesa Convertible Pant |
| --- | --- | --- | --- |
| | | | |
| | | | |
| Material: | Made from: 50% Nylon, 43%, polyester, 7% Spandex | Made from: 100% nylon with DWR finish to repel water | Made from: 96% nylon, 4% elastane |
| Features: | Articulated knee, reinforced abrasion patches, boot lace hooks and suspenders hooks | Mesh drain panels in pockets, zippered side pocket and water repellant finish | Have Omni-Shade UPF 50 sun protection and Omni-Shield advanced water repellency plus a zippered security pocket |
| | | | |
Hiking Pants Reviews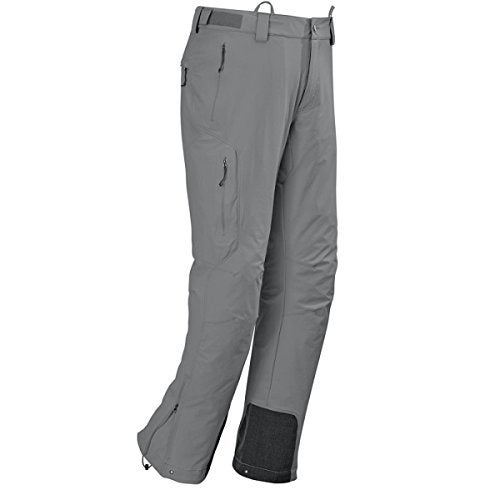 If you're looking for a pair of pants that can hack it on a weekend hike or a month-long trek through some seriously rugged terrain, then these are a solid choice.
The Outdoor Research Cirque pants have thick nylon-reinforced abrasion patches, articulated knees (see what that is below), boot lace hooks, and a gusseted crotch. Outdoor Research has created a feature rich pair of hiking pants and can't think of anything missing from these pants.
With a flat waistband will remain comfortable under a loaded pack and the adjustable Velcro belt on each side will make sure the pants fit a wide range of sizes.
They are made from a combination of nylon, polyester, and spandex which means these pants are tough, stretchy, and moisture wicking! They come ready to be worn with suspenders thanks to built-in attachment points, too.
Hard to go wrong here and the Outdoor Research Cirque hiking pants are my top pick. Click here for the Women's Cirque Pants.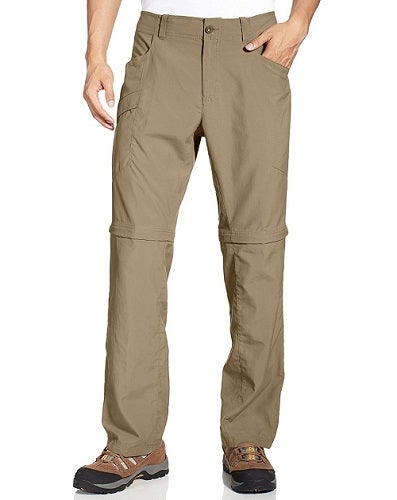 I've been hiking in these pants for years and started wearing them first when guiding hikes on the Appalachian Trail in North Carolina.
These pants embody many of the most important characteristics of a good hiking pants for me. They're convertible into shorts, made of tough nylon, and feature a great flat waistband with micro fleece inner.
These pants have been recently overhauled and now feature belt loops instead of a built-in nylon belt – I like this change as it offers more options for the wearer.
I've even gotten away with wearing them on more than one occasion as a quasi-dress pant because they're quite well made and crisp looking.
If you are looking for a pair of convertible hiking pants, the Mountain Hardwear Mesa pants are your best bet. Click here for the Women's Mesa pants.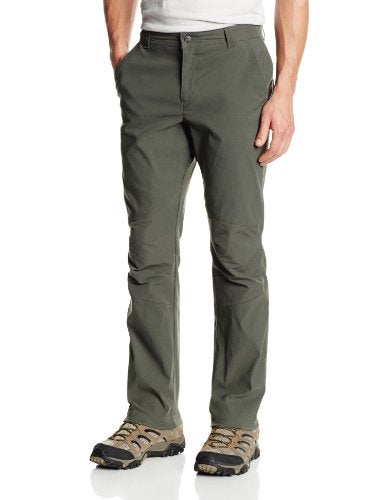 While I haven't worn these pants personally, my hiking buddies own them and having nothing but good things to say about them. These pants come with the reputation of a great outdoor gear manufacturer.
Columbia, as I've always said, creates the absolute best gear in the industry for the value – that is to say you'll pay less for a great piece of gear than with any other maker.
They feature a two-way stretch material that is made from weaving elastane into the nylon. This maintains the durability and rugged toughness of the nylon while introducing a small amount of stretch and movement into the fabric for hiking and moving over rough or uneven terrain.
Columbia's Omni-Shield system is even made to shed water and stains from these sweet-looking pants. These are a pair of pants that can hack a day of trail use or a day in the yard. Click here for the Women's Royce pants.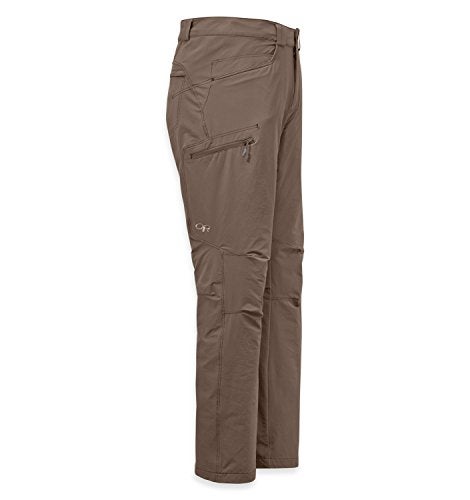 The Outdoor Research Voodoo hiking pants are by far the most stretchy hiking pant we've reviewed here – these pants are rocking a 12% elastane content for serious movement and stretch.
Thanks to the nylon they're also windproof and water resistant. Again, these pants are well-designed with a thin and flat waistband to minimize irritation and chafing while wearing a pack.
While slightly less hardcore than the Cirque pant, these pants feature a handful of helpful pockets. However, I think you'll find than when hiking it's irritating to carry items in your pockets.
Store your goodies in your backpack and take advantage of the sleek pants pockets for holding your wallet and phone when you head to the bar after a long day of hiking. Click here for the Women's Outdoor Research VooDoo pants.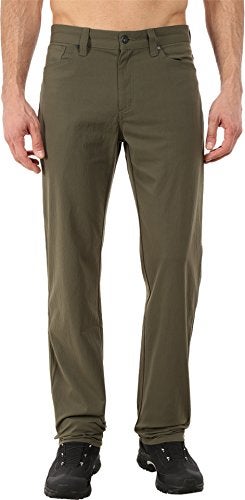 The Mountain Hardware Piero pants are seriously stylish yet no-nonsense for weekend hiking or even longer trips in the right situations. They are made from 100% nylon and fitting with an athletic aesthetic, they're just as comfortable for a fancy dinner as they are at the trailhead.
With a flat waistband lined with microfleece and belt loops for any size belt, they can easily be adapted to backcountry of front-country use with ease.
I would definitely pick up a pair of these pants for all around use because few things are as beautiful as a piece of great gear that can be worn to a nice dinner.
Mountain Hardwear tends to also fit slim and long body builds so be aware of sizing when ordering from Mountain Hardwear. Click here for the Women's Piero hiking pants.
How to Choose Hiking Pants
When we pick out good hiking pants there are several key factors at work and each will matter more to some and less to others. It's up to you to decide which hiking pants are the best option for your needs and in this section, I'm going to help guide you through that choice.

Material
For a good pair of hiking pants, we want something durable and functional. Choosing a pair of hiking pants made from the correct material (fabric) is critical and your choices, by and large, are nylon or polyester. Each of these has its own unique pros and cons so let's examine each:
Nylon
This fabric type is highly waterproof, windproof in most forms, and extremely durable. Nylon fabrics are synthetic, meaning man-made, and can last an extremely long time in the right applications. Nylon does a poor job of wicking moisture but that's not necessarily the job of hiking pants anyways, so it's no big deal in this case.
Nylon is used in many outdoor applications such as tents, backpacks, and dry sacks to name only a few. Thick nylon such as 600 denier is often used for its notoriously good abrasion resistance and durability in places like the bottom of backpacks.
Pros:
Windproof
Water Resistant
Durable
Cons:
Does not wick moisture well
Polyester
This fabric is also synthetic but shares few of the same properties of nylon. Polyester is often used as "base layer" fabric due to its inherent ability to "wick" moisture away from the surface of the skin. Polyester is the main fabric in most UnderArmour garments and other tight fitting performance layers.
Unfortunately, polyester is not nearly as durable or abrasion resistant as nylon despite the fact that it performs better as a wicking fabric. Often polyester will be woven with nylon in a garment to help blend the relative strengths of each fabric to create a final product that is both strong, durable, and wicking.

Zip Off and Convertible Options
Many backpackers and hikers prefer zip off nylon pants because they offer a two-in-one solution to the needs of differing weather conditions. There was a time when zip off pants were a novelty item but these days in the hiking world, zip off pants have come to be a genuinely useful tool.
When choosing zip off pants it may be pertinent to choose a well-crafted pair of pants from a reputable manufacturer. Why? Because many cheap zip off pants from the local Walmart have weak zippers or poorly constructed seams and won't last very long at all. Make the investment in a good pair of zip off hiking pants.
An alternative, however, might be to wear a pair of running shorts for hiking in warm weather and carry a pair of lightweight nylon pants for in camp or when resting if the idea of zip off pants is not particularly appealing.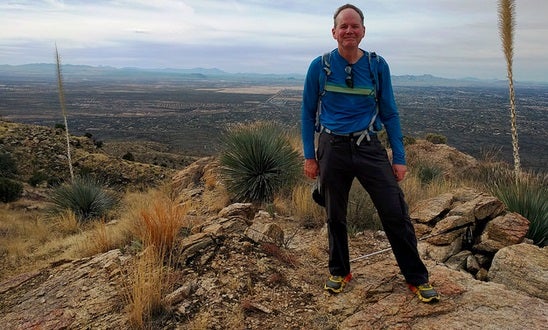 Seams and Waistband
Probably the single most overlooked factor which sets great hiking pants apart from the crowd is the waistband. If you've not spent much time carrying a backpack, then it may not occur to you that the hip belt of a heavy backpack rests directly over the waistband of most pants.
Wearing a belt or using pants with particularly thick waistbands can cause lots of discomfort, pain, and even raw skin or blisters.
Great backpacking pants will have a soft lined waistband such as micro fleece along with a nearly flat waistband construction to improve comfort under the hip belt of a backpack. Trust me, it's well worth the investment.
Flat sewn seams are also a feature of well-made hiking pants. These seams are sewn down flat against the garment so that they don't chafe or rub against the skin in critical points. Most hiking pants will feature this seam construction but double check for it before purchasing.

Other Features:
On better hiking pants you will hear the term "articulated knee" and wonder that the heck that means. Simply it mean the cut of the knee is at an angle so they are not straight. Your probably wondering why that matters but I can assure you it matters a lot!
With the knee "pre-bent" they are significantly more comfortable to knee down with and when hiking for long periods of time they don't rub or chafe as much. If you can get a pair with an articulated knee, do so, you will thank me.

Conclusion
As a hiker, it's important that you understand the different types of materials your pants might be made of. Among many options the choice for a convertible pant may be one of the more important decisions in the utility value of your new pair of pants.
Without a doubt, however, it's critical to focus on how the pants will feel when worn with a backpack hip belt fully loaded. Avoid any pants that are too restrictive or bulky around the waistband. Good hiking pants are durable, adaptable, and will last through years of heavy use.
I have been using convertible hiking pants for years and, while I don't usually take them backpacking, they often find a place in my daily use. For many hikers, these pants are the perfect combination of utility, durability, and aesthetic.
Be sure to see my favorite hiking shoes and trekking poles. A hiking watch is a great option to have, along with a good backpacking sleeping bag,  backpacking tent and a hiking backpack to carry everything in.
Notice: Outside Pursuits is a participant in the Amazon Services LLC Associates Program, an affiliate advertising program to provide a means for sites to earn advertising fees sold through by advertising and linking to Amazon.com. Amazon offers a small commission on products sold through their affiliate links. Each of your purchases via our Amazon affiliate links supports our efforts to bring you the best possible product reviews at no additional cost to you. We appreciate your support here at OutsidePursuits.com