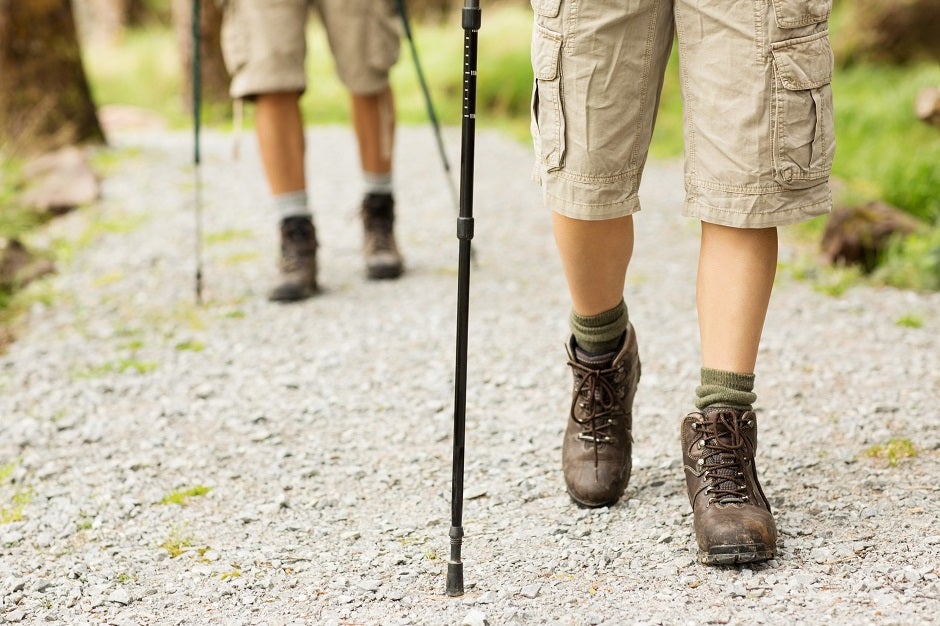 Our Editors independently research, test, and rate what we feel are the best products. We use affiliate links and may receive a small commission on purchases.
Hitting the trails during the summer means changing out those long hiking pants of spring and fall.
I can still remember coming back into town in North Carolina between weeks of guiding on the trail. We'd all go to the nearest outfitter and stock up on all manner of hot summer gear.
We knew the feeling of a week's worth of hiking in 100% humidity and rain every other day and only the best hiking shorts survive that kind of summer.
Fortunately, you don't have to get out there and put in all the effort. I'm going to do it for you!
I'm going to give you the step by step process to picking out a good pair of hiking shorts. I'm also going to review a handful of the top hiking shorts you can buy today.
Best Hiking Shorts
| | prAna Stretch Zion Short | Columbia Silver Ridge | Arcteryx Palisade Shorts |
| --- | --- | --- | --- |
| | | | |
| | | | |
| Material: | Nylon / Spandex | Nylon | Nylon |
| Pockets: | 5 Pockets | 6 Pockets | 6 Pockets |
| Belt: | Integrated | Integrated | Integrated |
| Gusseted: | Yes | Yes | Yes |
| | | | |
For more of my hiking gear recommendations, have a look through these popular Outside Pursuits guide links: Hiking Shoes, Hiking Boots, Hiking Pants.
Quick Answer: The 7 Best Rated Hiking Shorts For 2021
These are my top rated hiking shorts with full reviews, comparison table and our buyers guide on how to choose hiking shorts below.
---
Hiking Shorts Reviews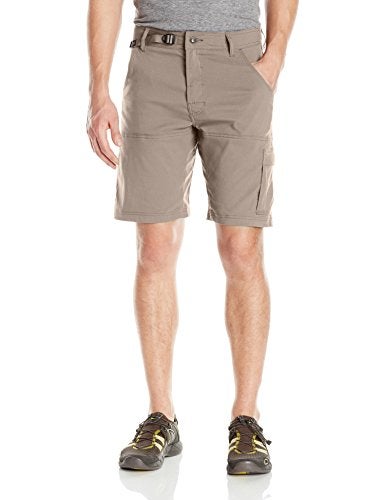 prAna Stretch Zion Short at a Glance
:
---
Nylon + spandex combo
UPF 50+ sun protection
Adjustable waist
Mesh pockets
PrAna is a brand that has made their stake in the world of climbing and are our Editors Choice for the best hiking shorts.
That's probably why these shorts are made to move and stretch in case you find yourself scrambling down a scree field or chimney climbing out of a canyon
While this pair of shorts does have belt loops, you're unlikely to need them. Why? Because there's a built in waist adjuster that gives you a chance to dial in the fit without needing a belt at all!
These aren't necessarily cargo shorts but there is a slim side pocket available. Maybe just enough storage space for a map or power bar.
Unlike many shorts on our list, these are available in 10+ colors that include a bunch of bright colors. If you're like me this might be a big selling point because cool colors just can't be ignored and they're hard to find in outdoor shorts sometimes!
With a nylon construction and vented inseam gusset you get abrasion resistance without feeling like you're wearing a plastic bag.
Ladies check out the PRANA Halle Women's Hiking Shorts.
Best For: Hikers who like bright colors and abrasive activities like climbing or canyoneering.

---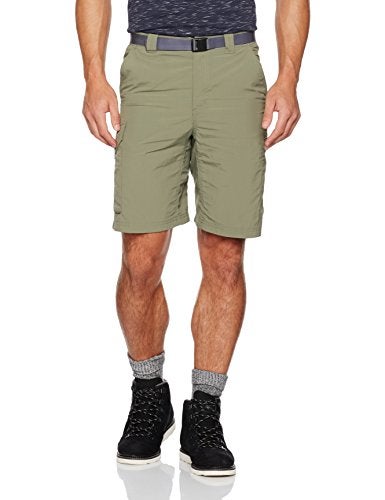 Columbia Silver Ridge Cargo Short at a Glance
:
---
Nylon construction
UPF 50+ sun protection
Cargo shorts style
Integrated belt
Columbia makes great gear at great prices. That's just as complicated as it gets when it comes to this company.These hiking shorts are no different and you can get on the trail without taking too much of a hit to the wallet.
One of the things we didn't talk about but I love is the color options here. There are a dozen or more different colors you can pick from if you like the style of these shorts.
Overall they're a no-nonsense cargo short made from a blend of mostly nylon. There's a bit of polyester built in as well for softness and wicking. They're calling the wicking technology "Omni-Wick" but I'm not 100% sure what other factors about these shorts contribute to wicking performance.
Probably the best aspect of these hiking shorts is the exterior adjustable belt. This thin webbing-based belt is built-in. It's also small and slim enough not to cause pain or chaffing under a backpack hip belt.
Ladies check out the Columbia Women's East Ridge II Shorts.
Best For: A very affordable pair of hiking shorts with a built in belt.

---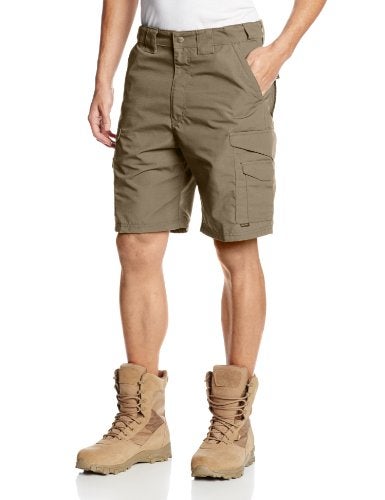 Tru-Spec 24-7 Polyester Cotton Rip Stop at a Glance
:
---
2 Cargo pockets
9" inseam
Belt loops
Expandable back pockets
As a polyester and cotton blend, these shorts blend a few performance features into an affordable pair of shorts. There's tons of storage room on these pants so be sure that you enjoy the cargo short style before commiting!
I'm not much of a tactical guy, but I will say that many users seem to enjoy the milsim tactical feel of these cargo shorts. If you're a prepper or EDC type person, you might enjoy the aesthetics as well as the function of these shorts.
On the same note, most of the colors available are earthy. Browns, olive, and other dark colors are the only choices you get – unlike the flashy colors of the Columbia shorts earlier.
One neat feature here is the slider waistband which allows for some adjustability without belts and elastic. Of course, you still need to order the closest size to your true fit because it can only help so much.
Ladies check out the Tru-Spec 24-7 Women's Ascent Shorts.
Best For: A sleek, tactical feeling cargo short to be worn with or without a belt.

---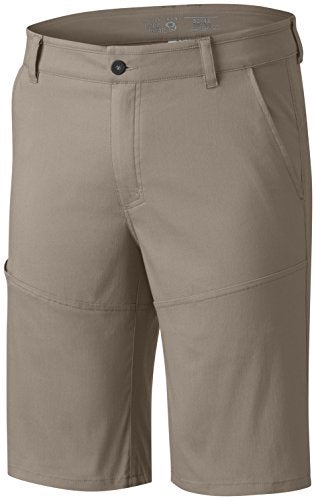 Mountain Hardwear Mesa Shorts at a Glance
:
---
Full-length inseam gusset

Mesh drain pockets for water
Zippered side pocket
DWR finish to repel water
As far as looking good in the woods is concerned, these shorts will get you the distance. Of course, Mountain Hardwear is known for the slim fitting sleek clothing that works great on people with tall, slim builds.
One feature of these shorts the is to-die-for is the inseam gusset. If you're tired of pants and shorts staying too tight around the crotch, particularly when stretching or bending, a gusset adds extra material to loosen you up.
People who regularly hike with backpacks will appreciate the flat waistband. There's very little material around the hips which minimizes chafing and pain when wearing a hip belt on a backpack like we talked about earlier.
I will say that the wicking fabric combined with DWR finish means these shorts are going to stay dry! If you take a dunk with them, the draining pockets and quick drying material will have you back to comfortable in no time.
Ladies check out the Mountain Hardwear Ramesa Women's Hiking Shorts.
Best For: Hikers who like that modern aesthetic in an athletic short that's slim and trim for backpackers.

---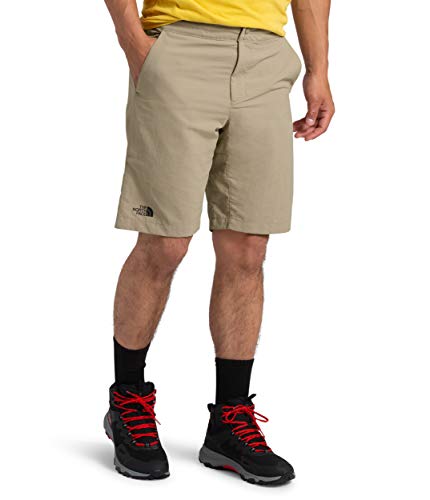 The North Face Straight Paramount Shorts at a Glance
:
---
Nylon + elastane stretch fabric

DWR finish

9" inseam length

Secure-zip pockets
At this point everyone knows and loves The North Face clothing, it's just a thing now. But when it comes down to it, can their shorts stand up to a critical gaze? I think you'll be happy with these stretch-woven hiking shorts.
They have some elastic in the waste for a perfect fit if you are in between sizes. I've owned hiking pants for years with elastic in the waist and I can say they're great to have. You can pretty much skip the belt with them.
These shorts are only available in your classic drab outdoor colors but that's not always a bad thing. We don't all like bright colors in our hiking shorts!
Like most shorts with thin waist bands and webbing belts, these make a top pick for backpackers wearing hip belts.
I also like the zip pockets in the back for valuables like your phone or wallet. Front pockets are large for quick access to a GPS or some snacks.
Ladies check out the The North Face Women's Horizon 2.0 Shorts.
Best For: Hikers who want a forgiving, stretchy pair of shorts that can handle backpacking or day hiking.

---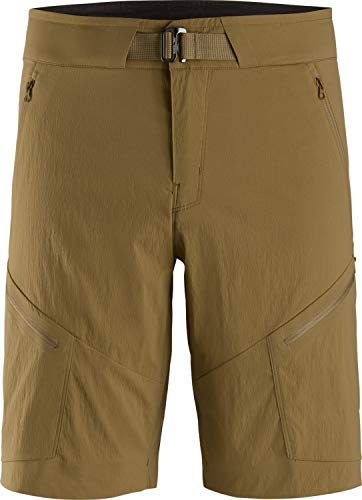 Arcteryx Palisade Shorts at a Glance
:
---
Stretch nylon fabric
Articulated pattern with gusset
Two rear pockets

Mesh-lined pockets
Alright so I've got mixed feelings about Arcteryx. They're expensive – but I think you get what you pay for. These shorts have some of the best materials and design of any you can find, as it the standard for this company.
I love using my outdoor clothes for everyday wear and nothing is more annoying than missing pockets. These shorts have two front and two back pockets as well as a slim zippered cargo pockets. No missing pockets here.
In fact, these shorts have such a svelte modern style they could be right at home on the golf course or casual gathering. Make no mistake though, they're specifically designed from stretchy durable nylon with patterning that allows them to move in the outdoors.
If you like wearing a belt with your shorts you've got a built in belt here. And if you get wet from a rain shower, these shorts dry fast! Just get ready for the shock on your pocketbook if you decide to go with these shorts.
Ladies check out the Arcteryx Sylvite Shorts.
Best For: Backpackers who want advanced modern design and styling that's purpose built and want the best backpacking shorts!

---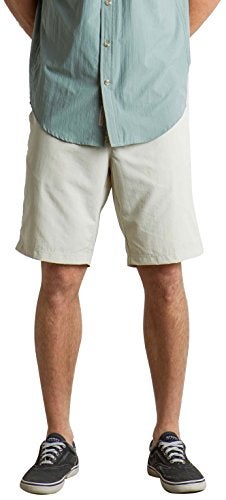 ExOfficio Nomad Shorts at a Glance
:
---
Nylon construction
Two zippered side pockets
Full inseam gusset
UPF 30+ sun protection
ExOfficio makes some great outdoor clothing but too often they don't make the highlights. Not so this time! Check out these durable nylon hiking shorts that land somewhere between cargo and slim fit.
Like most of the more expensive hiking shorts we've seen, these are focused on durability and mobility. The full inseam gusset ensures that you won't be bound and tight. However, the 100% nylon construction won't be very forgiving. I really would have liked to see them add some lycra for stretch.
One of the nicer features, in my view, is the zippered side pockets. These make it quick and easy to get your wallet in or out while making sure it doesn't slip out when you take a break. I hate fiddling with back pocket buttons so these speak to me!
Maybe one of the biggest downfall of these shorts is that they're only available in one color: off white.
Ladies check out the ExOfficio Nomad Women's Hiking Shorts.
Best For: Backpackers needing a very durable nylon pair of shorts that looks as good off the trail as on it.

---
Hiking Shorts Comparison Table
How to Choose the Best Hiking Shorts – Buyers Guide
Of course, not everyone wants the same pair of hiking shorts. So what sets them apart? Whether you're a zip off kinda person like I am or you prefer the substantially less nerdy regular hiking shorts, we've got you covered.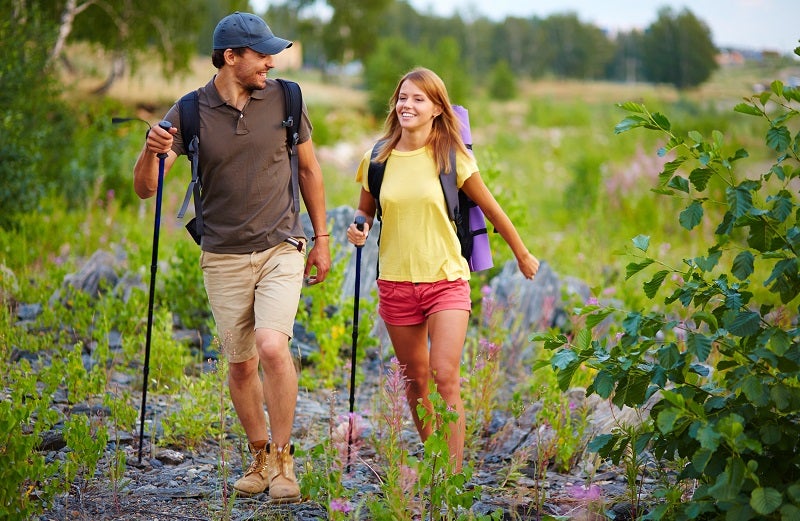 Hiking Shorts Fabric
It's probably pretty obvious that the type of fabric chosen for a pair of hiking shorts dramatically impacts their performance. What might not be so clear is what kinds of fabrics you should look for in a good pair of hiking shorts.
Polyester
Is a soft, wicking fabric that's often used in base layer clothing. Shirts like Under Armour and other stretchy, wicking shirts are often made from polyester.
Various weaves of polyester can result in dramatically different outcomes in texture, feel, and performance. However in general polyester is considered a good sports performance fabric. Look for polyester lycra blends for shorts with some stretch.
Nylon
Fabric made from nylon is very durable and abrasion resistant. They make great shorts for climbing, bouldering, or canyoneering where rough rocks can snag and rub at your clothing.
Nylon by itself tends to be rough, plasticy, and holds in moisture and sweat. However, combined with a blend of fibers it can be a pleasant fabric for shorts. I've used several 100% nylon shorts and it rarely bothers me but they're certainly not as breathable as polyester shorts.
Lycra
Deserves a quick mention although it's not a fabric that shorts would normally be made of exclusively. Instead this fiber is used as a blend with nylon or polyester to add stretch and give to a pair of shorts.
Cotton
While cotton is normally shunned as an outdoor fabric, for day hikes or in times when the "danger" level of your hike is low cotton shorts might be just fine. In fact, thanks to their slow drying time they might even keep you cool on a hot day if you get them on purpose!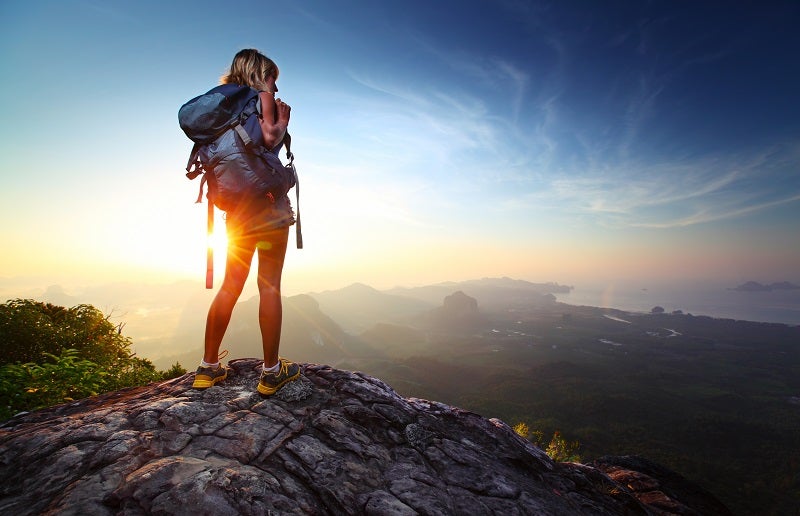 Hiking Shorts Construction Style
What type of shorts should you be looking for? Well, ultimately it's up to you but I've got a couple pro tips for you first!
Zip Offs
Convertible zip off shorts are always a choice to consider. These pants that you thought died with the 90's are still alive and well in the hiking world. They're handy, too because you can adapt to changing weather. Technically these are probably considered pants and not shorts though…
Cargo Shorts
These shorts are a style that includes tons of pockets for storage, unsurprisingly. One thing to watch out for is that items stored in these pockets can chaff and rub against your legs while hiking. Keys, phones, and other items bang against your legs and cause chaffing.
Use these when hiking shorter distances if you need to carry lots of goodies. Trail maps, tree or animal ID books, and other goodies can find a home in these pockets.
Running shorts
These are some of my favorite hiking shorts. If you're like me and don't tend to use the pockets on your hiking shorts, you might find that a pair of athletic shorts work great. They're light, breathe well, and move with you. Their main drawback is lacking pockets which is annoying to many hikers.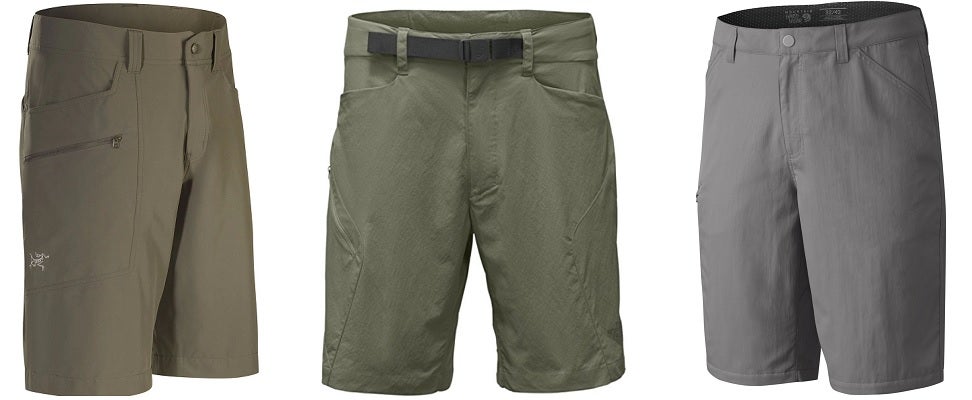 Belts or No Belts?
Should you wear a belt with your hiking shorts? This one really depends on one major factor in my view: are you carrying a pack with a hip belt or not?
For day hikes when you're not carrying a pack or for backpacks without hip belts, you can wear a belt with your shorts. However, as soon as you start carrying a large backpack with a hip pad, you've got to abandon that belt on your shorts.
Belts cause chaffing and rubbing when worn under a backpack strap. The weight of the pack can cause the belt underneath to bite into your skin and leave blisters or sores. I've seen this happen many times firsthand.
The only way around this is to use a very thin belt like a webbing belt. These belts are flat and have very little texture which allows them to sit under a backpack strap without causing injury.

FAQs For Hiking Shorts
Q: What are the best shorts for backpackers?
We talked a bit about this earlier but backpackers have a little different needs than other hikers. What you really want to see is a thin waistband with an integrated webbing belt.
These types of shorts, like the North Face Paramount Shorts we reviewed earlier, will be the most comfortable option.
Q: How do I find cheap hiking shorts?
Brand has a lot to do with what you're going to pay. Expensive brands include prAna, ExOfficio, and Arcteryx. The most affordable outdoor brand I can think of is usually Columbia Sportswear.
That's not to say you can't get cheap hiking shorts elsewhere. Look for last year's models from any brands and you're likely to get them at 50% off or more.
You'll also have a good chance of finding discounts if you wear an odd size.
Q: What hiking shorts do you use?
Who? Me?
When backpacking I like to use running shorts. The integrated liner means no need for undies (I know, gross). They're also lightweight and very quick to dry!
For day hikes when I need to carry my wallet, keys, and other goodies I usually rock some zip off pants as shorts. Otherwise I'll default to stretch woven nylon for the blend of movement and durability.
Am I overthinking it? Yeah, probably. I'm also a sucker for cheap stuff so I'm always hunting the bargain racks!

Final Thoughts
When it all comes down to it, you'll have to make up your own mind. If you've followed the article then you've got all the framework you need to make a great choice that you'll be happy with.
There's nothing wrong with picking up a handful of different hiking shorts. Choose one that's great for backpacking and one that's great for climbing and canyoneering. There's no reason you can't adapt to each situation uniquely!
Remember that hiking isn't always the best time to have pockets full of gear as it can become uncomfortable. Think carefully about where the pockets are on your shorts and how many you really need.
Once you've made up your mind just get out there and enjoy yourself!
How We Researched
To come up with the top hiking shorts we researched a variety of sources for reviews such as REI, Bass Pro Shops, Cabelas and Backcountry along with our own personal experience.
We also consulted online magazines for product research and reviews to get as much unbiased information as we could. To help weed out fake reviews we used Fakespot.com to make sure we only looked at genuine reviews.
With so much quality gear available, we had to narrow it down based on what we felt were the best options for the price. The author, Casey Fiedler has been leading backpacking trips for over a decade in his native state of Michigan.
To help narrow down the selection he used his personal experience along with recommendations from fellow guides and outfitters.
After extensive research, we came up with our list to help you choose the right one for you.
Sources
---
I hope this guide was helpful for finding a good pair of hiking shorts to fit your needs. If you want to comment or recommend a pair of shorts I didn't include, please use my contact form to get in touch.
Notice:
OutsidePursuits.com is a participant in the Amazon Services LLC Associates Program, an affiliate advertising program. OutsidePursuits.com earns fees from products sold through qualifying purchases by linking to Amazon.com. Amazon offers a commission on products sold through their affiliate links.