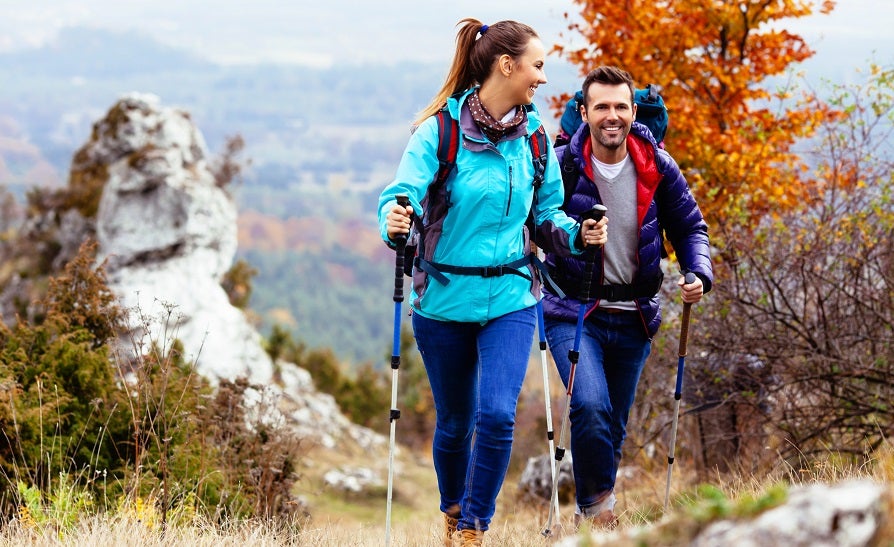 Our Editors independently research, test, and rate what we feel are the best products. We use affiliate links and may receive a small commission on purchases.
If you're just getting started hiking, trekking poles (or hiking poles) may not be high on your gear list.
It's a fact that using hiking poles have been proven to reduce stress on legs and knees by up to 25%.
Some hikers use them because they aid with balance, or climbing steep hills. Others will carry hiking poles for all the above reasons and because they can be used to pitch a tarp or tent.
There are many reasons to carry and use hiking poles.
Best Hiking Poles
| | Hiker Hunger Carbon Fiber Trekking Poles | Foxelli Trekking Poles | Black Diamond Distance FLZ Z-Poles |
| --- | --- | --- | --- |
| | | | |
| | | | |
| Shaft: | 100% HM carbon fiber | 100% carbon fiber | 100% carbon fiber |
| Weight (pair): | 15.2 oz | 14 oz | 10 oz |
| Length: | 24" (60.9 cm) to 54" (137 cm) | 24" (60.9 cm) to 55" (139 cm) | 7 Sizes available from 39" (100 cm) to 51" (130 cm) |
| | | | |
For more of my hiking gear recommendations, have a look through these popular Outside Pursuits guide links: GPS Hiking Watches, Hiking Shoes, Handheld GPS Units
Quick Answer: The 6 Best Rated Hiking Poles For 2021

Our reviews of the top rated hiking poles along with our guide and comparison table will help you choose the right pair for you.
---
Hiking Pole Reviews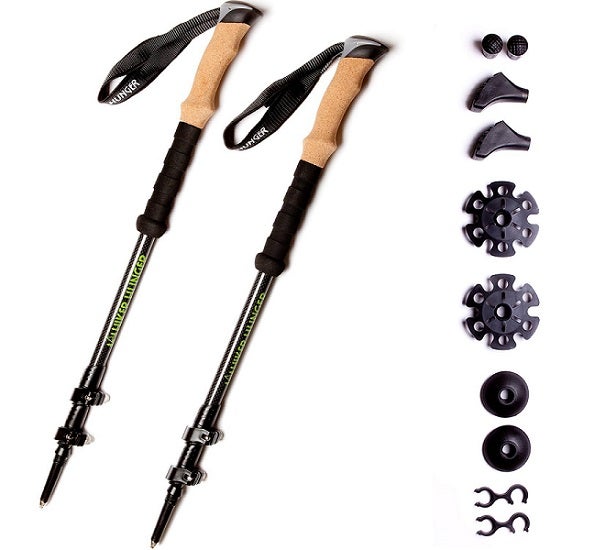 Hiker Hunger Carbon Fiber Trekking Poles at a Glance
:
---
Shaft: 100% Carbon Fiber
Type: Telescoping
Weight: 7.6 ounces per pole
Grip: Cork and EVA foam
Locking: Flick Lock
With a very appropriate name, the Hiker Hunger Carbon Fiber Trekking Poles are among the lightest collapsible trekking pole available, at under one pound for both!
They achieve this lightweight because they are 100% carbon fiber poles and not a combination of aluminum and some carbon fiber. I really like the fact that these are collapsible and not folding.
Even though they are a bit heavier than one piece folding walking sticks, you can adjust them to the precise length you need with a flip of the quick lock.
Fully collapsed, they measure 24 inches and will fit in just about any pack.
In my opinion the slight extra cost of 100% carbon fiber is well worth it. Carbon fiber tends to flex more and provide extra shock absorption that you don't get with aluminum shafts.
The natural cork grip handle is one of the most comfortable I have used and provides natural wicking abilities because of its porous nature.
Cork will over time will conform to the shape of your hand and Hiker Hunger also thoughtfully put EVA foam grips under the handles so you can choke up on them with the going gets steep.
The incredibly tough and durable tungsten carbide tips with rubber tips will last a longtime and are interchangeable depending on the type of hiking you're doing.
You will get year-round use from the Hiker Hunger Carbon Fiber Trekking Poles. They include a variety of trekking baskets that are appropriate for hiking, snowshoeing, mountaineering and even tent poles.
If you're looking for the best collapsible trekking pole, the Hiker Hunger poles are a great option.

---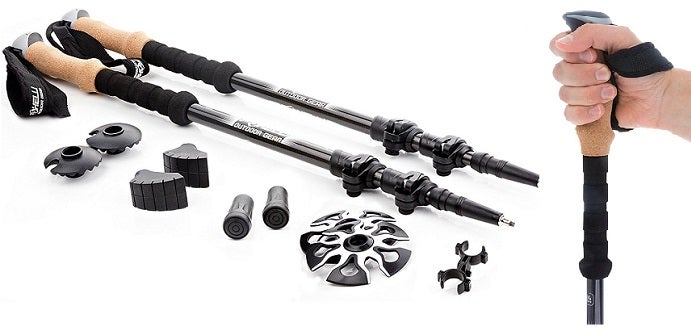 Foxelli Collapsible Trekking Poles at a Glance
:
---
Shaft: 100% Carbon Fiber
Type: Telescoping
Weight: 7 ounces per pole
Grip: Cork and EVA foam
Locking: Flick Lock
Very similar to the Hiker Hunger Trekking Poles the Foxelli's are also 100% carbon fiber poles. The carbon fiber shafts do a much better job of absorbing shocks and vibration than aluminum.
This makes it easier on your joints and the Foxellis's are probably the best walking poles for seniors. The Foxelli Trekking Poles are a collapsible design that extend up to 55 inches and collapse down to 24 inches.
Fully collapsed they will fit in just about and hiking or day pack and with such a wide range can be used by adults and kids.
Also like the Hiker Hunger they have a natural cork grip handle that will after a short time, conform to your hand to "fit like a glove". Natural cork is durable and also will keep your hands cool and dry when the weather heats up.
The poles have a soft EVA foam handle under the grips for choking up for steep terrain and switchbacks. The wrist straps are padded and adjustable for all day on the trail.
Foxelli had all year use in mind with these hiking sticks. They include carbide tips with rubber covers that attach firmly so they don't come off it gets stuck between rocks or in the mud.
Also included are snow baskets so you can use them for skiing or snowshoeing.
Foxelli also included a carry case when you're not using them. I give the Foxelli Carbon Fiber Trekking Poles high marks all around and are some of the lightest trekking poles on the market.

---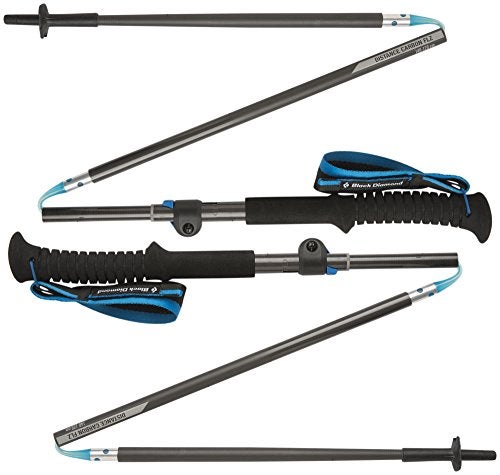 Black Diamond FLZ Folding Hiking Poles at a Glance
:
---
Shaft: 100% Carbon Fiber
Type: Folding
Weight: 8 ounces per pole
Grip: EVA foam
Locking: Flick Lock
At 8 oz each, these poles beat out just about every hiking pole on the market! They're not "cheap" by any means but you get what you pay for!
The FLZ poles are "folding" hiking poles in comparison to the hiking poles we just looked at. They do have some advantages over collapsible poles.
Once you set the length on them, you will not have to set it again. Just fold them up and stick them in your pack.
Unfold them and your ready to go! They fold up into three sections and more compactly than telescoping poles.
They are also 100% carbon fiber but instead of cork, they opted for comfortable foam handles made from EVA.
Im a big fan of Black Diamond as a brand. Black Diamond executes products almost flawlessly and I've used them for years for everything from hiking poles to trad climbing gear and skiing gloves.
This brand knows how to execute a great product and I'm glad to be able to see them coming in and owning another market with a superior product at a great price. These are a great option for the best folding trekking poles.

---

Leki Corklite Trekking Poles a

t a Glance
:
---
Shaft: Aluminum
Type: Telescoping
Weight: 10.4 ounces per pole
Grip: Aergon Thermo Grip
Locking:

Speed Lock
Leki has a great name and, in the skiing world, they make one of the absolute best poles on the market. In the hiking world, however, I view their poles as heavy and clunky.
That being said, Leki has been working toward lightening up their poles and offering a telescoping option for those of us who value function and lightweight form.
These poles are 10.4 oz each – right in line with the other hiking poles we have looked at, but they have a few cool features. They're adjustable in length poles from 110cm to 130cm and a balance of adjustment and weight savings.
The ergonomic cork & rubber grips feel comfortable in your hands and the bottom half of the pole is equipped with an SAS-L Antishock, shock absorbers for vibration reduction and all day comfort.
By changing out the basket with snow baskets you can use them for skiing or snowshoeing.
The Leki Makalu Lite Cor Tec Trekking Poles are a good compromise for those looking to get a lightweight, reliable pole that can be used for multiple sports. These telescoping trekking poles by Leki should be on your short list!

---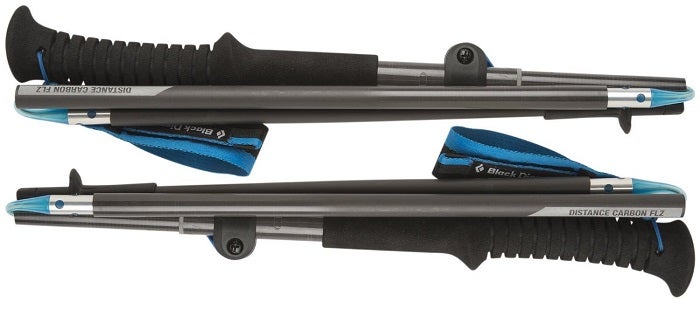 Black Diamond Z Carbon Fiber Trekking Poles at a Glance
:
---
Shaft: 100% Carbon Fiber
Type: Folding
Weight: 5 ounces per pole
Grip: EVA foam
Locking: Flick Lock
With an ultra-lightweight body (6 oz each) and the ability to break into three small segments, this pole is truly an amazing piece. I hiked with the aluminum version for years and absolutely loved them!
If you're traveling or flying, break the poles down into a three-piece segment and stuff them into your bag. They practically disappear.
This is a major advantage over a fixed length pole. The comfortable EVA foam grips are ergonomic and feel good in your hands and the wrist straps are lined with great micro-fiber that never chafes.
Video: How to use the Black Diamond Distance Carbon Z hiking poles.
How To Video Black Diamond Z Poles HD
Now that they're being made in lightweight carbon fiber, their pros are really beginning to get me attracted to this pole again. It's arguably the absolute best choice all around for the perfect balance of weight, cost, packability, and function.
If you want Black Diamond quality with a cork grip, check out the Black Diamond Alpine Carbon Z Z-Poles.

---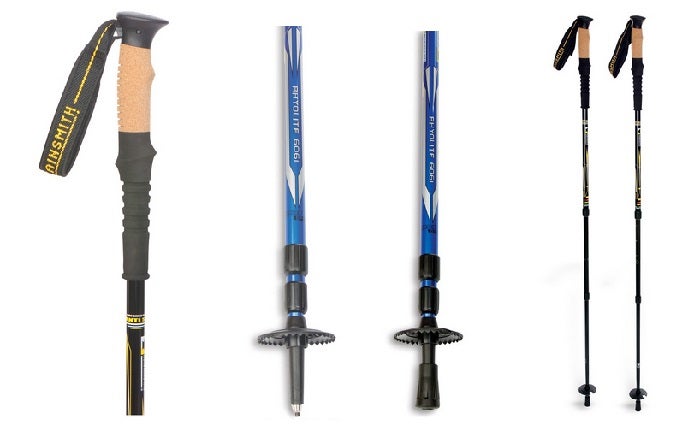 Mountainsmith Carbonlite Pro Trekking Poles at a Glance
:
---
Shaft: Carbon and 7075 Aluminum
Type: Telescoping
Weight: 10 ounces per pole
Grip: Cork and EVA foam
Locking: Flick Lock
Mountainsmith has an excellent reputation for making durable outdoor gear. The company was founded by Patrick Smith in 1979 in the rugged mountains of Colorado. Originally started with ski gear has expanded to a variety of outdoor equipment.
The Carbonlite Pro Trekking Poles are a hybrid being made from a 7075 aluminum shaft with a carbon fiber coating. This offers a number of advantages of each material.
The collapsible hiking poles have the strength of aluminum but the carbon fiber gives them more flexibility and shock absorption than an aluminum only pole.
Plus they don't have the "clanging" noise that aluminum poles have when hitting rocks. Normally not a big deal but if you are trying not to scare off the wildlife, it comes in handy.
The Carbonlite poles are telescoping so they have the advantage of a wide range of adjustability. They range from 26 inches fully compacted to 54 inches at their longest.
However, one of the disadvantages of a telescoping pole vs a folding pole is the fact they don't compact down as small.
For comparsison, the Leki Micro's compact down to a tiny 15 inches. That's almost a foot, that's a pretty big difference in trying to fit in your pack.
The combination of the carbon and aluminum keeps the weight down to a very reasonable 20 ounces.
They feature an anti-shock system in the bottom section of the poles that can be locked and turned off if you don't want it.
Even at a very reasonable price they feature cork grips for comfort and wicking properties. The Carbonlite Pro's have a twist out cam locking mechanism vs a lever lock. Personally, I prefer the lever lock but there is nothing wrong with the twist lock .
Video: Overview of the Mountainsmith Trekking Poles.
Mountainsmith Trekking Poles
They come with neoprene wrist straps that are adjustable and comfortable. The carbide tips give you an excellent grip and come with removable rubber boot tips.
The baskets can also be changed out, they come with an all-terrain basket but Mountainsmith makes other baskets as well. Overall the Carbonlite Pros are a top contender for the best budget hiking poles.

---
Hiking Pole Comparison Table
How to Choose the Best Trekking Poles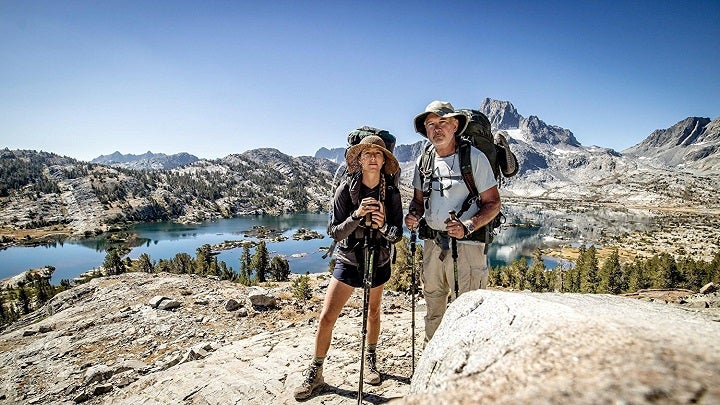 After leading backpacking trips for over 5 years I can tell that hiking poles aid in balance, propulsion, and help for climbing steep or precarious hills.
I also find them extremely useful as tent poles for setting up my tarps without having to carry an extra pole for shelter setup.
At first I began using a pair of adjustable Leki Makalu (gift) adjustable aluminum poles – they were insanely heavy! With the advent of carbon fiber, hiking poles have come down significantly in weight.
Now there really is no good reason not to take advantage of them!

Type: Fixed Length or Adjustable?
The biggest hurdle to choosing a fixed length hiking pole is thinking "how do I know what length I need?" It's really quite simple to measure yourself for a fixed length hiking pole and, once you get the measurement, you won't need to adjust it.
Put on your hiking shoes, or boots, and stand straight with your arms bent 90 degrees, parallel to the ground. Measure from the top of your fist to the ground – this is the length you'll want for a fixed length pole.
Most fixed length poles have handles which feature two separate positions – one at full length, and one a little shorter. This gives two "lengths" that can be used, one for walking on flats and descending hills, another for climbing.
As long as you get your initial measurement correct, a fixed length pole won't need to be adjusted and they're always lighter than the equivalent folding hiking poles because they are simple and feature less components.
Video: How to use trekking poles.
How to Use Trekking Poles (Like a Boss)
Weight
The biggest consideration for weight is what type of pole you're using. Of the three types (fixed length, 3-piece, or adjustable) the adjustable poles are, by far, the heaviest. Let's take a look at a couple examples:
Shock Absorption
This might be one of the silliest and most useless selling points ever invented for hiking gear. I have used the Leki Makalu shock absorbing poles on several trips, though I ditched them quickly due to excessive weight, and never once found them to absorb any shock.
Having spent many seasons on the trail, I've hiked with, near, around, and past tons of people using adjustable shock absorbers on their poles and all I can think is "Gosh, those look heavy and miserable!".
Hiking poles themselves help the legs and body absorb shock by using the arms and upper body to take on some of the burden of hiking. Many times a day, when using poles, I think "Man, I'm glad I had the pole to help me down that!"
But never once have I said, "Man, I'm glad that hiking staff has its own suspension system inside so my hand doesn't jiggle!" I avoid these types of poles because they can be too heavy, clunky, and poorly designed.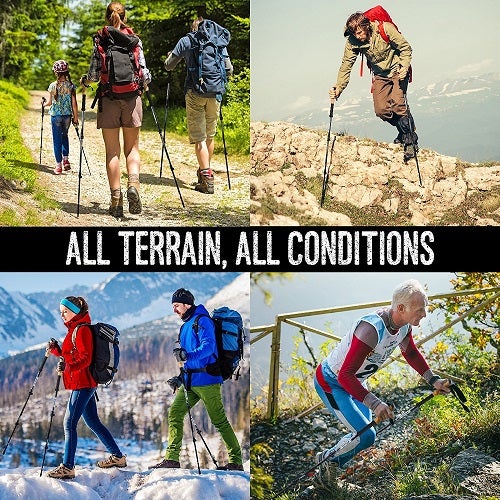 Basket
Many hiking poles come with interchangeable trekking baskets– a narrow basket for hiking and a wider basket for snow. If you're seriously planning to use only one pole for both hiking and snowshoeing, then you might consider a pole with interchange baskets.
For those of us using the hiking poles for 3-season hiking and backpacking, interchangeable baskets are just a distracting sales gimmick.
As an avid backpacker, alpine ski instructor, cross country skier, and occasional snowshoe participant I can tell you that I still prefer to have a dedicated set of poles for each activity.
Why?
Because a dedicated hiking pole does its job better than a one-pole-quiver setup.

Locking Mechanisms
There are several different locking systems for poles these days and, if you're going to purchase an adjustable hiking pole, you'll be better off understanding them. There are three types: twist lock, flick lock, and pull lock.
Twist Lock
Twist lock poles are the most common and operate by twisting two sections of the pole against each other to lock them into place. They are notorious for coming loose while hiking and needing frequent adjustment.
Flick Lock
Flick lock poles are a bit newer and operate with friction by an adjustable lever mechanism. Each section of the pole is locked by its own small, ergonomic, lever which pinches down against the shaft of the pole and locks the whole thing into place.
Pull Lock
I'm honestly not sure if there's even a name for this type of lock system, but the Black Diamond Z Poles operate on this system. The idea is that the whole pole is held together by sliding the handle up along the shaft of the pole until it locks into place.
The handle is attached to each successive segment of the pole via an internal cable and, once locked into place, holds the entire pole in place.

Hiking Poles Shaft Construction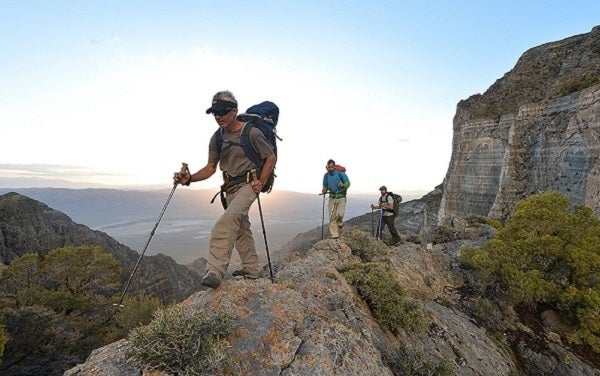 The shaft material the poles are made from is the most important factor in their weight.
Carbon Fiber
Poles made from this material are usually lighter and more expensive. They normally weigh between 6 and 9 ounces per pole. One of their other major advantages is they help reduce vibration and provide some shock absorption compared to aluminum.
They are not as strong however and under a lot stress they will splinter and break.
Aluminum
Poles made from aluminum (usually 7075 aluminum) are usually very durable and are usually cheaper. You pay for it in extra weight.
They normally weigh between 9 and 12 ounces per pole. Aluminum is stronger and can take a beating and they may bend they are unlikely to break under a heavy stress or shock.

Trekking Pole Grips
Rubber
Best for cold weather because they don't get as cold and as a result neither do your hands. You are more likely to have sweaty hands since they offer little in the way of wicking properties. You may also suffer from blisters since they tend chafe your hands.
Cork
The best material in my opinion. They absorb and wick away sweat give you good grip. Cork also conforms to your hands after a period of time and also offer some vibration reduction as compared to rubber.
Foam
Grips made from foam are usually very comfortable but tend not to be as durable as rubber of cork. They also have wicking properties like cork.

Some More Considerations For Hiking Poles
Baskets
Since trekking poles can be used year round a variety of baskets are available. Small ones for rocky, hard terrain and larger for snow and mud.
Tips
Carbide being the most common, they offer superior traction on hard surfaces like rock or ice. Using a rubber tip can offer better traction depending on the terrain and also protect your backpack and gear.
Straps
All poles come with a wrist strap and are usually adjustable. The strap can offer extra support so you don't have to grip the poles as hard and made the poles harder to drop.
Not all hikers like them because they feel they are confining. The straps are usually made from neoprene or nylon with padding to reduce chafing.
Conclusion
Probably the overall best choice might just be the Black Diamond FLZ Pole for its light weight, great execution, awesome price tag, and a rock-solid reputation.
If I had to recommend a single pole to every hiker it would be, without a doubt, the Black Diamond Z Pole Carbon.

Best Trekking Pole Brands

There are now quite a few manufacturers of quality trekking/hiking poles on the market now. This is a testiment to their value when you are hiking. My favorite overall brand is still Black Diamond. They have been making poles for years not and have perfected them.
Leiki, having made ski poles for decades, have come out with a great line of trekking poles and definitely worth considering.
Newcomers Hiker Hunger, Foxelli have come out with some great carbon fiber trekking poles at a bargain price. Mountainsmith makes some great outdoor products, I would include their trekking poles among the best available.
Mountainsmith
Leiki
Hiker Hunger
How We Researched
To come up with the top trekking poles we researched a variety of sources for reviews such as REI, Bass Pro Shops, Cabelas and Backcountry along with our own personal experience.
We also consulted online magazines for product research and reviews to get as much unbiased information as we could. To help weed out fake reviews we used Fakespot.com to make sure we only looked at genuine reviews.
With so much quality gear available, we had to narrow it down based on what we felt were the best options for the price. The author, Casey Fiedler has been leading backpacking trips for over a decade in his native state of Michigan.
To help narrow down the selection he used his personal experience along with recommendations from fellow guides and outfitters.
After extensive research, we came up with our list to help you choose the right one for you.
Sources
---
I hope this guide was helpful for finding the right hiking poles to fit your needs. If you want to comment or recommend a set of poles I didn't include, please use my contact form to get in touch.
Have fun and be safe out there!
Notice:
OutsidePursuits.com is a participant in the Amazon Services LLC Associates Program, an affiliate advertising program. OutsidePursuits.com earns fees from products sold through qualifying purchases by linking to Amazon.com. Amazon offers a commission on products sold through their affiliate links.