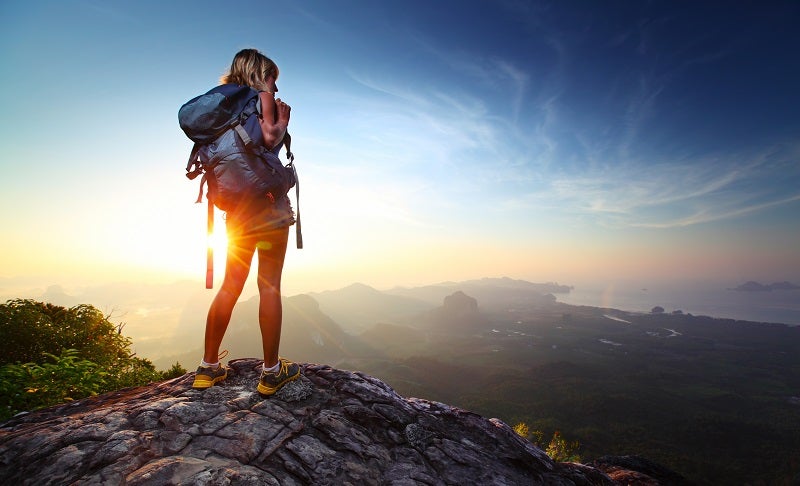 Our Editors independently research, test, and rate what we feel are the best products. We use affiliate links and may receive a small commission on purchases.
There are quite a few differences between men's and women's backpacks. In this article I'm going to be helping you figure out exactly what to look for in your next women's hiking backpack purchase.
We'll go over the basics and I'll be sure to sprinkle in a few nuggets of pro tips for you along the way!
We've also taken the time to round up a few of the top rated women's backpacks available today so that you can get started right away.
Best Women's Hiking Backpacks
| | Osprey Women's Aura | Deuter ACT Lite | Gregory Mountain Deva |
| --- | --- | --- | --- |
| | | | |
| | | | |
| Size: | 60, 62, 65L | 60L | 60L |
| Hydration: | Internal sleeve | Internal sleeve | Internal sleeve |
| Weight: | 4.34 lbs | 4.2 lbs | 4.14 lbs |
| Access: | Top | Top | Top |
| Rating: | 4.7 / 5.0 | 4.4 / 5.0 | 4.6 / 5.0 |
| | | | |
For more of my women's hiking gear recommendations, have a look through these popular Outside Pursuits guide links: Hiking Shoes, Hiking Boots, Hiking Pants.
Quick Answer: The 7 Best Rated Hiking Backpacks For Women
Don't forget to take a peek at the buyers guide and comparison table if you still have questions!
---
Women's Backpack Reviews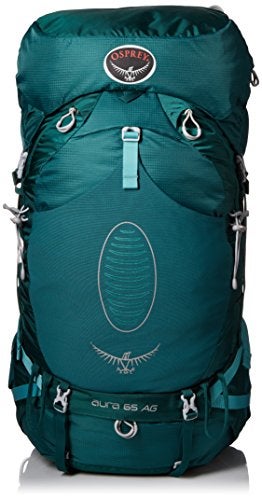 Osprey Women's Aura AG Backpacks at a Glance
:
---
65 Liters Storage
Antigravity back panel
Women's specific hip belts
Water bladder ready
Of all the major backpack manufacturers, Osprey has been and remains my personal favorite.
I've been using their packs for years and their women's specific designs are among the best women's hiking backpacks in my opinion.
One of the best features of all Osprey packs is the Almighty Guarantee they give you.
This all-encompassing guarantee means Osprey will repair your pack no matter how much or what kind of damage it sustains.
That's a pretty solid reason to stick with Osprey gear, if you ask me!
On top of that, their packs feature some of the most robust and well-designed hip belts and shoulder pads. The Fit-on-the-Fly hip belts are designed to fit anyone with a high degree of comfort.
I also love the Antigravity back panels because the suspended mesh allows air to move freely so your back doesn't get drenched in sweat all the time.
Plus the integrated hip belt pockets put your snacks in easy reach.
Best For: An all-around solution to any type of backpacking or mountaineering.
---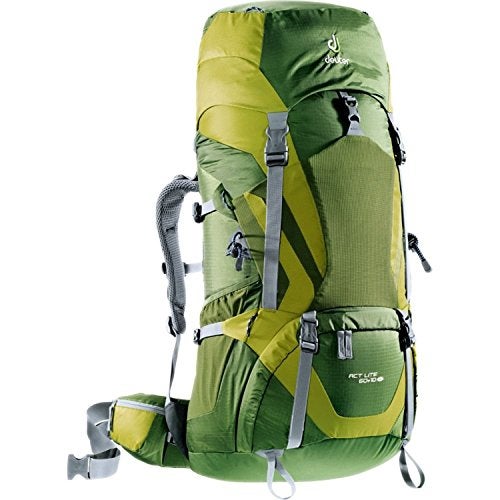 Deuter ACT Lite Internal Frame Pack at a Glance
:
---
60 Liters Storage
SL frame for women's ergonomics
AirContact ventilation system
Lightweight aluminum X-frame
Deuter has rapidly become one of the better backpack makers around. This pack is a solid do-it-all size with several color options and design features just for the ladies.
Like most internal frame packs these days, Deuter is keeping pace with innovations. Things like the lightweight aluminum frame are standard.
However, they exceed expectations by wrapping the frame across the pack with a load-bearing X frame style.
Whether or not this is entirely better than other frame styles may be up for testing.
We'll talk about it in our guide below, but the ripstop nylon blended with specific fabrics in key areas is the gateway to a perfect pack. That's why this bag is made from 210 ripstop and Super-Polytex polyester fibers.
Similar to the Osprey Aura, this bag is a large modern internal frame mountaineering backpack. Ready for long journeys in any terrain this is the best women's backpacking pack!
Best For: Long trips with large gear loads in any season or condition.
---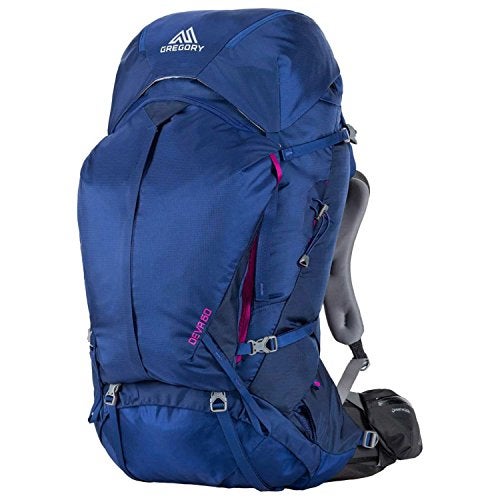 Gregory Deva Women's Backpack at a Glance
:
---
60 Liters Storage
Response A3 suspension for women
Weather resistant pocket
Integrated rain cover
Gregory has been making the best women's backpacks quite a bit longer than most other manufacturers.
With that expertise they consistently bring us packs that push their way in amongst even the most cutting edge tech. Some of you may have mixed feelings about rain covers.
Many hikers use them, others hate them. If you're a rain cover lover then you'll feel at home with this pack where the rain cover stores into a dedicated pocket so it's always ready at a moment!
To up the ante with weather protection when the storms roll in, you can take advantage of a weather resistant pocket on this pack.
TPU-coated hip belt compartments on this bag help shed all but the very worst rain and will help keep your gear safe through surprise showers.
If you're not a fan of the bright, loud colors of many modern backpacks, a Gregory pack might be for you.
They've traditionally stuck with more muted mountain colors and the three color options of this backpack stick with that subdued them.
Best For: Women who want a less flashy pack with weather protection features.

---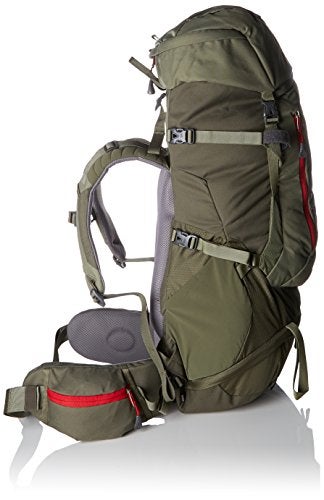 The North Face Women's Terra 55 Backpack at a Glance
:
---
55 Liters Storage
Opti-Fit suspension for Women
Anatomical shoulder straps
Improved hip belt for load bearing
The North Face is a brand that has built a loud reputation on outdoor inspired everyday gear. When it comes to their backpacks, however, they keep up with the trends and tech of today's trail loving hikers.
One feature of this pack that's rare among internal frame backpacks is the side entry. Some hikers prefer this method because you can unzip the back of the bag to access the internal contents from the side instead of the top.
Other hikers, like me, prefer the top load only style. It's up to you what works best!
A single vertical mesh vent on the back panel provides some cooling when wearing this pack during hot days. Make no mistake, though, it won't be as cool as the Osprey Antigravity back panel.
At just 55L this backpack is a bit smaller than others on our list yet retains ample room for a weekend trip for any hiker.
Best For: Women looking for a smaller pack that can accommodate any needs you may have as a new backpacker.

---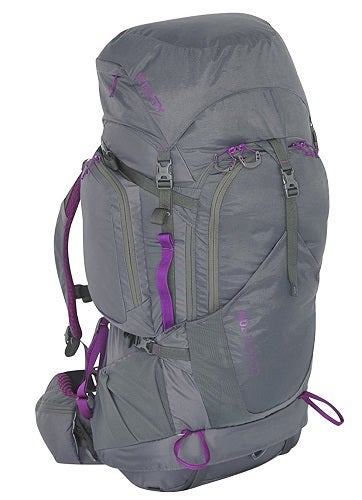 Kelty Women's Coyote Backpack at a Glance
:
---
60 Liters Storage
Perfect Fit Suspension
Designed for large, heavy loads
Mesh back panel
Kelty, like Gregory, has been around for a long time making packs that hikers love. The Coyote model specifically has been trail tested for many years.
They also do a great job of keeping it simple yet visually appealing. While many hikers seem to go ultralight these days, not everyone wants to go lightweight.
When it's time to carry a larger load into the woods, a pack that's designed to handle it makes all the difference.
Kelty's Coyote pack is just that – a load hauler.
At 60L it's big enough for virtually any trip but not too big. There are tons of strage options including hip belts, zippered back pockets, mesh outer pocket, brain, and side pouches plus water bottle holders.
With features like integrated ice axe loops, you can start with this pack on any trail and it will stay with you right through to your first ice climbing trip!
Best For: Women who want to carry large loads of gear with ease.

---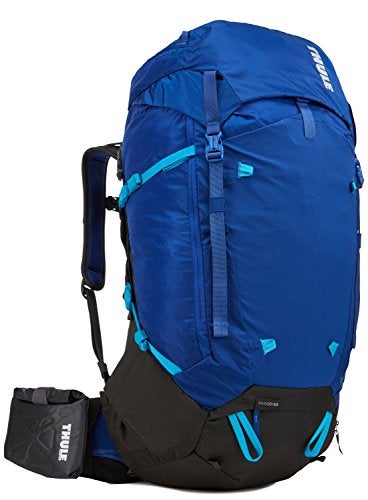 Thule Versant Women's Backpacking Pack at a Glance
:
---
60 Liters Storage
Waterproof Versa Click roll top hip pocket
Storm Guard system with partial rain cover
Brain converts to fanny pack for summit trips
Thule is a newcomer to the world of backpacking and they haven't let us down.
With years of experience making outdoor gear they've applied a few tricks to this pack that make it a serious contender as one of the best hiking backpacks for women just waiting to hit the trail.
Thule has come in strong with waterproof and weather resistant features on this bag.
It's rare to find a truly waterproof compartment on a backpack but the Versa Click removable hip belt pocket is a fully waterproof accessory pouch.
Plus, they've pioneered the partial rain cover with waterproof bottom liner for this backpack that allows access while keeping gear dry. Personally, I'd still keep my sleeping bag in a dry bag, but everything helps when keeping rain at bay!
Their hip belt and shoulder strap systems are robust and adjustable so you can fit them to your body specifically.
Best For: Waterproof features where you choose any size pack from 50 – 70L.

---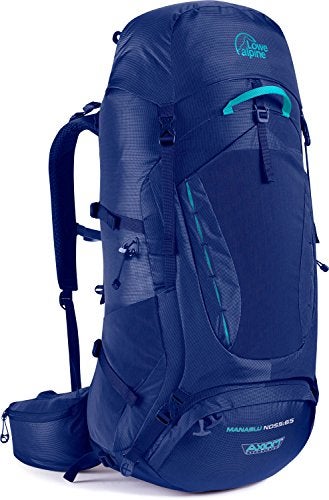 Lowe Alpine Manaslu Women's Backpack at a Glance
:
---
55 Liters Storage
Adjustable capacity
Large hip belt
Hydration compatible
If the idea of internal frame packs is sleek, slim, and balanced (which it is) then the Manaslu pack embodies that functionality perfectly.
I'm a huge fan of the streamlined internal frame design that minimizes external pockets.
The tall, slim nature of this pack is a little different from some others on our list. It's built around a single central compartment that's top accessible.
There's a bottom pocket like most modern internal frames so you can pack things for easy access.
I like the rotating hip belt feature that helps the pack suspension adjust to fit you. If there was one weak point of this pack it would be the straight shoulder straps.
Most women's packs have some ergonomic curve to the shoulder straps that help them fit the chest yet the Manaslu comes up short here.
Best For: A single pocket style backpack that keeps everything sleek.

---
Women's Backpack Comparison Table
How to Choose a Women's Hiking Backpack – Buyers Guide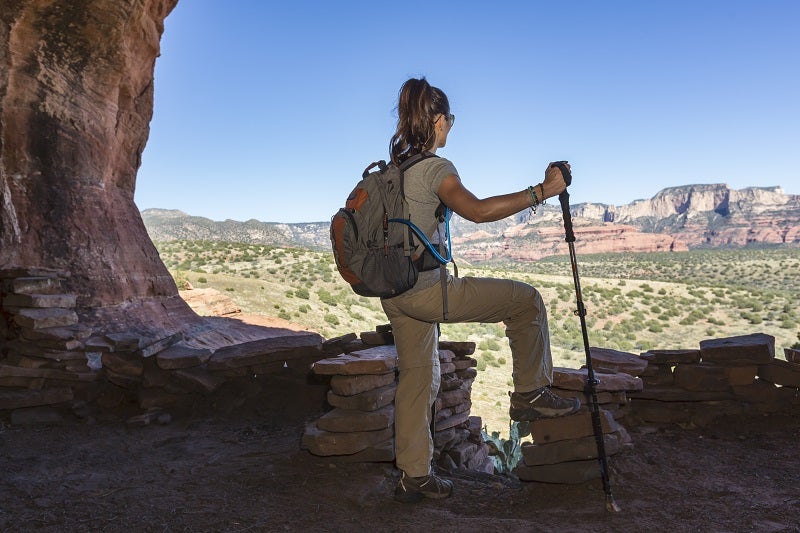 When I first started backpacking it was just me – a guy – alone in the woods. I didn't need to know or care about women's backpacks.
A few years later I would find myself guiding my first trips on the Appalachian Trail for groups of all genders. At this point I quickly realized it was time to figure out ladies backpacks and what made them different. We'll cover those differences now.
Women's Backpacks: What's The Difference?
I remember asking myself whether or not there was really a need for different packs based on gender. That was before I learned quickly that there is, indeed, a very real need for different packs for different folks.
Ladies, of course, simply have different body shapes (in general) than men. In order to stay happy, comfy, and healthy on the trail your backpack needs to fit you well. To accommodate the differences – primarily in hips and chest – backpack manufacturers have created gender specific packs.
The differences boil down to three primary areas of which one is purely aesthetic.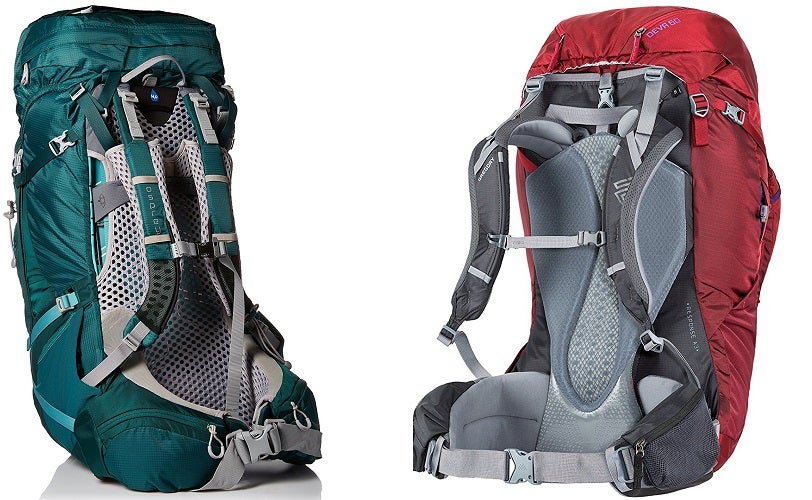 Design Considerations
Hip Belts are designed women's shapes in mind for ladies packs. This hip belts conform to shapes better than men's packs and help alleviate potential rubbing and chafing issues that can occur if one wears a pack with the wrong size or shape hip belt.
Shoulder straps again are accommodating for female shapes. They're usually much more ergonomic and their shape is designed to relieve pressure on the chest.
Color is the last major difference. This, of course, isn't a functional change but rather an aesthetic difference that may not be necessary but is certainly prevalent.
In short, these differences make up the majority of the divergence between male and female backpacks. There are very few, if any, differences between packs other than this.

What Size Backpack Do I Need?
No matter what gender pack you're looking at buying, you'll eventually have to choose a size. There are a few schools of thought when it comes to pack sizing but I'll try to give you some rough rules of thumb that you can follow to make a good decision without getting stuck in analysis paralysis.
0-10L packs make good running packs or hydration packs
10-20L packs make good daypacks for long hikes with lunch and gear
20-30L packs make good daypacks or overnight packs with minimal gear
30-40L packs make great weekend packs for short trips, or ultralight backpacking
40-60L packs make up the majority of backpacking picks for 3-season use on multiple overnights such as the Appalachian Trail or other long trails
60+L packs are rare and very heavy when full. Use with caution and generally only on long and remote expedition style trips.
I used a 60L Osprey backpack for years as my primary choice on most trips and often still use it when guiding trips. For personal use these days I carry a 30L Gossamer Gear backpack for ultralight trips of 2-6 days duration.
In extreme expedition type situations where resupplies are 2 weeks or more away I carry an 85L Osprey backpack.
Think about what you'll be using your backpack for prior to purchasing and avoid oversizing too much. There's nothing wrong with carrying too large of a pack, but ideally you want your pack to be approximately sized for your trip so it's not sloppily sized and heavier than need be.

Backpack Frame: Internal, External or Frameless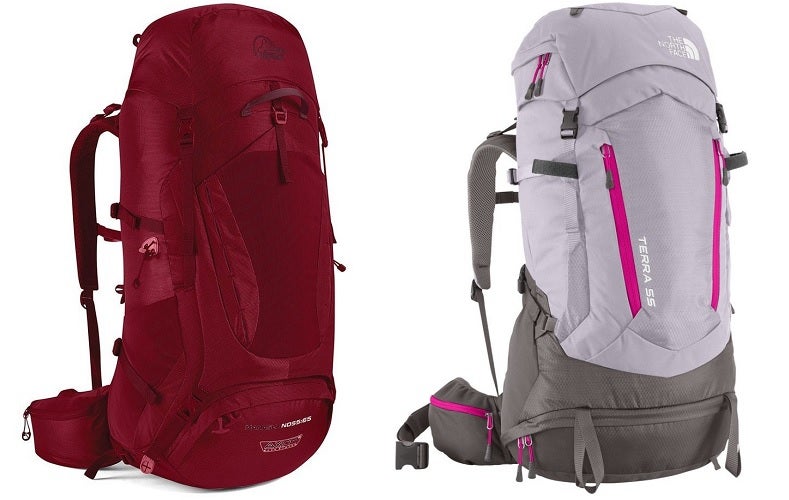 When you try to pick out a backpack you're going to have to deal with this fundamental choice. Should you go with an external frame pack, old school style?
Maybe you should get an ultralight frameless backpack… or perhaps the modern standard internal frame pack.
External Frame Backpacks
They were developed well before internal frame packs. Their main advantage is being able to handle large bulky loads of unevenly shaped objects. They're perfect for trail crew work where you might have to strap an axe or a chainsaw to your pack.
Internal Frame Packs
These packs hide the metal framework inside the backpack itself. They look sleek and modern and they're smaller – so they fit better on narrow trails or passages. These modern packs also keep things more balanced and secure resulting in a more sure footing on the trail.
Frameless Backpacks
These packs are really only an option for ultralight backpackers. If your entire pack weight – including food and water – adds up to less than 20 pounds you might consider a frameless pack.
Frameless backpacks are lighter weight than packs with frames often by several pounds thereby further reducing the overall carried weight of an ultralight hiker. Because of the lack of frame, however, they're incapable of handling heavy (or even moderate) loads.

Backpack Materials
Okay, I know this is picky but getting the perfect backpack takes some attention to detail! That's why I'm going to help you learn what you should be looking for when you select a backpack.
Nylon
Most backpacks are made from nylon. This fiber is a very strong and abrasion resistant man-made fabric. To make it as lightweight as possible, thin nylon is usually reinforced with ripstop nylon fibers. This usually looks like a square or diamond grid pattern in the fabric.
Ripstop Nylon
Ripstop nylon is desirable in most packs for the average hiker. Thinner nylon is, of course, less durable but lighter weight. As with most things it's a tradeoff of qualities.
Most of your backpack won't be exposed to particularly harsh abrasion, though snagging branches and rocks can be a problem so don't choose a pack that's been made too thin and lightweight.
There is one area of your backpack that should be made from much more durable and robust fibers than the other portions, however. Every backpack should have a reinforced bottom panel. This is the area of the pack most likely to be banged, scraped, and scuffed.
Cordura
On the bottom panel of any backpack you should be looking for thick, rugged reinforcements. Materials such as Cordura or heavy nylon which resembles the look and feel of a seatbelt are desirable.
Customizable Shoulder and Hip Straps
It's worth mentioning here that some companies have been making vacuum moldable and heat moldable hip belts and shoulder straps. Of course, the question you naturally want to know is, "Do they actually help?"
I've been rocking an Osprey Aether with a molded hip belt (and ladies' shoulder straps) for a long time. While it's not my everyday backpack, it does still see use on the trail.
This pack, thanks to the heat molded hip belt, is by far the best fitting pack I own. Seriously, I would really recommend getting your pack fitted and molded by an outfitter, you'll be blown away at how well it fits.
This is especially important if you've been struggling which chafing, bruising, or discomfort. Go try a heat molded pack and have a professional do it for you! It's a world of difference.
Ultralight Backpacks
Ultralight backpacks are generally meant to carry loads of 20 pounds or less. These packs are made from minimal materials to exacting specifications. You'll be hard pressed to find them in stores, though.
These niche lightweight packs are made from whacky materials and "unconventional" designs by cottage industry makers. Brands like Mountain Laurel Designs, Hyperlite Mountain Gear, Zpacks, and more dominate this niche with their high performance gear.
An ultralight backpack make sense for you only if you've already gone down the ultralight rabbit hole. Once you trim your pack weight down to 10 pounds or less, let's say, then you know it's probably time to start looking into ultralight packs.
You may be hard pressed to find women's specific models of UL packs though. Often times these packs are made to semi-universal sizing specifications. It never hurts to send these companies an email and ask for more info, though! They're almost all friendly and ready to help.
Sizing Your Backpack
Backpacks must be sized to fit your body or they'll be painful and frustrating. In order to properly fit any pack you need to follow the manufacturer's instructions. However, all backpack sizing instructions are going to be very similar:
Measure your back size by having a partner measure from the base of your neck to the top of your Iliac Crest.
Of course, almost every outfitter store such as REI, Moosejaw, or your local outfitter or guide service can also assist in measuring you properly. Their trained staff have accurate measuring gauges that are sure to nail the measurements correctly the first time.
Video from Osprey how to size a backpack.
Osprey Packs | Fitting | Tips and Tricks
FAQ's For Women's Hiking Backpacks
Q: Do I Need a Water Bladder?
A: Water bladders are internal hanging pouches with the flexible bite tubes that you can drink on the go. They're great for runners and day hiking. However, filling them and keeping them clean when backpacking can be a real pain. It's up to you – but I prefer traditional water bottles.
Q: What's the Best Feature to Look For?
A: While waterproof features are cool, they often don't work so well. Flashy colors are fun but they add no real benefit in the field. Instead I think the most underrated feature to look for is a hip belt or shoulder strap pocket. These are great for snacks, phones, maps, and other goodies so you can get to them fast and easy!
Q: Are Smaller Backpacks Lightweight?
A: Going small is a good idea to keep things light. However, due to differences in design, materials, and styling each pack may be dramatically different in weight. In fact, a 50L pack may weigh more than a 60L pack from one manufacturer to the next. Check the manufacturer's website for exact weight specifications before buying.
Q: Why do all the ladies carry bandanas on the outside of their packs?
A: If you're a woman new to backpacking, you may have already run into this. Ladies tend to carry a bandana tied to the outside of the pack. No, it's not a flag or a sign of your hippie level.
These are usually unglamorously called "pee rags".
Of course ladies probably don't need me to explain the details. However, I will just say that there is a pretty solid case to be made for their use in maintaining proper hygiene on the trail from an LNT and medical standpoint.
Conclusion
Be sure to consider carefully all of the factors we covered in the "how to choose" section before buying. Each hiker will have different preferences and needs – there's no single perfect backpack for everyone.
It's probably not surprising that most hikers go through several packs before finding the perfect one. Even with tons of research, you may find after a season of use that the pack you chose just doesn't work out. That's okay – we've all been there.
With our guide and reviews you should be able to get started on the fast track and avoid most of these beginner mistakes. Hopefully you'll be on the trail with a great pack in no time that solves all your needs as a trusted trail companion!
How We Researched
To come up with the top women's hiking backpacks we researched a variety of sources for reviews such as REI, Bass Pro Shops, Cabelas and Backcountry along with our own personal experience.
We also consulted online magazines for product research and reviews to get as much unbiased information as we could. To help weed out fake reviews we used Fakespot.com to make sure we only looked at genuine reviews.
With so much quality gear available, we had to narrow it down based on what we felt were the best options for the price. The author, Casey Fiedler has been leading backpacking trips for over a decade in his native state of Michigan.
To help narrow down the selection he used his personal experience along with recommendations from fellow guides and outfitters.
After extensive research, we came up with our list to help you choose the right one for you.
Sources
---
I hope this guide was helpful for finding a good women's hiking backpack to fit your needs. If you want to comment or recommend a backpack I didn't include, please use my contact form to get in touch.
Have fun and be safe out there!
Notice:
OutsidePursuits.com is a participant in the Amazon Services LLC Associates Program, an affiliate advertising program. OutsidePursuits.com earns fees from products sold through qualifying purchases by linking to Amazon.com. Amazon offers a commission on products sold through their affiliate links.