It's easy to underestimate how important your choice in hiking socks can be. In our daily lives socks are just a necessary addition to the wardrobe.
However, when it comes to hiking your choice of sock can be crucial. Socks protect your feet from blisters, abrasion, and debris.
They're a fundamental part of your hiking gear and choosing the best hiking socks means understanding the materials they're made of. It means thinking about what kind of footwear or weather conditions you might anticipate.
Get it wrong and you'll be left with blisters or feet that just won't dry out after a river crossing. Today we're going to help guide you through the process of choosing the right hiking socks for you.
For more of my top gear recommendations, have a look through these popular Outside Pursuits guide links: Hiking Shirts, Hiking Shoes, Hiking Pants.
Here is a feature overview of my top 3 overall picks. Our guide and comparison table of the top rated hiking socks will help you choose the right pair for you.
Best Hiking Socks
| | Darn Tough Hiker Micro | Wigwam Ultra-Lightweight | SmartWool Hike Medium |
| --- | --- | --- | --- |
| | | | |
| | | | |
| Fabric: | 61% Merino Wool, 36% Nylon, 3% Lycra Spandex | 43% Nylon, 32% Acrylic, 22% Other Fibers, 3% Spandex | 66% Merino Wool, 33% Nylon, 1% Elastane |
| Style: | Crew | Quarter Length | Crew |
| Best For: | Hiking Boots | Hiking Shoes | Hiking Boots |
| | | | |
Hiking Socks Reviews
Let's get into it. I know you're here to find the best socks on the market today. Here's our top recommendations.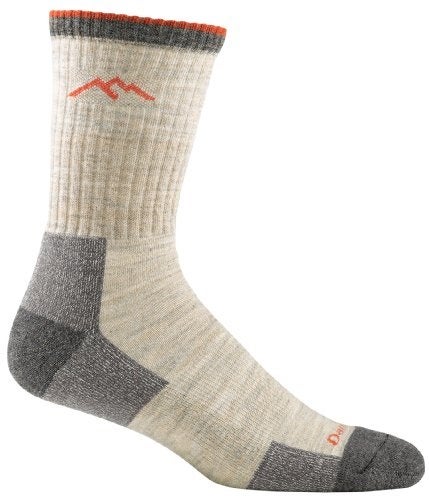 Darn Tough is my favorite sock manufacturer and the only one I currently use. Why? Because they'll give you free new ones every time one wears out! I've tested their guarantee, it works.
They stand by it!
On top of that, they use a combination of Merino Wool and nylon to get the best results. Merino is amazing at wicking and drying while nylon helps the sock last a long time before it does wear out.
This sock is tall enough for a boot, but shorter than a mountaineer sock.
There's plenty of extra heel and toe padding on these and I've found that Darn Tough keeps their toe seams perfectly flat. Totally unnoticeable and great for a traditional leather hiking boot. Overall, these are probably the best socks for hiking.
Women's Model: Darn Tough Hiker Micro Crew Cushion Socks
---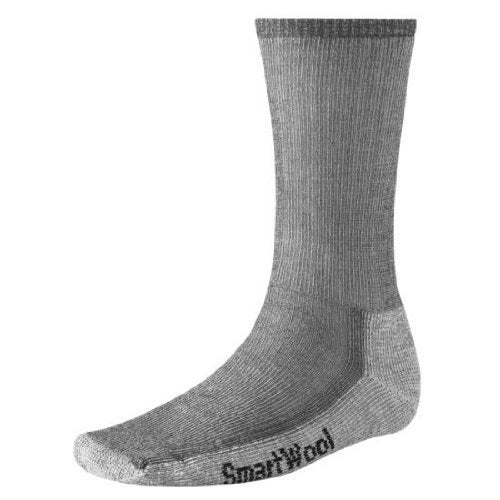 Medium weight, medium cushion, full length sock for any size hiking boot. If you're not sure what hiking sock is right for you, this might be the one.
With a name like "Smartwool" you have to assume they make some of best merino wool socks and you would be right!
It's got enough length for any normal hiking footwear. Enough padding for any hiker, but it's not overdone. The sock is padded all the way from front to back which I tend to like less than socks which are area-padded.
Smartwool also makes a great product and there's not much to fault in their socks. If you can afford the top-grade price of Merino then go for it!
It will be worth it overall, though Darn Tough makes a hard case with free replacements for life and nearly the same sock design and materials.
Women's Model: SmartWool Hike Medium Crew
---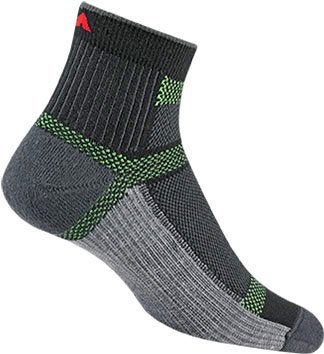 Now we march squarely into my realm of preference. I wear trail running shoes and quarter length ultralight socks when hiking. Why? They dry quickly, they're lightweight, and they pair well with my choice of hiking shoes.
I love how thin Wigwam made the tops and sides of these socks. This allows for an insanely cool summer hiking socks for warm weather. Reinforced toe and heel areas help with durability but make no mistake, they're not added for padding.
The sock is nylon and acrylic primarily. I would have liked to see polyester or merino included. Overall these moisture wicking socks are near the perfection mark for my tastes!
Women's Model: Wigwam Ultra Cool-Lite Ultimax Ultra-Lightweight Quarter Sock
---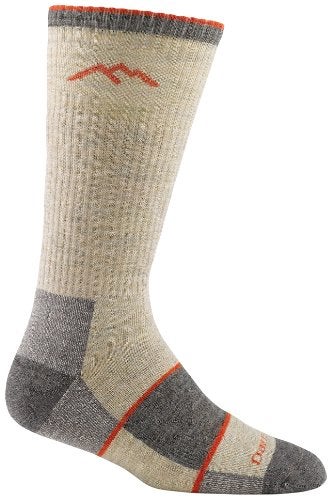 These totally seamless socks are smooth and nearly flawless. DT's construction on their seamless socks is top notch and I can vouch for that.
This particular sock is a full height super-padded sock perfect for traditional hikers with large boots. If you're the kind of hiker who relies on full leather massive hiking boots to get the job done, this sock will keep up with you.
As always, they're rocking a combination of Merino, nylon, and spandex for the clutch blend of fibers. Always solid, definitely some of the best backpacking socks you can buy!
Women's Model: Darn Tough Merino Wool Hiker Boot Sock Full Cushion Socks
---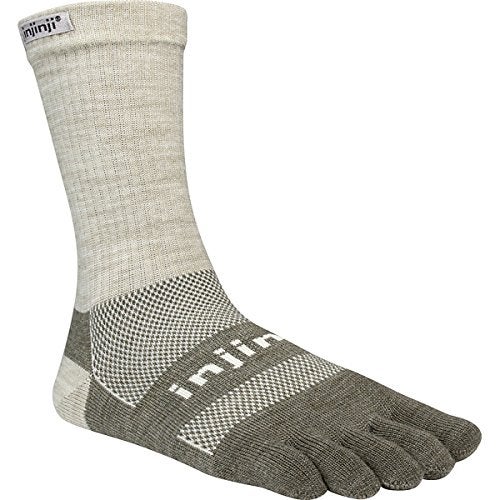 Injinji has been around for years and seems to gain and then lose traction within the hiking community. The socks have an extremely unique feature – individual toe pockets!
Overall, I like the thin to medium area padding of these uni-sex socks, which seems to be intelligently placed in the most necessary locations.
If you're a hiker with toe blister problems, Injinji socks might just be your savior. Why? Because the individual toe pockets help to smooth the friction between and around toes.
Hikers with several blister issues sometimes swear by these socks and they might just be the best hiking socks to prevent blisters! If you have unusual size or shape toes, you may struggle to get a perfect fit however.
---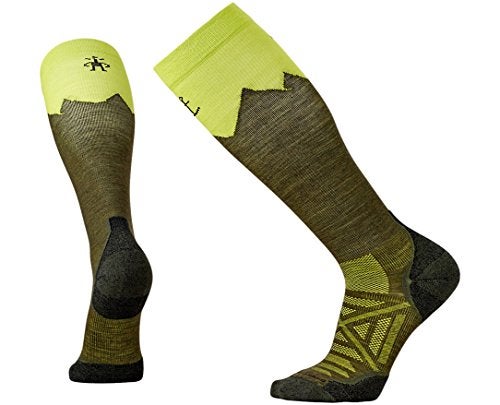 Smartwool, if you don't already know, is notorious for their almost pioneering use of Merino Wool. Thus, the name. That said, they made a good call with these uni-sex socks to go nearly half Nylon.
Why is that good? Remember, Merino can be a bit delicate by itself and Nylon is extremely durable. It's a great combination that is particularly effective at extending the life of your socks.
These are over the calf type socks which are most appropriate for winter hiking in tall or thick boots. Thanks to the name, we might surmise that they're actually intended for use with mountaineering boots. Either way, big boots, big socks.
---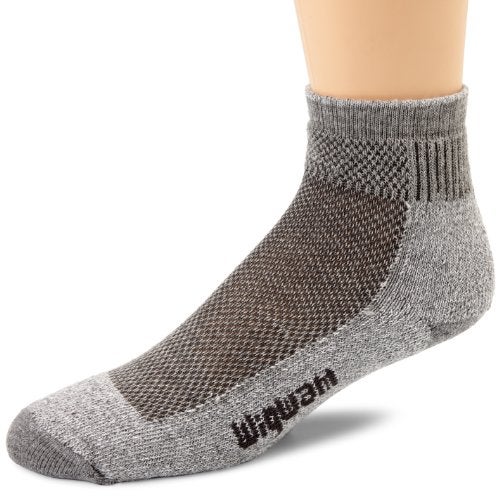 These nylon, polyester, cotton, and acrylic blend lightweight hiking socks are a rather unusual combination. They should, however, stand up just find to normal hiking use and perform well under sweaty pressure.
They're a mid-weight sock which is probably best for 3-season use. Unless you're an ultralight purist or trail runner with absurdly thin footwear, these socks will take care of the job.
They moved the seam on the sock above the toes which is generally fitting, but beware if you have tight fitting shoes. It could chafe.
Women's Model: Wigwam Unisex Cool-Lite Pro Quarter Length Sock
---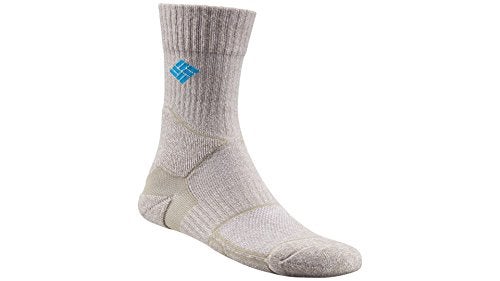 Columbia has finally made it into the Merino Wool sock scene. If you've read my other work then you'll know that I'm a huge fan of Columbia. Why?
Because they tend to make good gear at great prices. They're a value driven company and these Merino Wool crew socks are a move in the right direction!
I like that these uni-sex socks are area padded, leaving the material thin in some areas, and thicker in others. This puts the padding where it's needed without making the overall sock too warm or thick.
They also included an extremely thick and robust upper welt which should help hold up this thick sock and prevent bunch or falling. A good choice for those looking to get tons of padding with breathability in the right places.
---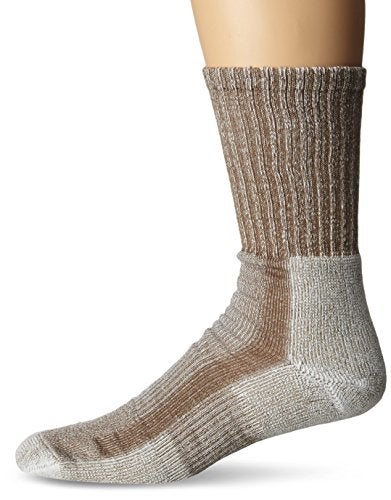 Another full-length crew sock, this one is medium padded through and through. There's no extra breathable areas or localized padding. I do like the extra reinforced instep area which holds tightly to the foot helping to prevent bunching or moving.
They made the sock out of some proprietary "THOR" material which honestly just serves to make it a bit harder to figure out if its a good choice.
However, considering the value of the sock and the overall medium to thick padding build, it would make a solid choice for a traditional hiking footwear user in spring, fall, and winter conditions.
Perhaps a bit too thickly padded for comfortable summer use.
Women's Model: Thorlos Unisex Ultra Light Hiking Crew
---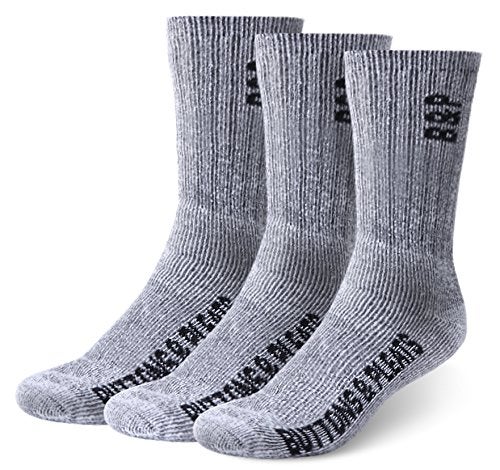 These uni-sex hiking socks are a crew cut, full length sock. They're work just fine with any full-size hiking boot or hunting boot. They're quite heavily padded though so you'll want to reserve them for winter time.
In fact, they may be too padded for vigorous hiking. I would keep these in reserve for those times when the cold settles into the bone and activity levels may be low around camp.
They are primarily Merino Wool though I had a hard time tracking down the other fibers used. I'd wager it's nylon and Lycra if they're worth their weight.
However, with such thick padding sometimes socks can get away without including nylon by just letting the thickness of the sock vouch for its longevity.
---
Hiking Socks Comparison Table
| Hiking Socks | | Made From | Height | Cushion | Best For |
| --- | --- | --- | --- | --- | --- |
| Darn Tough Hiker Micro | | 61% Merino Wool, 36% Nylon, 3% Lycra Spandex | Crew | Medium | Shoes/Boots |
| SmartWool Men's Hike Medium | | 66% Merino Wool, 33% Nylon, 1% Elastane | Crew | Medium | Shoes/Boots |
| Wigwam Ultra Lightweight | | 43% Nylon, 32% Acrylic, 22% Other Fibers, 3% Spandex | Quarter | Light | Shoes |
| Darn Tough Merino | | 67% Merino Wool , 36% Nylon | Full | Heavy | Boots |
| Injinji 2.0 Outdoor | | Merino Wool / Other Fibers | Crew | Medium | Shoes/Boots |
| Smartwool PhD Mountaineer | | 50% Merino Wool, 43% Nylon, 7% Elastane | Calf | Heavy | Boots |
| Wigwam Cool-Lite Mid Hiker Pro | | 88% Polyester, 22% Stretch Nylon, 20% Acrylic | Crew | Light/Medium | Shoes |
| Columbia Hiking Light-Weight | | Merino Wool / Other Fibers | Crew | Medium/Heavy | Shoes/Boots |
| Thorlos Lite Hiking | | 81% Synthetic, 14% stretch nylon, 5% spandex | Crew | Light/Medium | Shoes/Boots |
| Buttons & Pleats Merino Wool | | Merino Wool / Other Fibers | Crew | Medium | Shoes/Boots |
How to Choose Hiking Socks – Buyers Guide
Let's start with the fundamentals and work through everything you need to consider in choosing a hiking sock.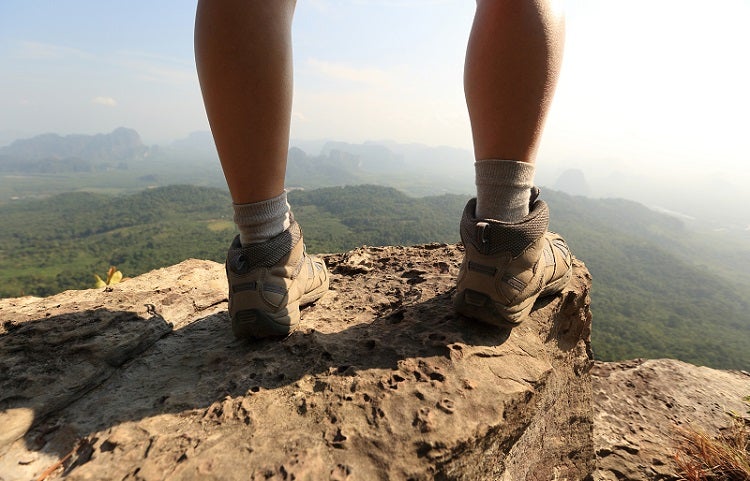 Hiking Sock Materials – Which is Best?
First and foremost, on the consideration list is the material your socks are made of. You've generally got four components so let's tackle them one at a time.
Merino Wool
Is a water wicking fiber which is popular in high-end socks. It has excellent moisture absorption and exceptional odor control. Choose merino wool if your budget is large or if you're hiking in the winter. Merino wool tends to be less durable than other fibers.
Polyester
Similar to Merino in that it is an excellent moisture mover. Polyester dries quickly and does its job effectively. It's also much cheaper than Merino to produce and therefore the socks will be more affordable. It lacks the odor control properties of Merino but tends to be a bit more durable.
Nylon
Nylon is a common addition to sock fibers. Socks are never made solely of nylon. It is added to increase the strength and durability of socks. This is particularly useful when paired with the less durable Merino and polyester fibers for a combination of characteristics.
Lycra, or Spandex
These fibers are almost always present in socks. This material is there to add in stretch which accommodates different foot sizes and allows the sock to stay on your feet.
Some or all of these will be present in any hiking sock. Checking the fabric contents on the tag or package will help you understand how the sock is meant to perform.

Warranties or Guarantees
There's no doubt – Darn Tough made this one popular. In fact, I know of no other companies off the top of my head that offer a guarantee on their socks.
Essentially, Darn Tough will guarantee that their socks last forever and can't be worn out. Of course, the socks can be worn out. But that's the beauty of it. Just send them the socks back and they'll mail you a brand-new pair totally free. Yeah, I've tested it. It works.
It's a great way to get an unlimited supply of amazing socks.
Hiking Sock Height
This one totally depends on your footwear choice.
Me? I wear trail runners and ¼ high socks. It just works.
Whatever you do, don't go with low cut socks. You don't want the hiking shoe or boot chafing against your bare skin. For those hiking with full boots, choose a full-length sock. No doubt!
If you're not sure, err on the side of caution. There's little added bulk or weight in packing taller socks for hiking, but having short socks just won't work at all. What have you got to lose?
Socks Cushioning & Padding
Before buying your hiking socks it's a good idea to determine how much cushioning you need. Here are the options:
Liners
If you spend much time in the outdoors in the winter you probably use or are familiar with glove liners. These are just a very thin layer of fabric, often made of Merino wool. If you have used them in gloves before you know how much warmth they add!
Well you can do the same thing for your feet. A thin layer of material you wear underneath your socks. They have no padding and add extra wicking to keep your feet not only warm but dry.
Ultra-Lightweight
Similar to liners, ultra-lightweight hiking socks are thin and very breathable but providing little cushioning. If they have any cushioning at all it will usually be under the heel. For very cold conditions you could use them like a sock liner.
Lightweight
Moving up the thickness scale, we have lightweight hiking socks. Providing move cushioning and of course slightly thicker. Normally have some compressive properties and best for warm weather conditions where moisture wicking is especially important.
Mid-Weight
Probably the most popular type of hiking sock, mid-weight are thicker yet and almost always have some cushioning in the toes, heel and around the ankles. Typically a durable sock with reinforcement to add to their durability.
Full-Weight
Sometimes known as "mountaineering socks" they are the thickest and warmest socks available. As you may have guessed, they are also fully padded all around and meant for long treks in mostly cold or frigid conditions. Definitely not for warm weather use!
Hiking socks will come with an absolutely mind-boggling array of padding types. It's insane and totally unnecessary. However, you've still got to deal with and pick out the best one for you.
I find that I prefer socks with toe and heel padding underneath simply to extend the life of the sock. Those areas tend to wear out first so having thicker material helps them stay alive. I've yet to notice an effect on the health of my feet due to padding – feet hurt after a long day of hiking- period.
I will say to beware of over padding. This can make the shoes or boots fit poorly and actually increase the chaffing and abrasion inside the shoe or boot. That will lead to blisters and all manner of not fun foot pain.
You may simply have to experiment with different levels of padding until you find what works best for you.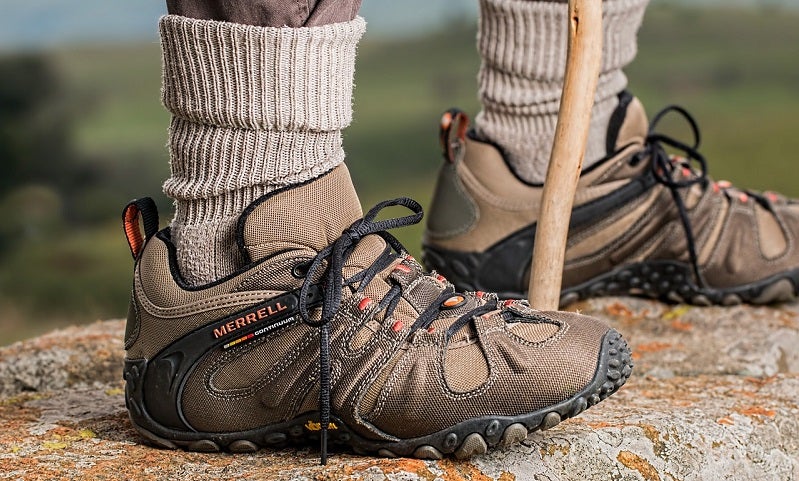 Comfort
Overall most hikers agree Merino wool is a comfortable material for socks so I would put socks made of it at the top of your list. Socks are always a blend though, there is no such thing as a 100% wool sock.
Synthetics are blended in to give it elasticity and keep its shape. Not all of the socks on our list are Merino wool with WigWam being a notable exception.
Generally socks made from all synthetics are more inexpensive and many do perform quite well and are comfortable. In addition have a blend gives the socks more durability. Merino wool excels in many categories but durability is not one of them.

Durability
Merino wool as mentioned above is not known for being durable. Being socks take a lot of abuse being stuck in a shoe/boot all day and possible many days in a row achieving a level of durability you expect from your socks is not easy.
Darn Tough has managed to figure this out, their Merino wool socks come with a lifetime warranty! Hard to believe and they really do honor it. After that the Smartwool hiking socks are another sock known for its durability.
The one issue that Merino wool has is "pilling" which is the little balls on the outside of the socks. You can lesson this by not using the dryer all the time.
All of the hiking socks on our list should give you a few season of use and maybe more depending on how you take care of them and use.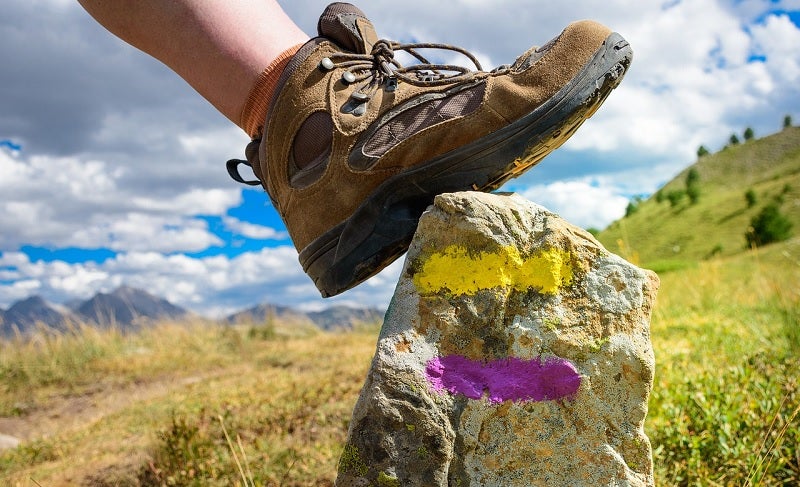 Caring For Your Hiking Socks
As we just mentioned your socks will last a lot longer with just a bit of care. A synthetic blend only sock has very little in the way of care, just wash as you would anything else and toss in the dryer.
Synthetics don't suffer from pilling like Merino wool.
I would recommend Merino wool hiking socks only be washed in cold water with a mild detergent. I would also not put them in the dryer. If you do, keep the dryer on LOW heat.
It will significantly decrease pilling and keep their shape.
Hiking Conditions
Certain fabrics will perform well under most conditions, whether temperatures are warm or cold, dry or wet, Merino wool tends to perform well. With some other fibers weaved in for extra durability this is the almost perfect combination of material.
Keep in mind that synthetic fibers like polyester do not perform well when they get wet. They do not tend to dry as fast, be as comfortable and keep away odors like Merino tends to do.

Conclusion
Hiking socks come in hundreds of flavors. It's up to you to make the best choice for your hiking style, weather, time of year, and footwear. Remember to choose a sock that makes the most sense when paired with your level of activity.
Overall, I highly recommend socks with some blend of nylon and polyester or Merino Wool. It's hard to beat that dream-team combination of fibers!
---
I hope this guide was helpful for finding the best hiking socks to fit your needs. If you want to comment or recommend a pair of socks I didn't include, please use my contact form to get in touch.
Have fun and be safe out there!
Notice: Outside Pursuits is a participant in the Amazon Services LLC Associates Program, an affiliate advertising program to provide a means for sites to earn advertising fees sold through by advertising and linking to Amazon.com. Amazon offers a small commission on products sold through their affiliate links. Each of your purchases via our Amazon affiliate links supports our efforts to bring you the best possible product reviews at no additional cost to you. We appreciate your support here at OutsidePursuits.com