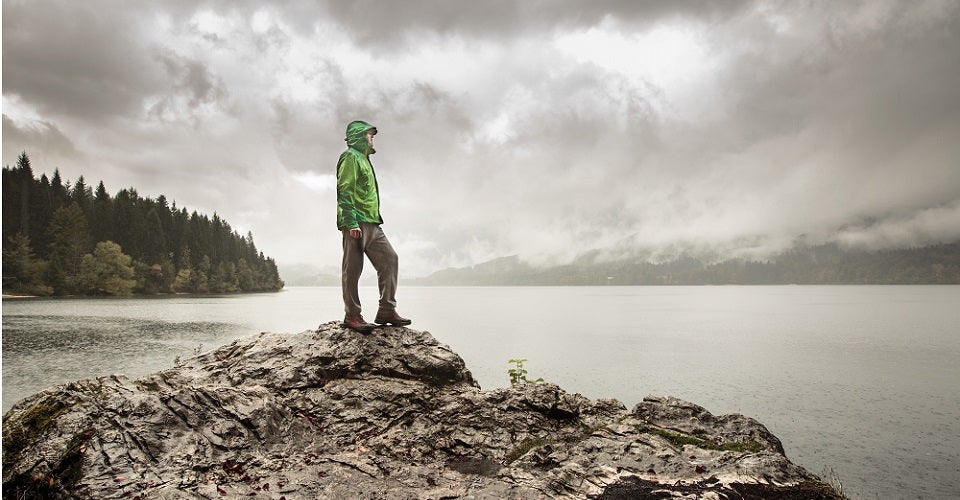 Our Editors independently research, test, and rate what we feel are the best products. We use affiliate links and may receive a small commission on purchases.
I remember learning to hike in the rain like it was yesterday. Something about being out on a hiking trip and getting soaked was always a major fear for me.
Will I stay warm enough? What happens if all my clothes get wet?
At some point we all have to learn how to deal with precipitation on hiking trips and that's where hiking rain pants come in. While there are many ways to deal with rain on the trail, hiking rain pants are by far the most popular.
The best rain pants are lightweight, effective at keeping you dry, and easy to add in to your backpack on any trip.
With years of experience guiding backpacking trips in various regions of the United States, I know what works and what to leave on the shelf.
Best Hiking Rain Pants
| | Marmot Men's Precip Pant | Arcteryx Beta SL Pant | The North Face Men's Resolve Pant |
| --- | --- | --- | --- |
| | | | |
| | | | |
| Fabric: | 100% Nylon | Nylon Tricot | Ripstop nylon HyVent DT |
| Seam Sealed: | Yes | Yes with DWR and Gore-Tex | Yes |
| Boot Zippers: | Yes | Yes | Yes |
| Waist: | Elasticized with drawstring | Elasticized with drawstring | Elasticized with drawstring |
| | | | |
For more of my hiking recommendations, have a look through these popular Outside Pursuits guide links: Hiking Rain Jackets, Hiking Shirts, Hiking Shoes.
Quick Answer: The 7 Best Rated Rain Pants For 2021
Our reviews of the top rated rain pants with our guide and comparison table will help you choose the right pair for you.
Rain Pants Reviews
So what options are available? Now I'm going to suggest a handful of options for varying budgets, tastes, and preferences.
Remember that trial and error is part of the process and over time you'll find that you may need more than one pair of hiking rain pants to cover the various ways you enjoy spending time in the woods.
---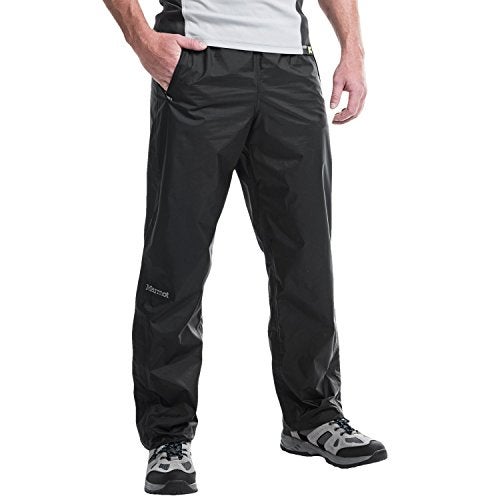 Marmot Men's Precip Hiking Rain Pants at a Glance
:
---
100% Nylon construction
Polyurethane coated waterproofing
Zip front hand pockets, back zip pocket
Machine washable
Marmot's Precip pants are one of the most established names in waterproof hiking pants. They're affordable, durable, and well-loved by hikers.
These pants keep it simple and get the job done. I've personally worn the Marmot Precip gear and love it to death.
There's a lot to like about this waterproof hiking pants. They're made from durable nylon outer with a PU coated inside that keeps water out.
Of course, they're not breathable but you can expect them to last many seasons of hiking and cost a lot less than some breathable equivalents.
Marmot made sure to include the necessary boot zipper and there's the additional velcro adjustable cuffs that help these pants adjust to any footwear. They are fully seam sealed so you don't need to worry about waterproof quality.
On the back you'll find one zippered waterproof pocket. The front features two waterproof zippered pockets. This is all pulled together (literally) by an elastic waistband that's quite forgiving on sizing.
Like The North Face pants, be sure to check sizing charts before ordering as they can only stretch so far!
Best For: Hikers who want a budget option for the best waterproof hiking pants.
Women's Model: Marmot Women's Precip Hiking Rain Pants

---

Arcteryx Beta SL Rain Pants at a Glance
:
---
Waterproof breathable Gore-Tex
Generous boot zippers

1/4 length Water Tight lower leg zippers

Fly zipper access
Once an unknown niche brand, Arcteryx has become one of the most high quality names in outdoor gear.
These waterproof breathable hiking pants are made with the familiar Gore-Tex breathable fabric and all the nice features you expect in the best waterproof pants.
There are a few refinements on these waterproof hiking pants that will have you rejoicing. If you can afford them, that is. The waterproof zippers on the ankles are some of the largest I've seen.
This leaves plenty of room for getting bulky boots in and out. There's also a zippered fly for the guys so you can take a bathroom break without having to pull down your pants.
They've reinforced the instep, lower leg, and hem areas with a heavier caliber Gore-Tex fabric. These areas see the most abrasion and wear. Thanks to the reinforcement these pants will last quite a bit longer because of it.
I like that the elastic waistband on these pants is a bit more fitted than some of the others. This means a more comfortable fit and ride when carrying a pack with a hip belt over these pants.
Overall they're a high quality choice for the best rain pants featuring waterproof breathable Gore-Tex fabric.
Best For: Hikers who want the most luxurious waterproof hiking pants you're likely to find if you've got the budget for them.
Best Women's Rain Pants: Arc'teryx Women's Beta SL Pant

---

Mountain Hardwear Stretch Ozonic Pant at a Glance
:
---
Full length side zippers
4-way stretch fabric
Fully seam taped for waterproofness
Integrated belt
Mountain Hardwear is known for their fashionable outdoor gear that's often fit well for slim and tall folks.
These stretch waterproof hiking pants are definitely a more modern take on a waterproof hiking pant, but there's no denying they look awful sleek.
These pants are made to fit like a glove and hug the body. Why? I'm not sure, but it looks cool.
Dry Q waterproof breathable fabric helps to transport moisture out of the pants while keeping rain at bay. I love the full length side zippers.
They make it easy to get the pants on or off over just about any footwear from trail shoes to ski boots. You may have a hard time fitting any bulky layers under these relatively tight fitting pants, however.
There's a single front zippered pocket located mid-thigh and that's it for pockets. Up top the pants are anchored with an elastic waistband with integrated nylon webbing belt.
I own Mountain Hardwear pants with integrated belts and I will say, I like the features and they are a top contender as the best rain pants for hiking!
Again, the zippered fly adds a touch of convenience that's always nice. It's never fun to pee like a kindergartener.
Best For: Tall and slim fit people who want something that functions as well as it fashions.
Women's Model: Mountain Hardwear Stretch Ozonic Women's Rain Pants

---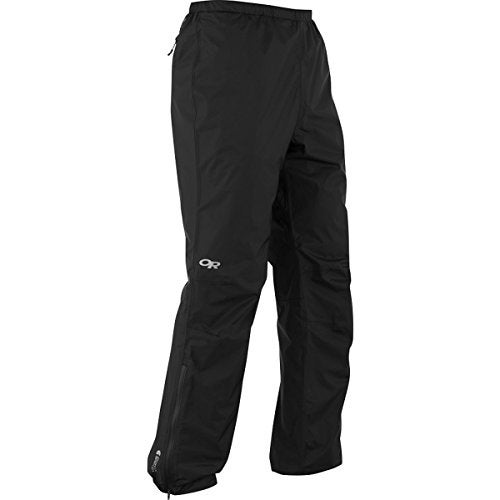 Outdoor Research Men's Helium Pants at a Glance
:
---
Lightweight 5.9 ounces
Seam taped waterproof
Boot zippers
100% lightweight nylon
Outdoor Research is one of my all time favorite brands for their quality, innovation, and designs. These super lightweight hiking pants are waterproof and simple.
There's nothing here but lightweight waterproofness for the ultralight hiker.
Some people complain of small sizing, so plan on ordering a size up or consulting the sizing chart very carefully.
Remember to leave room for any layers underneath!
Outdoor Research had one goal in mind when they made these pants. They created a lightweight waterproof nylon pant with as little embellishment as possible to keep weight down.
Because it's a lightweight nylon it will need to be treated gently. Off-trail hiking through rough brush and thorns would be a no-no with these ultralight pants.
Users rave about their waterproof functions. There's no doubt that you'll get one of the lightest truly waterproof hiking pants available when you order the Outdoor Research Helium pants.
What you won't get, however, is advanced features or bomb-proof durability but being so light weight they would be my top pick for the best backpacking rain pants!
Best For: On-trail ultralight hiking applications for hikers who understand the inherent drawbacks of lightweight gear.
Women's Model: Outdoor Research Women's Helium Hiking Rain Pants

---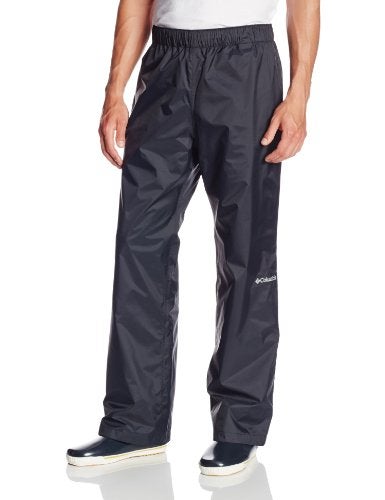 Columbia Men's Rebel Roamer Rain Pant at a Glance
:
---
100% nylon 70D
Low cost
Great user feedback
Adjustable leg openings
If you've read any of my reviews of outdoor gear, you'll know that I rave about Columbia as a brand that delivers value.
Their gear might not be the most fancy, but it's affordable and it works great! The Rebel Roamer waterproof pants are no exception.
Of all the waterproof hiking pants on our list, none can match the performance and positive reviews for the low price of the Columbia Rebel Roamers.
What you get is a durable 70 denier nylon waterproof pant (non-breathable) with solid performance. What you'll lose out on are zippered cuffs, zippered fly, and pockets.
For me, I never store things in my pants pockets when I hike anyways, so the lack of pockets is just fine.
Not having a cuff zipper might make a problem if you need to get them on or off quickly, but planning ahead can help solve this problem.
The drawcord adjustable elastic waistband is pretty standard across the industry for waterproof hiking pants. You won't find any innovations here, just the best men's rain pants for the money.
Best For: Hikers on a tight budget who want waterproof pants with no bells and whistles.
Women's Model: Columbia Women's Storm Surge Rain Pant

---

Helly Hansen Men's Dubliner Rain Pant at a Glance
:
---
Polyester and PU waterproofness
Welded seams don't need seam taping

Adjustable snap bottom hem

Simple and affordable option
Helly Hansen is bringing us a pair of welded seam nylon waterproof pants that put Columbia to the test for value.
These pants are super affordable and present a great option for hikers that want a pair of waterproof pants with no flash – just function.
Because Helly Hansen went with welded seams on these pants, there's no need for seam tape. Welded seams are heat welded together and simply bond the two sides directly together without any stitching needed.
These seams are often even stronger than sewn seams.
Some users complain about the trash bag feeling plastic material. This is a result of the heavy use of polyurethane for waterproofing.
Keep in mind that it will feel a bit like wearing a plastic bag, but most PU coated rain pants will feel similarly.
Users also seem to have mixed feedback on the longevity of the pants. Treated with care, they should do the job of keeping water off of you.
Of course, we generally get what we pay for. Overall these pants are a good option if you're looking for the most affordable waterproof hiking pants that you can keep on hand for very occasional use.
Best For: Hikers who will occasionally use waterproof pants that will be treated with care.
Women's Model: Helly Hansen Women's Voss Rain Pant

---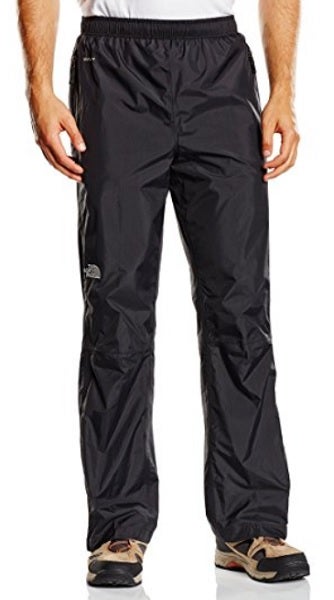 The North Face Men's Resolve Pant at a Glance
:
---
Seam taped for waterproofness
Two front pockets
Ankle boot zippers

Ankle zipper gusset
There's no denying that The North Face is a reputable name in outdoor gear. These waterproof hiking pants are a North Face take on a classic design. They're packing in all of the features we need and nothing we don't.
Let me start by mentioning a major comfort factor that's been included on these hiking pants. Inside there is a liner of breathable mesh that keeps the plastic-feeling waterproof pants away from your skin.
Waterproof pants can quickly feel sticky from sweat inside, and having a liner like this adds a lot of comfort factor. At the ankles is the standard boot zipper for getting these hiking rain pants on and off while wearing footwear.
On top of that is a velcro adjustable ankle cuff that has enough adjustability to help keep these pants from dragging on the ground or hanging open.
The elastic waist and drawstring closure help keep the pants lightweight and fitted for a variety of sizes. Be sure to consult the sizing chart before ordering, though.
I like that there are two zippered hand pockets with flaps that cover and seal them against rain. These could be potential weak spots for water to get in eventually, tho.
These pants are made with the North Face proprietary breathable fabric HyVent which means they'll help to alleviate some moisture build up from inside the pants. Overall my top pick for the best hiking rain pants.
Best For: Hikers looking for a reliable breathable hiking pant from a reputable gear maker.
Women's Model: The North Face Women's Resolve Rain Pant

---
Hiking Rain Pants Comparison Table
How to Choose the Best Rain Pants For You
Trial and error is half the battle of learning what kind of hiking rain pants really work for you, but I'm going to help you avoid a few mistakes on the way there!
Hiking rain pants come with a few drawbacks as well, that we'll cover now. I'm going to help you learn everything you need to know when picking out your next pair.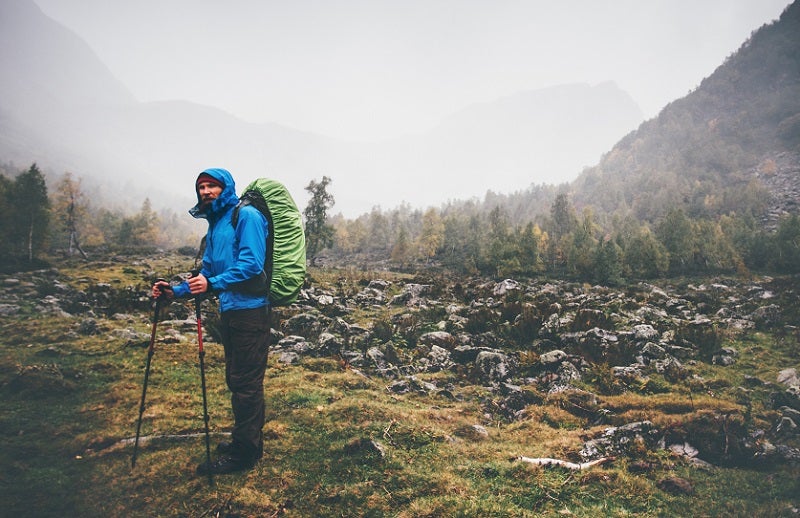 Types of Waterproof Fabric
Understanding the different types of waterproof fabrics that are available today is an important step in making the right buying decision. While it might seem like just buying any old waterproof pants would be just fine, that's far from the case.
Waterproof Breathable
The fabrics are made from a laminate of layers. The outermost layer is usually nylon or polyester. This layer must remain treated with Durable Water Repellent finish in order for the fabric to remain breathable over its lifetime.
Inside, these fabrics are a laminate of several advanced membranes that allow one-way passage of air and vaporized water.
Waterproof breathable fabrics used to be dominated by the famous Gore-Tex brand. Today many types of waterproof breathable fabrics have emerged, many of which are as functional or technically superior to Gore-Tex altogether.
Waterproof breathable fabrics are levels of magnitude more expensive than non-breathable waterproof fabrics. Users disagree over the empirical usefulness of breathable fabrics.
Some users swear by them, others swear that they don't let out sweat and that you'll get wet inside anyways from your own sweat.
I've found that they're most effective in light sweating activities in cooler temperatures where the breathable fabric can keep up with human sweat output.
Waterproof (non-breathable)
This fabric can be created in several different styles. Polyurethane coated fabrics are generally the most affordable. There are other types of coated fabrics and new technologies are evolving daily.
Waterproof non-breathable rain pants are by far the least expensive. However, they also will not allow for any transmission of air or moisture into or out of the garment.
Non-breathable waterproof garments can usually be made to the lightest weight specifications. They're simpler and require only one layer of fabric with a single coating.
On the negative side, the waterproof coatings will eventually delaminate and peel away.
This usually happens most frequently on polyurethane coated fabrics and may occur after one season or after ten seasons, depending on how hard you are on the garment and how often you use it.

Durable Water Repellent Treatment
Often confused with a true waterproof system for outdoor garments, DWR is a chemical treatment. It is not meant to be fully waterproof on its own but instead to help with the beading up of water on the outer layer of garments.
Many garments, particularly waterproof breathable, come already treated with DWR. Durable water repellent is important to avoid wetting out the outermost fabric layer on breathable fabric.
Once outer layers become saturated with water the garment is no longer breathable, thus making DWR coatings critical to the continued health of breathable garments.
Non-breathable garments do not need DWR coatings.

Polyurethane Coated Fabrics
PU coated fabrics can be produced quickly, easily, and inexpensively. This makes them ideal for low end waterproof garments. A layer of polyurethane based waterproof "plastic" is adhered to a nylon jacket shell and creates a fully waterproof garment.
Eventually, the PU coating will begin to delaminate and tear away from the nylon fabric at which point the waterproof hiking pants will lose all waterproof qualities and fail altogether.
This is usually about 2-3 seasons of heavy use. Despite this fact, PU coated fabrics and their respective garments are relatively affordable and may be an economical choice for many hikers.
Seam Taping
Seam tape is the glue that holds together waterproof garments. Seam tape is an adhesive, heat applied waterproof strip that covers the stitching and junction of fabric seams.
Without it, you would get soaked nearly instantly in any heavy rain as water leaks through the seams of your garments.
Do not buy waterproof garments unless you're certain that the seams are taped. You can check for this by turning the garment inside out and searching the seams for a thin, clear layer of tape. It can often be hard to see, but you'll find it if you look hard enough.
If the garment doesn't specify seam taping, or doesn't appear to be seam taped, avoid it altogether. Check user reviews and comments if you're not sure.
Weight and Bulk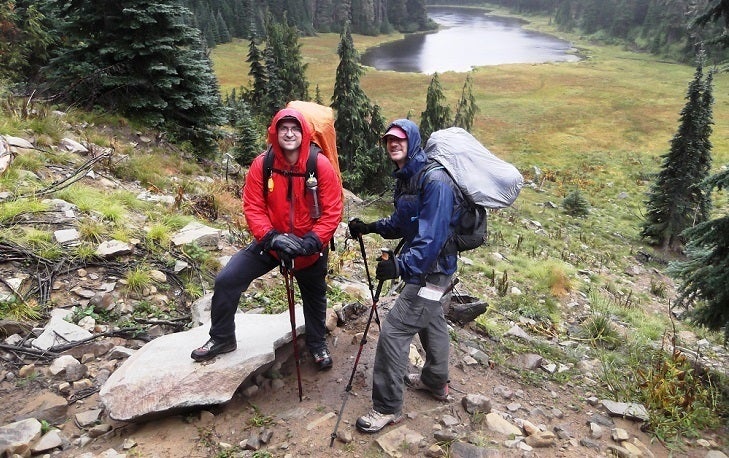 I am quite the gram weenie being an ultralight backpacker, weight is an important consideration. My hiking rain pants serves two purposes: keep me dry from the outside, and keep the wind from cutting through.
In these regards, I am usually prone to consider the lightest available options in the smallest package when choosing a rain layer.
Even for those of you who may not be as concerned with weight and bulk as I am, it's a simple truth of backpacking that we only have so much space in our pack and our backs are only capable of carrying a limit of weight.
All things equal, it's important to consider a packable pair of rain pants for hiking and backpacking. I, personally, also keep my rain layer in my outer mesh pocket and prefer to have something quite small and compressible.
Boot Zippers
Waterproof hiking rain pants are best used during the cooler spring and fall months and into winter time. Generally during these seasons most hikers will be wearing heavy footwear, larger shoes or bulkier boots for warmth and protection.
In these cases you'll need some way to get those rain pants on when the clouds darken, without having to take off your shoes or boots on the trail.
While it may seem trivial, finding a pair of pants with boot zippers is an important factor to consider. During warmer months it may not be as important, but it's still an inconvenience at best to be forced to strip down in order to put on your rain pants.
Surprise rain showers come in hard and fast often leaving you with little time to react. Being able to don and doff hiking rain pants on the fly is critical.
Check for boot zippers on your rain pants!

Best Brands of Rain Pants

Bringing up the best brands of any products is liable to provoke some heated arguments. However these brands are on most hikers short lists:
Marmot: Founded in 1974, Marmot has built a great reputation for outdoor clothing. The Precip is one of my top picks.
The North Face: Probably the best known maker of outdoor equipment on our list. Their lineup of jackets are some of the best available.
Arc'teryx: The "Cadillac" of outdoor gear, this premium brands makes some of the best gear but at premium prices.
Mountain Hard Wear: Now owned by Columbia Sportswear, one of my favorite value/quality manufacturers.
Outdoor Research: One of my favorite brands of clothing, their Helium rain jacket is one of the lightest on the market.

Conclusion
There is a pair of hiking pants on our list for just about anyone's needs. From the ultralight Outdoor Research Helium pants to the ultra-simple Helly Hansen Voss Rain Pant.
Remember that over time your preferences may change, but to get started, something in the middle of the price and features spectrum is a great beginning point.
Don't forget to factor in things like layering under the pants and make sure you have room for base layers. Double check your sizing with the manufacturer before ordering to avoid a return.
Think about what seasons, temperatures, and activity levels you'll be doing in your hiking rain pants. These factors will determine which pair of hiking rain pants makes the most sense for you!
How We Researched
To come up with the top hiking rain pants we researched a variety of sources for reviews such as REI, Bass Pro Shops, Cabelas and Backcountry along with our own personal experience.
We also consulted online magazines for product research and reviews to get as much unbiased information as we could. To help weed out fake reviews we used Fakespot.com to make sure we only looked at genuine reviews.
With so much quality gear available, we had to narrow it down based on what we felt were the best options for the price. The author, Casey Fiedler has been leading backpacking trips for over a decade in his native state of Michigan.
To help narrow down the selection he used his personal experience along with recommendations from fellow guides and outfitters.
After extensive research, we came up with our list to help you choose the right one for you.
Sources
---
I hope this guide was helpful for finding good rain pants to fit your needs. If you want to comment or recommend a pair of pants I didn't include, please use my contact form to get in touch.
Have fun and be safe out there!
Notice:
OutsidePursuits.com is a participant in the Amazon Services LLC Associates Program, an affiliate advertising program. OutsidePursuits.com earns fees from products sold through qualifying purchases by linking to Amazon.com. Amazon offers a commission on products sold through their affiliate links.