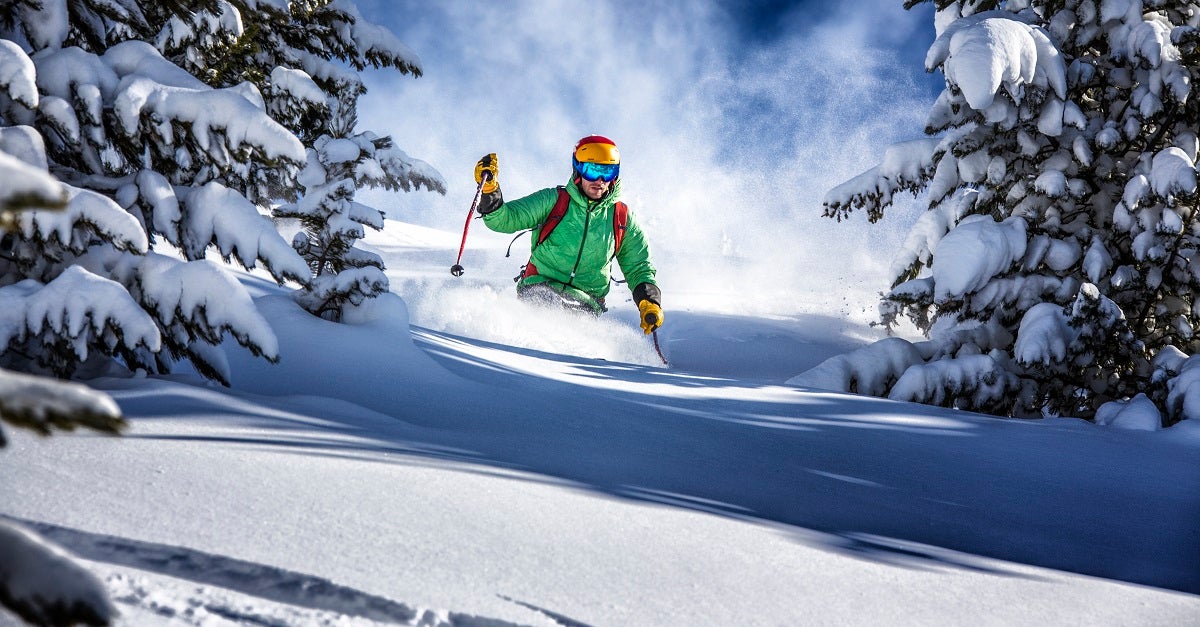 Our Editors independently research, test, and rate what we feel are the best products. We use affiliate links and may receive a small commission on purchases.
Whether you're a brand new skier or snowboarder, or have many seasons under your belt, it's never too late to learn about how to ski and snowboard safely. To keep yourself healthy and feeling great, you first need to know what to avoid and which safety precautions to take. We're here to help make the process easy for you, and have taken our own experience and expert proof to bring you the top 4 tips for skiing and snowboarding safely.
1. Dressing Appropriately
Whenever we're dealing with extreme weather like snowy conditions, we need to make sure to dress warm. However, when you're literally blowing down a mountainside, you must take this up a notch. Cold wind nipping at your skin combined with snow being thrown back up at you is freezing, needless to say. Let's take a look at how to keep warm, dry, and comfortable from the moment you get up to the resort till you are back in your vehicle heading home.
Layering
Layering is crucial to keeping comfy while skiing or snowboarding. If you get too hot, you can simply remove a layer. If you get a bit chilly, wear an additional one – it's simple. However, you must know how to layer. The bottom layer is going to be thin and usually form-fitting yet stretchy enough to move freely with the body. The next layer could be thicker and a bit more insulating, while the outer layer should be waterproof and wind resistant.
Ski/Snowboard Jackets
A ski jacket or snowboard jacket is a necessity, as it works to provide excellent insulation while protecting against moisture and keeping the wind out. Not only that, but it needs to be breathable enough that you aren't sweating or getting too hot in the jacket. There has to be a very fine-tuned balance in a high-quality ski jacket. In addition, they should have pockets for you to safely keep your lift pass, snacks, IDs, cash, etc.
Make sure you get the right jacket for you. Women's ski jackets and kid's ski jackets are available to suit their specific body type and dimensions to ensure the best results possible.
Ski/Snowboard Pants
How often have you seen someone up on the runs wearing jeans or leggings? We hope never, but the truth is there are still some people out there who don't wear ski pants! The muscles in our legs are the largest muscle groups in our body, meaning we lose quite a lot of heat through them. Moreover, we need the muscles in our lower body to remain warm and limber so as to minimize the risk of injury and keep us performing our best!
Ski pants allow us to do this with ease. They are breathable, waterproof, wind resistant, and hold our body heat in to keep us warm and dry. Oftentimes, you can buy a matching ski jacket and ski pants, with some even allowing you to connect the two articles of clothing for a cohesive outfit that keeps out snow and wind without issue.
Gloves
You simply can't go up skiing or snowboarding without a good pair of gloves. We lose body heat incredibly fast through our extremities, and we all know how painful it is to even lightly hit your fingers when they're cold!
Skiing and snowboarding are both extreme sports, and even at an intermediate level you'll probably do a good amount of falling. No one wants to accidentally hit their fingers on the edge of their board or on some ice!
These gloves allow for dexterity and a solid grip while keeping your hands and wrists warm and dry.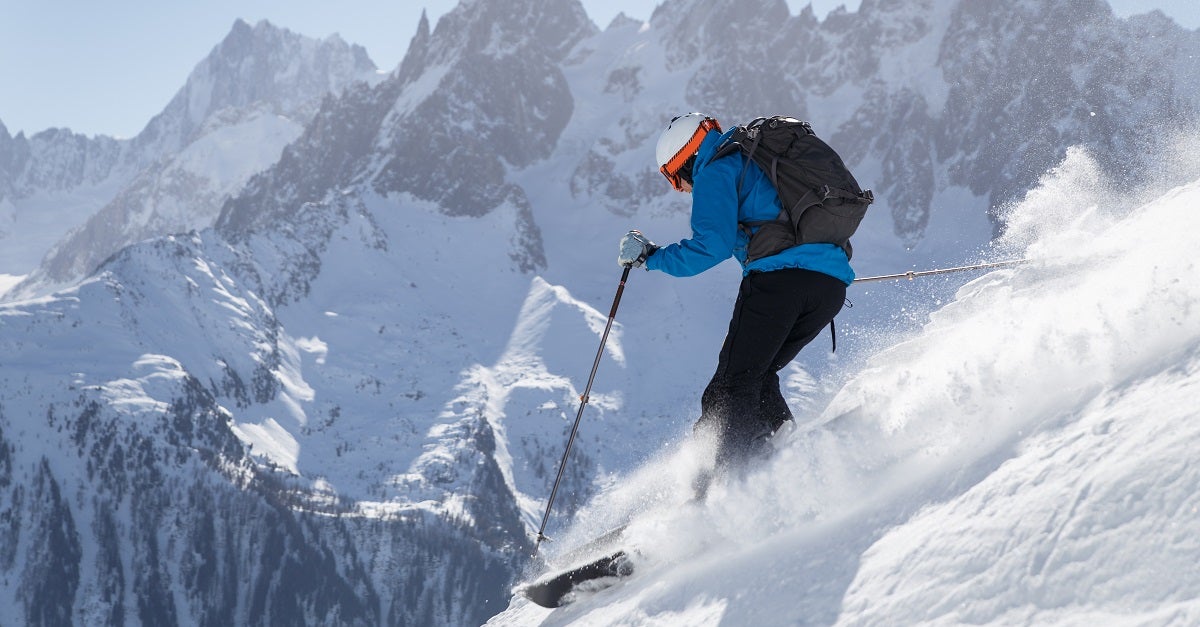 2. Ski/Snowboard Backpack
We recommend using a backpack if you're going to be heading out into the backcountry. While you're still on the bunny hills, you won't be too far away from a lift or the lodge most times, so if you need a snack or something you have it all right there. However, when you start heading out into more remote locations, there's also a greater need to carry along extra gear.
Not only should you bring along snacks, but devices like an avalanche beacon to keep you as safe as possible if an avalanche does occur. We hope that's never the case, but you should know that this is a risk you take by skiing or snowboarding in the backcountry.
Backpacks make it easy to bring along another layer, a pair of thinner gloves, an extra pair of socks, etc.
3. Helmets
We can't stress enough how important it is to wear a helmet. No matter what level of skier or snowboarder you are, head protection never goes out of style or becomes obsolete.
It can be relatively easy to crash, especially if you're riding around trees or on ice hidden under the snow. There are so many unforeseen situations when we are riding on snow, particularly on unmanned trails and runs.
A crash that could end up in a serious head injury can be laughed off many times when wearing a helmet. It's simply not worth it. Not only that, but helmets come lined with a very warm material that work to keep your head and ears warm.
4. Goggles
Last but not least, are ski and snowboard goggles. While you may see various skiers and boarders zooming around with sunglasses on their faces, it's not ideal. If you crash, sunglasses can easily break and the lenses can even shatter, which is putting your eyes in unnecessary danger. Additionally, sunglasses won't provide the full protection around your face and eyes that googles will.
Goggles come with a foam padding around the perimeter to ensure a tight seal to keep out snow, wind, and any debris, keeping your view clear. If you can't see properly, you can only imagine the kind of danger you're putting yourself in. Not to mention, sunglasses fog up very easily, which can also obstruct vision. A good pair of ski/snowboard goggles do not.
Summary
Now that you've had the chance to read through our top 4 tips for skiing and snowboarding safely, do you have an idea of what you need to get before you head out to the resort this season?
Trust us when we say that each of the aforementioned items are absolutely necessary and without even one, you're placing yourself at an unnecessary risk of injury or level of discomfort. We hope our guide has helped you out and that you're 100% safe. Thanks for tuning in, and we'll see you again soon!
Notice:
OutsidePursuits.com is a participant in the Amazon Services LLC Associates Program, an affiliate advertising program. OutsidePursuits.com earns fees from products sold through qualifying purchases by linking to Amazon.com. Amazon offers a commission on products sold through their affiliate links.