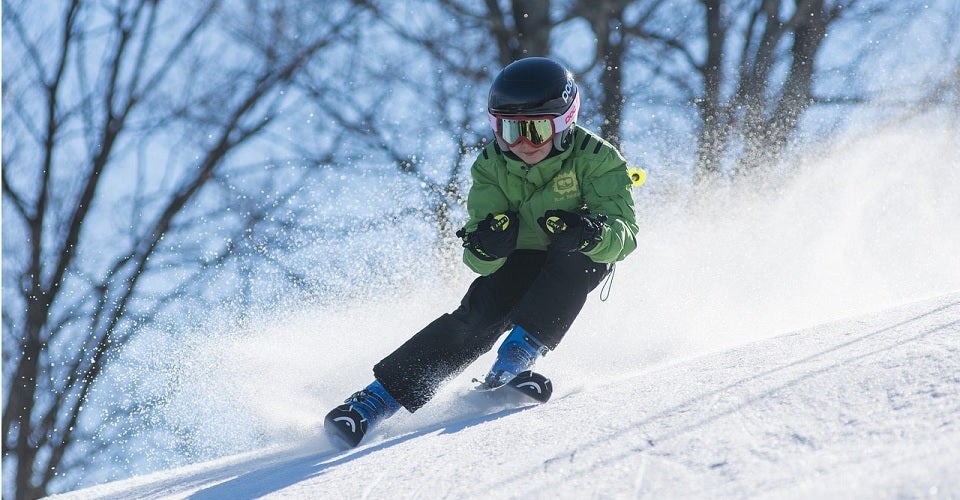 Our Editors independently research, test, and rate what we feel are the best products. We use affiliate links and may receive a small commission on purchases.
There are a ton of little skiers out there, but unfortunately many don't have the kind of gear they need for the extreme weather conditions skiing requires. What your child needs to stay warm and comfortable is one of the top ski jackets for kids. To help you choose, we've researched the best-performing jackets on the market. They're not only warm, but will be able to handle many seasons of wear and tear, will suit your budget and look great! We know you're ready to get your little one out on the slopes, so let's not waste any time!
Best Ski Jackets For Kids
Quick Answer: The Best Rated Ski Jackets for Kids
---
Kids Ski Jacket Reviews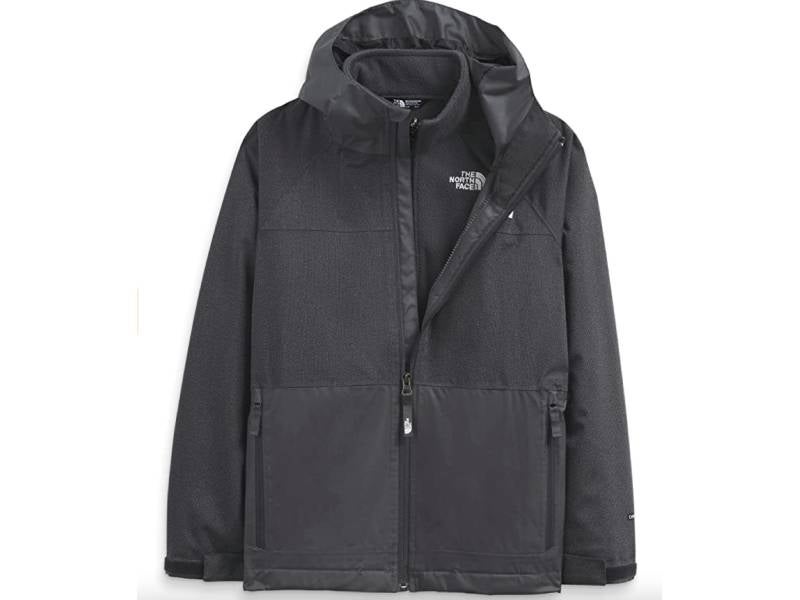 The North Face Boys' Vortex Triclimate Jacket at a Glance
:
---
Shell:

DryVent fabrics

Lining: Fleece
Hood: Yes
Removable Lining: Yes
Waterproof: Yes
Consistently ranked among the best ski jackets for kids, the North Face Boys' Vortex Triclimate is one of the most versatile on the market today. You can expect your child to wear it throughout all kinds of seasons and climates. Coming in 4 different colors, your child has the option of Asphalt Grey White Heather, Tnf Black, Hero Blue and Tnf Black (Past Season). Though the colors are versatile and unisex, the fit is best suited for boys. All look sporty, high-quality and go well with just about any kind of outerwear.
The North Face is easily one of the most respectable outerwear companies, and with this model you'll see why. The 3-in-1 jacket comes with a waterproof shell and a midweight fleece liner jacket. The fleece is incredibly soft and does well to insulate. It can be worn on its own, or together with the durable shell made of polyester. To ensure your child stays nice and cozy, the convertible jacket is also waterproof with fully sealed seams that will never let rain or snow get in. This makes it perfect for long days and nights on the slopes. To ensure it always offers the perfect fit, there's also adjustable drawcords at the hem and cuffs to keep the harsh cold and wind at bay.

---
Columbia Boys Lightning Lift Jacket at a Glance
:
---
Shell: Nylon
Lining: Synthetic
Hood: Yes
Removable Lining: No
Waterproof: Yes
If your child is a beginner skier and you're not sure they'll like your style choice, or if you're just on a budget, the Columbia Lightning Lift Jacket may be your best bet. Columbia is another popular outdoor clothing brand, thanks to their high quality and relatively affordable prices. Coming in an array of different colors and patterns, boys can choose from selections like Red Element Blocks, Red Spark, Grill/Python Green, Pine Green Spider Streets and more. With 240 grams of insulation, we suggest this model for relatively mild weather – not for extreme snowfall or low temperatures, as this is more of a lightweight option.
This jacket also features an adjustable storm hood and taffeta lining for keeping in heat and the ears warm. The 100% nylon/Hydra Cloth 3000 shell is waterproof in light rain or snowfall, which is crucial to your comfort while skiing. Multiple pockets are great for keeping ski passes, smart devices and gloves while the adjustable cuffs keep cold wind and moisture out. Reflective details throughout the jacket are perfect for night skiing as well, so you can make sure your child is seen by other skiers.

---
Burton Symbol Snowboard Jacket at a Glance
:
---
Shell: Polyester
Lining: Thermacore/Taffeta
Hood: Yes
Removable Lining: No
Waterproof: Yes
Burton is not only a legendary snowboard brand, but it makes incredible snowboard-wear which their Symbol Jacket shows off marvellously. Easily one of the most visually aesthetic models out there, your child will actually look forward to keeping it on! Coming in a variety of fun colors that are best suited for boys, they'll get to choose from options like Indigo/Fired Brick/Bitter, Blowout Stripe, True Black Multi, Tender Shoots Multi and more. The unique color options will also make them stand out on the slopes, which any parent will appreciate.
With their signature DRYRIDE performance, the shell is waterproof against light rain and snowfall. In conjunction with the shell, the Thermacore insulation will ensure their warmth, no matter how long they're out on the slopes. A snow-blocking waist gaiter aids in keeping the snow and cold out, also connecting easily to the Burton Youth pants. Important extras like zipper closure handwarmer pockets, hook-and-loop closure media and goggle pockets will allow them to stay comfy at all times. Finally, the Room-To-Grow sleeves will make this a solid investment, as they'll be able to wear the jacket for many seasons to come.

---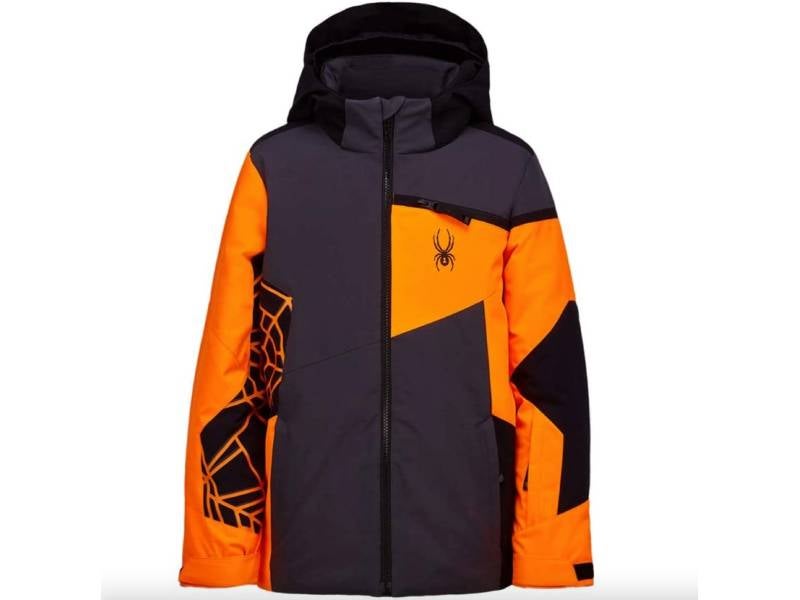 Spyder Boys Jacket at a Glance
:
---
Shell: Polyester
Lining: Synthetic
Hood: Yes
Removable Lining: No
Waterproof: Yes
Easily one of the best ski jackets for boys, the Spyder Boys' Flyte Jacket is certainly eye-catching. The unique brand offers bold colors and designs like Polar Herringbone/Fresh, Turkish Sea/Black, French Blue/Black and Red/Black. There aren't many colors to choose from, but each one looks clean and sleek. The jacket isn't just suited for the mountains, but for any situation that requires your child to be warm. They can easily wear it to school, sporting events and for travel thanks to the low and comfortable profile. The 100% polyester shell is incredibly tough and will be able to withstand both physical activity and the harsh elements. The 140-gram insulation is lightweight yet effective in retaining body heat, so they won't dread having to go outdoors.
It's also waterproof, coming with taped critical seams to keep light rain and snow out. The drawcord adjustable hem and cuff tabs will further aid in this, protecting your little one from the cold wind. The fixed hood doesn't come off, though it does a great job at keeping ears and heads cozy. Finally, you'll find key details like reflective tape throughout, zippered hand pockets, a data card pocket, internal zippered pocket, mesh goggle pocket and a chamois lens wipe. What more could your child need?

---
Mountain Warehouse Kids Ski Jacket & Pants Set at a Glance
:
---
Shell: Polyester
Lining: Fleece
Hood: Yes
Removable Lining: No
Waterproof: Yes
If your child is just starting out on the slopes and you're on a tight budget, you can't get better than the Mountain Warehouse Kids Jacket & Pant Set. It comes with everything your kid will need to start learning while remaining warm and comfortable! This jacket and pant set does its job well, and you'll have the choice of ten different colors. The color options are suitable for both boys and girls, and will be able to fit your child up to the age of 13. The jacket and pants contrast one other to make them stand out easier, and can also be paired with different clothing options for added versatility.
Both pieces come with a shell made of tough polyester that won't rip or tear, no matter how many times your child may fall coming off the ski lift. The snow-proof shell comes treated with a water repellent to make it more resistant to the elements. The fleece lining is extra cozy, and even though it's not removable, we have a feeling it'll be your child's favorite part of the set. To help keep the snow and cold out, the jacket comes with a convenient snow skirt along with adjustable cuffs to maintain warmth inside.

---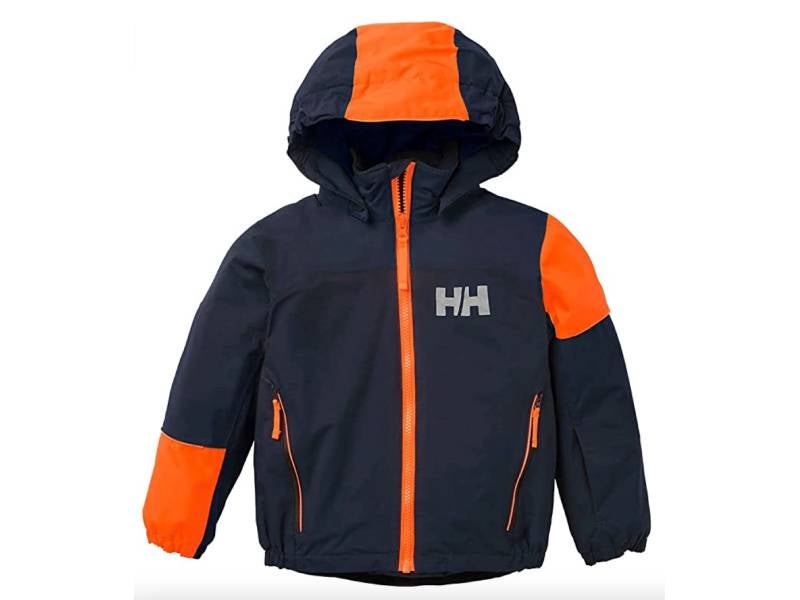 Helly Hansen Kids Rider 2 Ski Jacket at a Glance
:
---
Shell: Polyamide
Lining: Soft brushed tricot
Hood: Yes
Removable Lining: No
Waterproof: Yes
If quality is your primary goal above anything else, then you have to take a look at the Helly Hansen Kids Rider 2 Ski Jacket. Coming in the brand's signature unique shades like Bright Orange, North Sea Blue, Fir Green and more, your child will be looking and feeling better than ever! The shell is made of 100% polyamide, which is the most durable and lightweight material one could want in a ski jacket. It will easily last for many years to come, even with regular use.
Somehow managing to be waterproof and windproof while allowing optimal breathability, your child will never get too sweaty or uncomfortable, nor will they have to worry about cold rain and snow penetrating their jacket. Luxurious Primaloft Black Insulation is found in the body, sleeves, hood and collar to keep the upper body nice and warm. The hood is both detachable and adjustable, so they can choose what works best for them depending on the run or climate they're in. Adjustable cuffs, a bottom hem and powder skirt will keep the snow and cold wind out, so your child can tackle the slopes with confidence.

---
Arctic Paw Boys & Girls Winter Waterproof Snow Ski Jacket at a Glance
:
---
Shell: Polyester
Lining: Fleece
Hood: Yes
Removable Lining: No
Waterproof: Yes
Last but definitely not least, we bring you the Arctic Paw Boys & Girls Winter Waterproof Snow Ski Jacket. If you're not looking to splurge, this is easily one of the best ski jackets for both girls and boys. Not only is it comfortable, protective and affordable, but it looks great on and should fit your child until they're 11-12 years old. You'll get a choice of 6 different colors/patterns: Midnight Chrome Camo, Scarlet Storm and Crimson Galaxy are just a few of the standout options.
The waterproof, tough shell will keep your child dry and warm on rainy days, though we did notice it wasn't quite as resistant against heavier rainfall and snow like the others on our list. The triple-layered insulation helps to keep body heat inside, while remaining tear-resistant. The fleece lining feels wonderful against the skin, too. It's also important to note that this ski jacket should be hand-washed only. As it's so lightweight and versatile, your child can easily use it for any activity that requires them to stay warm.

---
Best Ski Jackets for Kids Comparison Table
How to Choose the Best Ski Jackets for Kids – Buying Guide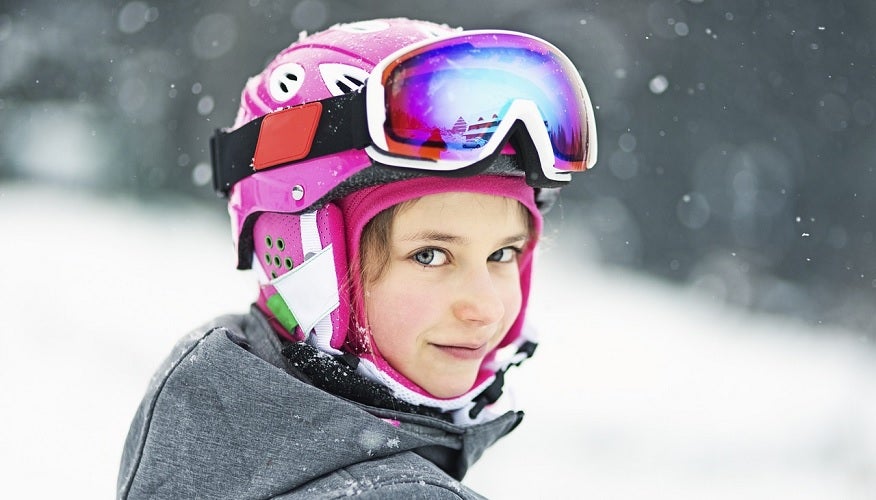 Resistance to Weather
Obviously, one of the most important aspects of a good ski jacket is being resistant to cold weather. When your kids are out skiing or snowboarding, their jackets also need to be waterproof against snow and rain. It's important to note, however, that "waterproof" isn't always to the same degree. Some may already have a waterproof fabric, but come with an additional waterproof seal on top. You may have noticed that each manufacturer includes a waterproof rating. For example, a 10K rating refers to how much rain/water a fabric can hold up against in a day. A 10K rating would mean a fabric could withstand 10,000mm of water in 24 hours. In addition, you should always look for sealed seams. Critically taped seams are the most exposed to water, while more high-quality models will have entirely sealed seams throughout the jacket.
Insulation
While the shell is definitely important, it's not going to be very comfortable or warm without insulation. Insulation is there to maintain your body heat and keep you warm, but varies quite a bit depending on the manufacturer and model. Many brands will include synthetic insulation, which is usually measured in grams. The higher the number of grams, the thicker and warmer the insulation is going to be for your child.
A jacket with 50-100 grams of insulation is going to be more lightweight and ideal for more fall-like temperatures. 100-200 grams of insulation is ideal for more extreme temperatures and heavier snowfall. You'll also frequently find fleece lining, which is a favorite for many skiers. Fleece is ultra-soft to the touch and feels smooth and cozy against the skin. It does an amazing job at retaining heat without adding much bulk, and is often removable.
Hood
Even if they say they're not going to use it, the truth is that most kids benefit greatly from hoods while out on the slopes. When you're up in the mountains, things can get considerably windier and temperatures drop. We lose a good amount of heat from our head, so a hood is a simple yet effective way of preventing heat loss. Adjustable drawstring hoods also help to keep cold wind and moisture out while keeping our delicate ears warm. Some jackets will also have detachable hoods, which are ideal for more responsible, older children (as younger kids might easily lose them).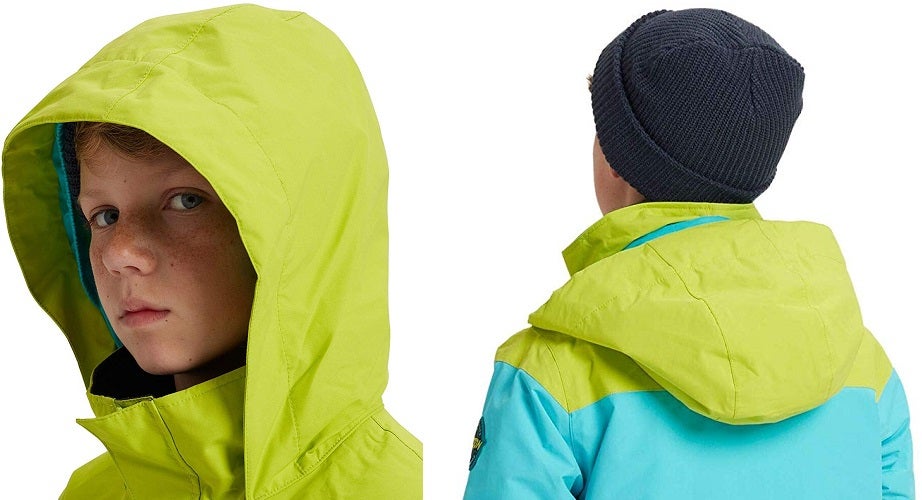 Pockets
Pockets are crucial to have, especially for kids. Ideally, your child's new ski jacket will have deep pockets to keep gloves and a pair of goggles, so they don't lose them. Interior pockets are also nice to have as they can protect valuables and your spending money. There are also some that come with a little slot for season or lift passes.
Adjustability
Adjustability is absolutely necessary when it comes to ski jackets, but even more so when we're dealing with children. Children move around a ton, and when skiing you don't want them to be uncomfortable. This is why you want to look for jackets that have an adjustable middle bungee, which helps keep the snow and wind out without being too restrictive. You should also look out for adjustable bungees on the bottom hem and tabs on the cuffs.
Powder/Snow Skirts
A great feature that's included in many ski jackets is the powder or snow skirt. This is simply a piece of waterproof, elasticized fabric that's built into the bottom of the jacket to hug your waist. It's designed to prevent snow from getting up inside the jacket, which can happen if you're skiing or snowboarding and take a tumble. The last thing you want is to feel damp and cold inside your jacket (which you're wearing to protect you from the snow and rain, after all!), so this is a great bonus to look out for.
Tips For Choosing The Best Ski Jackets For Kids
If your kid is a fast grower, make sure the jacket is adjustable to fit them for as many seasons as possible.
You want to get the most out of your money, right? Then adjustability is key. There are some models that even allow you to extend the sleeves so that they can grow with your little one. Otherwise, you may want to purchase a size up, but make sure that the adjustable bungee cords can be arranged in a way that no wind nor snow gets in, so that they stay warm.
Look for a model that comes with at least a 6-month guarantee.
6 months is most likely going to be longer than your cold months, so this is more than enough for most. However, when you go up in price you'll also see longer warranties, which can attest to the level of quality you're receiving.
Conclusion
Now that you've read everything you could want to know about ski jackets for kids, which one will your little one be wearing on the slopes? If you're still unsure, know that no matter which one you choose, you'll be buying one of the best on the market. However, what's most important is that you select the perfect product for your child, and we hope that our guide has helped you do just that.
FAQs
What is the best kids ski jacket?
Our pick for the best kids ski jacket currently on the market is the popular The North Face Vortex Triclimate Jacket.
What's the difference between a ski jacket and winter snow jacket?
To put it simply, ski jackets are specifically designed for skiing and for the harsh conditions that comes with being on the slopes. They're built to be durable, breathable as you're constantly moving, and to protect you from the cold wind, rain and snow (particularly if you're at high altitudes). A winter snow jacket is designed more for everyday wear when you're outside in winter conditions.
Are snow or powder skirts necessary for kids ski jackets?
While you'll find that many ski jackets come with snow/powder skirts to protect you from getting snow inside, they're not essential and you can definitely get by without one.
How do you machine wash a ski jacket?
First, you should always check the tag on the jacket to follow the manufacturer's instructions. If they don't specify no machine washing, then it's probably safe to do so. Before washing, make sure all pockets are empty, zipped and that the jacket is closed. Always try to wash the jacket by itself to make sure no other clothing can damage it, such as denim jeans.
How often should I wash my child's jacket?
Obviously if they go swimming in a puddle of mud or get pizza from the lodge all down the front of it, right away. However, the rest is up to you. There are people who believe you should only wash it at the beginning and end of each season, while others are diligent about washing it every 3 to 4 uses.
How We Researched
To come up with the best kids' ski jackets, we researched a variety of sources for reviews such as REI, Backcountry, Moosejaw, EVO along with our own personal experience. We also consulted online magazines for product research and reviews to get as much unbiased information as we could. To help weed out fake reviews we used Fakespot.com to make sure we only looked at genuine reviews.
With so much quality gear available, we had to narrow it down based on what we felt were the best options were for the price. The author, Shayanne Weeks, is a keen snowboarder and skier. She also has a keen eye for fashion.  To help narrow down the selection she used her personal experience along with recommendations from fellow skiers and fashion-watchers.
Sources
Notice:
OutsidePursuits.com is a participant in the Amazon Services LLC Associates Program, an affiliate advertising program. OutsidePursuits.com earns fees from products sold through qualifying purchases by linking to Amazon.com. Amazon offers a commission on products sold through their affiliate links.