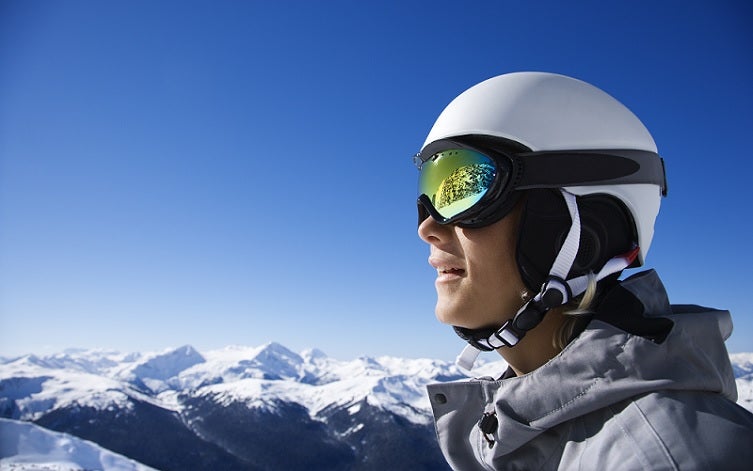 The best ski helmets are not only warm but so comfortable you will forget you are wearing a helmet. There really is no good reason for not wearing a helmet when skiing.
No matter what your budget is, there is a helmet that will meet your needs. Even the cheaper models offer good protection and are plenty warm.
And if ski helmets with audio is important to you, the Smith Optics have the "Skull Candy" option available.
For more of my top gear recommendations, have a look through these popular Outside Pursuits guide links: Ski Goggles, Ski Jackets, Ski Pants
Quick Answer: The 5 Best Ski Helmets For 2018

First let's take a look at the top rated ski helmets, then we'll talk about how to choose the right helmet for you. Here is a feature overview of the helmets (for Men, Women and Kids), full reviews and our buying guide is below.
Best Ski Helmets
| | Giro Seam Snow Helmet | Smith Optics Variance Snow Sports Helmet | Lucky Bums Snow Sports Helmet |
| --- | --- | --- | --- |
| | | | |
| | | | |
| Construction: | Injection molded one piece ABS helmet | Hybrid design, Injection molded two piece ABS helmet | External outer cap is ABS material, inside a molded shell in EPS material for extra strength |
| Weight and Fit: | 16oz, 4 sizes available with comfortable foam interior. Removable inner lining and ear pieces. | 18oz, 8 sizes available with "Boa" fit system for a perfect fit. Removable ear pads. | 21oz, 5 sizes available with comfortable foam interior. |
| Warmth and Ventilation: | Independent control of front and rear sections of the helmet's 14 vent openings. | Independent control of front and rear sections of the helmet's 18 vent openings. | Mesh covered vent ports can be opened and closed. Warm ear pads. |
| | | | |
Ski Helmet Reviews
Note: All the helmets reviewed have met required safety standards.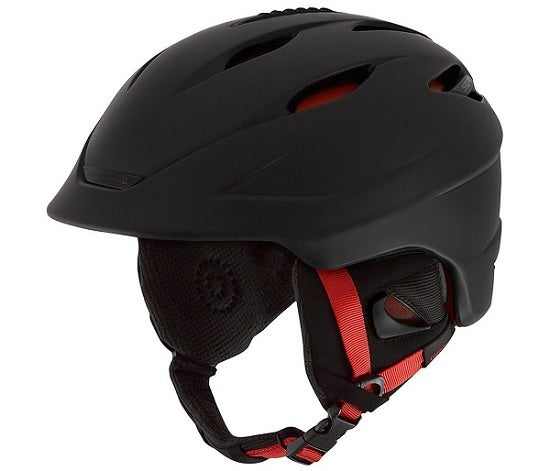 First off, I have to say that the Giro Seam is my every-day ski helmet. You're about to learn why these helmets totally kick ass.
A dial lock adjustment with floating internal suspension means that the helmet adjusts to fit your head like a glove with zero pressure points.
I wear this helmet 7-8 hours a day for 100+ days a season (I've got well over 400 days in this helmet) … trust me when I say you'll forget it's there.
Well placed ventilation is controlled by an easy to access and operate slider. One large slider opens and closes all vents on the helmet and features a "halfway open" positive stop so I can have my vents partially open or closed without guessing.

Ear panels feature a removable foam piece (meant for a speaker system) and mesh panels.
I took out the speaker inserts and it's about a million times easier to hear than any other helmet I've ever worn. Oh yeah, and it doesn't sacrifice a bit of comfort or warmth.
All of the internal padding of the giro ski helmet is adjustable, removable, and washable. This is a serious plus for those of us who wear a helmet all day!
Goggle retention strap is a line snap closure – again, this means your goggles have no chance of going anywhere even if you take a massive digger.
Going one step above the design of most other helmets, however, the Giro Seam goggle retainer is elastic so it can easily fit over even the bulkiest setups.
Pro Tip: Go for the solid black or solid white look – it's a great sleek and clean look that says "I know what's up."
There are 15 colors available so everyone should be able to find one to suite their style. Overall, I think the Giro Seam is the best ski helmet.
If you want the added safety features of MIPS technology, check out the Giro Range Snow Helmet for Men and the Giro Era MIPS Snow Helmet for Women.
---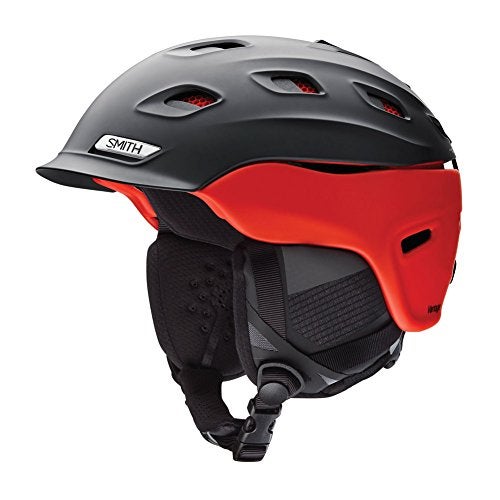 The Vantage being our first Smith Optics helmet reviewed with a very different style than the Holt helmet below. While the Holt is a classic "Bomber" style helmet the Vantage is more what you think of as a ski helmet.
The features a unique hybrid style of construction, somewhere in between a one piece injection molded and a two piece design normally only found on much more expensive helmets. The result is a strong, lightweight impact resistant design at a bargain price.
The Smith Vantage Helmet uses something call "MIPS" which stands for Multi-directional Impact Protection System.
Its an advanced protection system that allows the liner of the helmet to move independently of the shell. In the event of an impact, it reduces rotational forces on the head.
It has plenty of adjustability with their "Boa" fit system. The Boa fitting system is a fancy way of saying it uses a wheel that you turn to adjust the cables so it fits your head perfectly.

The ear muffs are very comfortable while letting in sound at the same time allowing you to hear people talking to you easily.
This is a very light helmet (about 18 oz) and one the lightest of the helmets evaluated. Not only is it light is also has one of the better ventilation systems of the tested ski helmets with 21 vent openings.
The front vents can be opened or closed with a slider and the same with the back vents, while some of the lower vents are always open.
The ear muffs are removable for warm weather or spring skiing. The helmet is plenty warm, and the liner has a "Nanosilver" coating to prevent bacteria and odor buildup.
Being that Smith Optics also makes goggles as well, they have made the Vantage very goggle friendly. It features a unique snap design that secures the goggles while making it easy to remove them at the same time.
Naturally the helmet is designed especially for Smith Optics goggles but they work fine with other manufacturers as well. In my opinion this is the safest ski helmet with the MIPS technology and Hybrid SL Shell Construction.
All in all, the Smith Optics Vantage is one of the best ski helmets available at a reasonable price, highly recommended.
---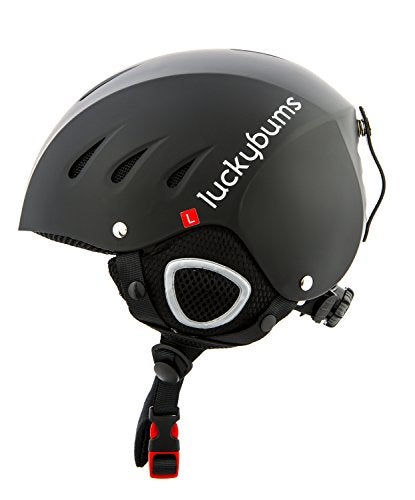 This helmet is surprisingly feature rich and robust considering the price point they managed to hit with it. Why do I consider it feature-rich?
Dial lock style adjustment strap in the back of the helmet adjusts the internal suspension system nicely to help fit a wider range of head sizes and shapes.
Don't forget to order the right size helmet, though, because the adjustment range is only minor. Goggle retention strap on the back side is a line snap style fastener.
This differs from many manufacturers because it means once you button your goggle strap in, it won't come back out until you want it to! This is much handier than you might think at first glance.
Good design, Lucky Bums!

Unfortunately, the mesh vents on top do not open or close which is a major drawback for me – it means you'll be comfortable in a narrower range of temperatures.
For most people this won't be a problem, but if you're a hard charger and won't let up when the weather gets rough… you may want to consider adjustable vents.
Compared to the Smith helmet, I think this ski helmet has more useful features for the everyday skier or boarder.
For the price I would recommend this helmet in favor of the Smith Holt helmet as I believe they've included more intelligent features for the casual skier.
The Lucky Bums is the best budget ski helmet that doesn't compromise on safety.
Pro Tip: Wear a thin beanie under the helmet when the mercury drops!
The helmet is available in a variety of colors, including black, blue, red, silver, light blue, light pink and a rather natty black with skull. Excellent value for money and comfortable to wear.
---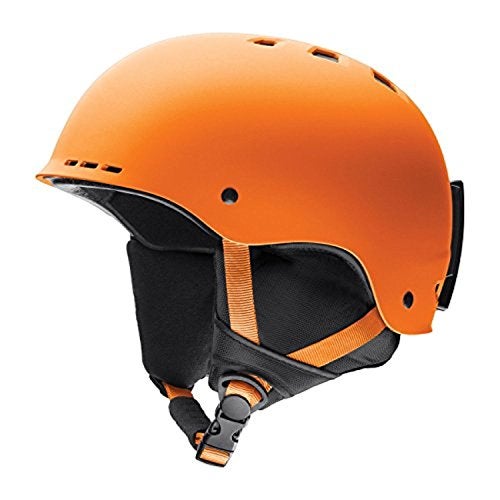 Coming in squarely at the budget range of snow sports helmets, the Holt helmet by Smith is a solid choice for the new skier or budget minded boarder.
Lacking nothing in the safety and protection department, the helmet achieves a balance of function and price by minimizing extravagance in other areas.
Ear cups are solid foam – no perforated holes to help improve sound transmission, so you may have a feeling of "muffled" hearing.
Minimal adjustability makes the helmet a good choice only if you know you can return it (Not an issue with Amazon) before buying to ensure it fits your head shape (Smith helmets do not fit my head at all).
Adjustable air ventilation is a serious positive addition to this budget minded helmet. Goggle retention system in the back is nice but having the opening at the top of the goggle lock is a huge oversight.

As an instructor I've worked with many clients rocking this brain bucket and I can say that goggles love to pop out of the goggle lock on the back – it's not as well designed as it could be.
"Skullcandy" speaker pockets are included so if your looking for ski helmets with audio then you're in luck.
All in all, this ski helmet is relatively bland(other colors are available) but it works and I've worked with hundreds of people who are perfectly satisfied with it.
Pro Tip: Smith helmets are generally well suited to people with more rounded heads – my huge oval shaped dome never fits them.
Bonus Feature: The helmet can also be used in the summer for skate boarding by removing the insulation. At 19 oz the helmet is comparatively light for an injection molded helmet making it a good choice and comfortable to wear.
---
The Giro Surface is a more inexpensive version of the Seam helmet reviewed earlier. The Surface is more of skater inspired helmet and has a look that snowboarders favor. It's a budget priced helmet that doesn't lack for quality and features however.
It has a dial lock adjustment like the more expensive Giro Seam. It allows you to get a very comfortable fit with the turn of a dial. This is especially convenient if you like to wear a head liner for extra warmth and comfort.
The Giro ski helmet features a quality one piece hardshell construction so you can wear this helmet with confidence knowing it will protect you.
The helmet is plenty warm, even in sub-zero weather and when the weather turns warm the ventilation does a good job of keeping your head cool. The ear pads are removable so you can wash them or if it's too warm for them.

The goggle retention system is removable without any tools and has a simple locking snap to keep your goggles secure. If you like to listen to music while on the slopes, the Surface is compatible with all Giro audio systems.
The helmet is available in 12 colors so you should be able to find one that suites your style. The Giro Surface is probably the best ski helmet under $100 that doesn't sacrifice protection.
---
Ski Helmet Comparison Table
| Ski Helmet | Made From | Features | Warmth & Ventilation | MIPS | Rating |
| --- | --- | --- | --- | --- | --- |
| Giro Seam Snow Helmet | Injection molded one piece ABS helmet | In-Mold construction, X-Static Anti-Bacterial Padding | Dual regulator ventilation with independent control of front and rear sections of the helmet's 14 vent openings. | No | 4.7 / 5.0 |
| Smith Optics Vantage MIPS Helmet | Hybrid design, Injection molded two piece ABS helmet | Nanosilver Performance Lining, Adjustable Boa FS360 Fit System | Dual regulator ventilation with independent control of front and rear sections of the helmet's 18 vent openings. | Yes | 4.1 / 5.0 |
| Lucky Bums Snow Sports Helmet | External outer cap is ABS material, inside a molded shell in EPS material for extra strength | Internal fabric lining and ear padding has a hypoallergenic and antibacterial treatment | Mesh covered vent ports can be opened and closed. Warm ear pads that let sound through. | No | 4.3 / 5.0 |
| Smith Optics Holt Helmet | Injection molded ABS shell | Bombshell ear pads and removable goggle Lock | 14 vents with airflow climate control and AirEvac ventilation | No | 4.5 / 5.0 |
| Giro Surface-S Snow Helmet | Hard Shell Construction | Removable goggle retainer and removable earpads | Stack ventilation with airflow climate control | No | 4.1 / 5.0 |
How to Choose the Best Ski Helmet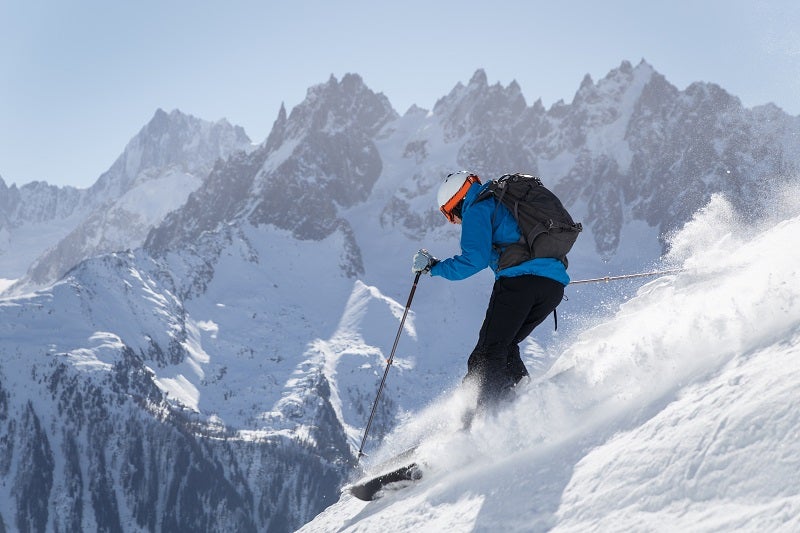 Types of Ski Helmets
There are several different types of helmets. Most recreational skiers opt for the "half shell" which covers only part of the head. This means that detachable ear muffs are needed.
However, for maximum safety you can opt for a "full face" whole shell design where these are integrated. These are especially popular for small children and beginning skiers.
Half Shell: Essentially a half shell helmet covers the parts of your head where you have hair (or had it). Ears are covered only with a cushion of insulation and your face is exposed. This is by far the most common type of helmet for recreational skiers.
Full Face: This is basically like a full face motorcycle helmet and offers much more protection. It covers your head, down over the ears, and comes under your chin just leaving the nose and eyes uncovered for a helmet.
Full Shell: The full shell is basically the same as the half shell except that the ears are protected as well.
Safety
Ensure that any helmet you buy meets ASTM F2040 if you are buying from the U.S or European standard CE EN 1077. While children's helmets are lighter than adults they also have to meet stringent safety standards.
Any helmet sold by a reputable reseller should meet these guidelines.

Construction
Ski helmets are made using two main construction methods.
In Molded Design: This design of helmet is the lightest, but also the most expensive because to complex and expensive equipment needed to make the helmet.
Typically, this helmet is made from a thin, polycarbonate shell filled with expanded polystyrene. (EPS) This is an extremely tough and durable design. The stronger shell allows for more ventilation holes while not losing strength.
Injection molded Design: Helmets using this type of construction are usually cheaper and also heavier. Due to the construction method they tend to have a rounder shape and are made from Acrylonitrile Butadiene Styrene) (ABS).
The helmet is then has the inside of the helmet a EPS foam is glued or bonded to the shell.
All helmets are equipped with a fitting system and retention harness. These can vary in design and complexity.
Soft foam inserts are used to fit the helmet to the wearers head shape then an adjustable retention system is used to hold the helmet to the head securely in case of impact.
How to Evaluate a Ski Helmet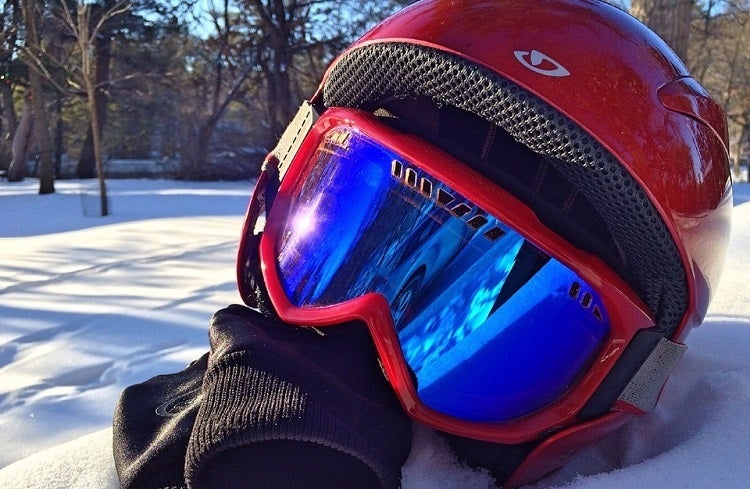 Fit and Comfort
Choosing the right fit of helmet is important, but this is easy to do. Measure the circumference of your head just about the eyebrows in centimeters.
Then consult the manufactures chart to choose the right size. If you are at the top end of a size go for the larger one. Allow a centimeter or so if you are going to wear a beanie or other type of hat.
As people have different shaped heads, manufacturers tend to make different shaped helmets or become known for making one of a particular shape.
Unfortunately, this can be difficult to know in advance until you try on the helmet. So be sure you are able the return the helmet if it is uncomfortable for your shape of head.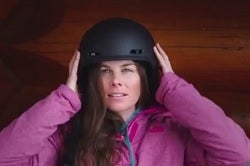 The helmet should of course be comfortable while not able to slide back and forth or from side to side and you should be able to buckle the helmet easily beneath your chin so that it fits snugly without cutting off your circulation or choking you.
You can then tighten and complete the fit of the helmet by using the adjustment system for the helmet so that it feels comfortable and snug.
You will know you have achieved this when the helmet is perfectly aligned and does not move easily when you try and move it around with your hands.
It goes without saying that you should never wear a helmet you do not feel comfortable in. You should not even notice you have it on after a few minutes. My Giro Seam helmet truly "fits like a glove".
If you buy a helmet online make sure you have time to return it and get another one before you go skiing, especially important if you are going across country on a long ski trip.
You don't want to have to purchase another helmet at the ski shop because you have an uncomfortable helmet.
This Video from Dick's Sporting Goods is a good primer.
If you have a ski shop nearby, try on a few different brands till you find the one you like, then buy it online for a cheaper price. Different helmets will suit different head shapes and there is never a one size fits all solution to buying a ski helmet.
If a helmet has the means to adjust the size from a scroll button at the back make sure that this is positioned so that it does not dig into the neck.
As everyone's head is different, one make or brand of helmet will never work for everybody. It is best to try on several different helmets and choose one that you feel really comfortable in.

Warmth and Ventilation
I first time I wore a ski helmet I thought I would hate it! My wife at the time was insistent that I wear one, (this was after several notable people died in ski accidents), so I gave in and tried one. I was shocked! Not only was the helmet warm, I honestly forgot I had it on by the end of the first run.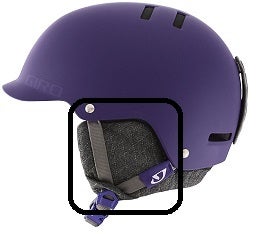 I cannot imagine it EVER being so cold that you would need to wear a hat underneath your helmet for warmth. You are more likely going to need to open the vents on the helmet because you are too hot than for protection against the cold.
This assumes of course that your goggles fit well with the helmet and do not leave a big gap between the helmet and the goggles for cold air to flow in.
Since half shell helmets only protect your ears with a cushion you need to be sure they fit snug over your ears keeping them warm. If they flop around or leave a gap your ears may get cold.
In cold weather, the snug fit of the helmet should not allow air to come between your head and the helmet.
I would advise you to buy a helmet that has adjustable vents allowing you to open or close them as needed.
Some of the best ski helmets allow you to finely adjustments of the vents, allowing you to get the exact amount of ventilation you want.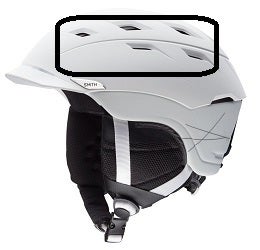 This will be especially important on warmer days; you will want to adjust the vents to cool you down. Make sure that the helmet you buy allows you to do this.
Another consideration in warm weather are detachable ear muffs, removing them is the best way to cool down.
When ear covers are loose and floppy they do not provide enough insulation. Half shell helmets tend to have less efficient ear coverage for this reason.
The best kind of ear muffs are those that are slightly tensioned. Keep in mind that some ear muffs will also reduce your ability to hear.

Weight and Bulk
In theory, a heavier helmet should mean better protection, however this has to be balanced with the need for buying one that you actually want to wear on your head.
Lighter weight helmets still have to meet stringent safety regulations and it is better to buy something you are comfortable in and actually want to wear.
An injection molded helmet generally weighs slightly more than one made from in molding.
The difference is not usually that noticeable however, but this is really a matter of personal preferance. In general, a good ski helmet will weigh about a pound and somewhat lighter for children.

Goggle Compatibility
It is essential that the goggles you choose fit well with your chosen helmet. There should be no gap between the helmet and the top of the goggles.
Everything should fit seamlessly so if you're going to try on a helmet at a ski shop, remember to take your goggles to check for proper fit.
One feature that is a must is a goggle strap in the back of the helmet to keep the goggles from slipping off the helmet when you push them up on the helmet.
You will especially appreciate this on the ski lift so you don't have to worry about dropping them. Without it I would have lost mine long ago!

Helmet Style
Ski helmets come in a range of colors and designs. It can be tempting to go for a wonderful bold color only to realize later that this limits what you can wear with the helmet.
Choosing a style you want to be seen in will increase the likelihood you will always wear it. Safety is the most important factor when you buy a helmet but there is no reason you cannot look good at the same time!

Ski helmets now come in a vast array of colors so bear in mind that you may want the one you own to coordinate with the jackets and other clothing you intend to wear.
You may find a fairly neutral color is best if you only intend to buy a single helmet. This way your helmet will match most any color coat. You can always use a visor for added style, but remember that these do not work well with goggles.
There are now helmets that are marketed as Women's ski helmets. The only difference is the availability of more feminine colors and style. If you go this route, be sure you're not sacrificing comfort or fit for style.

Helmet Features
Newer helmets offer a variety of features that make wearing helmet even more enjoyable.
Sound Systems: Helmets like the Smith Optics Variance have an option to get a built in "Skull Candy" audio system. So when your shredding in the backcountry so can have on your favorite music playing. I personally have not used it yet but I can see the appeal.
Just keep in mind the risks when you have music playing, you cannot hear people trying to get your attention. This is especially important where trails merge. For this reason, I would only play music when skiing in the back bowls or you have the trail to yourself.
Camera Mount: I find it amazing how many people wear Go-Pros on their helmets while skiing. Although you can just stick on a camera mount, some newer models have it built in. In this way you don't need to worry about it coming off. With Go-Pros costing hundreds of dollars, this is a good option.
Goggle Retainers: This is pretty much standard on any helmet nowadays. This is a clip of some sort on the back of the helmet that the strap is routed through so the goggle cannot slip off the helmet completely.

Best Brands of Ski Helmets

When choosing the "best" ski there are several factors to consider: safety, style, fit and value. I think the following brands have done a pretty good job of nailing all of them:
Giro – They focus on making quality helmets for most outdoor activities. My first Giro product was the Seam helmet. It is by far the best ski helmet out there. There bike helmets are second to none. The new Montaro helmet with MIPS technology is worth your consideration.
Smith Optics – With a name like Smith Optics you might wonder why they would be on the list. They got their start making ski goggles back in the 60's and now offer a full range of quality ski gear.
POC – Based in Stockholm Sweden, they got their start making ski equipment like goggles and helmets. They are a fairly new company, founded in 2004, they make some excellent ski gear. I didn't feature any of them because I felt they were not as good a value.

Conclusion
All the helmets reviewed above will fit your needs for a safe and comfortable helmet. They all provide adequate warmth and ventilation and had a system in place to ensure a secure fit.
There was no problem with goggles misting up and the main differences were in the type of ventilation system used and the style.
The Lucky Bums Snow Sports Helmet seemed to be better for children and adults alike, but the Giro Seam Snow Sports Helmet has better thermostatic control and the Smith Optics Vantage Helmet was the best choice for color and style.
With the three we have reviewed, you cannot go wrong whichever one you choose and they all meet the criteria we have outlined in this article.
---
I hope this guide was helpful for finding the best ski helmet to fit your needs. If you want to comment or recommend a helmet I didn't include, please use my contact form to get in touch.
New to skiing? See my beginners guide to skiing for tips and advice.
Have fun and enjoy your day on the slopes!
Notice: Outside Pursuits is a participant in the Amazon Services LLC Associates Program, an affiliate advertising program to provide a means for sites to earn advertising fees sold through by advertising and linking to Amazon.com. Amazon offers a small commission on products sold through their affiliate links. Each of your purchases via our Amazon affiliate links supports our efforts to bring you the best possible product reviews at no additional cost to you. We appreciate your support here at OutsidePursuits.com