Anyone who has taken a ski vacation with their gear know how awkward it is carrying their boots. They are heavy and bulky so a good quality boot bag is a necessity.
And its not just your boots, you have a helmet (or should have), goggles, gloves, socks and lots of misc gear. A decent sized boot bag with extra compartments will make your trip so much easier.
So what are the best ski boot bags? We took some of the most popular models and tested them out on a trip to Jackson Hole. Don't forget to check out our recommended ski bags for traveling.
Quick Answer: The 3 Best Ski Boot Bags For 2017
First lets take a look at the ski boot bags, then we'll talk about how to choose the right bag for you. Here is a feature overview of the boot bags we liked best with our buying guide below.
Best Ski Boot Bags
Athalon Everything Boot Pack
Transpack XT1 Boot & Gear Bag
High Sierra Trapezoid Boot Bag
Size:
17 x 14 x 15 inches
17 x 16 x 14 inches
16 x 13.5 x 16 inches
Features:
2 separate side entry zippered boot sections.

Reinforced, padded hidden backpack straps.

Zippered center pocket for helmet, goggles etc.
2 separate side entry zippered boot sections.

Reinforced, padded hidden backpack straps

Foam Padded Back Panel and mesh side pockets.
Two zippered side compartments with ventilation.

Adjustable padded backpack straps.

Zippered center pocket for helmet, goggles etc.
Ski Boot Bag Reviews

Let's take a look at three ski boot bag options and talk a little about how they stack up: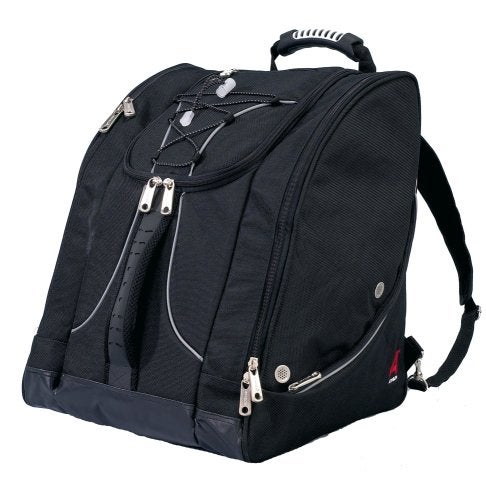 NOTE: This is my personal boot bag and my strong recommendation among competitors.
Compared to the other ski boot bags available in a similar price range, this bag is a hands down winner. Let's talk about why the Athalon bag beats the competitors out of the gate.
External storage comes in three flavors: shock cord on top, small zippered pocket at the top, and two small zippered pockets outside of the boot compartments. These are great for stashing a myriad of little items and your outer coat on hot days.
Boot compartments are plenty large and even have a little extra room to stash a few more goodies if you're crunched for space.
Backpack style straps are removable for transportation, a feature which is lacking from similar competitors. Internally, a couple of small organizational pockets help keep the few remaining loose items tidy.
Additionally, the main storage compartment is more than adequate to handle goggles, helmet, gloves, and a jacket layer.
The Good:
Stowable shoulder straps
Great external storage
Huge internal compartment
The Bad:
Very large bag can be bulky to carry
When would I suggest this pack? This pack is great for the budget minded skier looking for the most feature rich boot bag available in the $50 price range. In my opinion this is also the best ski boot bag for air travel with lockable zippers and durable construction.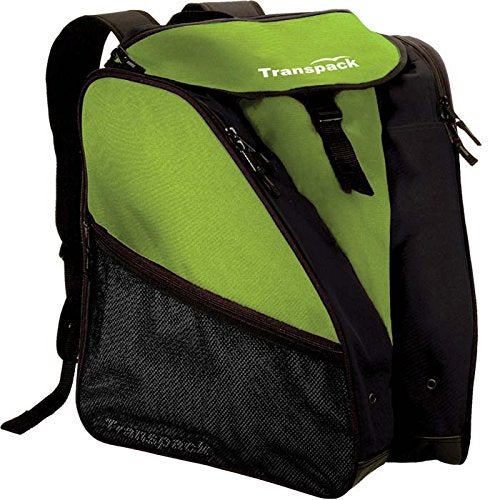 Featuring several different colors and fabric patterns, there should be an option here for the whole family.
Triangular design and construction means a relatively smaller central storage compartment when compared to other similar models.
600D nylon construction meets industry standards of durability and promises of water resistance abound (though nylon fabric is inherently water resistant). Compressible cinch top closure and zip top closure strike me as redundant and unnecessary.
Redeeming factors? Foam padded back panel prevents hard plastic ski boots from jabbing you in the back when wearing it as a backpack.
The bottom of the boot bag is water resistant so any snow on the boots that melts doesn't soak through.
The Good:
Lower price point
External mesh pockets for wet gear
Backpack straps
The Bad:
Bare minimum features
Triangular design compromises internal storage
When would I suggest this pack? I would buy this pack if I was looking for a good quality bag at a fair price. Its a bit more than the other boot bags but the extra padding is worth it to me.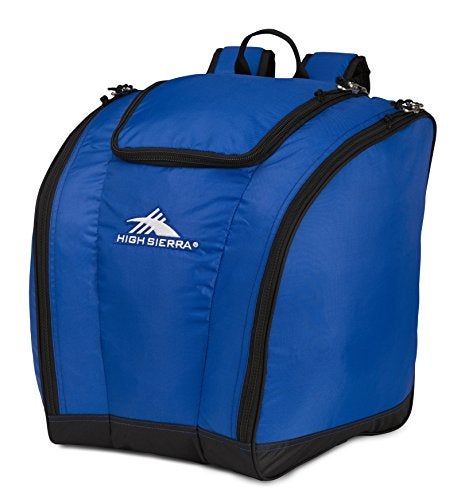 Sporting several retro-colored options, this nice bag might be the perfect choice for an aspiring Jerry of the Day or the local beaters club. Fortunately for those of you who don't know what that means… the bag also comes in many basic colors such as black and blue.
A simple, unadorned central compartment earns points in my book for excluding unnecessary extra pockets.
If you're looking for great compartmentalized storage then this bag may not be the best for you. Shoulder straps are permanently fixed and non-stowable so you'll be unable to remove them for airline travel.
The Good:
Simple construction
Funky color choices
Large central pocket
The Bad:
Permanent shoulder straps
Zero external storage options
When would I suggest this pack? In the range of $40 (many colors and style available) with Prime shipping, this seems like a great economy option with very little to complain about at the price point.
Choosing The Right Ski Boot Bag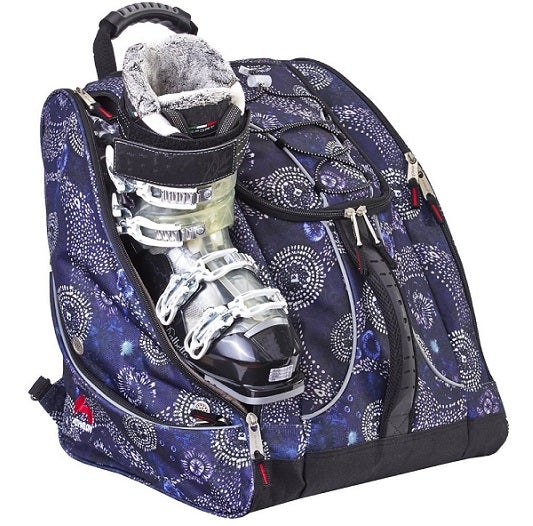 If you haven't spent much time in a resort setting you may not yet be aware of how difficult it is to manage all your gear. If you've got kids, friends, a busy schedule, and a handful of après obligations, pretty soon your gear is spilling out of your arms and you feel unorganized and lost.
Even for the weekend warrior, a ski boot bag makes it easier to get through the airport, keep things organized in the closet, and manage the sometimes extensive pile of skiing goodies you've accumulated.
Ready to learn what makes for a good ski boot bag and what to avoid? Alright let's get in to it.

Why Use a Boot Bag
Ski boot bags are not just for boots alone. Some of the best features of an excellent bag actually have nothing at all to do with boots. It does help, however, to be able to keep everything in one place.
Boot bags most often feature backpack style straps so once you pack in your boots, helmet, gloves, goggles, and the day's lunch then you are ready to run around with skis and poles in your arms and equipment on your back. It sure beats trying to juggle the mess.
The other great upside of ski boot bags? They often are counted as an included accessory with your skis if you fly. Put your skis and poles in a hard case and the airline will let you travel with your boot bag at no extra charge. Choose your airline wisely to take advantage of this.
I, personally, like to keep all my skiing gear in the boot bag during the off-season. That way when it's time to hit the slopes again, I just snag my bag and ski case and off I go.

What Features Do I Look For?
Solid question. There are a ton of features available in ski boot bags. We're going to start chatting about a few of them here but this is, by no means, an exhaustive list.
Boot Sizing
With almost no exception, ski boot bags are made to universally fit all boot sizes. Unless you have Mondo 40 boots you'll be fine with fitting your boots into any bag.
Pack Space
Most boot bag fall within a general range of sizing. You won't find too many boot bags which drastically and you can reasonably expect to find room for one pair of boots, a helmet with goggles packed inside, gloves, and maybe your jacket and pants.
If pack space is of major concern, consider packing things inside your boots. Shove gloves into the boots to get extra use out of the space. And make sure to pack the interior of your helmet full of small items to maximize space there.
PRO TIP: Keep a small bottle of antimicrobial shoe powder in your bag and sprinkle liberally into your boots after each use. You'll thank me later.
Convertible Shoulder Straps
Many ski boot bags have little hidey-holes where the backpack straps can be cleanly tucked away when not in use. This is great for checked airline luggage so the straps don't get caught and torn during travel.
I find that I rarely use this feature but it may be a deciding factor for you!
External Shock Cord
Some bags feature external daisy chains or shock cord lashing for adding more goodies to the outside of your bag. This can dramatically increase carrying capacity. I like to fold my jacket in half and stuff it in the shock cord on my bag.
If not for that extra feature, I wouldn't have room to carry it around. Perfect for warm spring skiing.
Storage Pockets and Accessories
Most boot bags have a smattering of various little organizational pockets. Almost always, one of these pockets features a little lanyard for keys.
If you're the type of person who likes or needs to organize things into smaller compartments, this may be a feature to be aware of. If, like me, however, you prefer to just shove everything into your bag these features may be indifferent to you.

Waterproofing and Fabrics
A few of the most expensive ski boot bags may feature waterproof or water resistant materials. This may include:
Water resistant zippers
Water proof fabrics
Having spent many years on snow, I feel zero need to pay for waterproof bags. During the winter all of the water is frozen and unlikely to leak its way into your bag.
I don't feel these features justify extra cost and would suggest you steer clear as well.

Conclusion
If you're looking for boot bags in the near $50 category the winner is clear: Athalon Everything Boot Pack. This bag sports high end features for a low end price and, from personal experience, will hold up to the rigors of ski travel for years.
Don't forget to take advantage of using whatever boot bag you decide on as a free extra bag on your next airline trip if it's an option!
Please check out our reviews on Ski Jackets,  Ski Base Layers, Socks, Helmets, Gloves, Goggles and Pants.
Click here to return to the reviews.
Notice: Outside Pursuits is a participant in the Amazon Services LLC Associates Program, an affiliate advertising program to provide a means for sites to earn advertising fees sold through by advertising and linking to Amazon.com. Amazon offers a small commission on products sold through their affiliate links. Each of your purchases via our Amazon affiliate links supports our efforts to bring you the best possible product reviews at no additional cost to you. We appreciate your support here at OutsidePursuits.com