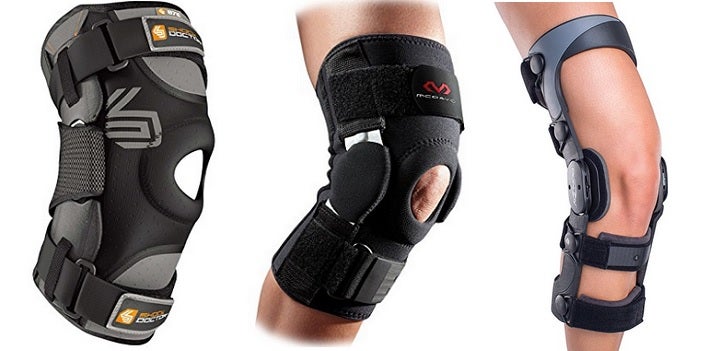 Too many athletes these days are going down with simple injuries. It happened to me on the Appalachian Trail in 2014. I was several weeks into a hike when my knee became unusable from irritation.
That injury took me off the trail and put an end to an otherwise amazing experience.
In the skiing world, knee injuries are all too common. Every year some of our top athletes are taken out of competition due to various forms of knee injury.
ACL and MCL tears are controlled by improving skiing equipment but they're still all-too prevalent.
If you happen to become a skier with chronic or acute knee problems, you'll probably end up needing a knee brace. They're available in every size and shape imaginable and it's hard to tell exactly what the best solution is for your issue.
For that reason, it's imperative that you seek the advice and consultation of a trained medical professional before choosing a knee brace. Always seek medical care for an injury – a knee brace is not a permanent solution to avoiding medical care.
Now that we have the disclaimer out of the way, lets take a look at the knee braces and talk about how to choose the best one for you.
Quick Answer: The 5 Best Knee Brace For Skiing and Snowboarding
Best Ski Knee Braces
| | Shock Doctor Ultra Knee Supporter | DonJoy Legend SE-4 Knee Support | McDavid 422 Knee Brace |
| --- | --- | --- | --- |
| | | | |
| | | | |
| Support: | Bilateral support hinges plus hyperextension stops and impact absorbing base pads | Brace is meant for moderate to severe ACL, and/or CI (Combined Instability) and PCL, MCL, LCL instabilities | Latex-Free neoprene compression sleeve provides therapeutic heat. 360 degree padded buttress supports the patella |
| Design: | High Strength aluminum for stability, securely anchored with Hypalon sleeves | Made from light, high strength aircraft grade aluminum with a Kraton coating for anti-corrosion | No Gears; each sidearm is independently articulated with cushioned hyperextension stops |
| | | | |
Ski Knee Brace Reviews
Now that we've briefly looked at the braces, we'll take the time to go into more detail. Remember, it's critical to choose the right brace for your injury so always consult a specialist.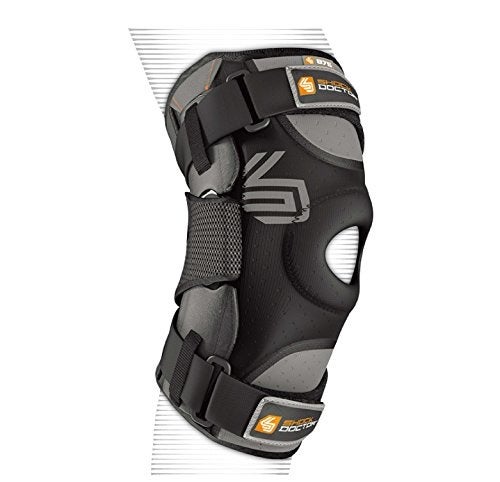 Another open patella design with tons of compression and support provided by two support hinges. This one is a slip on design and will definitely be hot during any high intensity activity.
Fortunately, they've put in N-Tex high airflow neoprene to help minimize the uncomfortable effects of heat and sweat.
With two adjustable straps above and below the knee, you'll be able to dial in the fit after you've measure by the manufacturer's sizing guide.
Around the knee the X-Fit strap works to stabilize the knee in all the various directions that your complicated knee tendons and ligaments need and offers good knee protection for skiing.
Shock Doctor also offers many other levels of knee support in their series of braces. There's a fairly comprehensive lineup of braces that offer knee protection for skiing for just about any type of injury and they're all designed around a similar slip on style.
Short video overview of the Shock Doctor knee brace:
---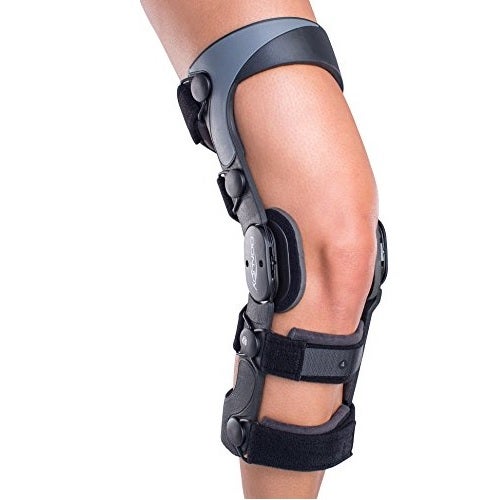 This is a true wrap around style knee brace with some serious lateral stability. DonJoy has minimized the use of fabrics and neoprene on this hinged knee brace which means you'll avoid sweaty issues and gain the benefit of a large lateral knee hinge.
Two straps above and below the knee extend far beyond the knee to help give the highest degree of support. It's low profile design will be great for any high-energy sports, such as skiing where larger devices could get in the way.
This may be the best knee brace for snowboarding as well since it offers lots of support that aggressive snowboarders need.
DonJoy intends this knee braces for "moderate to severe" ACL, PCL, MCL, and LCL instability.
---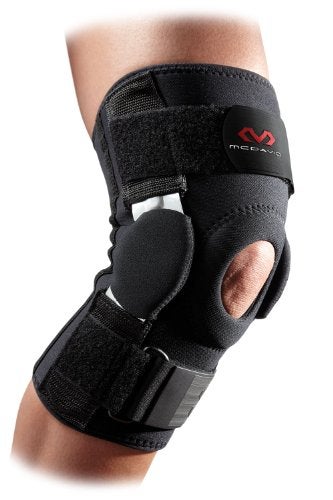 Another articulated ski knee brace for the user with mild lateral instability and hyperextension issues, this one is a slip-on style.
More minimal in design you're likely to get a little less support from this knee brace than from the DonJoy we looked at above.
One of the good things about a more minimalist design is that you can get some of the benefits of support without the bulk.
If you're trying to wear this under other clothing without making too much visible, it could be a good solution for low activity levels.
Neoprene construction will quickly build up heat and sweat but the open patella design and overall small form factor mean you won't have too much to content with.
The articulated steel hinge is well covered to prevent abrasion or irritation and I rate this as a top contender for the best knee support for skiing.
---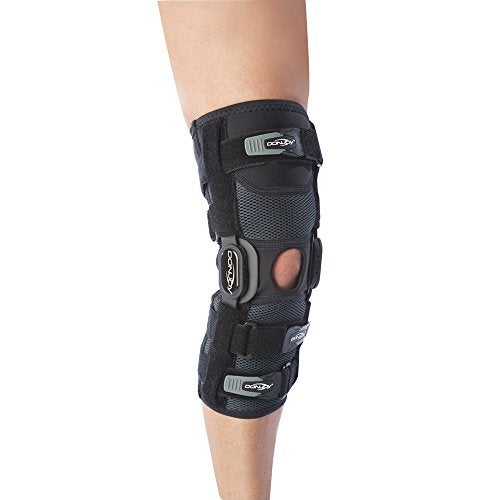 This is a hinged knee brace type support for distinct knee injury types. With an open patella and mild compression mostly provided by the brace staying in place, you'll also have the benefit of rigid articulated support.
This is a great solution for people with lateral instability problems. DonJoy recommends this brace for those with hyperextension problems, as the brace is made to prevent over extending the knee joint.
It also provides moderate lateral support for ACL, MCL, and LCL injuries.
DonJoy strategically included a mixture of nylon, spandex, and other fabrics to maximize wicking and cooling while wearing the brace.
The one downside to this and most knee braces in general, is they have the unfortunate tendency to get sweaty – very sweaty.
Video overview of the DonJoy Playmaker II knee brace:
---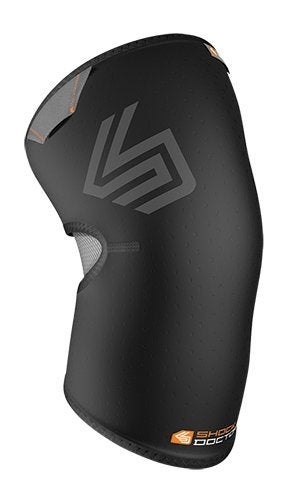 With nice features like the mesh airflow breathable window behind the knee, two thumb tabs for pulling the sleeve into place, and the use of N-Tex moisture wicking fabric for the sleeve this knee support for skiing is minimal but well executed.
Pre-curved design makes this knee support sleeve a great design for those seeking "light support for minor pain, sprains and strains allowing for daily use for an extended period of time".
Of course, this is not a solution to seeing a doctor and should only be used with the advice of a medical provider. There are no adjustable straps on the knee support so be sure to measure twice and order once.
The only thing keeping this knee support in place is compression support which is meant to be applied above and below the knee as well as across the patella with the close patella design.
This is the only closed patella knee brace we've outlined.
---
How to Choose the Best Knee Brace for Skiing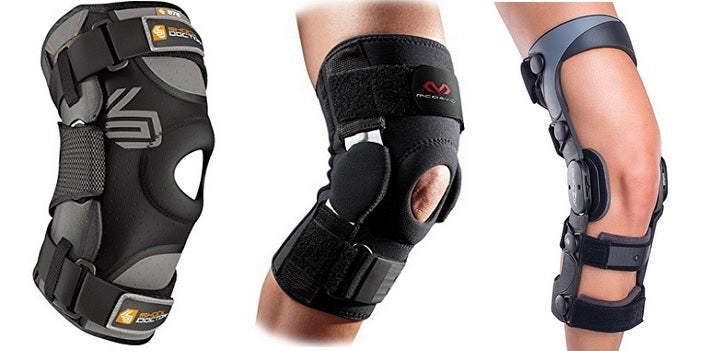 Picking out a knee brace is a task that should be undertaken with the advice of your doctor. Once you've decided to look for a knee brace, you may want to search for the best possible solution. Let's take a look at what criteria make knee braces work.

Sizing
Every knee brace manufacturer will specify exact sizing for their products. Make sure to go to the manufacturer's website and get the exact sizing guide with specification on how to measure yourself.
Many makers will require above knee, below knee, and around the knee measurements. It's always annoying to have to return products multiple times – this will ensure you've got the best measurements for the job.

Open Patella vs Closed
Knee support comes in two main flavors: open or closed patella. Each of these is specifically useful for certain knee injuries and you'll want to double check with your doctor before deciding.
To keep it simple, some knee injuries are best supported by having pressure applied across the patella. In other injuries, having extra pressure on the patella can actually further damage or impede the healing of the knee.
Without consulting a doctor, it's hard to choose the appropriate solution.

Slip On vs Wrap Around
If you walk into CVS and buy a $20 ACE knee brace, they're usually a slip-on neoprene. This was my choice for solving my knee injury problem when I was hiking the Appalachian Trail (hint: it didn't work).
Slip on braces usually fit a certain size range (S, M, L) and have some small amount of adjustability.
Wrap around braces are more common from prescription solutions to knee problems. Think: Forrest Gump. While I've never had one of these, you'll definitely want to consult a specialist before considering this option.
These are made to solve specific instability issues and, unless you're a trained specialist, it's unlikely you'll be able to choose the best option for yourself.

Types of Knee Braces
There are a few general categories of knee braces which cover the majority of knee problems. Let's briefly look at which types are available to you!
Knee sleeves – are sized slip on braces which usually offer very mild support and compression for injuries.
Knee stabilizers – usually feature steel or rigid supports on both sides of knee for more advanced support.
Hinged knee braces – use two sleeves above and below the knee to attach an articulated lateral support system around your knee.

Conclusion
As we've mentioned, knee braces are not a replacement for seeking medical advice from a trained professional.
When you've gotten proper care for your injury, using a brace as part of regular prevention and maintenance on existing injuries truly can help prevent worsening and development of new acute injuries.
For many skiers, basketball players, and top athletes, wearing some form of knee support is a critical part of everyday life. There are tons of options available and choosing the correct one is critical to not only help heal and prevent injuries, but to avoid exacerbating existing problems.
We all work hard to keep our bodies in great condition – be sure to invest in your continued health and wellness!
---
I hope this guide was helpful for finding the best ski knee brace to fit your needs. If you want to comment or recommend a brace I didn't include, please use my contact form to get in touch.
Have fun and be safe out there!
Notice: Outside Pursuits is a participant in the Amazon Services LLC Associates Program, an affiliate advertising program to provide a means for sites to earn advertising fees sold through by advertising and linking to Amazon.com. Amazon offers a small commission on products sold through their affiliate links. Each of your purchases via our Amazon affiliate links supports our efforts to bring you the best possible product reviews at no additional cost to you. We appreciate your support here at OutsidePursuits.com