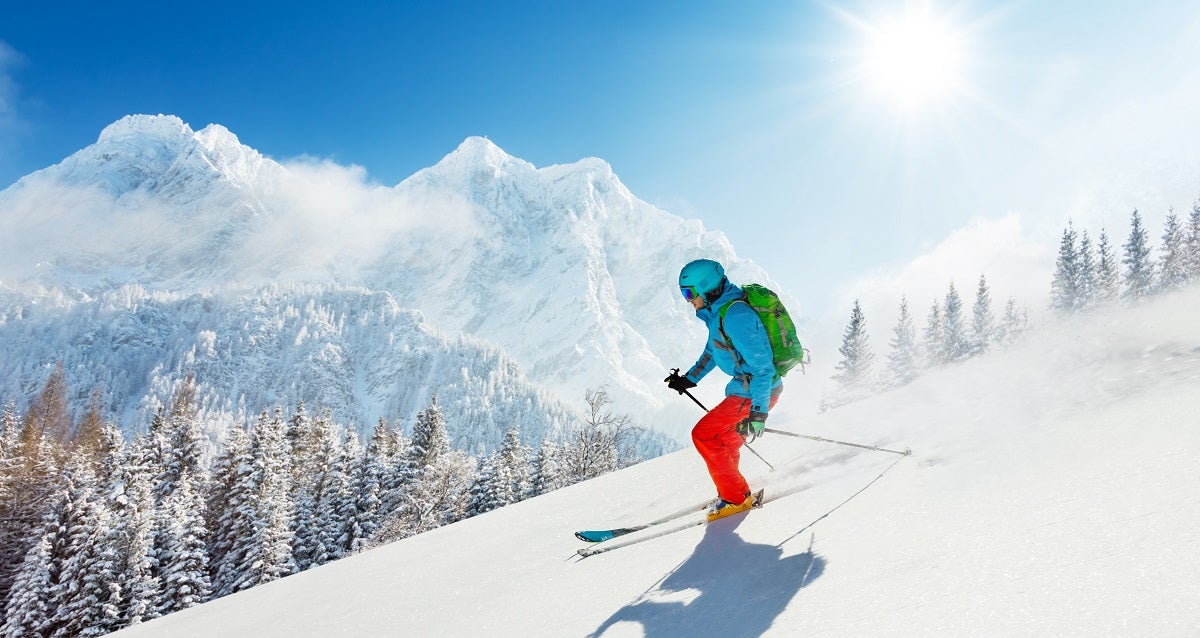 Our Editors independently research, test, and rate what we feel are the best products. We use affiliate links and may receive a small commission on purchases.
No one likes injuries, do they? They can cost us money, time at the doctor's – not to mention they just plain hurt and can leave lasting negative affects! It's never too late to learn how to prevent skiing and snowboarding injuries and no one is so experienced that they couldn't do with a bit of brushing up. We're here to give you some valuable tips on how to do just that so don't go anywhere!
Wear a Helmet
Yes, you may hear your mom's voice ringing in your ears right now, but it's true! Helmets aren't some dorky thing that people wear, but a piece of gear that can genuinely save your life. When it comes to extreme sports, it's something that we view as an absolute requirement. Just like you'd wear your seatbelt in the car, you need to wear a helmet as well.
Whether skiing or boarding, you're likely going to be traveling at pretty fast speeds for a good amount of your day and night. If you happen to take a tumble, you can easily hit your head on the ground. The thing about snow is that it varies in hardness, and it can hide quite a bit of things underneath. These things often mean rocks, twigs, logs, ice, and more – none of which you want to hit your head on.
If you're lucky, you'll end up with a couple bumps and bruises. Helmets can help you avoid all of that, though. They're so comfortable and easy to wear now, that it's really no question in our mind. Not to mention, they have soft liners that feel great against the skin and will help keep your head and ears warm. It's a win-win all around!
Wear Ski Goggles
When taking part in just about any sport out there, your vision is critical. Even more so when we're talking about traveling at high speeds down mountains with all kinds of potential obstacles like people, trees, and cliffsides. That may sound dramatic, but if you don't have proper eye protection your vision could be obstructed by fog, snow, wind, and more.
You may see skiers wearing sunglasses at the mountain, but we really don't really recommend them. They aren't going to offer the same amount of protection around the face as ski goggles, which create a seal to keep all wind and moisture out. Not to mention, most sunglasses are vulnerable to fogging up which kind of ruins the point anyway. Oh, and if you happen to crash your glasses could shatter, which presents a whole new risk on its own.
Goggles are made to be shatter-proof and the best ones are also fog-resistant. Not to mention they come with an adjustable strap so they stay securely and comfortably on your head the entire day.
Take Ski Lessons
If you're just starting out, then it is likely very intimidating to get up to the resort and not know what to do. Everyone else is cruising around, bombing down a run, in line at the ski lift…so where do you start? How do you do all these things? Well, you could always have a friend or family member who skis show you the ropes.
Or you could go the more effective route and take some lessons. It's almost guaranteed that your ski resort has a ski school handy. In fact, many times you don't even have to book in advance (though we do suggest booking as far ahead as possible).
You don't have to spend a lot of money on it, either. Sometimes resorts will run promos where you and a couple of friends can get discounted lessons together, especially if it's your first time. Even just one ski lesson can make a huge different in how comfortable you feel and how well you progress.
This initial ski lesson will get you acquainted with your ski equipment, how to use the rope tow, ski lift in some cases, how to stand up from falling, turning, stopping, and of course proper ski etiquette.
Ski Etiquette
Oftentimes, you'll find these general "rules" or guidelines on the back of your lift ticket or somewhere on a sign in the lodge or in the rentals area. These are all kind of common sense once you have been skiing a couple of times but you may not think of these things your first time up. These are not just polite, but can actually avoid you or someone else getting injured.
For example, you'll need to ski in a controlled way so that you can effectively stop or ski around others who are in the way. Of course, like with driving, you should also give those downhill the right of way. You don't want to cut anyone off as this can make them crash and is just rude.
When you're merging onto a run, make sure you always look up and never stop to rest right in a curve or in the middle of a run. People understand that there are and will always be beginners who are prone to crashing. That's okay! You shouldn't be nervous about that, but make sure that you're staying on the bunny hill until you are able to accomplish all of these etiquette rules.
Know Your Lifts
This is actually a surprisingly easy way to get injured, but it's also pretty easy to stay safe with just a little bit of awareness and experience. You may be thinking, "How hard can it be sitting on your butt all the way to the top of the run and hopping off?". The answer is: "Harder than it looks."
Not every ski lift is the same. Some are a bit more jerky and inconsistent, while newer lifts are known to be smoother and easier to use. I remember my first time on a ski lift. I thought it looked super easy, but when I was standing there waiting for my chair to come, I was rudely awakened by the chair coming up fast and knocking me off of my feet into the seat! Luckily it was into the seat and not on my face, but my point is that you need to be prepared.
This is where it's helpful to take lessons as your instructor can go with you on the lift and give you some tips.
Summary
Now you know the main rules of engagement and how to avoid injuries while skiing, do you feel more prepared for your next trip up the mountain? We hope that our guide has been able to impart upon you some helpful tips that will make your first skiing experiences more seamless and less painful! Remember if you have any doubts, we are here to help. Thanks for tuning in, and we'll see you again soon!
Notice:
OutsidePursuits.com is a participant in the Amazon Services LLC Associates Program, an affiliate advertising program. OutsidePursuits.com earns fees from products sold through qualifying purchases by linking to Amazon.com. Amazon offers a commission on products sold through their affiliate links.